Are you planning a visit to the wonderful Danish capital of Copenhagen? Often cited as the happiest city in the world Copenhagen is famous for canals, a little mermaid and being home to one of the world's top restaurants.
You may have lots of questions about what there is to do in Copenhagen including how to get around the city, accommodation options, where to eat (and what to eat) as well as what to see when planning your Copenhagen itinerary.
In this article, you will find the answers to all those questions as well as tips to make the most of your stay.
Make the most of your visit to Copenhagen and save time and money– The Copenhagen Card enables you to see the sights of Copenhagen at your own pace and enjoy free entrance to 80+ attractions.
Take advantage of free public transportation in the entire Copenhagen region
Travel to and from the airport on public transportation – no stress no hassle!
Things to do in Copenhagen
Nyhavn
If you have seen photographs of Copenhagen then I am sure you will be familiar with Nyhavn and its brightly coloured houses and harbour setting.
Nyhavn is Copenhagen's waterfront and canal district constructed in the late 1600s. It was a busy port area but is now a haven for both tourists and locals alike. There are bars and restaurants aplenty and it is a pretty place to wander.
The colourful houses along the canal make this a fantastic place to get that iconic photo!
Good to know – Nyhavn is the place to go for boat trips. The boats are specially designed to fit under all the low bridges that span the canals and a trip is a great way to get your bearings.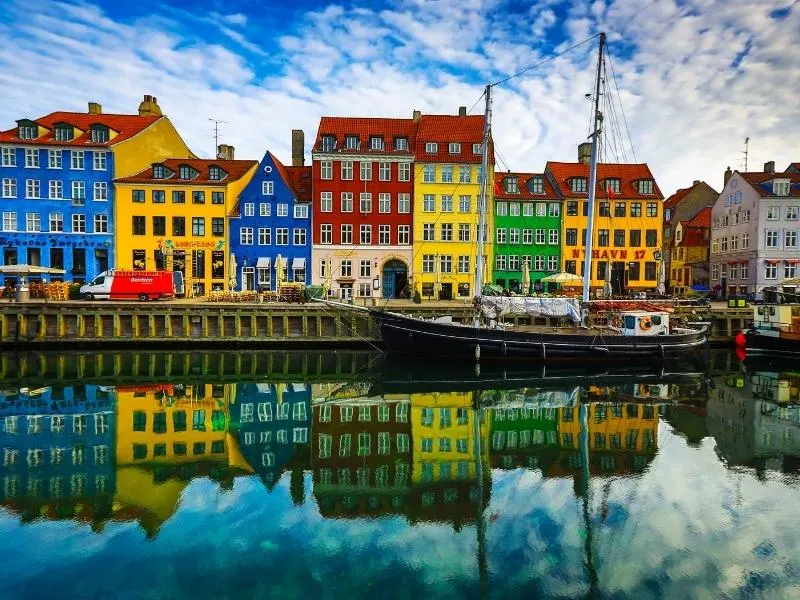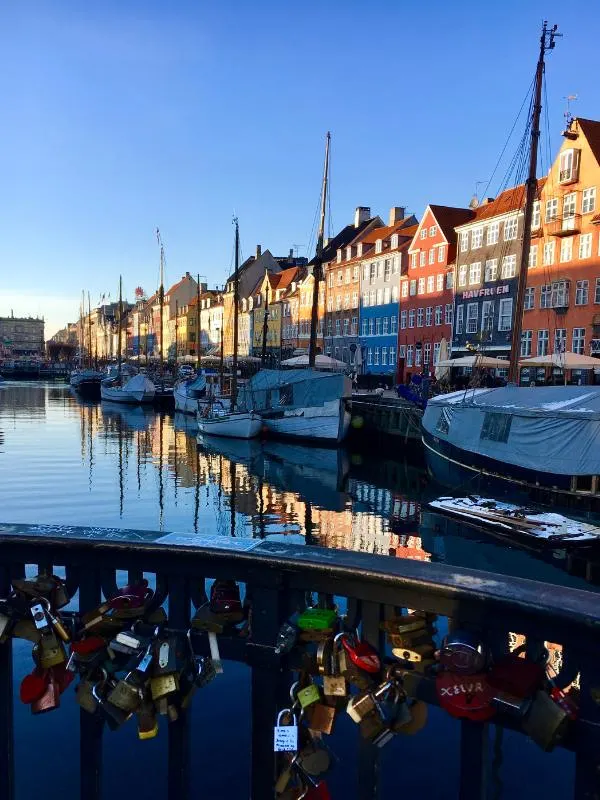 Book your tours of Nyhavn and canals
See the sights of Copenhagen on a 1-hour boat tour along the main harbour and adjoining canals. Depart from Ved Stranden or Nyhavn and see lovely houses, ancient castles, and beautiful churches along the way.
Get off the beaten track and explore some of Copenhagen's best spots on this 2-hour canal tour. Enjoy a drink and discover the city's mix of new and old architecture.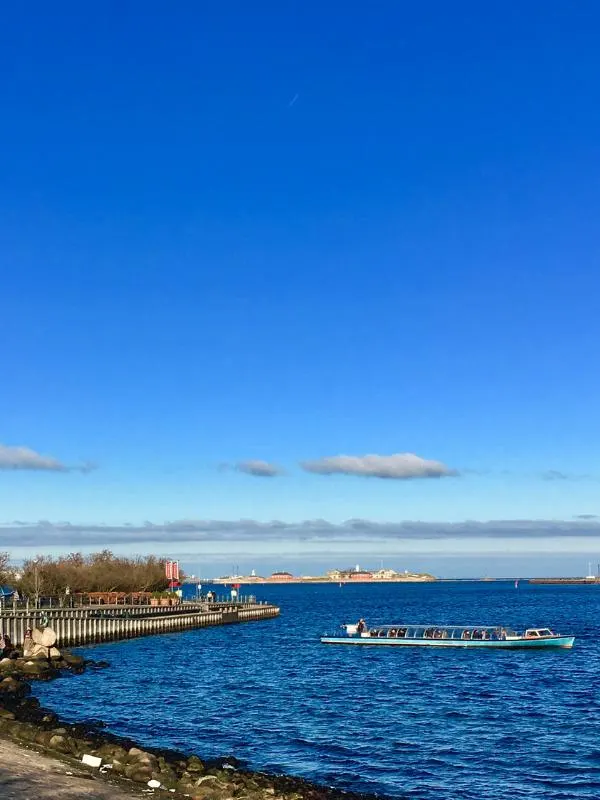 The Little Mermaid
Hans Christian Anderson's fairy stories including the Ugly Duckling, the Little Mermaid. and the Little Matchstick Girl are well known all over the world.
He was a famous and popular writer during his lifetime (1805-1875) and spent many years living in Nyhavn. There is an HC Anderson Fairy-Tale House with exhibitions about the man and his fairy stories which you can visit to find out more.
The Little Mermaid (Den Lille Havfrau in Danish) was of course made into a popular Disney film and the statue is one of the most popular tourist attractions in Copenhagen. The statue is only 1.25 metres tall and is made of bronze. It was made by Edvard Eriksen and unveiled in 1913.
The statue is about a 10-minute stroll from Nyhavn. If you prefer not to walk there are hop-on-hop-off buses available. Most of the cruises also pass by the statue but you will only get a view of the statue from behind.
If you are travelling to Copenhagen with family here is a great guide to things to do in Copenhagen with small children to get the most out of your stay.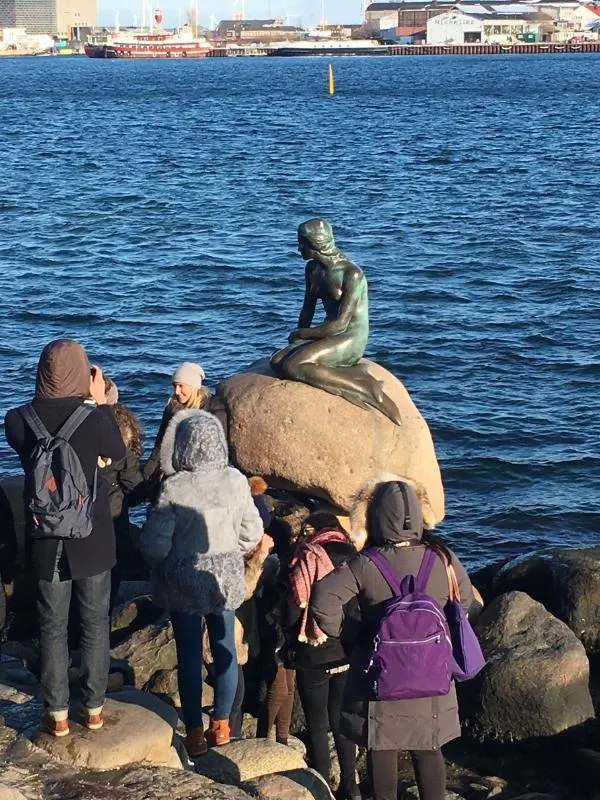 READ MORE – Books to read before you visit Denmark
Paper Island is closed! BUT….Reffen is open!
The best place to eat in Copenhagen was Paper Island. It was also the cheapest. Denmark, like the rest of Scandinavia, is very expensive and much as I would love to have eaten in Noma (the 3 Michelin starred world-famous restaurant in Copenhagen) which is closing it doors at the end of 2024 our budget simply wouldn't stretch.
The street food market was housed inside big industrial halls which were previously used for paper storage. Paper Island had a great atmosphere and we ate here every day (a good breakfast at the hotel kept us going until late afternoon and as the food halls were on the way to our hotel we made good use of the food venue)
Paper Island was situated on the opposite side of the harbour to the Little Mermaid and Nyhavn but there is a pedestrian (and cyclist) bridge across from Nyhavn. The Opera House and the Royal Playhouse are in the same area (as is Noma if you are feeling flush)
So now what?
Well in May 2018 a new street food mecca opened in Copenhagen. Reffen is the largest street food market in the Nordic countries and is located on Refshalevej (see map below) It is operated by the same people that ran Paper Island and occupies a site 3 times as big! So although I am a little sad that Paper Island is no more I can't wait to visit Reffen!
Strøget – Visit the Round Tower and Torvehallerne Market
Strøget is the main pedestrianised shopping street in Copenhagen and one of Europe's longest. Wander up it and off its side streets and stop for coffee/hot chocolate/tea and cake!
Find the Round Tower or Rundetaarn. It is Europe's oldest functioning observatory and was built in the 17th century. Walk up the spiral ramp to the top and enjoy panoramic views of the city. Admission costs DKK 25 and the tower is open daily between 10 am and 8 pm.
Once you have climbed the Round Tower head to another indoor food market called Torvehallerne. Food at this market is a little more expensive but its a lovely market to visit with some beautiful Danish produce for sale.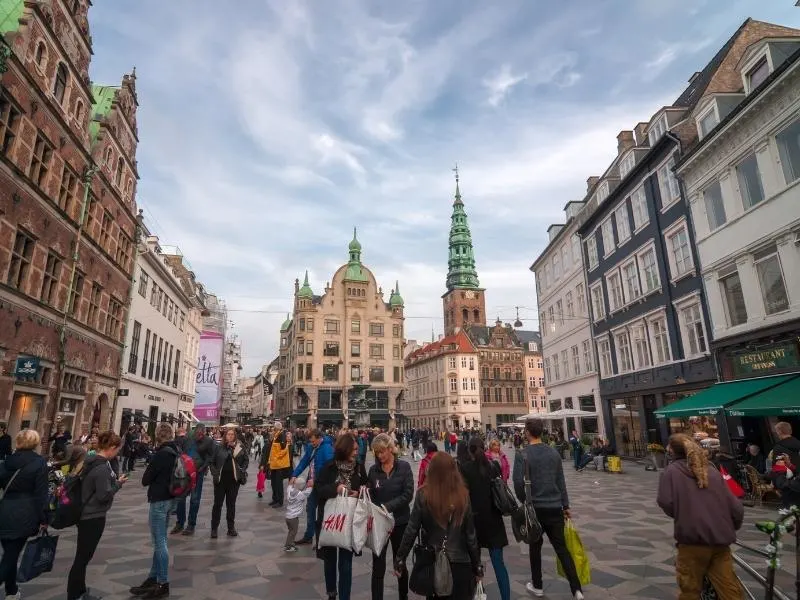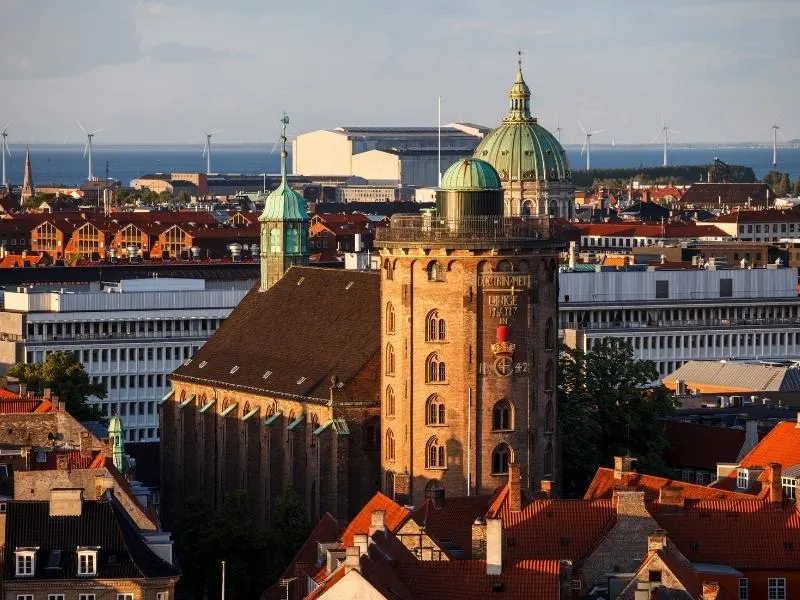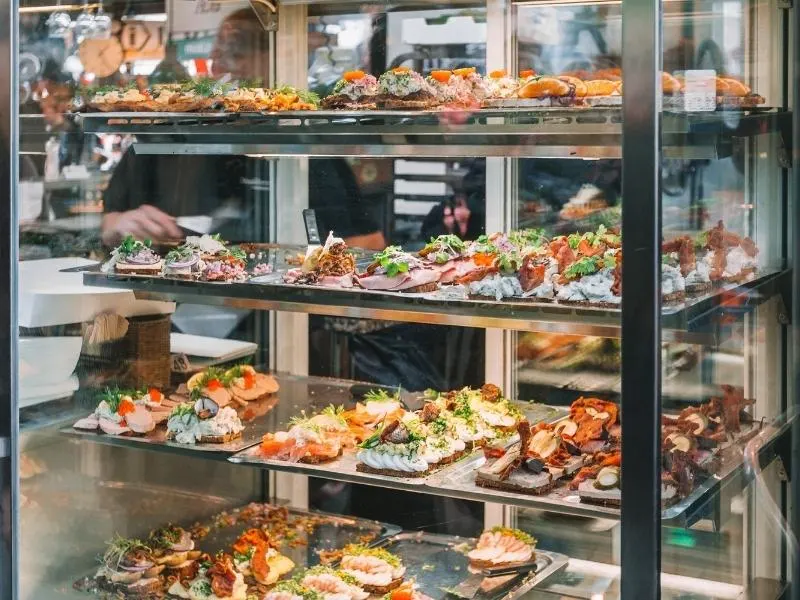 Tivoli Gardens
The second oldest amusement park in the world Tivoli Gardens opened in 1843. As well as rides and other fairground attractions there are concerts and music performances regularly held in the gardens. Give yourself at least half a day to visit and do check out the website for seasonal events. I have heard that Christmas at Tivoli is particularly special!
Good to know – Tivoli is not open all year round so do check the opening times and dates on the website (link below)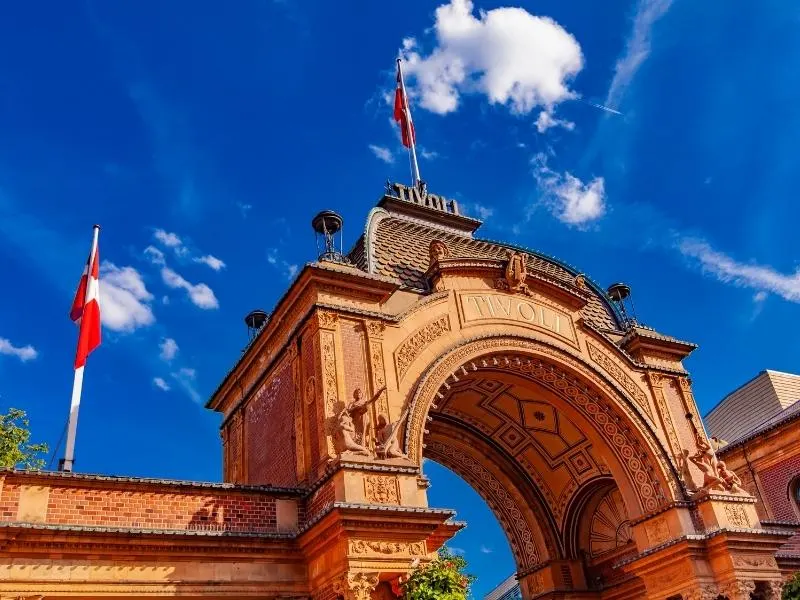 The Royal Library – Den Sorte Diamant
The Royal Library or Black Diamond is unmissable when you are on the Copenhagen waterfront. Inside there is a cafe, concert hall and bookshop.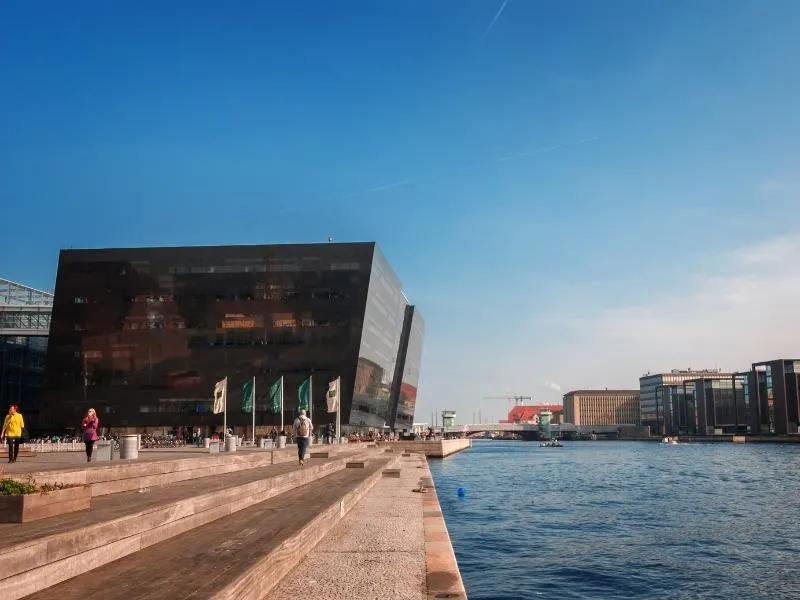 Amalienborg Palace
Amalienborg Palace is a museum and present home of the Danish Royal Family. The daily changing of the Royal guard (Den Kongelige Livgarde) takes place at 12 pm every day and is not to be missed.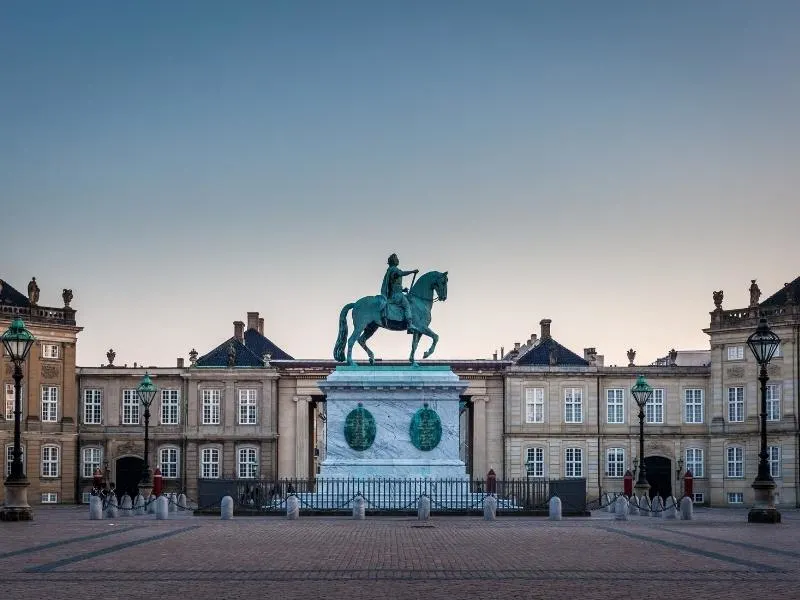 Christiania
Christiania is an area of Copenhagen which is totally independent of the Danish government. It was established in 1971 by a group of hippies and is today still inhabited and is a mix of homes, art studios, eateries and music venues.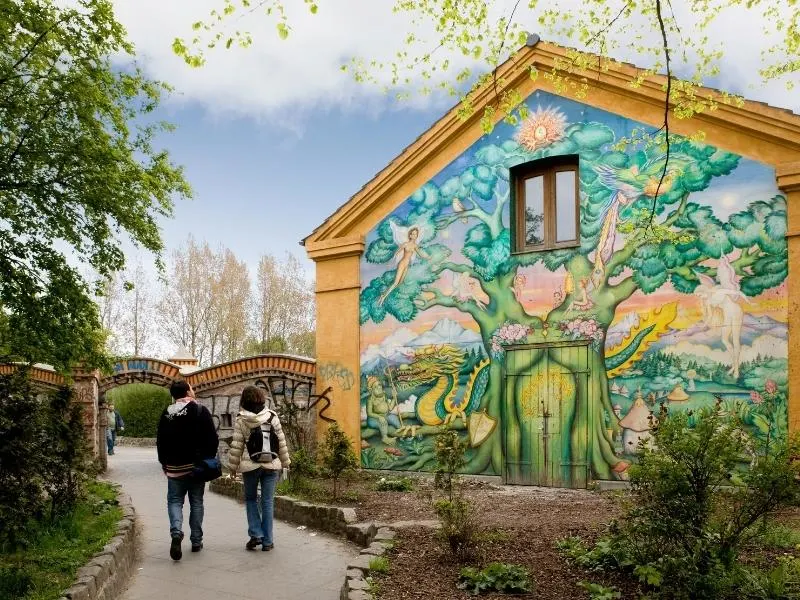 Why not take a day trip to Malmo in Sweden?
If you are staying in Copenhagen for a few days why not pop over to Sweden? Malmo is just across the water and can be reached by crossing the Oresund Bridge.
If you are considering adding a trip to Malmo into your Danish itinerary take a look at my posts – "How to travel to Malmo from Copenhagen" and "Things to do in Malmo" to help plan your visit.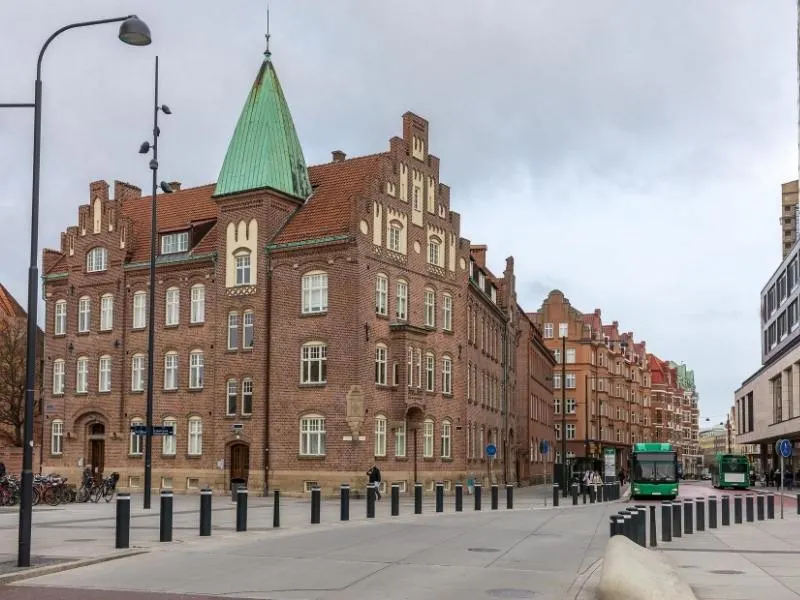 Where to stay in Copenhagen
Hotels in Copenhagen
We stayed at the Hotel Bella Sky which is a 4 * hotel situated near the airport. It is in a beautiful modern building and is only a short trip by train or bus into the city centre.
We found it very comfortable and would recommend it to families or couples looking for a boutique option near the airport. Don't miss the views from the Sky Bar.
For more information about the Hotel Bella Sky read my comprehensive review of the accommodation.
Read – Area and accommodation guide for Copenhagen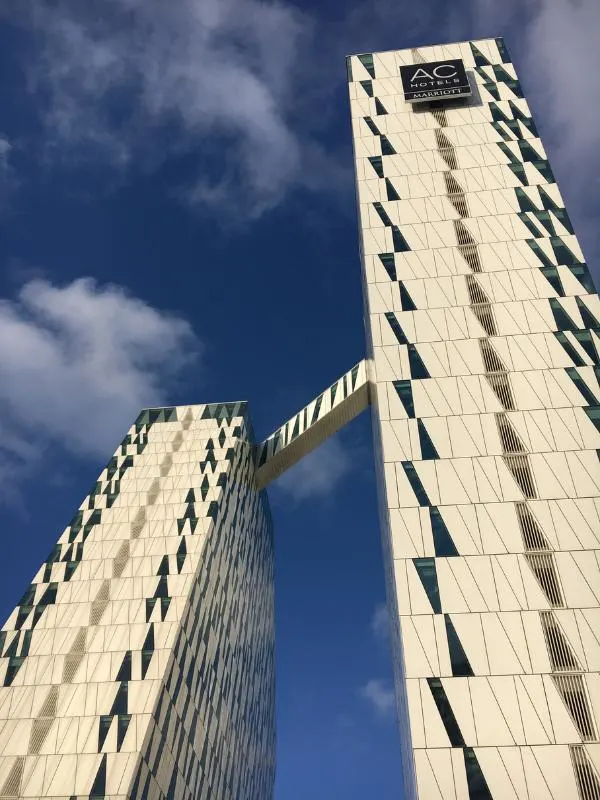 The Copenhagen Card
Purchase a Copenhagen Card which gives an all-access pass to public transportation in Copenhagen as well as free access to over 80 museums and tourist sights.
See the sights of Copenhagen at your own pace and enjoy free or discount entrance at more than 80 museums and attractions. Choose a card with validity suitable to you (24 to 120 hours), and save time and money in the Danish capital.
Click here to purchase a Copenhagen City Card (including transportation)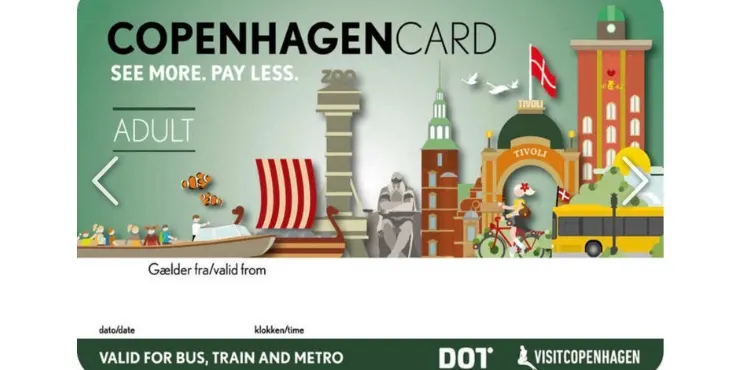 You may enjoy – Best Danish shows on Netflix and Amazon Prime
Tips to make the most of your visit to Copenhagen
Denmark is in the EU but they do not use the Euro. Make sure you have some Danish Krone with you though most places accept cards too.
If you decide to pop over to Sweden take your passport and remember that Danish Krone is different to Swedish Krone.
Be aware that there are bicycles everywhere. There are cycle lanes but bikes do seem to hurtle out of nowhere so you do need your wits about you to avoid being flattened.
Copenhagen is a very walkable city so make sure to pack comfortable shoes.
Why not take the train to Jutland and visit Denmark's second city – Aarhus? You find lots of ideas of what to do in Aarhus in my guide to the city.