Last Updated on March 27, 2021
Are you planning to visit Copenhagen? You can find lots about what to do and see in the Danish capital on this website but if you are looking for accommodation you will find our recommendation in this article!
The Hotel Bella Skye is our go-to option when we are in Copenhagen. In this article you will find a review about the hotel and a link at the end if you decide to book this accommodation.
Review of the Hotel Bella Sky in Copenhagen Denmark
Where is the Hotel Bella Sky located in Copenhagen?
The AC Hotel Bella Sky Copenhagen is a Marriott hotel situated a short shuttle ride from the cities International Airport in Amager Fælled. It is a 4* hotel and quite stunning to look at – the architecture is fantastic. The hotel has a metro stop a few minutes walk from the hotel (Bella Centre) and is on bus routes into Copenhagen.
We found the location to be ideal – the shuttle service (for a small fee) from the airport is regular and we used this service on arrival and departure. We caught a bus to the main train station on one occasion and on others caught the metro into the city centre.
Good to know – have change for the ticket machines or use your credit card to buy tickets at the metro stop.
The entrance is lovely and was one of the reasons we booked this hotel as I was impressed with the photographs I had seen. Chosen by Visit Denmark as an example of the best of Danish architecture the hotel is also the largest in Scandinavia.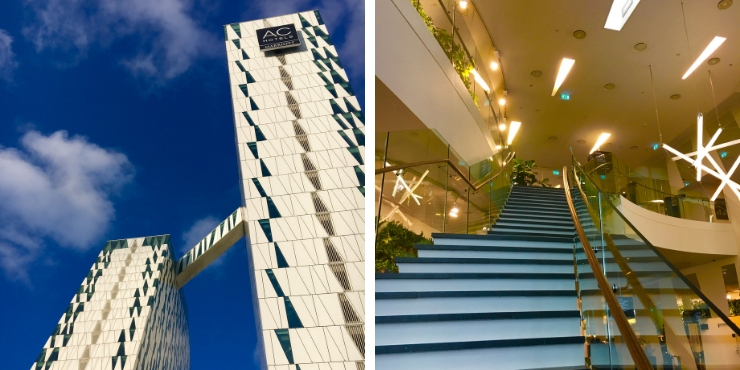 Check-in
Check-in was quick and easy. We had a lovely welcome from the receptionist on duty who could not have been more helpful. As the hotel is quite large and there are 2 towers she explained how to get to our room and even walked us to the relevant lift.
The hotel lobby is large and rather beautiful too – the design of this hotel is fantastic!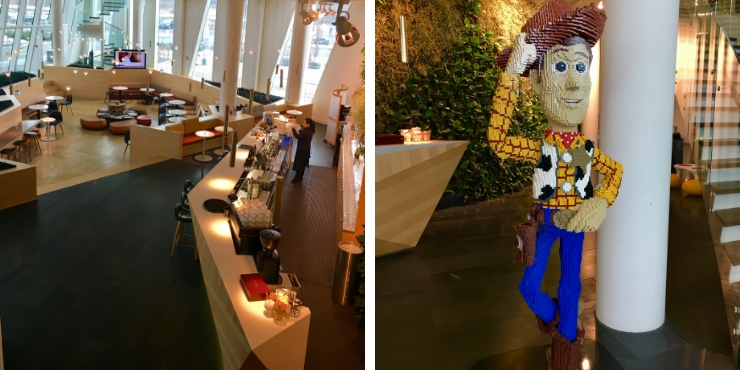 What are the rooms like at the Hotel Bella Sky?
We found the view of Copenhagen from the floor to ceiling windows absolutely stunning and will be the first thing you notice when you enter the room I guarantee!
The room was well stocked with tea and coffee making facilities (this is VERY important for us as we have to have a morning cuppa!) There was a safe in the room, toiletries supplied in the bathroom and a mini-bar was available (we didn't use it – Danish prices!!!)
Free wi-fi is available in the room.
There was a hair dryer, iron and ironing board also available in the room.
We stayed in a large standard with city view after receiving a free upgrade from the hotel.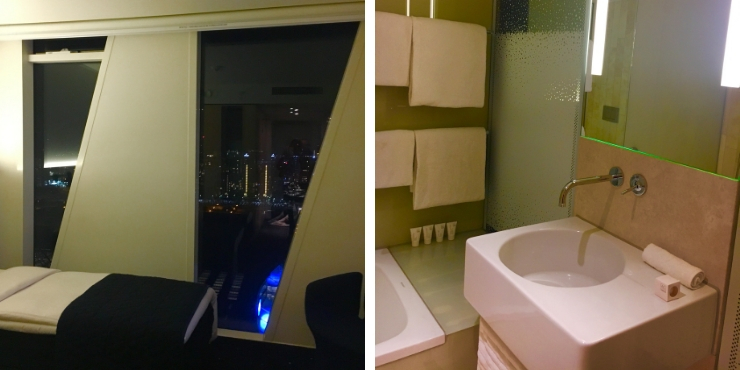 Dining options
We had breakfast included in our room rate and it was a fantastic start to every day. There were lots of options – hot and cold and we found the food tasty and plentiful.
We tended to eat dinner when we were out so I can't comment on the hotel restaurant but as we arrived quite late on our first evening we did have room service (see below!) The food was expensive but it is Denmark – but it was very nice!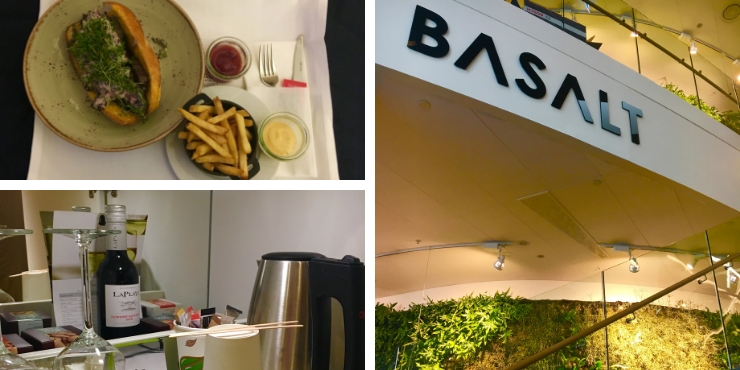 Facilities
There is a spa and fitness centre at the hotel but we didn't use them. We did however use the Sky Bar and I would highly recommend going for the views and a cocktail or two!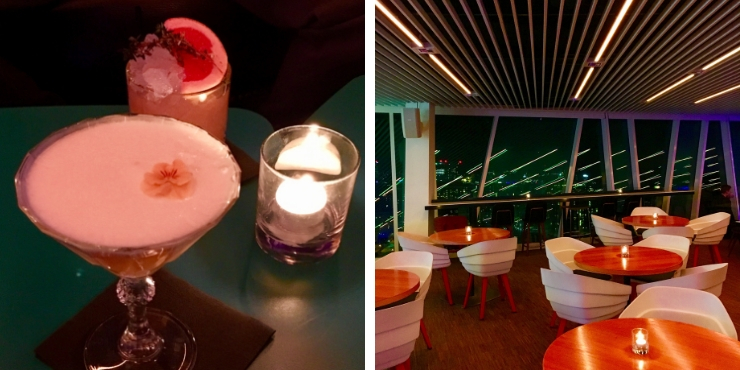 Staff
I cannot praise the staff enough at the Bella Sky. In particular the wonderful receptionist who checked us in on our first night. She spoke a number of languages and was so friendly and helpful!
All the staff were excellent.
Checking-out
It was very busy when we checked out but the service was prompt and efficient. We purchased tickets for our transfer to the airport and had a short wait before we were collected. There was a Lego show on hence the amazing lego models around the hotel!
Would we recommend a stay at the Bella Sky?
Yes we would!! The hotel gets a 5/5 from us!
Want to book?
Click here to make a booking at the AC Hotel Bella Sky in Copenhagen
Planning your visit to Copenhagen
You will find many more articles about visiting Copenhagen on this website including things to do in Copenhagen, how to visit Malmo from Copenhagen and what to do when you get there as well as a comparison of the best day trips from the Danish capital.
Also take a look at my recommended book list before you visit Denmark as well as the best Danish TV series on Netflix and Amazon Prime.
Related Reading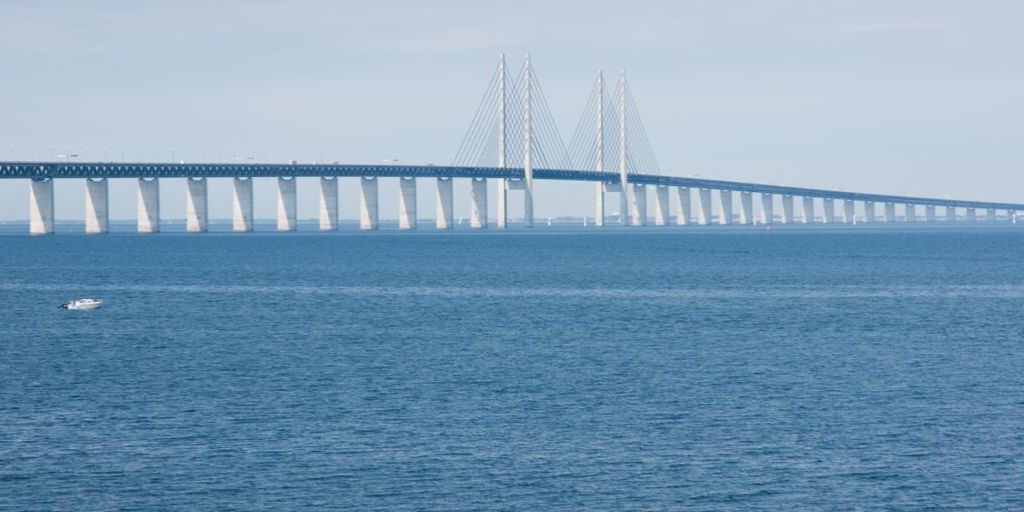 Considering visiting Malmo from Copenhagen? I have you covered! In this article you will find all the different ways (car,…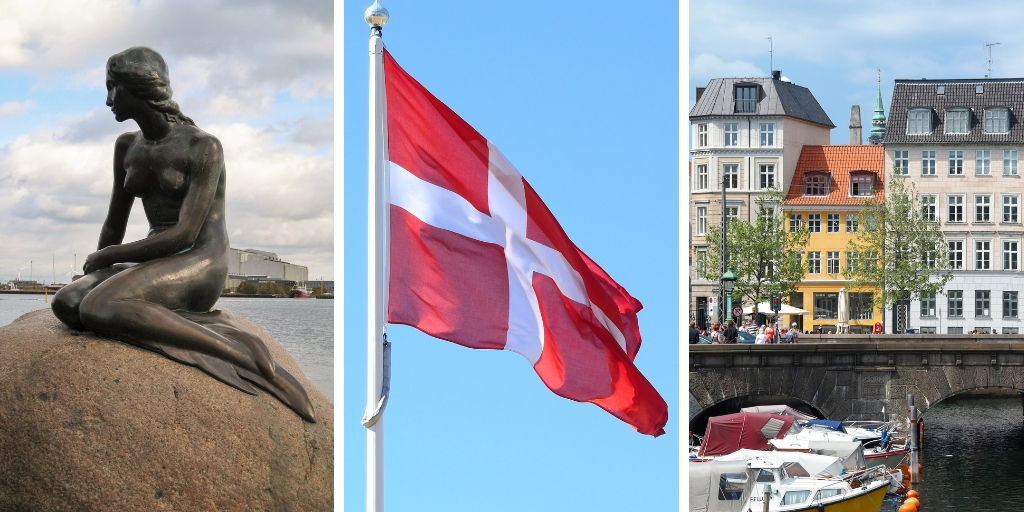 Last Updated on March 30, 2021 This is a collection of my choice of the best books about Denmark. If you…
This post may contain affiliate links, which means we may receive a commission, at no extra cost to you, if you make a purchase through a link. Please see our disclosure for further information. As an Amazon Associate, I earn from qualifying purchases.