Are you planning a visit to Blenheim Palace? In this article I will answer common questions about visiting Blenheim Palace as well as providing practical tips to help you make the most of your trip.
Blenheim Palace is located a few miles north of Oxford and is one of 31 UNESCO World Heritage Sites in the UK. It was also the birthplace of former British Prime Minister Winston Churchill. This historic stately home is the present home of the 12th Duke of Marlborough Charles James Spencer-Churchill and his family.
The palace was commissioned by Queen Anne as a gift to the 1st Duke. Built in the Baroque style and designed rather controversially at the time by the architect Sir John Vanbrugh it took 17 years to build and was finally completed in 1722.
Blenheim is famous for its beautiful grounds including the Marlborough Maze and Butterfly House. These are best visited during the warmer summer months though when you may even catch a game of cricket being played in the grounds around the palace.
Blenheim Palace has also been used as a filming location for popular movies such as Harry Potter, James Bond – Spectre and Indiana Jones.
Fans of period dramas such as Downton Abbey will also enjoy this stately home which along with others such as Chatsworth House and Highclere Castle represent an era of privilege and upstairs-downstairs divisions between the gentry and their servants.
If you're planning on visiting Blenheim Palace, this article will give you an idea of what to expect and also some hints and tips to ensure you make the most of your visit.
I would plan to spend at least half a day (3 or 4 hours) at Blenheim Palace but it is easy to spend a day there.
Recommended tour – enjoy a personalised 90-minute private tour of Blenheim Palace with a historian and afterwards, explore the palace and its grounds at your own pace.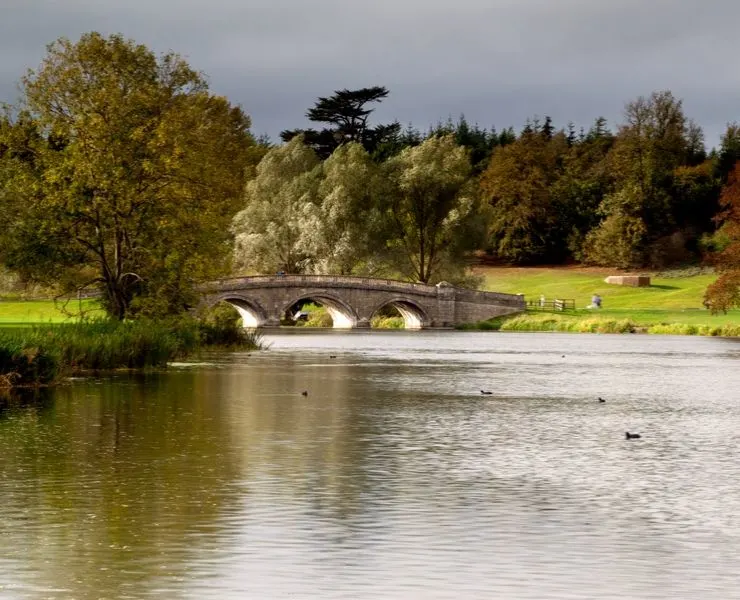 Some common questions about Blenheim Palace
Is Blenheim Palace worth visiting?
Although not a cheap day out we would definitely recommend visiting Blenheim Palace. The park and gardens are particularly beautiful in summer and are lovely for a family day out.
How much does it cost to go to Blenheim Palace?
There are 2 different tickets – one for entry for the Palace, Park and Gardens and another for the Park and Gardens only.
How long does it take to walk around Blenheim Palace?
Plan to spend at least 3 to 4 hours to enjoy the Palace and Gardens.
How big is Blenheim Palace estate?
Is Blenheim Palace part of the National Trust?
Which famous British Prime Minister was born at Blenheim Palace?
How far is Blenheim Palace from Oxford?
How far is Blenheim Palace from London?
When is the best time of year to visit Blenheim Palace?
If you are wondering when is the best time to visit Blenheim Palace I would say it is a wonderful destination whatever the season. In summer enjoy watching a game of cricket whilst picnicking on the lawns. In autumn enjoy the beautiful foliage as leaves turn from green to reds and orange and during December enjoy festive events at Blenheim.
Where should I stay when visiting Blenheim Palace?
There are a number of accommodation options including hotels, B&Bs and airbnbs close to Blenheim Palace.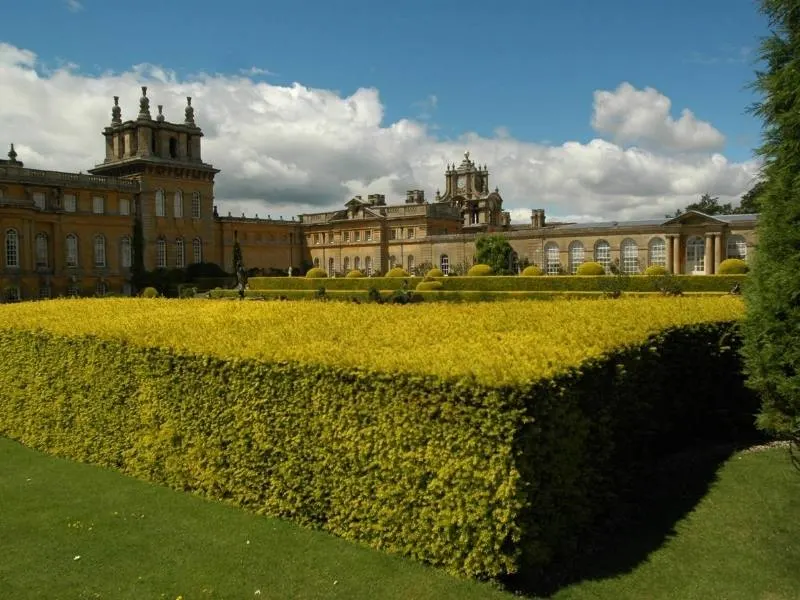 WHERE IS BLENHEIM PALACE AND HOW DO I GET THERE?
Where is Blenheim Palace Located?
Blenheim Palace is situated in Woodstock in Oxfordshire in the south-east of England approximately 60 miles north-west of London. It is 8 miles north of Oxford on the eastern boundary of the Cotswolds.
How to Get to Blenheim Palace from London
London to Blenheim by Public Transport (train, bus or car)
It is also an easy day trip from London by train, bus or car.
If you decide to visit by train it takes just under an hour from London Marylebone to Oxford Parkway Station. Once you have arrived purchase a return ticket for the #500 Park and Ride Bus. It is a short 15 minute bus ride to Blenheim.
Blenheim is encouraging visitors to use sustainable public transport options and if you show your bus ticket at the gate you will receive 30% discount on entry.
Good to know – If you decide to drive to Blenheim Palace free parking is available when you arrive. It can be very busy during school holidays, weekends and public holidays.
London to Blenheim by organised tour
If you prefer to take a tour there are numerous tours available to Blenheim Palace from London.
Many also incorporate visits to some of the beautiful villages in the Cotswolds too.
Thee are some lovely places to visit on the way to Blenheim including Oxford and the Cotswolds. I recommend combining your trip to Blenheim Palace with any of the following great tours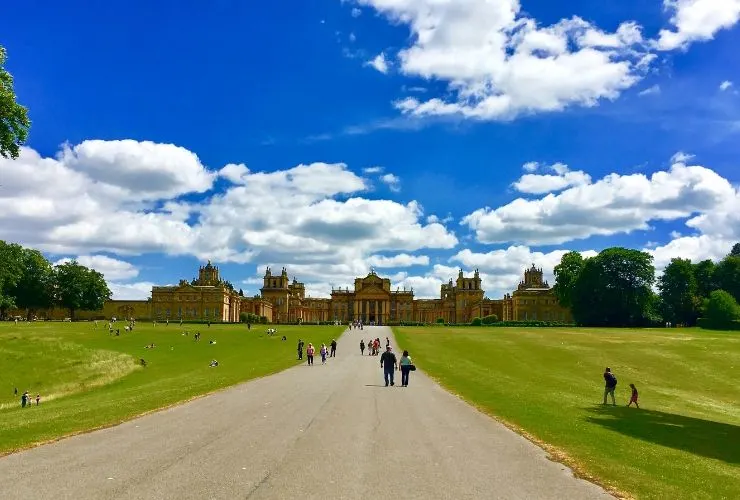 THINGS TO DO IN BLENHEIM – VISITING THE HOUSE
Blenheim Palace Tours
Explore the State Rooms which are full of priceless tapestries and paintings. I would highly recommend using the audio-guide which lasts about 40 minutes.
There are additional tours available for a small fee which includes
The 'Blenheim Palace Upstairs' Tour – Visit the Marlborough family's private apartments.
The 'Blenheim Palace Downstairs' Tour – Find out what life was like for the servants at Blenheim Palace.
Formal Gardens Walking Tour – Learn how the gardens have developed and changed over the last 300 years.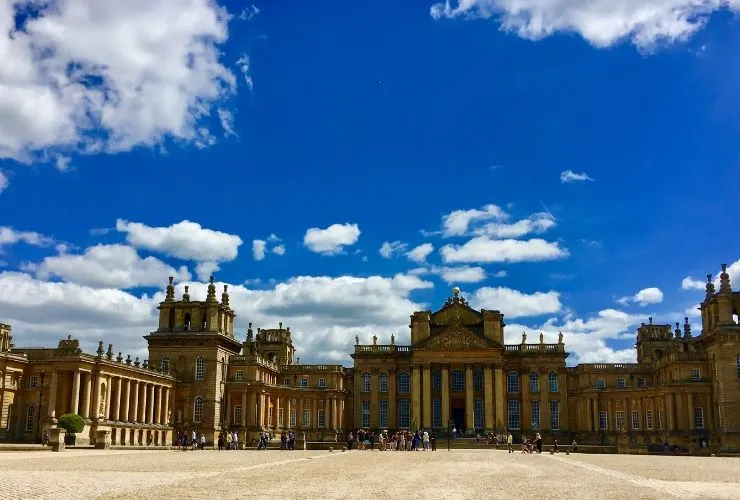 The Churchill Exhibition
Take a stroll through the Churchill Exhibition and find out about British Prime Minister Winston Churchill. There is also a memorial garden in the park and the Temple of Diana where he proposed to his wife Clementine.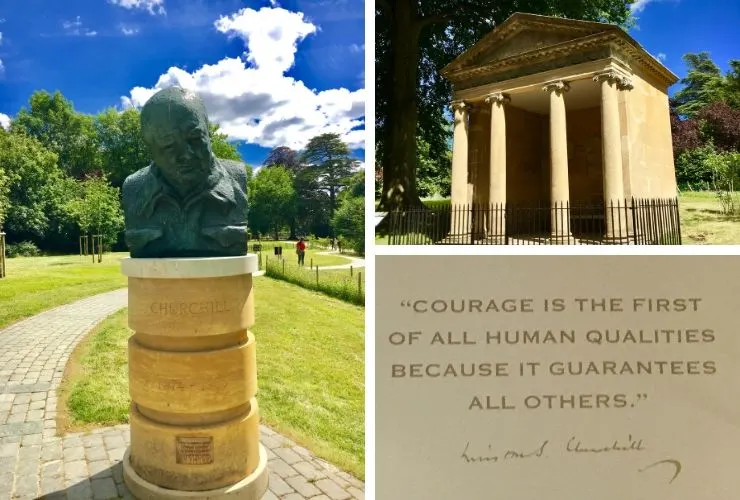 VISITING THE PARK AND GARDENS
While truthfully we weren't overwhelmed by the house we absolutely loved the park and gardens. We visited on a perfectly beautiful English summer's day and it was fantastic.
The gardens are beautiful and there was so much to see and do. I would recommend planning at least 2-3 hours to explore the park and gardens.
Blenheim Palace Pleasure Gardens
For 50p each (single journey) you can take the miniature train from the house entrance to the family-friendly Pleasure Gardens. Make sure you have some coins with you to pay for the train.
Blenheim Butterfly House
Don't miss the Blenheim Palace butterfly house where you can see butterfly species from all over the world. There are also lots of little zebra finches enjoying the tropical climate of the butterfly house.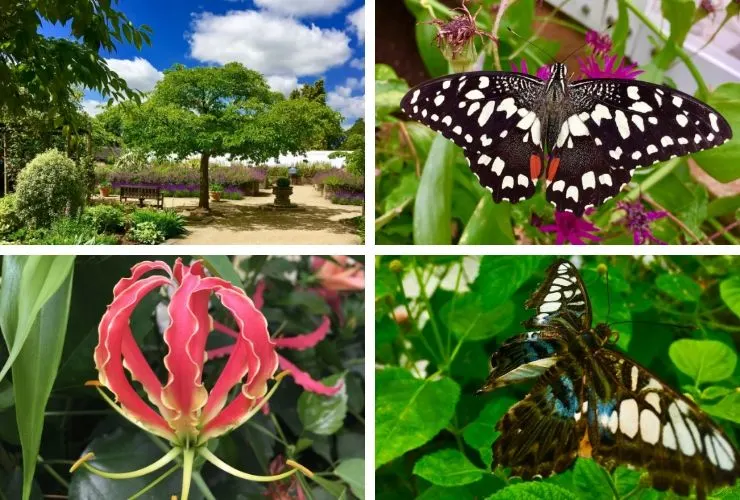 Marlborough Maze
I am going to admit it but the Blenheim Palace Maze was the first maze I had ever been in. It is two miles in length and consists of hundreds of yew trees. When you eventually find your way into the middle you will find a statue of Cupid.
Use the lookouts to help you get your bearings especially when you are trying to find your way out.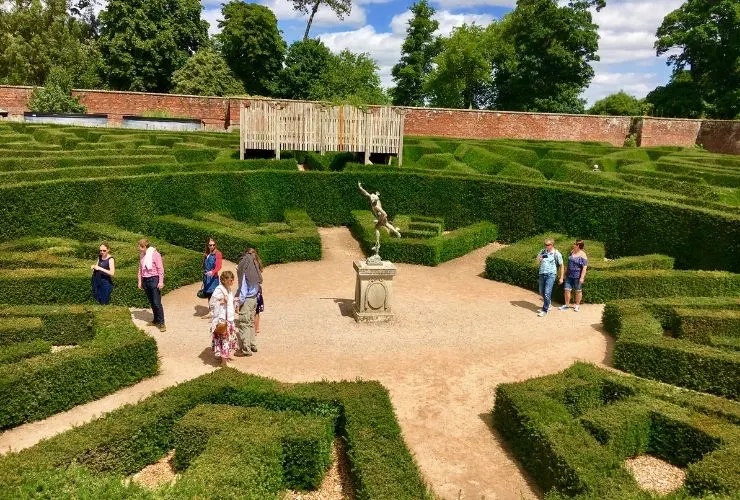 Gardens and Park
When visiting Blenheim Palace in summer a walk through the gardens and parklands is a must. Created by Capability Brown over 11 years Blenheim Palace grounds and parklands are quintessentially English and simply stunning.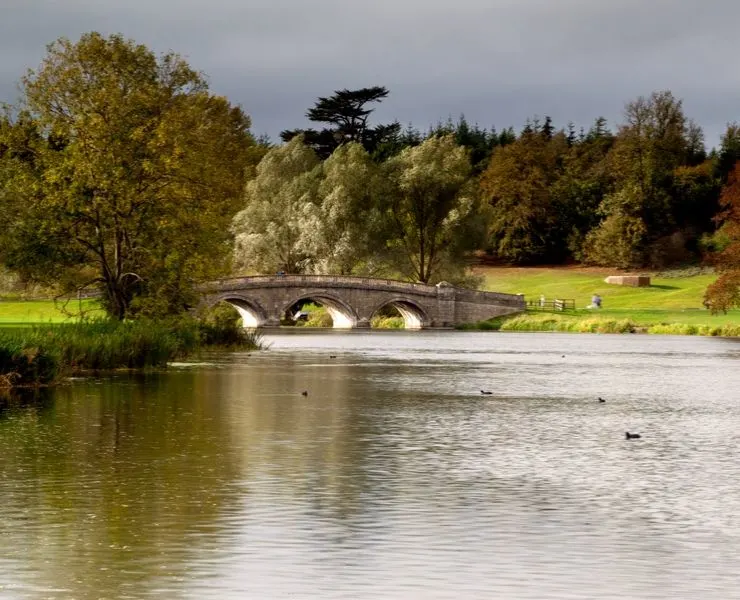 ESSENTIAL INFORMATION WHEN PLANNING A VISIT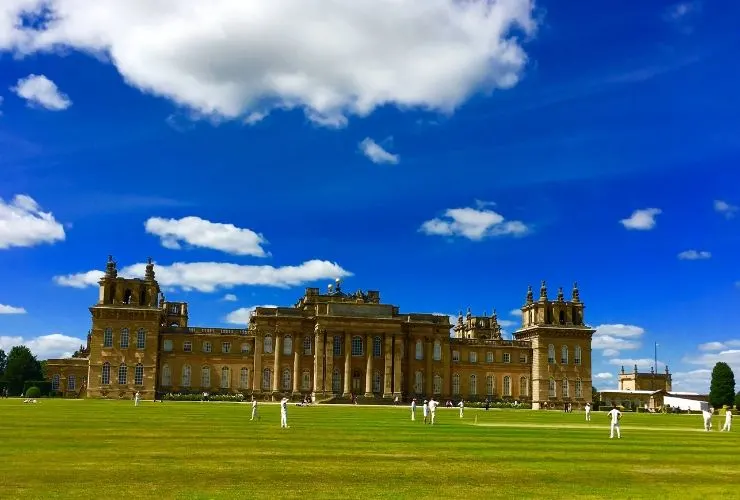 Blenheim Palace Admission Prices
If you are planning to visit the house, park and gardens and choose to donate the cost of your entry to the Blenheim Palace Heritage Foundation Charity you benefit from a free Blenheim Palace annual pass.
Definitely worth it and you are also helping preserve the house and grounds for future generations. If you choose not to visit the house but purely the park and gardens the entry fee is cheaper but can't be converted into an annual pass.
Blenheim Palace entrance fee:
Palace, Park and Gardens – £29.50 (Adults) £17.50 (Young persons) £16.50 (Children age 5 -16)
Park and Gardens – £18.50 (Adults) £8.60 (Children)
Blenheim Palace opening hours – see the official website for more information.
*Prices correct October 2021
→ CLICK HERE TO CHECK PRICES FOR ENTRANCE TO BLENHEIM PALACE**
** Note – this ticket cannot be converted to an annual pass
Tips for visiting Blenheim Palace
Take some small change for the train as they accept cash only.
Food and drink – there are lots of places to buy food/drink at Blenheim Palace but we found it quite pricy. I recommend taking your own drinks and a picnic.
Events at Blenheim Palace – If you are an annual pass holder check out some of the annual events that take place at Blenheim. These include the spectacular illuminated trail through the gardens during the festive season and entertainment displays and workshops for all the family in the summer. Christmas at Blenheim Palace is certainly on my bucket list!
ENJOY YOUR VISIT TO BLENHEIM PALACE
Do you plan to visit Blenheim Palace or have you been? If you have any questions or comments about visiting Blenheim or anywhere else in the UK you can contact me below.
If you are looking for more places to visit in England my UK Bucket List will provide you with 100 ideas! Fore more inspiration and practical advice my other blog "UK Travel Planning" has heaps of ideas, tips and resources. Take a look!
More places to visit in England!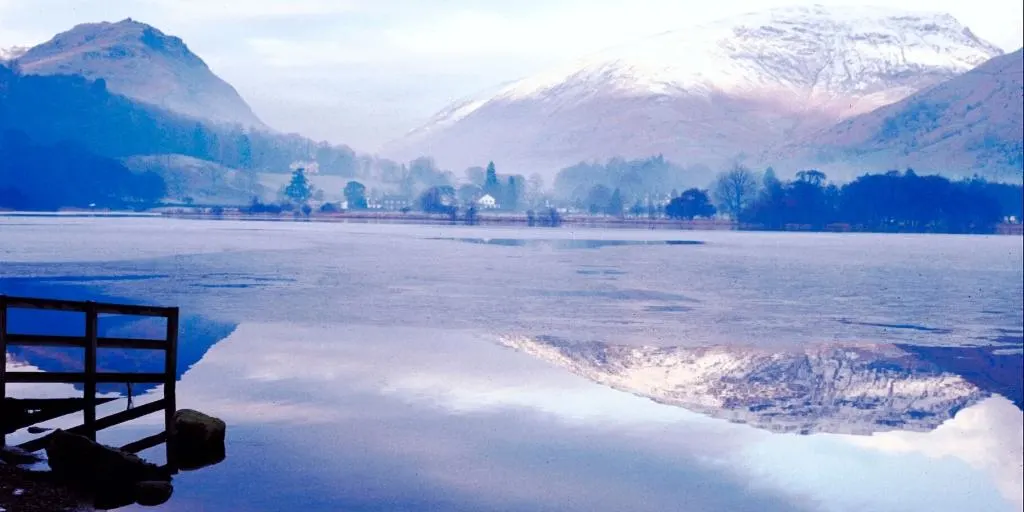 If you are heading to the Lake District and are looking for some fabulous accommodation options you will find it…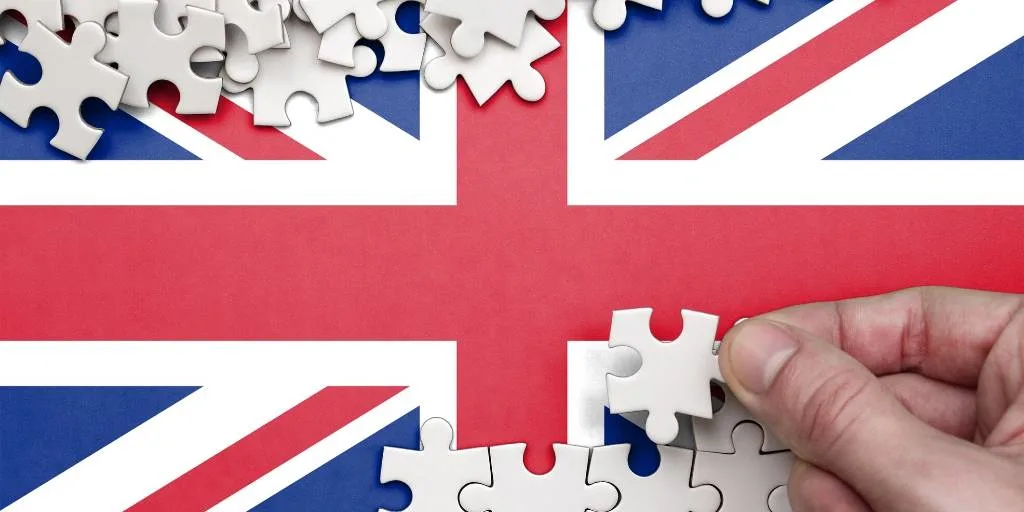 I absolutely love jigsaws and puzzles so thought I would put together this collection of the best British puzzles on…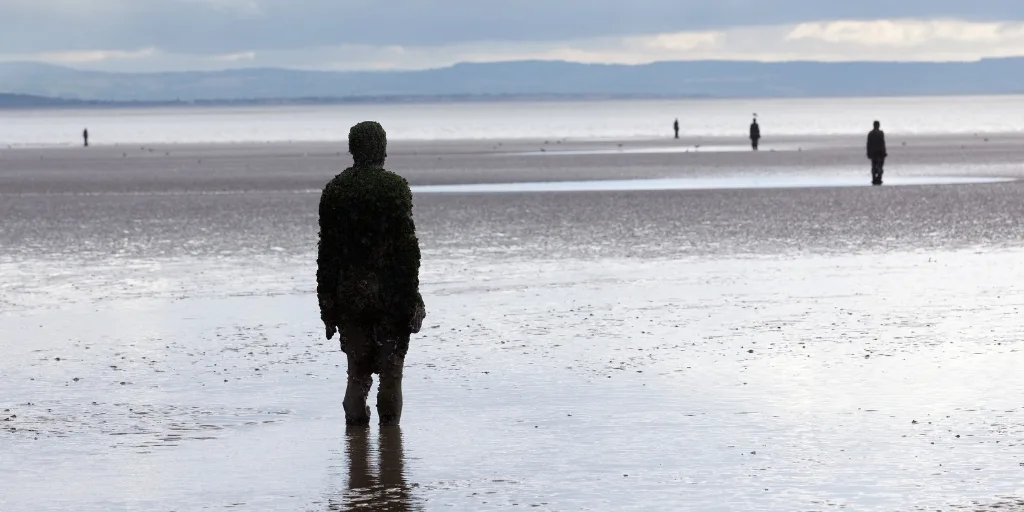 Complete guide to visiting Crosby Beach near Liverpool to see Anthony Gormley's Another Place.