Last Updated on
This post may contain compensated links. Please read our disclosure for additional information. As an Amazon Associate, I earn from qualifying purchases.
Deciding which beautiful villages and towns to visit in England can be difficult as there are just so many to choose from. After living in England for over 30 years I have traveled extensively (by train where possible) from the rugged beauty of Northumberland in the north-east to the picturesque fishing villages of the Cornwall in the south-west and everywhere in-between.
Although I love visiting UK cities (and there are some amazing things to do and see in them) do not miss the opportunity to visit some of the pretty towns and villages too. If you are seeking a quintessentially English experience with historic buildings, cozy tea houses, antique shops and chocolate box cottages these towns and villages will provide all this and more.
This article will provide inspiration for everyone – whether you live in the UK or visiting from other countries and organising your UK trip itinerary.
These are my picks of the must-visit most beautiful towns and villages in England and includes towns and villages from every corner of the country. The list was also also produced in consultation with friends and family who live in England.
Much as I love London there is so much more to see in England and I hope this article will inspire you to explore places you hadn't possibly even considered.
If you are planning a trip to the UK or if you live in the UK and want to explore more of the country why not join my UK Travel Planning Group on Facebook? You will find lots of tips, resources and ideas to help plan your trip whether it is for a day or a month!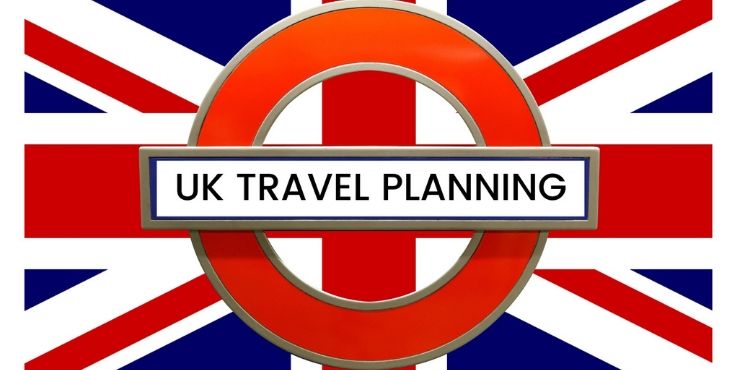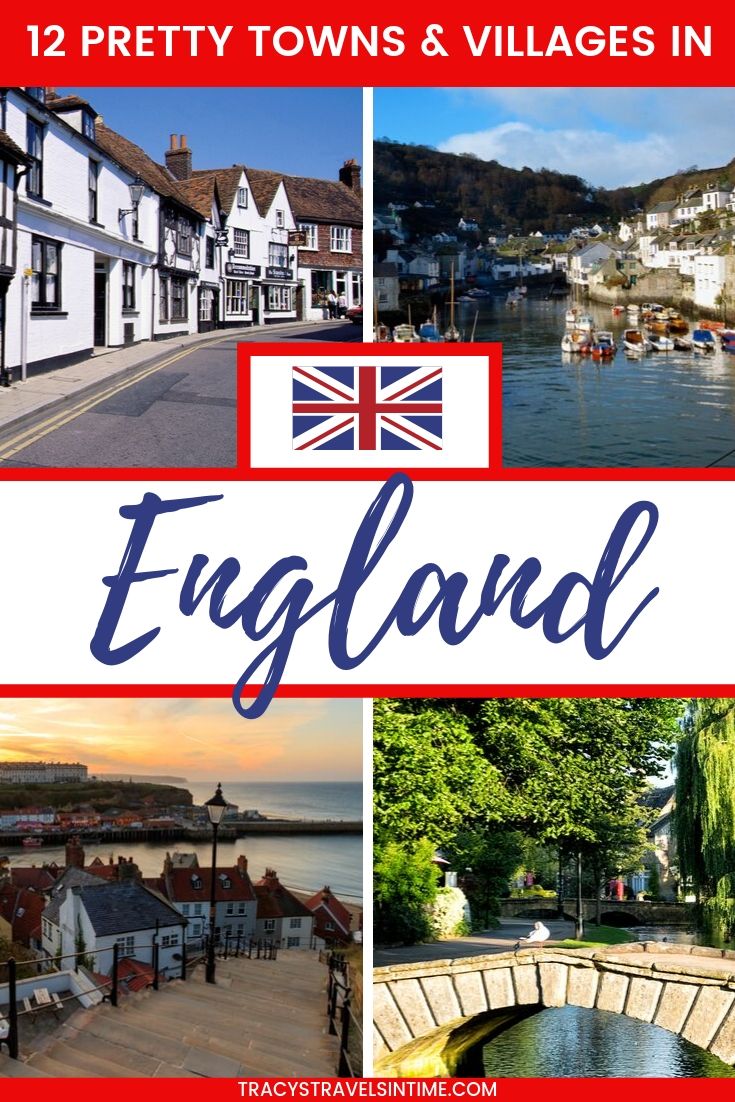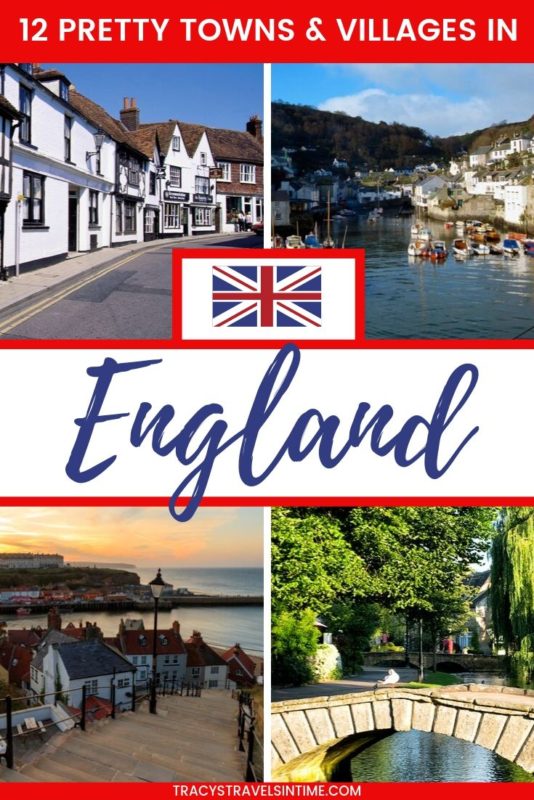 WHITBY IN NORTH YORKSHIRE
This popular coastal town is located on the north Yorkshire coast of England. Must do's include visiting the ruined Whitby Abbey to enjoy great views of the town and harbour. This Gothic building dates back to the 7th century and was a Christian abbey and later Benedictine monastery.
Whitby Abbey was famously also the inspiration behind Bram Stoker's Dracula.
Whitby was the home of famous explorer Captain Cook. If you would like to learn more about his life you can take a tour around the house in which he once lived and which now houses the Captain Cook Memorial Museum.
If you enjoy fish and chips Whitby arguably has the BEST in England. Head to the Magpie Cafe but do expect a queue as it is very famous for its beautiful food. No visit to Whitby is complete without a fish and chip lunch or dinner and I highly recommend it.
READ MORE – Ultimate guide to visiting Whitby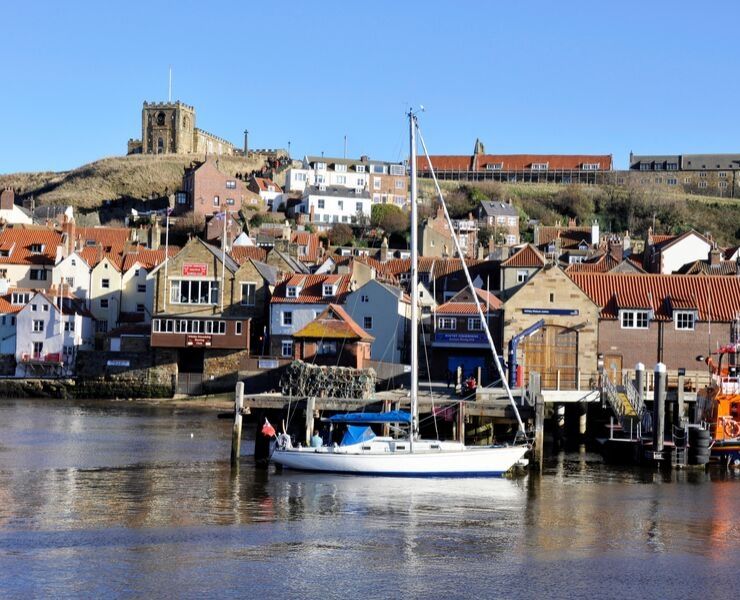 BAKEWELL IN THE PEAK DISTRICT
This market town in the Peak District of Derbyshire is popular with visitors from all over the UK and abroad. As well as the attractions of the town itself the Peak District is a beautiful area to explore with picturesque walks, stately homes and more to offer visitors.
In Bakewell do not miss the opportunity to try a famous Bakewell Pudding which can be purchased at the Old Original Bakewell Pudding shop in the town. It is delicious and much tastier than the mass produced versions of Bakewell Tart you may be familiar with.
Another must-visit in the Bakewell area is Chatsworth House, the home of the Duke and Duchess of Devonshire. It is one of the grandest stately homes in England and there are always lots of activities and events happening throughout the year. Christmas at Chatsworth is particularly beautiful and worth visiting if you are in the area during the festive period. Chatsworth's Farm Shop is also a favourite and stocks local produce.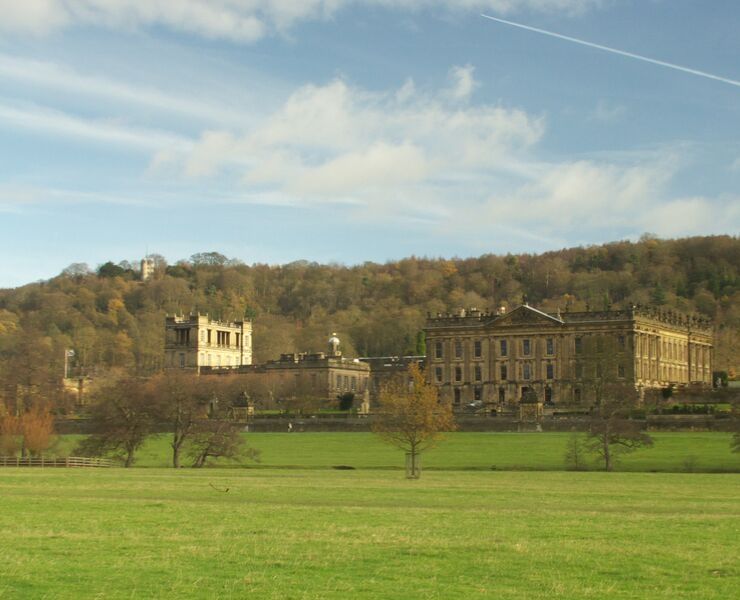 ST IVES IN CORNWALL
Located on the Cornish coast St Ives is one of the prettiest seaside towns in England. Famous for its links to artists such as Barbara Hepworth a trip to the Tate St Ives is a must for art lovers.
There are also lots of lovely cafes, galleries and shops to enjoy. Take a stroll around the harbour and the harbour beach or a boat trip to nearby Seal Island.
Indulge in an afternoon tea with scones, jam and Cornish clotted cream (just remember you are in Cornwall so the jam is added to the scone before the cream)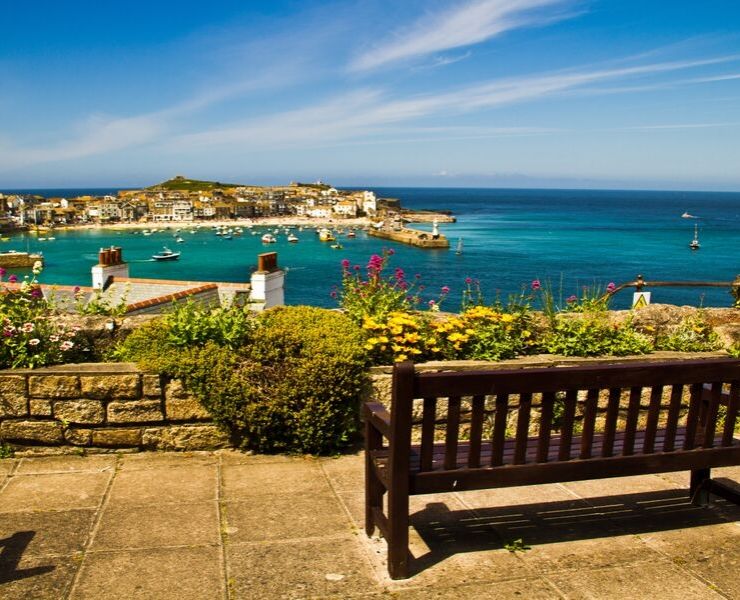 ALNWICK IN NORTHUMBERLAND
Visit Alnwick in Northumberland and take a tour of its famous castle. Featured in many movies including the first two Harry Potter films Alnwick Castle is open daily from the end of March to October.
If you enjoy visiting castles and learning more about English history you may be interested to know that Northumberland has more castles than any other county in England. In addition to Alnwick Castle other popular castles in the county include Bamburgh Castle and Lindisfarne Castle.
Also worth visiting in the town is the wonderful second hand bookshop of Barter Books which is located in the old train station building. Have lunch at the book shop and enjoy perusing the largest selection of second hand books in the UK.
READ MORE – Planning a drive up the Northumberland Coast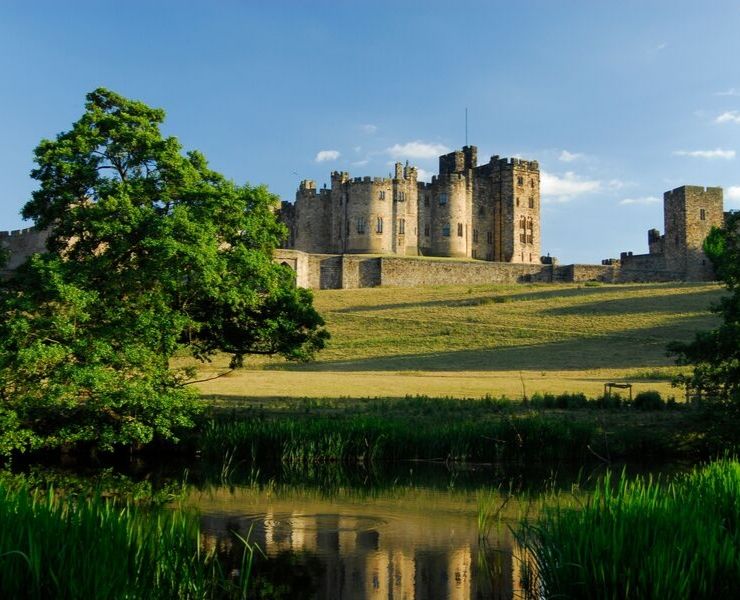 AMBLESIDE IN THE LAKE DISTRICT
With so many beautiful towns and villages in the Lake District choosing my favourite is not easy. However if I have to pick one then Ambleside located in the heart of Windermere is the winner (only just though!) Take a boat trip across Windermere from Ambleside to Bowness and Lakeside and enjoy stunning views of the area.
I recommend spending at least a day in the Lake District – more if you can – as there is so much to see and do.
Read more – The ultimate guide to visiting the Lake District in England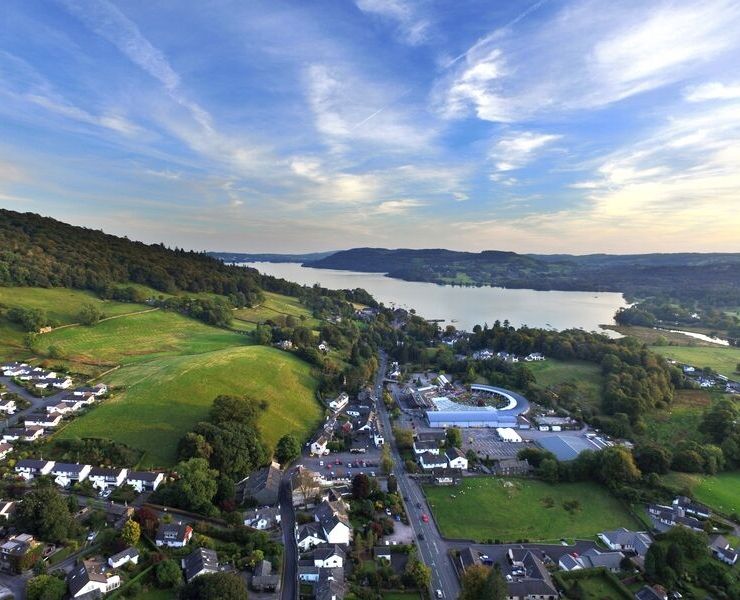 WARWICK IN SHAKESPEARE COUNTRY
Warwick Castle dominates the market town of Warwick and is the highlight of any visit to the area. If you enjoy history this for me is one of the best castles to visit in the UK. There are always has lots of activities going on in the summer months including jousting which is great fun to watch.
Take the free walking trail and spot the medieval buildings as you stroll through the market town. Warwick is also close to Stratford-upon-Avon the home of William Shakespeare and easily reached by car or train.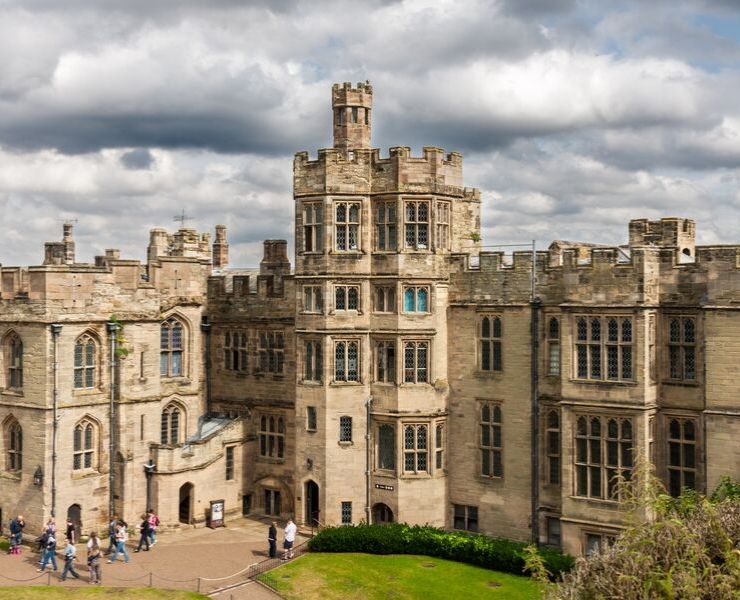 BURFORD IN THE COTSWOLDS
Th Cotswolds are an area of England that is famed for its beautiful villages and towns. Burford is often described as the gateway to the Cotswolds and is situated west of Oxford. Its beautiful medieval buildings and cottages make this a popular destination for tourists from all over the world.
Explore the side streets filled with antique shops and tea rooms and don't forget your camera for some of those iconic chocolate box shots of this pretty English village.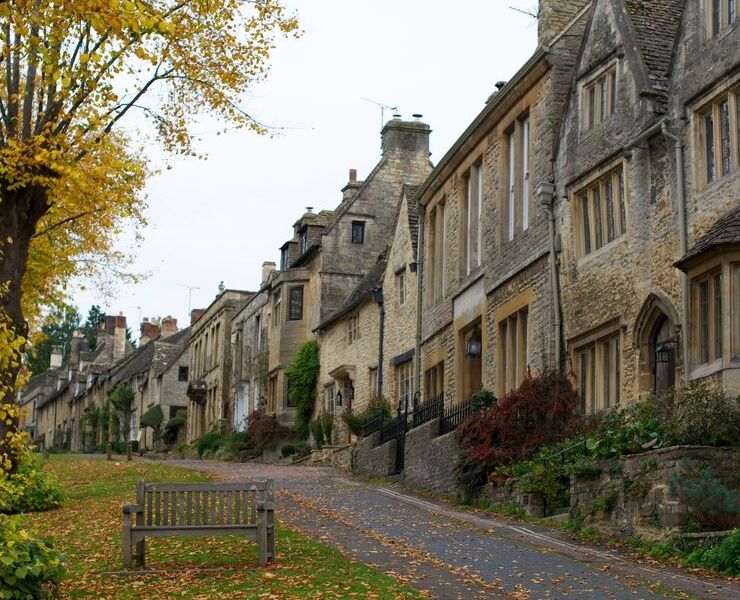 WINDSOR IN BERKSHIRE
Windsor Castle is the Queen's favourite weekend retreat from the hustle and bustle of the capital. If the Royal Standard is flying above the castle the Queen is in residence. Located a short train ride from London Windsor is perfect for a day trip.
If you are in Windsor in the right days you will be able to see the Changing of the Guard ceremony at the castle. The times and days change and it is weather dependent but you can find out more information on this link to the Changing of the Guard.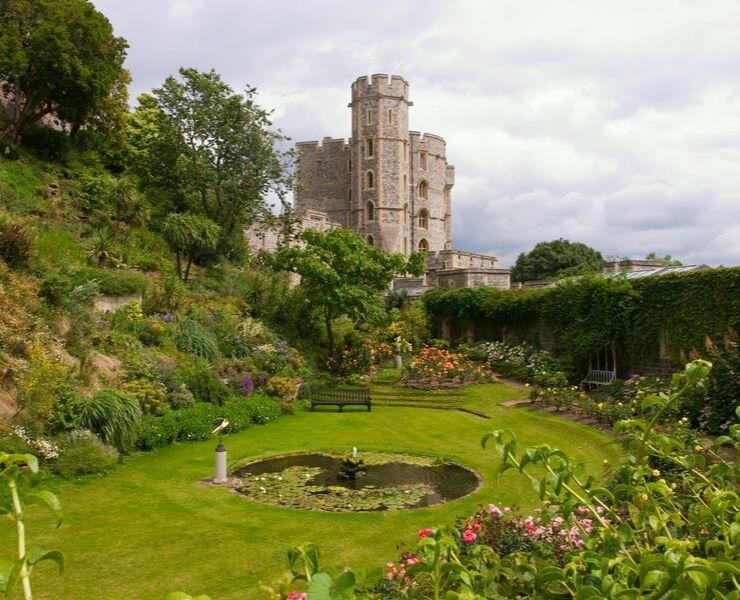 BOURTON-ON-THE-WATER IN THE COTSWOLDS
It is impossible to only have one of the many beautiful English villages located in the Cotswolds in this post. Bourton-on-the-Water is known as Venice of the Cotswolds because of the many bridges that span the River Windrush.
Don't miss the miniature model of the village which is 1/9 scale of the original or stop by at some of the shops and tea houses for an afternoon refreshment break.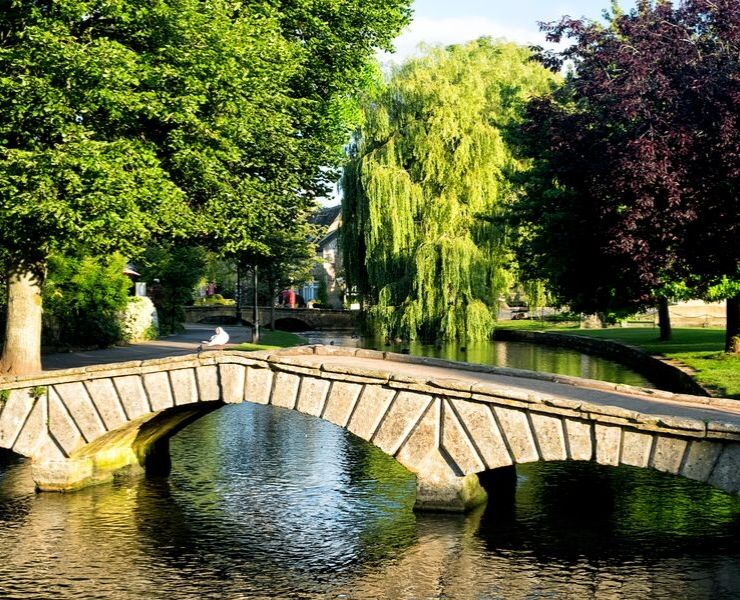 POLPERRO IN CORNWALL
I love Polperro and first visited this Cornish seaside village as a child nearly 50 years ago. Explore the cobbled stoned streets and harbour views and enjoy locally caught seafood in one of the excellent restaurants, cafes or pubs in the village.
Situated in an Area of Outstanding Natural Beauty if you are an experienced walker why not take the south west coast path from Polperro to Polruan a strenuous but beautiful 7 mile walk.
Alternatively base yourself in Polperro and take day trips to Bodmin Moor, Looe and Liskeard or even to the Eden Project in St Astell which is a 45 minute drive away.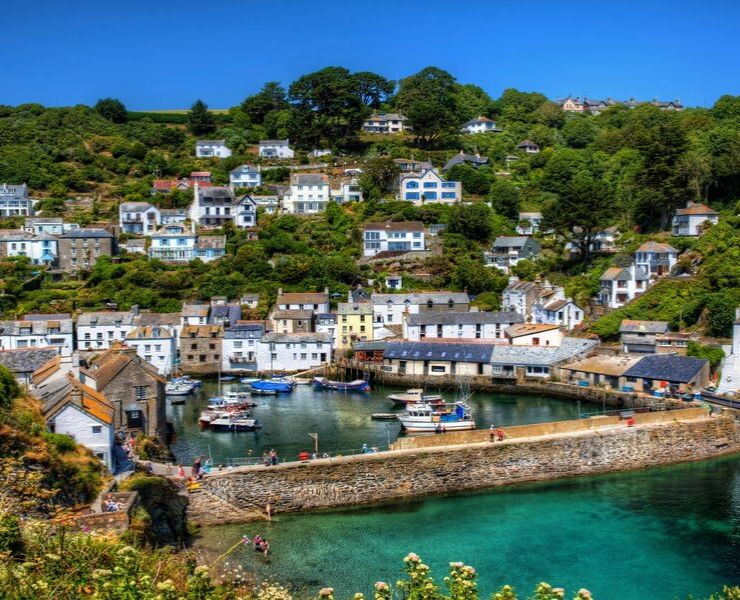 BIBURY IN THE COTSWOLDS
Yes a third village from the Cotswolds makes it into this list! If you haven't considered including the Cotswolds in your UK itinerary or live in the UK and haven't yet explored this beautiful region hopefully the inclusion of 3 Cotswold villages will inspire you to visit.
Bibury is situated in the county of Gloucestershire on the River Coln and only 9 km from Burford. Arlington Row are a line of ancient cottages which feature in all pictures of the village. Built in the 16th century these cottages have appeared in many films including Bridget Jones Diary. Henry Ford even attempted to buy the entire row to ship back to America but luckily was thwarted in his attempt.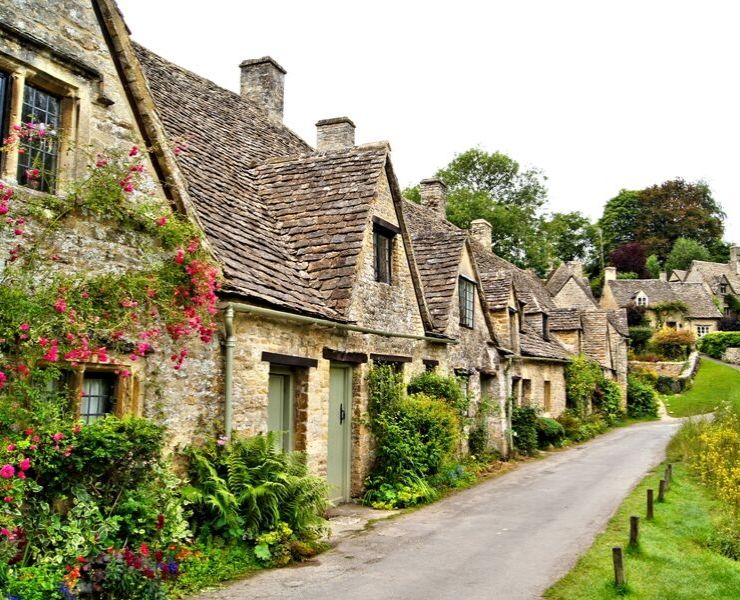 RYE IN EAST SUSSEX
Rye is consistently described as one of the prettiest towns in South East England. Medieval half timbered houses can be seen in cobbled lanes in the centre of town. Explore the passages and winding street and soak in the atmosphere of this historic town. There are lots of tea rooms, pubs and cafes as well as quirky shops to visit along the way.
Don't miss the 14th century Ypres Tower which was built to defend the town. And if you want to spend the night in Rye why not stay in a windmill? Rye Windmill really is a bed and breakfast with a difference!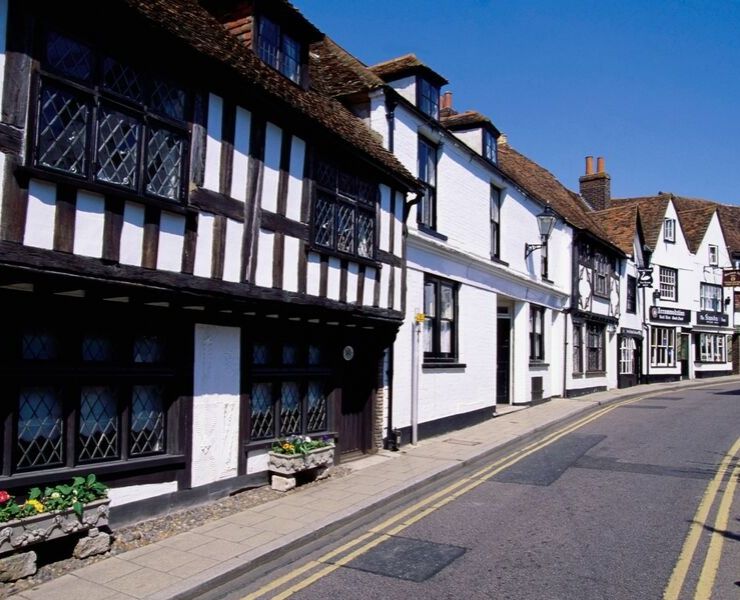 MAP SHOWING THE LOCATIONS OF THE MOST BEAUTIFUL TOWNS AND VILLAGES IN ENGLAND
As you can see from the map these pretty English towns and villages are spread across the country from the Lake District and Northumberland in the north down to St Cornwall in the south.
Click on the arrow below for the menu or on the camera icon for more information about each place.
WHICH OF THESE MOST BEAUTIFUL VILLAGES IN ENGLAND WILL YOU VISIT?
Hopefully this article will have provided you with lots of inspiration for beautiful places to visit in England. Have you been to any of these towns or villages? Do you have a favourite or is there one you particularly want to visit?
Do you need help planning your UK travel or are you looking for inspiration for new places to visit? Why not join my UK Travel Planning Group on Facebook for ideas, chat and advice for your travel plans?
Fish and chips, Bakewell Pudding, Roast Dinner – just some of the foods you have to try in England
UNESCO World Heritage Sites to visit in the UK
A collaborative post detailing 15 of the UK's listed UNESCO World Heritage Sites
PIN FOR LATER 12 OF THE MOST BEAUTIFUL VILLAGES IN ENGLAND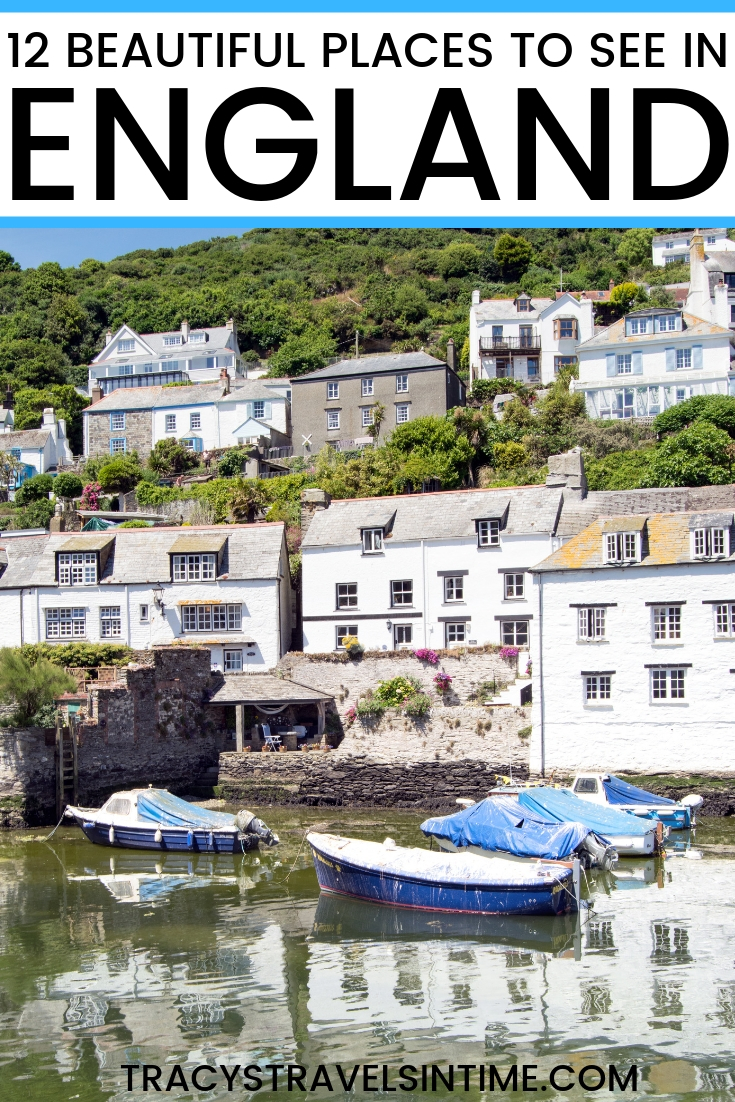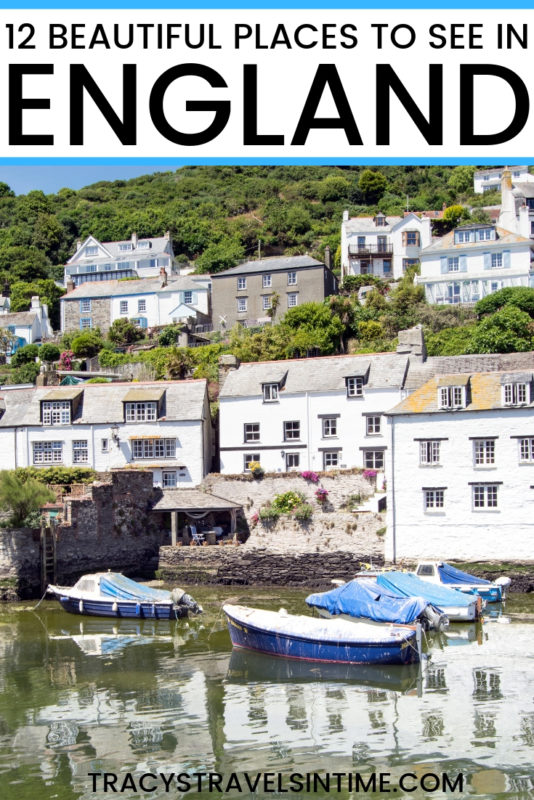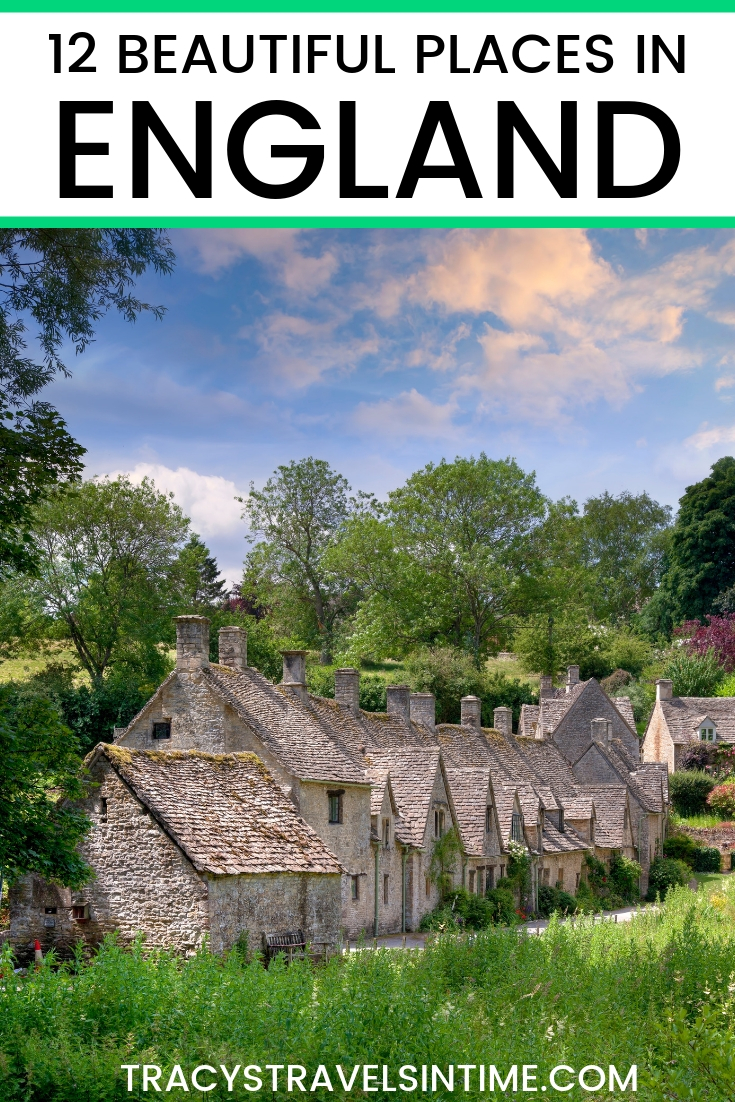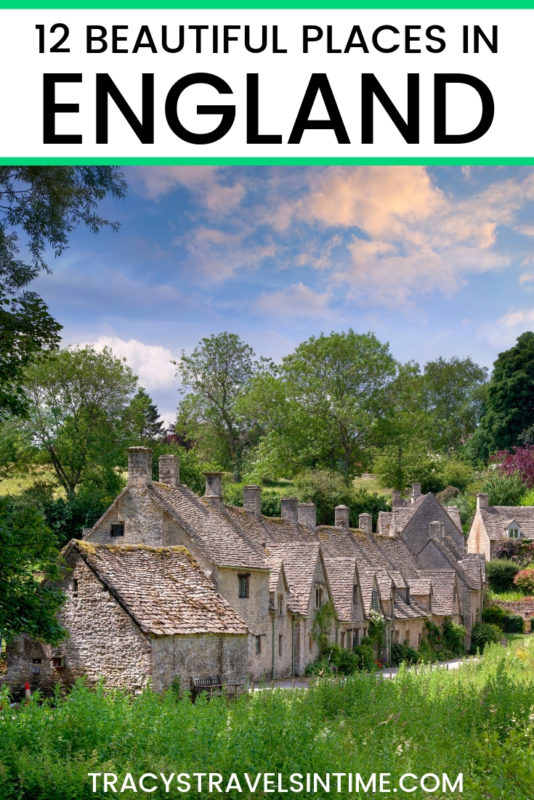 This post may contain compensated links. Please read our disclosure for additional information. As an Amazon Associate, I earn from qualifying purchases.
Over the last 50 years I have lived and worked in 7 countries on 4 continents and travelled to many more. I enjoy exploring and learning about new places and meeting people on my travels. History, reading, photography, nature and wildlife are my interests and I am ALWAYS researching and planning my next trip (preferably by train)
With a lifetime of travel experience, and a network of friends all over the world, I share genuine insider guides, recommended best book lists and train journey inspiration to help YOU travel authentically to some of the most beautiful places on earth.
Come and join me as I travel the world one country (and train journey) at a time!