If you are planning a visit to Northumberland you will discover there are lots of beautiful places to visit and things to do. One of our favourite places to visit is Barter Books in Alnwick.
Barter Books in Alnwick is the most magical place for book lovers and is somewhere I could happily pass a day (week/month) or two curled up in a chair devouring a book.
My husband had heard about Barter Books while watching an episode of "Portillo's travels around the UK" and it is a must-visit if you are in Northumberland.
Apparently over 350,000 people a year visit Barter books with 40% from outside the area. This gives you an indication of just how special this book shop is!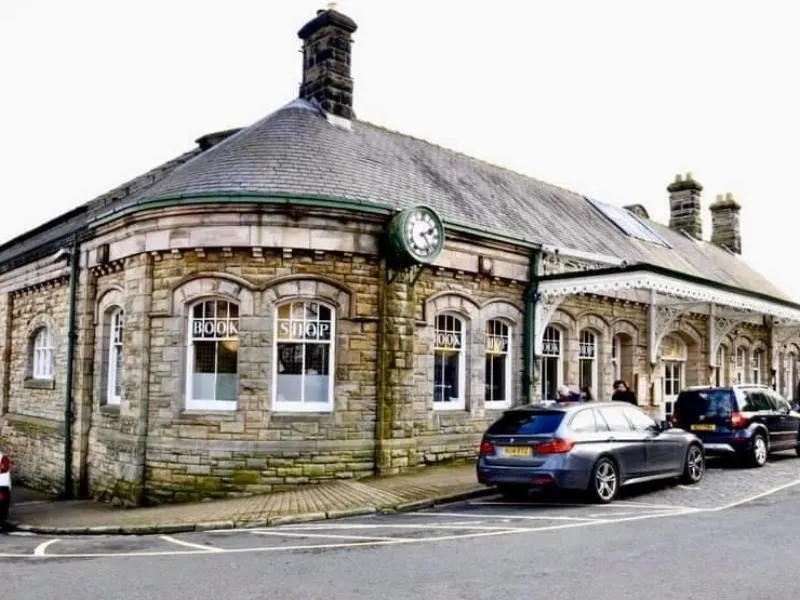 UK AND LONDON TRAVEL PLANNING GROUP
Are you planning a trip to London? Why not join my free London and UK travel planning group on Facebook? Join other travelers from the UK and abroad and find out helpful hints, tips, inspiration and practical advice to help you plan your visit!
CLICK HERE TO JOIN THE FREE UK TRAVEL PLANNING GROUP ON FACEBOOK
What is Barter Books?
Barter Books Alnwick was opened by Mary Manley in 1991 and is now one of the largest second-hand bookshops in Europe.
It is situated inside a Victorian railway station which is a beautiful building with so much character.
Those with a particular interest in the station's history and architecture can follow the Alnwick Station Walkabout 'A self-guided historical tour.' This gives a step-by step room by room description of the building.
There are books everywhere and comfortable chairs and sofas and fires and even a train running on tracks above your head. There are quotes joining bookcase to bookcase and beautiful murals to enjoy.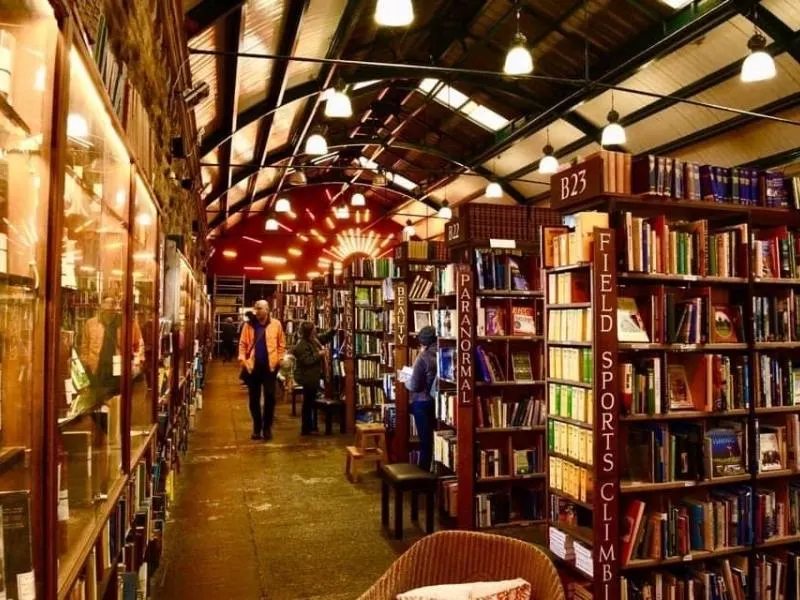 The 3 murals were commissioned by the owners. They are – the "Famous Writers mural" (see who you can spot) – the "Railway mural" which consists of the names of railway workers who worked at the station between 1850 and 1968 and finally the "Tennyson Installation." This was inspired by the work of artist Mark Handforth and contains the first lines of Tennyson's poem 'Crossing the bar.' (source from the Barter Books leaflet)
Keep Calm and Carry On at Barter Books!
Barter Books is the home of the iconic "Keep Calm and Carry On" poster which has seen a resurgence of popularity in recent years.
Find out how the poster came to the attention of the nation and the world after their discovery in a box in Barter Books!
Plan your visit to Barter Books
Barter Books is in Alnwick in beautiful Northumberland about 35 miles north of Newcastle.
There are lots of things to do and see in Alnwick so why not plan to spend a day or two exploring the area?
Parking at Barter Books is free though it can get busy.
There is a station buffet shop at Barter Books which offers a range of tasty meals as well as cakes, coffee, tea and cold drinks.
Barter Books is open every day 9:00 – 7:00 incl. Sundays and all Bank Holidays (apart from Christmas Day)
The Buffet hours are : 9:00 – 6:30
If there is a particular book you are looking for you can check in the shop's catalogue.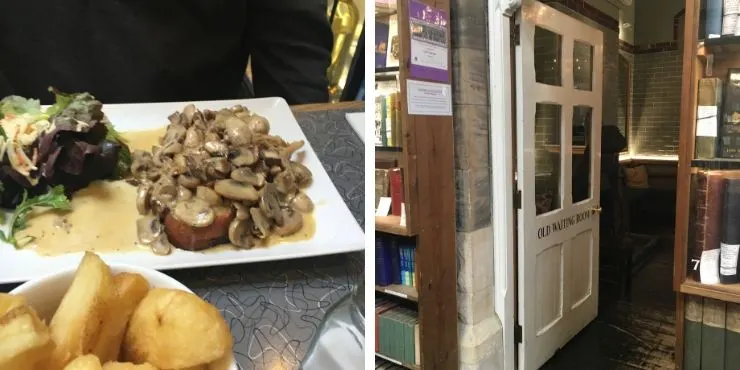 Enjoy your visit to Barter Books
We absolutely loved spending time at Barter Books….what more could you ask for?
Over 350,000 second-hand books including some very rare (and expensive ones), free WiFi, free parking and a station buffet?
This is a very special place and if you are in Northumberland a must-visit!
Looking for more ideas of things to do in Alnwick? My guide to visiting this beautiful Northumberland town has all the info you need!
Read more about visiting Northumberland
I am originally from Northumberland and although I no longer live there I enjoy writing about this beautiful county, You may be interested in reading some of my other articles: