If you are planning a drive up the Northumberland Coast or are simply looking for some great ideas for day trips in Northumberland why not visit one of the many Northumberland castles for which the county is famous?
With more castles than any other county in England you really are spoilt for choice in Northumberland. Steeped in history and the site of conflicts throughout the ages the strategic location of Northumberland on the border of Scotland resulted in the building of many castles to defend and deter invaders.
In this article you can read about 7 of the best Northumberland castles to visit including Alnwick Castle, Bamburgh Castle and Lindisfarne Castle.
There is also a useful map at the end of the post which shows where each of these castles in Northumberland are located. You may also enjoy reading about things to do in Northumberland which looks at places of interest in Northumberland and also includes my guide to visiting the Holy Island of Lindisfarne.
If you enjoy reading do take a look at my recommended books to read before you visit Northumberland and also consider including a trip to the best and biggest second-hand book store in Europe – Barter Books – in Alnwick to your Northumberland itinerary. It is a perfect addition to any day trip to Alnwick Castle.
7 BEST NORTHUMBERLAND CASTLES WE RECOMMEND VISITING
When we were in Scotland, we did a tour to Alnwick Castle in Northumberland, England and the Scottish borders. Alnwick Castle is very impressive and still inhabited by the 12th Duke of Northumberland, Ralph Percy and his family.
The castle is beautifully furnished but had a 'homely' feel. The castle has been in the Percy family for 700 years and all their history, priceless paintings and furniture, books, journals, photographs, personal possessions are there for all to see.
Alnwick Castle is the second largest inhabited castle in England and has been home to legendary kings and queens of England to the present day. The Alnwick castle gardens are equally enchanting and the town is quaint with coffee shops and cosy cafés, and award-winning fish and chip restaurants. You can find local boutiques and other shops in the centre of Alnwick.
In recent years Alnwick castle has also taken starring roles in several films and television productions, featuring as Hogwarts School of Witchcraft and Wizardry in the Harry Potter films and as a location for the show Downtown Abbey. Our kids were excited to try the broom flying lessons when we were visiting the castle. We also ran into the boy himself, or at least someone dressed as Harry Potter?
Read more about things to do in Alnwick
CLICK TO PURCHASE TICKETS FOR ALNWICK CASTLE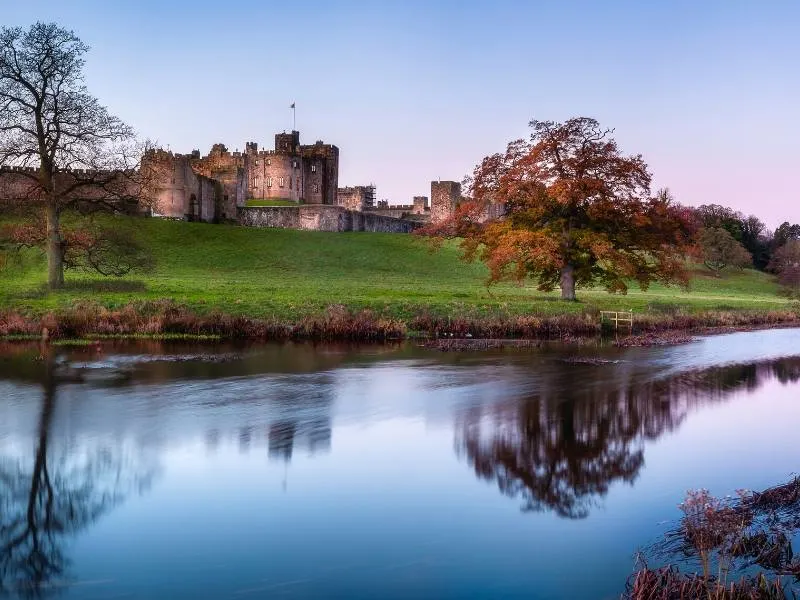 THINGS TO DO IN ALNWICK
A wonderful second-hand book shop housed in an old railway station Barter Books is a must-visit when in Alnwick. There is also a great cafe so stop off for a bite to eat. Don't miss the model train which runs on tracks above the book shelves and the wonderful murals on the walls.
Pop into theWhite Swan pub for a drink and take a look at the dining room which was salvaged from the Titanic's sister ship, the RMS Olympic. The original panelling, mirrors, ceiling and stained glass windows are truly magnificent.
Roughly 20 miles from the Scottish border and smack bang in the middle of Northumberland Coast Area of Natural Beauty stands the splendid Bamburgh Castle. 'The King of Castles' is still home to the Armstrong family who acquired it and set about its restoration in 1894.
The gravitas this castle holds on the seaside skyline is considerable. I recommend viewing it from as many different angles as possible, and especially from the pristine white sand beach. Breathe in the sea air which is particularly fresh in this region as there are no industrial sites for miles.
Inside, the basketball court-sized Kings Hall is a real highlight, with its Victorian craftsmanship, sections of original medieval stonework, Siamese Teak 'False hammer-beam' ceiling and fully sprung pine ballroom dance floor. The Armoury houses a wild and varied collection of old guns, knives and murdering weapons which forensics suggest had all been used in anger.
It's hard not to be impressed by the scale, history and immaculate restoration of Bamburgh Castle.
CLICK TO PURCHASE TICKETS FOR BAMBURGH CASTLE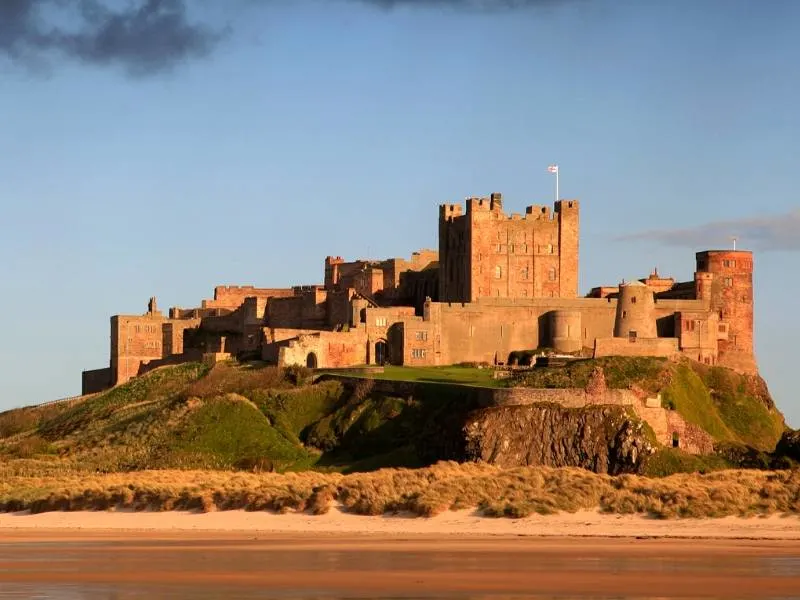 THINGS TO DO IN BAMBURGH
The inspiration behind the song "Amazing Grace" you can find out all about the bravery of Grace and her light housekeeper father as they battled to save survivors of a shipwreck in 1838.
Grace Darling died in 1841 aged only 27 and is buried in the nearby St Aiden's Church. The church is also famous for one wooden beam which dates back to the original structure built in 635 AD. The beam has survived 2 fires and legend has it that it was touched by St Aiden. The church was once the centre of Christianity in England.
If you enjoy walking why not take the coastal path from Bamburgh to Seahouses. The walk is approximately 3 miles and there are lots of places to find refreshments in Seahouses before walking back. If you prefer not to walk back there is public transport available to take you back to Bamburgh.
READ MORE | GRACE DARLING MUSEUM | ST AIDEN'S CHURCH
Chillingham Castle situated just south of the Scottish Border in Northumberland is touted at the most haunted castle in Britain.
King Edward I stopped here on his way to fight Robert the Bruce, capture William Wallace, and many Scottish prisoners were tortured and died in the Torture Chamber below although it is not their spirits that roam the halls but that of the Executioner John Sage who was hung by Edward along with many others.
If ghosts are your thing you can book one of the Ghost Tours and see how true the stories are. For me a tour during the day was plenty enough to get a feel of the place, including the 'witch' in the Still room who apparently haunts anyone who steals from there.
Still in good repair the Castle the lower halls show what it was like when it was first built in 1226, the Great Hall is every man's fantasy with numerous hunting trophies, guns and armour. The upper halls show a later period when King James 1 came to visit in 1603 with Elizabethan plastered ceilings and all the niceties of the more modern era.
The owner was wandering around while we were there chatting to visitors and sharing parts of history with them, but in each room there are information sheets filled with interesting and often funny anecdotes.
While visiting it is also well worth going to see the Chillingham Wild Cattle a relic from the past these cattle are where all domestic cattle originated and there are only about 100 remaining in the world today.
CLICK TO PURCHASE TICKETS FOR CHILLINGHAM CASTLE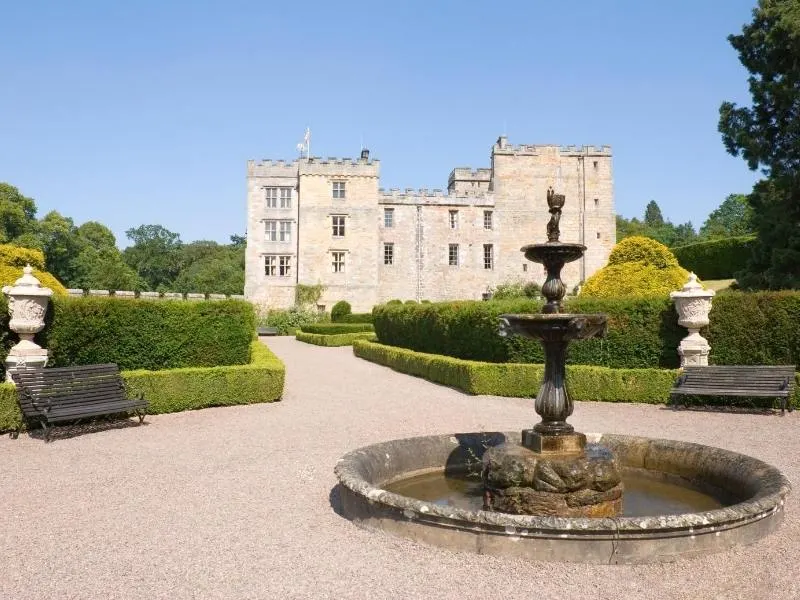 Warkworth Castle is the ruins of a 12th Century motte and bailey castle in the Northumbrian town of Warkworth. The castle was the home of the Percy family for over 300 years who today live in nearby Alnwick Castle.
Warkworth is an unusual motte and bailey castle which is a wood or stone keep built on an artificial hill (or mound) and surrounded by a fortified enclosure.
Apart from the nearly intact keep, the site is in ruin but it is easy to imagine what this impressive castle looked like in its heyday. You can enter the cross-shaped keep to view the Duke's room, recreated to portray life hundreds of years ago.
But most of your exploring will be done outside, amongst the ruins. Our children loved this medieval castle; they called it a 'proper castle' as the ruins are a perfect storybook image of a knights castle.
CLICK TO PURCHASE TICKETS FOR WARKWORTH CASTLE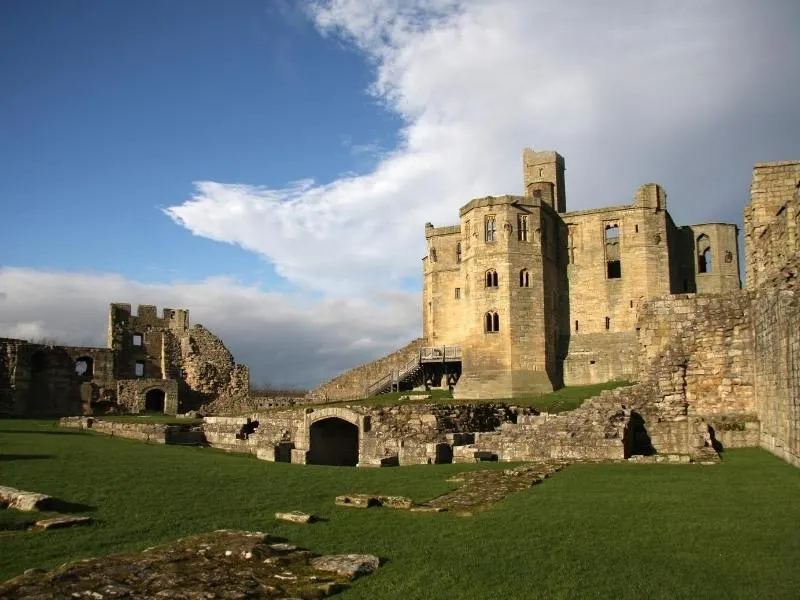 DO YOU LIVE IN THE UK? WHY NOT JOIN ENGLISH HERITAGE TODAY AND GAIN FREE ENTRY TO OVER 400 PROPERTIES!
FROM OVERSEAS? WHY NOT PURCHASE AN ENGLISH HERITAGE ATTRACTIONS PASS FOR OVERSEAS VISITORS?
Enjoy free entry to over 100 English Heritage sites including Stonehenge, Dover Castle, Hadrian's Wall and Tintagel Castle. Only available to non-UK residents, you can start saving money after visiting just two or three sites.
→ READ MORE: CLICK HERE FOR MORE INFORMATION ABOUT THE ENGLISH HERITAGE ATTRACTIONS PASS
DUNSTANBURGH CASTLE
by Sinead of Map Made Memories
Dunstanburgh is, in my opinion, one of the most impressive of all the castles in England. It is not merely impressive for its size (it is the largest castle in Northumberland) but for its dramatic and beautiful location.
Dunstanburgh Castle was built in the early 14th century by the Earl of Lancaster on a remote, windswept headland.
The walk along the scenic coast to Dunstanburgh Castle from nearby Craster village is unmissable. The isolated ruins are a Site of Special Scientific Interest due to its natural habitats for birds and other animals.
On the extensive English Heritage site, visitors can explore the gatehouse ruins and the Lilburn Tower with views along this stunning stretch of coastline.
I would highly recommend allocating time to continue walking the short distance from the ruins to Embleton Sands, a beautiful, clean expanse of sandy beach and our favourite beach in Northumberland.
CLICK TO PURCHASE TICKETS FOR DUNSTANBURGH CASTLE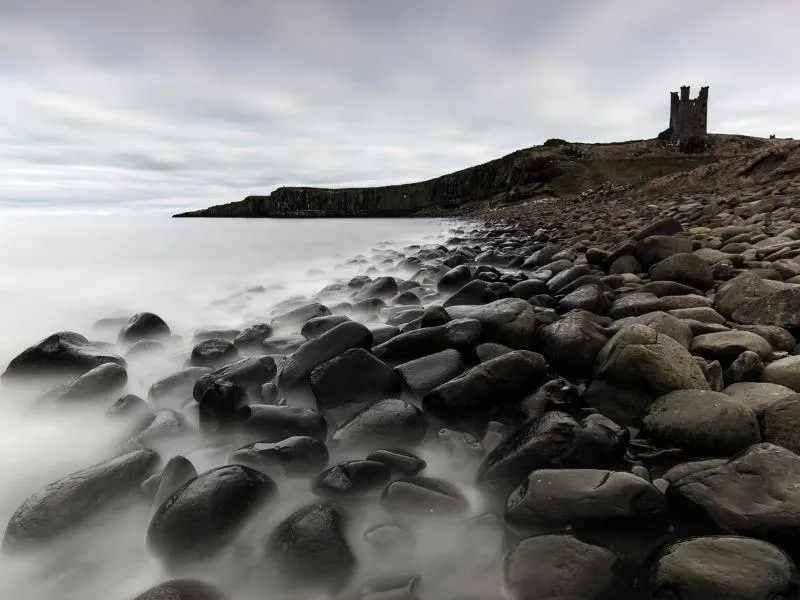 LINDISFARNE CASTLE AND PRIORY
by Sinead of Map Made Memories
The ruins of Lindisfarne Priory are on the Holy Island of Lindisfarne, a small island which is linked to Northumberland by a tidal causeway. Access to the picture perfect island is cut off at high tide.
The priory was founded in AD635 by Saint Aiden but the ruins you can visit today are from buildings which commenced construction in the 12th century. Lindisfarne Priory was an important centre for Christianity in Anglo Saxon England and is the original home of the famous 8th century Lindisfarne Gospels. Explore the excellent museum, wander the extensive site and spot pockets of decorated ruins. Don't miss the Rainbow Arch, a broad stone arch which survived intact when the tower above it fell down 200 hundred years ago.
Lindisfarne Castle was built in the 16th century using many of the stones from the ruined priory on the island. It has recently been completely renovated and reopened after 3 years in 2019.
Leave plenty of time in your schedule to explore the charming Holy Island itself. However, all visitors must check the tide timetable before starting to cross the causeway from either end; there are frequent rescues of ill-prepared tourists.
READ MORE | THINGS TO DO AND SEE ON LINDISFARNE
CLICK TO PURCHASE TICKETS FOR LINDISFARNE CASTLE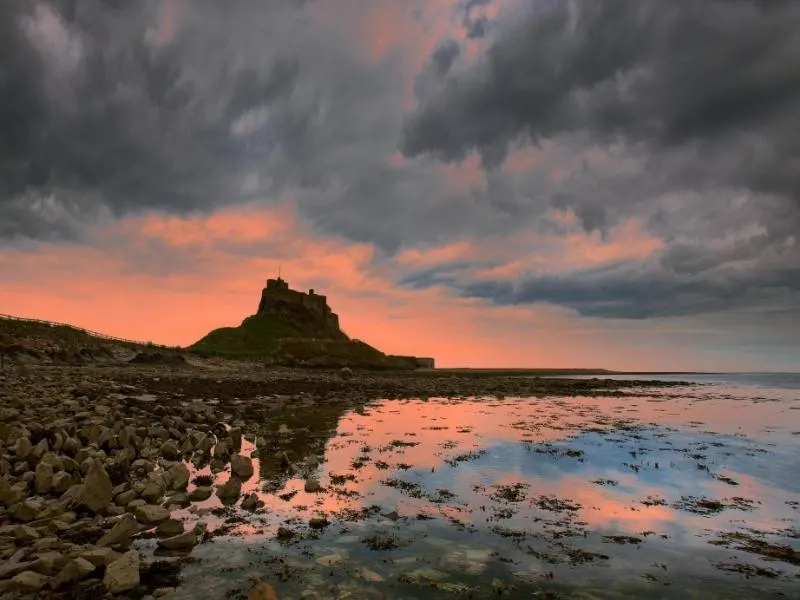 JOIN ENGLISH HERITAGE TODAY – FREE ENTRY TO OVER 400 PROPERTIES!
FROM OVERSEAS? WHY NOT PURCHASE AN ENGLISH HERITAGE ATTRACTIONS PASS FOR OVERSEAS VISITORS?
Enjoy free entry to over 100 English Heritage sites including Stonehenge, Dover Castle, Hadrian's Wall and Tintagel Castle. Only available to non-UK residents, you can start saving money after visiting just two or three sites.
READ MORE : CLICK HERE FOR MORE INFORMATION ABOUT THE ENGLISH HERITAGE ATTRACTIONS PASS
PRUDHOE CASTLE
Prudhoe Castle is another inhabited castle located in Northumberland. This Medieval castle was built to defend a strategic crossing of the River Tyne against the Scottish and is one of a series of castles built along the Tyne after the Norman conquest of 1066. It was the only castle in Northumberland to resist the Scottish invaders and survived 2 sieges.
Explore the keep and walls that surround the castle and don't miss the great hall. Take a picnic and enjoy a day out at Prudhoe Castle.
The castle is free to English Heritage members.
CLICK TO PURCHASE TICKETS FOR PRUDHOE CASTLE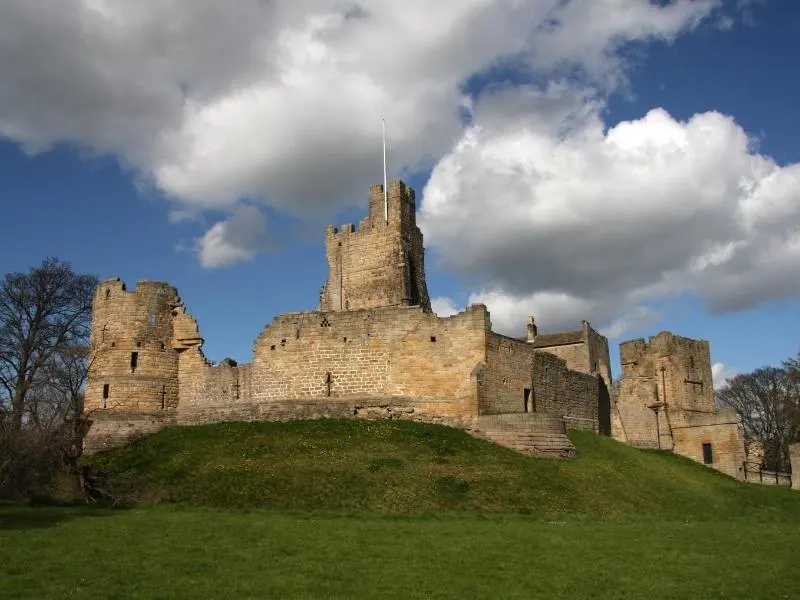 Map showing locations of the Northumberland castles
Plan your visit to Northumberland