If you want a taste of what the Costa Brava of Spain is all about and you only have time to visit one town, make it Cadaques. I promise you won't be disappointed!
Cadaques has everything you would expect from the quintessential Costa Brava town, complete with acres of diamonds.
But more on diamonds later.
Cadaques is located 85 miles from Barcelona, directly on the Costa Brava. Driving from Barcelona takes approximately 2 hours and 15 minutes.
Although Cadaques is technically within an acceptable range to make a day trip from Barcelona, there are a few essential things to see there that require more than a one day stay, and two of them are free things. So it's perfect for a weekend visit.
Travelling to Cadaques – A Wild Ride To A Rough Coast Weekend
I made a weekend visit to Cadaques from Girona, where I've spent March and April for five years. Girona is only 46 miles from Cadaques, and the drive will only take about 1 ½ hour if you drive straight through.
Parts of the drive are stunning. But not necessarily for the faint of heart. The astounding view comes complete with a narrow, twisting road hugging a cliff on one side and a drop-off down towards the Mediterranean Sea on the other.
The term "Costa Brava" literally translates to "wild coast" or "rough coast," and the terrain lives up to its name.
The Costa Brava is a coastal region of Catalonia, located in northeastern Spain and technically stretches from Blanes (60 km northeast of Barcelona) to the Spanish-French border. Cadaques is situated at the easternmost tip of Spain and only 20 miles from the French border.
The entire region is one of rugged, craggy coastlines, twisty roads, and whitewashed buildings. But Cadaques is a unique seaside gem that you should not miss.
Cadaques has been a remote artist haven since the late 1800s, and remote it still is. There is no train service to or from Cadaques, bus service that is not all that frequent or convenient, and only one road leading to and from the town.
Hence the self-drive option, although it offers a birds-eye view of the Mediterranean Sea along with the beautiful surrounding countryside, if you're a nervous car passenger, you won't want to be sitting on the side of the car with the dropoff.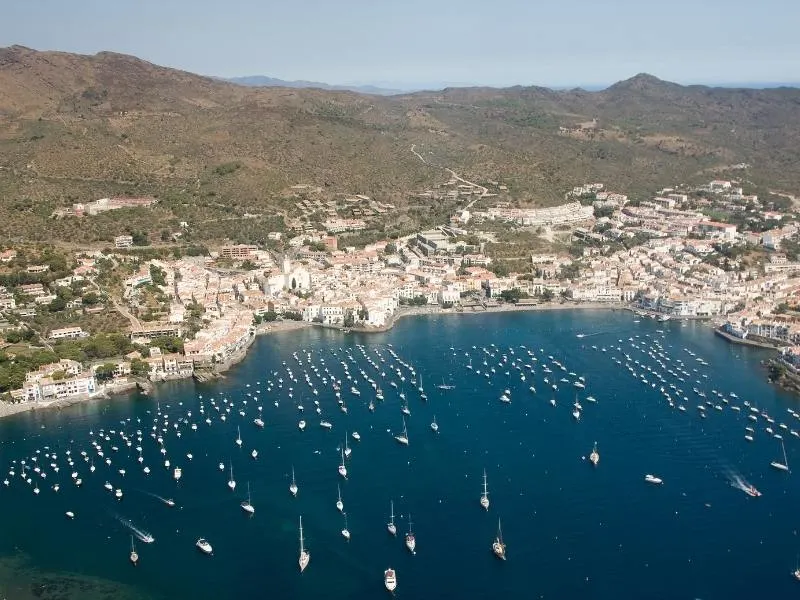 A Perfect Off The Beaten Weekend For You
Whew! No, you didn't go over the edge of the mountain while driving into Cadaques. So now it's time to get yourself situated and enjoy this mellow, enjoyable town.
In reality, there are only a handful of must-see attractions in Cadaques. And 2 of those must-see places left me speechless – more on that in a moment.
Aside from those must-see places, the real appeal here is spending time and soaking up its surreal quality. Cadaques just has a distinct look and feel to it.
But guess what? A picture is worth a thousand words, and someone already painted those pictures.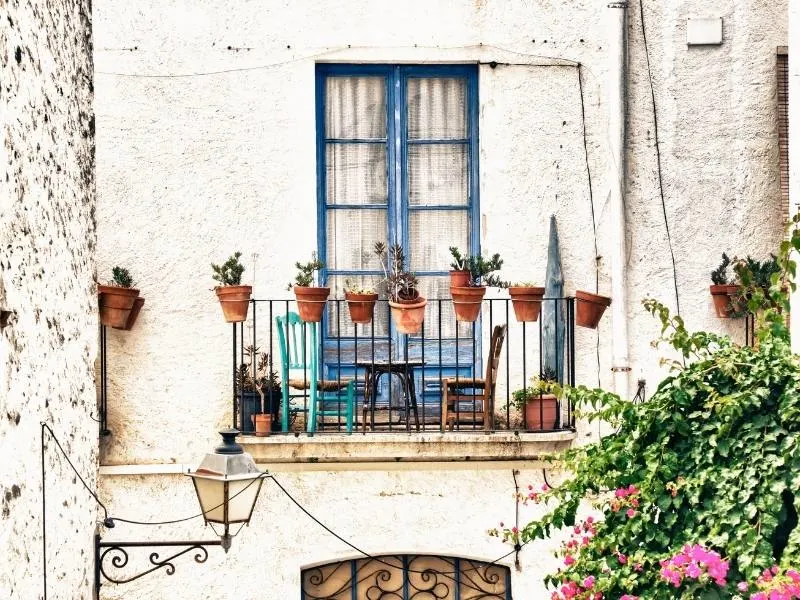 The Artists Who Came
Cadaques was not only a haven for random artists, but it was also the chosen location for some relatively well-known artistic individuals who came here to create some of their art.
Have you ever seen works by any of these artists?
Joan Miro
Rene Magritte
Pablo Picasso
Marcel Duchamp
These artists were all inspired by Cadaques and created some of their works in this charming fishing village.
The Artist Who Stayed
But those artists came and went. Some of them came to enjoy the summer season on the Costa Brava, perhaps extending their visits from time to time, but they were only visitors for the most part.
But there is one artist who stayed. And visiting this artist's house is the reason that many people come to Cadaques today.
That artist is Salvador Dali.
Dali was so enchanted with Cadaques and the surrounding beauty that he built a house in Port Lligat (a tiny village in the municipality of Cadaques) located directly on the bay.
Whether you're a Salvador Dali fan or not, his achievements are nothing short of amazing. Did you know that Dali produced 1500 paintings during his artistic career?
And that's not including all of the other artistic works he created, including book illustrations, theater costumes, sets for theater productions, dozens of drawings and sculptures, and even a short animated Disney film.
In addition to the 1500 paintings, the other projects probably numbered in the thousands. So it's safe to say that the man was an artistic genius.
Well, the house of this prolific artistic genius is now a museum that is well worth a visit, even if you're not particularly a fan of the art created by the man.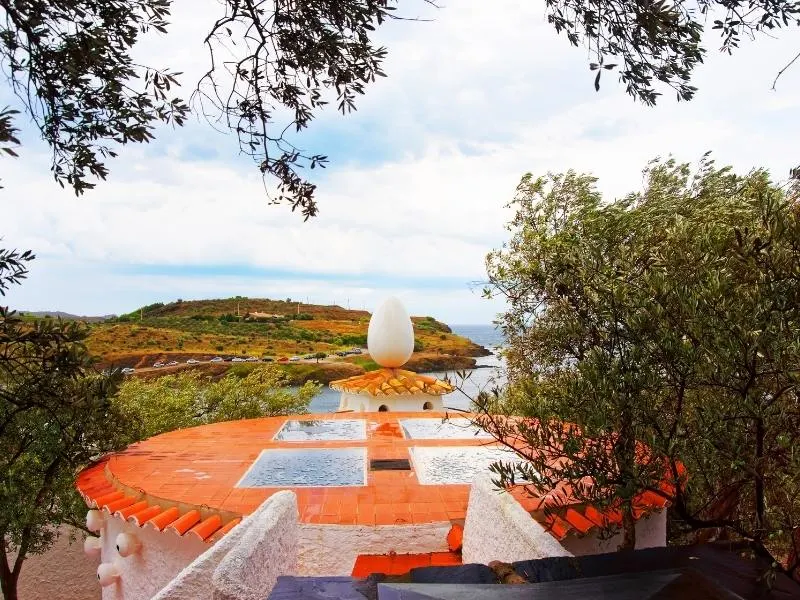 Must-See #1 – Amazing Or Bizarre?
Salvador's house (now a museum) is must-see #1, and the first thing that struck me speechless during my weekend in Cadaques. You will have to be the judge of whether it's totally bizarre or purely amazing.
Or how about amazingly bizarre?
Salvador Dali chose to put his house right at the waters edge on the tranquil bay in Port Lligat, and it's easy to see why he chose this location to live and work from 1930 to 1982.
When I first arrived and saw the house from the outside, my initial impression was that it was smaller than I expected.
Nothing prepared me for what I saw inside.
The weirdness and wackiness of the place simply left me without words. But after further consideration of what I had seen, I realized that the bizarre feel of Dali's house is reflected in his paintings too.
Having seen many of his paintings, I guess I shouldn't have been surprised.
Every nook and cranny in the house is stuffed with wacky "stuff." The interior is just as it was when Dali was living there, and if you feel at home with stuffed dead animals, well, you'll feel right at home in this place.
Even though this house's total bizarreness completely bowled me over, I did have a favorite part. It was the outside area with the pool shaped like a….well, part of a man's anatomy. I'll just let you do your research about that!
Oh, did I mention that the place is bizarre?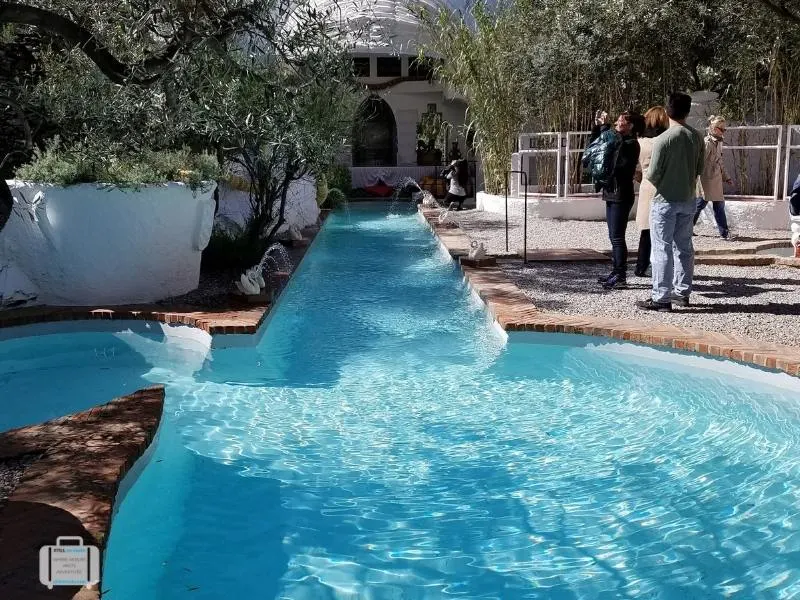 Must-See #2 – Acres of Diamonds
Yes, we finally get back to my promise of showing you acres of diamonds.
Well, figuratively anyway, if not literally.
A short drive from Cadaques is a peninsula containing a natural park area called Cap de Creus. This natural wonder feels like it's literally at the end of the world as you're driving in, and the terrain is stunning.
Towering cliffs that overlook the jagged coastline are only some of the visual wonders that you will see.
The one road in and out is not designed for driving fast, so be prepared to take your time. The road is, in fact, big enough for only about one car. So two cars can be a challenge! Slow and steady wins the game on the road through Cap de Creus.
But you will be rewarded for your patience. The Cap de Creus Lighthouse is the last stop on the road and the perfect place to enjoy the views along with some beverages and a meal.
Located high up on a cliff with breathtaking views out over the Mediterranean Sea, there is no better place to contemplate life while staring out around you at the natural beauty you see in every direction.
If you're lucky enough to be visiting Cap de Creus on a brilliant, clear sunny day, you'll catch a glimpse of those "acres of diamonds" I mentioned earlier. I captured the image here in my post from the Cap de Creus Lighthouse's outside deck area, where we dined.
And while my image isn't bad, the shimmering brilliance of the sea while viewing it in person from high atop the cliff was the second thing to absolutely strike me speechless during my weekend in Cadaques.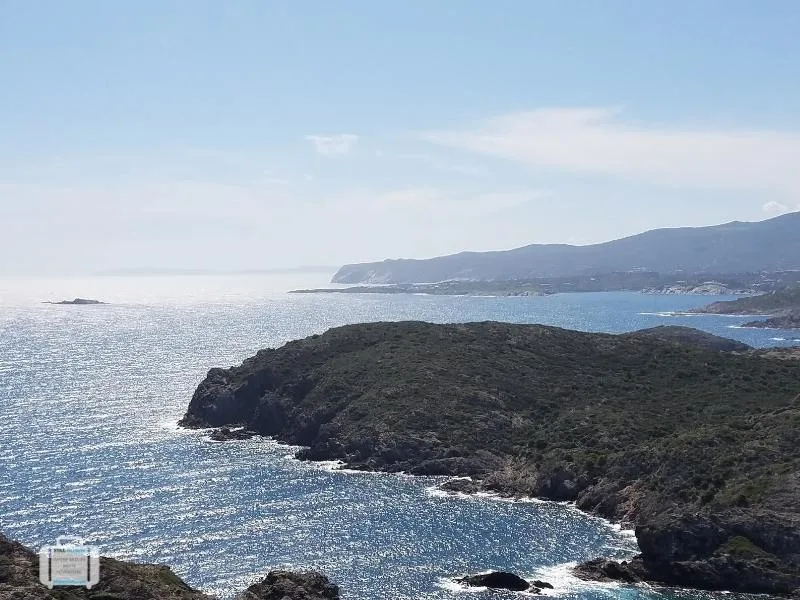 Essential Things To Do On A Cadaques Weekend
Salvador Dali House & Museum
Visits are conducted in restricted-size groups with a maximum of 8 people and are strictly controlled. Reservations are required.
Upon making your reservation, you will be given a tour departure time for your group and instructions on when to arrive and where to pick up your tickets.
Your tour will include the Dali House and the garden area. The ticket cost in 2020 is 14.00 EUR per person.
Cap de Creus Natural Park
A short drive from Cadaques, this park is almost guaranteed to leave you with lasting memories. Try to avoid weekends.
If you're in Cadaques over a weekend, visit Cap de Creus on Monday before leaving the area. It is free of charge to roam the park.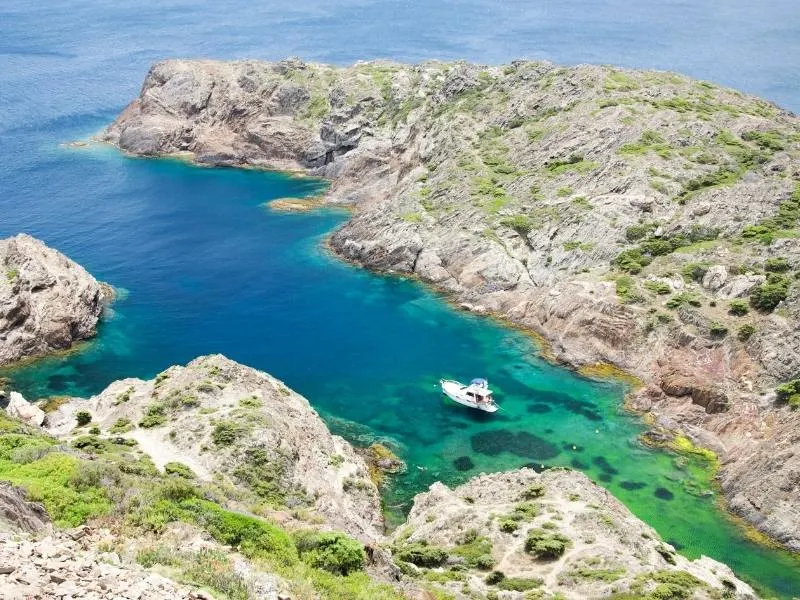 Esglesia de Santa Maria
Towering over the old historic center of Cadaques, this Gothic-style church begun in the 14th century has an extraordinary Baroque altarpiece. No fee to enter the church.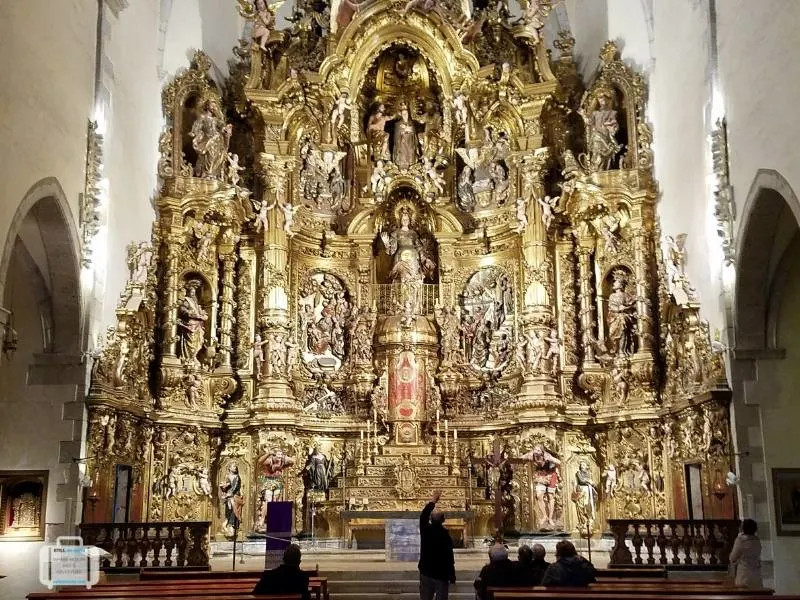 Old Town Cadaques
While not large, Cadaques has a very atmospheric old town, and you should spend some time wandering around it.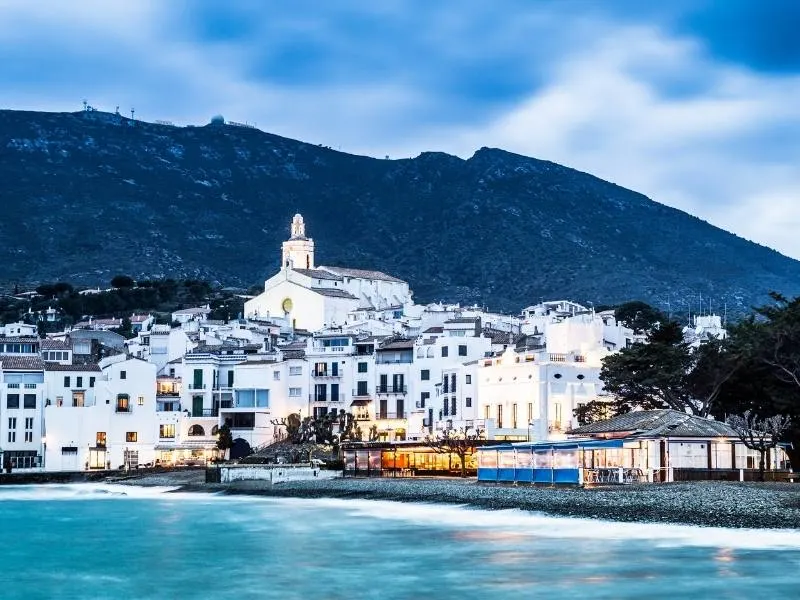 Plan your visit to Cadaques
Where To Stay In Cadaques
Hotels in Cadaques
There is more than one good hotel option for your weekend in Cadaques.
For a room with a view, consider a stay at the Arrels Hotel. Located high above Cadaques, the view over the village and the bay couldn't be better.
And the hotel comes with another bonus in the form of interesting history. It was one of THE meeting places for intellectuals and artists during the 1960s. It also had one of the first open-air discotheques in the country, and Dali, himself, hung out there.
There is one drawback to this hotel, however, and that is its location. I know that's a bit confusing since I just said that the location was a significant plus due to the view.
The fact is, if you want to walk to the hotel from the historic center, you will be walking up a lot of steps to get there. The can drive, of course, but that means you'll have to find parking for your car somewhere in the center in the city, and that is not always easy.
And one last thing about the Arrels. At this point, children are not welcome as guests. Adults Only!
If walking up the hill to get to your hotel is not something you want, stay at the Hotel Playa Sol. It has a lovely location right at sea level not far from the center of town.
And if you get a room with a Seaview, you can still have a great view of the bay from your room even though it won't be from high above the town.
Enjoy your visit to Cadaques
You can find more inspiration for your travels in Europe on this website including 23 scenic train journeys for your bucket list.
Practical advice such as a winter packing list for visiting Europe in winter will also help you to plan your visit.
Visiting Madrid? Check out 5 things to do in the Spanish capital
Author Bio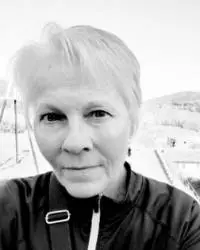 Mary Emmer is the creator of Still en Route where she writes about all things travel with a baby boomer twist. Her goal is to inspire you to be adventurous and teach you how to fit more life into your lifestyle. Connect with her on Facebook.