Discover the best things to do in Lucerne Switzerland plus itinerary ideas and travel tips from someone who has not only visited Lucerne on dozens of occasions but actually lived in Switzerland too.
Are you considering a visit to Lucerne Switzerland or in the planning stages of your trip to this beautiful Swiss city? Or are you looking for some inspiration for your Swiss travel itinerary?
In this article, you will find what to do in Lucerne, places to visit in Lucerne as well as what to see in Lucerne. This will help you plan your Lucerne sightseeing itinerary so you don't miss the main Lucerne attractions when you are there.
Lucerne can be found at Lake Lucerne's northern end near the River Reuss. This location places it within the boundaries of the German-speaking area of Switzerland. The town is surrounded by the beautiful mountains of the Central Switzerland's Alps.
"An ancient city with a modern feel," is the most accurate description of a marvel that lies in central Switzerland. The lovely Swiss city of Lucerne is almost fairytale-like in its beauty.
Nestled between mountains and bordering a stunning lake it is, without doubt, one of the most popular picturesque cities in Switzerland for both visitors and the Swiss alike.
The aesthetic of the town screams historical significance, and there are many stories waiting for all who care to explore them in its immaculate and well-preserved buildings.
This history, the activities to enjoy, and the beauty of the location, are just a few of the top reasons that Lucerne is hailed as one of Switzerland's top tourist attractions and a bucket list destination for many visitors to the country.
It is also conducive to thorough exploration as it has a very compact feel. If you are visiting Switzerland I would encourage you to make visiting Lucerne one of your Swiss itinerary destinations.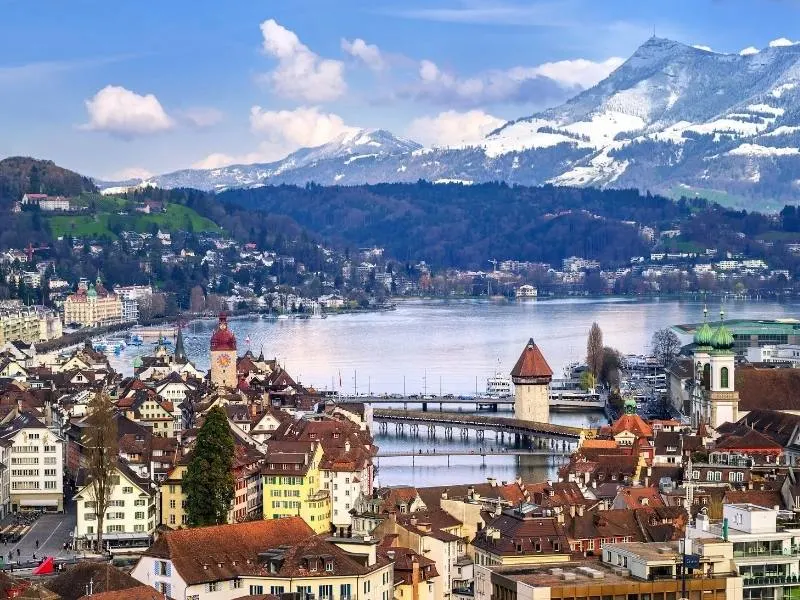 When I lived in Switzerland (nearly 30 years ago) I loved travelling by train and would often take the train from Basel and visit Lucerne for the weekend. It is a city I love to explore and over the last 15 years, I have visited on an almost annual basis so it is a city I know well.
If you are planning a trip to Switzerland this post will give you an idea of things to do in Lucerne to add to your itinerary.
If you are on a tight schedule and are wondering what to do in Lucerne for a day (or what to see in Lucerne in one day) I will also outline a one-day itinerary for the city. This will include all the top things to see in Lucerne in one day.
If you have more time to spend in the city and are wondering what to do in Lucerne in 2 days (or even what to do in Lucerne for 3 days) I have included example itineraries which also include day trips from Lucerne.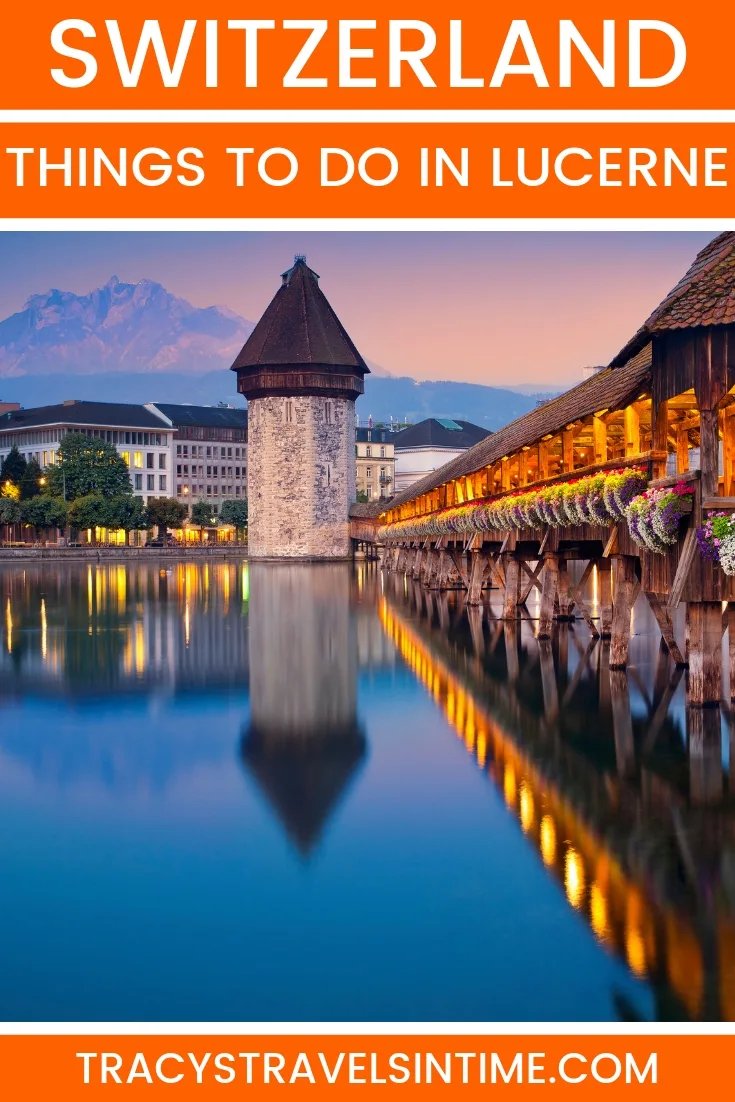 SAVE MONEY and enjoy unlimited travel in Switzerland by train bus, boat and public transport with the Swiss All-in-One Travel Pass.
Travel all over Switzerland with a Swiss Rail pass, valid all over the country.
Choose between a 3, 4, 6, 8, or 15 consecutive day pass.
Make your trip to Switzerland as easy as possible with a rail pass that gives you unlimited access to the Swiss train network
Explore the Glacier Express, Golden Pass Line, Bernina Express, and other panoramic train routes
The best things to do in Lucerne Switzerland
Below is an overview of what to do in Lucerne which includes my selection of the top things to do in Lucerne. These are things that I believe should be at the top of your itinerary during your visit to the town.
It is possible to see all of these Lucerne sightseeing attractions in one day and there is a map highlighting the location of each place at the end of the post to help you plan your route.
Alternatively consider booking one of the Lucerne sightseeing tours recommended below if you would prefer a local guide to show your the best of the city.
Quick picks for Lucerne
Lake Lucerne 1st Class Cruise with Gourmet Lunch

Golden round trip to Mount Pilatus

Half-Day City Tour and Lake Cruise

Admire the stunning views of the lake

Self guided tour to Pilatus

Cog railway, gondola, cable car, boat & bus included

Visit well-known sights in Lucerne
1. Take a boat trip on Lake Lucerne
It's fitting to explore the lake that shares a name with the beautiful town. Lake Lucerne is also called the "Lake of Four Cantons," as it has four branches that go in different directions at very sharp angles. This lake is the fourth largest in Switzerland.
Lake Lucerne is an immensely beautiful attraction. Exploring Lake Lucerne is one of the top things to do in Lucerne whichever time of year you visit. The lake makes its way to the mountains and beyond, allowing for an incredible mash-up of attractions, such as Alpine wildlife, forest cover, limestone cliffs, and wondrous mountain peaks.
If you only have one day in Lucerne I would make a trip on the lake a "Lucerne must-see" and add it to the top of your itinerary.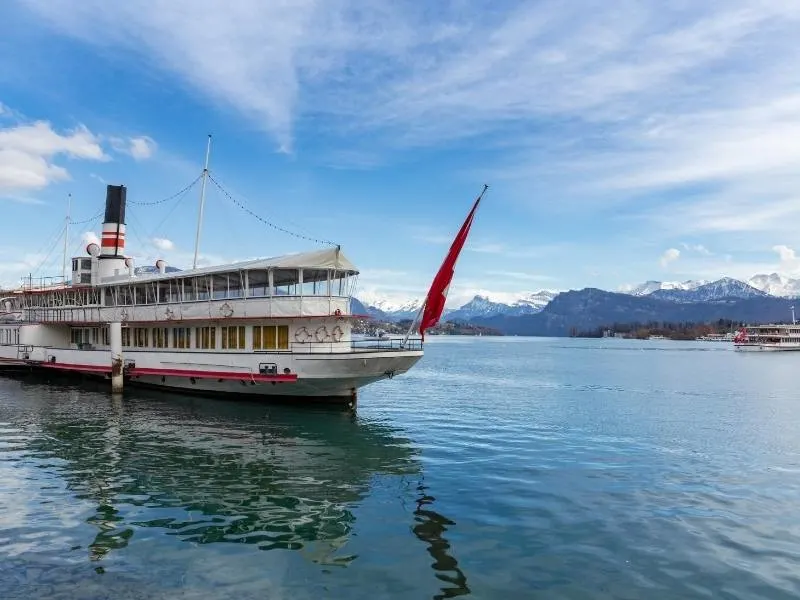 Practical Tips For Your Visit
The absolute best way to experience the lake is to take a cruise across it. The views are stunning and you will also learn about some of the amazing houses and chateaux along its shores. My favourite house (anywhere in the world) is located on the banks of the lake in the shadow of Mount Pilatus.
If you are pushed for time you can combine a cruise on the lake with a walking tour of the highlights of Lucerne so you are guaranteed to see as much as possible.
Best boat trips on Lake Lucerne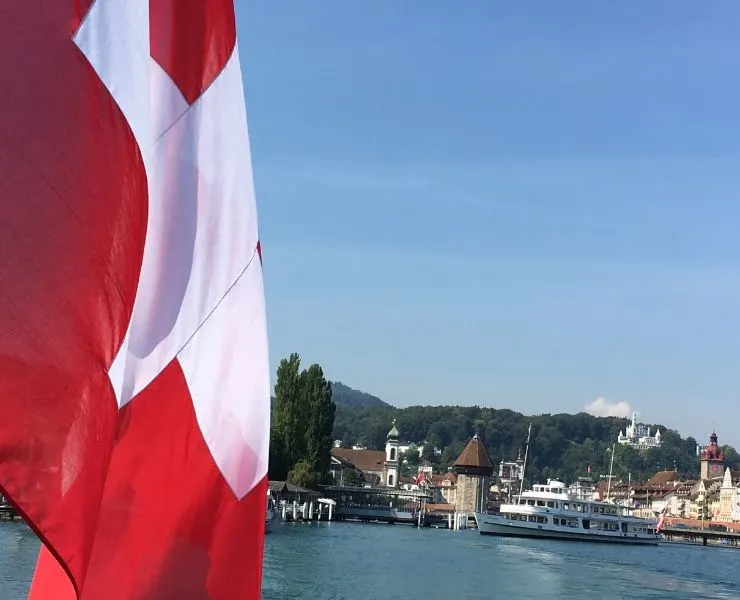 2. Take a trip up Mount Pilatus (I recommend the Golden Round trip to Pilatus)
If there's one thing that stands out in Lucerne, it's the mountain peaks. However, there is one that stands over 2000 meters in the south that is sure to grab your attention. That is Mount Pilatus, which is one of the most outstanding Lucerne Switzerland points of interest.
This peak has been nicknamed the "Dragon Mountain." This is a folklore reference that is rooted in medieval times. In that time period, it was said that dragons capable of healing resided atop the mountain. Though we're sure you won't find any dragons if you check, what we can guarantee is a good time with an incredible panoramic 360-degree view.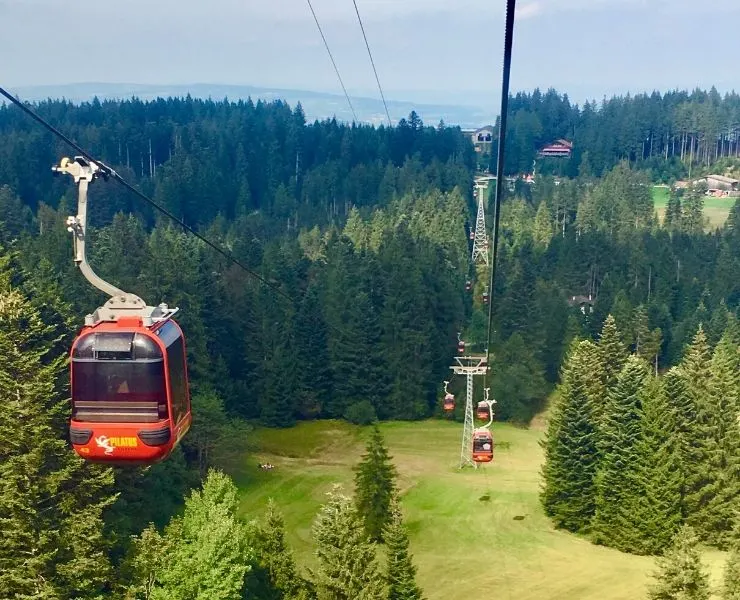 Practical Tips For Your Visit to Mt Pilatus
One of the good things about Mt. Pilatus is how accessible it is, which is what makes it a perfect destination. Trips to the mountain are typically made via cable car and gondolas.
You do also have the option of boarding a cogwheel train to get up the peak (and return via the cable car and gondolas) which also offers its own set of incredible views. Tickets for either are purchased online or at the boarding location, and the price you pay depends on the tour you choose.
The average cost falls somewhere in the range of USD $160. It's best to pre-book your tickets and to do so online to avoid dealing with long lines as Mt. Pilatus is a very popular attraction.
A visit to Mt Pilatus usually runs an entire day, so ensure you put this visit on a day by itself. Warm clothes are a necessity because it is can be chilly atop the mountains (I recommend a jacket or cardigan during the summer months)
If you decide to take the golden round trip option to Mt Pilatus (I highly recommend this) you will also travel via boat and therefore can do two of the best things to do in Lucerne in one go!
LEARN MORE – A GUIDE TO TAKING THE GOLDEN ROUND TRIP FROM LUCERNE TO MT PILATES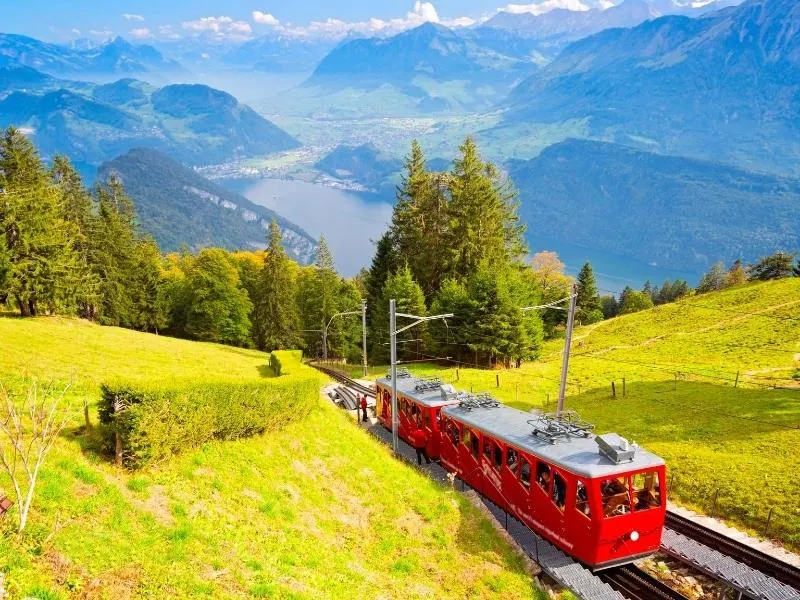 3. Walk the Chapel Bridge
Ever wondered where you could find the world's oldest existing truss bridge? Even if you haven't thought about it, the answer is one of Lucerne's emblems, the Chapel Bridge. It crosses the River Reuss, and it stands as one of the eldest Lucerne attractions.
It has a wooden composition, runs 200 meters in a diagonal line, and has existed since the 14th century. Unfortunately, there was a fire in 1993 that destroyed a lot of the bridge in its original form.
However, it was rebuilt and restored and is now what you see today. There are triangular paintings for ceiling pediments that show glimpses of 17th-century life. The bridge is also known by the name Kapellbrücke.
There is no entry fee required to visit the historic landmark.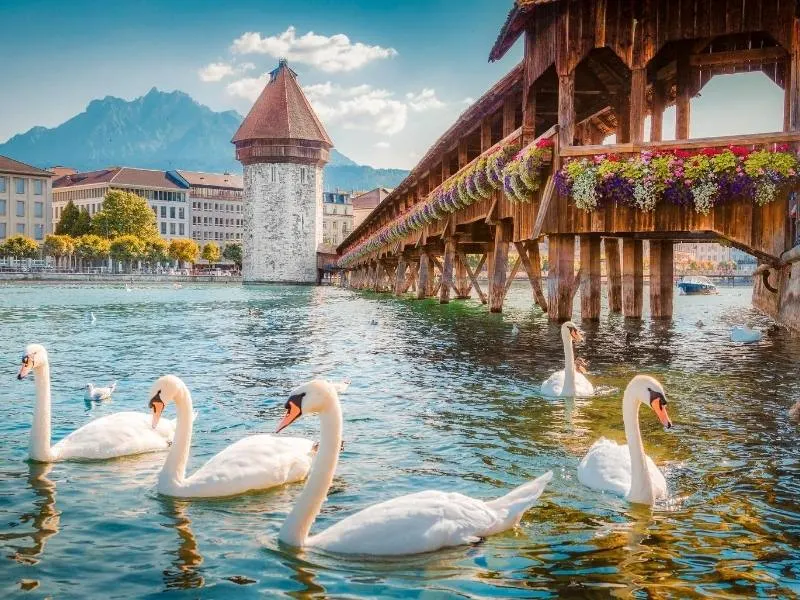 4. Things to do in Lucerne – Visit the Glacier Garden
This is one of the most awe-inspiring places to visit in Lucerne, and it was discovered by scientists in 1872. At the time, it was a marvel, and it was seemingly unexplainable.
First, there are fossils of both palm fronds and shellfish that date back around 20 million years ago. It is believed that back then, the area was a subtropical seashore.
Additionally, there are several potholes that are believed to have formed about 20,000 years during the last ice age. The area consists of about a million rocks, which are a representation of Switzerland's incredible geology.
The history is accompanied by a few amazing attractions to keep you occupied. The first of these is the "Stone of Time," which is a path that takes you to an observation tower that you can use to appreciate beautiful views of both Lucerne and Mt. Pilatus.
There is also the Alhambra mirror maze that is believed to have existed since 1896. Solving it is quite the challenge since you must deal with the reflective illusion cast by about 90 mirrors.
Practical Tips For Your Visit to the Glacier Garden
The cost of entry depends on the number of persons, their ages, and if you want a guided tour. The costs range from US $8 for children and US $15 for adults, to US $35 for a family of 2 adults and 2 children.
The Glacier Garden is open from 9 AM – 6 PM.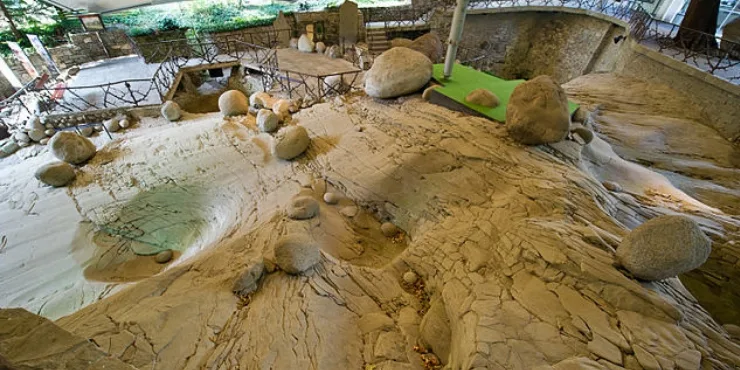 5. Explore the Musegg Wall and Towers
The Musegg Wall and its 9 towers were built during the 14th century to protect the city. Today you can walk part of the city walls and explore 4 of the towers. It is worth visiting the wall as it provides stunning views over the city, lake and mountains.
Practical Tips For Your Visit to the Musegg Wall
The Musegg Wall and 4 towers are open to the public from 8 am until 7 pm daily during the months of April through to October. If you don't like heights you may want to give this a skip. If you do decide to walk the walls make sure to wear practical shoes and take water.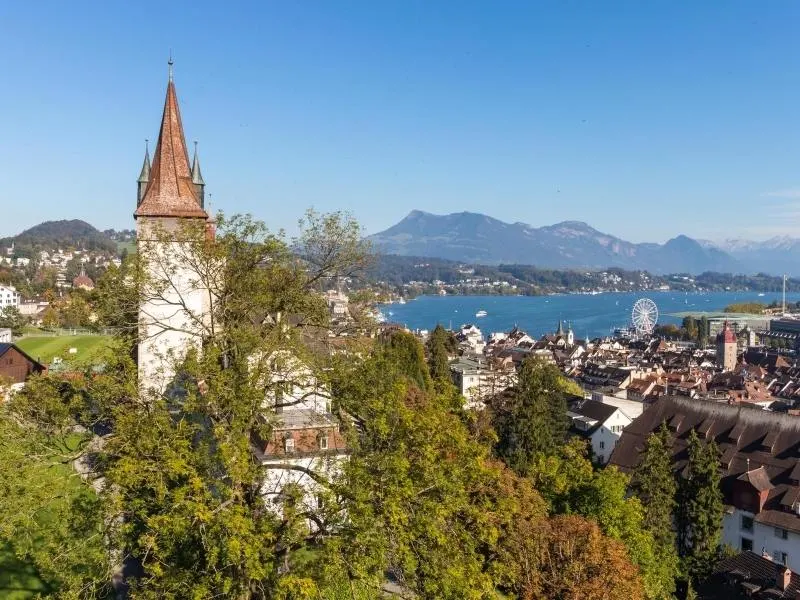 6. Visit the Lion Monument
The lion monument in Lucerne was created in 1820/21 by Lukas Ahorn. The rock relief was created to commemorate the Swiss Guards who were killed during the French Revolution in 1792 during the storming of the Tuileries Palace.
I always visit the lion monument when I am in Lucerne and really should not be missed off any itinerary. It is really beautiful and a stunning work of art.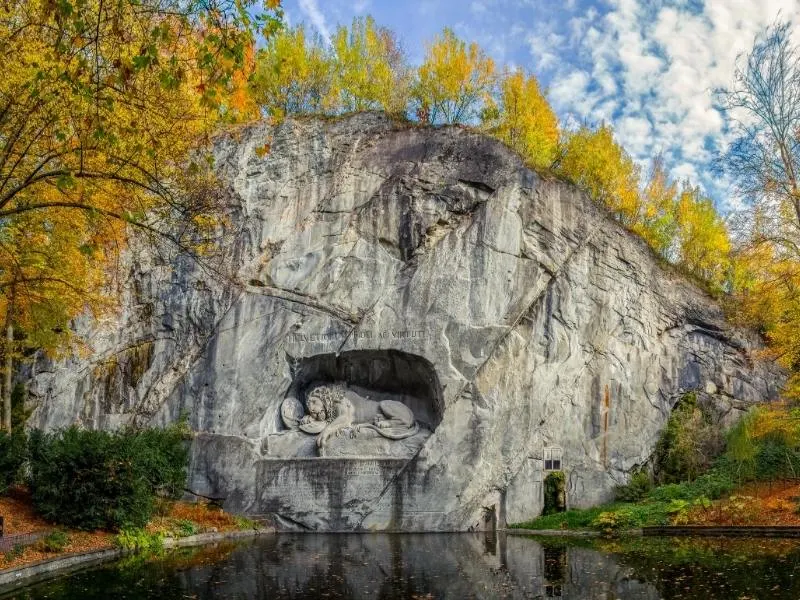 7. Spot beautiful buildings and learn about the history of the city on a walking tour of Lucerne
I would recommend taking a walking tour of Lucerne with a local guide so you learn about the city and it's history. There are lots of beautiful buildings in Lucerne but my favourites are the ones with gorgeous murals so keep an eye out for them as you stroll around the city.
If you are considering a walking tour I recommend the following from Get Your Guide (my tour company of choice wherever I travel)
A 2 hour stroll around the sights of Lucerne with a tour guide. This is a great way to learn about the city as your guide will point out areas of interest and provide information about the famous buildings. You can also book a private walking group tour if you prefer.
If you are on a tight schedule a one hour express tour of Lucerne may be more practical. This tour will ensure you see all the main highlights of Lucerne.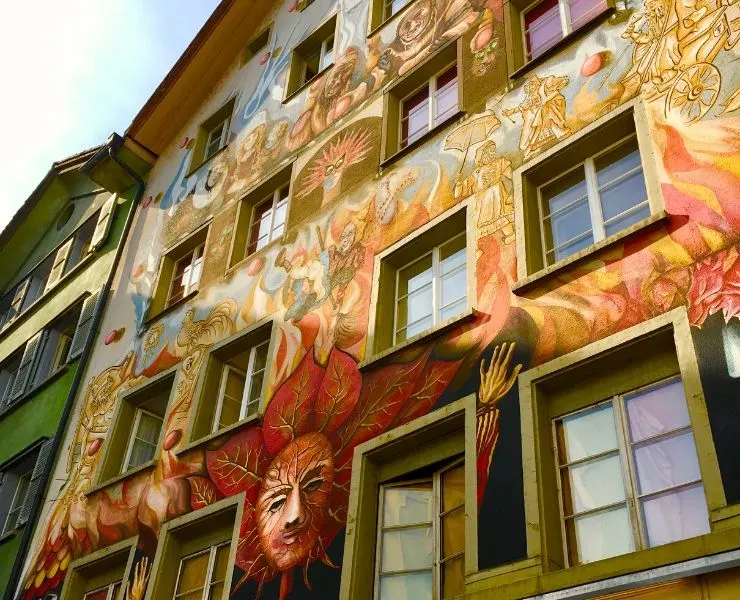 8. Visit the Swiss Museum of Transport
Containing trains, planes, boats, cars every form of transportation you can think of the Swiss Museum of Transport is the most popular museum in Switzerland. Also in the museum is the Swiss Chocolate Adventure with a range of interactive activities, a Planetarium and more!
The museum is open every day and is located 30 minutes walk from Lucerne train station though public transport to the museum is also available.
Click here for tickets and prices for the Swiss Museum of Transport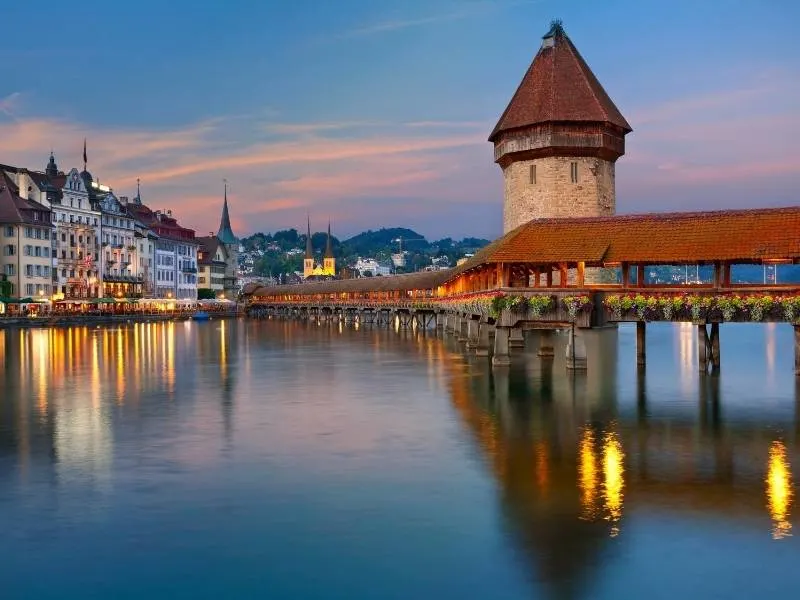 9. Go shopping in the Old Town
Switzerland may be expensive but there are lots of wonderful things to buy there – chocolate, watches, cow bells, wood carvings and of course cuckoo clocks. Take a stroll through the old town where you will find lots of smaller boutiques and shops.
If you are a fan of Swiss chocolate why not take a tour to the local chocolate factory where you can create your own chocolate bar as well as taste and smell all the delicious products!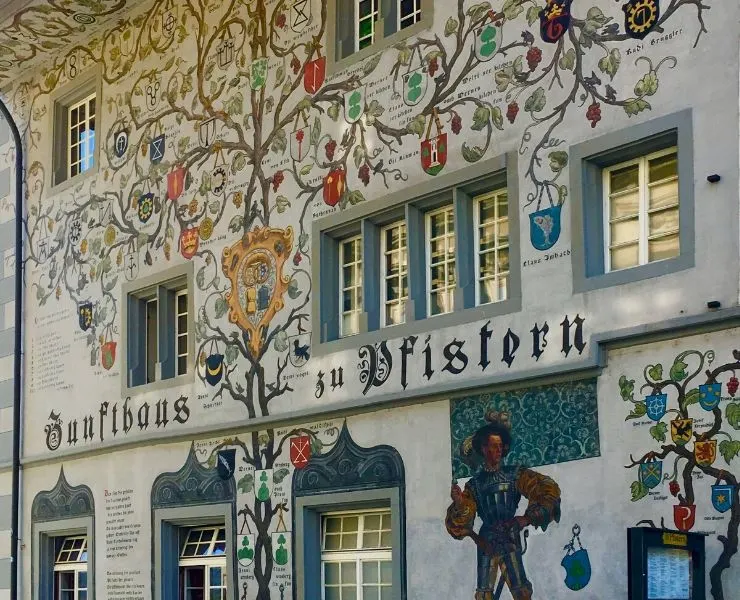 Best Day Trips from Lucerne
If you have a few days in Lucerne and would like to take one of the many day trips from Lucerne there are some great options to choose from. If you have only one day in Lucerne I would recommend trying to fit a visit to Mt Pilatus into your schedule.
This will be easier in summer when the days are longer and lighter. However, if you have a few days to explore I would spend one day visiting the Lucerne attractions outlined above, spend a day visiting Mount Pilatus and then perhaps take a day tour from Lucerne to one of the following destinations:
Mount Rigi
Mount Rigi is another beautiful mountain that overlooks the city of Lucerne and the lake. Rigi can be accessed via cogwheel railway from Vitznau or Arth-Goldau or by cable car from Weggis. I have taken this trip and the views are spectacular.
If you wish to visit Mount Rigi on a day trip from Lucerne it is possible to do this on a classic round trip half or full-day tour. Alternatively, why not join a one-day hiking tour from Lucerne to Mount Rigi?
Mount Titlis
Enjoy the unique glacier world of Titlis Mountain and the stunning scenery of eternal snow and ice on this 3000-metre high mountain. Ride across the glacier with the Ice Flyer-chair lift, visit the Glacier Cave and pass over the suspension bridge during your day tour to Mt Titlis from Lucerne.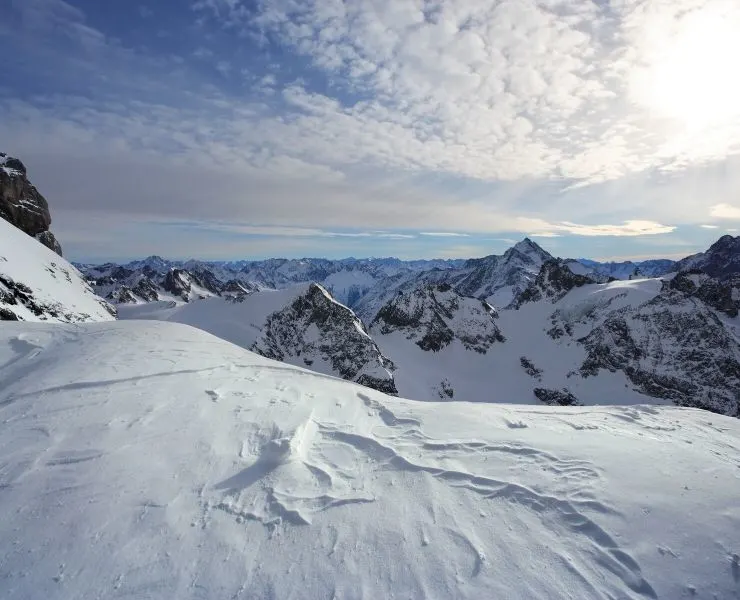 Jungfraujoch – The Top of Europe
It is all about the mountains in Switzerland but this is the only one that is also a UNESCO World Heritage Site. Enjoy a train ride to the Top of Europe on a day trip from Lucerne where views of the Eiger, Mönch and Jungfrau peaks await.
LEARN MORE – VISITING JUNGFRAUJOCH AND THE TOP OF EUROPE
Zurich
If you are based in Lucerne but don't want to miss a trip to the beautiful Swiss city of Zurich a day trip is an excellent option. My recommended day tour from Get Your Guide includes transport by train to and from Zurich from Lucerne accompanied by a local guide.
Click here for availability and prices for a day trip to Zurich from Lucerne.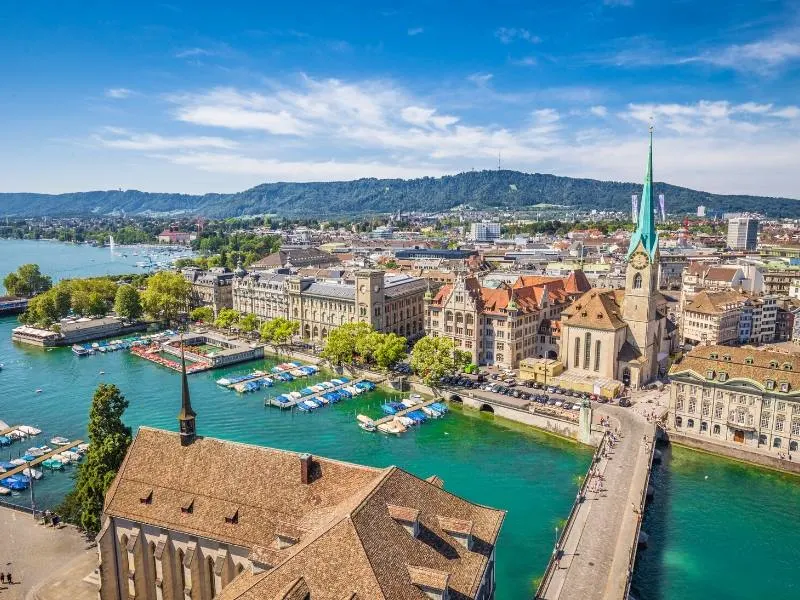 Example itineraries for your visit to Lucerne
One day in Lucerne
Morning – Take a stroll around the old town including a visit to the Chapel Bridge, the glacier Garden and the Lion Monument
Afternoon – Take an afternoon cruise across Lake Lucerne
I recommend having lunch at my favourite cafe/bakery in Lucerne – Heini – the quiche is superb (and the cakes aren't too bad either)
Heini is located at Heryensteinstrasse 64 in Lucerne
Itinerary for two days in Lucerne
If you have two days in Lucerne I would recommend spending day 2 visiting Mt Pilatus. Plan to have lunch at the top (or maybe spend the night at one of the hotels)
The views are superb!
Itinerary for three days in Lucerne
If you are lucky enough to be spending 3 days in Lucerne I recommend either walking the Musegg Wall and towers in the morning and spending the afternoon either at the Swiss Transport Museum OR visiting a Swiss chocolate factory.
How to travel to Lucerne?
You can travel to Lucerne by car or by train, as there are transportation alternatives from all of Switzerland's main hubs that can take you to the Swiss city.
If you are planning to explore Switzerland I would recommend investing in a train pass (of which there are several available) to reduce the costs.
I recommend train travel in Switzerland and have travelled extensively throughout the country by train.
It is home to some of the most scenic train journeys in the world including the Bernina Express and the journey to the Top of Europe at Jungfraujoch.
If you plan to take some train trips don't miss my guide to 8 of the most beautiful rail journeys in Switzerland.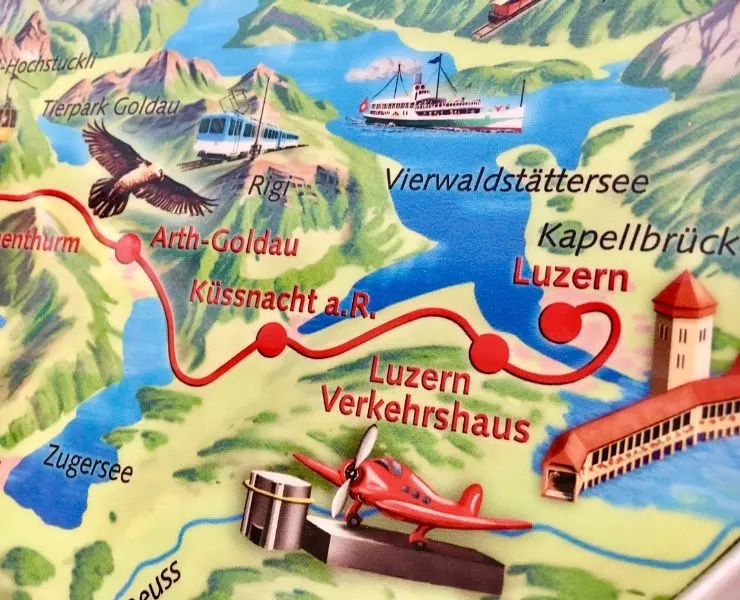 Lucerne hotels – recommended accommodation options in the Swiss city
In terms of the best places to stay in Lucerne, there are some beautiful hotels with a wonderful view of the city and lake from which to choose. Lucerne (and Switzerland) is not a budget option though so be prepared to pay more for accommodation than in other European countries.
LUXURY
Hotel Schweizerhof Luzern
This beautiful family-owned hotel is located in the heart of Lucerne. Relax in the hotel's beautiful spa and enjoy panoramic views of the lake and mountains.
With 2 restaurants offering Swiss and exotic gourmet cuisine you will be spoilt for choice at the end of a day exploring the beautiful city of Lucerne.
This luxury 5* hotel is a perfect choice for you stay in Lucerne and receives exceptional reviews for its superb location on booking.com
MID-RANGE
Hotel Hofgarten Luzern
Situated in a quiet but central location on the edge of the old town near Lake Lucerne the Hotel Hofgarten Luzern offers a choice of 18 individually decorated rooms.
Relax in the beautiful garden with a drink and enjoy a selection of meals all made from locally sourced produce. This 4* hotel is a popular choice due to its central location and friendly staff.
BUDGET
Hotel Alpha Luzern
Within walking distance of the old town the Hotel Alpha is an excellent budget option. Rooms are simply furnished but clean. Free WiFi is available throughout the hotel and there is a sun terrace to enjoy during the warmer months.
Map of Lucerne showing the sights and recommended accommodation options
Enjoy your visit to Lucerne!
Lucerne is a majestic location brimming with life and history and is a must-visit on any Swiss travel itinerary. I am sure it will be one of the highlights of your trip to Switzerland or even to Europe. It is a Swiss city I am happy to visit again and again.
With so many beautiful places to choose to visit in Switzerland Lucerne will not disappoint.
For more inspiration, these other beautiful cities in Europe are definitely worth visiting too.