With so many fabulous destinations and experiences to choose from in Switzerland where do you start when planning a trip? To help you begin the process of selecting the places to visit for your Swiss itinerary this article covers my recommended top 10 beautiful cities to visit in Switzerland.
Included in this introductory guide to 10 Swiss cities you will find information about the best places to visit, what to see and do, where to stay, recommended restaurants and more. You will also discover why each city deserves to feature in your Swiss travel itinerary.
This article is a compilation of contributions from travel bloggers who also share a love of Switzerland. Having lived in Switzerland and visited numerous times over the years this (plus my Swiss bucket list) is the perfect place to start when planning your itinerary.
SAVE MONEY and enjoy unlimited travel in Switzerland by train bus, boat and public transport with the Swiss All-in-One Travel Pass.
Travel all over Switzerland with a Swiss Rail pass, valid all over the country.
Choose between a 3, 4, 6, 8, or 15 consecutive day pass.
Make your trip to Switzerland as easy as possible with a rail pass that gives you unlimited access to the Swiss train network
Explore the Glacier Express, Golden Pass Line, Bernina Express, and other panoramic train routes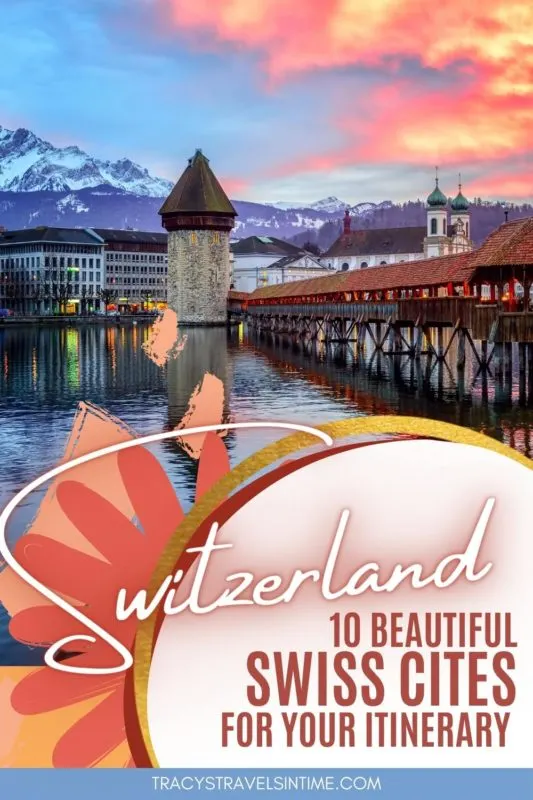 Guide to the 10 best cities to visit in Switzerland
Zurich
There is no place on Earth more magical and enchanting than Switzerland. Within this country, there are plenty of beautiful places to visit, but a standout city is Zurich.
As the largest city in Switzerland and the global finical safe house, Zurich is packed with beauty and excitement at every turn. This city is located in the German-speaking part of Switzerland and is situated along the beautiful Lake Zurich. The combination of beautiful architecture, natural attractions, and a unique opulent atmosphere make it a top travel destination in Europe.
There is so much to see and do in Zurich and something for every type of traveler. One of the highlights of the city is the historic Altstadt or "Old Town".
In Altstadt enjoy a walk through the cobblestone streets full of old buildings, modern cafes and shops. It is the perfect place to experience the two sides of Zurich, modern and historic.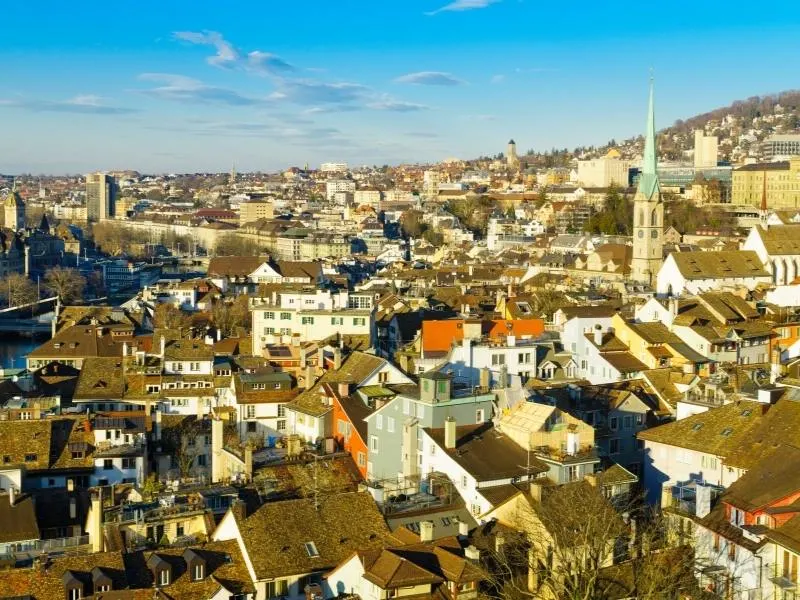 You also cannot miss viewing and walking strolling along the shores of Lake Zurich. Walking along the promenade is the best place to go to admire the blue-hued water and millionaire's yachts.
The Swiss National Museum is also located in Zurich and is one of the best places to visit in Switzerland to learn about Swiss history and culture.
Zurich is also a great place to immerse yourself in one of the most popular Swiss dishes of fondue! A fondue meal consists of melted cheese and an assortment of bites to dip in it. There are many restaurants serving fondue in Zurich. I recommend booking a table at Raclette Stube in the Old Town which specialises in Swiss dishes.
Prepare to fall in love with Zurich as you explore the historic streets and feel the Swiss charm around every corner.
Contributed by Sam of Sam Sees World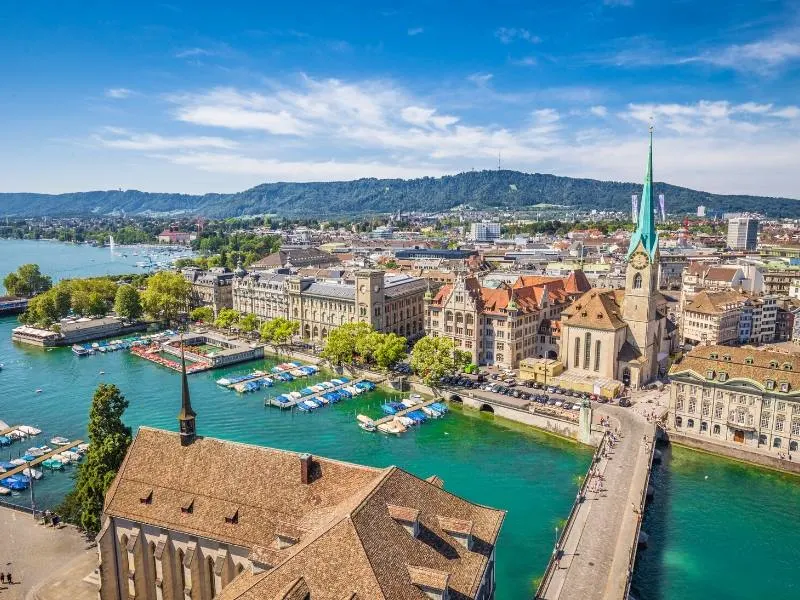 Locarno
Perched on the northern shore of Lake Maggiore, Locarno boasts an idyllic position and, thanks to its Mediterranean climate, is a popular holiday resort.
There are plenty of things to do in Lake Maggiore, particularly in Locarno, which is situated in the Italian-speaking Ticino region of southern Switzerland.
Your first stop should be the palm-lined lakeside promenade where you can watch the ferries departing for other towns around the lake. There are a number of lidos – swimming beaches – along the lakeside should you wish to have a swim, and the Termali Salina and Spa, a thermal wellness centre, welcomes visitors to soak in the tranquil waters.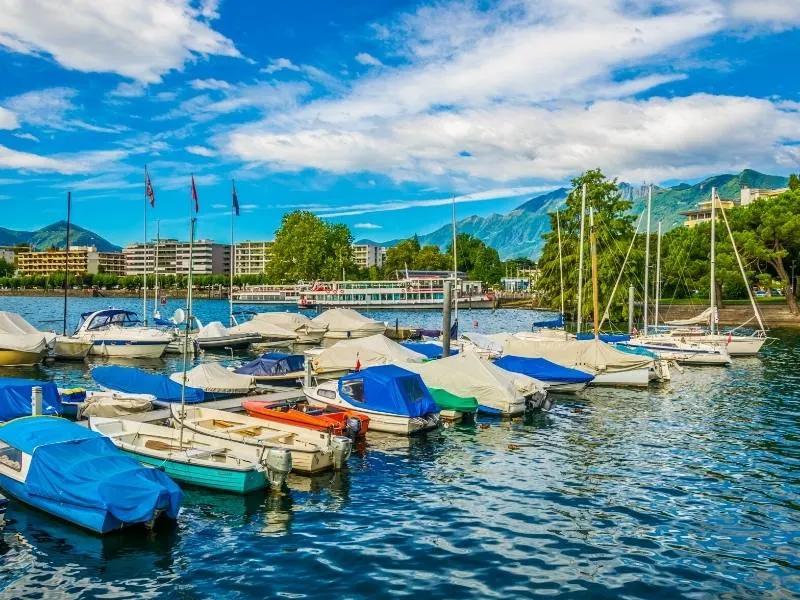 Not far from the lake's edge, Locarno's Old Town is well worth a look. The heart of the Old Town Piazza Grande, is lined with beautifully restored 19th-century arcaded buildings and is home to a weekly market. This is the perfect place to enjoy a drink at one of the many outdoor cafes and people watch.
A highlight of any visit to Locarno is an excursion to the 15th-century Santuario della Madonna del Sasso at Orselina, just above Locarno. The church can be reached by funicular from Locarno and amongst its charms are beautiful frescoes, a 16th-century altarpiece and stunning panoramic views over Lake Maggiore.
If you're keen to take in those views from an even higher altitude, hop aboard the cable car to Cardada and the chairlift to Cimetta at 1,670 metres above sea level. Here, an observation platform offers breathtaking 360 degree views of Lake Maggiore and the surrounding mountains.
Contributed by Carolyn of Holidays to Europe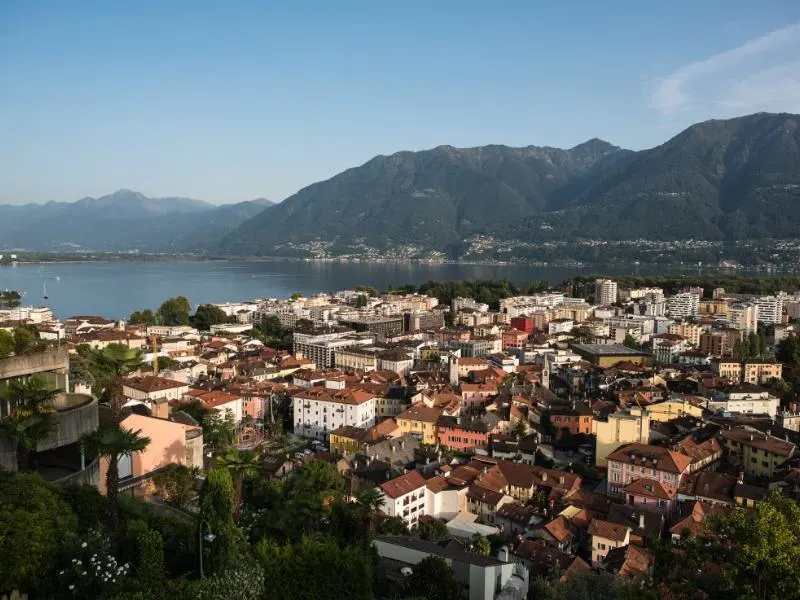 Basel
Basel is one of the most beautiful cities in Switzerland, located at the banks of the Rhine, right near the border with France and Germany, making a visit to the classic three-country corner sign one of the popular things to do in Basel.
The Altstadt (old town) of Basel is perfect to stroll around and admire the medieval city of Basel's stunning architecture, such as Münsterplatz, the Base City Hall, the cute houses on Petersgasse, and the monkey fountain at Andresplatz. If you happen to visit Basel on a weekend, also add Marktplatz to your stroll through town to visit the farmers market.
Basel is also home to a number of cool museums. For example, the Basel Historical Museum, The Kunsmuseum Basel, Antikenmuseum Basel, Museum Tinguely, Fondation Beyeler, Spielzeug Welten Museum, and The Pharmazie-Historisches Museum and the best places to visit.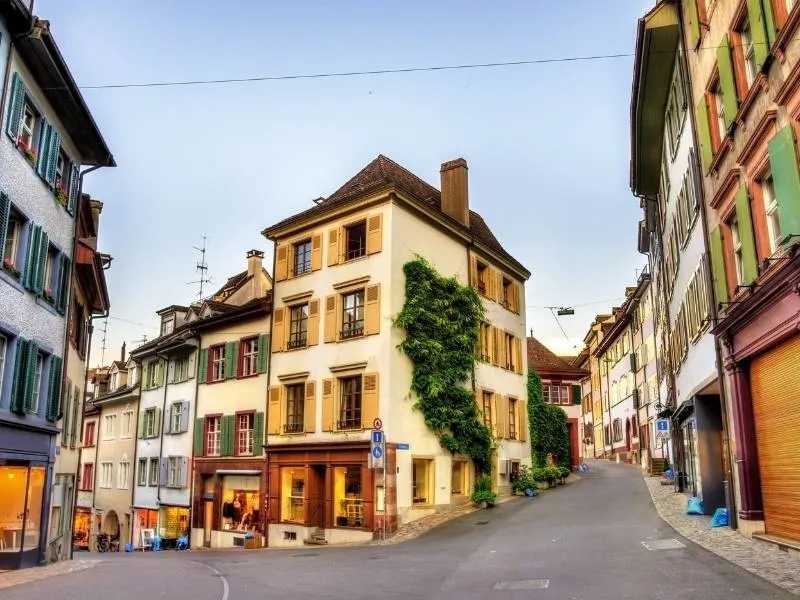 Of course, a visit to Basel cannot be complete without exploring one of the main European rivers, the Rhine. You could take a boat ride on the Rhine, or if the weather allows for it, you could relax at one the beaches further down the Rhine and go for a swim. Alternatively, you could grab a coffee at one of the pop-up coffee shops on the banks of the Rhine.
To admire Basel from above, climb up the Basler Münster, not only is it a stunning iconic landmark, but it also provides you with one of the best views over the city!
Lastly, you cannot leave a Swiss city without having tried some of the yummy Swiss food. And what's more Swiss than a raclette or cheese fondue? Delicious melted cheese that basically goes with anything. Check out the Stadtkeller Basel or Walliser Kanne for your classic Swiss meal.
Though Basel is the third-largest city in Switzerland, it still gives a small-town feeling. It's quite easy to walk around Basel's Altstadt and explore many things on foot. For the sights that are further out of town, Basel's public transport system works perfectly!
Contributed by Lara of Both Feet On The Road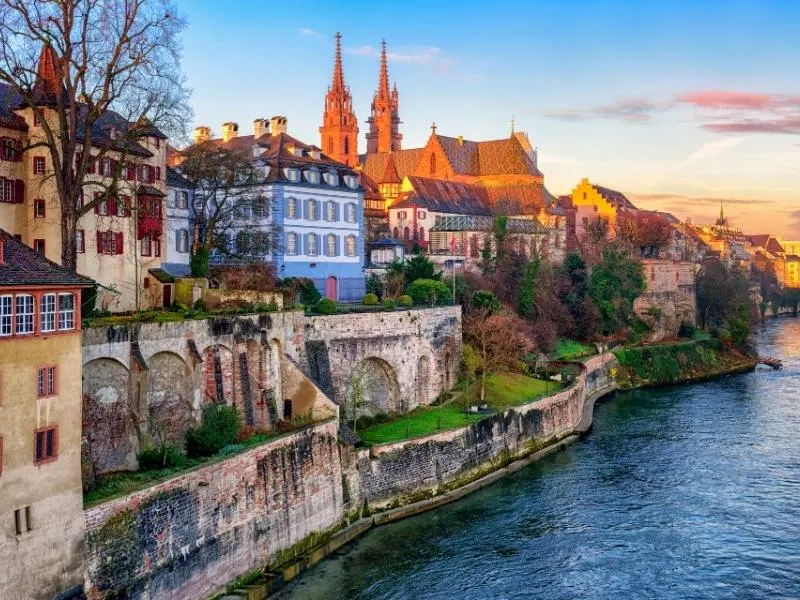 Bern
As the 5th largest city in Switzerland, Bern is not the most obvious when it comes to capital cities, and more so when put against the worldwide centre for diplomacy in Geneva, and the financial capital of Zurich. But due to its neutrality with language, its multicultural stance between French and German, and its central location, it is where Switzerland based its parliament, government and foreign embassies.
It is also culturally significant and the Old City is a designated UNESCO Cultural World Heritage Site sandwiched between the passing River Aare connected by towering bridges on each side.
And the Old City just looks picture-perfect with medieval buildings, churches, Renaissance fountains, majestic federal buildings, all connected by a compact network of trams. But it is also simple to explore on foot.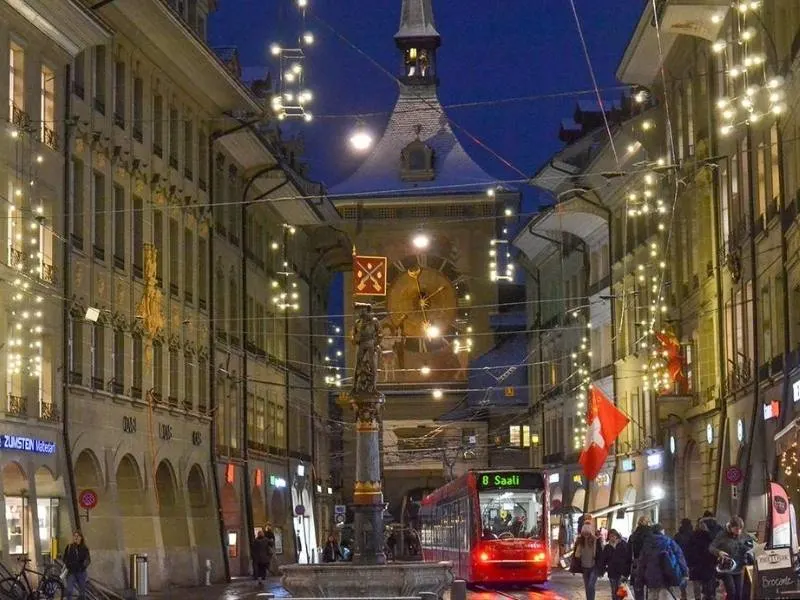 The main attractions of the city, aside from the bridges, fountains, and quaint medieval backdrops, include the central Zyteglogge, the Cathedral of Bern, and Bear Park which is home to a controversial bear pit but also gives access to the riverside area.
The city is fairly multicultural these days, as expected, but there are also some great local restaurants including the famous fondue and rostis at Harmonie Restaurant.
It is also unbelievably picturesque in winter times and is the perfect stopover for those travelling to the higher ski resorts and Switzerland's scenic train journeys like the Bernina and the Glacier Express.
Chosen by Allan of It's Sometimes Sunny in Bangor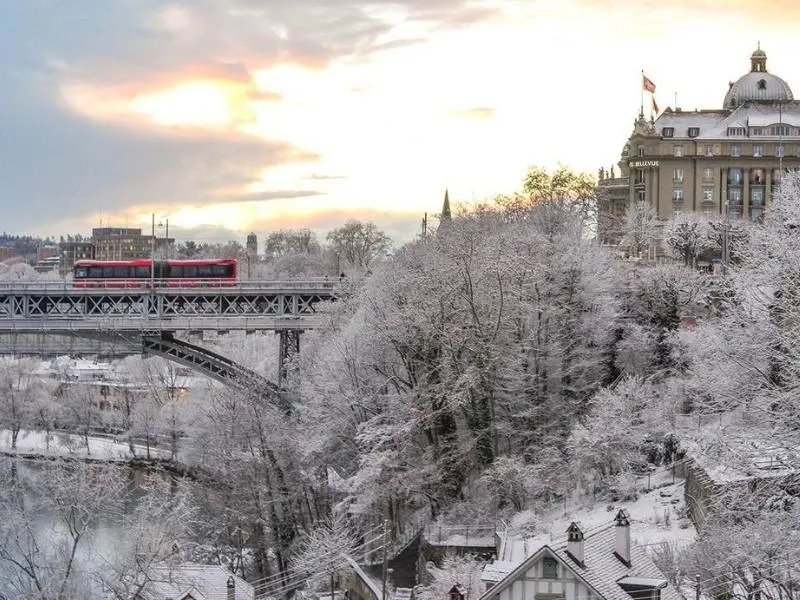 Thun
If you're looking for the gorgeous alpine scenery of Switzerland while still enjoying the perks of a city, Thun is the place to go. It's not a huge metropolis, but you won't feel isolated, and it's located in the Bernese Oberland region, you'll have easy access to one of the most popular natural areas in the country.
Take a stroll through the old town, and then visit the Thun Castle. It has existed in some form since the 12th century, and even though it's probably not the most impressive castle you'll ever see, it is very picturesque. Wander through the castle, which has a modest museum, and climb to the top for some fantastic views of Thun below.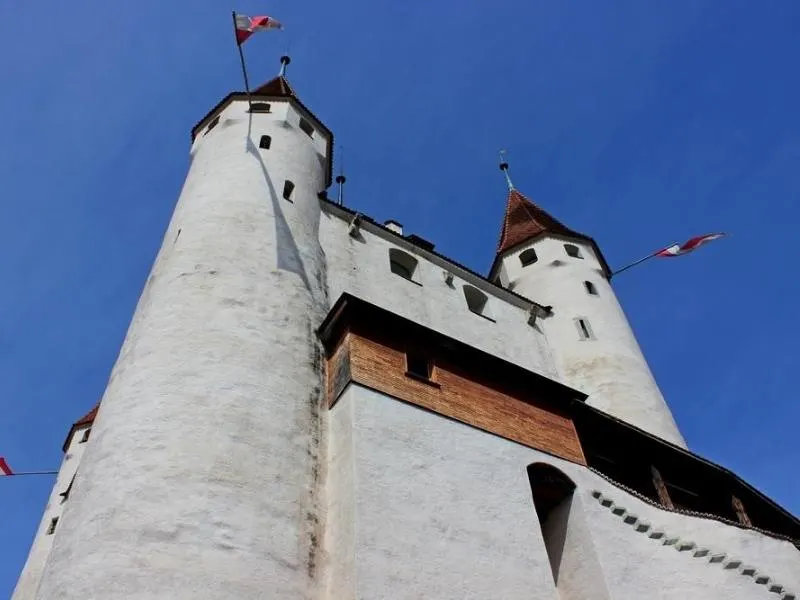 Since Thun is located on Lake Thun, it's also a great place for water activities. If you're visiting in the summer, the water should be warm enough for swimming.
You can join a rafting trip on the River Aare for those who are more experienced, or you can take a scenic boat cruise around Lake Thun. These cruises typically start and end in nearby Interlaken, but you can get on at Thun or any other stop. You can also switch at Interlaken to the cruise on Lake Brienz. You might also spot some surfers on the river.
Thun makes a good base for exploring the surrounding area. You can easily get to nearby Bern, Interlaken, Spiez, Lauterbrunnen, and more as day trips from Thun. The Thun train station has connections to all of these towns so you can easily travel around the area without needing a car.
Contributed by Ali of Travel Made Simple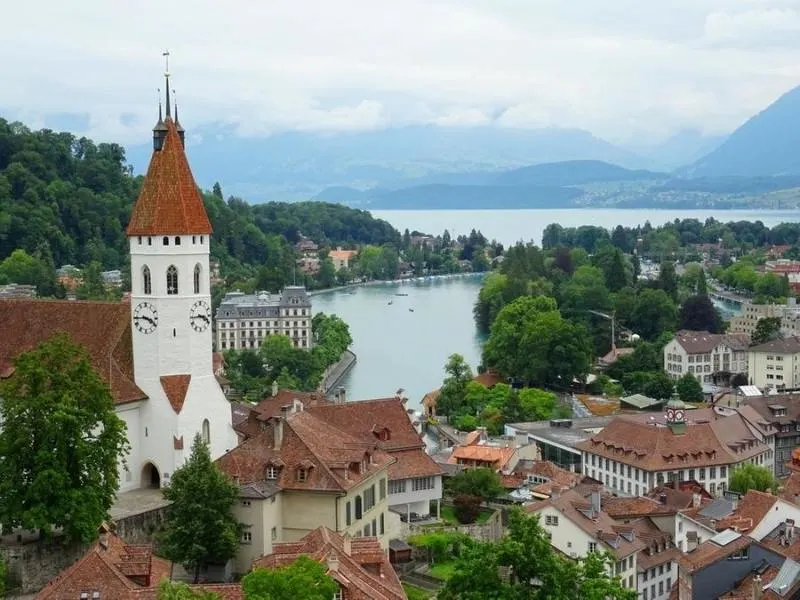 Montreux
Set against the stunning backdrop of the Swiss Alps, Montreux is a town surrounded by imposing mountains on the edge of the beautiful Lake Geneva. Quaint Montreux provides wonderful sightseeing opportunities.
Known for its history, fascinating culture, top-notch architecture, and lively cultural scene, the city has been attracting many impressive visitors throughout history. The likes of the Shelleys and Lord Byron chose to frequent the beautiful lakeside resort, while Charlie Chaplin decided to spend 25 years of his life in this charming city.
Montreux is home to a variety of attractions, activities, and events for all ages. You definitely shouldn't leave Montreux without wandering through its quaint Old Town.
Home to a number of restaurants and a wealth of shops and quaint boutiques, it will also make you feel as though you've been transported back in time several centuries. Make sure to pay a visit to the St-Vincent Temple, which provides fascinating views over the city and surrounding mountain scenery.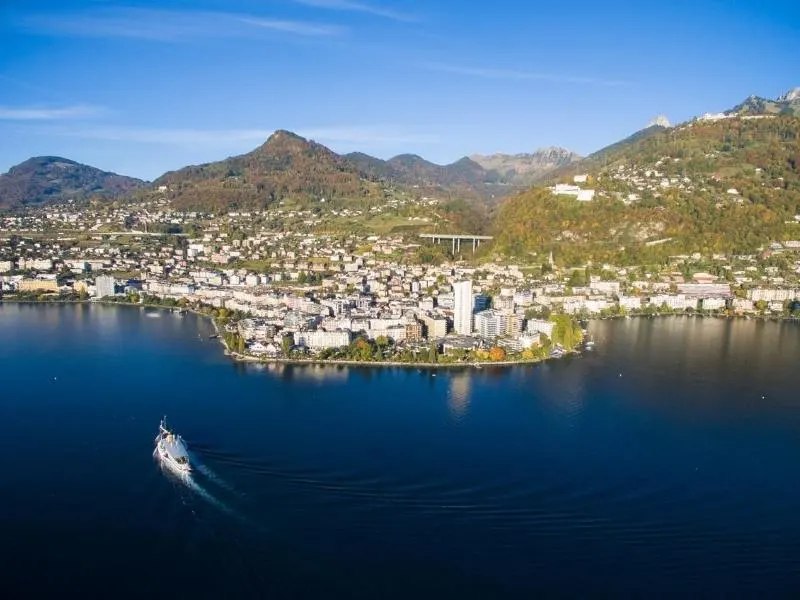 Another attraction you don't want to miss is the iconic Chateau de Chillon. Build in the early 12th century, this beautiful castle and the museum, located on an island just off Montreux in Lake Geneva, feature hundreds of everyday objects dating from the Middle Ages to the 17th century.
If you're looking for ways to save money, a glorious stroll along the promenade is a must. While Switzerland isn't the cheapest country to visit, strolling along the banks is one of the best ways to appreciate its beauty without breaking the bank. There are, of course, cruise ships sailing on Lake Geneva. So there's always a choice.
Along the promenade, you'll find a plethora of lakefront cafes and restaurants where you can grab a bite to eat and enjoy a lake view and surrounding mountains.
Contributed by Ivan of Mind the Travel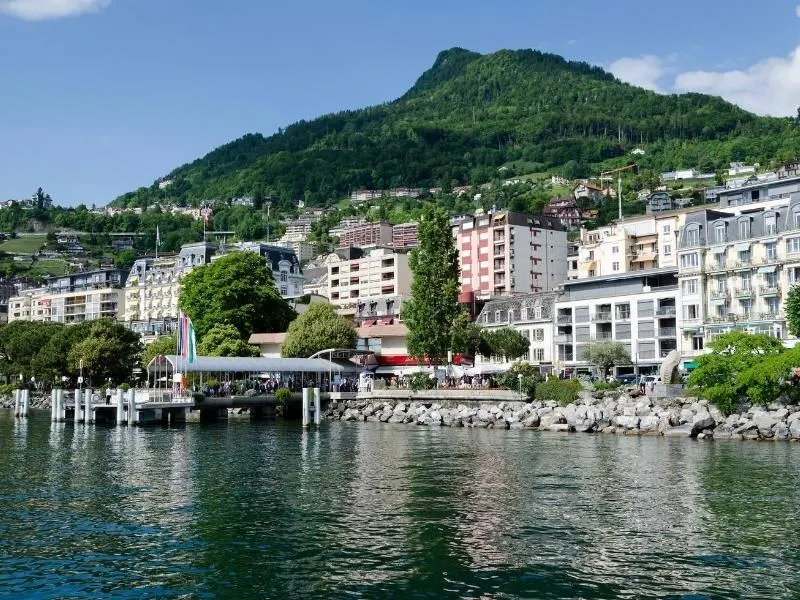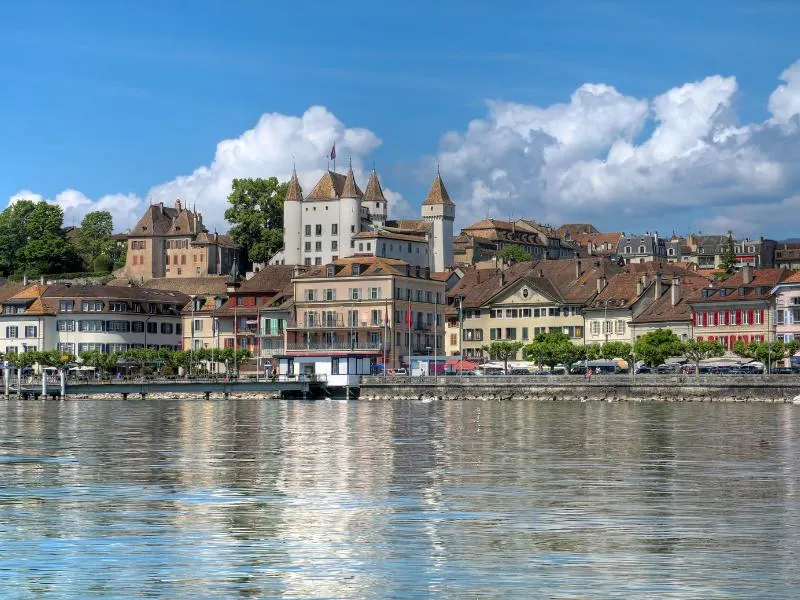 While the shores of Lake Geneva are home to some of the world's most beautiful cities and lesser-known towns such as Nyon which are worth exploring too.
Geneva
With so much history to uncover, you'll never be at a loss for things to do in Geneva! Tucked away beside the French border, this underrated Swiss city is a lovely destination to explore in a day or two. The best part is the Old Town is relatively flat, which makes it a breeze to explore on foot.
While it may not be obvious at first, many of Geneva's old buildings and cobbled roads date back to Roman times and links to its vibrant medieval history are still visible today. Meanwhile, the modern Jet d'Eau is an icon of the city, towering high above the skyline. Marvel at the impressive Flower Clock, a huge working timepiece of the English Garden.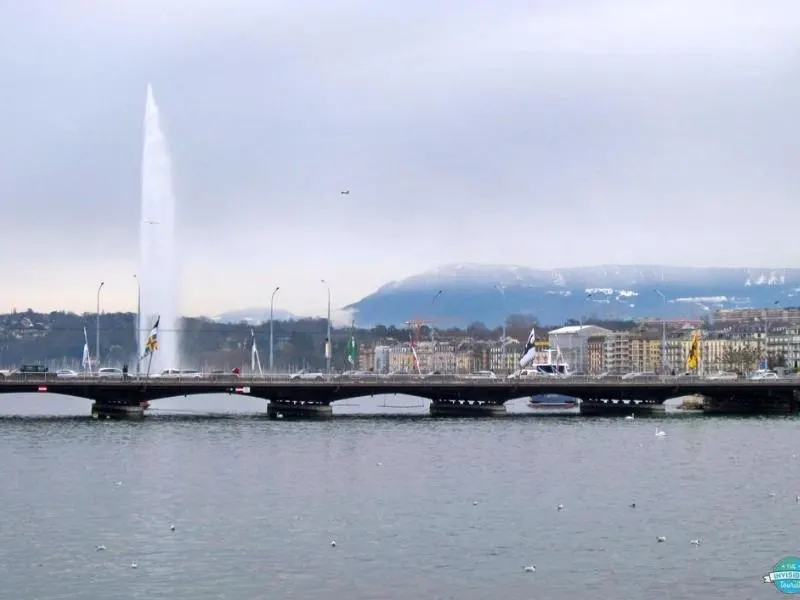 An unmissable spot to enjoy a bite to eat is Place du Bourg-de-Four, a charming old town square encircled by cafes and boutiques. Nearby St Piere's Cathedral is a beloved icon of Geneva, having stood here since the 10th century. The cathedral's lookout offers sweeping views over the city's rooftops to Lake Leman.
The Reformation Wall located within the grounds of Geneva University displays important figures who spearheaded the Protestant Reformation during the 16th century. These stone statues are built into the old city walls and are a short stroll from Bastion's Park. It's the place to be if you fancy playing a game of human-sized chess within the leafy grounds.
Finally, Geneva is home to many global organisations and fascinating museums. If you have the time, head into the city's north to take a guided tour of the United Nations headquarters.
Located in a prominent position here is the Broken Chair sculpture, it missing leg said to be a tribute to honour the victims of landmines globally. Enjoy your time discovering all Geneva has to offer! It is truly one of the best cities to visit in Switzerland!
Contributed by Alyce of the Invisible Tourist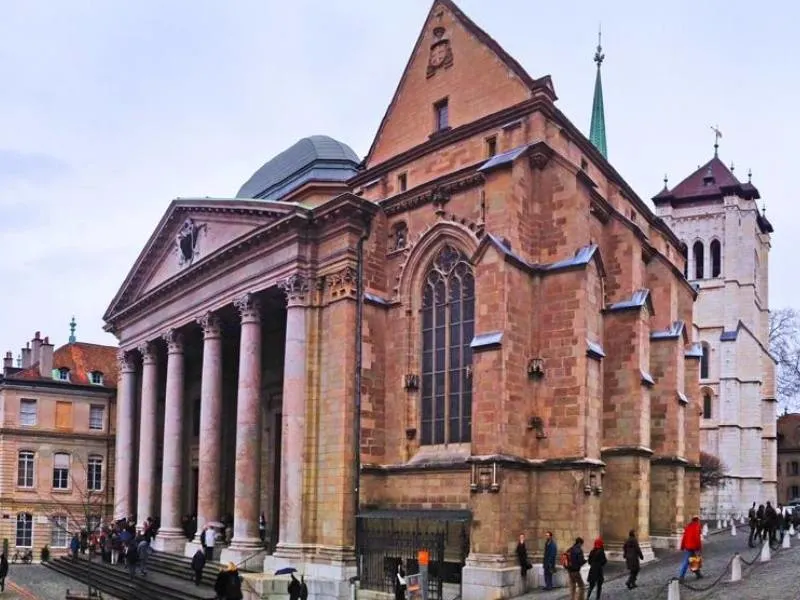 Lausanne
The picturesque city of Lausanne is often referred to as the most beautiful location in Switzerland, offering sweeping views of Lake Geneva. The city's landscape is highlighted by the Renaissance cathedral and age-old buildings which are scattered as far as the eye can see.
The fourth largest city in Switzerland, Lausanne has been recognised as the Olympic capital since 1994 and is also the site of the Court of Arbitration for Sport as well as 55 other international sports organisations which make it a prominent location in the world of sports.
Inside the city there are 46 buildings which are included in the list of the Swiss heritage sites of national significance. The must visited sites are the Notre-dame cathedral, numerous civic structures, museums and libraries, archeological sites as well as noteworthy art galleries.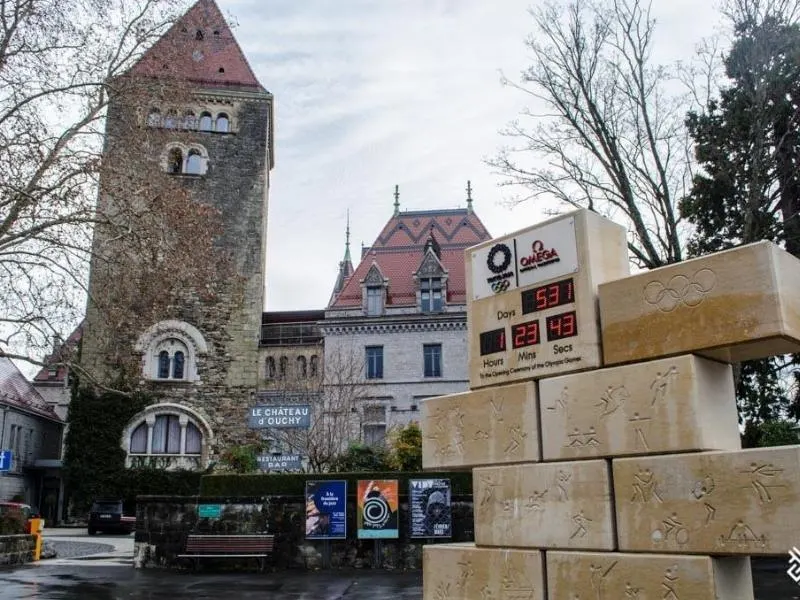 Visitors may also enjoy the numerous street markets as well as the renowned Quartier du Flon which over the years has evolved from a site of transshipment and storage facilities to a hub of modern buildings, including offices, apartments, shopping malls, and nightly entertainment places.
Lausanne is also a famed wine-growing region and is a paradise for wine lovers. When in Lausanne don't miss the opportunity to take a day trip to the Lavaux region, one of the most beautiful sights in the whole of Switzerland thanks to its vineyard terraces which have been recognized as a UNESCO World Heritage site.
You can reach here by the vineyard train which you can take from the main train station of Lausanne. Lausanne is a wonderful destination which boasts a selection of activities, historical sites and fantastic scenery for all tastes and ages.
Contributed by Elena of Passion for Hospitality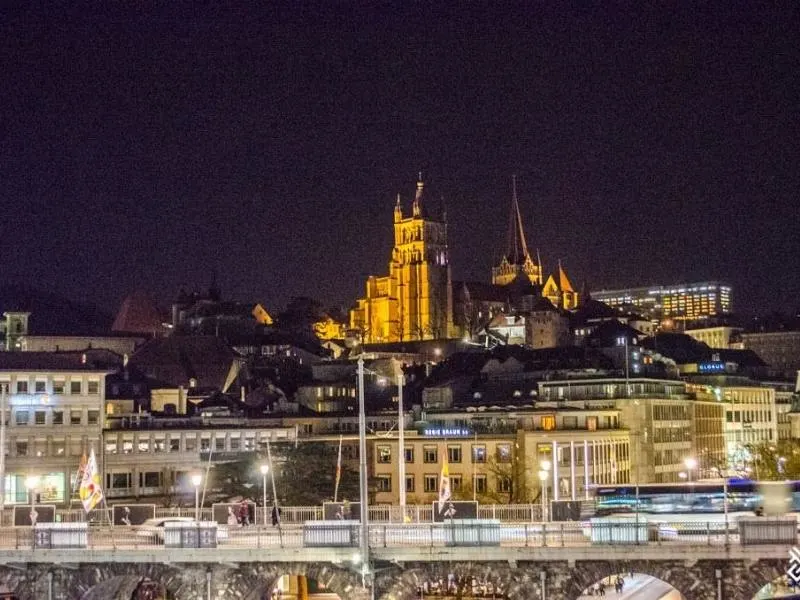 Lugano
You cannot afford to miss Lugano while visiting Switzerland. It is located in the southern part of the country and just 8 kilometers from the border with Italy. Once you land in Lugano, you can feel the charm of one of the most beautiful cities in Switzerland. You will be delighted by the blend of Swiss and Italian cultures that you find here at every corner of this small Swiss city.
Lugano is an all-season destination in Switzerland. However, I will recommend visiting during the spring months (March – May) to avoid the summer crowd and to get a hotel at a cheap price.
The public transportation network is very impressive and well developed in Lugano. All the major tourist attractions in Lugano are within a short distance from each other which makes it easy to get around the city by walking or biking.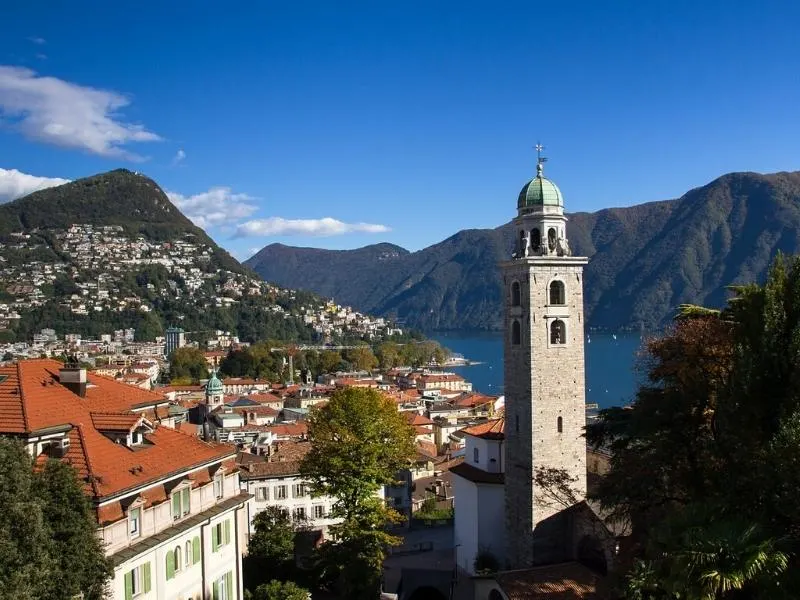 There are plenty of things to do in Lugano to keep you busy. Visiting the Old Town of Lugano with its narrow pedestrian lanes and arcade covered sidewalks is truly enjoyable.
Walk along the waterfront and explore the lovely shops and restaurants of the Old Town. Enjoy the spectacular view of gorgeous Lake Lugano. You can also take a ferry ride to see the city from a different perspective.
Next take a funicular ride to Monte Bre, a picturesque mountain that offers a fantastic vista over Lake Lugano. There are also several hiking trails and mountain biking opportunities for adventure seekers.
After that stop at the Alprose Chocolate Museum. Watching the chocolate-making process is a very fun and unique experience. Don't miss the chance to taste their famous Alprose chocolate, one of the best chocolate brands in Switzerland.
When you are done with Lugano, visit Parco Civio and spend a relaxing evening while enjoying the enchanting views of long, tree-lined pathways, beautiful flower beds, and fountains. The food in Lugano has Italian influence everywhere. Enjoy your lunch at Ristorante Trattoria Galleria with Italian pasta and seafood.
Contributed by Trijit from BudgetTravelBuff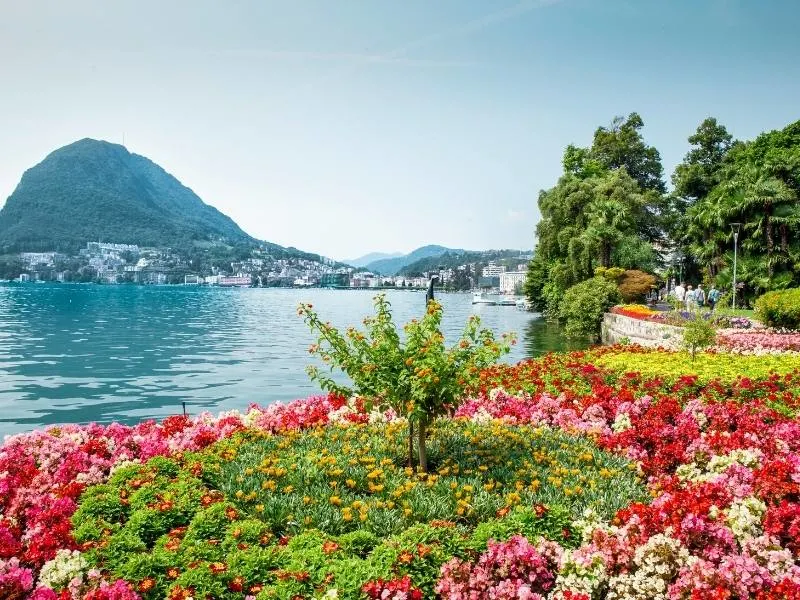 Lucerne
Lucerne is one of the most popular cities in Switzerland for tourists from all over the world (and one of the best cities to visit in Switzerland!) With stunning views over the lake and surrounded by the mountain peaks of the Central Swiss Alps Lucerne offers visitors plenty to do and see!
Lucerne is a compact city and can be explored on foot. Walk over the Chapel Bridge (Kappellbrucke) – the worlds oldest existing truss bridge – before taking a leisurely stroll around the shores of Lake Lucerne.
For stunning views over the city the Musegg Wall. The wall was built during the 14th century and parts of the wall are open to visitors from April to October.
The Lion Monument must also be visited when you are in Lucerne. It was created in 1820/1 to commemorate the Swiss Guards who were killed during the French Revolution.
If you have time for a day trip head to Mt Pilatus. It is the mountain that stands highest among the peaks surrounding Lucerne. The Golden Round Trip is highly recommended and involves a boat ride across the lake, a trip on the steepest cog railway in the world, a cable car then a gondola ride before heading back to Lucerne by bus.
This is a fantastic day trip from Lucerne with breathtaking views of the Alps from the mountain as well as of the lake. There are many different tours available including independent, guided and hiking trips.
Learn more about what to do and see in Lucerne.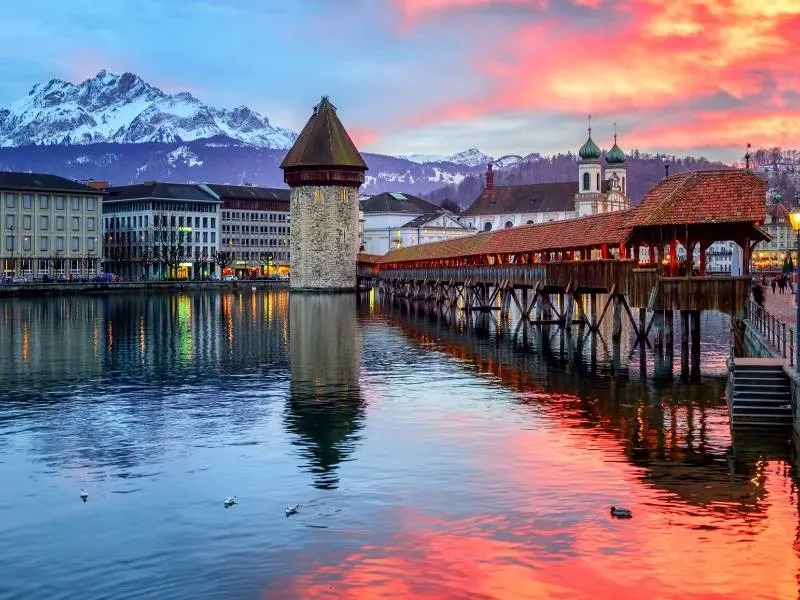 Map showing the locations of the 10 Swiss cities
FAQs Plan your Swiss travel adventure – top tips from a former Swiss resident!
What languages are spoken in Switzerland?
There are 4 languages spoken in Switzerland. By far the most common is Swiss German which is spoken by around 63% of the population. Not to be confused with German – it is quite different and in my humble opinion is not the easiest language on the ear in the world.
Although Swiss German is spoken in the north, east and central parts of Switzerland it manifests in numerous dialects. Swiss German in spoken in the cities of Zurich, Bern, Basel, Thun and Lucerne.
Swiss French is spoken by 20% of the Swiss population and is the language you will hear in Geneva, Lausanne, Montreux and the western part of Switzerland.
Only spoken by 8% of the population Swiss Italian can be heard in Lugano and Locarno – the areas of Switzerland bordering Italy in the south. And last but not least Romansh is spoken by approximately 40,000 Swiss who mainly live in the south-eastern canton of Grisons.
English is widely spoken in Switzerland though some understanding of German (all Swiss German speakers also learn German) or French is always handy!
Is the Euro the currency of Switzerland?
No Switzerland has its own currency called the Swiss franc. Notes are available in denominations of 10,20,50,100,200 and 1,000 Swiss francs.
Coins are available in 1, 2 or 5 francs.
Euros may be accepted in some shops and hotels. Credit and debit cards are widely accepted throughout Switzerland.
I recommend using a Transferwise currency card when traveling in Switzerland. You can find out more about how to save money with the Transferwise card here.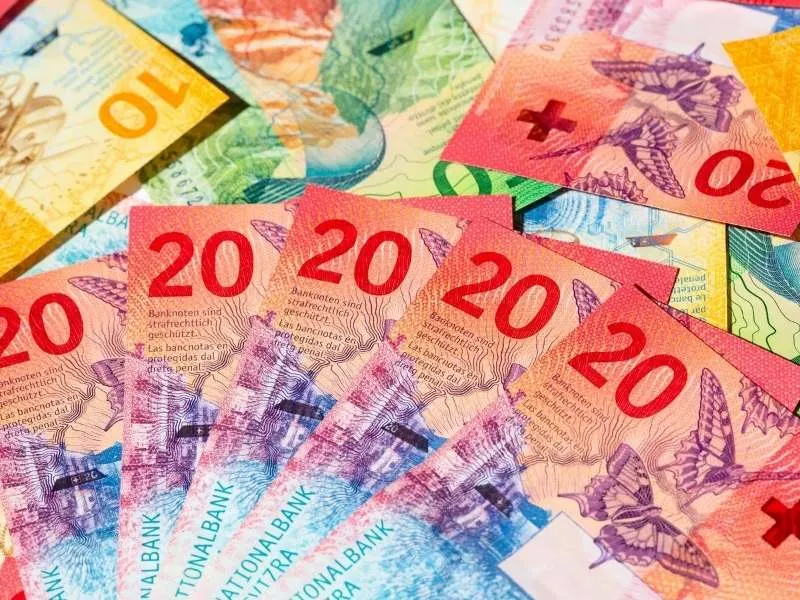 When is the best time of year to visit Switzerland?
Switzerland experiences 4 distinct seasons with average temperatures in summer of between 18 – 25 degrees centigrade (65 – 82 F) and of -2 to 7 degrees centigrade (28 – 45 degrees F) in winter.
Expect snow during the winter months. I recommend packing waterproof clothes that can be layered. If you are heading off to the slopes for a spot of skiing don't forget to pack suncream and sunglasses.
In summer although the days can be sunny and hot I recommend packing a light jacket if you are planning to take a trip up Jungfrau, Mt Pilatus or other Swiss mountain. Temperatures can drop rapidly if clouds descend.
What accommodation options are available in Switzerland?
Switzerland is NOT a cheap country and you may discover fairly early on when planning your itinerary that it is a costly country to visit.
There are a myriad of accommodation options available in Switzerland from top class luxury 5 star hotels to more affordable airbnbs.
Should I plan a road trip or a train travel itinerary?
The roads are excellent in Switzerland so you could plan a road trip however my favourite way to travel the country is by rail. With a Swiss rail pass you can experience some of the most scenic train journeys in the world.
I have travelled the country extensively by train and there are so many wonderful Swiss rail trips to take that you really are spoilt for choice.
To find out more about rail passes and the various options available to you click the relevant link below.
What souvenirs can I buy in Switzerland?
Cuckoo clocks, Swiss army knives, Swatch watches, lace and of course chocolate.
I have a wonderful collection of Swiss cow bells too. Make sure you have lots of room in your suitcase for all your purchases!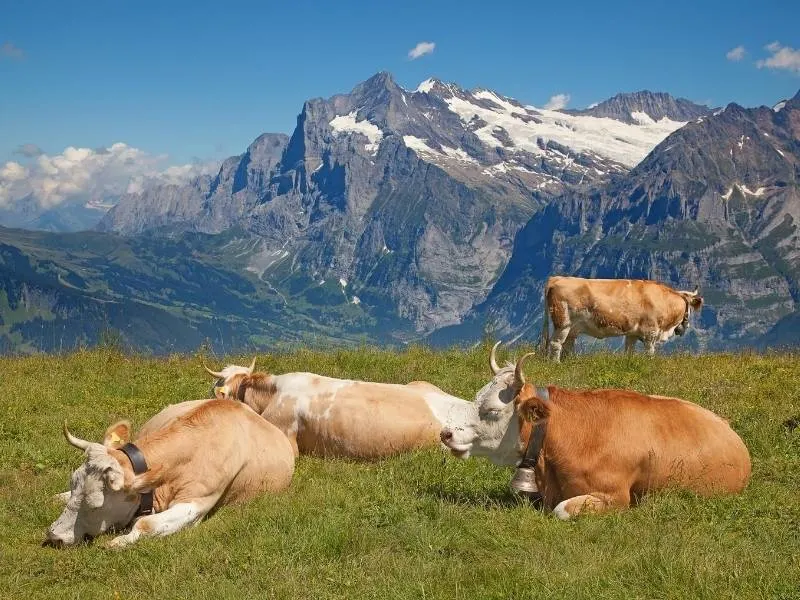 Which of these best cities to visit in Switzerland will you add into your itinerary?
With all this Swiss travel inspiration I am sure you will have lots of ideas for your itinerary.
Don't miss my many posts about Switzerland on this website. As a former resident you can find lots of great insider information, tips and advice to help you make the most of your Swiss travel adventure.