Morocco is a tourist's delight, with a vibrant culture and a seemingly endless amount of beautiful places to visit. One of the best ways to get around this wonderful North African country is by train.
Morocco's train system is excellent, likely one of the best we've ever seen. With modern, clean, and spacious trains; large, airy, and sleek stations; and frequent service linking together much of the country, we were so impressed by the train infrastructure here, and it made exploring a breeze.
In this article you will find essential tips to help you plan your train travel in Morocco plus a train trip itinerary which includes four of Morocco's largest cities.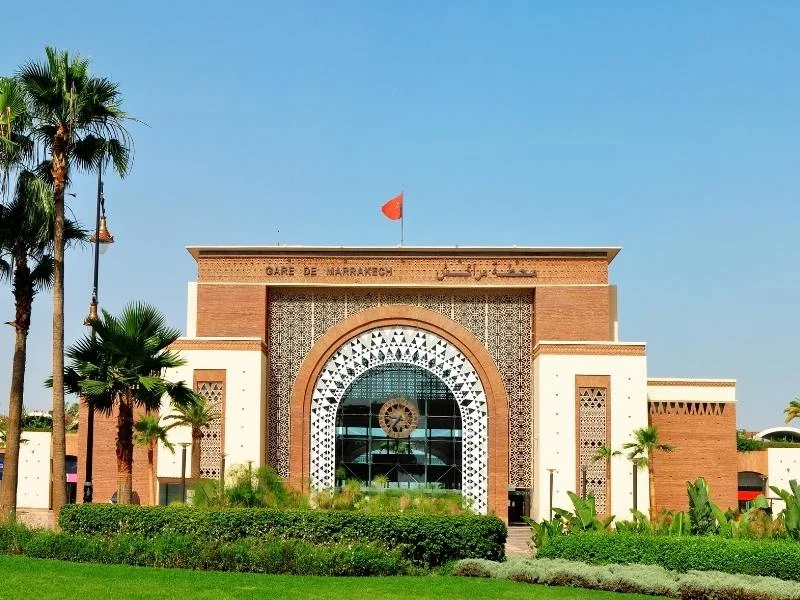 Why travel Morocco by train?
Morocco's train lines take you to the most transited parts of the country by design, so if you are looking to visit one of the bigger cities in Morocco, such as Rabat, Fez, Marrakech, Casablanca, or Tangier, then train travel is definitely your best bet.
Connecting previously-disparate parts of the country, the train has allowed for Moroccans to swiftly travel from one extreme of the country to the other, and the train system has really opened up Morocco for tourist purposes as well.
Fun fact: Morocco is the home of Africa's fastest train, as well as its best train network. You can zip from the northern port city of Tangier to the cosmopolitan city of Casablanca in a little over two hours, and the ride from Casablanca to Marrakech is similarly brief.
We were also very pleased to read that Morocco is investing heavily in its rail system, with plans for high-speed rail lines to run across much of the country in less than two decades. We wish the United States would prioritize train travel in this way!
Many people will tell you that the success of Morocco's train system is due to the French, because they laid the tracks and set up much of the train grid during the colonial era. While it may be true that France built the original trains, giving them full credit for the success of the system is quite dismissive of the Moroccan government's modern-day efforts to expand the train network, as well as their consistent and laudable commitment to the expansion of train travel.
We were totally amazed by how efficient and easy it is to take the train around Morocco, and the infrastructure there certainly surpasses the train infrastructure in much of the rest of the world. If you choose to travel by train throughout Morocco, know that you will be travelling in comfort and style!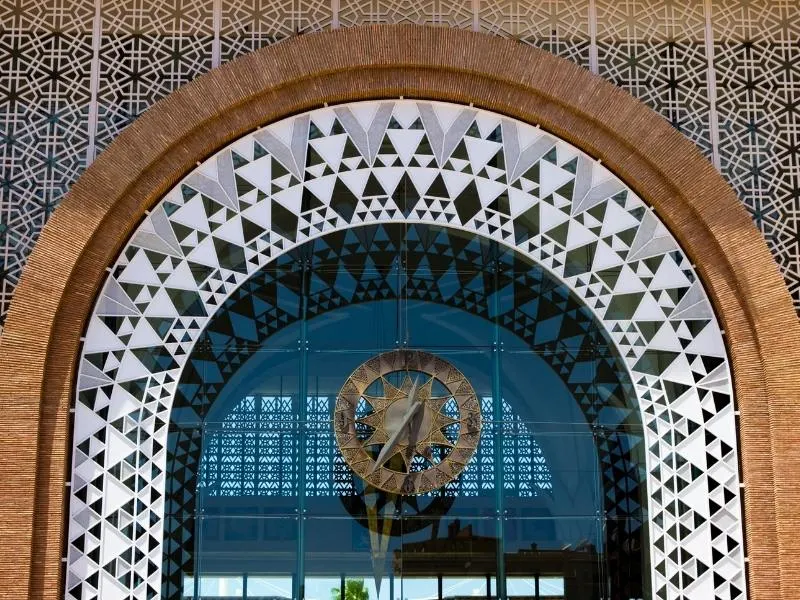 What you need to know for a successful train journey in Morocco
The different classes of train and where and when to buy tickets
Morocco's trains easily outclass those in our native USA at every turn, with all the amenities you would expect in Europe, mixed in with some distinct North African charm.
The first thing to note is that first-class tickets do not cost much more than second-class tickets do, and the comfort level found in first-class makes it worth the small splurge. The seats are wider and there is more leg-room, and you share individual compartments with a few other people (picture the compartments in the Hogwarts Express.)
However, second-class is by no means a bad experience at all– it is actually quite standard, comparable with European or American trains with their rows of seats, so don't worry if there are no first-class seats available. There are also sleeper cars for those longer voyages, so you have that option if needed.
While you are certainly able to buy train tickets at the station, the smart option is to buy your ticket online and avoid the possibility of a long line greeting you at the station, or arriving to find out that all the trains for that day are booked.
Do note that some routes are very heavily transited, especially during the tourist season and the holidays, so you will definitely want to book these trips in advance to ensure your desired day and time remains available. You can book tickets through the Moroccan government site, ONCF, here.
It is safe to travel by train in Morocco
We took several train rides of varying lengths while we were in Morocco, and not once did we feel out of place or unsafe in any way.
There were helpful guards, police officers, and train agents at each station, and travelling by train is clearly something that everyone in Morocco does frequently.
We saw a lot of families, business travellers, and solo travellers (both women and men, both Moroccan and international), as well as lots of tourists and backpackers.
Train stations are clean with good facilities
The beautiful train stations were in immaculate condition, and there were ample and very clean bathrooms available. The Gare du Marrakech was a particular favourite, but more on that later.
It merits mentioning that there is a reason why Morocco is a top tourist destination– Moroccans are immensely proud of their country and its history, and we felt that they were very invested in ensuring that visitors had a good time, as well as in maintenance and cleanliness of the spaces for public use and enjoyment in each city.
However, this is not to say that bad thing never happen. We experienced a lot of touts around train stations– offering luggage transport services, tours, rides, and other scams– which could be quite persistent, as well as many taxi drivers reluctant to turn on meters.
However, all we would say to this is that, as with everywhere else in the world, use common sense and be aware of your surroundings and you will be just fine.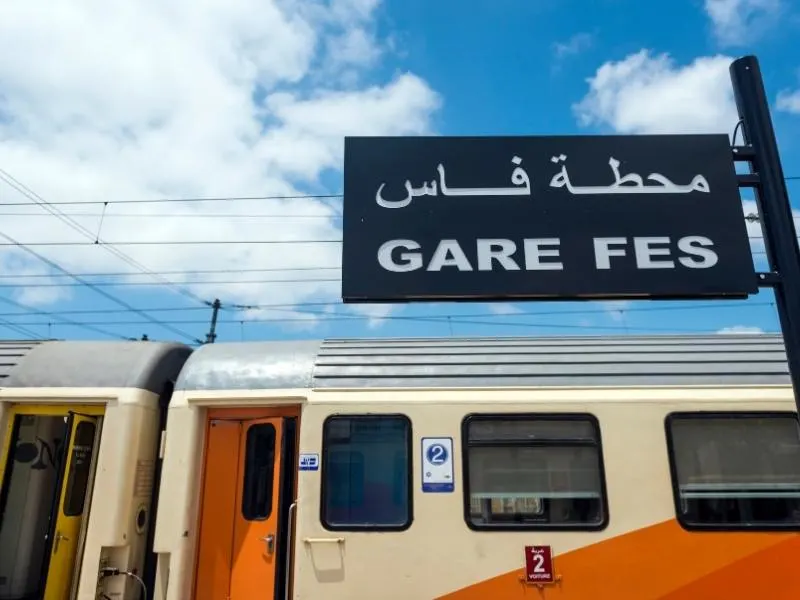 Our recommended train trip itinerary for Morocco
Fez – Rabat – Cassablanca – Marrakech
Train Leg 1: From Fez to Rabat
The old city of Fez has much to offer travellers. The main train station in Fez, Gare de Fez, is a beautiful building that has everything you expect from a modern transportation hub.
We found it quite simple to buy tickets here from the counter, which offered routes linking up to many of the country's top tourist destinations. Again, you can also buy in advance if you are visiting at a busy tourist time.
Morocco is not a very large country, so the distances between destinations are not bad at all. Once you have had your fill of exploring the winding streets of the historic medina and sampling the delicious cuisine Fez is known for, hop on the train and head to Morocco's capital, Rabat. The train journey from Fez to Rabat will take about 2 hours and 30 minutes to cover over 200km– not bad at all!
Looking out along the way to Rabat, you will notice some green countryside intermixed with somewhat arid areas that spark the imagination. You will be amazed at how different the landscape is in just a few short hours. You will journey through part of Morocco's middle Atlas Mountain range, with its spectacular vistas and rugged environment.
Rabat is one of the best examples of France's colonial architectural legacy in Morocco, and this is evident in the Rabat train station. Rabat's main train station is called Rabat Ville, and while it is relatively small, it has what you need. You will certainly appreciate the efficient nature of this train station.
One of the best elements of arriving in Rabat via train is the ease with which you are able to get where you need to go from the station. Just out front of the station is a tram line that will take you to many places within Rabat and neighbouring Sale. Plenty of taxis also await you at the exit as well. However, taking the tram is so quick and easy that we really recommend doing that!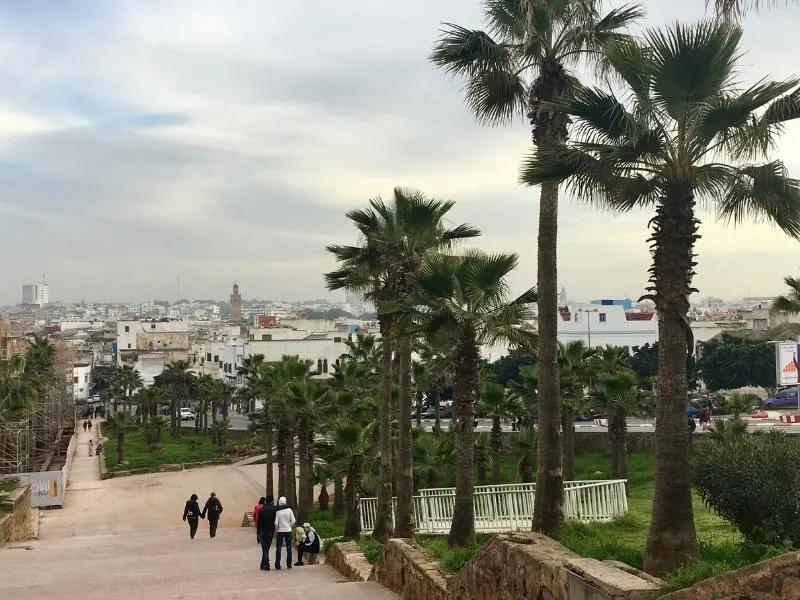 Train Leg 2: Rabat to Casablanca
While this route is most-frequented by business travellers, there is much to enjoy taking the train from Morocco's capital to its largest city, Casablanca. Both cities are situated on the coast and offer sublime waterfront views, but these are two cities with very distinct characteristics. Taking the train to visit each one is your best option since traffic can be brutal depending on the time of day.
The ease of travelling between these two cities by train is probably the most alluring part of taking the train, as you will find that it is a very simple journey. Throughout the day there are many trains venturing to Casablanca so it is up to you to pick the best time to leave.
While this route does not offer as many stunning views of the natural landscape, it is still interesting to take in the coastal area of Morocco, and when you are getting into Casablanca, you will see one of Africa's most bustling metropolises. Casablanca is a huge city, housing over 3.5 million people, with equivalent urban sprawl.
Casablanca also has two major train stations, Casa Voyageurs and Casa Port. Casa Port is a modern station, filled with shops and amenities for travellers. You will be sure to appreciate how Casa Port is so close to the downtown area and is a short cab ride away from the Hassan II Mosque, Casablanca's top draw.
Casa Voyageurs on the other hand is the primary train station and is located a bit further out from Casa Port. Either station will suit you in your journey and accommodate travellers well so you do not need to fret if you are venturing from one or the other.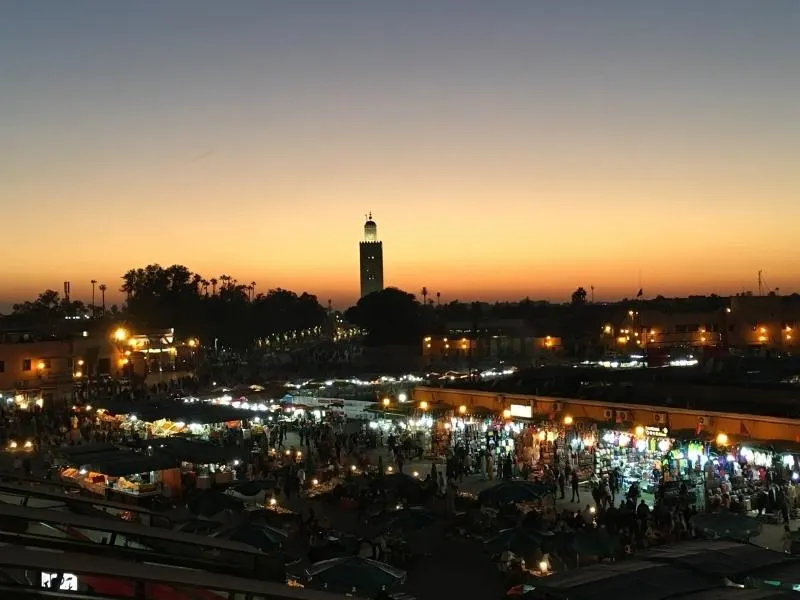 Train Leg 3: Casablanca to Marrakech
The last leg of our train journey in Morocco was bittersweet, as our fun vacation was ending. This two and half hour trip went by so quickly, due in part to the comfortable seats and spacious, air-conditioned interior. We were hungry so we grabbed a small snack on this train ride, one of the perks of travelling by rail, the snack cart that makes the rounds throughout the journey.
While enjoying our snacks, we found the scenery on this stretch to be an absolute highlight. The verdant land by the coast gives way to more arid countryside the closer you get to Marrakech, and we loved looking out and seeing the transition. Seeing the varied natural scenery is one of the highlights of travelling around Morocco by train, as the country is full of such special and distinct environments.
Once we arrived in Marrakech, we were astounded by how beautiful the train station is. With its imposing glass entryway, the Marrakech train station, or Gare du Marrakech, is really an architectural marvel all on its own.
We were pleasantly surprised at how close it is to the main tourist area, the medina, mixing "old meets new" in a distinctly Moroccan style. This is one of our favourite things about train travel, that the train station is often located right in the middle of the city so you do not have to go far once you disembark.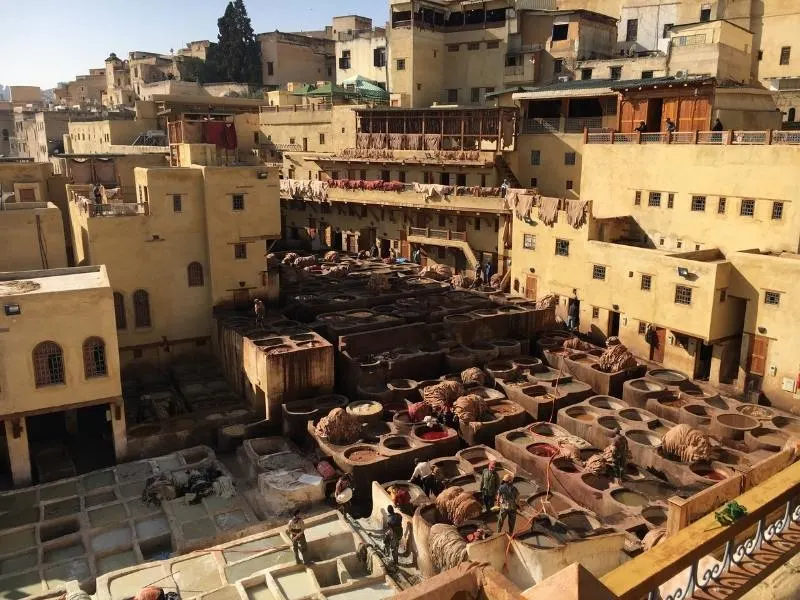 Final thoughts on traveling Morocco by train
All in all, we highly recommend travelling around Morocco by train as it is easy and fun! The trains themselves are modern and excellent and have super comfortable seating accommodations.
Likewise, Morocco clearly values its rail network and thus has many advantageous routes for the intrepid traveller looking to see as much of the country as possible. Any way you slice it, Morocco is a train traveller's dream!
For more train journeys, as well as hiking, biking, walking, and more, check out our travel guides site, Why Not Walk.
Author bio
Tegan George & Alex McKenzie | Why Not Walk
Tegan and Alex are travel, hiking, and biking enthusiasts currently based in Boston, USA. There is nothing they love more than exploring new places by walking, and they have visited over 30 countries together since they met in 2015. Their love for "walking the world" led them to found Why Not Walk, a travel guides site. You can follow them on Instagram, Facebook, or Pinterest.