Discover the delights of Scarborough Beach Australia in this complete guide to one of Western Australia's most iconic beaches.
Australia has more beaches than any country in the world and boasts of a laidback beach lifestyle. Our guide to the best beaches in Australia highlighted some of our favourites from across the nation including 8 in Western Australia.
This article has been written by guest writer Cheryl from livewhywait.com who shares her knowledge and practical tips to help you plan a visit to beautiful Scarborough Beach in her home state of Western Australia.
Discover everything you need to know including when to visit, what to do, where to eat and where to stay at this beautiful Australian beach resort.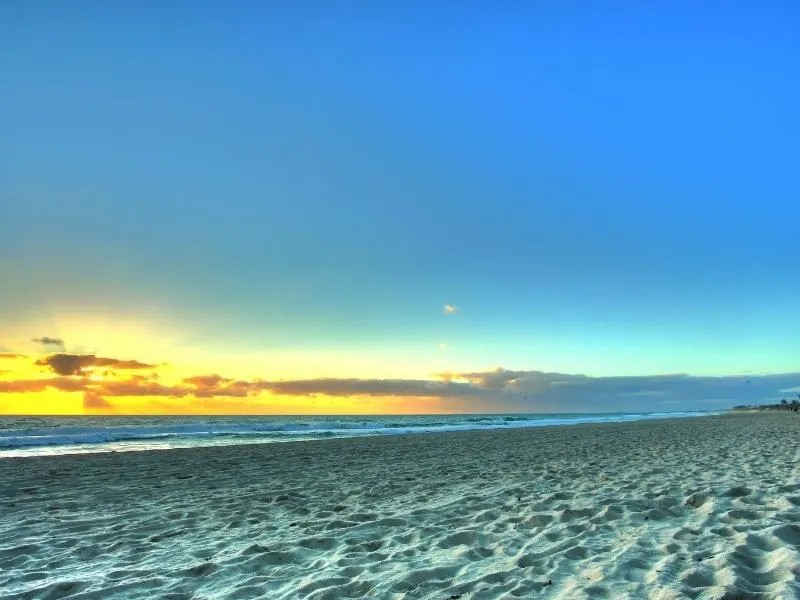 Where is Scarborough?
Scarborough is a beachside suburb of Perth that has so much to offer whether you are a beach lover or not.
It's just a 20-minute drive from Perth CBD and is one of Western Australia's most iconic beaches.
Western Australia is known for its beautiful beaches and stunning sunsets, from Esperance in the South to Broome in the North, the West Coast of Australia is something you just can't miss.
And in my opinion, Scarborough is right up there in the "Do Not Miss" list.
With an award-winning foreshore overlooking the magnificent Indian Ocean, Scarborough has it all. And Scarborough Beach Esplanade is the jewel of the crown.
The Esplanade is 750m of the most amazing things to do, all with unrivalled views of crystal blue waters. With an amphitheatre overlooking the beach, playgrounds, activities for the kids, and a world-class swimming pool, there's plenty to see and do.
And with ample bars, restaurants, and cafes, you'll find whatever you need for an awesome day at Scarborough.
So, no matter what you do when in Perth, make sure you get down to Scarborough and have an amazing day.
I promise you'll love it!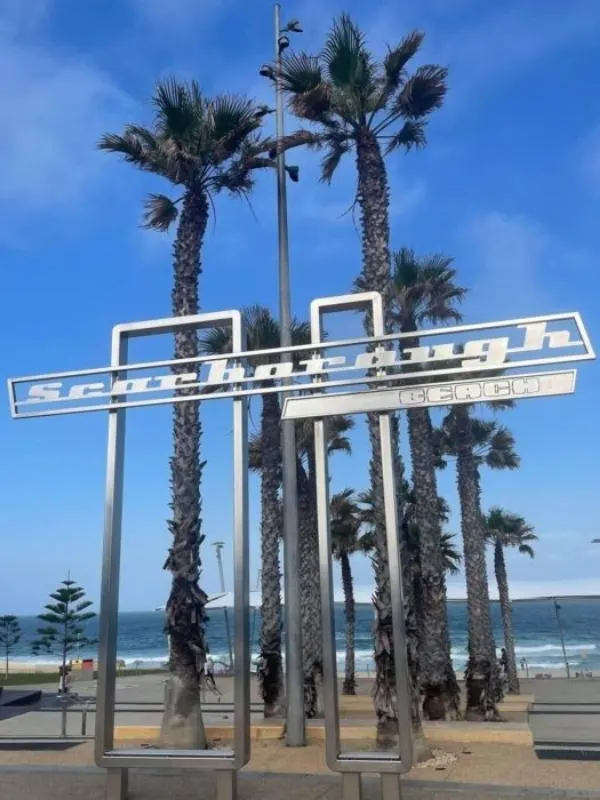 What's the Best Time to Visit Scarborough?
There's never a bad time to visit Scarborough Beach!
With year-round activities, there's always something interesting to see and do.
But if you're looking for the best weather then January through to May is when you want to go.
The weather is warmest in January and February with an average max temp of 31°C and an average min of 19°C (perfect beach weather).
Then in April and May, the temperature cools and the wind eases, creating beautiful sunny days with a calm, inviting ocean. With an average max of 25°C and an average min of 13°C, it's still warm enough to make the most of this beautiful location.
In fact, the locals will tell you that the most stunning days on the beach will be found during this time.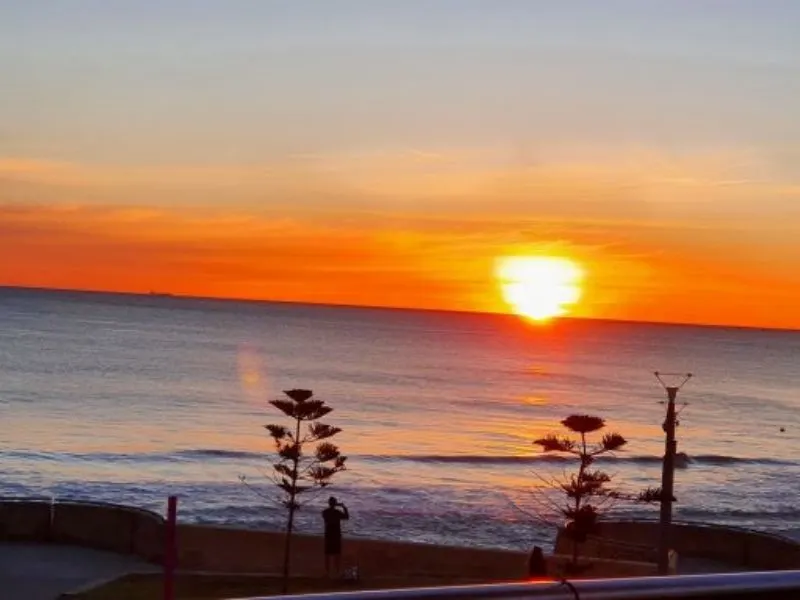 What Can You Do In Scarborough?
1. Go To The Beach
If you like the beach, you are going to love Scarborough Beach. The crystal blue waters of the Indian Ocean are magnificent, and the sand is pristine white and clean.
Scarborough Beach and Trigg Beach (approx. 1.4 km further north) have some of the best surf in Australia and attract surfers from all over the world.
The beach is patrolled 365 days of the year. In winter you'll be looked after by the Stirling City beach inspectors and lifeguards, and in summer they are supported by the dedicated volunteers of Scarboro Surf Life Saving Club.
But please be careful, because as beautiful as it looks, Scarborough Beach can be very dangerous with big rips and ever-changing wave conditions.
The beach inspectors and lifeguards here know their stuff, and they set the flags in the safest place each day. They do everything in their power to make sure everyone enjoys the beach SAFELY.
So, if you are going for a swim, make sure you swim between the flags and STAY SAFE!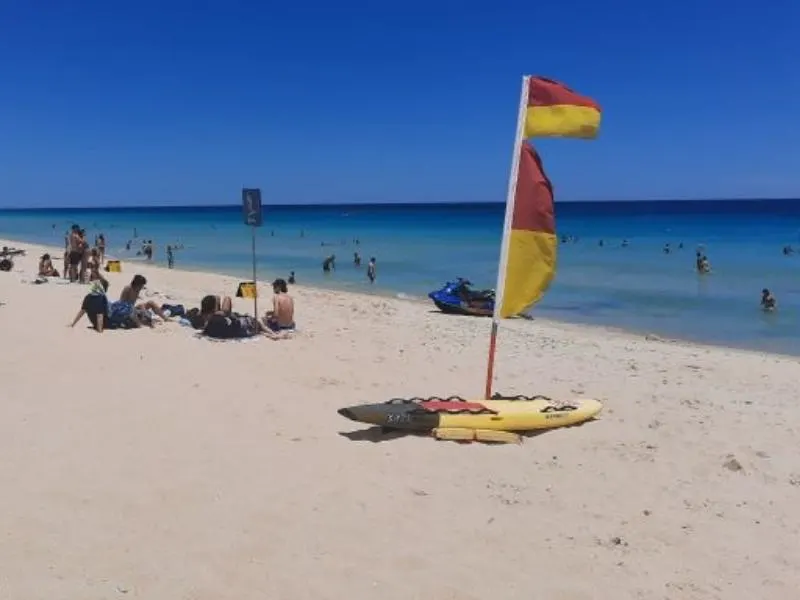 2. Learn To Surf
As I said, Scarborough Beach is one of the best surf beaches in Australia. It regularly hosts surf competitions, attracting surfers from all over. And you will find local surfers enjoying their passion every day of the year.
If surfing is something you've always wanted to try, then this is the place to come!
There are several surf schools in the area, and they run all year round, teaching visitors and locals how to surf.
I recommend Go Surf Perth, a family-owned business with accredited surfing coaches who love what they do.
They have group lessons and private lessons and are passionate about giving everyone the opportunity to surf.
So, if you are keen to learn how to surf follow the link to find out more – Go Surf Perth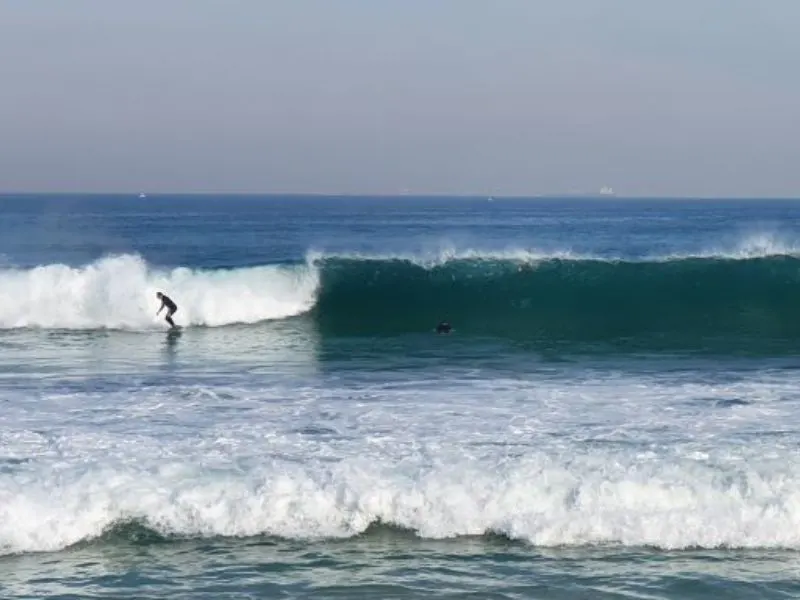 3. Swim At Scarborough Beach Pool
If surfing or swimming in the ocean's not your thing, you can go to the pool!
Scarborough Beach Pool is an impressive new addition to the Scarborough foreshore and overlooks the ocean.
The 50m lap pool is geothermally heated to a comfortable 27 degrees all year round. And the leisure/kiddy pool is geothermally heated to a balmy 29 degrees.
It's a great place to do laps or to take the kids for a play in safer waters.
Zoie Cafe adjoins the pool and is accessible from the pool area if you want a coffee, a light meal, or something sweet.
To see the casual entry rates of the pool and any other info you need, go to the link below.
Stirling Leisure Centres – Scarborough Beach Pool – City of Stirling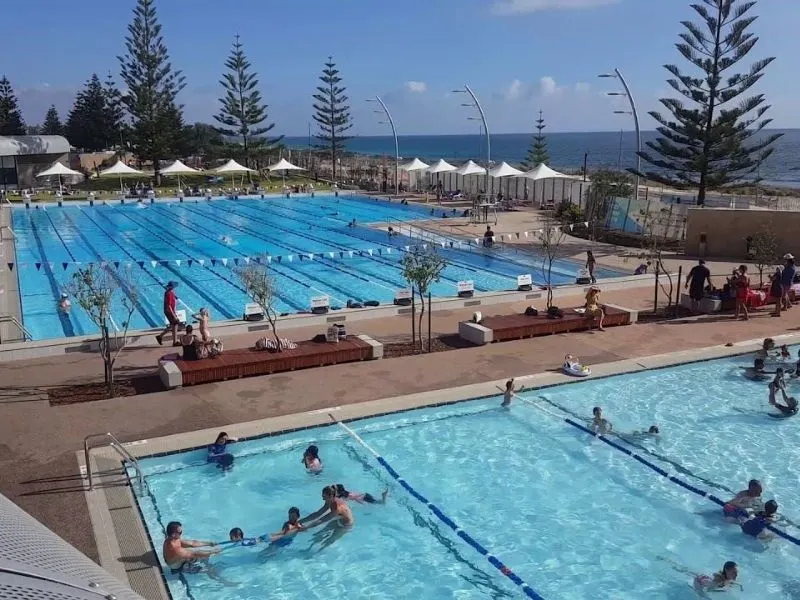 4. Take the Little Ones to the Whale Playground
The Whale Playground is at the north end of the Esplanade and is great for the little ones with swings, slides, and plenty of climbing to keep them happy.
It looks great and provides hours of fun.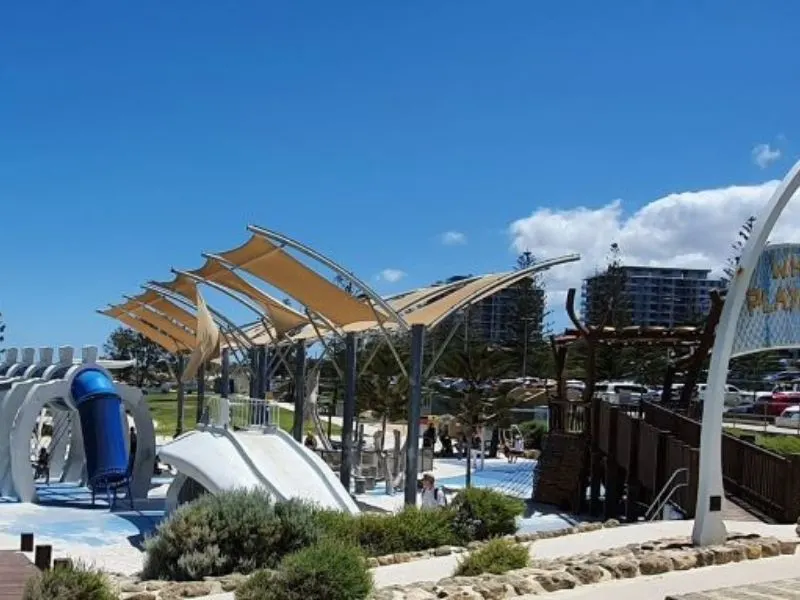 5. Have A Barbeque or Picnic
The lawn area north of the Whale Playground is a wonderful place to have a barbeque or a picnic with friends.
There are gazebos and barbeques, and plenty of lawn for everyone.
It's a popular place for birthday parties and family gatherings.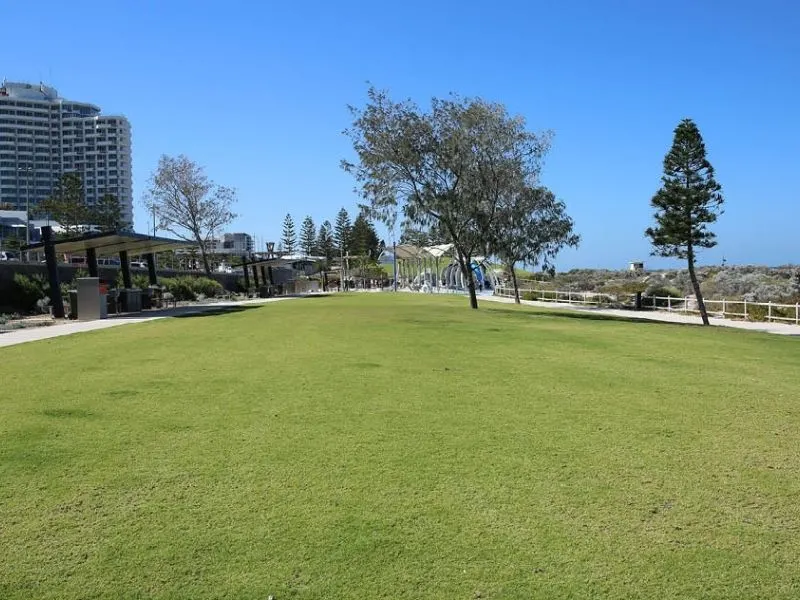 6. Ride A Bike or Walk Along the Coast
You can ride or walk both north and south of Scarborough Beach for kilometres.
The Sunset Coast share paths run from Burns Beach (approx. 20kms north of Scarborough) to Fremantle (approx. 19kms south of Scarborough) and are wide enough for both riders and pedestrians, and the view is spectacular.
This is a very popular activity for both locals and visitors, although I'm not sure there would be many who do the whole 40kms in a day 😊. And with an abundance of cafes and coffee shops along the way, it's a lovely way to spend a couple of hours.
If you don't have your own bike and want to enjoy this very popular activity, there's an automatic bike hire network found at the Rendezvous Hotel.
You can also get a Sunset Coast Map while you're there to show you the way.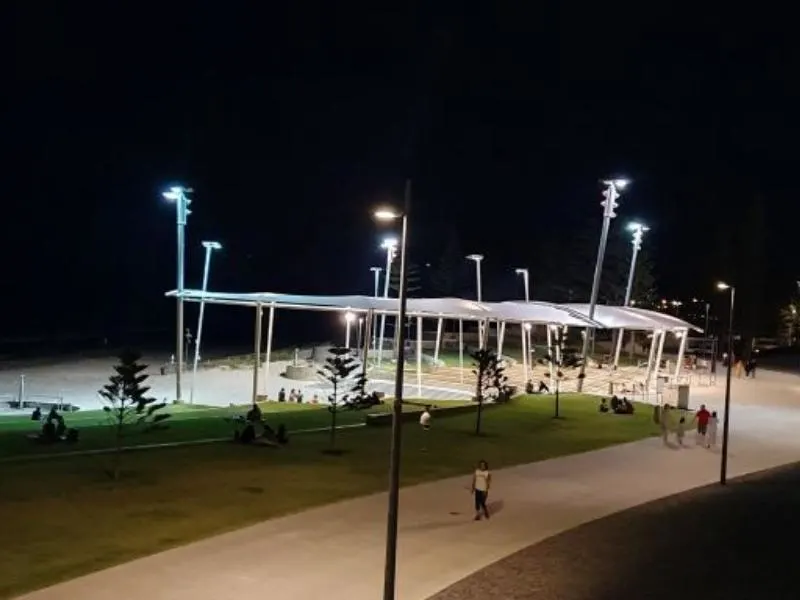 7. Take in the view from Sunset Hill
The sun setting over the Indian Ocean is stunning and a must do for anyone on the West Coast of Australia.
And in Scarborough, the most popular place to do this is from Sunset Hill
A popular thing to do is grab some take away from one of the many eateries on the Esplanade and walk over to the hill. Sit down on the grass (or take a blanket) and marvel at the breathtaking beauty of the sun setting over the Indian ocean.
During the day Sunset hill is also a popular place for people to watch the surfers or just take in the view of the ocean. And when the afternoon breeze comes in the kite surfers come out to play.
Sitting and watching hundreds of colourful kites fill the sky is definitely something else to see.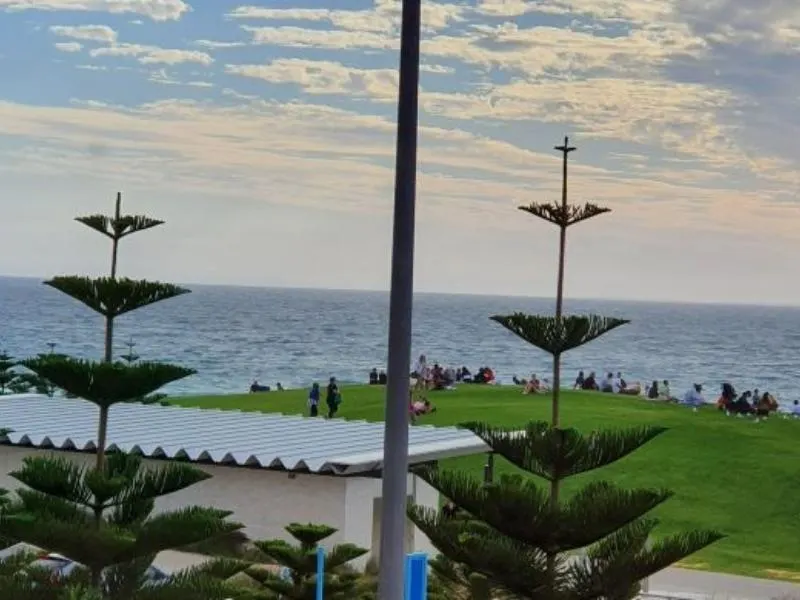 8. Skate at the Snake Pit Skate Park
Kids of all ages love the Snake Pit skate park. It's a recent addition to the foreshore with a 3-tier skate park that caters to all levels of ability. From ramps, rails and banks for beginners to the 3.6m deep bowl for the experts.
Just make sure you have your protective gear on and respect others using the park while testing your skills.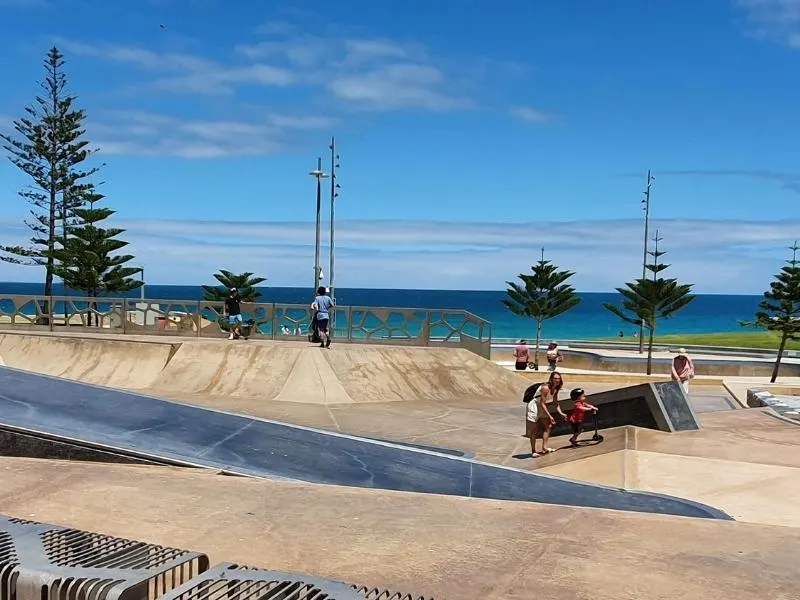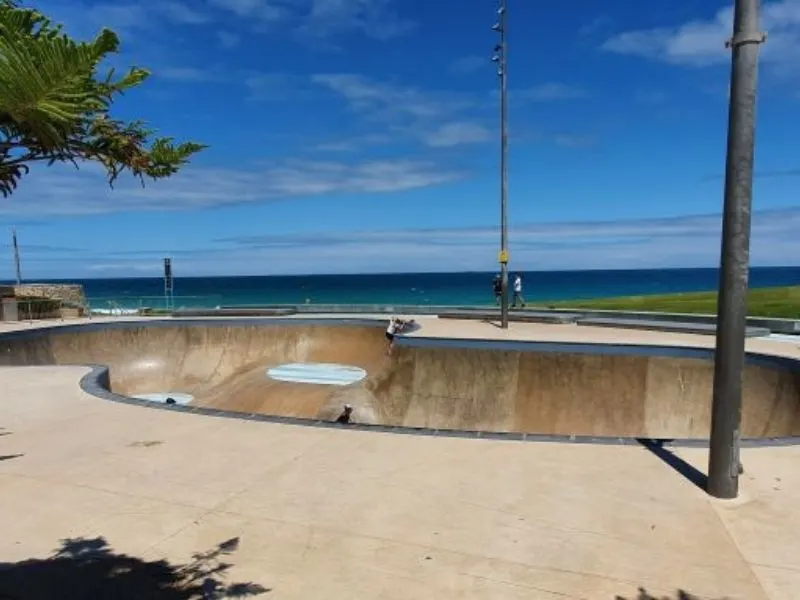 9. Play Basketball or Rock Climbing
Next to the Snake Pit is a half-court basketball court and rock wall suitable for the kids. You will always find kids, big and small, throwing hoops or climbing the rock wall while parents sit and enjoy the view.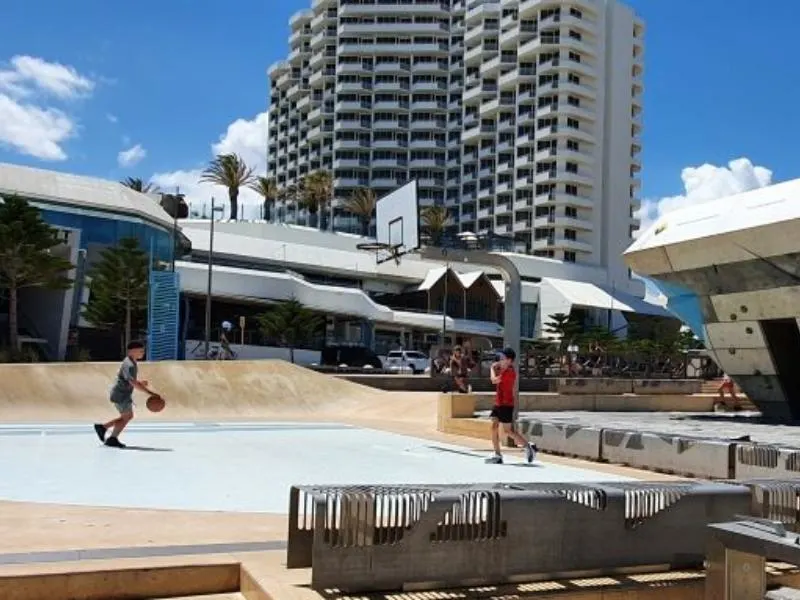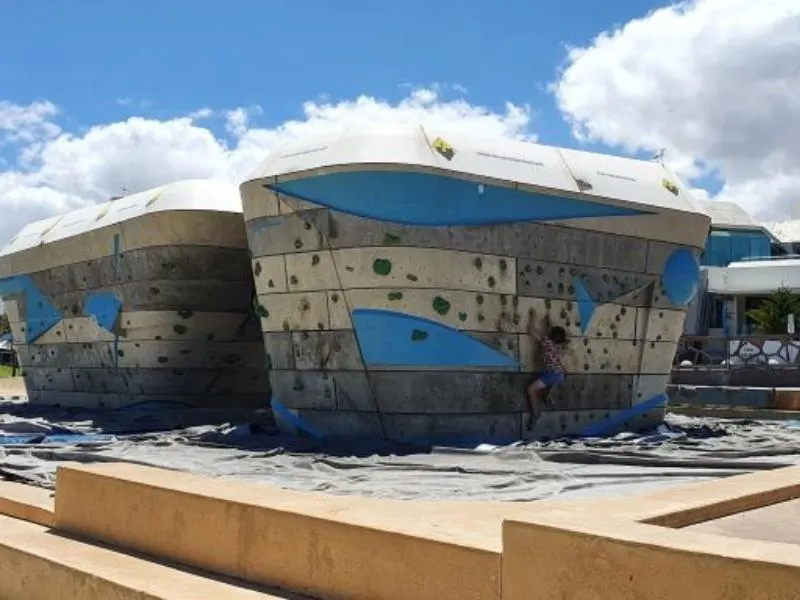 10. Be Entertained at The Amphitheatre at Scarborough Beach Australia
The amphitheatre is a great place to sit and watch the goings-on at the beach, and it's another great place to watch a sunset.
If you're lucky there'll be entertainment to enjoy as the amphitheatre often hosts events such as beach volleyball, concerts and Christmas Carols.
Every March Scarborough Beach hosts the Western Australia Surf Lifesaving State Championships and in April 2023 the Australian Surf Lifesaving Championships will be coming to town.
And the Amphitheatre is a great place to watch the spectacle of what is unarguably an assembly of Australia's best athletes competing at the highest level.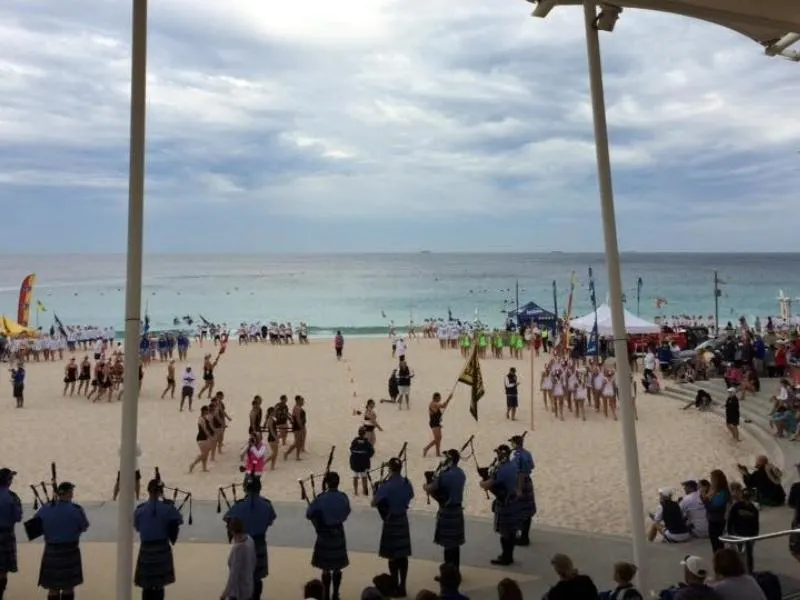 11. People Watch in Scarborough Square
Scarborough Square is a great place to sit in the shade and watch the world go by. The mix of people who live or visit Scarborough is diverse and always fascinating to watch.
On any given day you can watch roller skaters pass, families walking along with kids excited about where they are going (is it the beach, the Snake Pit skate park, or the Whale Playground, who knows??). Or couples walking hand in hand, heading for a drink or a bite to eat at one of the many bars or restaurants on the Esplanade.
Bike riders, runners, or walkers are always passing through, enjoying a bit of exercise with a great view.
I can assure you, every day you'll see something different!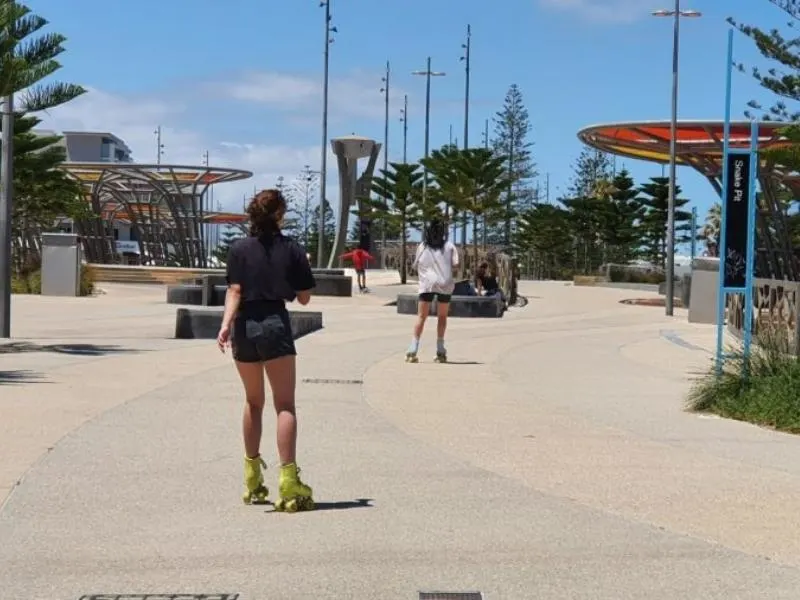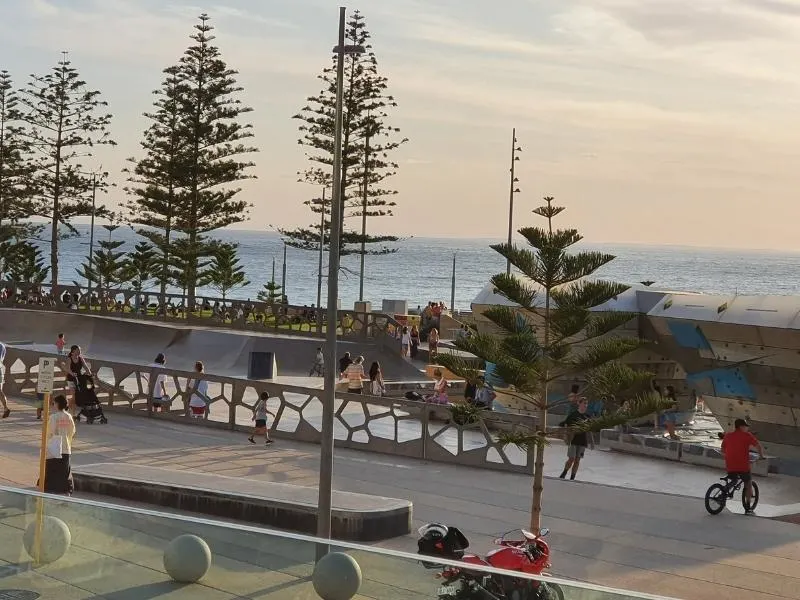 12. Visit the Sunset Markets
The Scarborough Sunset Markets run 5 pm -9 pm every Thursday from November through to April and attract people from all over.
The atmosphere is amazing as Scarborough Square is transformed into a hub of activity with food vans, pop-up bars, craft stalls, and live music for everyone to enjoy.
The Amphiteatre is set up with activities and entertainment on the sand. It's a great place to sit and eat your scrumptious dinner from one of the many food vans while being entertained.
The Winter Markets are more of the same but with a winter vibe and are held between May and October on Saturdays between 3 pm -8 pm.
No matter what time of year you visit Scarborough, the Sunset Markets are a must-do!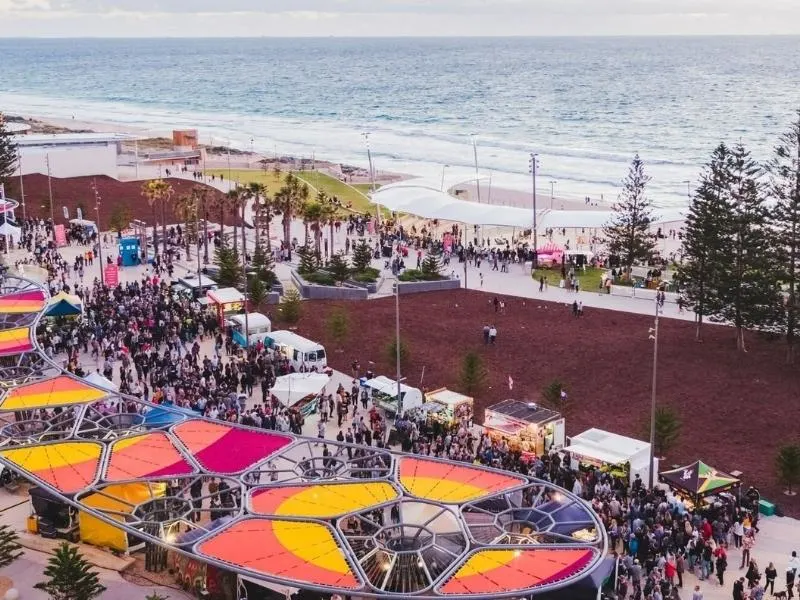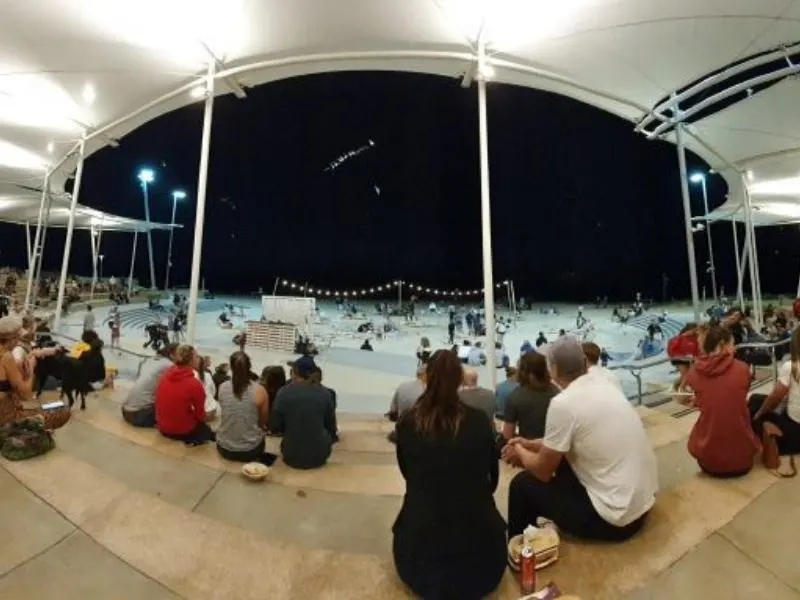 13. Grab a Bite and a Bevie
The Scarborough Esplanade is chocker block full of cafes, restaurants, bars and retail shops.
If you can't find anything to eat or drink along here, there's got to be something wrong.
Whether it's dine-in or take-away, Thai or Italian, pub grub or restaurant, it's all here, and all with a view to die for. Most places have outdoor dining available but if you can't find the view you want, grab some takeaway and head over to Sunset Hill or the Amphitheatre and enjoy your meal there.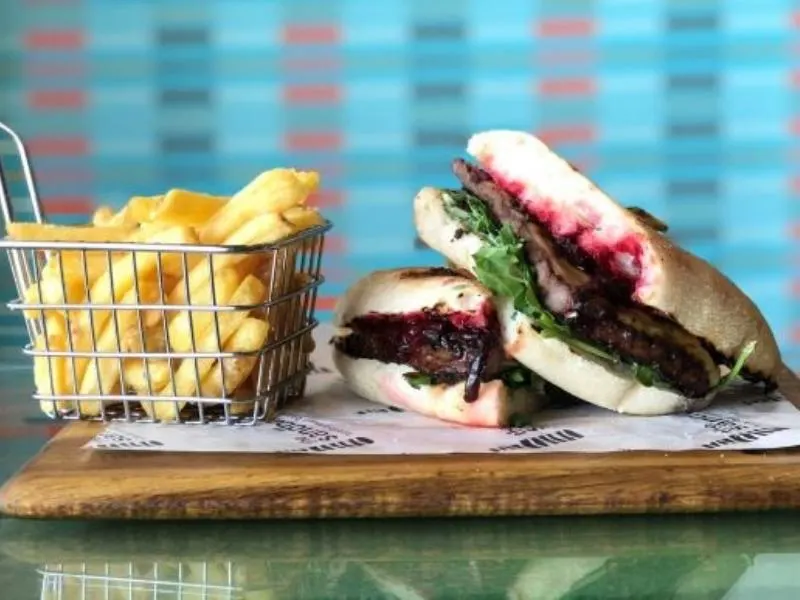 Where To Eat and Drink at Scarborough Esplanade
If a drink with a view is what you're after, you are spoilt for choice.
At last count, there were 8 bars on the Esplanade alone. And if for whatever inexplicable reason you can't find what you're looking for, there are more bars a few streets back.
And with so many licensed restaurants and cafes to choose from, you'll always find something to meet your appetite.
Here's a list of the bars, restaurants, and cafes on the Esplanade for you to choose from.
The Bars On The Esplanade
1. The Sandbar
The Sandbar is situated on the corner of Scarborough Beach Road and The Esplanade and overlooks Scarborough Square and the Clock Tower.
Open for breakfast, lunch, and dinner, they offer casual dining (including wood-fired pizzas) and a no bookings policy. There's plenty of room for everyone.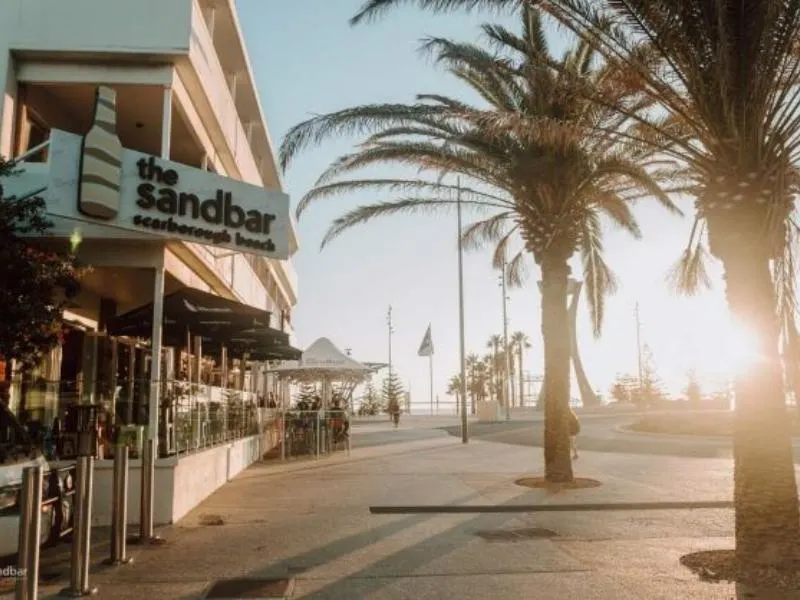 2. Oceans Bar
Oceans Bar is one of the first bars to open in Scarborough. It's a favourite with the young and young at heart. With weekly meal deals and a great vibe, it's always busy. It's also very popular for a Sunday Sesh.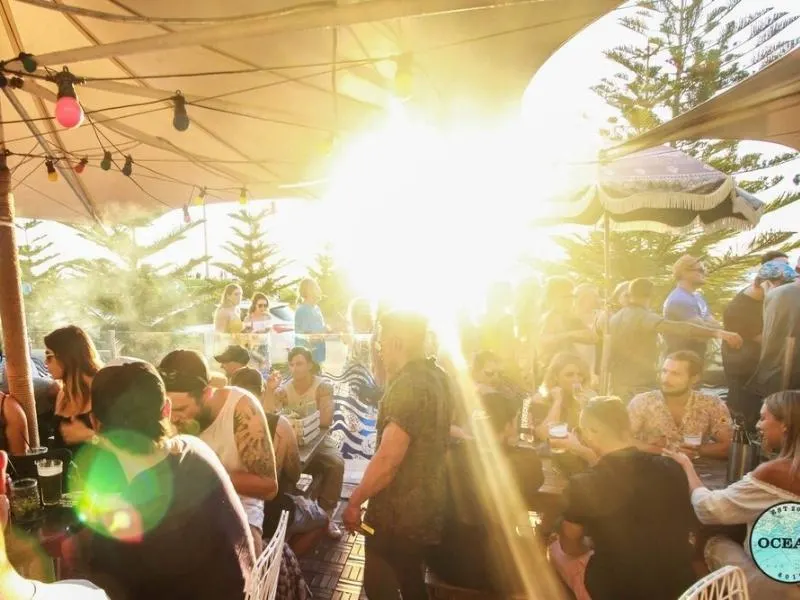 3. The Esplanade Bar
A Thai restaurant turned bar, the Esplanade Bar offers great Thai food with reasonably priced drinks.
On the first floor and above Oceans Bar, it has unobstructed views of the Foreshore and the ocean.
This bar is a favourite for the older crew.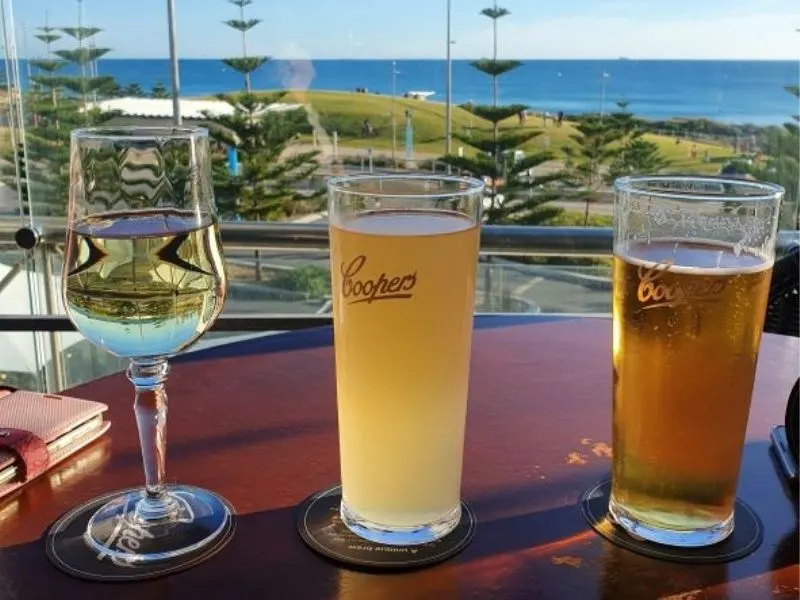 4. Scarborough Beach Bar
Scarborough Beach Bar is also on the first floor and next to the Esplanade Bar. And it also has unobstructed views of the foreshore and the ocean with indoor and outdoor seating.
They are open for breakfast lunch and dinner and offer casual dining in a relaxed setting.
5. The Peach Pit
The Peach Pit is at street level with outdoor seating so you can watch the world go by. They claim to have the best burgers in town, so why not check it out to see if they're right.
6. The Galway Hooker
This traditional Irish pub was built, disassembled and transported from Ireland. It has traditional Irish pub food and ales. A great place to watch the world go by or watch some sport on the big screens.
7. El Grotto
This is a Mexican Bar and Taqueria. They boast a contemporary Mexican menu, craft beers and a cocktail bar to rival most.
8. The Lookout
The Lookout is a bar with a difference. You get casual dining with an unobstructed view of the ocean from the first floor. Or you can have a game of 10 pin bowling (they have their own bowling alley!). With indoor and outdoor seating, cabanas and booths this is one of the bigger and busier bars on the strip.
The Lookout is also very popular for a Sunday Sesh with a DJ and a dance floor.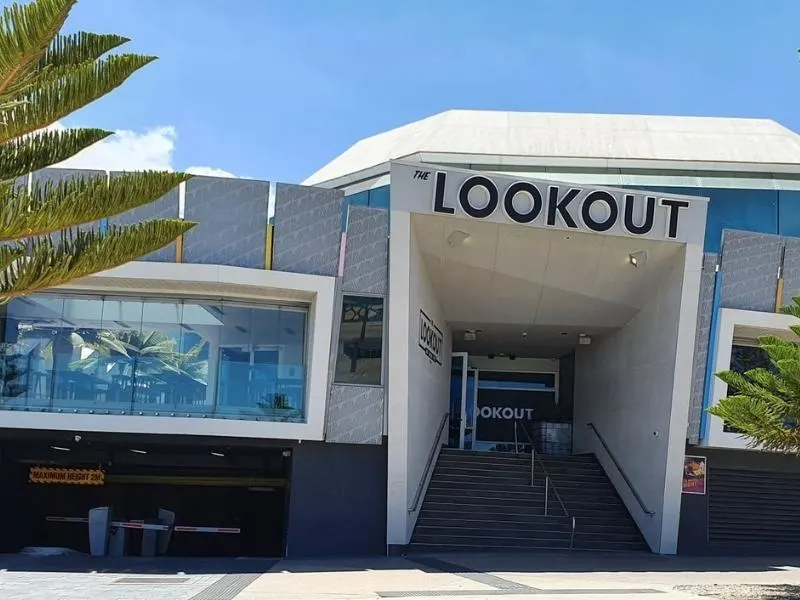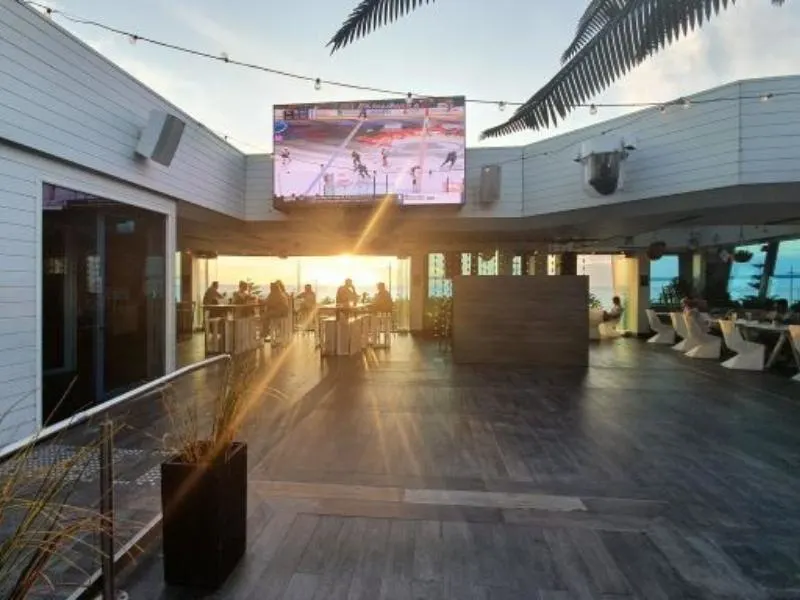 The Restaurants and Cafes
1. Peters By The Sea
Fish & Chips, Kebabs, Burgers (licensed). A great place to grab something to eat straight off the beach.
Peters by the Sea has been in the same place since 1954, surviving several redevelopments. It is an icon of Scarborough.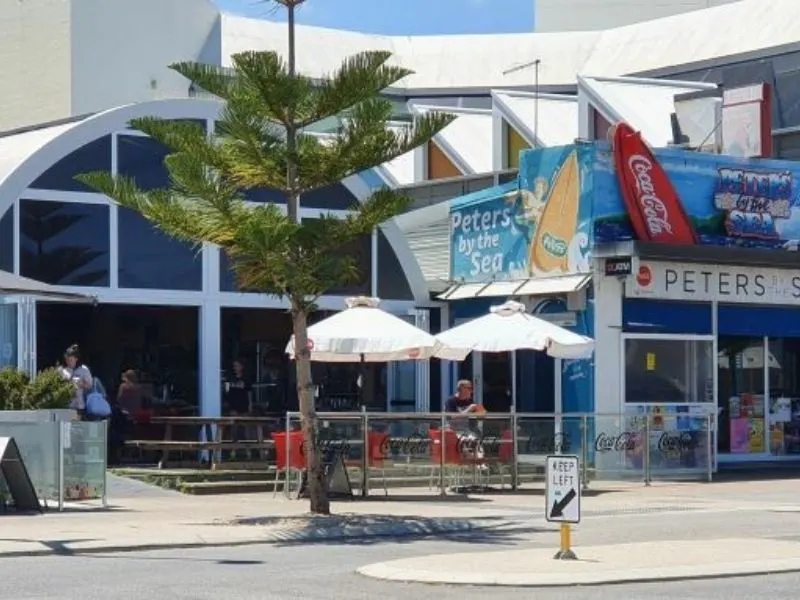 2. Plaka On The Beach
Fish & Chips, Kebabs, Burgers (licensed). The kebabs are my pick here.
3. Bay Bay
Australian, Italian, Fusion, Gastropub (licensed). The food is good, and the outdoor seating is great for watching the crowds go by.
4. La Capannina
An Italian Restaurant situated above the pool, overlooking the ocean (licensed).
The food at La Capannina is amazing and the view divine. This is my pick for a special occasion lunch or dinner.
5. Wild Fig Cafe
Great for breakfast lunch and dinner. And during winter you'll find a fire burning and blankets for those who want to sit outside. (licensed)
6. Grill'd
Grill'd is known for its amazing healthy burgers and fries. Grill'd is also known for its "Local Matters" program where they give back to local community groups. A great place for families.
7. Buteko
Buteko is a Brazilian Restaurant with great music and daily specials (licensed)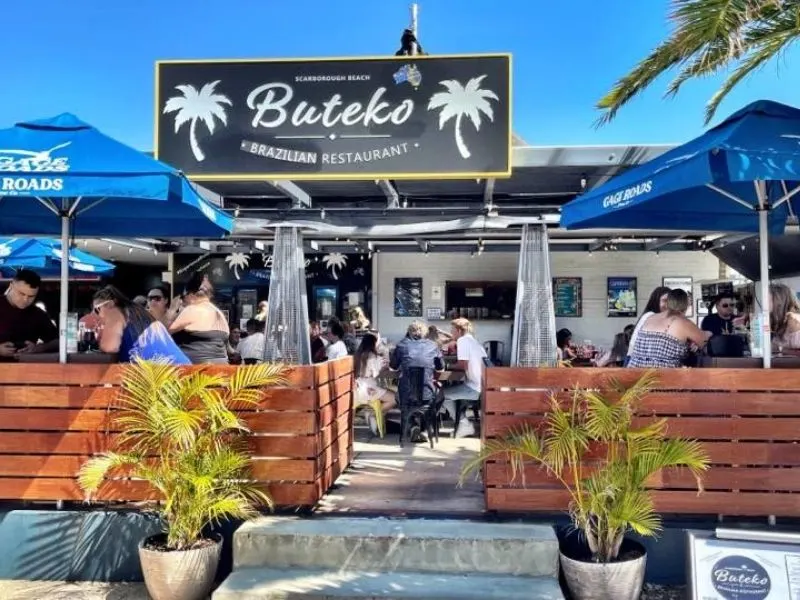 8. The Local Shack
The Local Shack is a unique little place with eclectic décor and board games on hand for everyone to play. It's a great place to enjoy burgers, pizza, or tapas (licensed) and just chill with friends.
9. C-Breez Kiosk
Situated on the lawn south of the Esplanade. C-Breeze is a great place to relax for breakfast or lunch. Specialising in homemade goodies and open 365 days of the year, this is a favourite for locals and visitors alike.
Bring your dog, sit on the bean bags or chairs provided, or just drop on the lawn and watch the ocean.
It's definitely one of my favourite places.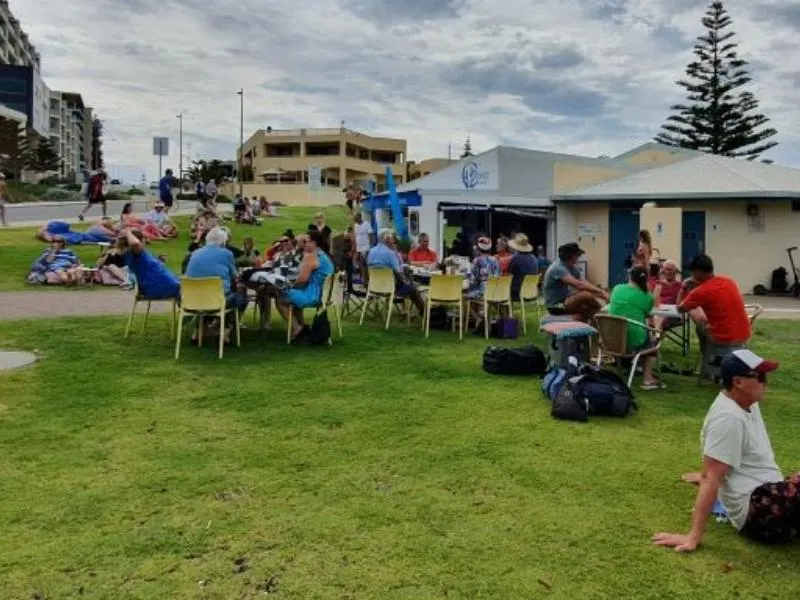 Where else can I eat at Scarborough?
If you can't find what you're looking for in the above list, then you're in luck.
There're other takeaways and ice creameries to choose from on the Esplanade, and if you go back off the Esplanade a street or two there's Chinese, Indian, Cambodian and Italian, even a Dominos!
Whatever your favourite cuisine, restaurant dining or takeaway, you're sure to find what you want.
Why not stay in Scarborough?
Do you want to stay in Scarborough and have everything on your doorstep?
Whether it's Airbnb's, self-contained units, budget hotels or a luxury hotel. There's something for every budget.
Rendezvous Hotel
The Rendezvous is the largest and most luxurious hotel on the Esplanade. It is a 4.5-star resort that hosts an outdoor pool, a lounge/cocktail bar as well as a full-service spa.
Check price and availability at the Rendezvous Hotel
Quest Serviced Apartments
Quest Apartments are also situated on the Esplanade and offer an outdoor pool, barbeque facilities and a range of different size apartments for families or couples.
Check price and availability at the
Seashells
Seashells is another of the serviced apartments on offer. With two outdoor swimming pools, a sauna and under cover car parking. Step out the front door and you're on the Esplanade.
Check price and availability at Seashells
Indian Ocean Hotel
The Indi, as it's otherwise known is a Scarborough icon and is located just a 5-minute walk from Scarborough Beach. It is a 3.5-star hotel with a swimming pool, hot tub and a games room. And in the bar there's live music on the weekends.
Scarborough is a "Do Not Miss!"
Scarborough is one of my favourite places (actually, I call it home) but somehow it gets missed by visitors to Western Australia.
So, if you are heading to Perth make sure to get to Scarborough and enjoy all that it has to offer.
"Do Not Miss It!"