A day in Sydney. What to do, and is it long enough to get under the skin of Australia's second-most populated city? If you're planning on visiting Sydney but have a limited time frame, then this is the guide for you.
It's packed with things to do in Sydney for a day, plus lots of practical advice you'll need about getting there and around, the weather, local events, where to stay and Sydney FAQs. This suggested Sydney 1 day itinerary will introduce you to what to see in Sydney when you only have a night to spend in the harbour city.
The best things to do in Sydney, Australia include taking a trip to the beach, visiting the historic Queen Victoria Building in the heart of the city and spending the day at a range of family-friendly attractions. You might also like to time your visit so you can enjoy one of the big annual events that take place in the vibrant metropolis – such as the Pride festival, the world-famous New Year's Eve fireworks or Vivid Sydney.
One day in Sydney can be enough! Based on our own recent visit, let us show you how to spend a day in Sydney. Starting with how to get there, the weather and getting around.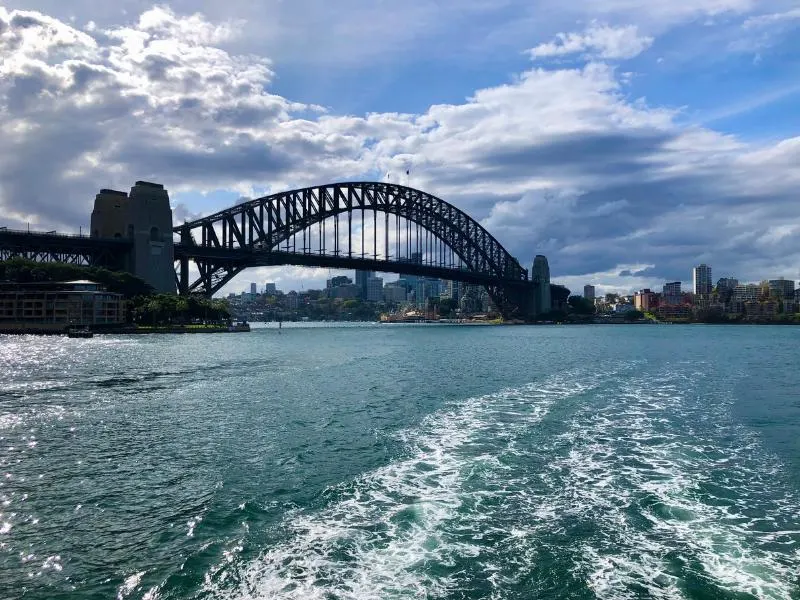 A day in Sydney | Practical info
Where is Sydney?
Sydney lies on the eastern coast of Australia, towards the south. The city is the state capital of New South Wales. Iconic Sydney Harbour is a world-famous site, and also a prominent port within the South Pacific region.
Getting to Sydney
Sydney Kingsford Smith Airport is Mascot is a major domestic and international hub. You can fly into Sydney from all over Australia, and all over the world. The airport is only eight kilometres from Sydney's CBD.
Other ways to get to Sydney include trains to Sydney Central, Greyhound buses and driving. The port is also one of the world's most popular stops for cruise ships.
Getting around Sydney
Sydney's public transport network includes buses, trains and ferries. There's a network of train stations all over the city. Areas not connected to a train station are generally accessible by bus. One example is Bondi Beach, which can be reached by bus from Bondi junction station.
Both buses and trains use Sydney Harbour Bridge to transport residents and visitors to the northern suburbs. Ferries also ply the waters of Sydney Harbour. These carry passengers between the areas lining both sides of the harbour. Such as between the city and the popular beachside location of Manly.
With frequent services, clear maps and good routes, Sydney's public transport system makes it fairly easy to get around the city. Many points of interest and places are also within walking distance of one another.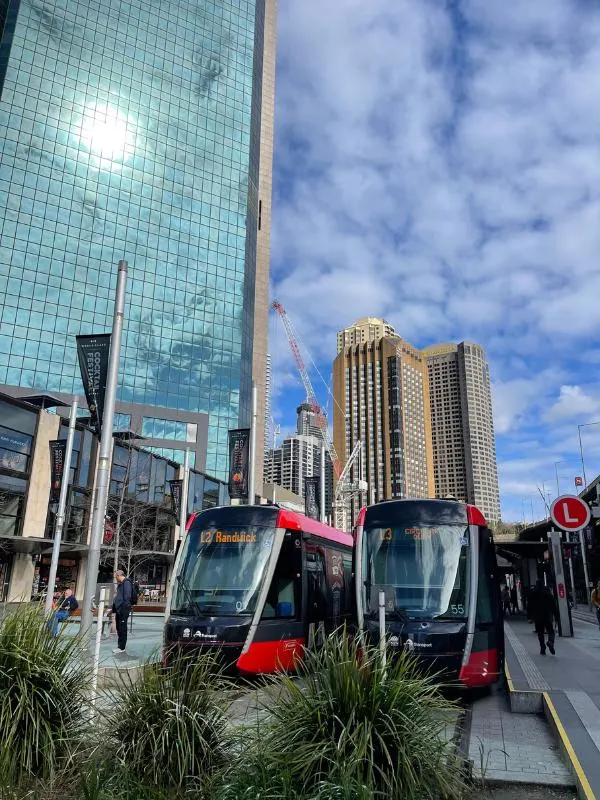 Sydney weather
Sydney is blessed with a sunny climate. The weather is warm, but rarely too hot or very wet. It's cool in winter, though. The hottest month in Sydney is January, when temperatures can be around 22°C (72°F).
This drops to about 13°C (55°F) in July, which is the coldest month. March is statistically the wettest month, with nine days of rainfall on average. The driest month is August, with five days of rain per month.
Top ten things to do in Sydney
Circular Quay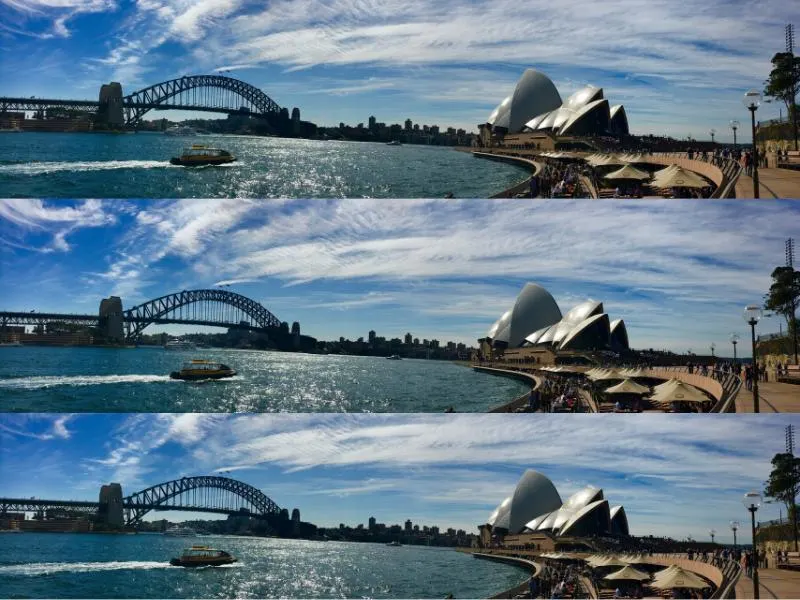 If you're wondering 'what can I do in Sydney', then a wander around Circular Quay has to be top of the list. This is the iconic heart of Sydney, where you'll find the Opera House and superb water and bridge views.
Once you've exhausted all the selfie opportunities – which could well take an entire day – you can also catch a ferry from Circular Quay to Manly. Or take a wander over to Sydney Botanic Garden.
Sydney Opera House
You literally cannot miss Sydney Opera House. Though it has competition in the form of the Harbour Bridge, it's arguably the city's most famous sight. Take a guided tour if you want to see beyond its stunning and unique exterior.
Click here to book Sydney Opera House entry with a guided tour
Royal Botanic Gardens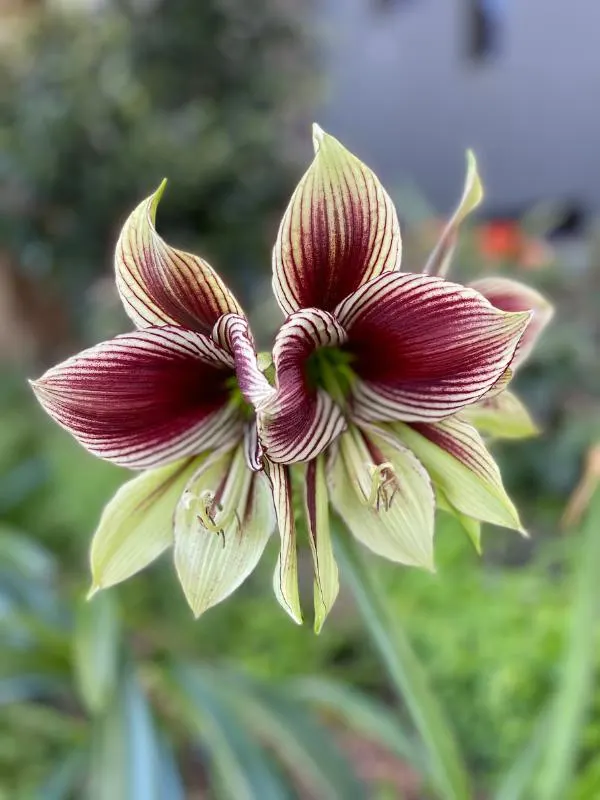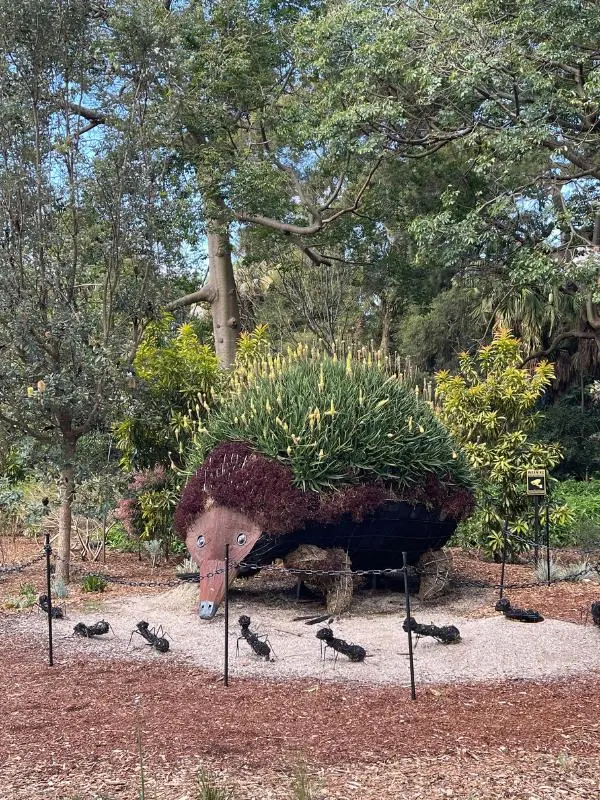 Even a 1 day Sydney itinerary should make space for the city's Royal Botanic Garden. Like all botanical gardens in Australia, this is an outstanding outdoor space. It's also free to enter, and located right by the harbour.
Manly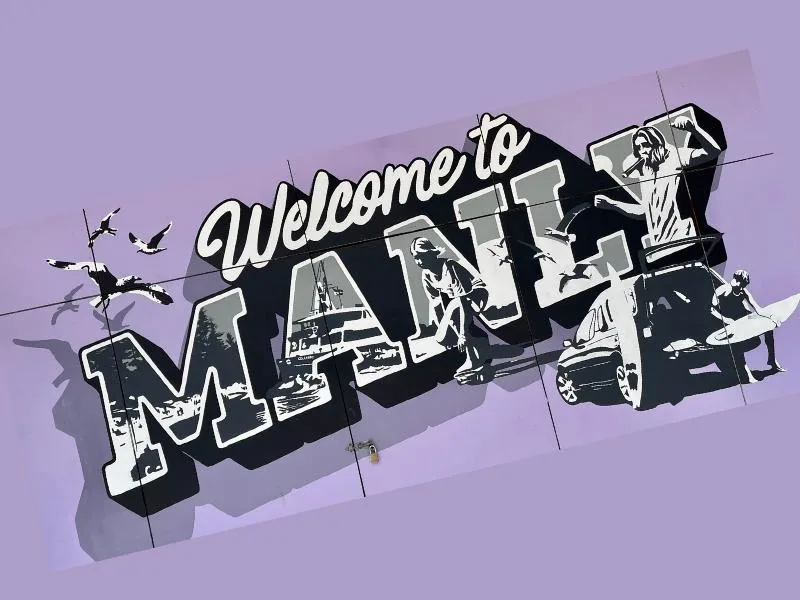 Taking a day trip from Sydney CBD to Manly by ferry is among the best ways to spend one day in Sydney, Australia. Ferries depart from Circular Quay at regular intervals throughout the day. The journey is all part of the experience, allowing you to see the city from the water.
You'll pass iconic sights, including the Harbour Bridge and Opera House. Once you arrive, you can watch or join in with the local surfers, or hang out at the cafes and pubs on The Corso. There's also a range of natural and cultural attractions in Manly.
Queen Victoria Building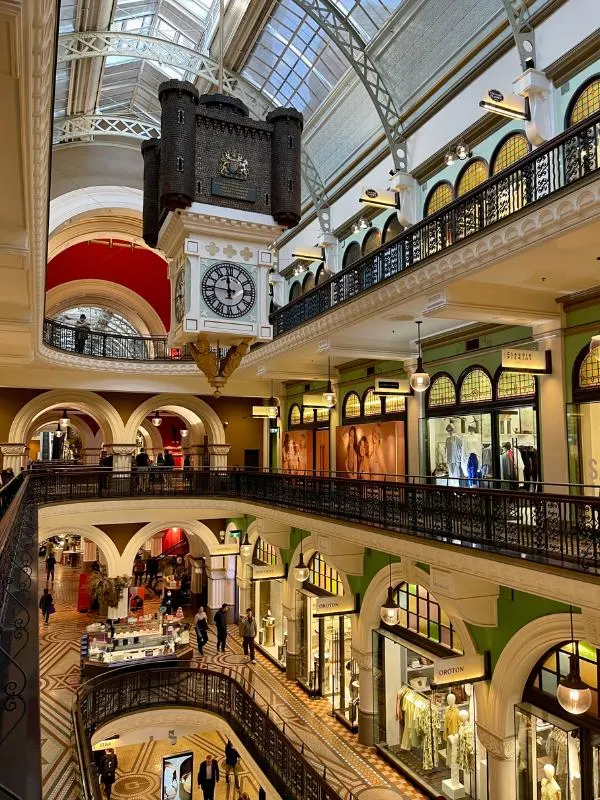 Sydney's lovely Queen Victoria Building (QVB) is slap-bang in the centre of the CBD. Spread over five floors, it offers a range of shopping and dining options. The historic building dates back to 1898.
Occupying an entire city block, the QVB on George Street is a cultural icon. It houses more than 180 food and retail outlets. Don't miss it off your Sydney in a day tour.
Art Gallery of New South Wales
The Art Gallery of New South Wales is one of the best in Australia. Occupying a commanding position on The Domain, it's housed in a landmark building dating from the 19th century. The gallery showcases modern, international, Australian and indigenous art.
Sydney Tower Eye
The Southern Hemisphere's second highest observation tower can be found at Sydney Tower Eye. This has been known by various names over the years, including Centrepoint and the AMP Tower, as well as several informal names including the Big Poke and Flower Tower.
It's an observation tower, but you can also dine at great heights within the tower. The Unlimited Skyfeast at the rotation restaurant is popular.
Click here to book the Unlimited Skyfeast at Sydney Tower's rotating restaurant
WILD LIFE Sydney Zoo
WILD LIFE Sydney Zoo can be found at Darling Harbour, on the fringes of Sydney's CBD. This Merlin attraction is favoured by families, as you can see all kinds of cute creatures here. Australian fauna such as butterflies, koalas, the yellow-footed rock wallaby, wombats, snakes and crocs can be seen here.
Darling Harbour also offers plenty of recreational attractions while you're in this part of town. Chinatown is also close by if you fancy delving into eastern cuisine or culture.
SEA LIFE Sydney Aquarium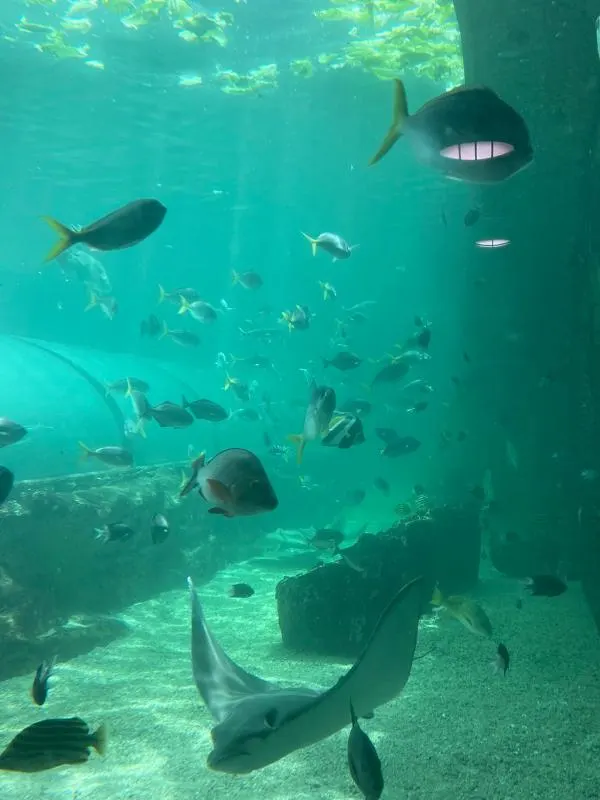 The SEA LIFE Sydney Aquarium is home to 700 species of aquatic life, including a number of native marine creatures. Some of these are huge, such as sharks, turtles and stingrays. You can also take a walk underwater at this world-class aquarium.
Madame Tussauds Sydney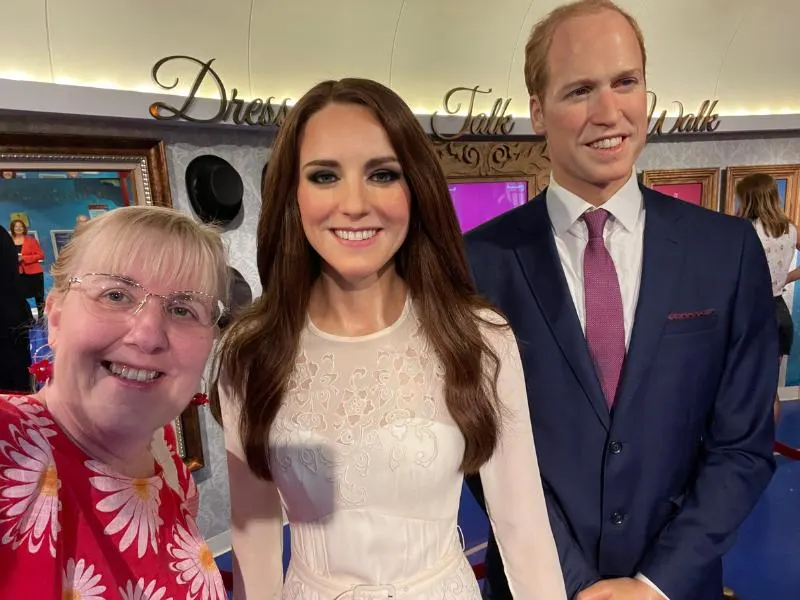 Also at Darling Harbour is Madame Tussauds Sydney. This is modelled on the London original, and displays a range of life-like wax figures. See all the celebrities in one place by visiting this leading Sydney attraction.
Sydney events
Pride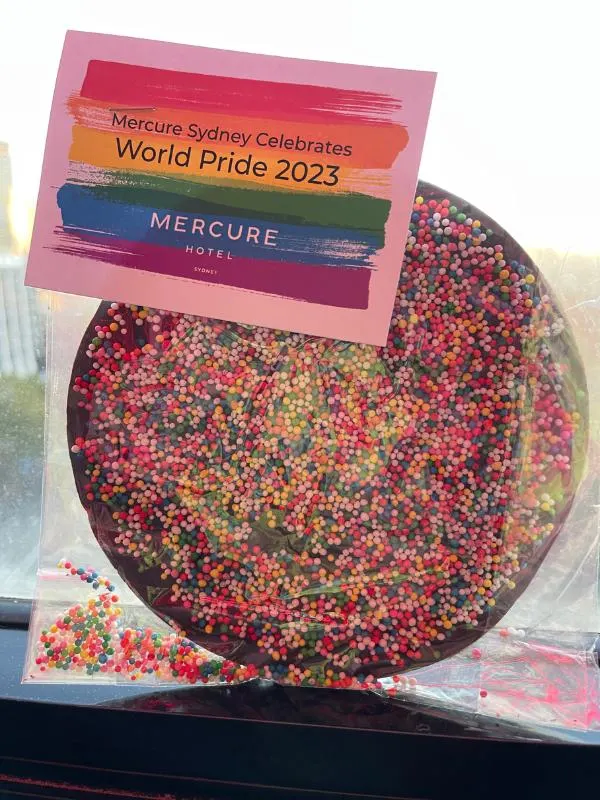 Sydney Mardi Gras, Sydney Gay and Lesbian Mardi Gras or simply Pride is Oceania's largest Pride event. In fact, it's one of the biggest on the planet.
The events begin on the second Thursday of February and wind up on the first Saturday of March, and the parade is the biggest part of the entire festival.
Vivid
Vivid Sydney is another major event on the city's calendar. There are several themes running throughout Vivid – namely light, music, food and ideas. Live music, outdoor light installations and thought-provoking presentations are all part of the programme.
Vivid is held in Sydney between late May and mid-June. So if you visit during early winter, this can be the ideal way to light up those darkening days.
New Year's Eve
Sydney's New Year's Eve celebrations are legendary, and are broadcast all over the globe. These centre on spectacular fireworks displays, which set around the breathtaking harbour backdrop.
Two displays take place annually on 31st December. The first, at 9pm, is a more family-friendly version. Then the main display at midnight plays a major role in welcoming the new year to planet Earth.
Where to stay in Sydney
Four Seasons Sydney
A day out in Sydney is rarely enough – so why not splurge on a room at the Four Seasons in Sydney? The views are unforgettable, and the central location by the CBD and harbour means you can truly make the most of your limited time in the city.
A large range of room types is available at this large hotel. The Four Seasons by Sydney Harbour also offers a bar, a restaurant, a spa, a gym and an outdoor pool.
Click here to book the Four Seasons Sydney
A by Adina Sydney
Conveniently located in the centre of Sydney's CBD is A by Adina Sydney. This four star property is an aparthotel with studios plus one or two bedroom apartments. Each has a kitchen with dishwasher, fridge, coffee machine and more, making it easy to self cater.
A by Adina Sydney has impressive amenities, including an indoor swimming pool, a fitness centre, a restaurant and a bar. Breakfast is available daily here.
Click here to book A by Adina Sydney
Quest Manly
With stunning views over the tall pines and the ocean beyond, Quest Manly is situated by Manly Ferry Wharf in the beachside suburb. Studios and one bedroom apartments can be booked here.
In addition to the unbeatable location, this aparthotel offers good facilities. These include a sauna, a gym and a 24-hour front desk. You can also charge back to your room when dining at selected properties nearby.
A day in Sydney FAQs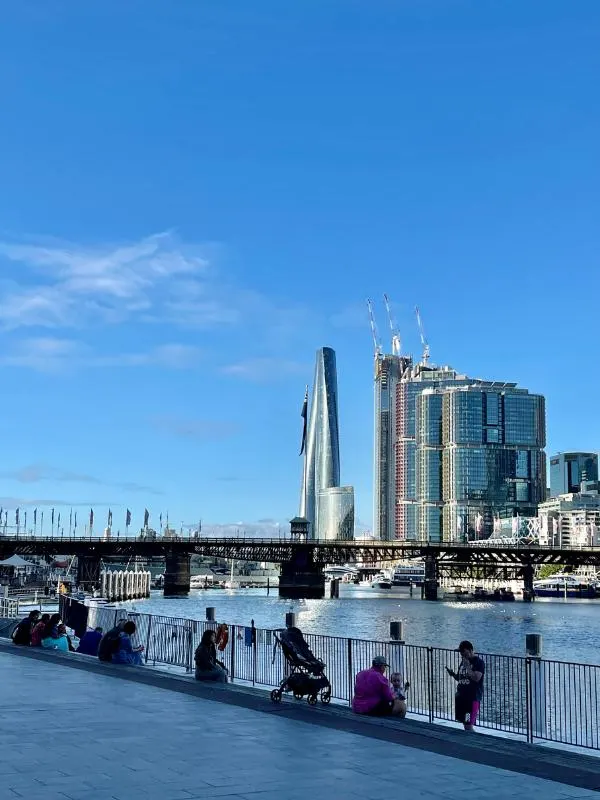 How do I spend a day in Sydney?
If you only have one day, what to see in Sydney might centre on the famous harbour. Visit Circular Quay and the Opera House and perhaps the Botanic Gardens, then catch a ferry to Manly to see the harbour from the water.
Later in the day, you could enjoy shopping and dining at the Queen Victoria Building in the city centre, or visit some of the family friendly attractions in the Darling Harbour area.
Is one day enough for Sydney?
How many days to spend in Sydney? Ideally, you want a few days or more, as there is so much to see and do in this incredible city. However one day is great if that's all the time you have. It's just enough to introduce you to the key highlights – but is likely to leave you hankering for more!
How will you spend one day in Sydney?
If you were looking for things to do in Sydney city, we hope this guide has helped you out. While recent experience has taught us that one day in this incomparable city will never be enough, stretching to a one night stay allows you to see much more when that's a possibility.
From exploring the iconic harbour and taking the ferry to one of Sydney's famous surfing beaches to dining, shopping and visiting family attractions, you'll never be short of things to do in the incredible city of Sydney!
More to see in Australia
Queensland
Tasmania
Northern Territory
South Australia