If you're planning to visit this beautiful Indonesian island, then you really need this list of Bali tips for first timers! Travelling to Bali for the first time means there are things you'll be wondering about, but with the right Bali travel tips at your disposal you won't need to worry about what to do, making a faux pas, where to go, staying safe or what to eat.
If you want to create your own first time in Bali itinerary before you leave Australia, the US, Europe or wherever you're based, this guide includes useful information to help you plan your stay. Also covered are all the main Bali things to know, which can help with packing as well as planning.
The tips for travelling to Bali detailed here cover cultural issues, the climate, local festivities, shopping, local food, safety and much more. Don't miss these travel tips for Bali if you've not yet visited the island – or for that matter, even if you already have!
Without further ado, here are 10 of our top tips for Bali visitors. This article is based on our recent trip to the breathtaking island – and what we wish we'd known before we went!
🛬 Need an airport transfer when you arrive? We recommend Bali Airport Shuttles – friendly, reliable and professional they are the perfect company to drive you in comfort to your Bali accommodation. Click here to enquire and book your Bali airport transfer.
Top 10 Bali Tips for First-Time Visitors
For first-time visitors, the following Bali holiday tips list gives the uninitiated a great insight into the island paradise. Which is, incidentally, one of the most friendly destinations I have ever had the pleasure of visiting. The people here are surely more welcoming than anywhere else on earth.
Climate and when to visit
One of the things to know before travelling to Bali is what to expect in terms of weather. It's best overall to visit Bali during the dry season, to avoid wet season rain putting a stop to your plans. All year round the weather in Bali is hot, though humidity levels vary.
Maximum temperatures in Bali range from around 78°F (or 26°C) to 82°F (about 28°C). The fewest days of rainfall are in July and August, when there are four days per month on average. January is the wettest month, when you can expect a whopping 27 days of rainfall. The next-wettest months are December and February.
April to October is when the weather is usually sunny and dry in Bali. The wet season runs between November and March. Whatever time of year you go, make sure you're prepared for the hot climate. Especially if you're not used to tropical temperatures and humidity levels.
During the dry season, the weather in Bali is hot, and can be either dry or humid. Stay hydrated by drinking plenty of water all day long, and keep alcohol consumption to a minimum if you can.
Other Bali trip advice regarding staying safe in the sun includes wearing sunblock as a protection all year round. You should also slap on a hat – a sun hat or cap will provide shade, and help stop you from overheating.
Wear loose and comfortable clothing throughout the year, as well as comfortable shoes or sandals! This will allow your entire body to breathe. The latter will also help when it comes to exploring for hours on end. Don't forget that the heat and humidity can also cause swelling, especially in the extremities.
Bali is a bargain
While it might break the bank getting there – and there are some seriously luxurious hotels you can splurge on – Bali is in general a very affordable destination. Dining out, shopping and transport is generally a bargain as compared to many places.
This means you really can make the most of your Bali visit. Such as by booking the sort of tours and experiences that might be beyond your budget in other countries. Though some accommodation here comes with an eye-watering price tag, there are plenty of pocket-friendly places to stay in Bali too.
The local currency is the Indonesian Rupiah.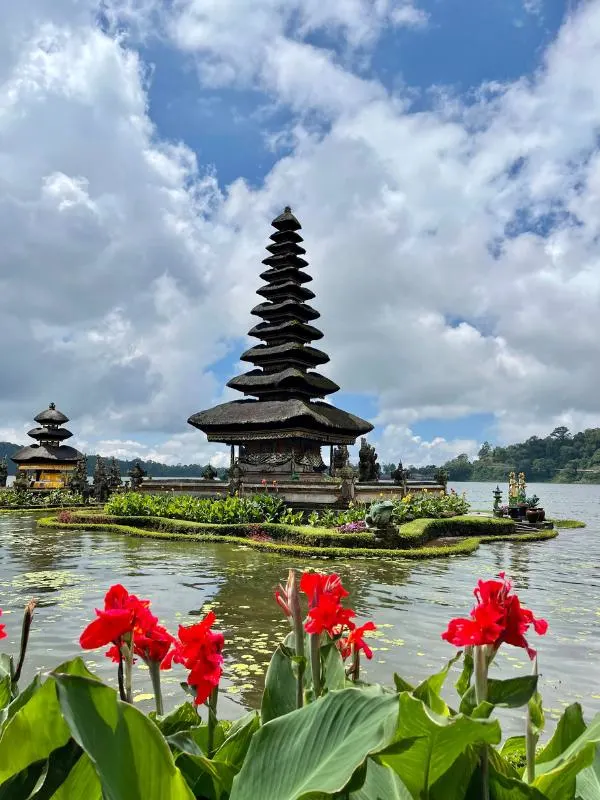 Dressing appropriately
Bali is predominantly a Hindu island, with spiritual people. All visitors should therefore respect local customs and traditions at all times.
When visiting Bali's numerous temples and sacred sites, please take care to dress modestly. T-shirts are, for example, preferable to sleeveless tops – and never enter a sacred site in a bikini or bare-chested.
Removing your shoes on entering temples and other sacred sites is de rigueur. Don't worry too much about this one of these Bali trip tips: seeing all the footwear lined up before you go in always acts as a very visual reminder whenever you enter a temple!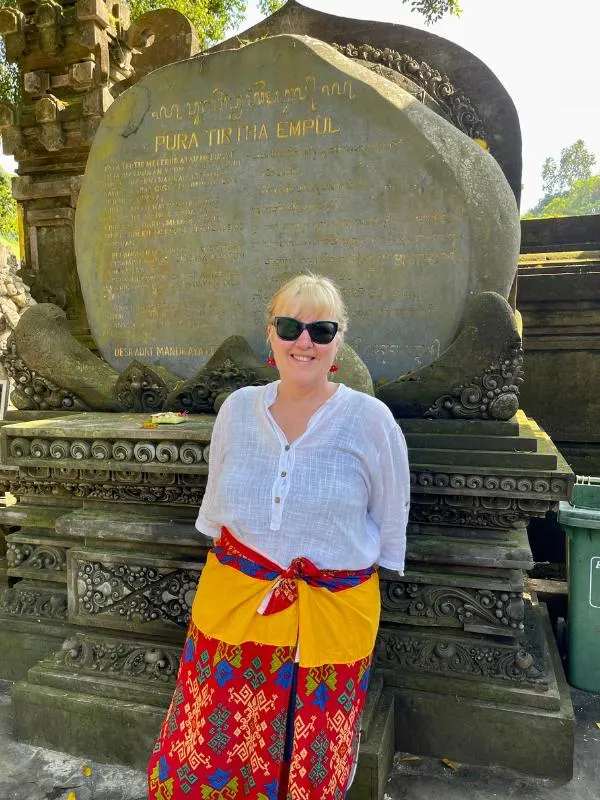 Cultural activities
It would be a shame to miss out on this, so next on our list of Bali travel secrets is to try to attend a cultural performance or ceremony during your visit. This is a great way to embrace Balinese culture and heritage. The friendliness of the people also makes this kind of experience even more of a pleasure!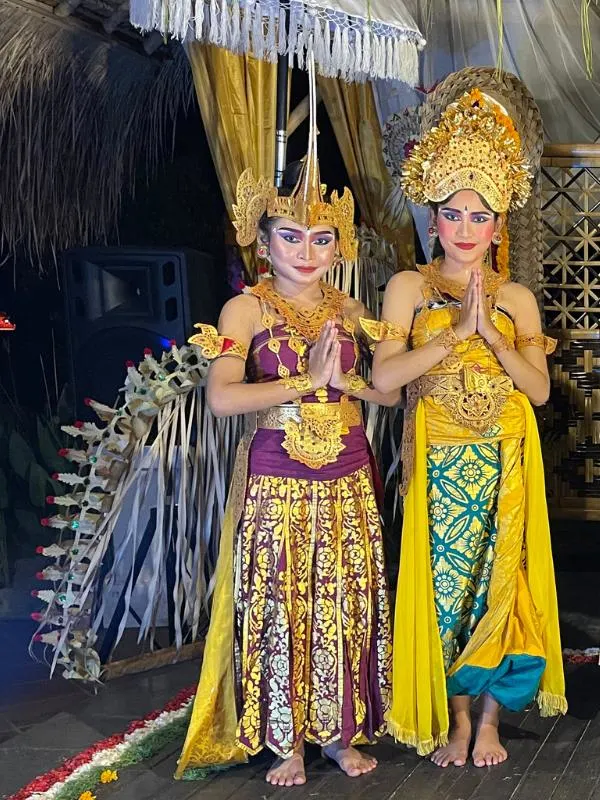 The Natural Environment
Bali is known for its stunning beaches and natural scenery. It's also a very popular surf destination, and thus littering on and close to the beaches can have a high impact.
Visitors to Bali are encouraged to avoid littering. You could also avoid using plastic bags and bottles where possible. Single use plastic like this can be replaced with reusable bottles and bags, for example, which helps to preserve Bali's beautiful, natural environment.
Visitors to Bali are also encouraged to choose eco-friendly activities and tours when planning their itinerary for the island. One of the tips for your Bali trip is thus to shop around for responsible, eco-conscious tour operators. If everyone does their bit, this helps to preserve the island's abundant natural beauty in the longer term.
Shop til you drop
Shopping is a very popular pastime for visitors hoping to pick up a bargain or a souvenir. Clothing, accessories and jewellery are available everywhere, and there are plenty of fake designer goods if that's your thing.
One of the top tips for travel to Bali is that haggling over prices isn't only acceptable – it's actually expected. This applies mainly in markets and smaller shops, however. While staying polite and respectful, bartering can be fun. It can also make both parties feel as if they've got the best possible deal.
Mind the traffic
Road and street traffic can appear confused and crazy in Bali! This applies most in busy places, such as the capital Denpasar or packed beach resorts like the Kuta and Legian area.
In Bali, the pavements (or sidewalks) can be uneven and tricky to navigate in places, so do take care. Beware of traffic whenever you're wandering around too. American and European visitors in particular should bear in mind that in Bali vehicles travel on the left hand side of the road, as in Australia and the UK.
Motorbikes and scooters can be particularly perilous, as they tend to weave in and out of the traffic, seemingly at random.
Scooters are a popular way to get around, and are seen everywhere in Bali. You could hire one if you feel confident enough – but do check your travel insurance. In the event of an accident, you need to be certain that medical bills, repatriation and other associated expenses would be covered.
It's also expected that you wear a helmet whenever you are riding a scooter. It's also a very wise move in the interests of safety!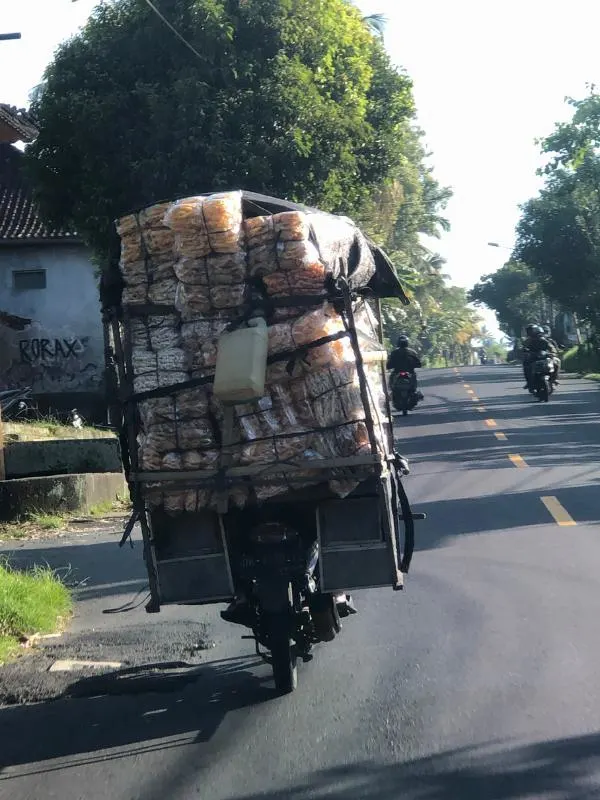 Sample the local food
Bali has a rich culinary heritage. So sample some of the must-try dishes such as Nasi Goreng (fried rice), Mie Goreng (fried noodles), Chicken Satay (marinated, grilled skewers served with peanut sauce), and Babi Guling (roast pork) during your stay. All of these are delicious, and one of our tips for visiting Bali is not to miss out!
If you are not a fan of hot, spicy food, do let the waiting staff, chef or stall holder know when ordering your meal. Stalls and restaurants in tourist places are well used to catering to the palates of those who aren't accustomed to a lot of spice or heat.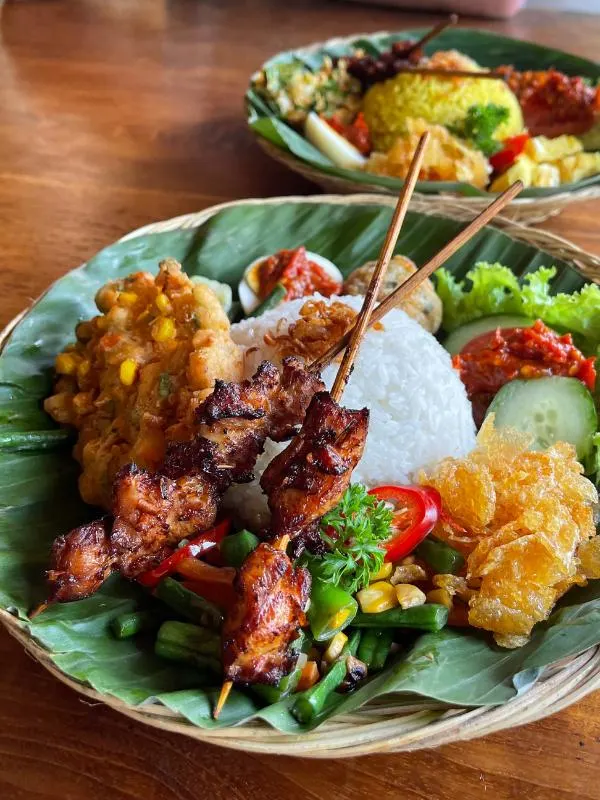 Safety first
Bali is generally a safe destination, with very welcoming and friendly people. As with anywhere, though, it's always a good idea to keep an eye on your belongings. You can purchase theft-proof bags with secret pockets for protecting valuables.
Other sensible measures to take during your Bali travels include concealing any items that are obviously valuable. Any large sums of money or items of expensive jewellery are best left in the hotel safe.
Also, be wary of pickpockets, especially when spending time in crowded areas.
Packing for Bali
What to pack for travelling in Bali is also a topic that belongs on this list of top tips. But don't sweat it too much, as long as you have all the personal items you really need such as medication, money and documents. You can buy pretty much everything in Bali – and much of it more cheaply than at home!
Some of the things you might want to add to your list include the following.
Travel adapter – for type C and type F sockets
VPN – to access the internet and protect your data
Portable power bank – helpful in case of power outages
A torch or flashlight – ditto
GoPro – well worth it for professional pictures and footage
Insect repellent – look for one containing DEET
Sunscreen – a reef-safe one is a more responsible choice
Day pack – for carrying around what you need
Lightweight, breathable clothing
A packable rain jacket
An extra layer for high altitudes
Footwear – comfortable footwear for hot weather, beaches and hiking
Sarong – useful for covering up at temples, or using at the beach
Travel tips for Bali FAQs
Is $100 a day enough for Bali?
Bali is one of the most affordable destinations in the world. If you avoid the ultra-expensive resorts, you can live very well in Balin on USD 100 per day. This would allow you to stay in a mid-priced hotel, enjoy some activities and tours, and dine out for every meal.
What do you need to do before going to Bali?
Before heading off to Bali, it's wise to ensure your basic vaccinations are up to date. Shots for hepatitis A and B, Japanese encephalitis, measles, rabies and typhoid are recommended. Cases of rabies and the mosquito-borne Zika virus have been reported in the area.
Can you brush your teeth with tap water in Bali?
Tap water in Bali isn't recommended for drinking. It's therefore best to use bottled water for brushing your teeth. Avoiding ice in drinks, food such as salad that may have been washed in tap water, and swallowing water while showering is also recommended.
What are the do's and don'ts in Bali?
Things you should do in Bali include covering up in temples and leaving your shoes outside, haggling in a respectful way when shopping at small shops or markets, and taking care when using the pavements.
Things to avoid in Bali include touching others' heads, or using your left hand to give or receive something. You should also avoid tap water – including for brushing your teeth, eating foods washed in it or having ice in drinks.
Is Bali strict on alcohol?
Though Indonesia is a Muslim country, the majority of Bali residents are Hindus. In Indonesia as a whole, drinking alcohol can be frowned upon, as it's forbidden according to Muslim law.
However, Indonesia's population has a wide range of cultures and religions, and the country has no actual alcohol bans in force. Drinking alcohol in Bali's tourist regions is not at all unusual, and it's easy to buy in many shops, bars and restaurants.
Plan your trip to Bali & South East Asia