Wondering about the best places to visit in South Africa and must add destinations for your South Africa bucket list? You have come to the right place. South Africa is a wonderful country to visit and truly deserves to be called "A World in One Country"
South Africa is one of my favourite destinations in the world – in fact I actually lived there for over 8 years so I know a thing or two about the best places to visit. In this article you will find the most amazing places to visit in South Africa and for first time visitors this is the perfect starting point when planning a trip.
Complied with the help of fellow travel bloggers who all love the country as much as I do this list of the best places to see in South Africa will provide you will lots of inspiration when planning your trip.
Also do check out my South Africa travel planning page for more articles, tips, itineraries and inspiration to help you put together the perfect trip.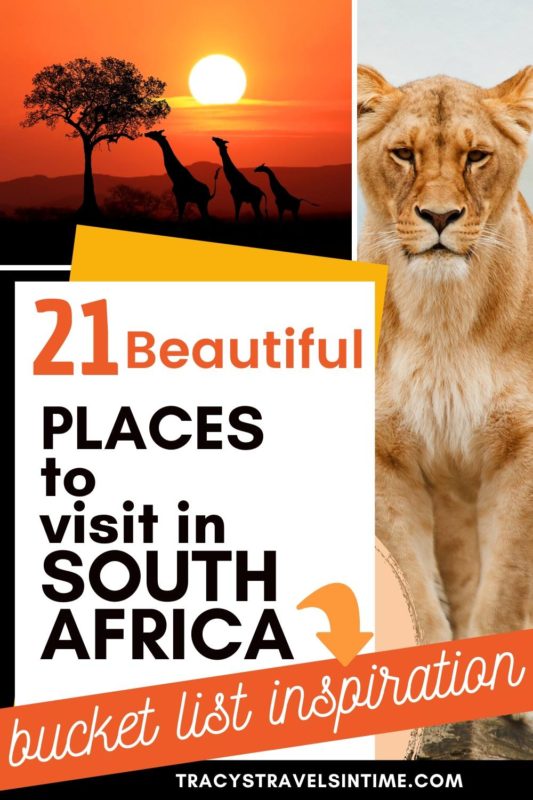 Best places to visit in South Africa
1. Hluhluwe-Imfolozi
Explored by Laura of Laurewanders.com
Hluhluwe-Imfolozi Park is a game reserve situated in Kwa-Zulu Natal, it can easily be visited as a day or multiple day trip from St. Lucia.
It is South Africa's oldest game reserve and was founded in order to protect the world's remaining white rhinos. Thanks to the park's efforts, the white rhino was saved from extinction.
The Hluhluwe-Imfolozi Park is the best place in South Africa to spot these beautiful animals and you'll also have a chance to spot many other animals including lions, elephants, giraffes, leopards buffaloes, monkeys, birds and more. If you're lucky, you'll get to see all of the big five! What makes a visit to this park even better are its beautiful and diverse sceneries.
The park is divided into two parts: the Hluhluwe (which has a funny pronunciation, make sure to ask it to one of the locals) reserve in the north and the Imfolozi reserve in the south.
Both parts offer a different type of landscape and it's good to know that entry tickets and conservation fees include both of these reserves. There is a wide variety of lodges in the park and it can be visited either individually or in an open vehicle with an experienced guide.
Whichever way you choose, a safari at the picturesque Hluhluwe-Imfolozi Park will be an experience of a lifetime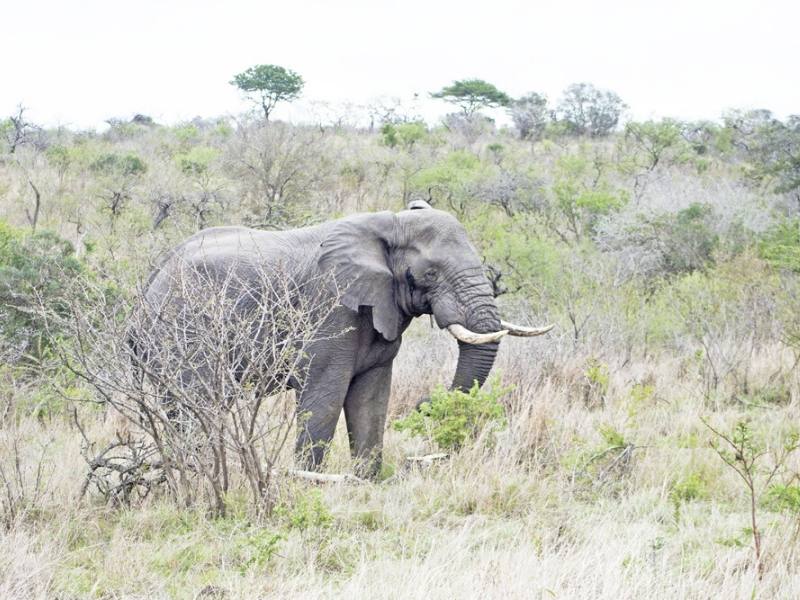 2. Kirstenbosch
Submitted by Manpreet – HelloManpreet.com
Located at the foot of the Table Mountain, is this absolutely stunning gardens with some of the most wonderful plants on display. It is most certainly a must-visit when you visit Cape Town and you will not be dissappointed.
We would recommend taking out atleast 5 hours to get yourself around all the different areas of the garden, and even longer if you plan on having a scenic picnic with the mountains in the backdrop.
The garden is open daily from 8am and will cost R75 to enter per adult (Approx $5). They do also offer free walking tour at certain times in the week, which are always a lovely experience to really understand how this garden changes through the seasons.
On entering the gardens, those of you that love a good instagrammable photo, head straight to the canopy walk. A walk way set amongst the tree tops, with branches lurking about you and the mountains in the distance.
Once you leave the canopy, head over to their medicinal plants gardens. It really opens your mind up to how natural medicine has developed over the years, and the vast number of remedies that exist within our nature!
This is truly a family day out, with the kids getting a chance to enjoy the exhibition based around dinosaurs and the preservation of plants that date back centuries. The garden has a project on to preserve and protect these species from becoming extinct.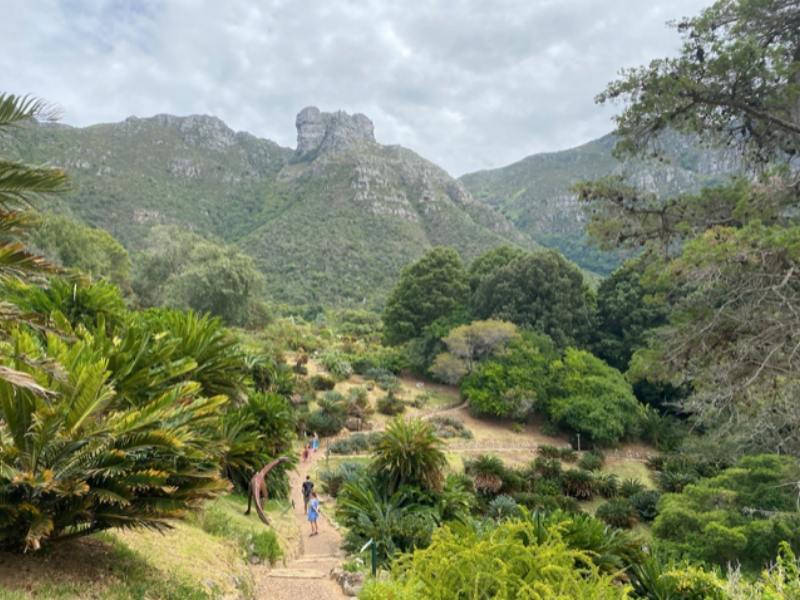 3. Kruger National Park
Explored by Lee from The Travel Scribes
It must be one of the most famous game reserves on the planet, known the world over for its incredible biodiversity, plethora of accommodation to suit all budgets and, of course, its abundance of wildlife. It's the Kruger National Park, a place that has to be near the top of your South Africa bucket list.
The oldest park on the entire African continent, Kruger National Park is a popular tourist destination as it allows everyone from the budget-conscious tourist to the high-end luxury traveller to see the Big 5: buffalo, elephant, leopard, lion and rhino .
Spanning nearly 20, 000 square kilometres (yes, its only slightly smaller than Belgium!), you'll also see so much more than that, with everything from gorgeous, long-necked giraffes and scurrying warthogs to over 500 different types of birds like the lappet-faced vulture, the ground hornbill and the majestic martial eagle to name a few.
The easiest way to explore the gigantic park is by car – Kruger National Park is one of the parks which allow you to do a self-drive safari, taking well-worn roads in your private vehicle in search of game to spot.
But, of course, you can join an existing safari organized by one of the many luxury lodges where you bounce around the terrain in a jeep, ably steered by a knowledgeable guide who can not only help you pick out a pride of lions but usually makes a mean cup of 'ranger coffee', a strong coffee spiked with a shot (or two) of the country's famous Amarula liqueur.
Fun fact: When the park opened back in 1927, the entrance fee was only one British pound!
4. iSimangaliso Wetland Park
Submitted by Erin of SolSalute.com
No South Africa bucket list would be complete without iSimangaliso Wetland Park. This national park is located on the coast of Kwa-Zulu Natal. The best things to do in St. Lucia and iSimangaliso range from safari game drives, hippo excursions, snorkelling, and even whale watching.
In Zulu, iSimangaliso translates to something wondrous, and at the risk of sounding cliché, it truly is. Compared to the wide-open, expansive terrain of Kruger, the sand dunes and dense vegetation of iSimangaliso are uniquely beautiful.
To visit iSimangaliso, the park is divided into two parts. The Western Shores portion is mainly savannah and has the best game viewing. It's small and can easily be done as a self-drive safari as a half-day excursion.
The Eastern Shores deserves a bit more time. I recommend spending a day with a braai or enjoying a picnic on the beach at Cape Vidal. Go snorkeling, whale watching, or search for wildlife among the vegetative sand dunes.
The nearby estuary offers excellent hippo and croc excursions throughout the day. These pods of hippos are used to their daily visits and aren't startled as the boats bring you in for a closer look. Larger than life crocodiles can be seen sunning themselves on warmer days and the bird watching is excellent.
Use the small town of St. Lucia as your base and dedicate at least three days to explore the many facets if iSimangaliso. This park is ideal for families and a popular destination for foreign tourists and locals alike.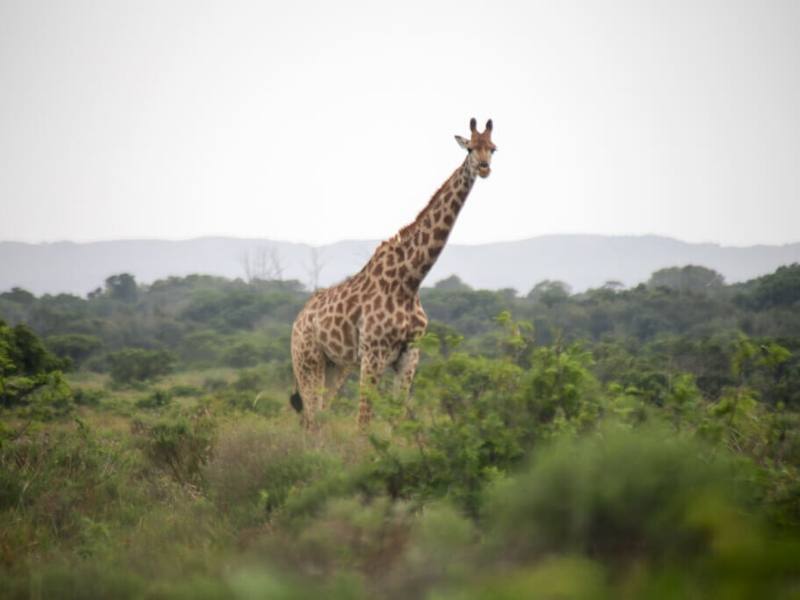 5. Pretoria
Contributed by Chrysoula of AthensAndBeyond.com
The city of Pretoria is one of South Africa's capitals and while it's often overlooked as a tourist destination there are actually a number of interesting things to see and do.
As Pretoria has continuously played an important role in South African history, the city is home to a range of buildings, museums and monuments that offer an insight into the changing cultural landscape of the country.
These include the governmental Union Buildings, the Nelson Mandela statue, the Voortrekker Monument commemorating the history of Afrikaans people in South Africa and the Sammy Marks Museum located in an old colonial mansion.
Other things to do in and around Pretoria include visiting the Ann van Dyk Cheetah Centre, discovering the Pretoria Art Museum, venturing out to the Wonderboom and Groenkloof Nature Reserves and enjoying a traditional braai (or BBQ) before catching a game of rugby.
Pretoria is a great year-round destination with gloriously warm summers, mild winters and the famous jacaranda trees blooming throughout the spring months of October and November. The temperatures make it ideal for al fresco dining and with some lovely parks and walks Pretoria is a city for those who like to be outside.
While Pretoria isn't necessarily a destination for a one-stop holiday, it's definitely worth adding to your South Africa itinerary. Located just a few hours from Kruger National Park and the Pilanesberg Game Reserve, you can easily combine a city break with a spectacular safari for a trip to remember!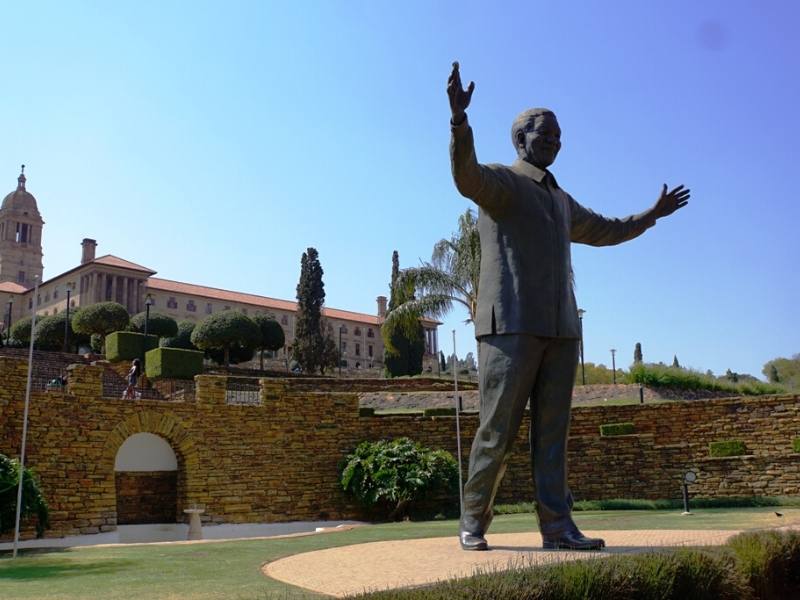 6. uKhahlamba Drakensberg Park World Heritage Site
Submitted by Heather of ConversantTraveller.com
The World Heritage site of uKhahlamba Drakensberg Park in KwaZulu-Natal is one of the most scenic destinations in all of South Africa, with towering peaks, hidden valleys and cascading waterfalls.
This 243,000 ha area is a veritable playground for outdoor enthusiasts with stunning landscapes, world-class hiking trails and relatively easy access.
Just a couple of hours drive from Durban, uKhahlamba is at the very top of many South Africa bucket lists with visitors coming here for horse riding, fishing, rock climbing, mountain biking and walking holidays.
One of the popular areas to visit is Royal Natal National Park which has some of the most dramatic scenery in the Drakensberg Mountains. A favourite is the famous Amphitheatre with its majestic 5km long rock-face keeping watch over this upland kingdom.
Brave explorers can scale the cliffs using the chain ladder if they have a head for heights! Alternatively, if you're looking for the perfect picnic backdrop, head over to the plunging Tugela Falls, one of the highest waterfalls in the world.
The park is also a great place to come for wildlife, with a diverse habitat that supports a number of rare and endangered species, as well as being a great spot for bird watching.
There are numerous caves to explore in the Drakensberg area too, some of which are home to the largest collection of ancient San rock art paintings in all of Southern Africa, giving a glimpse into the unique bushman culture over the last 4,000 years.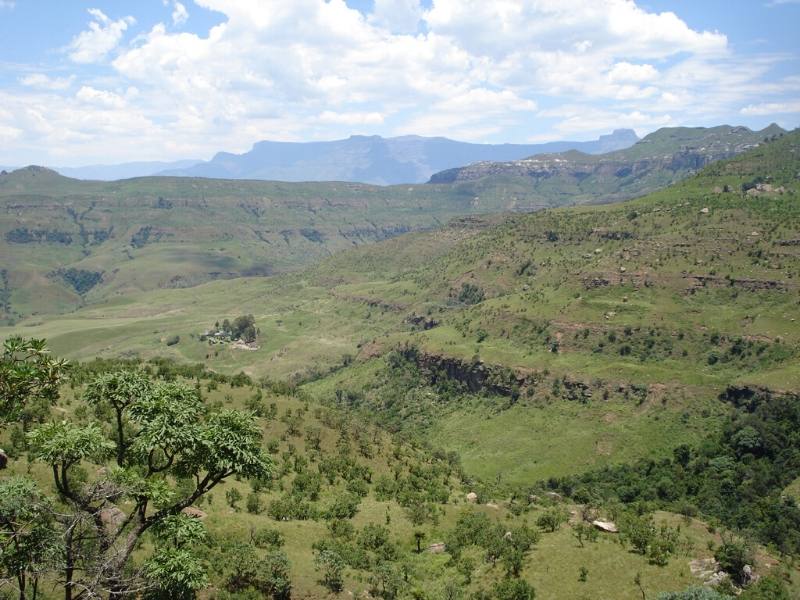 7. Durban
by Sabine & Sean from The Travelling Chilli
The city of Durban is the single largest metropolitan area in South Africa and is located in the Kwazulu-Natal province on the east coast of South Africa.
Even though Durban is sadly often skipped by tourists on their trips through South Africa, it does have a lot to offer its visitors and is in fact well worth a stopover as there are plenty of things to do in Durban on any budget.
Durban has a subtropical climate which makes it a pleasant year-round destination. The golden beaches and the warm water of the Indian ocean make for lots of fun water-based activities such as surfing which is one of the biggest water sports in the area.
The waves in Durban are usually quite moderate in size, so it is also a great place to rent a surfboard and to take up surfing for the first time.
Apart from the beach vibe, Durban also offers a lot of history and culture, being a melting pot of Zulu, Indian, African and colonial influences, and it shows in the local architecture and food.
Having the biggest Indian population outside of India, you will be able to eat some of the best Indian curry. So, when visiting Durban, do not miss out on curry in one of the local restaurants.
One of the largest attractions of Durban is uShaka Marine World, which combines an aquarium with marine wildlife shows, a fun water park, a shopping centre and plenty of great restaurants into one.
Durban is a great place to visit for the whole family.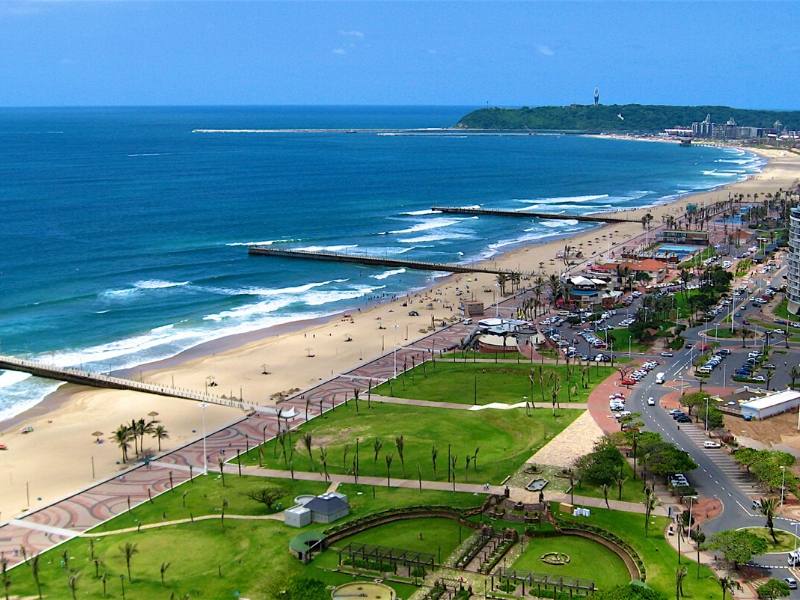 8. Hermanus
by Campbell & Alya of Stingy Nomads
Hermanus is a vibrant little seaside town about 100km from Cape Town in South Africa on the Cape Whale Route. Once a humble fishing village the town has developed into a world-famous tourist destination.
With beautiful cliff paths, long white beaches and a fantastic variety of fauna and flora Hermanus is an amazing place to visit for nature lovers and adventure enthusiasts. Art galleries, museums, beautiful wine estates and high end restaurants make Hermanus a great destination for a cultural or foodie experience too.
The town is surrounded by several blue flag beaches meeting international environmental and safety standards, these include Grotto Beach, Voëlklip, Onrus, Kammabaai, Langbaai, and Hawston.
Whale watching in Hermanus is world renowned and Southern right whales, Brides whales and Humpback whales are known to visit Walker Bay. Whale watching in Hermanus can be done from the air, by boat or even from the shore.
Southern right whales can be identified by the callosities on its head, they come so close to the cliffs that they can be seen from the shore and are the main tourist drawcard in the area. The horn of the whale cryer signals whales are close to shore and when the sound is heard in town everybody runs to the cliffs.
These whales are found along the coastlines in South Africa between July and December, the season peaks when the males arrive for mating in October.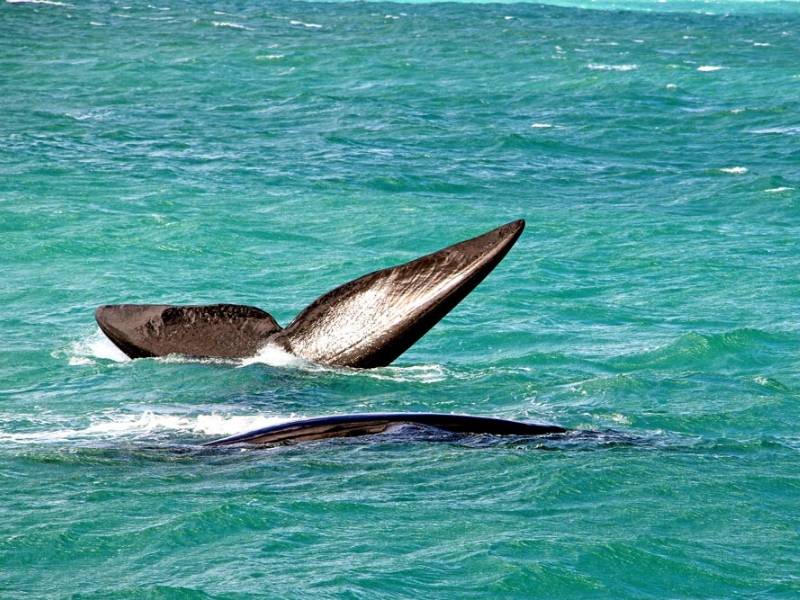 9. Namaqualand
by Campbell & Alya of Stingy Nomads
Namaqualand is a vast region along the West Coast of South Africa. This beautiful area north of Cape Town is a real hidden gem in the country. The scenery here varies from the white-sand beaches along the coast to the arid semi-desert inland areas of the Karoo.
Namaqualand is a great place for nature and outdoor lovers. Spring, between August and October, is the best time for visiting Namaqualand when after abundant winter rains, usually bare fields, are covered in thousands of flowers. Some parts of the Namaqualand region look like massive colorful carpets. The best places to see flower fields in blossoms are the Namaqua National Park and the Goegap Nature Reserve.
Spring is the best time for hiking in Namaqualand, there are many short hiking routes along the coast and inside the parks that take hikers through spectacular flower fields and sand dunes.
The coast of the Namaqua region is famous for its great surfing and kitesurfing spots. Langebaan is one of the best places in South Africa for learning to kitesurf. Thousands of people come here every year in summer, between December and February to catch the wind that keeps blowing non-stop for 3 months.
Winter months, between June and August, is the best time for surfing here. Elands Bay is the most popular surfing spot on the West Coast. Fresh seafood and fish is another reason to visit the region.
The area is famous for its huge crayfish (lobster), fresh oysters, yellowtail, snoek, etc. Paternoster, a beautiful small coastal town has some of the best seafood restaurants in the Namaqua region.
10. Johannesburg
Aleney de Winter from BoyEatsWorld
Built on a rich history of gold mining, Johannesburg is a city enjoying a dazzling resurgence after a long period of decline. South Africa's most heavily populated city, Jozi or Jo'burg as the locals call it, is emerging as an exciting hub for arts and culture and is totally worth adding to you South Africa Bucket List, with plenty to see and do.
So much more than a stopover destination for safari seeking tourists, the city is home to a cutting-edge contemporary art scene, with world class galleries like the ABSA Art Gallery, which shines the spotlight on the works of both young African artists and pioneering art masters.
Plus, you'll find a host of smaller art galleries and prolific street art strewn throughout hip urban centres Newtown and Maboneng, where you'll also find an impressive café scene.
On the flipside of those upmarket areas is Soweto. A township reborn, it is a must visit. You'll find everything from traditional restaurants and lively bars to heart-pumping action adventures and museums – including the Nelson Mandela National Museum, housed in his former home on Vilakazi Street.
Johannesburg's rich history is also reflected in the Apartheid Museum, the not to be missed multi-media complex that powerfully shares the story of the rise and fall of apartheid. And at the Constitution Hill, the site of the Old Fort Prison Complex, visitors will now find a world-class heritage tourist site.
For an even deeper journey into history, the greater Johannesburg Area is also home to the Cradle of Humankind World Heritage site, the richest hominid fossil site in Africa and one of eight UNESCO World Heritage Sites in South Africa, where it is believed humankind originated.
11. Cape Town
Cape Town is one of my favourite cities anywhere in the world and a visit to South Africa really should include at least a few days exploring its attractions before heading off to other parts of the Cape.
I have visited numerous times and with friends living near the city I am lucky have a lot of insider tips about what to do and see as well as what not to do when you visit South Africa.
If possible book accommodation near the V&A Waterfront. With great shops, fabulous restaurants and a view of Table Mountain that is unsurpassed it is the ideal location for visitors.
There is so much to do and see in Cape Town that it is impossible to summarise in a few words. The best option is to plan at least 3 days in the city and explore the markets, museums, and attractions at leisure before heading of to one of the many fabulous game reserves or perhaps on a road trip along the Garden Route or Route 62.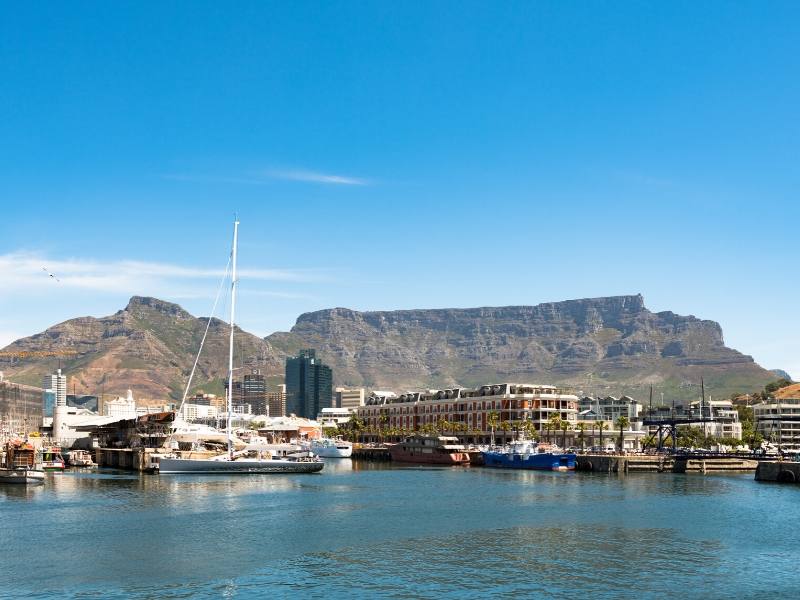 12.Table Mountain
One absolute must-do when in Cape Town is to take the cable car (or if you are adventurous) hike up to the top of Table Mountain.
Once at the top enjoy wonderful views over Cape Town. On a clear day when there is not a cloud in the sky you can see for miles around. You will be able to see Robben Island where Nelson Mandela was imprisoned for 28 years as well as Table Bay, the Cape Peninsula, Lion's Head and more.
Take one of the free guided tours available at the top. These are offered twice a day at 10 am and noon and depart from the meeting point outside the Upper Cable Station.
Don't forget your camera and keep an eye out for native fauna such as dassies who inhabit Table Mountain.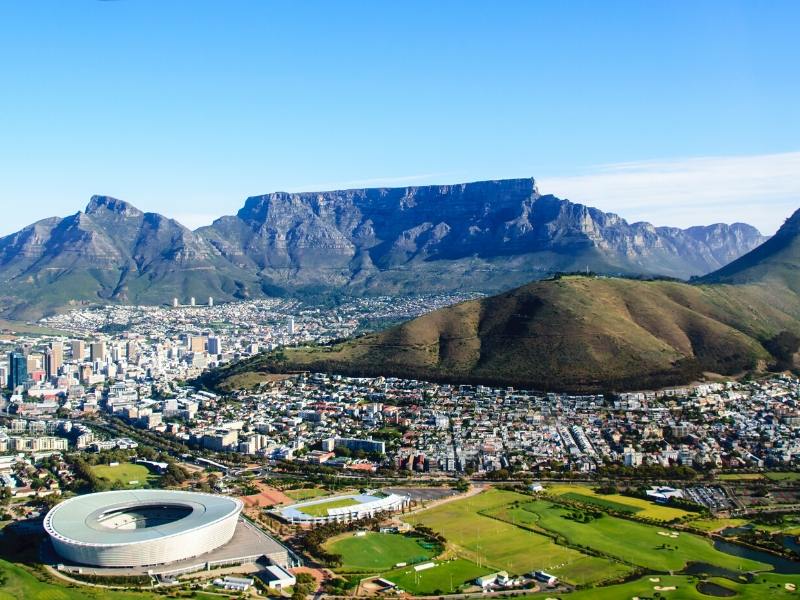 13. The Garden Route
Submitted by Vicki of Make Time To See The World
Driving the Garden Route is easily one of the best road trips in the world. Officially running 300km along the N2 from Cape Town to Mossel Bay, visitors then often continue on to Port Elizabeth or even as far as Johannesburg.
Along the route there are plenty of places to stop and enjoy the South African coast including Gaansbai (for a spot of shark diving!), Cape Aghulas (for the Southern-most point of Africa), Mossel Bay & Knysna (for those beautiful coastal views & fresh oysters), Jeffrey's Bay (for your first surf lesson) and Tsitsikamma National Park (to get out into nature – or possibly jump off a bridge at one of the highest bungee jumps in the world!)
Depending on how quickly you drive it, or how many stops you make, we recommend taking a minimum of 3 days to drive it, but think 7-10 is probably better.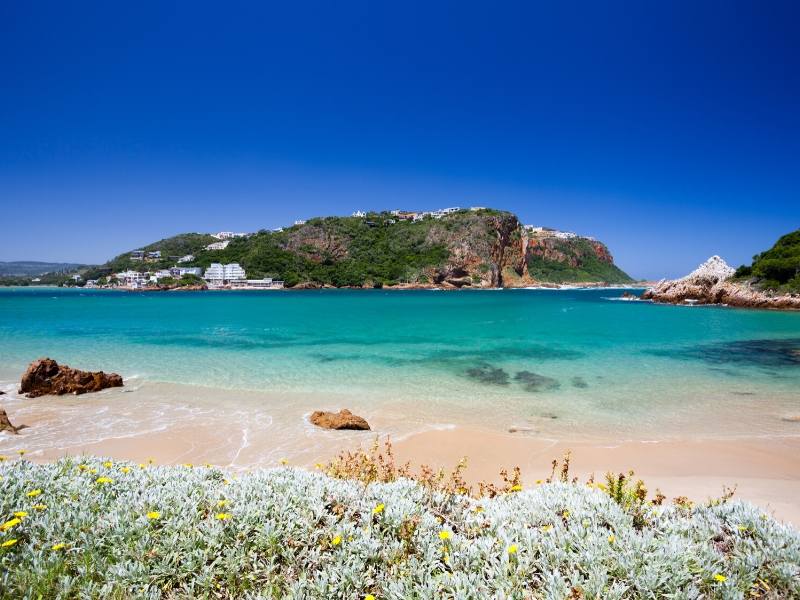 14. Blyde River Canyon
Submitted by Wendy Werneth of The Nomadic Vegan
Blyde River Canyon is the third-largest canyon in the world, after the Grand Canyon in the US and Fish River Canyon in Namibia. While those other two canyons are part of dry, desert-like landscapes, Blyde River Canyon is quite lush, hence it can be said to be the largest "green canyon" in the world.
The best way to see Blyde River Canyon is to drive the whole length of the Panorama Route, which includes a number of other incredible natural sights with names like Bourke's Luck Potholes, God's Window, Wonderview, and the Pinnacle.
Summit Tours offers tours of the Panorama Route for prices only slightly higher than what a direct transfer from Kruger to Nelspruit would cost, which makes taking the scenic route a no-brainer.
The most famous lookout point of the canyon is known as the Three Rondavels, so named because of the rock formations that resemble three round huts.
There are also some beautiful waterfalls in the area, such as Lisbon Falls and Berlin Falls. For lunch, stop at Bourke's Luck Potholes, which are actually holes worn into the rockface by the force of the water.
There's a restaurant here called Boskombuis, which literally means "bush kitchen". It's a beautiful, secluded place on the bank of the river inside the canyon.
There's no electricity, so the staff cook everything in a traditional, wood-fired oven. Most of the dishes are meat-based, but vegetarian and vegan visitors to South Africa can order the Boskombuis Vegetarian Bake, which is delicious.
15. Addo Elephant Park
Submitted by Oksana and Max of Drink Tea and Travel
Located close to Port Elizabeth in South Africa, Addo Elephant Park is the country's third largest nature reserve. It has a diverse landscape, flora and fauna, and incredible biodiversity. It is most well known for its 500+ elephants which live within the park, many of which can be found in herds around Hapoor dam.
It has one of the most dense populations of African elephants on the planet but is also home to a diverse number of other animals – including the Big 5. Lions are found largely in the southern section of the park.
The elephants play an important role in the ecosystem of the nature park by breaking down trees, and spreading seeds and insects, which nurtures the landscape and other animals in Addo Elephant Park.
Along the coast, great white sharks and southern right whales can be found in the waters which extend into a marine reserve just off shore.
Most people visit Addo Elephant Park on a day safari from Port Elizabeth. However, we suggest you stay a little longer to enjoy the park to its full extent. The Zuurberg mountain range, with its many trails, are especially lovely at sunrise. To learn more about the park head to the Interpretive Centre at Main Camp.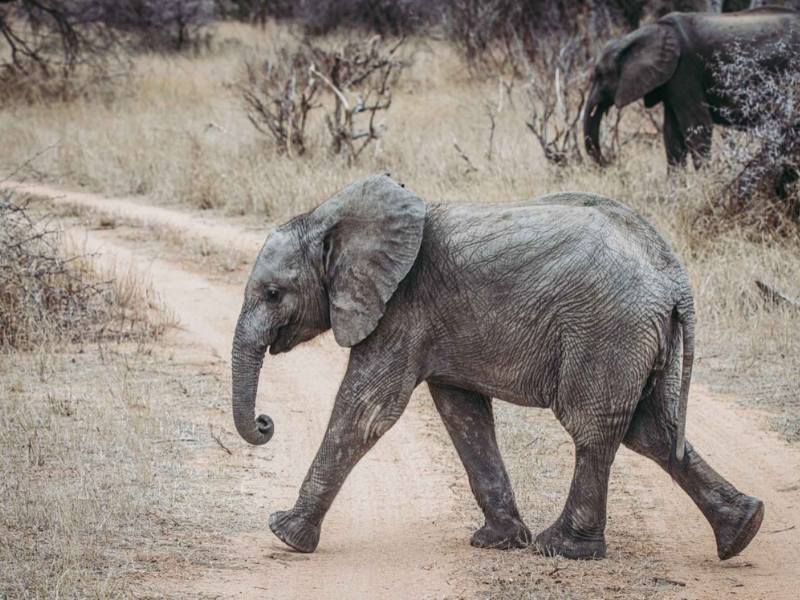 16. Mpumalanga
Submitted by Lerato Bambo of Life from a Bag
Mpumalanga which translates to the land where the sun rises in Zulu is one of South Africa's nine provinces and home to Kruger National Park – the largest game reserve in Africa, and the magnificent Blyde River Canyon – the largest Green Canyon in the world that stretches over 26km and is over 800m deep.
The province constitutes 6.5% of South Africa's land area and its located just 300 km from Johannesburg and reachable by car or plane. Mpumalanga is known for its gold mines, wildlife and incredible landscape.
While in Mpumalanga, you can explore some spectacular geological formations like one of the world's oldest mountain – Makhonjwa Mountains (a UNESCO World Heritage Site), the Bourke's Luck Potholes, Sudwala Caves – the oldest dolomite caves in the world, and Adam's Calendar also known as the African Stonehenge – predates both Stonehenge and the Great Pyramid of Giza by tens of thousands of years.
Nature lovers won't run out of things to do, from bird watching to Hot Air Balloon safaris, flyfishing and horse riding, you'll find the best hiking spots in the country and magical waterfalls like Lisbon Falls, Mac Mac Falls and Forest Falls where you can go for a swim!
Adventure Junkies can experience the world's highest cable gorge swing with a 68 metre (18 storey building) freefall or go caving by candlelight near the Sabie Falls.
17. Franschoek
Explored by Christine Rogador of Journey to France
South Africa is well known for its world-class wines. From Cape Town to Stellenbosch to Franschoek – you won't run out of wine farms to try. And trying the South African wine is a must for anyone visiting the country.
Franschhoek is a small town in Western Cape, South Africa along the popular Cape Winelands trail. It is known as the culinary capital of the country due to the high concentration of world-class restaurants in the area.
And among my personal favorites are La Petite Colombe and The Test Kitchen which are both among the list of best restaurants in the country and also the world's best restaurants. If you have extra dollars to burn, I recommend going to any of the two at least once.
Along with its vibrant fine dining scene, Franschhoek is also a popular wine region known for its centuries-old vineyards and Cape Dutch architecture. There are over 50 world-class wineries in Franschhoek Valley nestled in majestic mountain scenery, lush vineyards, and has a quaint European feel.
Franschhoek is probably most famous for its sparkling wine. And not just any sparkling wine but Méthode Cap Classique. Méthode Cap Classique or MCC's are South African sparkling wines made using the traditional French method use in some of the most popular wine regions in France. So if you are a fan of bubbly, there are several options in this wine region.
And the best thing about Franschhoek is that it's less crowded and not popular among the typical tourists due to being more upscale than other towns in the Cape Winelands.
There are also few hiking and walking trails along the area if you need to burn those extra calories from eating and drinking. You can also drive up to Franschhoek Pass to enjoy the best view of the town. Riding the wine tram is also a fun experience although a bit of a tourist trap. But it is safer to take if you're planning to get wasted rather than taking a car and driving it yourself.
A 30-minute drive from Franschhoek and you'll reach Stellenbosch. Stellenbosch is a popular town destination from those day-trippers from Cape Town.
A bit more casual than Franschhoek, there are more commercialized wineries here. And there are more interesting pair offerings here as well. If you are tired from the usual cheese and wine, you can also try the chocolate and wine or the nougat and wine pairings. Each wine farms offer a different take on wine pairings so you won't get bored on the same stuff.
And like Franschhoek, Stellenbosch offers a good dining scene as well.
18. Pilanesburg National Park
With so many wonderful parks to visit in South Africa how do you choose? Our personal favourite is the Pilanesburg. Not only can you see the Big 5 here but it is also outside the malaria zone which makes it an ideal destination for families.
Only a couple of hours drive from Johannesburg (or a short flight if you prefer to fly) the Pilanesburg has a number of luxury safari lodges in which to stay whilst exploring the park.
Taking a game drive (safari) really is compulsory. Just make sure you pack the right clothes (it can be very chilly in the early morning during the winter.
The winter is actually the best time to see the animals as they tend to visit the water holes during the dry season. Look out for elephant, rhino, leopard, lion and buffalo as well as many fabulous species of birds.
Another advantage of visiting the Pilanesburg is its proximity to Sun City. If you are looking for a luxury hotel experience I can recommend the Lost City. Book an afternoon tea while you are there – it is my favourite of the many I have had around the world.
Learn more – Essential tips for your first safari/game drive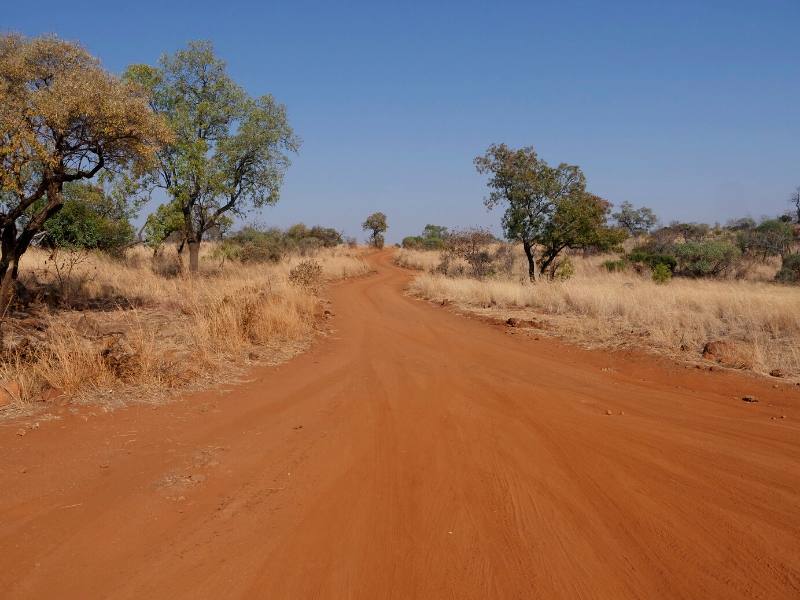 19. Cape Peninsula (Cape of Good Hope)
Explored by Rose of Where Rose Goes
When visiting Cape Town, an unmissable day trip awaits. The Cape Peninsula juts down below the city comprising the Cape of Good Hope Nature Resort and Cape Point at the very bottom.
There are a few ways to take a Cape Peninsula day trip. If you have a car, this opTion will give you the most freedom and allow you to set your own schedule. Alternatively, you can travel on the Cape Point Explorer bus.
The must-see stops for your Cape Peninsula trip include Muizenberg beach and its Instagrammable beach huts, more of which can be found further along at St James Beach.
Stop for cute cafes and antique stores in Kalk Bay before continuing to Boulders Beach where you can spot hundreds of penguins including hatching chickens between March and May.
Grab some lunch in Simon's Town before continuing further still to Cape of Good Hope Nature Reserve which is part of Table Mountain National Park.
After travelling through the gorgeous natural scenery and stopping to take photos, you will arrive at the Cape of Good Hope, a craggy headland looking over the ocean. Hike or catch the Flying Dutchman funicular for spectacular views from the cliff edge.
Finally, drive back to Cape Town along the other side of the peninsula, via iconic Chapman's Peak Drive, a winding road set into the hillside. You can finish the day with sunset cocktails in upmarket Camp's Bay before returning to your Cape Town accommodation.
20. Cape Agulhas
People often assume that the southernmost point of South Africa and the African continent is at the Cape of Good Hope. However whilst that is the most southwestern part of South Africa it is Cape Agulhas that is the southernmost point of the entire continent.
Located 170 kms southeast of Cape Town and in the Western Cape province, Cape Agulhas can be found along some of the most spectacular coastlines in the world.
Take a walk along the seafront and visit the Lighthouse which will give you a fabulous view of the area. There is also a monument to the point where the Atlantic and Indian Oceans meet.
The waters around Agulhas are acclaimed as offering the best fishing opportunities in South Africa. From May to July every year millions of sardines gather on the Agulhas Bank with the shoal reaching up to 20 km in length. The Sardine Run not only attracts human viewers but also sharks, marlin, sea birds and dolphins looking for a feast.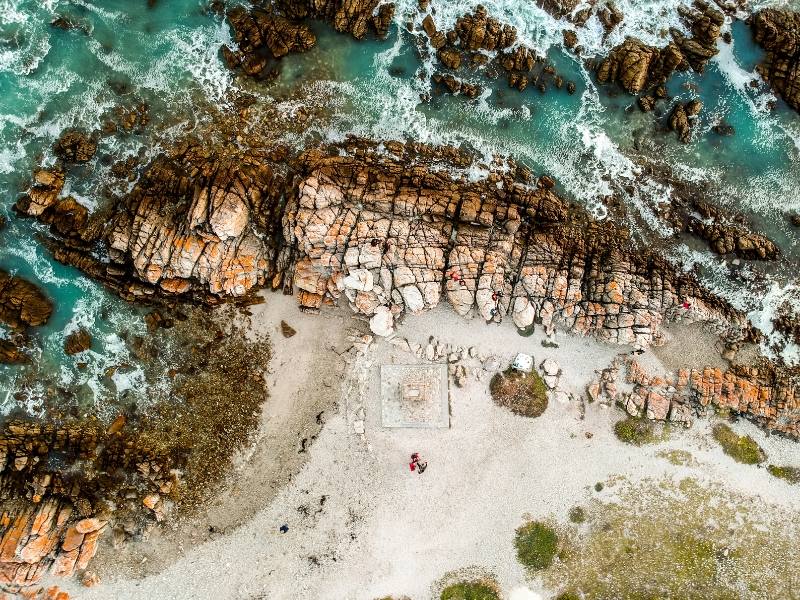 21. Clarens
Explored by Marco Santos from Travel-Boo
Located around 3 hours' drive from Johannesburg is the artsy and much-loved town of Clarens that oozes charm and personality!
Set at the foot of the Maluti mountains and only a stone throw from the Golden Gate National Park, the region surrounding Clarens is purely spectacular by way of natural beauty. It's no wonder that so many South Africans love to visit this gorgeous gem in the Free State province.
For such a small town, Clarens does boast an incredible array of top activities and sights to see and explore. The town is known for its love of art and is home to a number of great boutique art galleries that showcase fantastic local South African artists.
Both around the town as well as at the nearby Golden Gate National Park you'll also find a selection of hiking and mountain bike trails, perfect for any outdoor lovers. Looking for a bit of rest and relaxation? Pop into the Clarens Wellness Day Spa for the ultimate pampering experience.
Clarens is also a fantastic destination for food lovers alike. With many boutique restaurants to choose from, you'll be able to savour the best local South African cuisine. Or, you may want to visit the Clarens Brewery, somewhat of an institution and attraction in its own right. Here you'll be able to sample some of the Brewery's local beers in a beer tasting or enjoy a delicious lunch whilst doing so.
Lastly, to round out your trip, simply stroll through the town and visit the various arts & craft stores where you can buy the perfect keepsake to remember your visit to Clarens!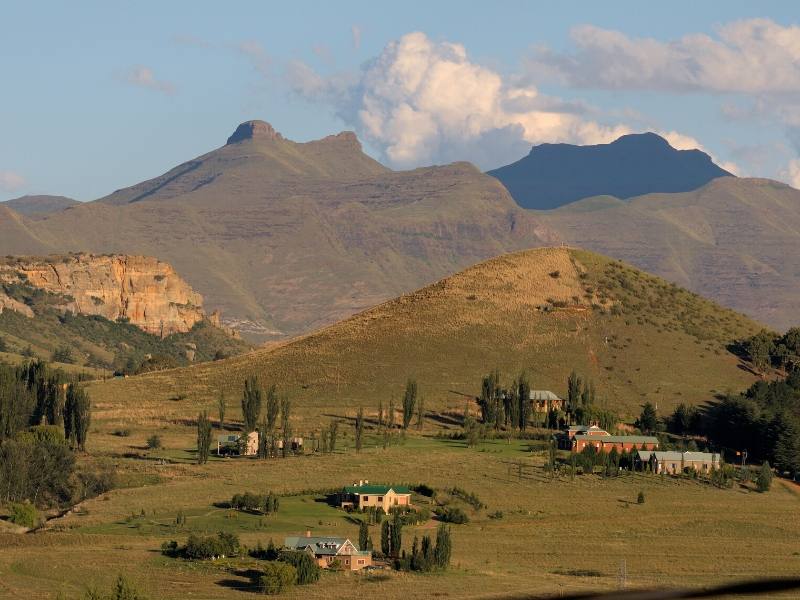 Don't miss – Robben Island
Lying nearly 7 kms off the city of Cape Town is Robben Island. Notorious for its high-security prison in which many political prisoners of the apartheid regime were incarcerated the island is now a UNESCO World Heritage Site and major tourist attraction.
Robben island's most famous inmate was of course the late Nelson Mandela. He spent 18 years (of 27) on the island and you can read about his experiences in his autobiography "Long Walk to Freedom"
The ferry to Robben Island is included in your ticket price. Ferries leave from the V&A Waterfront. The trip and tour of the island take approximately 3 1/2 hours. It is very important to book ahead of your arrival in Cape Town as tickets sell out ahead of time.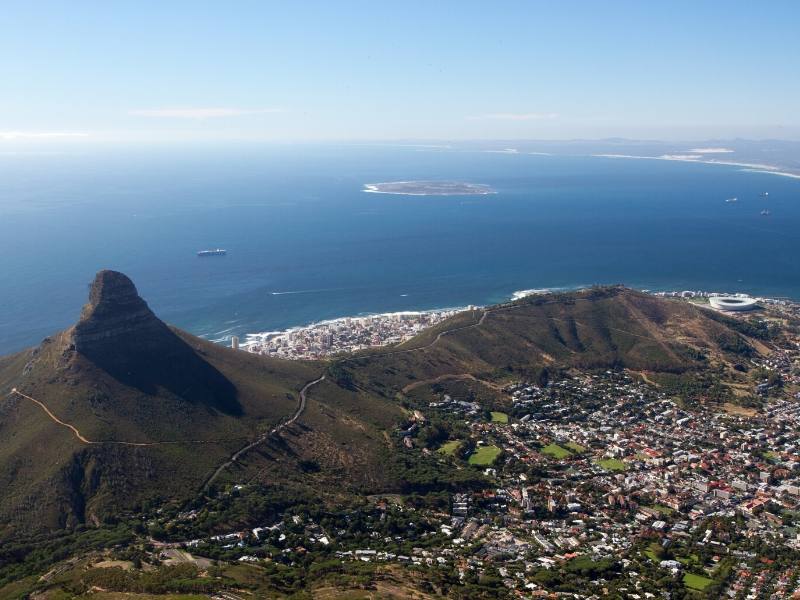 Has this South Africa bucket list inspired you?
So many wonderful places to visit in South Africa as you will have discovered in this post!
If you are planning to visit there are a number of books about South Africa I recommend reading before you go as well as some great movies that showcase this beautiful country.
Learning about the history of South Africa before you go will also help to understand about its turbulent past and traumatic experiences of the majority of the population during the apartheid era. I recommend reading the late Nelson Mandela's autobiography Long Walk to Freedom at the very least.
Watch –