South Africa is one of my favourite destinations worldwide. Often described as a "world in one country" it really does offer visitors everything they could possibly want and more – with stunning scenery, beautiful beaches, a great climate, good food and wine, and of course amazing wildlife South Africa should be on everyone's bucket list.
One of the favourite activities for visitors to South Africa is to spend some time at a game lodge and take some game drives/safaris to experience the wildlife up close and personal.
I am often asked by readers to recommend the best game lodges in South Africa and in this post I recommend some of my favourites – Kwa Maritane and Klaserie River Safari Lodge. I decided to ask other travel bloggers for their favourites too and you will find them in this article as well as links to book that dream vacation.
There is also a useful map showing the locations of the various lodges at the end of the article as well as links to other posts about South Africa which you may find useful. If you are wondering what to wear on safari or wanting some top tips for your first safari you can also find that information in my other South African focussed articles.
8 fabulous game lodges in South Africa
Ulsaba – Sabi Sand
We chose Ulusaba as our very first safari adventure, because it was convenient to reach from Johannesburg, and because it's owned by Virgin, a brand we love.
Sabi Sand borders the edge of Kruger National Park, and is split into several private game reserves, one of which is Ulusaba. There are no fences so animals are free to roam from Kruger into the reserves, making a stay at Ulusaba a really exclusive experience with sightings that are just as good as in the national park.
We'd heard that Sabi Sand is a particularly good place for leopards, and were over the moon when our tracker found us not one, but two young males. It was probably the most magical experience we've ever had on our travels. The wildlife here is abundant, and we saw everything from lions and giraffes, to buffalo and even wild dogs.
The lodge itself is super luxurious with a relaxed vibe. Hospitality is a little over the top, not a bad thing when you've splashed out and want to be treated like royalty for a few days. The food never stopped coming – there were bush breakfasts of chocolate pancakes and champagne, boma dinners by the fire, and of course sundowners.
We stayed in a gorgeous suite at Safari Lodge on the banks of a dry riverbed accessed by wooden walkways, giving us total immersion in nature. It's what an African safari is all about.
Written by – Conversant Traveller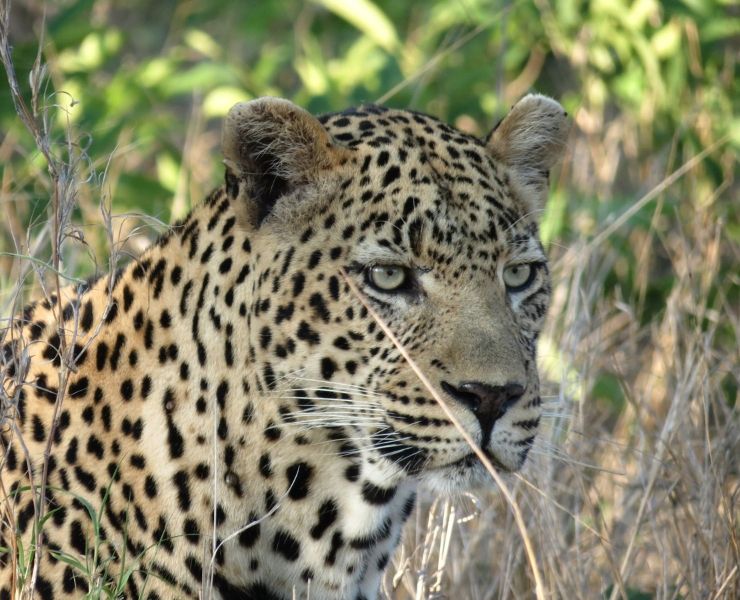 The Kgalagadi Transfrontier Park
The Kgalagadi Transfrontier Park located in the southern Kalahari desert was formed when two national parks in neighbouring countries South Africa and Botswana combined.
The beautiful scenery formed by the red sand dunes, sparse vegetation and dry riverbeds is one of the best places in the world to see the big cats; lion, leopard and cheetah. Camping, lying in your tent at night listening to the hyenas laughing or a lion roar is the best way to experience this African treasure.
There are no elephants, rhinos or buffaloes here, so it is not a place to see the big 5, it is however an excellent place to see predators in action, with plenty of the big cats. The majestic black-maned Kalahari lions, unique to this part of the world is stalked by many hopeful photographers.
Other famous residents of this amazing park in the Kalahari desert are a lot smaller; the bat-eared fox, meerkat, ground squirrel and the beautiful cape fox; with a bit of luck you can even spot a Honey Badger (Ratel) or Pangolin (Scaly Anteater).
The park can be visited all year round, but gets very busy during school holidays. June and July is the dry season it gets very cold at night, this is a great time for predator sightings.
A fantastic park to watch predators and scavengers such as hyenas, jackals and the birds of prey interact in this desolate landscape teeming with predators.
Read more – Stingy Nomads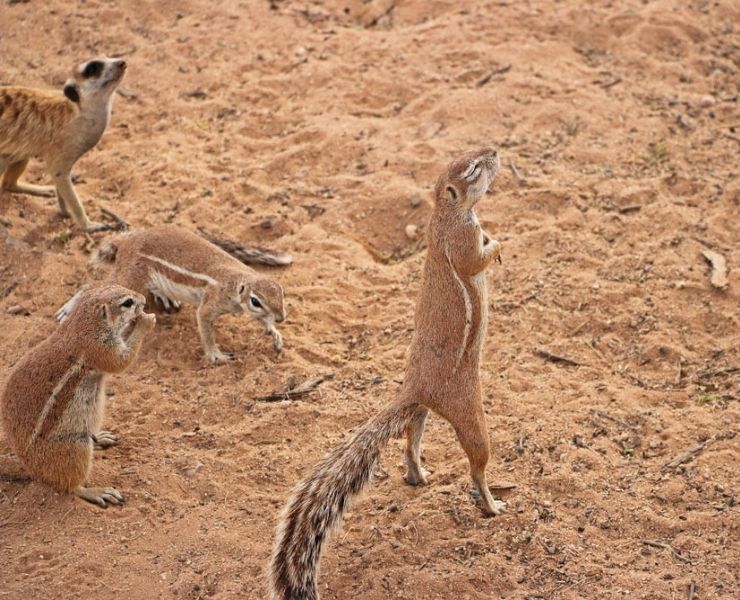 Garonga Safari Lodge
Garonga, and it's sister property Little Garonga, sit within the Makalali Game Reserve, 61,000 acres of privately owned land. The reserve has just two accommodation options with the Garongas being the most luxurious of the two. This scarcity of lodges means the park never feels overcrowded and you can do entire days of safari without seeing another vehicle. This is Garonga's greatest asset; the sense of exclusivity.
During our stay at Little Garonga, we saw our fellow guests (all three of them) for meals and game drives. During the day we relaxed by our own infinity pool, took a sneaky siesta and spotted elephants from our deck. If we wanted anything, we had been assigned our very own valet. With a quick phone call, they could organise whatever we needed. Mind you, with a fully stocked mini bar, a pool and sun loungers, we couldn't think of anything.
The reserve was screaming out for the start of the rainy season during our visit and the skeletal trees made spotting wildlife easy for the expert guides. We really harboured desires to see lions, despite assuring the guides that all nature is beautiful, and they persevered through three drives to find them.
Along the way we saw zebras, giraffes, hippos, elephants, warthogs, hyenas and deers a-plenty. On our final game drive, we found a pride of lions chewing on the remains of their dinner. It was an amazing experience.
Speaking of food, the meals provided at Garonga were a real delight. The chef came out to talk us through the menu and the wine expert shared his pairing recommendations. I left every meal vowing never to eat again, and every time they described the next dinner I was ready to do it all over again.
I don't think you can feel such a wonderful mix of total relaxation at the lodge and fun adrenaline on the drives anywhere else.
Read more – Flying Fluskey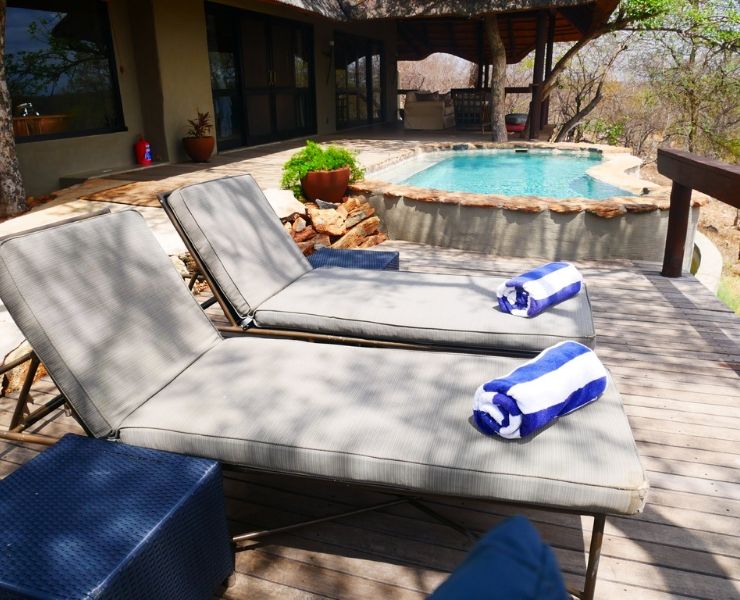 Phinda Private Reserve
Being able to live for a few days near the Big 5 (as the group formed by the leopard, African lion, African elephant, buffalo, and rhinoceros is called) was a dream come true for me and one of the reasons why South Africa deserves a visit.
I recommend Phinda Private Reserve (Phinda Game Reserve Mountain Lodge by And Beyond), which is one of the most luxurious in South Africa.
With a thatched-roof building with outdoor rain shower, complimentary minibar and its own private plunge pool on the terrace for you alone, you will be contributing to the preservation of animals such as the one-horned rhino that live in it.
But there is much more. The wide range of activities and facilities offered by this 5-star game lodge deserve a separate mention such as its signature bar with features an interesting library section and board games, a mind-blowing spa treatments menu, and a swimming pool among them.
It is located about 4 hours from Durban and 2 hours from Richards Bay by car. Prices start around $ 540 per night.
Written by – A World To Travel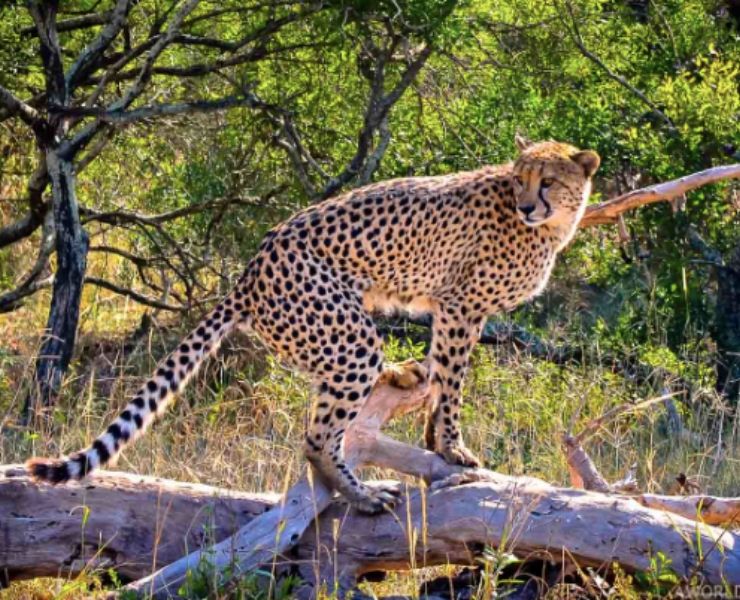 Garden Route Game Lodge
If you're visiting Cape Town, or planning a road trip through South Africa's epic Garden Route, one of your best options for an amazing safari experience is at the Garden Route Game Lodge. The Lodge is about 3 ½ hours from Cape Town, near Albertina, and is also in a malaria-free region.
The property is absolutely stunning, with an outdoor pool overlooking the mountains, private chalets, and traditional art throughout the property. Breakfast and dinner are included, as are a sunset and sunrise safari.
The guides were incredibly friendly, knowledgeable, and even set up a mid-safari sundowner on the evening game drive, where we could relax with a beer and some snacks, watching a rhino mother with a young just off in the distance- truly magical. We were able to see a huge range of animals, including juvenile cheetahs, giraffes, wildebeest, elephants, lions, kudu, eland, water buffalo, and more.
In addition, there is a reptile centre on-site with a huge range of snakes and lizards that can be visited. To me, Garden Route Game Lodge really provided the iconic South African safari experience, and I can't wait to go back again!
Read more – The Accidental Australian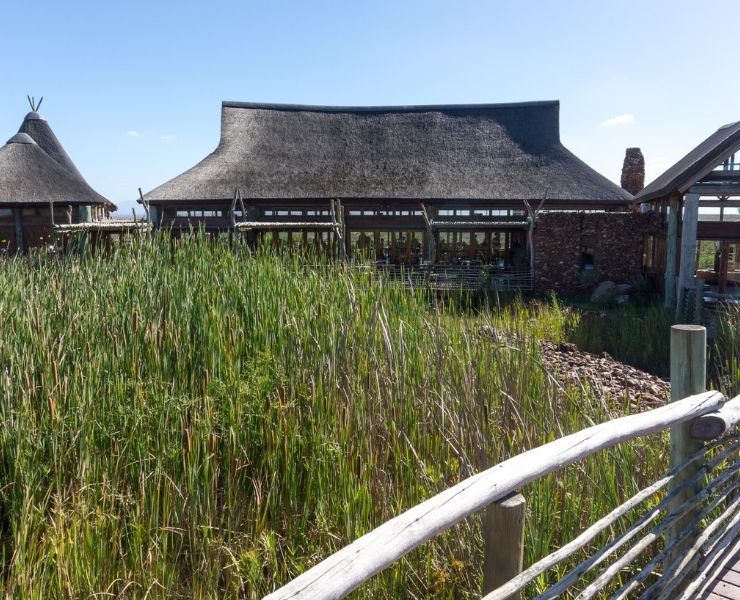 Kwa Maritane in the Pilanesburg Game Reserve
I have been visiting Kwa Maritane for over 30 years and it is my go-to game lodge when I am in South Africa. Although in 2009 Kwa Maritane suffered a devastating fire that destroyed large parts of the resort it has since been rebuilt and remains a wonderful place to relax and unwind.
Kwa Maritane is situated in the Pilanesburg Game Reserve which is located approximately 170 kms north west of Johannesburg. The resort has fantastic facilities including a spa, pool, tennis court, restaurants and more but really the stars of the show live in the game reserve.
With all 5 of the big five in residence taking a game drive from Kwa Maritane is always a thrilling experience. I have seen leopard, cheetah, buffalo, lion, elephant and rhino in the park as well as the numerous zebra, giraffe, wilderbeest, hippo and buck.
If you fancy a break from the animals why not pop next door to Sun City on the free shuttle? I highly recommend afternoon tea in the Lost Palace Hotel.
Read more: Top safari tips – everything you need to know to about an African safari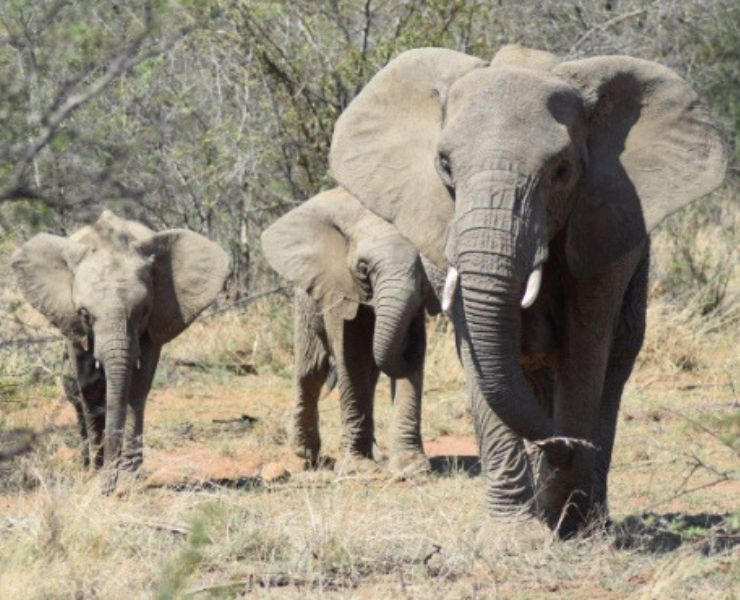 Klaserie River Safari Lodge
Located in a private game reserve on the banks of the Klaserie River this beautiful safari lodge is another of my favourites in South Africa. With Kruger National Park and Blyde River Canyon nearby there is plenty to keep you busy.
Take a game drive in one of the nearby game reserves or go on a bushwalk on Klaserie Safari Lodge's private property.
Other excursions available include Blyde River boat cruises, hot air ballooning and horseback safaris. Day trips to nearby Kruger National Park are also available.
Read more – What to pack for your South African safari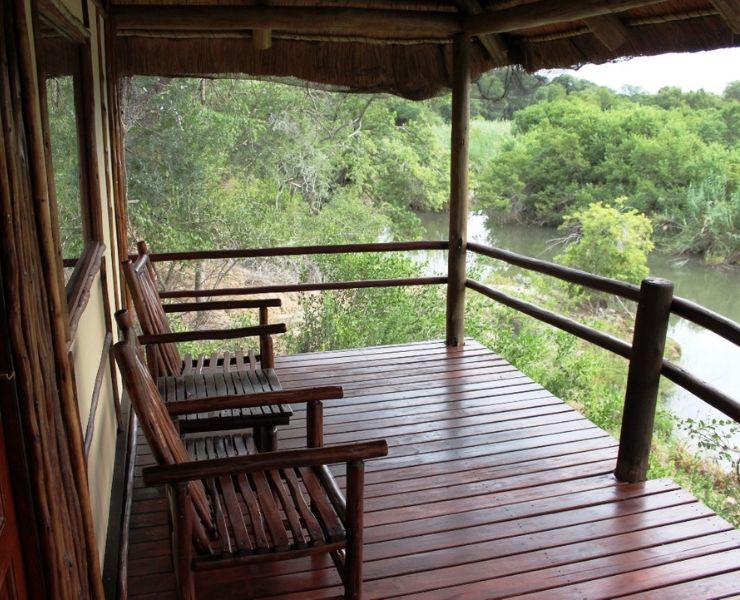 Pakamisa Lodge
I was nervous to travel to South Africa on my own, especially as it was my first trip solo, but I couldn't have asked for a better experience than Pakamisa Safari. They organised everything for me, including airport pickup and drop off so I didn't have to worry about getting to the lodge.
When I arrived everyone was brilliant and the owner of the whole safari greeted me and showed me to my lodge. I have never stayed in somewhere so nice! Pakamisa has self-contained lodges of varying sizes all with balconies overlooking the stunning vista that is KwaZulu-Natal.
Pakamisa is a horseback safari so after I had a little chance to settle in I went out with the owner and one of the guides on a trail through the safari. As you, and your horse, are exposed to everything Pakamisa mostly has prey animals.
This includes zebra, giraffe, warthogs, impala and other small animals. They did also have a few leopards if you could find them and they also offered excursions to the neighbouring Big Five Safari if you wanted to see some of the bigger African animals. Pakamisa also offered walking tours as well as driving tours.
The best thing about Pakamisa is the family atmosphere. Everything is ran by one woman who is incredible! Every day all the guests had dinner together in the large dining area, including the staff and the owner. The food was absolutely phenomenal and sharing meals together with everyone made it a lot less lonely for me and I met some really great people over those meals.
I was made to feel at home from the moment I arrived and I am truly grateful for the whole experience, being able to ride every day through South African bush.
Read more – The Travel Fairies Blog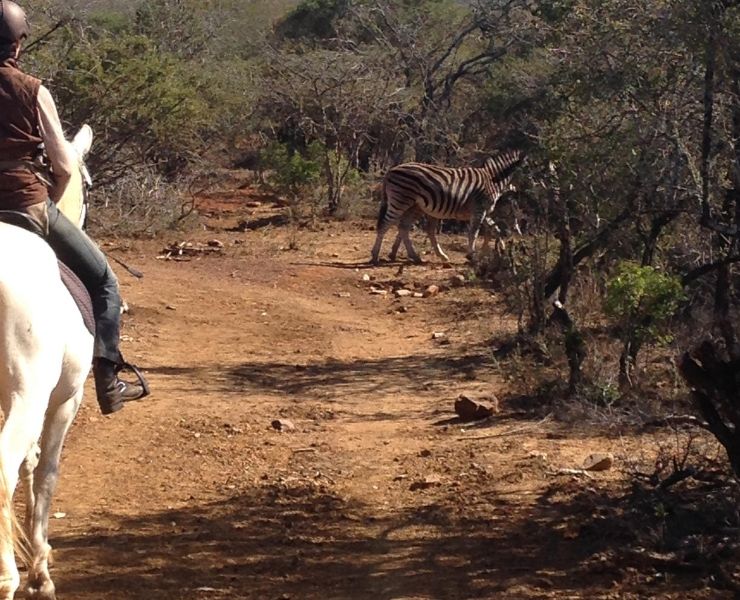 Plan your visit to South Africa
Thank you to all the travel bloggers who contributed to this article about these beautiful game lodges in South Africa. You really are spoilt for choice for places to stay and things to see!
If you are heading to South Africa you will find my bucket list a great place to start when planning your itinerary.