This post may contain compensated links. Please read our disclaimer for additional information.
If you are heading off to South Africa and have a few safaris included in your itinerary you may be wondering what to pack to take with you. I spent many years living in South Africa and Botswana and took numerous game drives/safaris so I have a good idea of what to wear on safari in South Africa.
Obviously everyone has different fashion tastes but there are some essential items I would suggest you add to your packing list. I would also strongly advise not buying a whole safari themed wardrobe full of new clothes. Nothing screams tourist more that people climbing aboard the jeep wearing pith helmets and dressed head to foot in khaki. Lightweight cotton items in neutral tones are the most practical items to bring.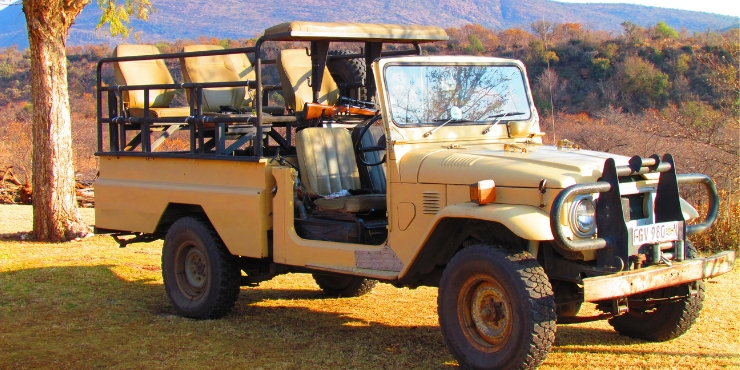 What colours should you avoid wearing on safari?
If you are wondering what colours to avoid I would strongly suggest not wearing white. The dirt roads can be extremely dusty and you can come back coated with a thin layer of orange dust. Although not an issue in South Africa, the tsetse fly, which passes on human sleeping sickness,  is attracted to black and blue clothing. Something to be aware of if you are visiting Tanzania, Kenya or Zambia during your trip.
If you are planning to take a walking safari do not wear white or bright colours. It is safer for you and less intrusive for the animals if you are wearing neutral tones that blend into the surrounding area.
Dress for the weather
Most game drives occur during the early mornings/late afternoon/early evening. It can be quite chilly at these times so it is best to dress in layers and add/remove layers depending on the temperature. Even though it may be warm when you head out the temperatures can drop sharply when the sun sets. I recommend packing a jacket or pashmina that you can wear if the temperatures are on the low side. The breeze can be very cold as you drive along in the jeep and you may even need a woolly hat and gloves if you are in South Africa during the winter.
I would advise checking the expected rainfall and temperatures during your trip but also bear in mind that increasingly unpredictable weather patterns may make it is worth preparing for all eventualities.
What footwear do I need on safari?
In terms of footwear trainers are the best option though I will admit to going out in sandals too. Trainers are best as they keep your feet covered and warm and also for climbing into and out of the vehicle which can be quite high.
Consider your baggage allowance 
One of the main things to consider is though you may have a 30 kg baggage allowance on your international flight this allowance may not be as generous when flying internally. Don't overpack – think layers of lightweight clothing. Don't pack heels, fancy dresses and expensive jewellery. Pack one or two outfits for the evenings if you are staying in a private lodge but otherwise seriously don't bother. Most lodges with have laundry facilities so you really don't need to take a change of clothes for every day of your trip! You may find my posts with recommended mini travel products and mini travel beauty products helpful.
This bag is ideal and even comes with packing cubes which are a great way to organise your clothes.
If you prefer a hold-all with wheels this is a great bag to use for your trip.
---
SAFARI PACKING LIST – CLOTHES
---
Light jacket/fleece/pasmina
---
---
Shorts
---
---
T-shirts
---
---
Long sleeved tops
---
---
Comfortable trousers
---
---
Hat
---
Athough you will generally be in the shade in the vehicle it is always a good idea to take and wear a hat when under the African sun. Make sure it covers your neck so a wide-brimmed hat not a baseball cap.
Sunglasses – even in the winter months you will need sunglasses to protect your eyes from the glare of the sun.
Sunscreen – a good high factor sunscreen is essential due to the strong rays. I would recommend applying every few hours. I also find my lips can get very dry so a good lip balm with sun protection is important to pack.
---
SAFARI PACKING LIST – USEFUL TO TAKE WITH YOU
---
These are all useful items that I have used when on game drives in southern Africa.
A pair of binoculars is worth taking with you especially if you like bird watching. They can also proof invaluable for spotting that elusive leopard or cheetah hiding in the bush a few hundred yards away.
Identify the birds you will see on your safari or keep track of the ones identified by your guides.
Useful little book to take with you to keep track of the animals you see. We used to have a book we took with us every time we went on a game drive and it was a great way to keep a tally of what we had seen where.
---
TRAVEL ESSENTIALS
---
Essential items to include in your packing list.
Keep yourself hydrated during your safari. Although you will probably stop for a drink during the game drive it is essential to keep fluids up especially during the hot summers.
As I mentioned above I find lip balm with high SPF protection worth keeping in a pocket to use during the trip.
Don't foget to pack an adaptor so you can use all your electrical appliances in South Africa.
I would suggest seeking medical advise regarding malaria before you travel so you can take appropriate precautions. Always use an insect repellant too to provide additional protection.
A small torch is always useful and you never know when you will need it. We even found ours invaluable in Tasmania recently when looking for animals after dark!
Take a small medical kit with the essentials. If you already have one make a point of checking the use by dates on ointments and medicines in your kit.
---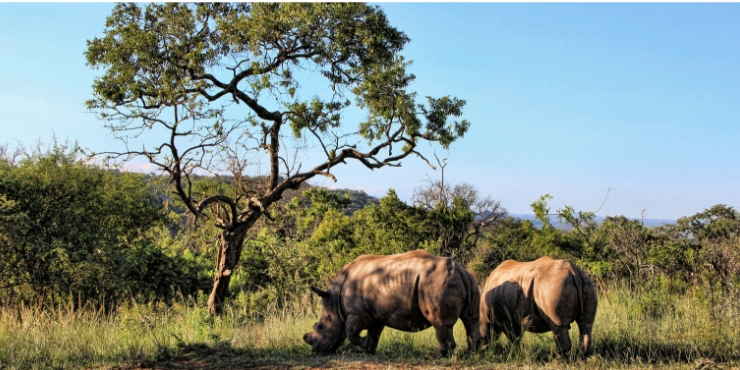 This packing list for a safari in South Africa will provide you with all the essentials for your trip. Remember to pack your camera/lenses and extra memory cards for al those fantastic memories you will make during your trip.
Have a fantastic time and let me know how your trip went in the comments below.
***
YOU MAY ENJOY THESE POSTS ABOUT TRAVEL IN AFRICA
***
PIN FOR LATER!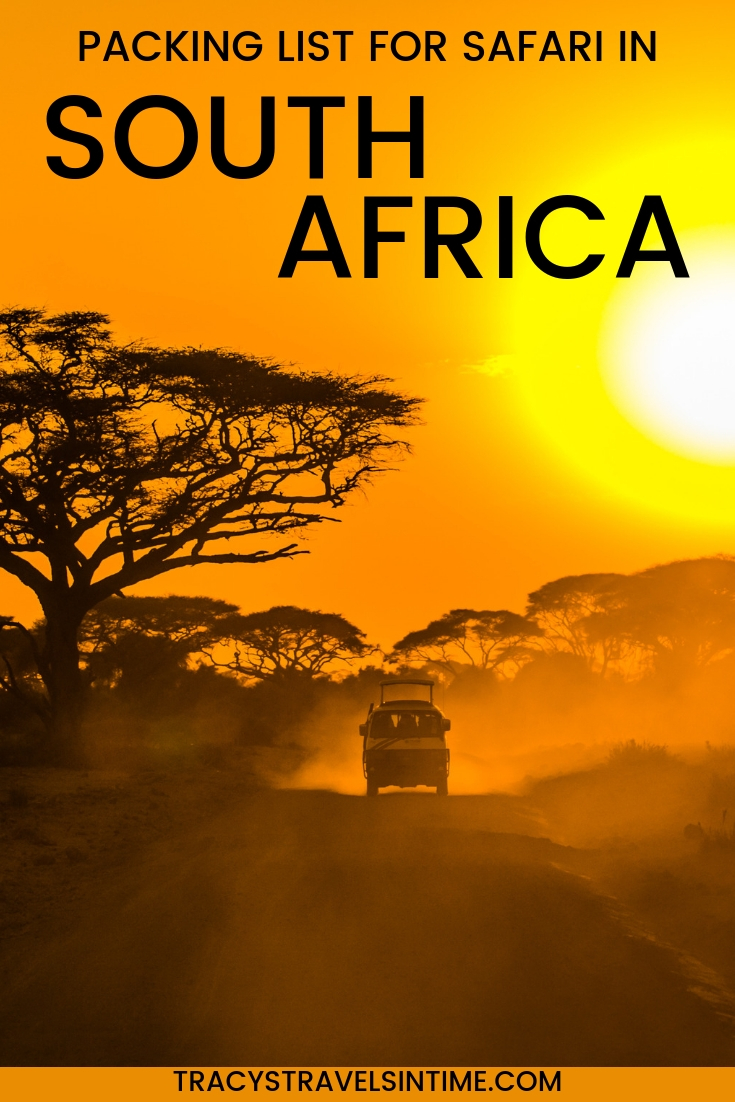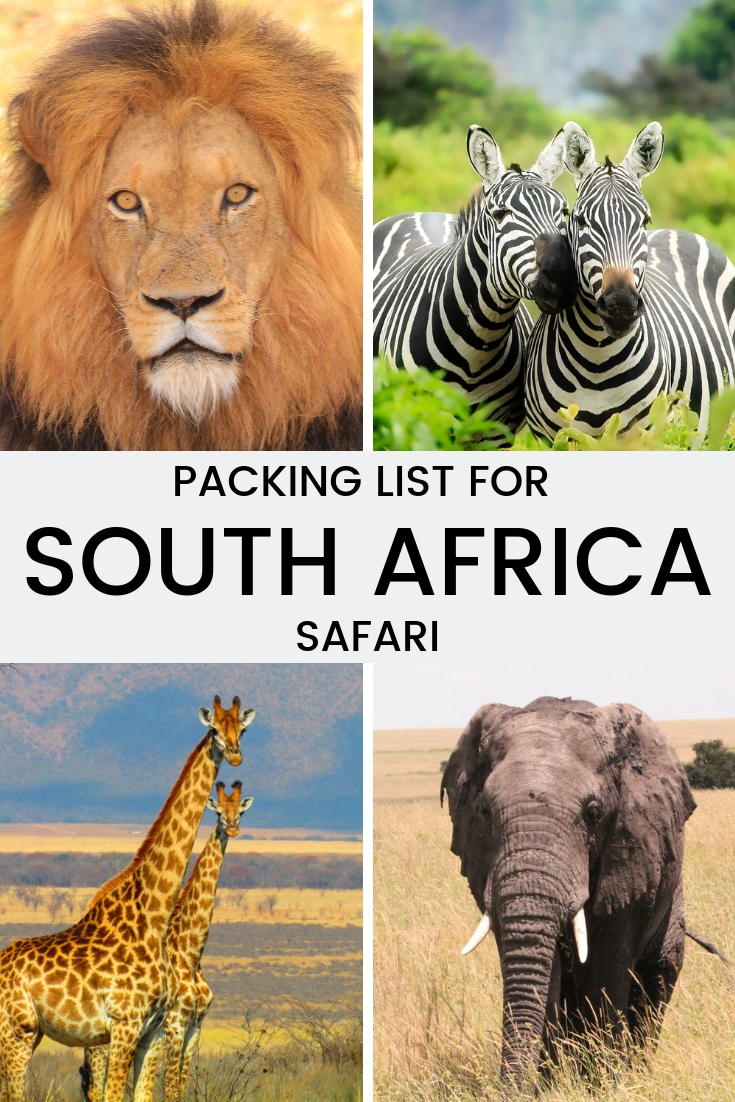 YOU MAY ENJOY THESE POSTS TOO!
CLICK FOR EXCLUSIVE ACCESS TO MY RESOURCE LIBRARY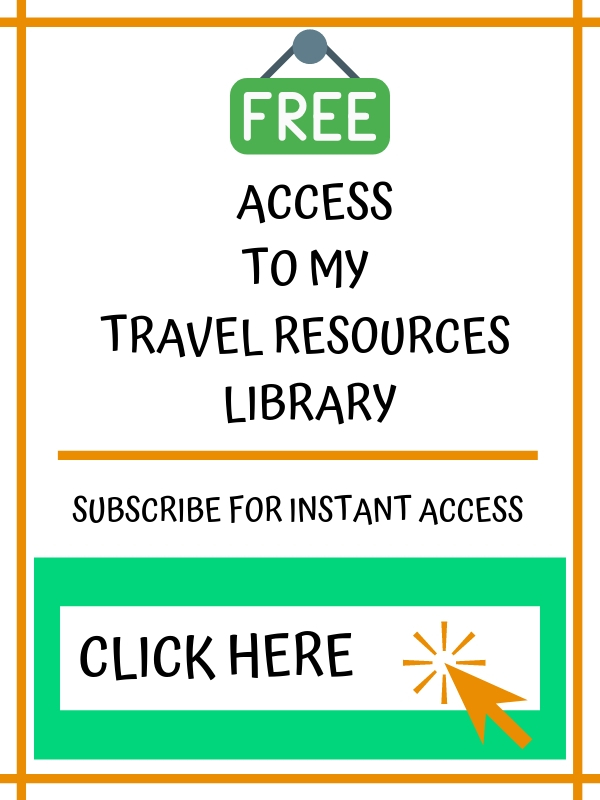 ---
---
Over the last 50 years I have lived and worked in 7 countries on 4 continents and travelled to many more. I enjoy exploring and learning about new places and meeting people on my travels. History, reading, photography, nature and wildlife are my interests and I am ALWAYS researching and planning my next trip (preferably by train)
With a lifetime of travel experience, and a network of friends all over the world, I share genuine insider guides, recommended best book lists and train journey inspiration to help YOU travel authentically to some of the most beautiful places on earth.
Come and join me as I travel the world one country (and train journey) at a time!
This post may contain compensated links. Please read our disclaimer for additional information.