Discover what to wear on safari in South Africa so you pack what you need for your trip! Practical tips and advice based on my own experiences of over 60 safaris in South Africa, Botswana and Zimbabwe!
If you are heading off to South Africa and have a few safaris included in your itinerary you may be wondering what to pack. This post will help you with all the info you need.
Thinking about what to bring on safari in South Africa is important so you only pack the safari clothing that you need. I spent many years living in South Africa and Botswana and took numerous game drives (safaris) so I have a good idea of what to wear on safari in South Africa.
In this article I will help you put together your perfect wardrobe to ensure you have exactly what you need for your trip.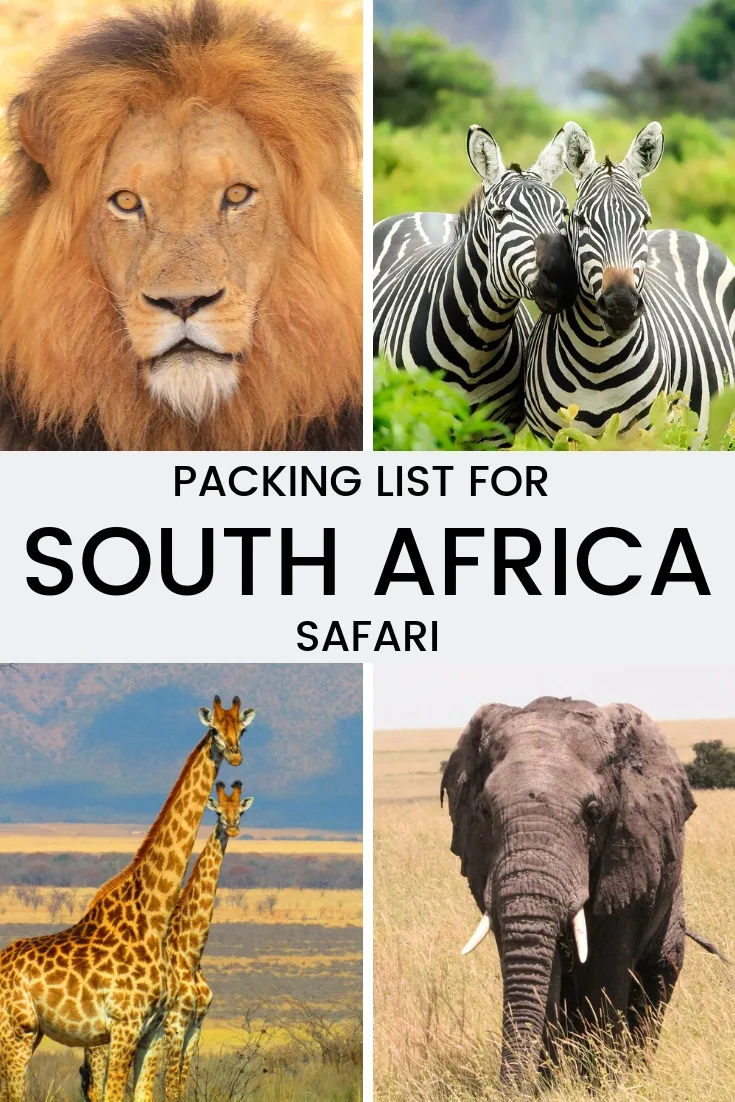 What to wear on an African safari (Best safari clothing)
Obviously everyone has different fashion tastes but there are some essential items I would suggest you add to your safari clothing packing list.
I would also strongly advise not buying a whole safari-themed wardrobe full of new clothes. Nothing screams tourist more than people climbing aboard the jeep wearing pith helmets and dressed head to foot in khaki.
Lightweight cotton items in neutral tones are the most practical items to add to your packing list for an African safari.
What colours should you avoid wearing on safari?
If you are wondering what colour safari clothes not to wear (or what colour clothes to avoid taking on safari) I would strongly suggest avoiding white.
The dirt roads can be extremely dusty and you can come back coated with a thin layer of orange dust.
Although not an issue in South Africa, the tsetse fly, which passes on human sleeping sickness, is attracted to black and blue clothing. Something to be aware of if you are visiting Tanzania, Kenya or Zambia during your trip.
If you are planning to take a walking safari do not wear white or bright colours. It is safer for you and less intrusive for the animals if you are wearing neutral tones that blend into the surrounding area.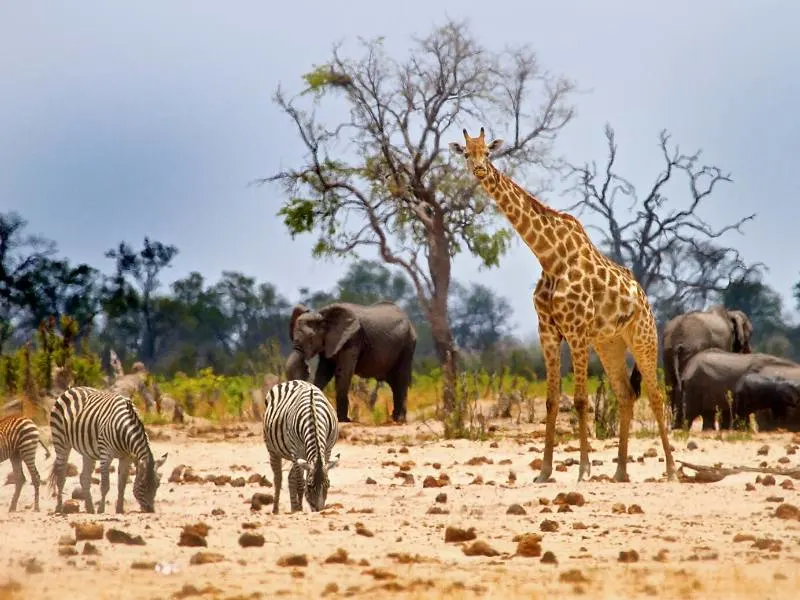 Dress for the weather
Most game drives occur during the early mornings/late afternoon/early evening. It can be quite chilly at these times so it is best to dress in layers and add/remove layers depending on the temperature. Even though it may be warm when you head out the temperatures can drop sharply when the sunsets.
I recommend packing a jacket or pashmina that you can wear if the temperatures are on the low side. The breeze can be very cold as you drive along in the jeep and you may even need a woolly hat and gloves if you are in South Africa during the winter.
I would advise checking the expected rainfall and temperatures during your trip but also bear in mind that increasingly unpredictable weather patterns may make it is worth preparing for all eventualities.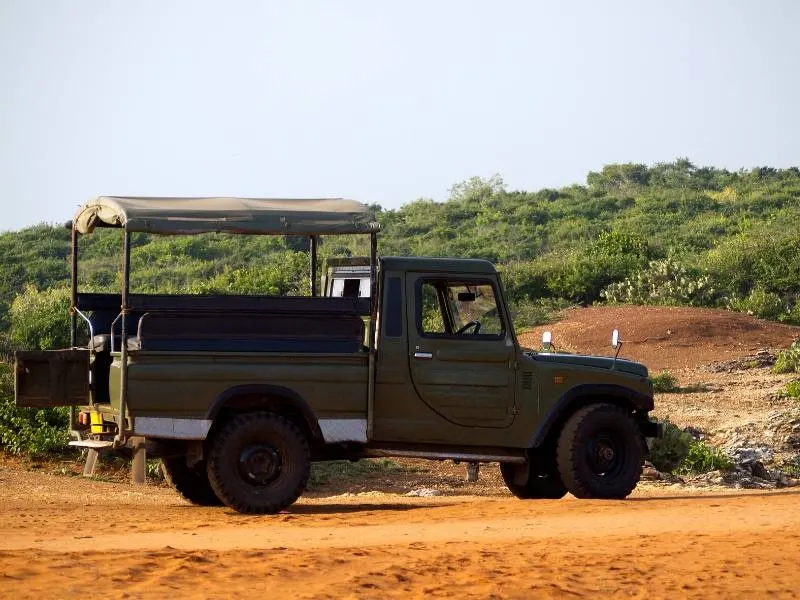 Learn more – Where to visit in South Africa: The Ultimate South African Bucket List
What footwear do I need on safari?
In terms of footwear trainers are the best option though I will admit to going out in sandals too (just avoid flip flops!). Trainers are best as they keep your feet covered and warm and also for climbing into and out of the vehicle which can be quite high.
If you are planning a walking safari you will need to consider bringing sturdy walking boots.
Consider your baggage allowance
One of the main things to consider is though you may have a 30 kg baggage allowance on your international flight this allowance may not be as generous when flying internally.
Don't overpack – think layers of lightweight clothing. Don't pack heels, fancy dresses and expensive jewellery.
Pack one or two outfits for the evenings if you are staying in a private lodge but otherwise seriously don't bother. Most lodges have laundry facilities so you really don't need to take a change of clothes for every day of your trip!
You may find my posts with recommended mini travel products and mini travel beauty products helpful.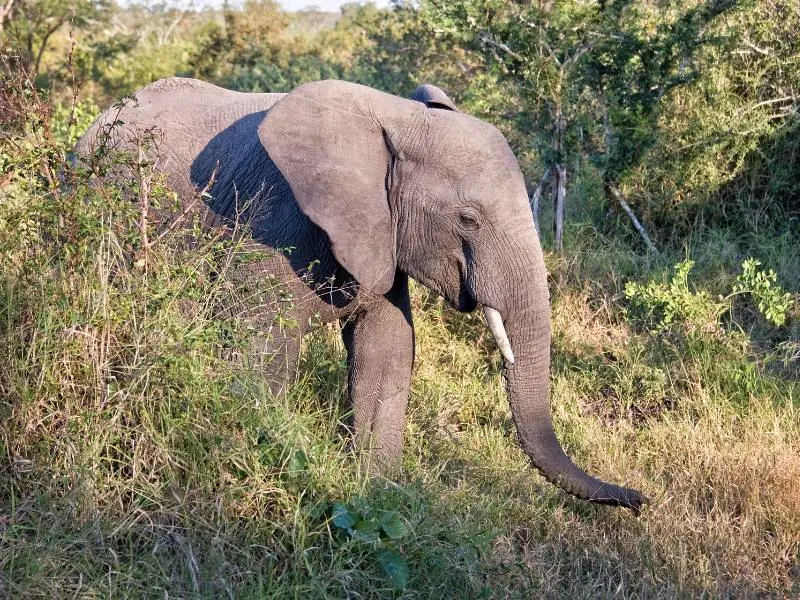 South African safari packing list
Essential packing list for your South African safari
Enjoy your African safari
This packing list for a safari in South Africa will provide you with all the essentials for your trip.
Remember to pack your camera/lenses and extra memory cards for all those fantastic memories you will make during your travels.
Read more about taking a safari in South Africa with my essential tips for first-timers as well as general advice and tips about what NOT to do when in the country.
You can find links to all my articles to help you plan your trip included in my Essential Travel Guide to South Africa.