This post may contain compensated links. Please read our disclaimer for additional information. As an Amazon Associate, I earn from qualifying purchases.
(This post about an African safari in Botswana was updated in 2019)
If you are thinking of booking a safari in Africa why not consider Botswana?
If you are looking for some inspiration before you book a trip to Africa this post will give you that in bucketloads as well as a taste of the adventures that awaits you! Find out exactly what a wild camping trip to one of the most beautiful countries in Africa actually entails.
What you will definitely experience is an adventure of a lifetime – it may be unlike any holiday you have taken before but the memories will last a lifetime.
If you are new to safaris why not read my posts – Tips for those embarking on their first African safari and a complete guide to what to wear on safari in South Africa.
Although I spent a number of years in Botswana and have visited numerous times this post was written by a relatives in their 60's who traveled to Botswana for their first safari.
---
An African safari Botswana
---
"Do you think you will cope with wild camping?" asked my husband, Kevin, when he'd found a safari holiday. Botswana is meant to be the jewel in the crown of safaris and this trip also included 2 days at Victoria Falls in Zimbabwe.
Could I do it? At 63 was this a bit mad? Wild camping? No facilities? Camp bed in a tent with wild animals roaming outside?
Well in for a penny, in for a pound so they say and I can tell you, it was the best decision ever! We experienced THE most amazing trip in a section of this huge country the size of France with a population of just over 2 million people and 200,000 elephants!
---
THE ELEPHANTS
---
We saw the magnificent elephants every day including having a mud bath to protect their skin against sunburn and parasites. We witnessed almost 80 cows cross the River Chobe with their trunks in the air and supporting their babies as the sun sank in the sky and nighttime descended. It was quite breathtaking. This male bull was within 50 metres of where we were standing, when we were on a walking safari. It was shaking a palm tree with his trunk and tusks, to release the fruit and seeds to eat.
---
OUR ACCOMMODATION – WILD CAMPING ON SAFARI BOTSWANA
---
Yes our accommodation was a bit basic, but we had good food cooked on camp fires in the company of a fantastic group of 11 like minded enthusiasts of wild adventure. Our tent with the ' bushy bushy' toilet in the background! We even had a bushy shower with hot water from the fire. Luxury.
The wood for the fires were bought from local people on the roadside during our travels.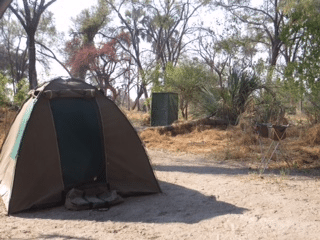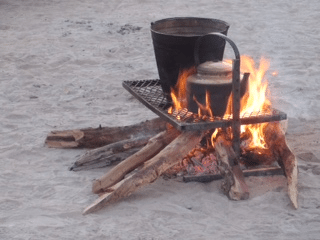 The cold early mornings, were well worth it, for the immersion into this stunning natural world which included vast
plains, huge starry skies, the Okavango Delta, enormous expanse of salt pans and incredible sunsets.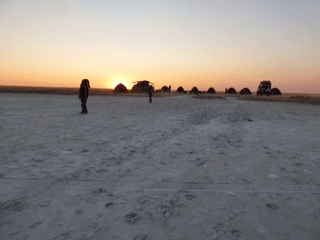 ---
THE WILD ANIMALS
---
Of course the real highlights which made this the most memorable of experiences was finding and watching the behaviours of the most beautiful wild animals in their natural habitats, thanks to our very experienced tour guide Sam and knowledge of our bushman Vasco.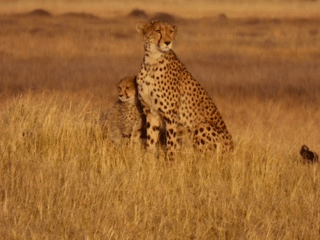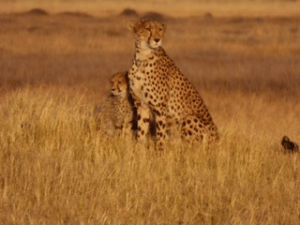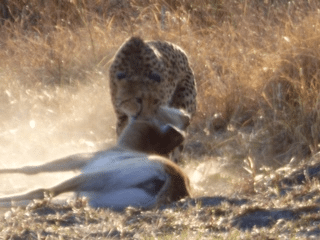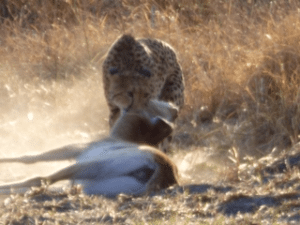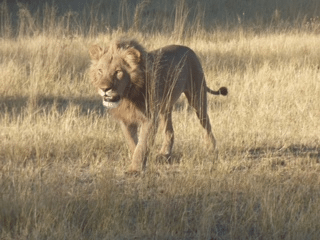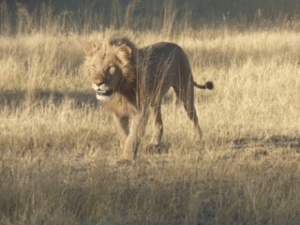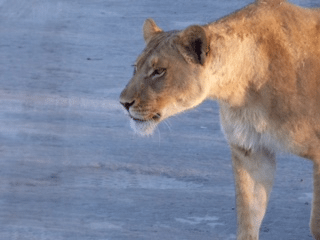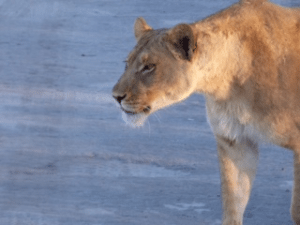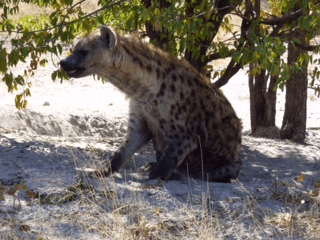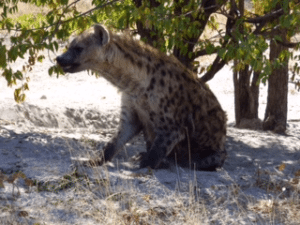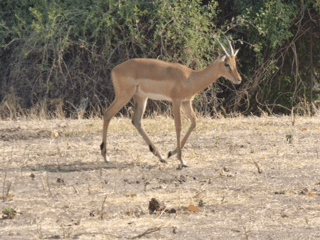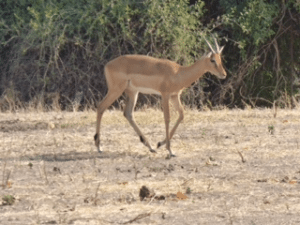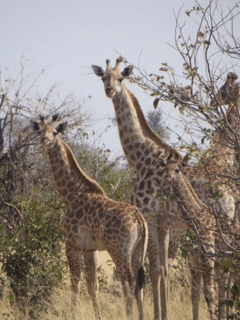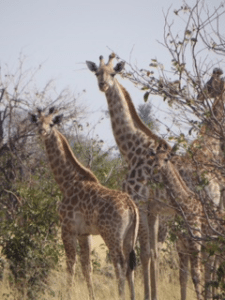 How to choose from my 1000+ photographs! Almost impossible. so those are just a few of the animals we saw. Of particular note, on an evening boat trip on the Chobe River, we encountered crocodiles basking on the waters edge as well as a huge range of birds who graced us with their beauty.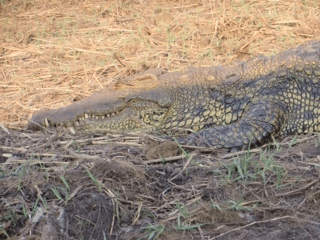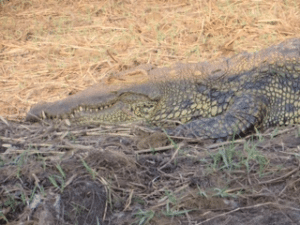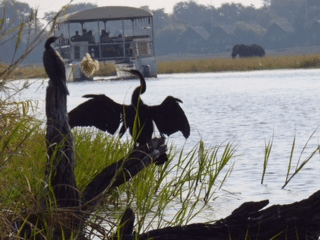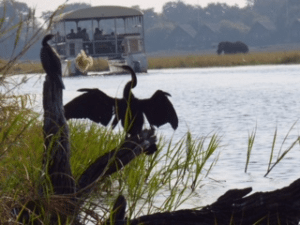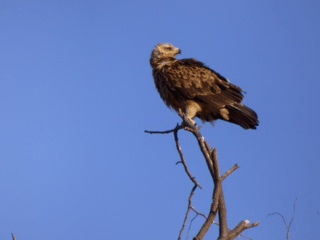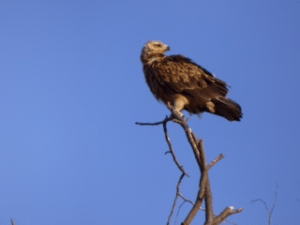 ---
OKAVANGO DELTA
---
Have you ever tried punting on the river Cam in Cambridge? Try poling Mokoros ( canoes) through the only inland delta in the world, with guidance from the expert local people!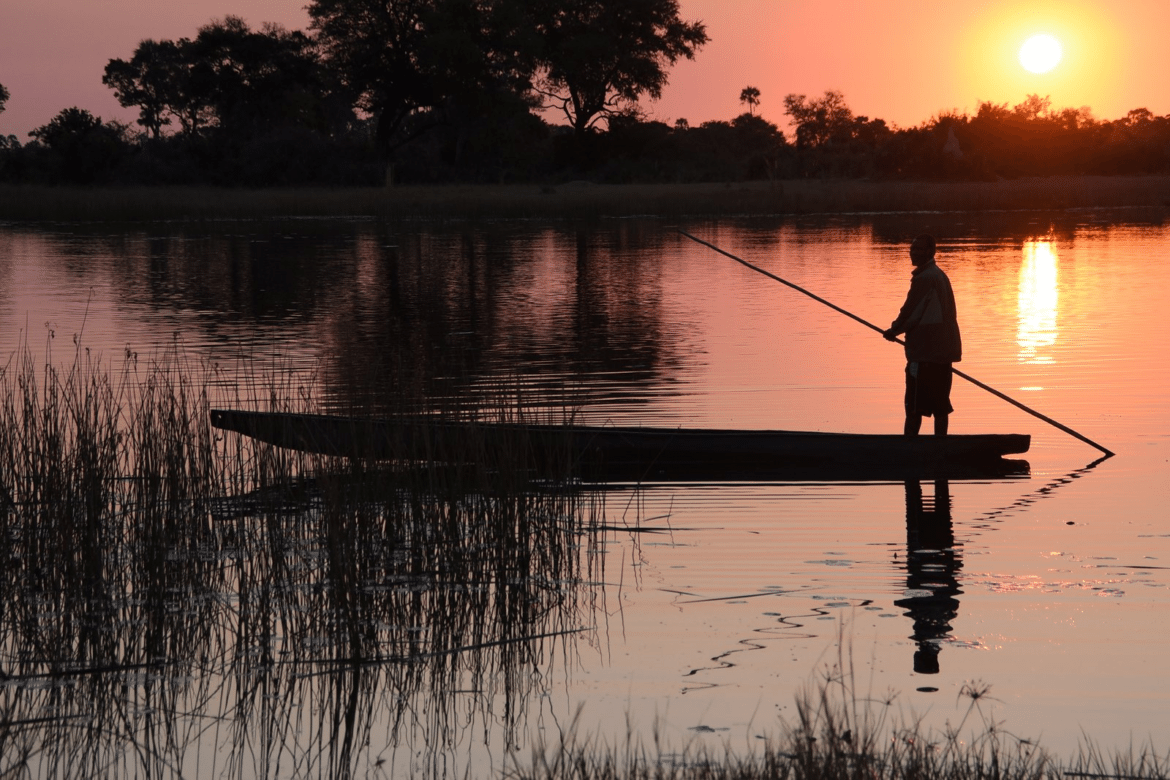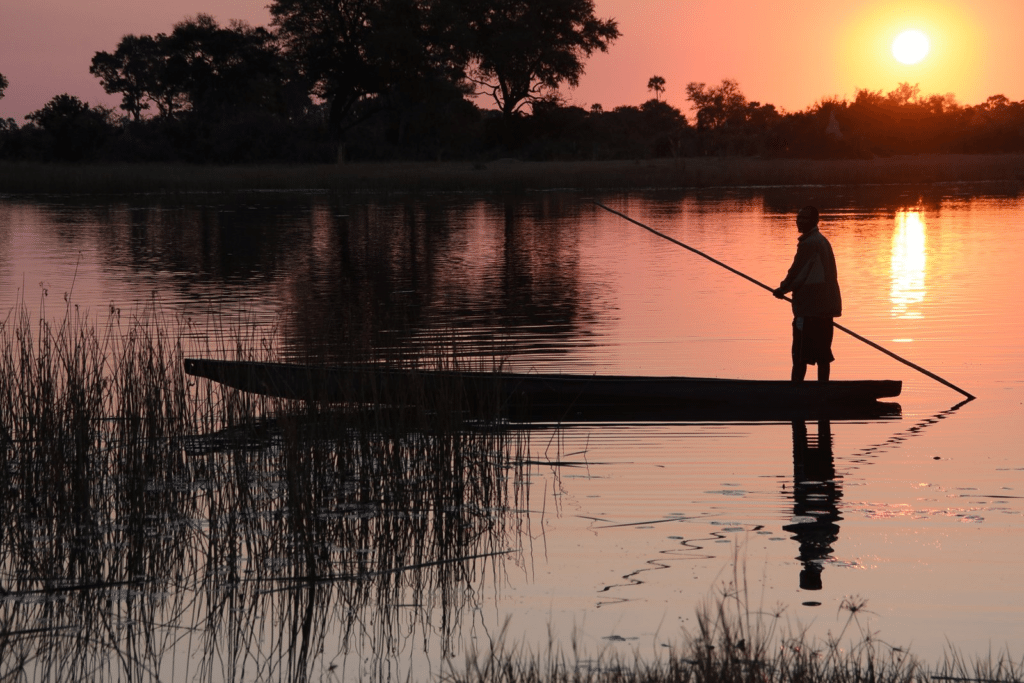 On our last night in the delta with these wonderful people, our guides and 'polers' regaled us with their traditional songs and dances and we all joined in with a song to remember the beauty of Africa.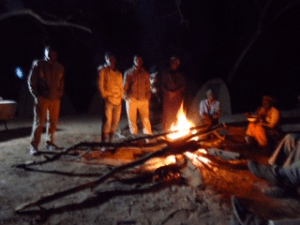 ---
ZIMBABWE AND VICTORIA FALLS
---
Two days in Zimbabwe enabled us to see the magnificent Victoria Falls on foot and with a birds eye view by helicopter.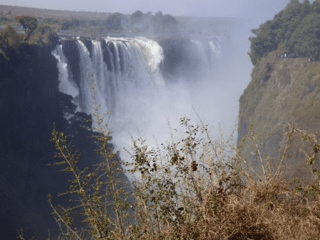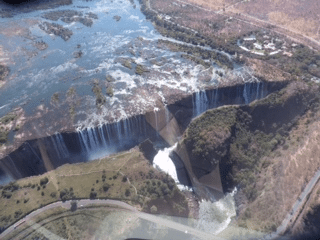 Thanks to a great group of people who we shared the experience with…..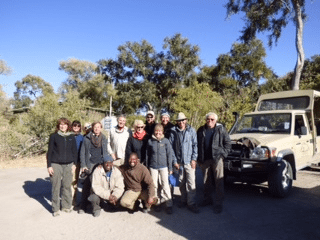 From left to right:
Di, Carina, Nina, Tony, Sam and Vasco ( kneeling), Phil, Sue, Paul, Pauline ( me), Andrew, Kevin and David.
~~~~~~~~~~~
Thank-you Pauline for telling us about your amazing adventure in
Botswana.
For those of you who have not been to southern Africa I can only further endorse Pauline's experiences – it is truly a magnificent part of the world.
***
YOU MAY ENJOY THESE POSTS ABOUT TRAVEL IN AFRICA
***
PIN FOR LATER!
This post may contain compensated links. Please read our disclaimer for additional information. As an Amazon Associate, I earn from qualifying purchases.
Over the last 50 years I have lived and worked in 7 countries on 4 continents and travelled to many more. I enjoy exploring and learning about new places and meeting people on my travels. History, reading, photography, nature and wildlife are my interests and I am ALWAYS researching and planning my next trip (preferably by train)
With a lifetime of travel experience, and a network of friends all over the world, I share genuine insider guides, recommended best book lists and train journey inspiration to help YOU travel authentically to some of the most beautiful places on earth.
Come and join me as I travel the world one country (and train journey) at a time!