Are you considering a visit to the beautiful South African city of Cape Town? Not sure what to include in your itinerary? I have you covered! In this article (written by a local) you will find all best things to do in Cape Town.
One of South Africa's 3 capital cities, Cape Town is overlooked by Table Mountain and sits close to the southwestern point of the African Continent. It offers visitors a myriad of options of things to see and do and spending a few days in the city should be on your South African bucket list and itinerary.
If you are planning a trip this guide to Cape Town will help you make the most of your visit.
Written by a resident of probably the most instantly recognisable of South African cities this insider guide to Cape Town gives you all the information, tips and advice you need to know to answer your questions about visiting Cape Town and help plan to make your trip the holiday of a lifetime including:
Top 5 things to do in Cape Town
Table Mountain
The most recognisable landmark is of course Table Mountain with its spectacular panoramic views of Cape Town.
The cable car operates from 08:30 to 20:30 in summer and 08:30 to 17:30 in winter.
Return tickets cost R330 for adults and R165 for children in the morning 08:00 – 13:00 and R290/R145 in the afternoon from 13:00 until close.
There are long queues in summer and so it is advisable to get there early and make sure you choose a clear sunny day or you won't see much! If there are adverse weather conditions the cable car will be closed.
Look out for the dassies!
Tip – Do not book your tickets ahead of the day – there is nothing worse than waking up to see Table Mountain sporting its famous tablecloth on a day you have tickets!
Website – Table Mountain Cableway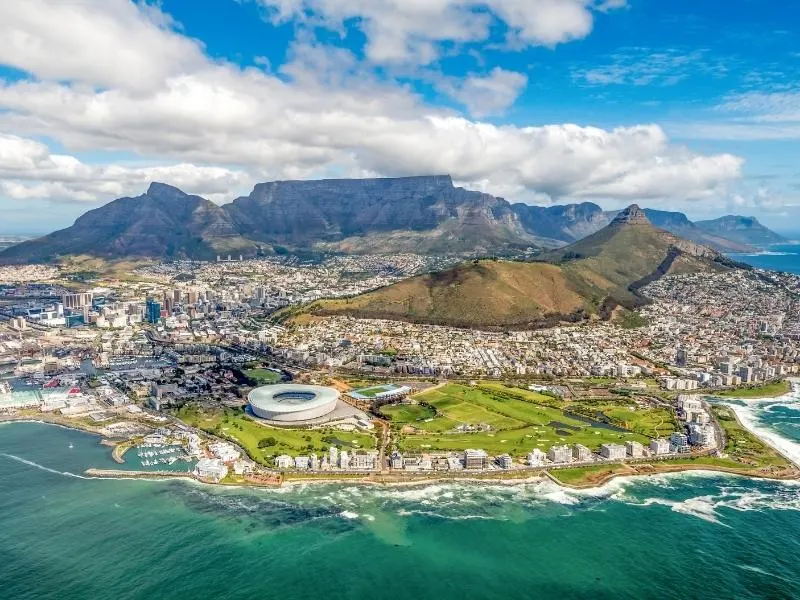 Visit Kirstenbosch Gardens
Visit one of the world's most beautiful gardens with striking mountain views and stunning plants and flowers all year round.
A must-see is the Treetop Canopy Walkway or "boomslang" which was built to commemorate Kirstenbosch's centenary. It is a wooden and steel structure that is over 100 metres long and there are fabulous views of the gardens and surrounding areas.
Make a day of it and wear comfortable shoes as there is a lot to see.
There are 2 restaurants in Kirstenbosch – the Tea Room for light meals and Moyo, an African-themed restaurant. You can also take your own picnic basket. Entrance costs R70 for adults and R20 for children.
Opening hours: 08:00 – 19:00 in summer and 08:00 – 18:00 in winter.
From November – March, there is a concert in Kirstenbosch every Sunday evening at 17h30.
Website – Kirstenbosch Botanical Gardens
How to get there by car – the gardens are 13 km from Cape Town and the route is well signposted.
How to get there by bus – the City Sightseeing Hop On Hop Off Bus stops at the entrance to the gardens.
Best tours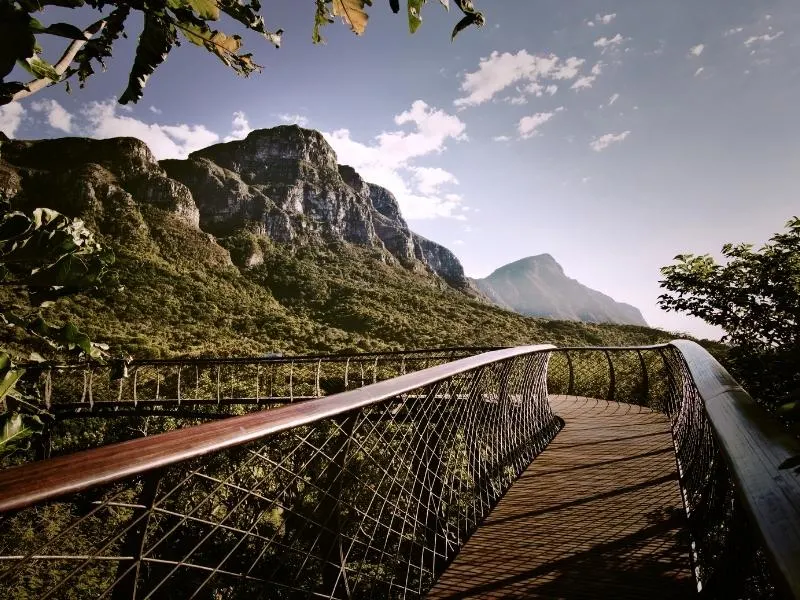 Victoria and Albert Waterfront
A tourist destination with beautiful views of the sea and Table Mountain, the Cape Wheel, boat trips, shops & restaurants.
Spend an afternoon or two browsing the shops, stop for a drink and admire views of Table Mountain.
The shops are open from 09:00 – 21:00 7 days a week.
Website – V&A Waterfront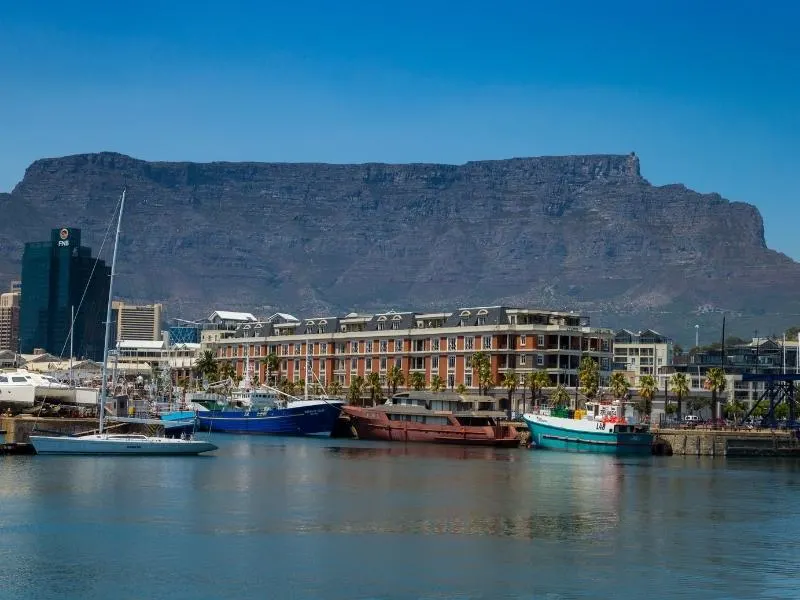 Constantia Wine Route
Cape Town produces some of the best wines in the world. At beautiful wine farms such as Groot Constantia, Constantia Glen, Eagle's Nest, Constantia Mist, Beau Constantia, Constantia Uitsig, Buitenverwachting, and Silvermist you can have lunch and do some wine tasting with amazing views.
BEST WINE TOURS FROM CAPE TOWN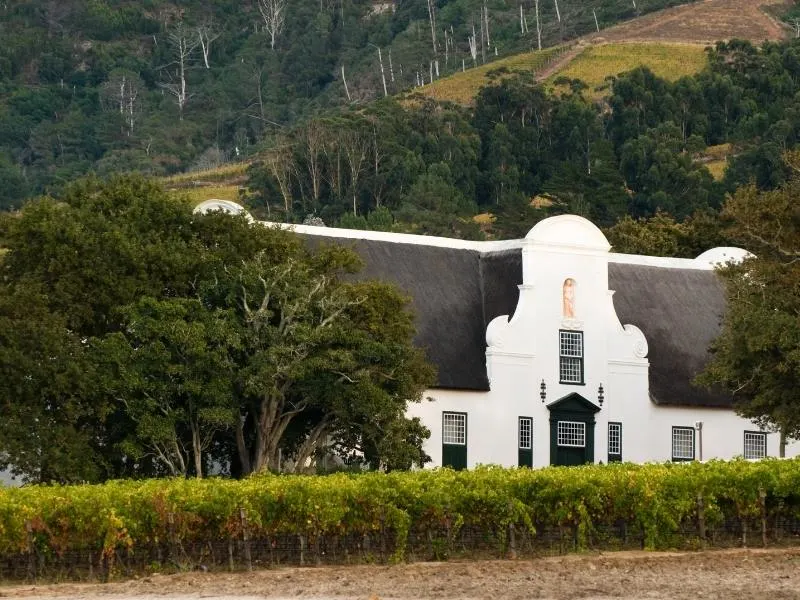 Robben Island
Now a UNESCO World Heritage site – Robben Island – where Nelson Mandela was imprisoned. Boat tours leave daily from V&A Waterfront.
Need to know – Do not wait to book tickets. Robben Island is a very popular destination and you don"t want to miss out when you arrive in Cape Town.
Website – Robben Island
BOOK TOURS
Robben Island Ferry Ticket with Hotel Pick-Up
Robben Island By Air Scenic Helicopter Flight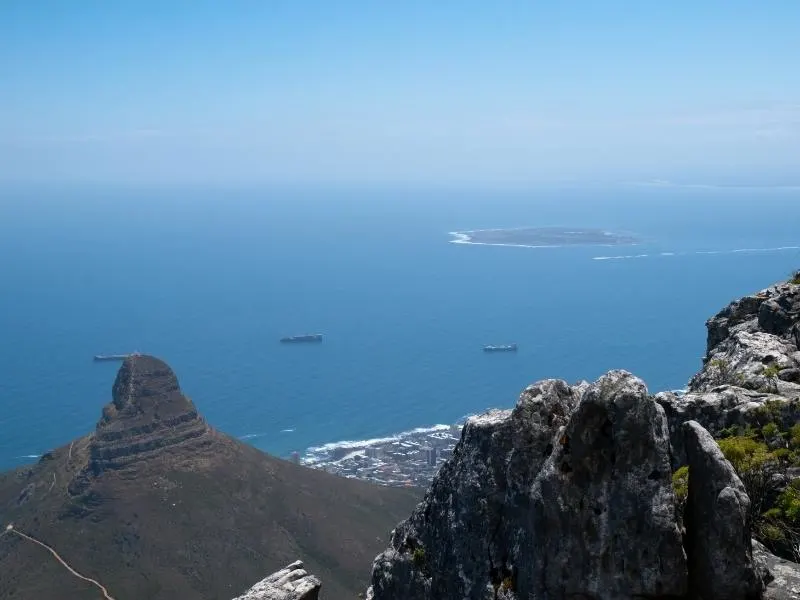 If you are planning to take a safari at one of the many game parks in the Cape then make sure to consider what to take (and not) to take when planning and packing for your holiday.
Read my game drive top tips and list of what to wear on safari to make the most of your trip. Check out this packing guide too.
More things to do in Cape Town
Cape Town Craft Market Guide
Craft Markets are an excellent place to buy quality handmade goods to take home for gifts. The best craft markets in Cape Town are:
Made in the Cape: Held in Cavendish Square on the first weekend of each month
Kirstenbosch Craft Market: Held on the last Sunday of each month (9 am – 3 pm) at the stone cottages opposite Kirstenbosch Gardens
Route 44 Market – Held every Saturday and Sunday in Stellenbosch.
Cape Town beach guide
Clifton Beach – trendy
Camps Bay Beach – family-oriented
Long Beach in Noordhoek – great for walking
Boulders Beach near Simonstown – view penguins
Muizenberg Beach – surfing
Blouberg Strand – kiting and iconic views of table mountain.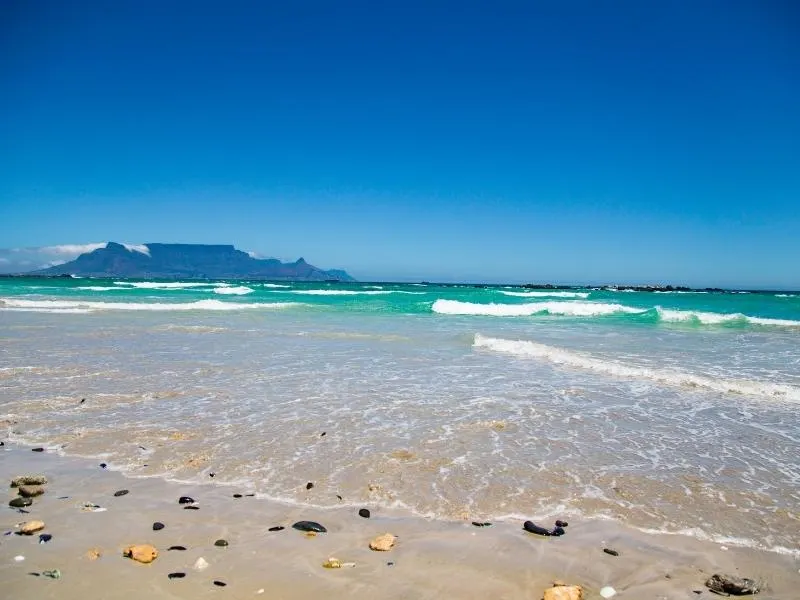 Walking trails in Cape Town
Cape Town has some magnificent walking/hiking trails and entry is free to many of them. Have a look at the All Trails website for a comprehensive list.
Remember to take plenty of water and sunscreen with you!
Seapoint promenade: Fabulous and safe paved walkway alongside the sea in Seapoint where people of all ages can walk, run, cycle, and skateboard.
Franschhoek and Stellenbosch are wineland towns an hour from Cape Town and are worthy of a day trip. Each town is rich in history and has lovely shops, award winning restaurants, and excellent wine farms.
Wild flowers – if you are visiting Cape Town in August/September, you must go and see the beautiful wild spring flowers on the West Coast. Good viewing places are the West Coast National Park near Langebaan as well as a number of smaller reserves around the town of Darling.
5 museums to visit in Cape Town
My choice of the top 5 museums to visit in Cape Town are:
TOP TIP
Some of the museums are free on the first Thursday evening of each month. See their website for more information.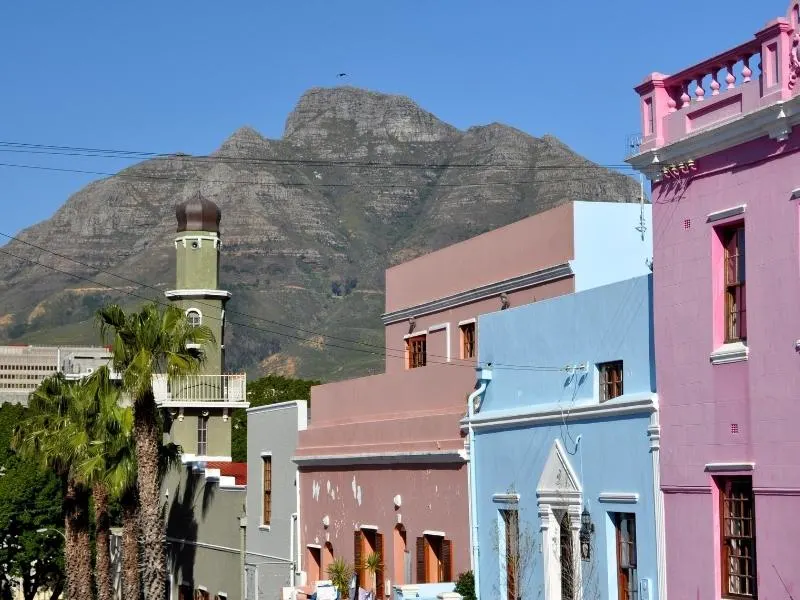 Tips for visiting Cape Town
How to get around Cape Town
Cape Town International airport is 15 minutes from the city centre. If you are not hiring a car, I recommend that you organise an Uber to collect you from the drop-off zone at the airport to take you to your accommodation as standard taxis are generally very expensive.
An excellent way to see the main attractions of Cape Town is the hop-on-hop-off red bus. There are 4 different routes – Red City Tour, Yellow Downtown Tour, Blue Mini Peninsula Tour and Purple Wine Tour.
CLICK HERE to book tickets for the hop-on-hop-off red bus!
During the day, visitors can use the My Citi buses to get around but it is important to purchase a myconnect card first as no cash is taken on the buses. Load your myconnect card at selected station kiosks. For information regarding the My Citi routes and costs, visit their website
Uber taxis are an easy and cost-effective way of getting around, especially at night.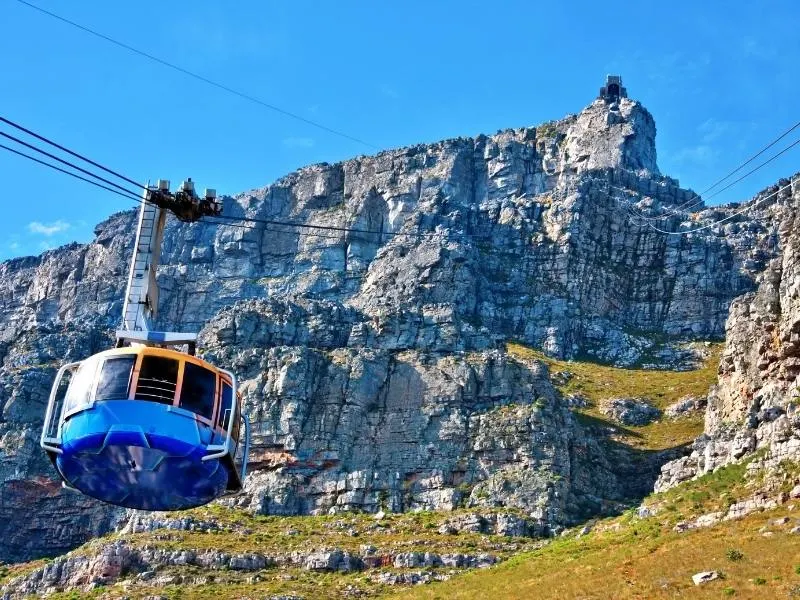 Tips for driving in South Africa
It is recommended to hire a car if you wish to travel outside of Cape Town to towns such as Stellenbosch and Franschhoek which are an hour's drive.
Driving is on the left side of the road. There are parkades at shopping malls and the V&A Waterfront which charge a reasonable hourly rate. Parking on the street is allowed in most areas and informal parking attendants are tipped R5 – R10.
If you planning to visit Cape Town why not include it in a two-week itinerary of South Africa?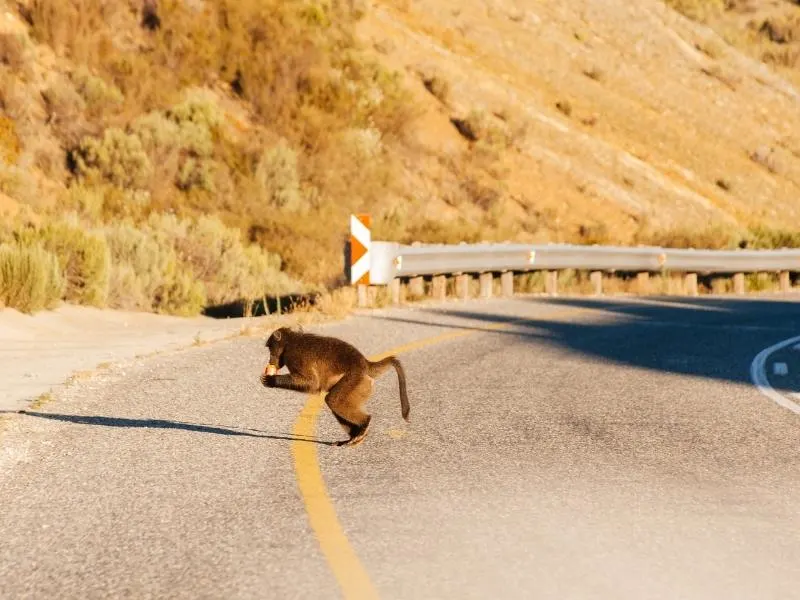 Where to stay in Cape Town
The top hotels in Cape Town are:
THE BELMOND MOUNT NELSON
In central Cape Town. 5-star colonial style hotel (and a fabulous High Tea!)
CLICK FOR UP-TO-DATE PRICES AND TO BOOK A STAY AT THE MOUNT NELSON HOTEL
TWELVE APOSTLES
On the coastal route between Cape Town and Hout Bay with beautiful sea and mountain views
CLICK FOR UP-TO-DATE PRICES AND TO BOOK A STAY AT THE TWELVE APOSTLES
THE ONE AND ONLY
Located on the V&A Waterfront. Views of the Harbour and Table Mountain
CLICK FOR UP-TO-DATE PRICES AND TO BOOK A STAY AT THE ONE AND ONLY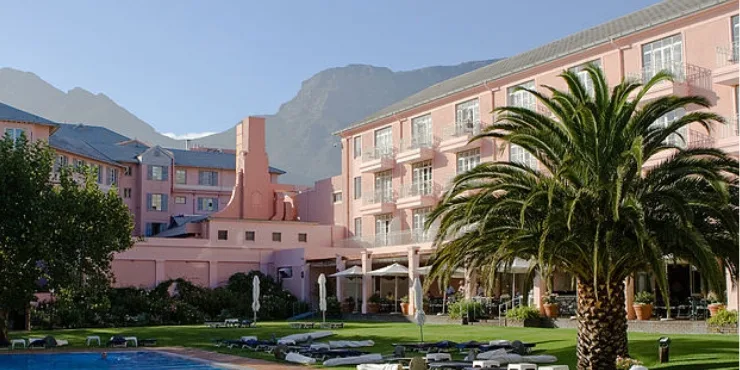 For the more budget-conscious
safarinow.com is an excellent site for B&B and self-catering accommodation to suit all budgets.
Airbnb is becoming increasingly popular.
Restaurants and eateries in Cape Town
Food markets are upmarket, trendy, hip, and extremely popular in Cape Town. They are great places to stock up on quality organic fruit, vegetables, cheese, free-range meat, honey, artisan bread etc and also to enjoy a tasty breakfast/lunch with barista coffee or a glass of wine or craft beer.
Saturday morning food markets:
The Oranjezicht Farm Market (V&A Waterfront)
The Neighbourgoods Market at the biscuit mill (Woodstock)
The Earth Fair Food Market (Tokai)
The Stellenbosch Slow Food Market (Ou Libertas Wine Estate in Stellenbosch)
Lourensford Market is held every Sunday at Lourensford Wine Estate in Somerset West.
The Hout Bay Harbour Market is open on Friday evenings, and all day on Saturdays and Sunday's for quality food and crafts.
Best restaurants in Cape Town
One of the best restaurants in Cape Town is the Test Kitchen in Woodstock which has won many awards. It is essential to book a couple of months in advance for an evening meal and at least a month in advance for lunchtime
Best formal restaurants – La Colombe (Constantia Nek), Kitima (Hout Bay), Catharina's (Steenberg Wine Estate)
Sea view – the Brass Bell in Kalk Bay
Best fish and chips – Mariner's Wharf Hout Bay Harbour.
High Tea – Mount Nelson
Seafood – Willoughby & Co at the V&A Waterfront
Tea and scones – Jonkershuis at Groot ConstantiaWine Estate
Cheese and Charcuterie platter – Constantia Glen Wine Estate
Cakes – Charly's Bakery in central Cape Town
Long Street in central Cape Town is a hip and trendy place to go for a night out. It is packed with restaurants and nightclubs. If you would like to try something different, I highly recommend Addis restaurant in Long Street which sells traditional Ethiopian cuisine. The food is delicious!
Tips – restaurant and bar staff are generally tipped 10 – 15% of the total bill.
When is the best time of year to visit Cape Town?
Spring – September-November
Summer – December- February
Autumn – March-May
Winter – June-August
The summer is hot and dry with temperatures reaching as high as 37 degrees and the winters are cold and wet.
Cape Town gets extremely busy in December as many South Africans from other cities visit at this time.
The best time to visit Cape Town is in Spring or Autumn. The climate is warm and sunny during these seasons with occasional rainfall.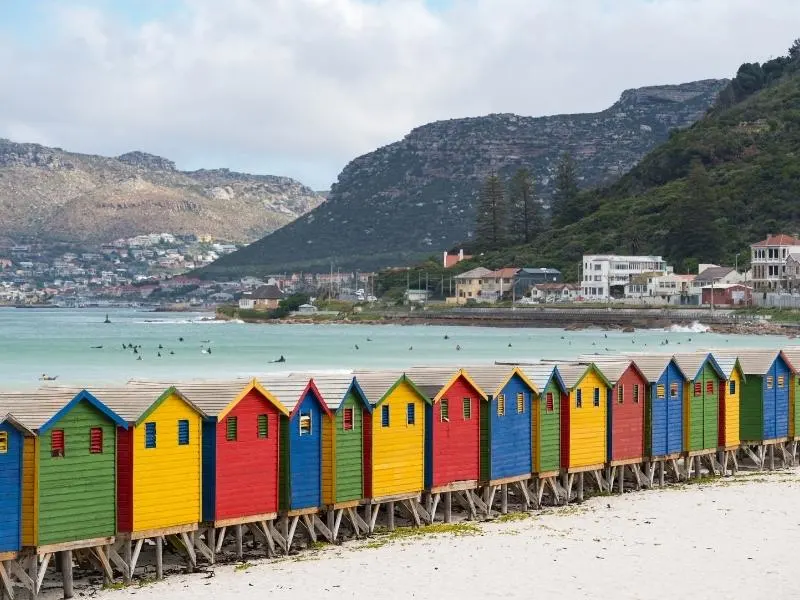 What NOT to do when visiting Cape Town
As with all major cities, it is best to avoid walking along quiet streets at night.
It is safer to go on walking trails in small groups and do not take any valuables.
Do not flash cash or jewellery and keep electronic devices such as mobile phones and tablets hidden in your bag in public places and when using public transport.
Read my post for further tips about keeping safe in South Africa. I also have a post about theft proof bags and backpacks which you may find helpful.
20 must-visit places to visit in Cape Town and the Cape Provinces
1. Stand at the top of Table Mountain
Where – Cape Town
Why? Because the views are fantastic! And who doesn't want to stand on top of that beautiful mountain?
The city of Cape Town is overlooked by the flat-topped Table Mountain so you really can't miss it! If you are flying into Cape Town airport look out for the views from the plan as you come in to land.
If you do intend taking the cableway to the top make sure you book as soon as you have the weather forecast (don't book to go when it is cloudy as you may see very little)
When you get to the top look out for some of the local wildlife particularly the dassies. Take one of the free walks (10.00 and noon) to some of the best lookout points – don't forget your camera.
There are shops and a cafe at the top of the mountain. Buy a postcard and post it into the postbox and it will be franked with a unique Table Mountain stamp.
TIP – Don't book your tickets too far in advance because if it is cloudy you will miss out on the spectacular views.
If you are planning to travel overland to Cape Town from Kruger Park check out this great 2 week itinerary for planning the drive!
Why not take one of the many hiking trails and hike to the top of Table Mountain?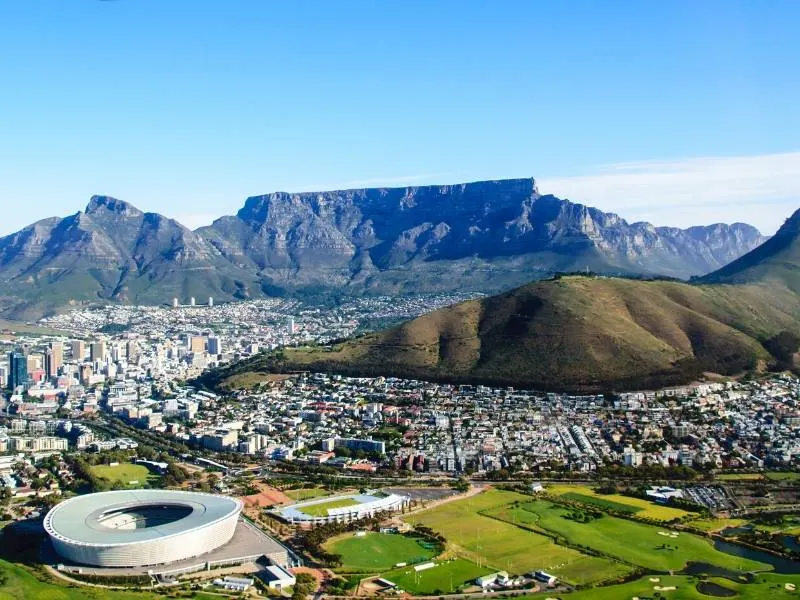 2. Take a stroll along the V&A Waterfront
Where? Cape Town
Why? For shopping, restaurants and those views of Table Mountain!
Explore the Watershed where you will find fashion, furniture, jewellery and lots of locally made arts and crafts. (I hope you have lots of room in your luggage for all the things you will surely buy!)
If you enjoy good food head to the V&A Food Market where you will find over 40 vendors selling a variety of foods from around the world.
Don't miss the street performers either who will keep you entertained!
TIP – Book a hotel near the V&A Waterfront and enjoy the many restaurants in the area.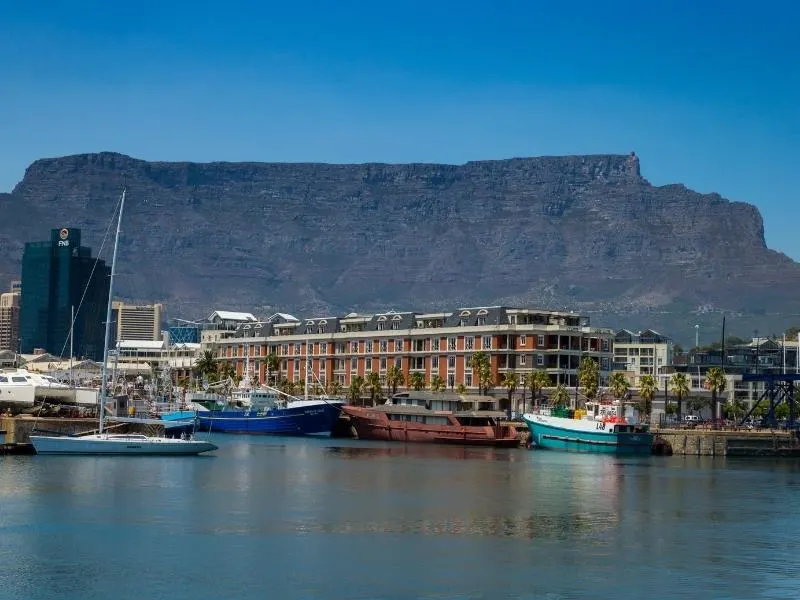 3. Visit the penguins at Boulder's Beach
Where – At False Bay just outside Simon's Town near Cape Town
Why? Because who doesn't love penguins! The colony of penguins at Boulder's Beach have been in residence since 1982 and are a popular tourist attraction.
There are approximately 2000/3000 penguins in the colony and they can be seen from one of the three boardwalks.
TIP – Go early to get parking! There is a conservation fee of R65 per person so remember to take some cash too.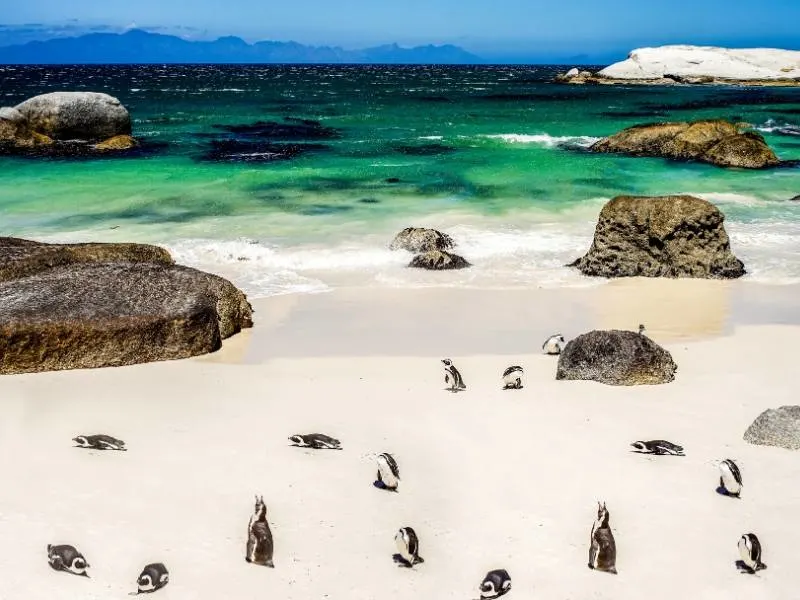 4. Try some South African wines
Where – There are some outstanding vineyards to visit in the Cape – head out on a road trip or tour from Cape Town to Franschhoek and Stellenbosch the most well known of the wine growing areas in SA and home to many fabulous vineyards.
Why? If you enjoy your wine you will already know that some of the best in the world comes from the Cape. Say no more!
TIP- Book a stay at a vineyard. There are also some excellent tours available too.
To find out more about wines around the world including in the Cape check out the wine travel guides on Carpe Travel.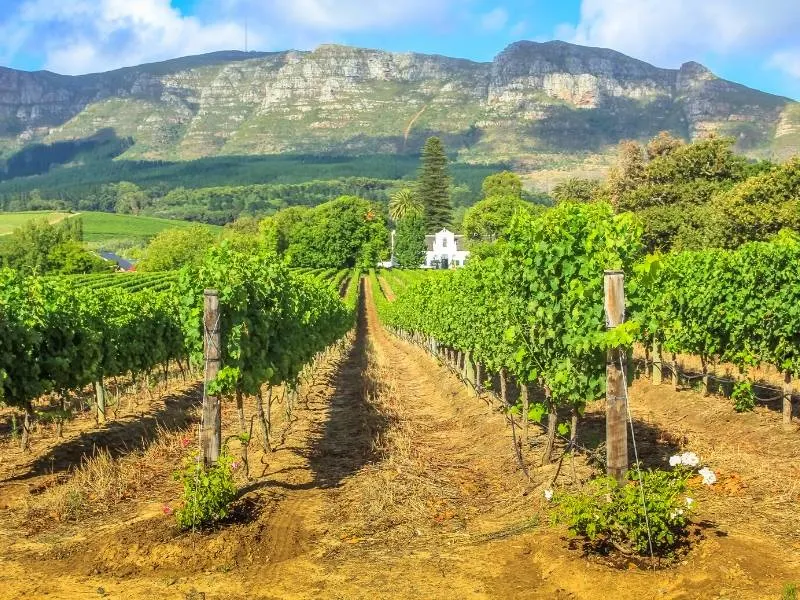 5. Visit Kirstenbosch Botanical Gardens
Where – Kirstenbosch is a beautiful botanical garden found against the eastern slopes of Cape Town's Table Mountain.
Why? It is probably set on the most beautiful setting of any botanical garden in the world!
I highly recommend visiting Kirstenbosch when you are in Cape Town whatever the season though apparently August to November are the bets months if you want to see the fynbos at its best.
TIP – Take a stroll on the Centenary Tree Canopy Walkway for panoramic views of the surrounding mountains.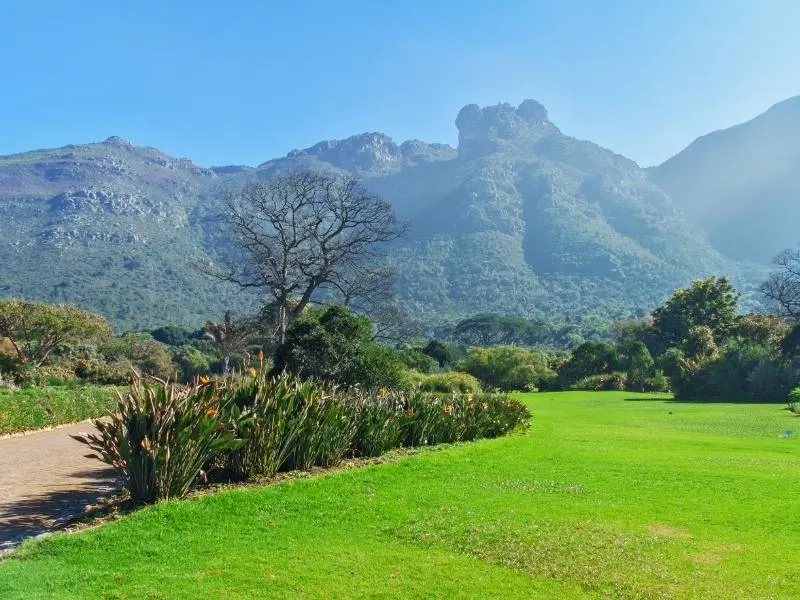 6. Visit Robben Island
Where – Robben Island is a small island in Table Bay about 12 km off the coast from Cape Town.
Why? One name – Nelson Mandela. He was held on the island for 18 of the 27 years he was imprisoned. The island is a designated UNESCO World Heritage Site
TIP – Book your tickets in advance – I have missed out twice through not booking ahead of our arrival in Cape Town!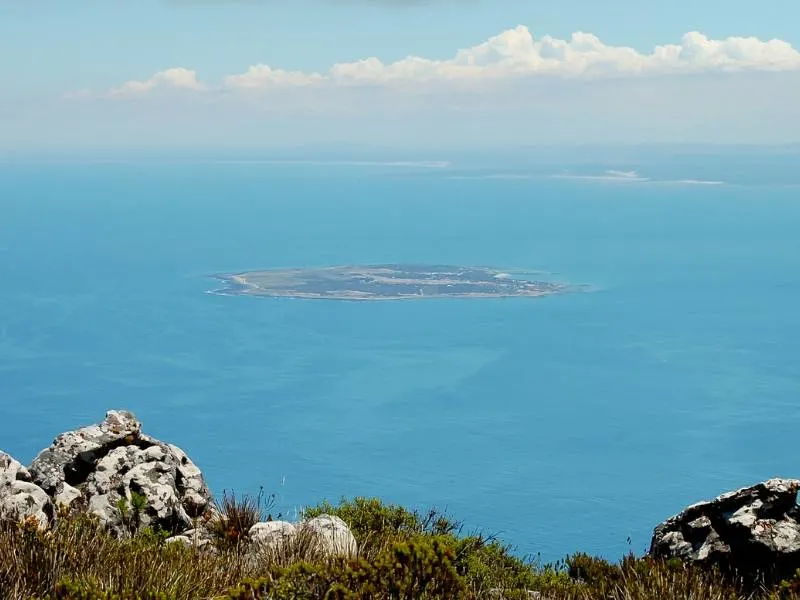 7. Drive the Garden Route
Where – A 200 km drive from Mossel Bay in the west to Plettenberg Bay and the Tsitsikamma Forest in the east.
Why – One of the world's most beautiful drives with beautiful coastlines and scenery. Pass through towns such as George, Wilderness and Knysna on your way.
Why not explore the Garden Route in a motor home– what a fantastic way to experience this beautiful drive!
If you are planning a road trip in South Africa check out my travel tips which are an essential read and include safety tips and things NOT to do when you are there.
TIP – Plan at least 5 days to drive the route and add lots of activities into your itinerary as there is a lot to do on the way!
Book hotels/B&B's along the route click here for suggestions!
8. See lots of ostriches at Outshoorn
Where? – Oudtshoorn which is on Route 62 an alternative drive deviating from the Garden Route which takes you through the Klein Karoo. (It runs from Cape Town to Outshoorn and is another great driving option)
Why? – it is the ostrich capital of the world!
TRACY'S TRAVEL TIP – Don't just visit the ostrich farms also head for Cango Caves an underground wonderland of limestone formations in all sorts of beautiful colours – be sure to book in advance as they are a popular attraction.
If caves are natural wonders you enjoy visiting on holiday this guide to caves in South Africa and the world is an essential read!
9. Go cage diving and come face to face with a Great White Shark
Where? Off Cape Town
Why? Because you probably are fearless.. or this is on your bucket list!
TIP – there are lots of companies who offer the chance to go cage diving with Great White Sharks. I would research options thoroughly before committing.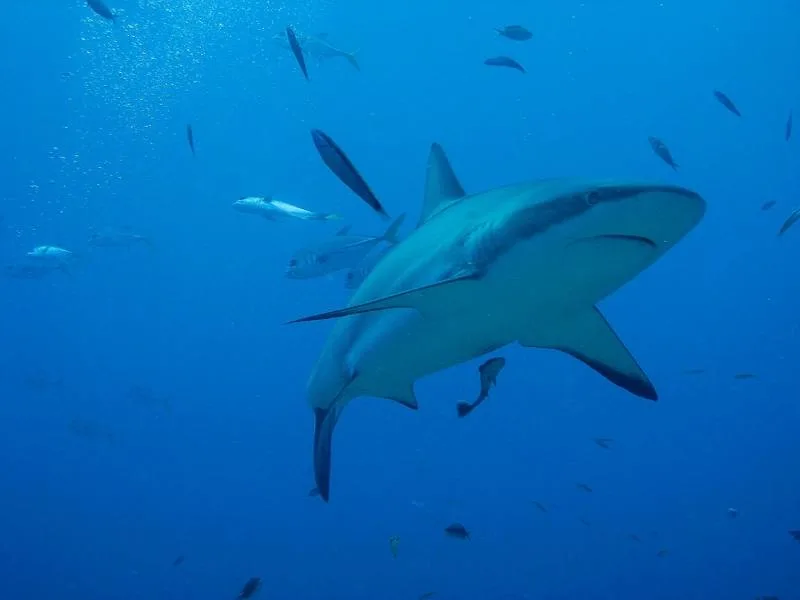 10. Stand at the most South-Western tip of South Africa
Where? – Cape Point is at the tip of the Cape Peninsula which is 60 kms south of Cape Town and part of the UNESCO World Heritage site of the Cape Floral Region.
Why? Bragging rights! What a great photograph too! (If you want a photograph at the most southern point of the African Continent head to Port Agulhas!)
TIP – Be extremely careful of the baboons – they will take food from you and can be very aggressive.
11. Go whale watching in Hermanus
Where? – Hermanus is situated on South Coast of the Western Cape. (90mins from Cape Town) and is famous for its incredible
Why? – For viewings of Southern Right Whales this is the place to be from late Sept to early October when the whales arrive to give birth. The whale season runs from June to late November.
TIP – check to ensure whales are around when you plan to visit as the season can vary slightly.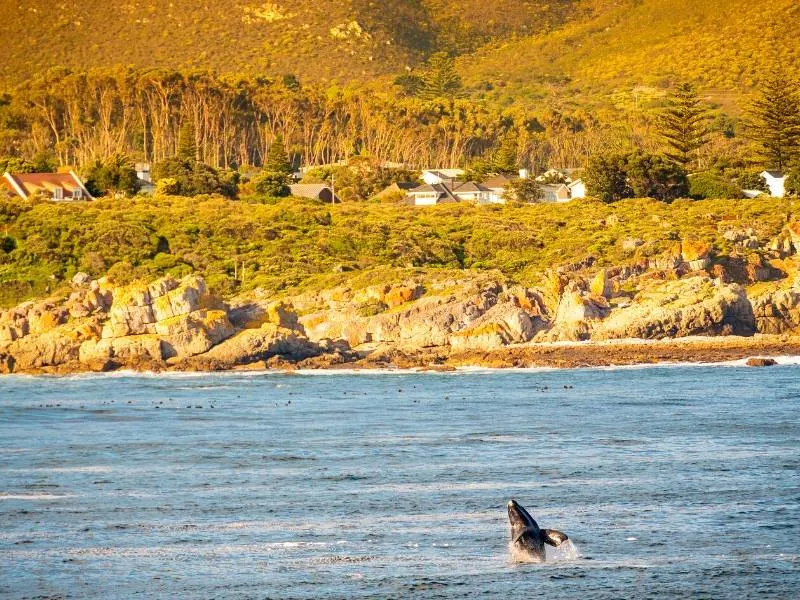 12. Visit Addo Park
Where? The third-largest game park in South Africa Addo is situated 72km from Port Elizabeth in the Eastern Cape.
Why? If you want to see elephants! If this is your first time on a game drive read my top tips to ensure you make the most of it. And if you don't know what to wear take a look at my recommended safari packing list!
TIP – There are also lots of outdoor activities available such as hiking and horse riding in the Addo area.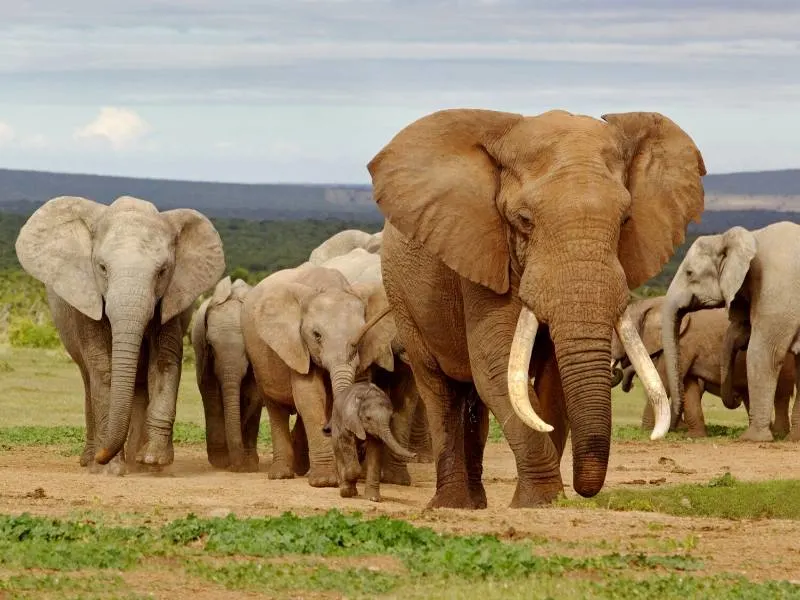 13. See the wild flowers in Namaqualand
Where? head to the Northern Cape (see Springbok on the map) for the Namaqualand flower route during the months of August and September
Why? To see stunning spring flower displays.
TRACY'S TRAVEL TIP – Stop off at the tourist information on the way as they will know where the best displays of wildflowers are!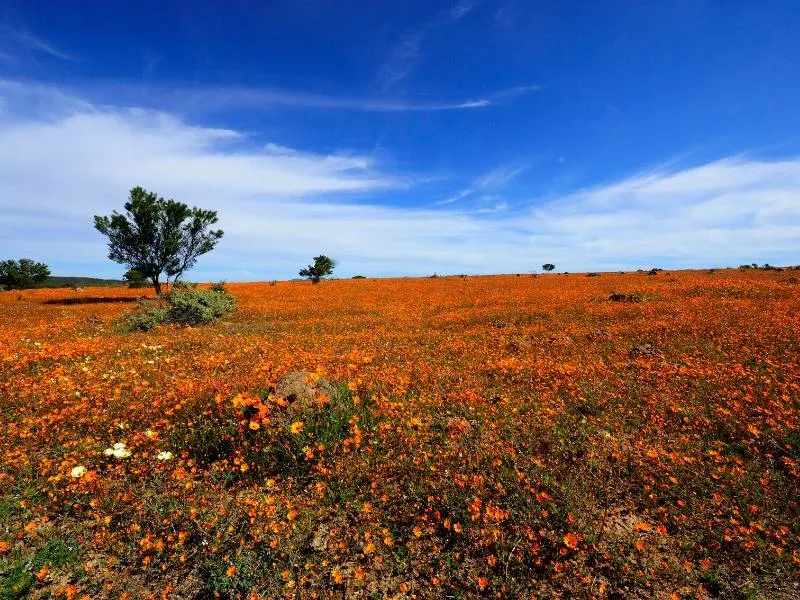 14. Peer into the big hole at Kimberley
Where? Kimberley (the diamond city) is the capital of the Northern Cape province.
Why? Because it is a seriously massive hole! It was the centre of diamond mining during the diamond rush in South Africa in the 1870s.
TIP – It gets very hot in this region in the summer (December/January) so try to visit at other times. To get around use the trams which are the only city in SA with a tram system!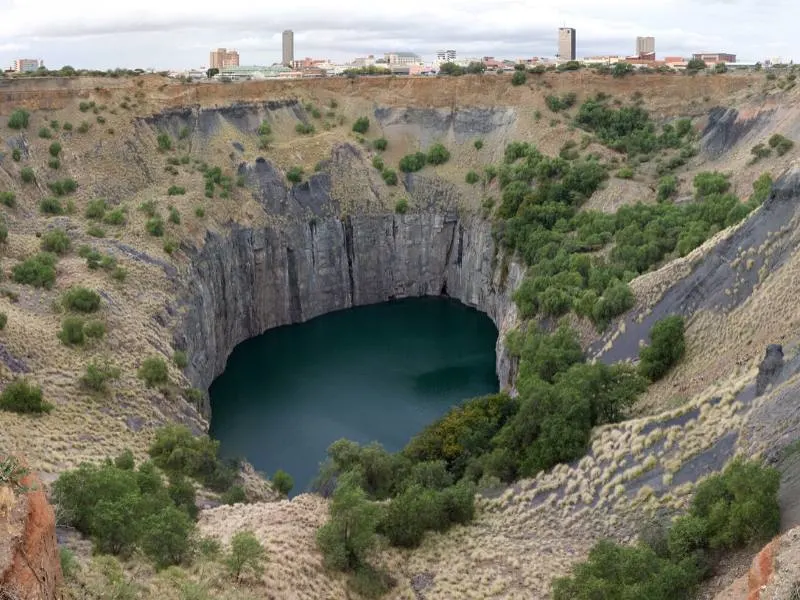 15. Visit Tsitsikamma National Park
Where? The Tsitsikamma National Park incorporates 80km of coastline and is on the Garden Route Trail between George and Port Elizabeth.
Why? If you are a fan of outdoor activities then spending time at Tsitsikamma National Park is a must.
There are a multitude of activities including hiking trails, bungee jumping, swimming and also the famous Storms River Suspension Bridge which spans 77 metres across the Storms River mouth and is a very popular attraction in the park.
TRACY'S TRAVEL TIP – There are lots of great activities to do in the area so make sure you are kitted out before setting off!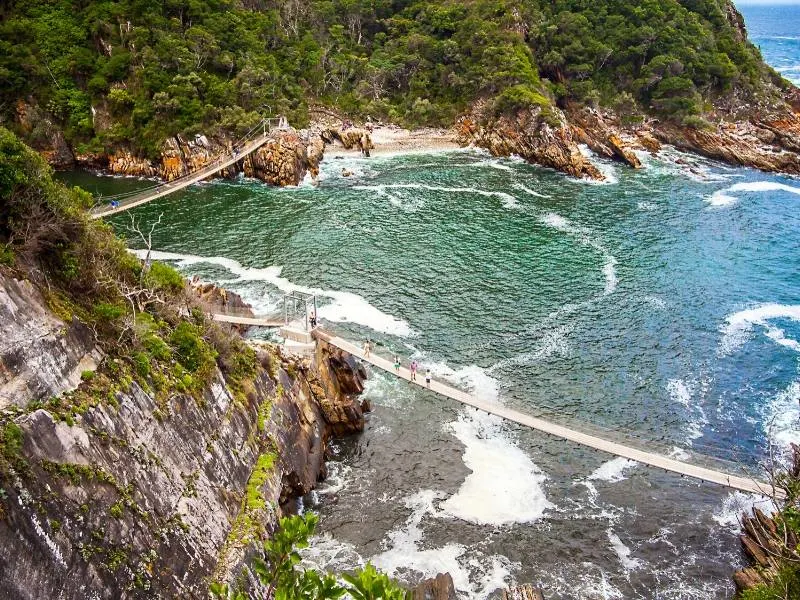 16. Visit the Valley of Desolation in Graaff-Reinet
Where? In the Camdeboo National Park near the oldest town in the Karoo Graaff-Reinet the site is a 14 km drive from the town.
Why? One of the greatest natural wonders in the world – see the unique landscape, ecosystem and scenic beauty of the Great Karoo.
TIP – Make sure you fill up with fuel and supplies in Graaf Reinet before you go!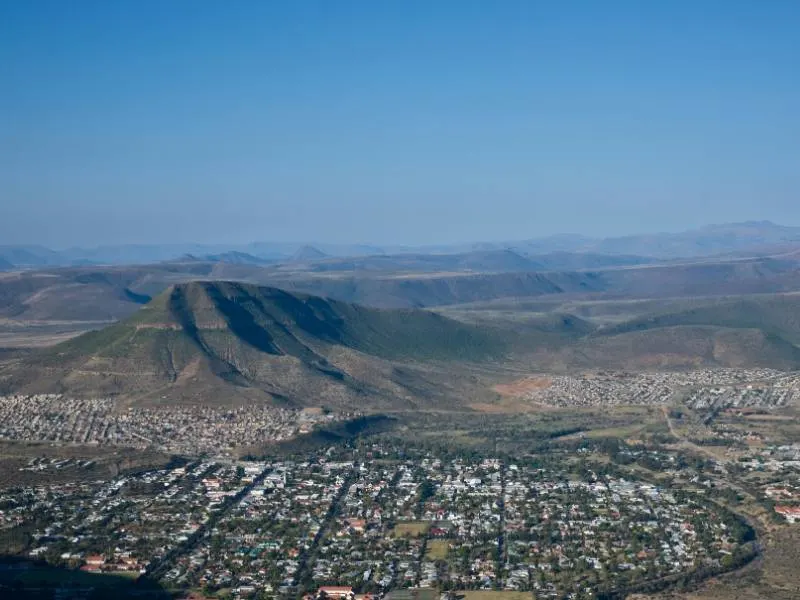 17. Visit the Owl House
Where? In the small village of Nieu Bethesda just past the Karoo town of Graaff-Reinet. (see number 15!)
Why? The Owl House is a museum of the work that was created by Helen Martins between 1945 and 1976. She created hundreds of sculptures using concrete, crushed glass, mirrors and wire amongst other materials.
TIP – For some background before you visit! Athol Fugard wrote a play about Helen Martin's life called The Road to Mecca. It was made into a film of the same name.
18. Cruise the Crags
Where? On the Garden Route beside Plettenberg Bay.
Why? There are loads of activities to do! This includes Monkeyland, Birds of Eden, Jukani, Lawnwood Snake Sanctuary, Tenikwa Wildlife Awareness Centre, The Elephant Sanctuary, Hog Hollow Horse Trails, Plettenberg Bay Game Reserve to name a few!
TRACY'S TRAVEL TIP – give yourself time as there are lots of things to see and do!
19.Visit some of the many museums in Cape Town
Where? In Cape Town there are many excellent museums including The District Six Museum, the Heart of Cape Town museum and the South African Jewish Museum.
Why? Learn more about the history and people of Cape Town
TIP – If museums are not your thing or you have kids then a visit to the Two Oceans Aquarium may suit you better!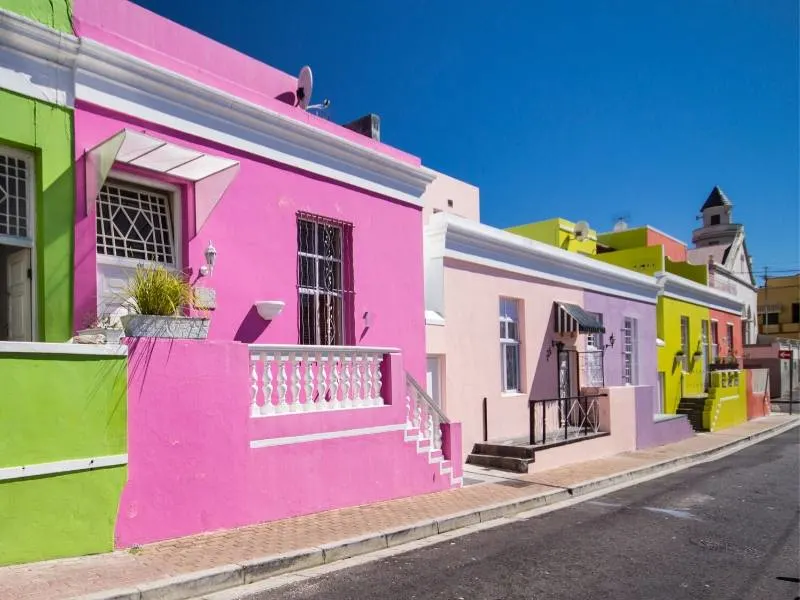 20. Stop off at Ronnie's S*x Shop
Where? Where Route 62, outside Barrydale
Why? No it isn't actually a s*x shop! Ronnie's friends played a prank on him years ago and added the "s*x" part! Stop off for an ice cold beer or bite to eat! Ronnie's is legendary on Route 62 and a must-visit!
TIP – Check out the impressive collection of bras and undies hanging over the bar that have been signed and donated by many of Ronnie's female visitors over the years! You can also add to the collection.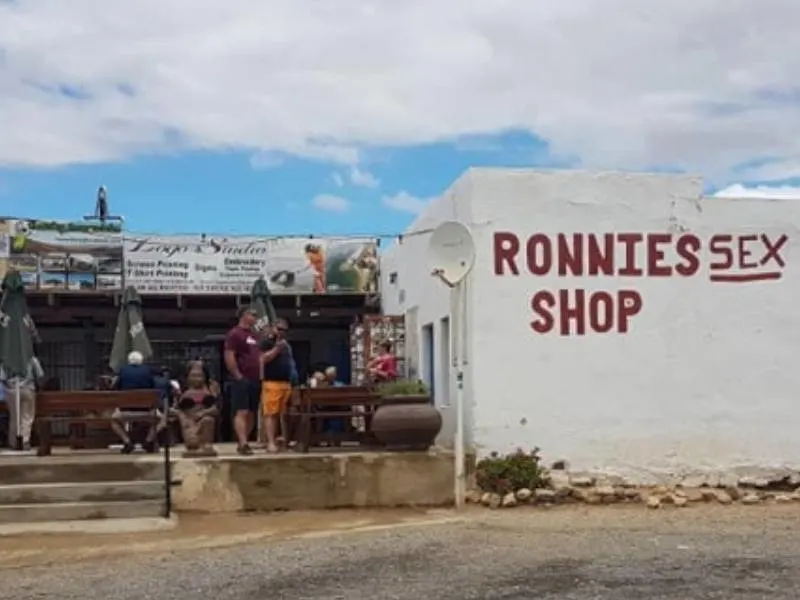 More South Africa travel inspiration
There are many reasons to visit South Africa including exploring cities such as Cape Town, enjoying the food and wines, relaxing on the gorgeous beaches and spotting wild animals on a game drive in one of the many game reserves and parks.
My South Africa bucket list is a great place to start to find out the best places to visit and things to do in the country.
My reading list includes books to read before you visit and if you enjoy movies this selection of the best South African films to watch before you visit is essential viewing.
You can find links to all my articles to help you plan your trip included in my Essential Travel Guide to South Africa.
Author Bio
A huge thank-you to my friend Marie for completing this "insider guide to Cape Town" for me! Marie and I have been friends for nearly 37 years and were best friends in the last few years of secondary school.
Cape Town, South Africa
How long have you lived there?
5 years
I am self-employed and I design, make and sell handmade leather bags! (see Hot Pink Frog Designs on FaceBook. Cape Town is a very creative city and is often referred to as a design capital. (Photographs courtesy of Marie)
What is the best thing about where you live?
For me, the best thing about Cape Town is the striking natural beauty of the sea and the mountains. It has some of the most dramatic scenery in the world and some beautiful beaches and walking trails.
It is also a bustling cosmopolitan city and many people from the UK and Germany have settled here which gives it an international flavour. The shops and restaurants in Cape Town are world class.