This post may contain compensated links. Please read our disclosure for additional information. As an Amazon Associate, I earn from qualifying purchases.
Last Updated on August 13, 2019
Let Witches Falls Cottages cast a spell over you.
We recently spent a night at the enchanting Witches Falls Cottages. The cottages can be found nestled in the beautiful surrounds of Mount Tamborine in the Gold Coast Hinterland. Nicknamed the "green behind the gold" Mt Tamborine and surrounds are one of our favourite weekend getaway destinations.
After our stay I can testify that spending time at Witches Falls Cottages will leave you rested, relaxed and rejuvenated. At Witches Falls you will discover 6 cottages, each surrounded by a private garden, which provide the ultimate destination for couples seeking a romantic getaway. Whatever the occasion – honeymoon, babymoon, special anniversary, birthday, or simply an opportunity to escape for a few days of rest and recuperation Witches Falls Cottages is the accommodation you are looking for.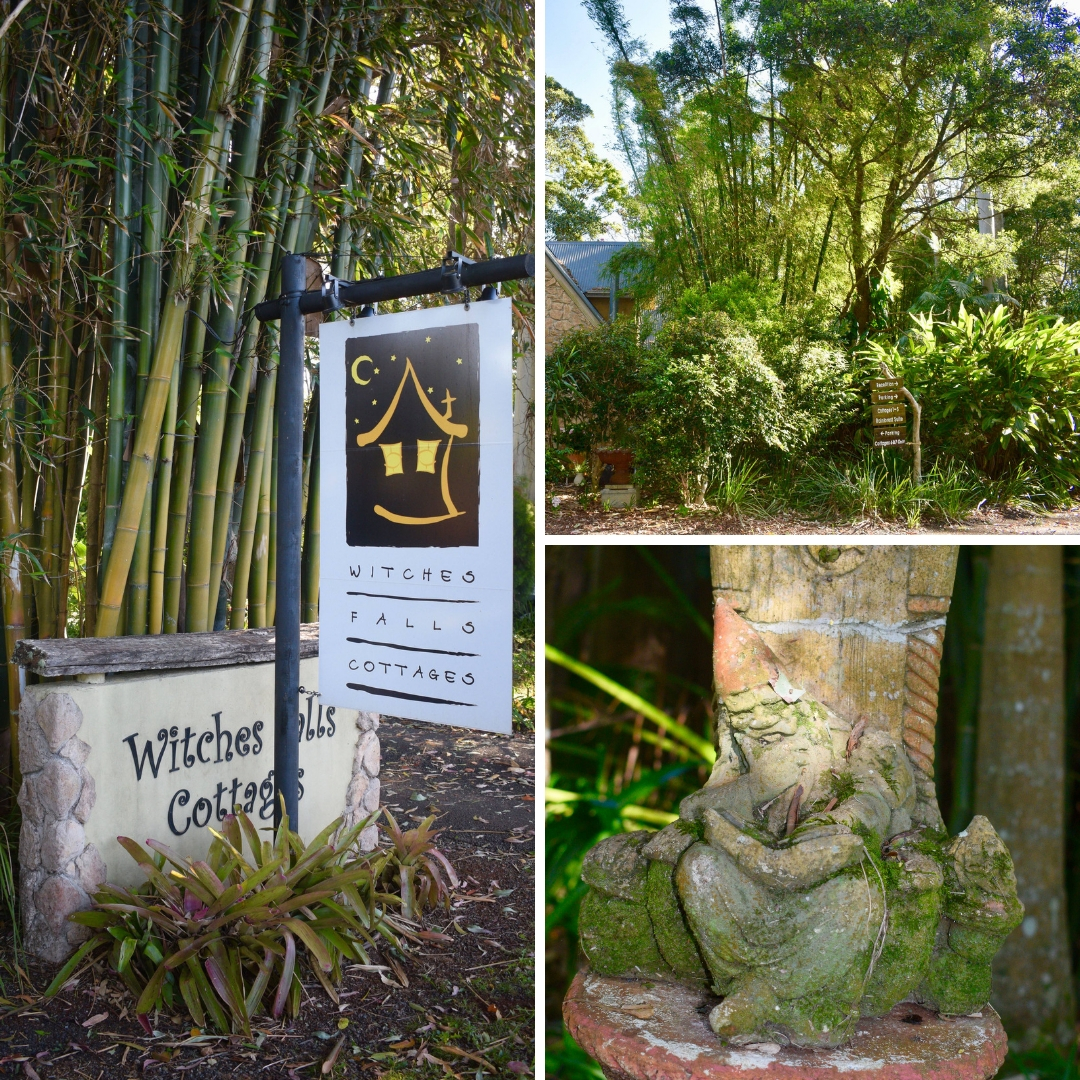 ---
RELAX AND UNWIND AT WITCHES FALLS COTTAGES
---
Witches Falls Cottages can be found an hour south of Brisbane and approximately 40 minutes from the Gold Coast. They are located on the corner of Hartley and Main Western Road and opposite the Witches Falls section of Tamborine Mountain National Park. When the park was created at Witches Falls in 1908 it was the first national park in Queensland, the second oldest in Australia and the third oldest in the world. What an accolade!
I was particularly looking forward to our stay at the cottages after receiving the confirmation e mail of our reservation from the Chief Wizard at Witches Falls. Cottages that are overseen by their very own wizard have to be very special!
On arrival at Witches Falls Cottages, and following a warm welcome from Tash at reception we were shown to our private cottage. Set amongst the beautiful mountain forest we followed the path from reception to Cottage number 2 – our very own escape for the night. Watch out for the little wizard statues along the way !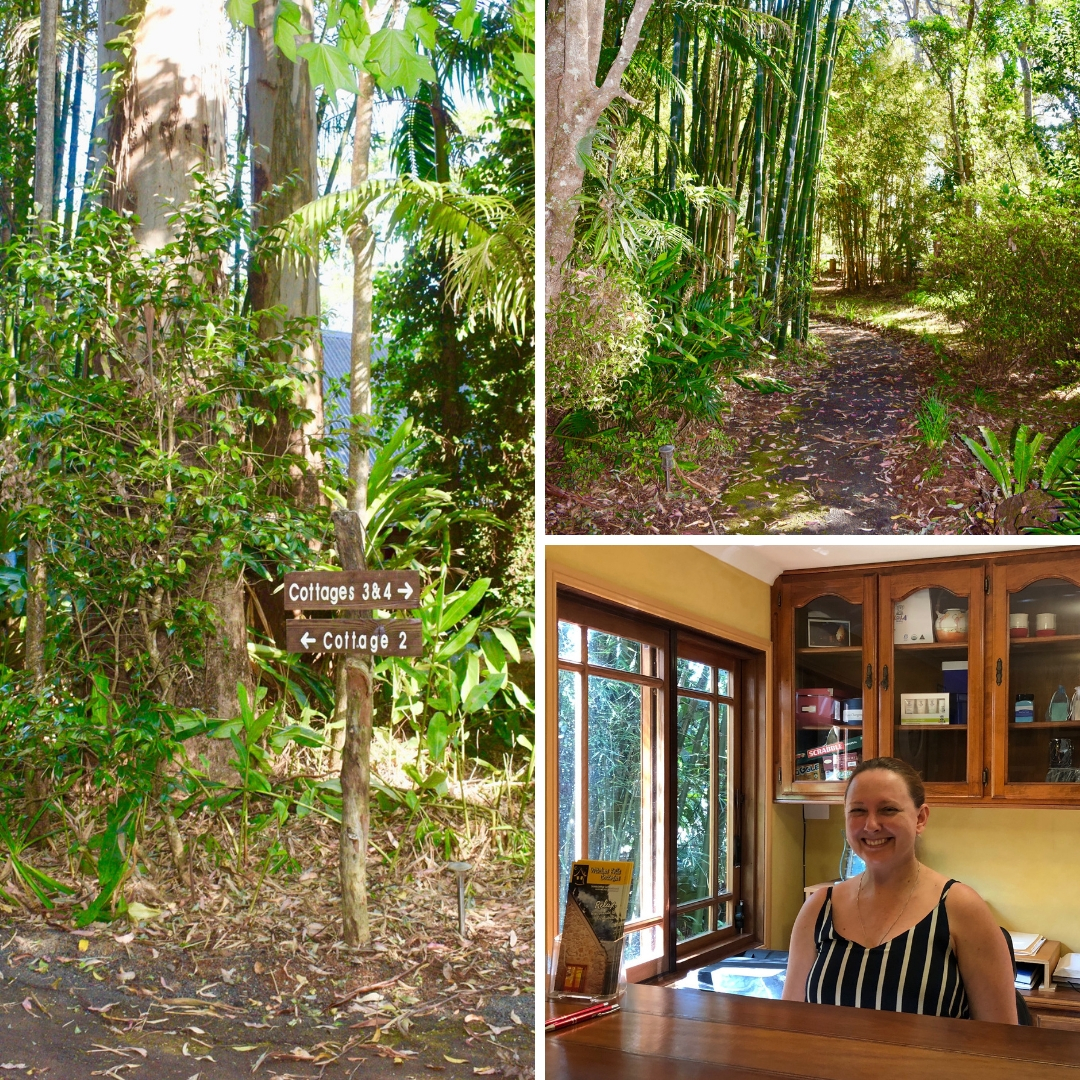 ---
WITCHES FALLS COTTAGES IN THE FOREST
---
Each cottage is beautifully appointed and equipped with everything you could possibly require. A large comfy bed, two televisions (watch TV from the bed or the large lounge), a DVD player, CD player, bath robes, a log fire, AirCon, a private courtyard and BBQ, fully equipped kitchenette, bug spray, hair dryer and more. Everything you could need is in the cottage (including a torch if you decide to go out for the evening).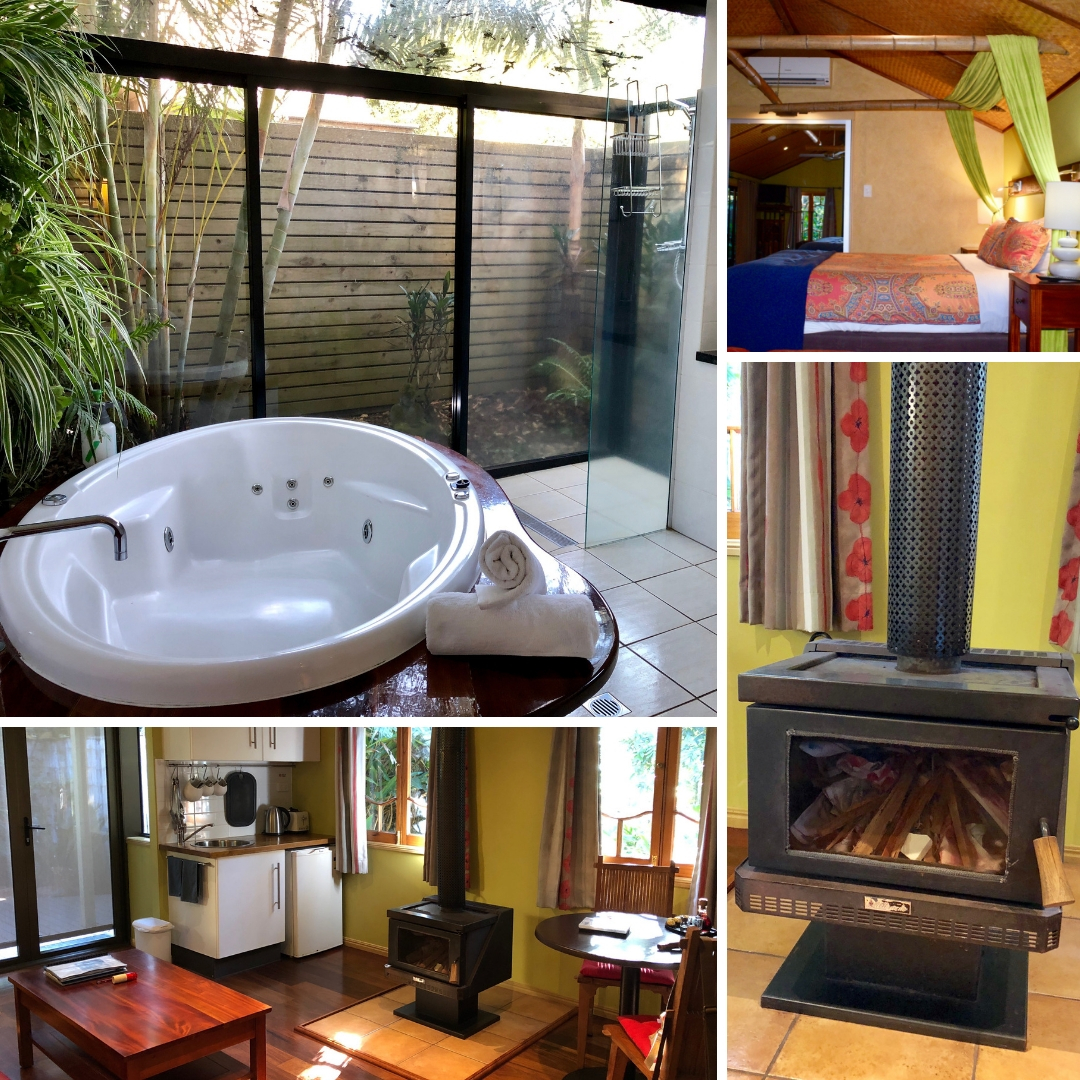 Although it was a little warm I was very tempted to light the wood fire burner and relax with the complimentary port and chocolates. But I had a better idea!
Each cottage is equipped with a double spa bath with glass walls and ceiling so where better to relax and soak life's troubles away. Open the glass walls and enjoy an open air bath surrounded by the sights and sounds of the forest. With a glass of delicious port in one hand and a chocolate in the other it was pure bliss!
If you enjoy watching DVD's there is an extensive collection available at reception. Although we chose 2 DVD's we actually didn't watch them as that spa bath was just too tempting!
Bathrobes are provided as well as a selection of toiletries. There is also a wonderful shower which is surrounded on two sides and above by glass so you really can enjoy that indoor/outdoor experience.
If you choose to head out for dinner there are some great local restaurants in the area just make sure to book ahead (and also check if you are staying in the week as some are closed)
---
WITCHES FALLS COTTAGES SIGNATURE PACKAGES AND SPECIALS
---
Witches Falls Cottages offer a number of signature packages which you can book to make your stay even more special. These include a hot air ballooning package , a sea shell massage package and an anniversary package.
All of these sound absolutely fantastic and with a special wedding anniversary on the horizon next year I will definitely be hinting to my husband that this is my destination of choice!
---
BREAKFAST AT WITCHES FALLS COTTAGES
---
There are 2 options to choose from for breakfast – the BBQ or the GOURMET breakfast hamper. We decided at check-in to choose the gourmet option and ticked the relevant box so the chief wizard knew what hamper to deliver to the cottage in the morning.
Just in case you decide you want the BBQ hamper I have heard that the sausages are amazing! There is a BBQ in your private garden so you prepare your breakfast and cook it to your own liking.
The following morning a large wicker basket was left on the table outside our door. Opening it we found it to be filled with goodies – yoghurt, cereal, fruit, avocado. jam, cheese, ham and delicious freshly baked (and still warm) bread. We enjoyed setting the table in our little garden and tucked into our feast.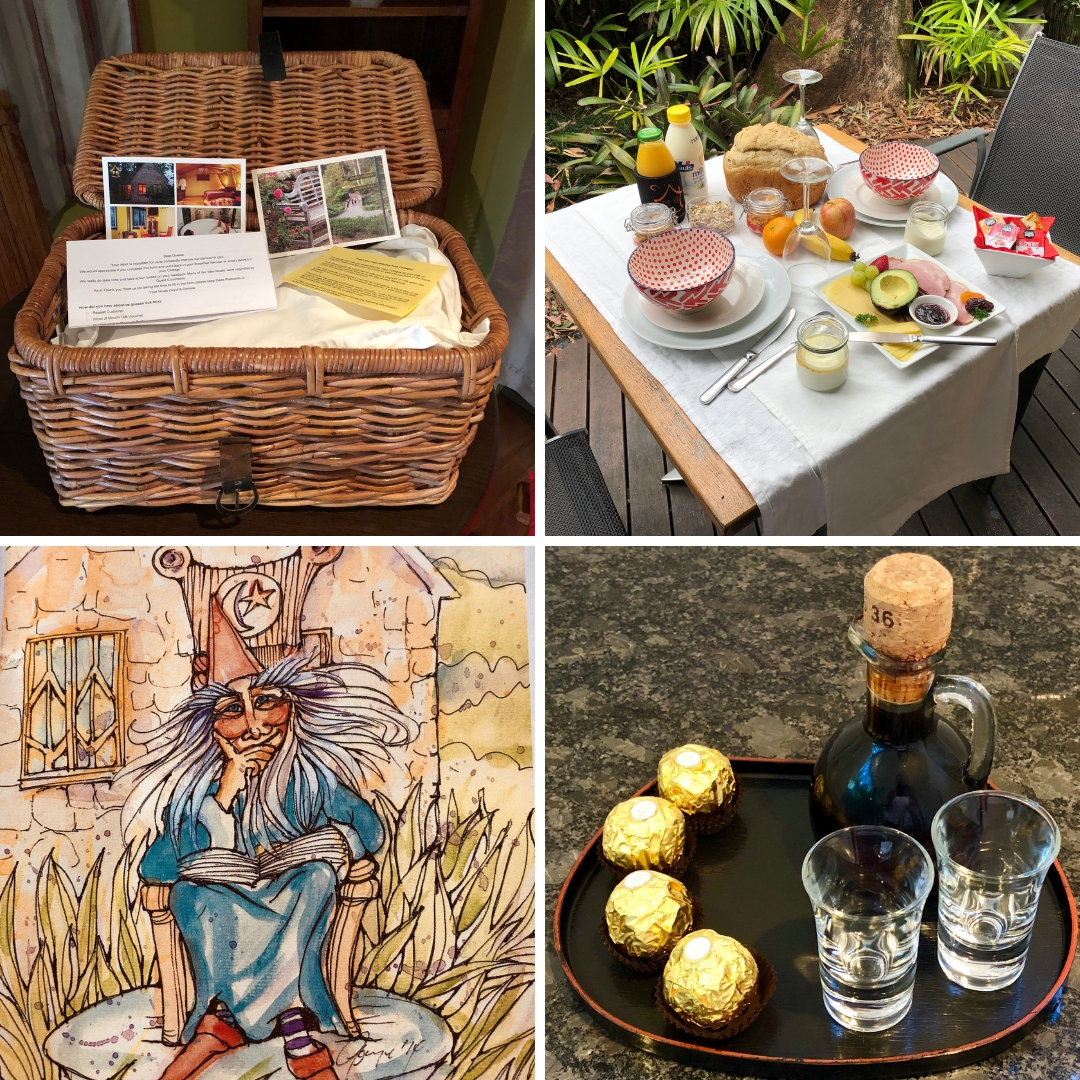 ---
EXPLORE TAMBORINE MOUNTAIN
---
If you decide to leave your cottage and explore the magic of Tamborine mountain there are lots of things to see and do whatever your interests.
A short stroll (across the road) is the walking track to Witches Falls. Although we didn't walk too far along the track it was great to read the information boards and find out more about the area and the Yugambeh – the traditional language group of Aboriginal people of the region.
One of my absolute favourite things provided by Witches Falls Cottages are their amazing illustrated local guides. I have never seen anything like these anywhere I have stayed in the world and they are fantastic. I took a copy of each from the folder (there are multiple copies for guests to do exactly that). The guides cover topics such as wildlife on the mountain, a walk to Curtis Falls waterfall, free things to do on the mountain, a guide to artists and artisans living on the mountain, an adventure guide map and much more.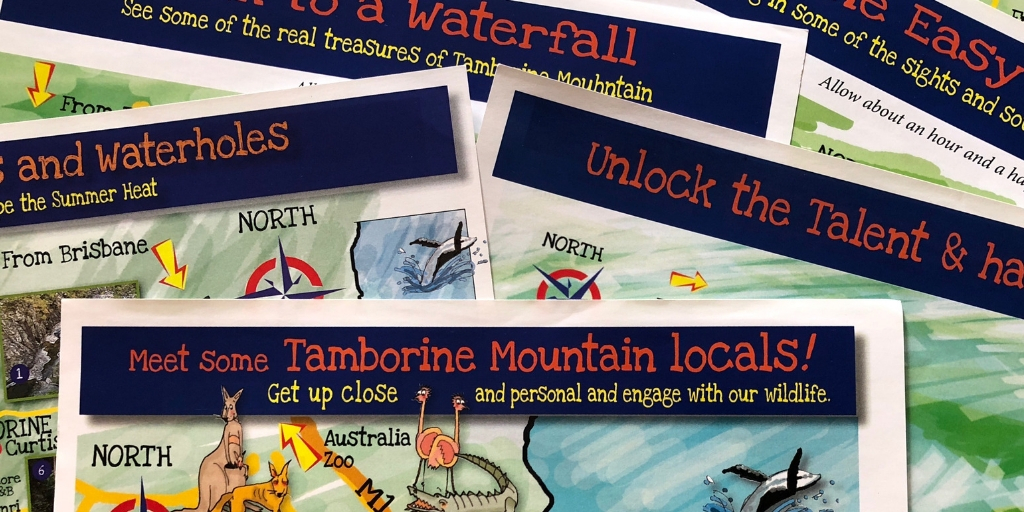 I loved these guides from Witches Falls Cottages so much I have bought a special folder to keep them in. Its fantastic to have left Witches Falls Cottages not only with great memories but also these amazing guides! I can't wait to use more of them and we will be using their "Country Drive to Byron Bay" sheet very soon. The maps are also available as interactive guides on the Witches Falls website so do take a look when making your booking!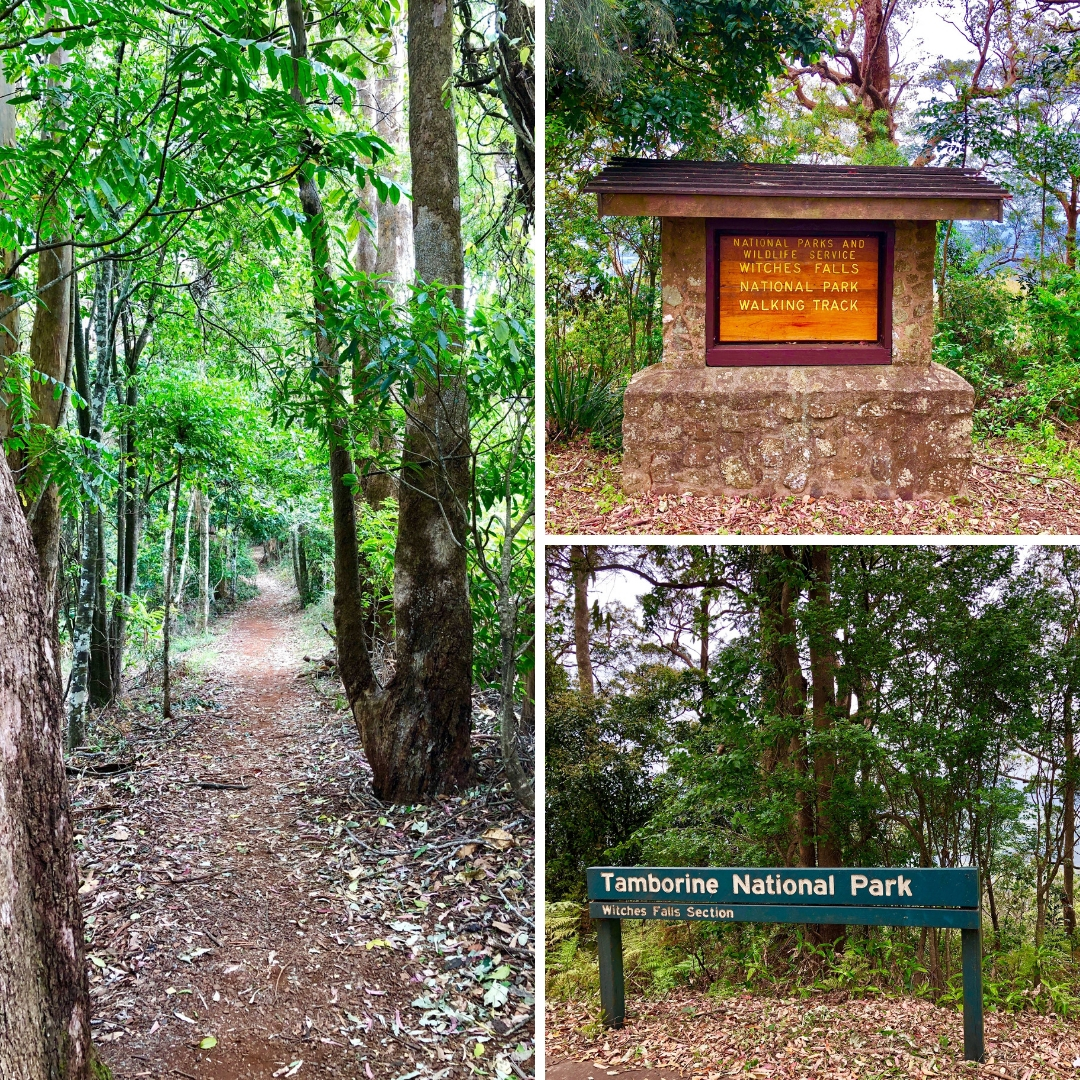 ---
A TRULY MAGICAL EXPERIENCE
---
We loved our stay and there are so many wonderful little touches at Witches Falls Cottages that ensure your stay is truly magical.
We left a comment/drawing in their cottage guest book. Its a great book and we enjoyed reading through other's experiences and adding our little piece of artwork. There are even coloured pencils left especially for you to use. I was rather pleased to have some glitter in my bag to sprinkle over the page afterwards too!
We will definitely be calling the chief wizard (or his helpers David and Daniela) again to book another stay at Witches Falls Cottages very soon.
For a romantic getaway in an idyllic setting let Witches Falls Cottages cast a spell on you.
CLICK HERE TO BOOK YOUR STAY AT WITCHES FALLS COTTAGES
Witches Falls Cottages website
Telephone number – National: 07 5545 4411
International: +61 7 5545 4411
Address – Witches Falls Cottages (view Directions and Maps)
Cnr Main Western Road & Hartley Road
North Tamborine QLD 4272
---
FURTHER INFORMATION FOR VISITING QUEENSLAND
---
I have lots of posts all about visiting Australia and a number of these are focussed on the beautiful state of Queensland. With an enviable climate, wonderful wildlife, stunning beaches if Queensland is your destination these posts will help you get the best of your visit! If you are seeking some inspiration these 15 photographs will have you booking the next flight!
My ultimate guide to Australia has links to every post I have written about Australia and is great starting point when planning your visit.
Click here if you are interested in learning more about the 19 UNESCO World Heritage Sites in Australia.
---
PIN TO YOUR PINTEREST BOARDS
---
---
We were provided with a complimentary stay at Witches Falls Cottages for the purposes of this review. However all thoughts, opinions and witch puns are purely my own.
---
YOU MAY ENJOY THESE POSTS TOO!
---
GAIN EXCLUSIVE ACCESS TO MY RESOURCE LIBRARY
---

---
---
This post may contain compensated links. Please read our disclosure for additional information. As an Amazon Associate, I earn from qualifying purchases.