Aussies love their big things and in this article, you can find out all about 10 of them and exactly where you can find them!
What are Australia's big things? And why do you need to add them to your Australian road trip itinerary? Australia's big things are in a nutshell are a collection of large sculptures.
They can be animals, people, fruit, musical instruments and everyday objects. The main similarity is in their size – they are all BIG!
Australia has a love affair with BIG things. I am not sure if it because the country is so BIG that it needs large things to make a statement or whether they were designed to keep weary kids entertained on road trips but whatever the reason I LOVE them.
I now go out of my way to see a BIG THING! With a total of over 150 big things in Australia (and spread all over the country) seeing them all may take me some time.
Competitions are even held to decide where the next big thing will be and as sure-fire tourist attractions the competition can be fierce.
In 2018 Chinchilla won and is now the proud owner of a big melon! Personally, I voted for a big peanut for Kingaroy (maybe next time)
They will definitely be on our Australian itinerary when we finally get the chance to do our lap of Oz.
This article introduces you to 10 of Australia's BIG things. With another 140+ to go (and big things in every state and territory in Australia) there is a good chance that if you are road tripping around Australia you will see one of two of these iconic symbols. If you do let me know in the comments below!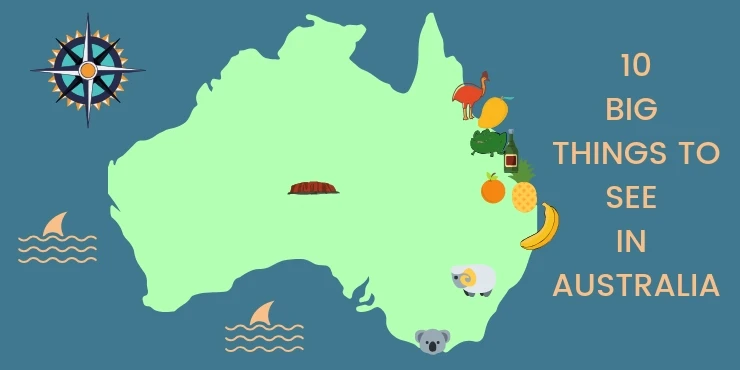 10 Big things Australia is proud of!
The Big Cane Toad
Sarina (Queensland)
Where else to find a big cane toad but in sugar cane country! As you drive through this part of Queensland you will see fields and fields of sugar cane and the occasional refinery where the cane is processed. Keep an eye out for the cane trains too!
If you want to learn about sugar cane farming you can read more in my article all about a day visiting a sugar cane farm. Stop at Sarina's Sugar Shed a miniature sugar mill and distillery where you can experience (and taste) the story of sugar from farm to product.
The big cane toad is situated in the town of Sarina just south of Mackay in northern Queensland and is nicknamed "Buffy" by the locals. (Bufo Marinus is the scientific name for a cane toad) Buffy can be found on Broad Street through the centre of town (also part of the Bruce Highway)
There is plenty of parking as well as public toilets, picnic tables and other amenities in the area.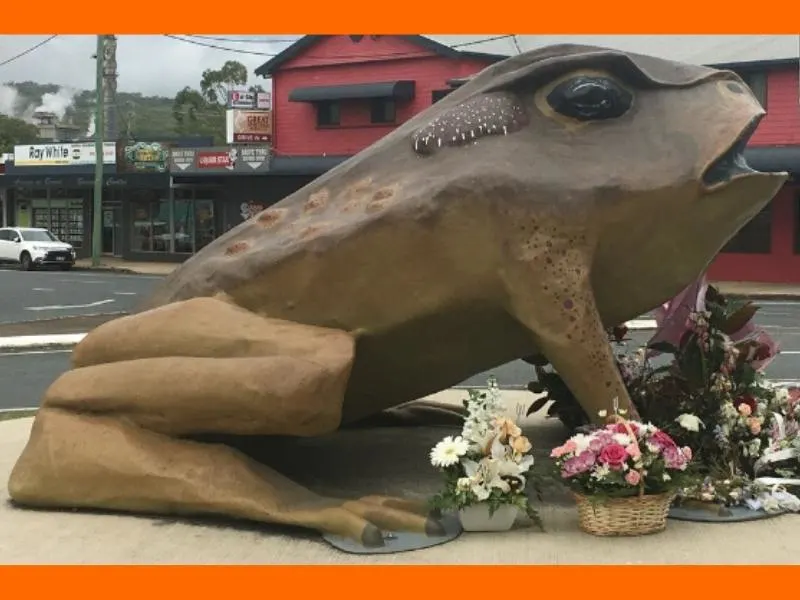 BIG KOALA
Dadswells Bridge (Victoria)
Nothing says Australia more than a big koala right? In fact there is a Giant Koala that you can't miss when driving along the Western Highway between Melbourne and Adelaide. Standing 14 metres tall, the huge marsupial sculpture dominates the small Grampians township of Dadswells Bridge.
The sculpture was created by sculptor Ben Van Zetton using bronze over a steel frame and opened in 1989. It sits on the roadside with the Grampians bushland behind providing the perfect backdrop.
The Grampians National Park is home to thousands of koalas though that number is dwindling due to bushfires and deforestation.
Named after Sam the koala who became the symbol of the 2009 Black Saturday bushfires, the Giant Koala helps to raise awareness of threats to the species.
Stop off for your picture with the big koala but give the shop, restaurant and farm a miss. They have seen better days!
Dadswells Bridge is 27 km northwest of Stawell in Victoria's Grampians region.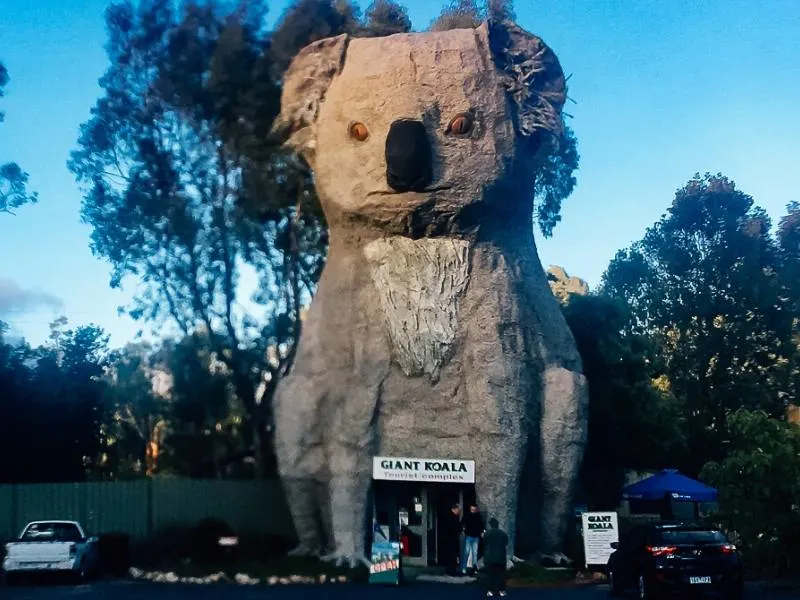 BIG CAPTAIN COOK
Cairns (Queensland)
This 10 metres high painted concrete statue of the intrepid English explorer James Cook, can be found across from 225 Sheridan Street (aka The Captain Cook Highway) in Cairns, Far North Queensland. Keep an eye out for him as you drive north from Cairns to Port Douglas.
The real Captain Cook arrived in his boat, the Endeavour, in June 1770 on Trinity Sunday – a full century before Cairns came into being – naming the area Trinity Bay. Today the thriving tourist town of Cairns spreads out on the western banks of Trinity Inlet.
Erected in 1972 outside the (now gone) James Cook Motel, James the big statue, still stands proud, holding his hand skyward. If you are looking for a handsome uniformed man you might like to make an offer on the "For Sale" Captain Cook.
In true Aussie fashion, the statue of James was used to protest on Australia Day 2017 when a "Sorry" placard was hung around his neck, to protest European settlement and Australia Day.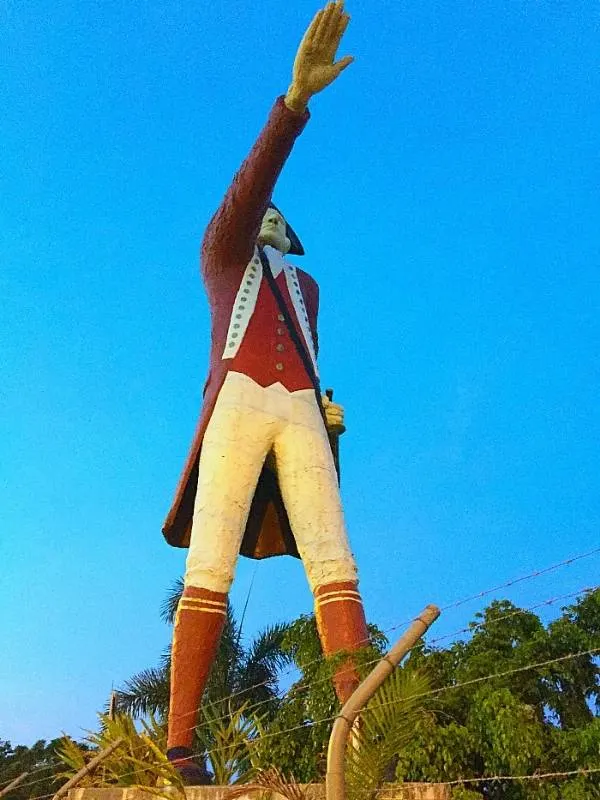 BIG BUNDY BOTTLE
Bundaberg (Queensland)
You can hardly say the word Bundaberg and not associate it with Bundaberg Rum! This sugar-based beverage is as big as Queensland itself.
The famous distillery, on the banks of the Burnett River, Bundaberg has been operating since 1888 and has continued to expand across the generations.
Regularly distillery tours operate daily and your first compulsory stop is to have your photo taken with the iconic Big Bundy Bottle at the visitor centre entrance.
This 7m tall icon was first built for World Expo88 in Brisbane and relocated to it's now permanent Bundaberg home. There are a couple of copies now in front of pubs around Queensland, but we still love the original.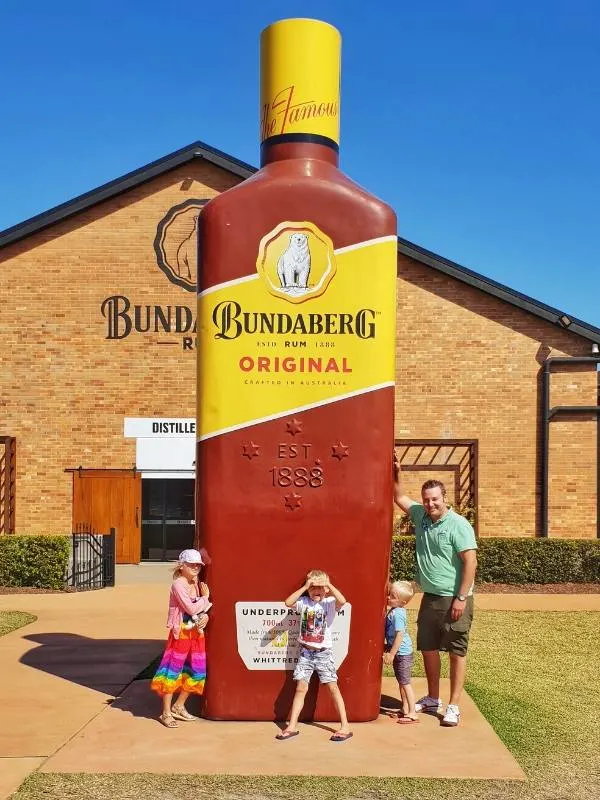 THE BIG MERINO
Goulburn (NSW)
by the Accidental Tourist
No road trip from Sydney to Canberra would be complete without a stop in Goulburn, NSW. This regional town is billed as Australia's first inland city, and offers history, plenty of fast food and petrol for the road trip, and, most importantly, the Big Merino!
Built in 1985, The Big Merino (or ram) attracts attention from its prime location just off the Hume Highway, and was built to honour the region's wool industry.
It makes for great photo opportunities, but you can also go inside The Big Merino to check out Australian Wool Innovation, a small museum on the history of wool in Australia, and also a gift shop, complete with merino wool products for sale.
This stoic sheep never fails to impress, and a stop in Goulburn is always something I look forward to when driving to Canberra!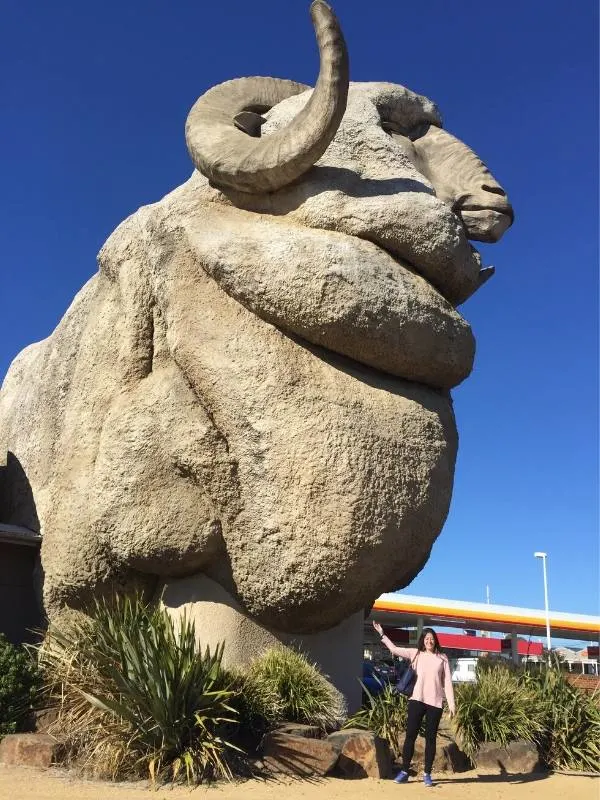 THE BIG PINEAPPLE
Woombye (Queensland)
The Big Pineapple is one of Australia's most iconic 'big things'. It opened in 1971 and is now a heritage listed site that is free to visit. It's 16 meters high and has two levels. Inside are displays on the pineapple industry, from the farm to the factory.
At the top, there is an observation deck with views over the surrounding countryside. Over the years, the Big Pineapple, also known as Sunshine Plantation, has seen some changes. It used to be on a macadamia nut plantation, but that has closed.
You can now take the 'pineapple train' between the Big Pineapple and the adjacent Wildlife HQ, where there is a zoo, café and gift shop.
Wildlife HQ has native Australian animals as well as some more exotic species, and you can have up close encounters with koalas, kangaroos, quokkas, sugar gliders, dingoes, and wombats.
The Big Pineapple is located at Woombye on the Sunshine Coast north of Brisbane.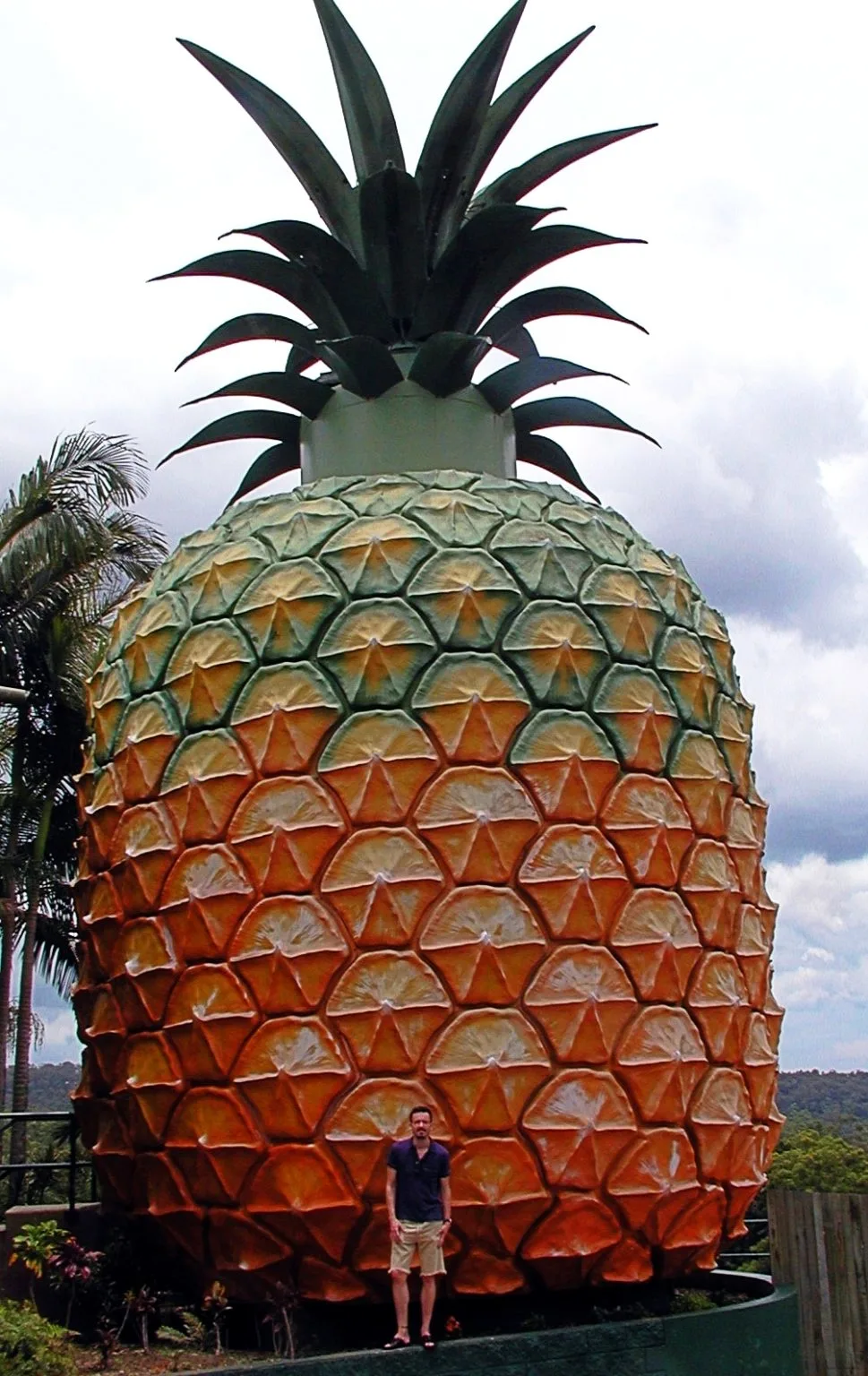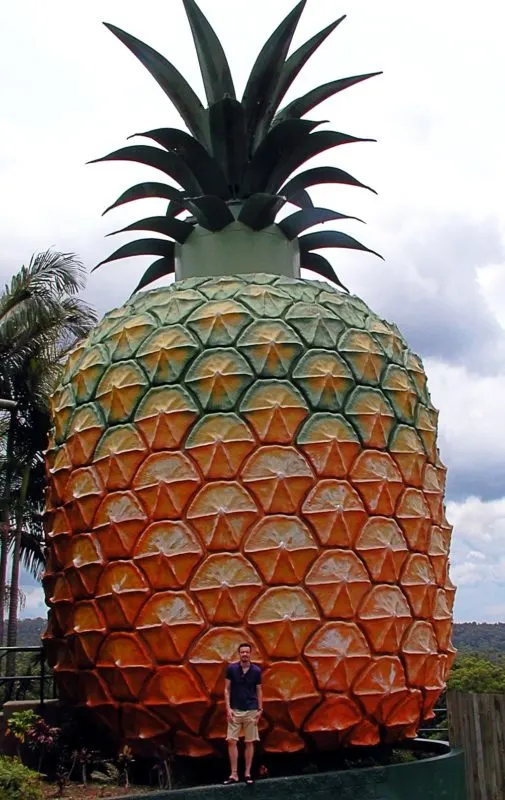 THE BIG BANANA
Coffs Harbour (NSW)
by Victor's Travels
When I was traveling in Australia by car, I would sometimes bump into structures of supersized everyday objects. The first big object I came across was a huge prawn on top of a seafood restaurant. "Great way to attract customers", I remember thinking.
But after a few days of driving I would encounter another big object, and another one. There was definitely a pattern, so I looked into it online.
Apparently, Australia has an obsession with "big" things. There are more than 150 of them out there, ranging from a mushroom to a golden guitar.
On my way up from Sydney to Brisbane, I spotted a big banana next to the road (as you do). I quickly pulled over and took a picture. I later learnt that this was not only a statue; it had an amusement park attached to it as well! It included laser tag, mini-golf, ice skating and indoor ski slope, a 82 meter water slide, and even a "World of Bananas" educational center.
The Big Banana was built in 1964, and some claim it is the first "big thing" in Australia. With it's 13 m × 5 m (43 ft × 16 ft), it's not the biggest of big things I have come across, but it's certainly a nice little stop on your way to Brisbane!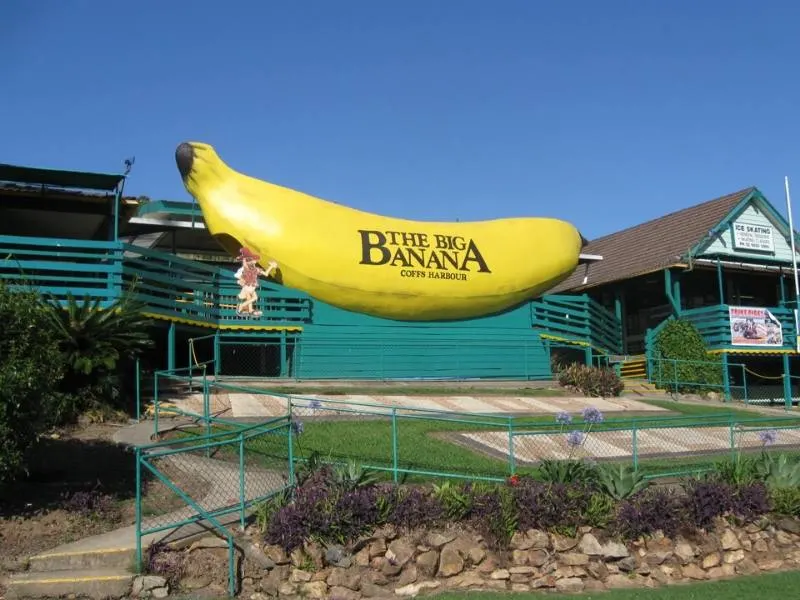 THE BIG MANGO
Bowen (Queensland)
Driving along Queensland Australia's East Coast, heading through the big cities and country towns, you are bound to come across large sculptures along the road of various things – prawns, bananas, and more. One that I found quite neat was the Big Mango in Bowen.
The giant mango here symbolically represents the Bowen mango species that is one of the largest of all mangoes!
Becoming an official marker on May 25th, 2002, the big mango has attracted thousands to stop for a photo on the way to the Whitsundays.
Stop in for some sherbet, a selfie, and of course to add the mango to your scavenger hunt in finding all the giant sculptures across the state.
Did you know? That in 2014 the giant mango disappeared for 24 hours? As crazy as this sounds, the mega fruit was taken from its post by a popular restaurant chain to align with their new lime and mango sauce promotion…
THE BIG CASSOWARY
Mission Beach (Queensland)
We took a special detour on our road trip from Brisbane to Port Douglas to visit the big cassowary at Mission Beach. At 5 metres tall this is one Aussie bird not to be messed with – in fact the cassowary is the most dangerous bird on the planet and is the nearest living thing to a velociraptor.
Mission Beach has a population of cassowaries in the area so keep an eye out on your visit and especially when driving.
Find this big bird at the shopping complex near Wongaling Beach. We took the opportunity to grab a coffee and a sandwich at the bakery before continuing our drive.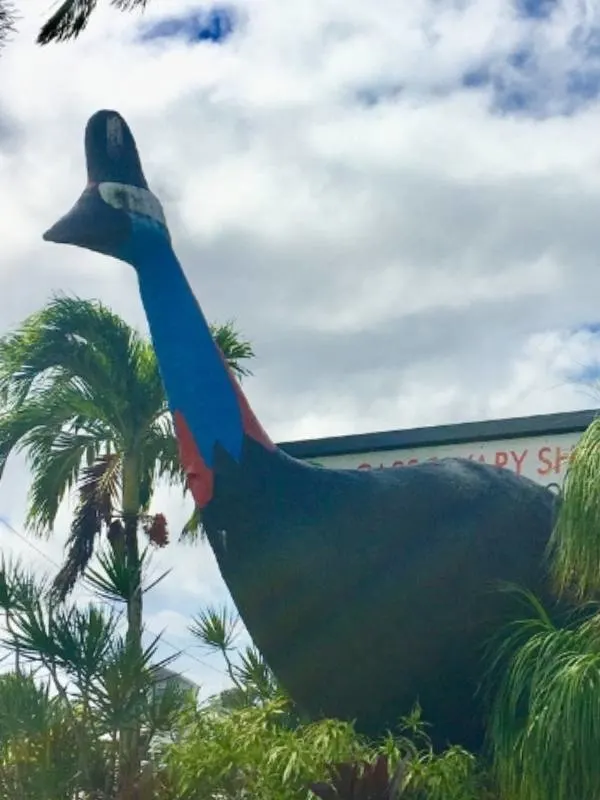 THE BIG ORANGE
Gayndah (Queensland)
Gayndah is located in the North Burnett region of Queensland and right in the heart of citrus country. Fittingly Gayndah has a big orange (I also took the opportunity to visit the big mandarin in Munduberrah while I was in the area)
The Big Orange is open from April to September when not only can you stop off for a photo but you can also buy fresh orange juice, crafts, coffee and food in the shop.
Gayndah claims to be Queensland's oldest town and was established in 1849.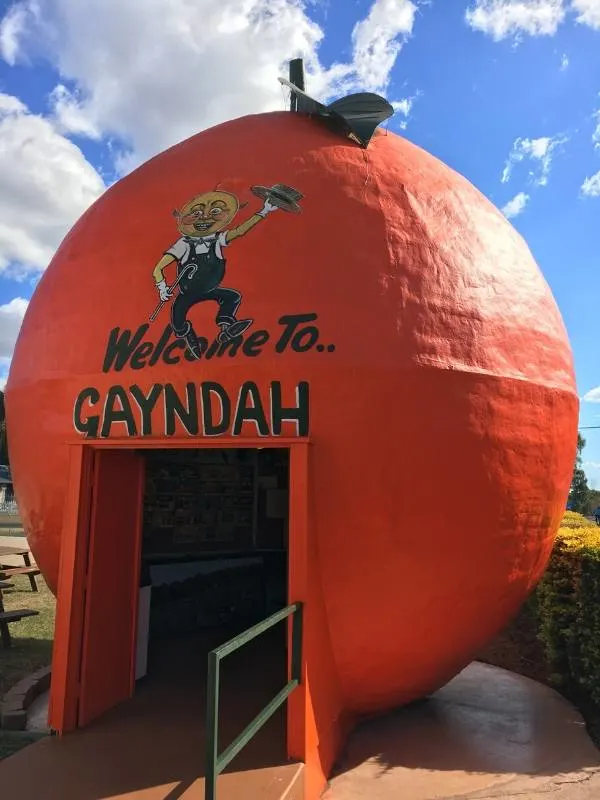 More to see and do in Australia