Considering a trip to the beautiful island of Malta? Read on for our top Malta tips and everything you need to know to plan your perfect sunshine break in the Med.
Malta. A Mediterranean island archipelago that I guarantee will both charm and delight you.
After visiting Malta 5 times over the past 17 years I have come to know the island (and its smaller neighbouring islands of Gozo and Comino) well.
When I first visited Malta in 2002 it was relatively unknown as a tourist destination. As a popular holiday and retirement destination for the British population it seemed to have slipped under the international tourist radar.
Over the last 10 years however the number of visitors to Malta has nearly doubled from 1.2 to 2.3 million. Not bad for an island with a population of just over 460 thousand and indicative of its growing popularity as a top Mediterranean holiday destination.
Valletta, Malta's capital and European Capital of Culture in 2018 is a city full of character and history. Due to its the magnificent harbour and central location it is a favourite port for the many cruise ships that sail the Mediterranean. It is also growing in popularity amongst Europeans seeking winter sun or an easily accessible weekend getaway.
If you are one of the millions of visitors planning to visit Malta soon this post will give you some travel tips worth knowing before you arrive.
After 5 visits my top Malta travel tips and advice to ensure you have a fantastic holiday.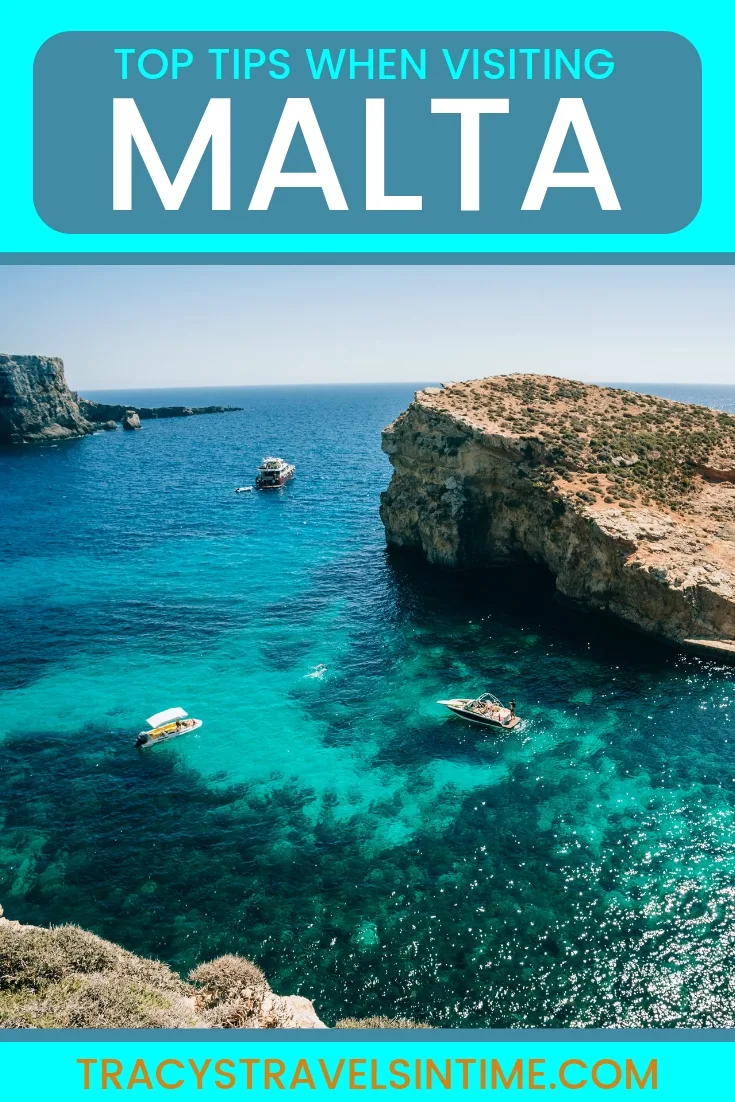 Some basic facts to know about the Maltese Islands
There are actually 21 islands that make up the Maltese archipelago. Malta is the largest of the 3 main islands. At only 27 kms long and 14.5 kms wide it is the smallest country in the European Union and tenth smallest in the world.
Do not assume however that Malta is an island you can drive around quickly. The roads are congested and many are in quite a poor condition.
As well as being one of the world's smallest countries Malta is also one of the most densely populated (and add a few million visitors to that mix and it can get rather busy!)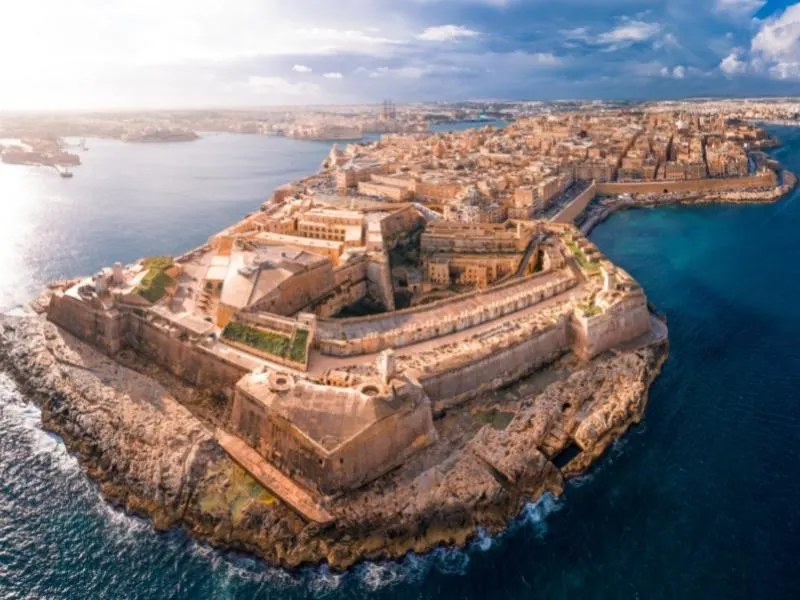 The name 'Malta' is believed to derive from the Greek word for honey.
Malta was part of the British Empire for 150 years and gained independence on September 21st 1964.
The entire population of Malta were awarded the George Cross by King George V for their bravery during World War II.
Gozo is Malta's smaller sister though only 20 minutes away by ferry.
Comino is the tiny island sandwiched between the 2! Comino has only 4 residents and is also the location of the fabled Blue Lagoon and lesser-known Crystal Lagoon.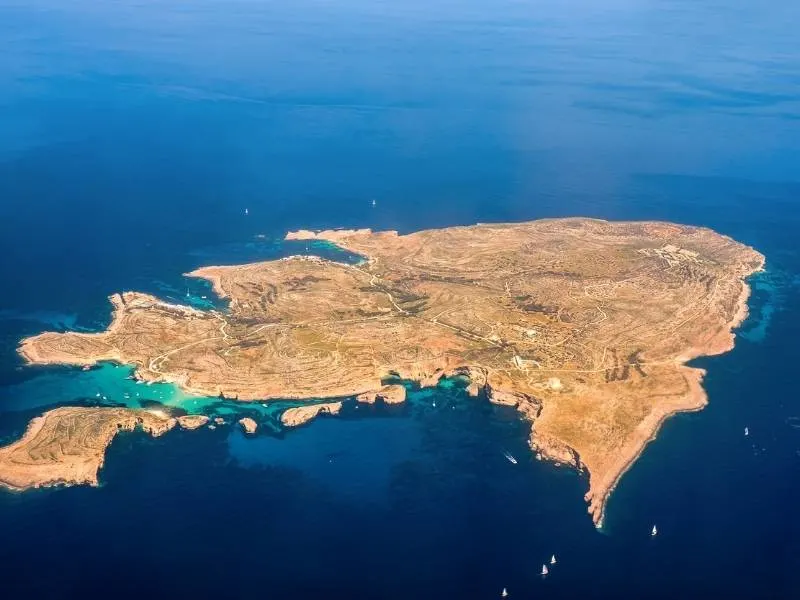 The main languages spoken on the islands are Maltese and English.
The Euro is the unit of currency.
The main airline is Air Malta.
Victoria, the capital of Gozo, is also known as Rabat.
There are 3 UNESCO World Heritage Sites on the Maltese Islands.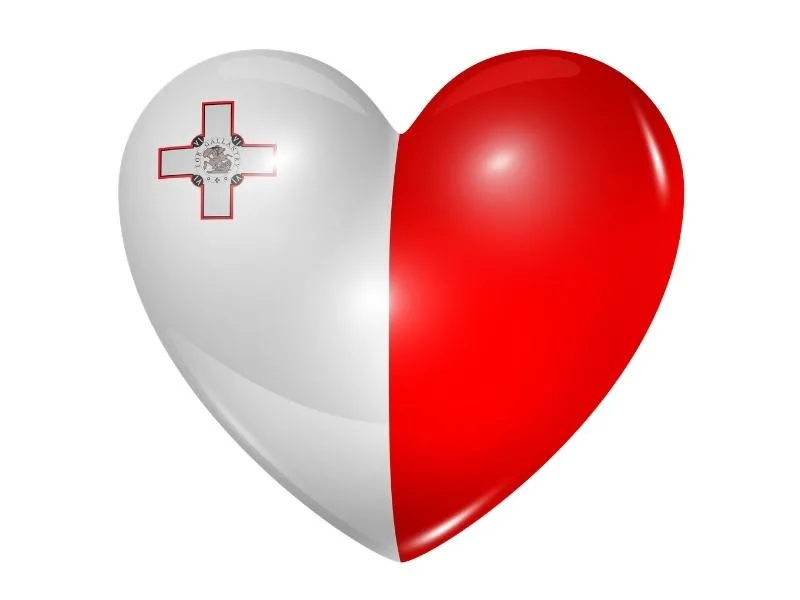 What is the best way to travel around the islands of Malta, Gozo and Comino?
By bus
I have never hired a car when on holiday in Malta but rather prefer to use public transport. The roads are narrow and and can be quite congested around Valletta and popular resort areas (and quite frankly I didn't fancy sharing the road with Maltese drivers who seem to ignore any speed restrictions and overtake wherever they want)
The bus service is generally reliable and an inexpensive way to travel. Tickets can be purchased on the bus from the driver and cost €1.50 in winter €2 in summer and €3 for night buses. Summer rates are in place from mid-June to mid-October.
There are also a range of bus cards offering added value and reduced fares: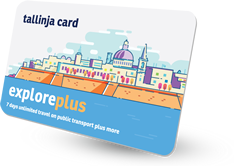 The ExplorePlus travel card gets you 7 days of unlimited travel on public transport around Malta. The card also includes 2 trips on the Valletta ferry. The card also includes a full-day tour on the hop-on hop-off buses OR a boat trip to Comino. What an absolute bargain! ExplorePlus Card (€39)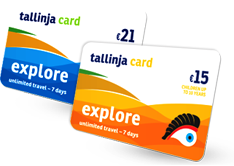 The 7-day Explore Card entitles you to unlimited use of buses on both Malta and Gozo. It is valid for both day and night services. Child prices are valid up to 10 years of age. Click here for information on where to buy your Explore Card. Explore (Adult €21 / Child €15) – Unlimited travel for 7 days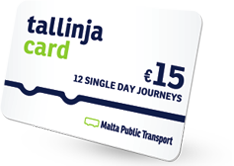 The 12 Journey card is another easy and cost-effective way of travelling around Malta and Gozo. If you are only planning a few excursions this is the perfect option. Click here for information on where to buy a 12 Single Day Journeys Card.
12 Single Day Journeys (€15)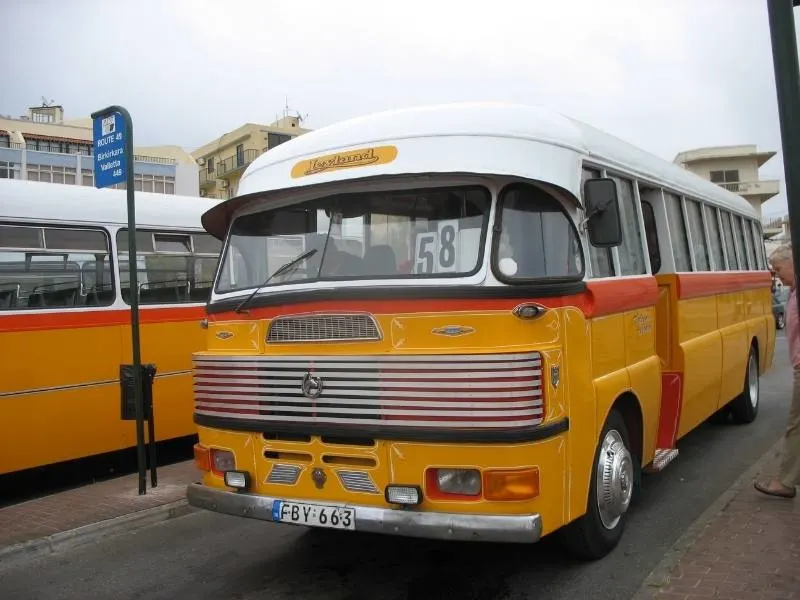 By hop-on and hop-off bus
If you want to enjoy Malta's sights at your own pace consider purchasing a ticket on the hop-on, hop-off double-decker bus tour. The buses depart every 30 minutes and stop at top sites within the Malta North and South Routes.
Click here to purchase your hop-on and off bus tickets for Malta
By car
If you do decide to hire a car and drive around the island do remember that the Maltese drive on the left (well they should). Although there has been some serious investment from the EU some of the roads are still less than perfect with ruts, potholes and poor surfaces common.
Other key points to remember are to park in the direction of travel.
I would recommend renting a small car as parking can be quite difficult in some areas. Don't assume that people will indicate either.
To be honest I would catch the bus….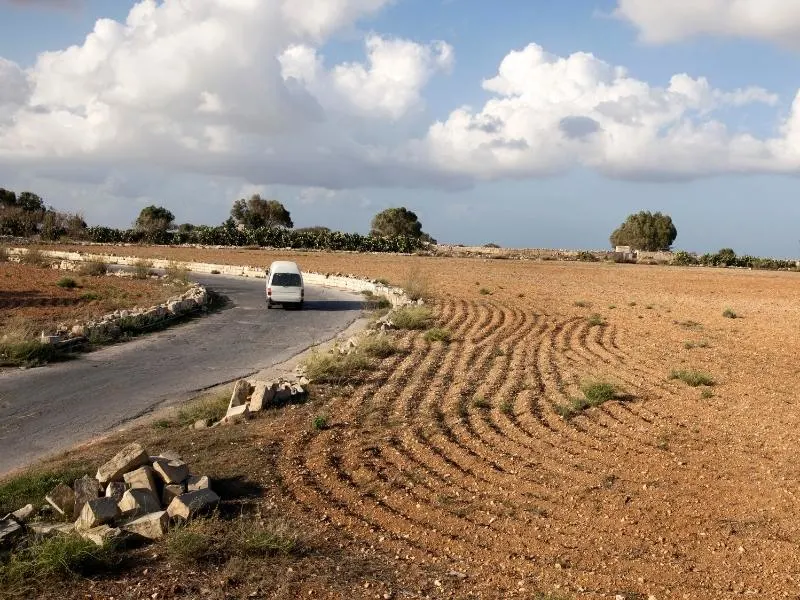 By boat
The best way to travel in Malta is by boat and you really should not spend any time there without setting foot on a boat! There are loads of Malta boat trips to choose from too.
Just don't do the one that takes you all the way around the island. It takes all day and on the trip, we went on about 85% of the passengers were seasick.
If you only take 2 Malta boat trips I would highly recommend one to Comino and the Blue Lagoon and the other around the harbour in Valletta.
You will find there are numerous companies offering tours to Comino. If you can (and are in the north of the island) I would highly recommend a trip with English Rose Cruises.
The boat is smaller, the captain is the very handsome Sandro and you will have the BEST time. Not only can you jump straight from the boat into the beautiful blue waters of the Mediterranean but he will take you to the lesser-known (and quieter) Crystal Lagoon.
We stay in Mellieha just so we can take 3 or 4 trips with Sandro. It really is that good.
Alternatively (if you are staying on another part of the island) these boat trips are also available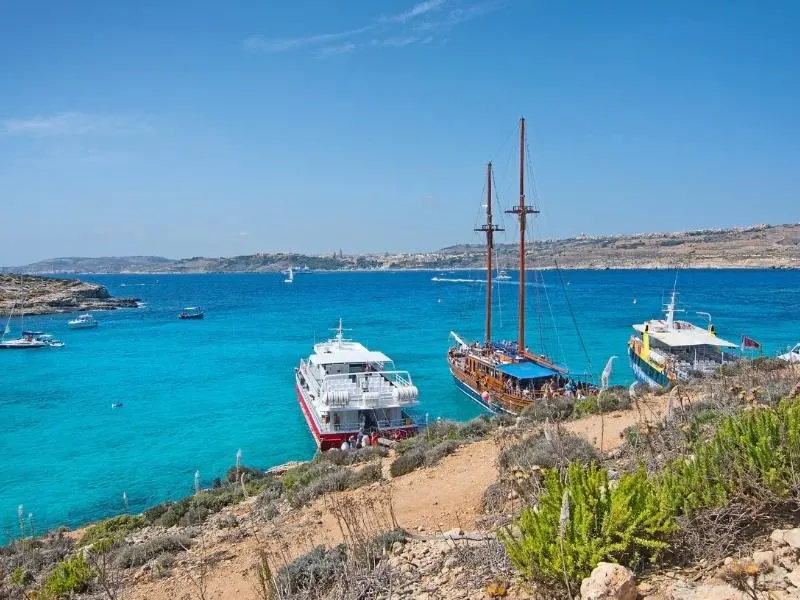 By ferry
If you want to see Gozo you will need to catch the ferry across. The journey takes about 30 minutes and leaves from Cirkewwa in Malta and arrives in the port of Mgarr on Gozo.
The ferry leaves every 45 minutes and costs €4.65 return for adults, €1.15 for kids aged 3-12 and free for under 3's. If you are driving over it costs €15.70.
Best tours and day trips to do in Malta
There are loads of activities available in Malta to keep you busy – these are a selection of the best from Get Your Guide
Tip – Save money and enjoy discounts of up to 50% at more than 150 establishments in Malta with a 10-day Malta Discount Card. Enjoy access to some of the island's top tours, museums, and activities, including restaurants, water sports and much more.
Click here for more information about the Malta Discount Card
What are the traditional foods on Malta and Gozo?
Try the food when you are visiting Malta. There are many tasty local dishes to eat and if you enjoy olives and capers you will find them in abundance!
The Italian and English influences are very evident in the traditional Maltese foods.
Pizza and pasta can be found in abundance.
Seafood is also extremely popular with Lampuki pie a staple of the Maltese diet. Lampuki is a common fish caught around the islands. Baked in a pie with capers, spinach and potatoes it is delicious.
The national dish of Malta is Stuffat tal-fenek which is a rabbit stew.
The most popular Maltese snack is the pastizzi. This is a savoury pastry filled with ricotta or mushy peas. I have to say I wasn't keen on these.
Kinnie is a soft drink made with bitter oranges.
You will see prickly pears all over Malta and they feature in one of my favourite Maltese drinks -Bajtra. It is a beautiful (though very sweet) liquor made from the cactus fruit. You can also buy prickly pear conserve and jam.
Try a plate of tomatoes, goat's cheese, capers and olives in Gozo. Delicious!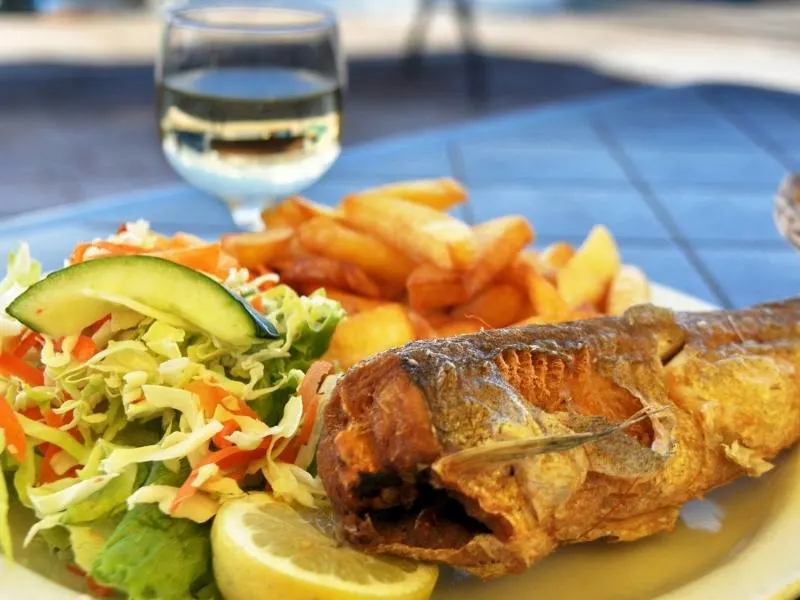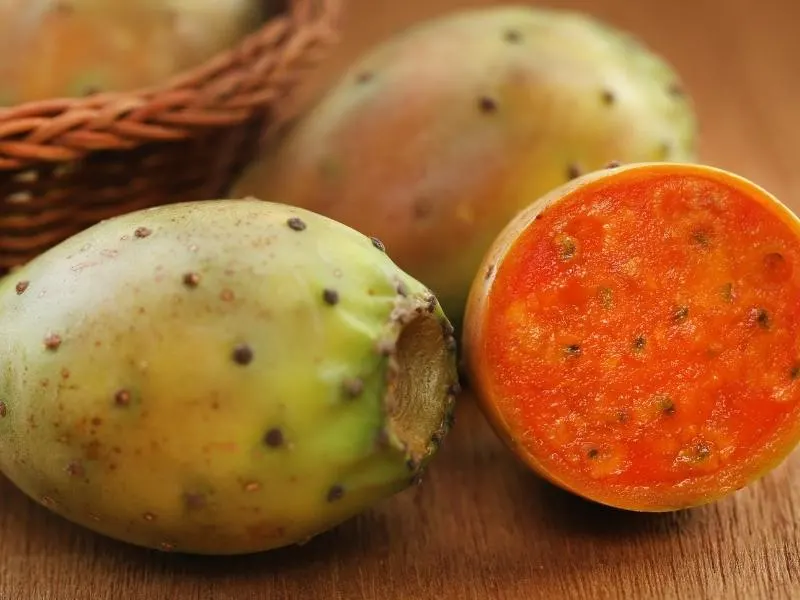 READ MORE – YOUR COMPLETE GUIDE TO VISITING MALTA
Where are the best beaches on the Maltese Islands?
Ok lets be blunt here but Malta is not known for its miles of stunning beaches. The islands are rocky and beaches are few and far between.
The best beaches are in the north of Malta so if a beach is really what you want head to Mellieha.
In Mellieha you will find Malta's largest sandy beach. Further north there are Golden Bay and Paradise Bays. Do be careful though as I believe the sea can be a little rougher in these areas.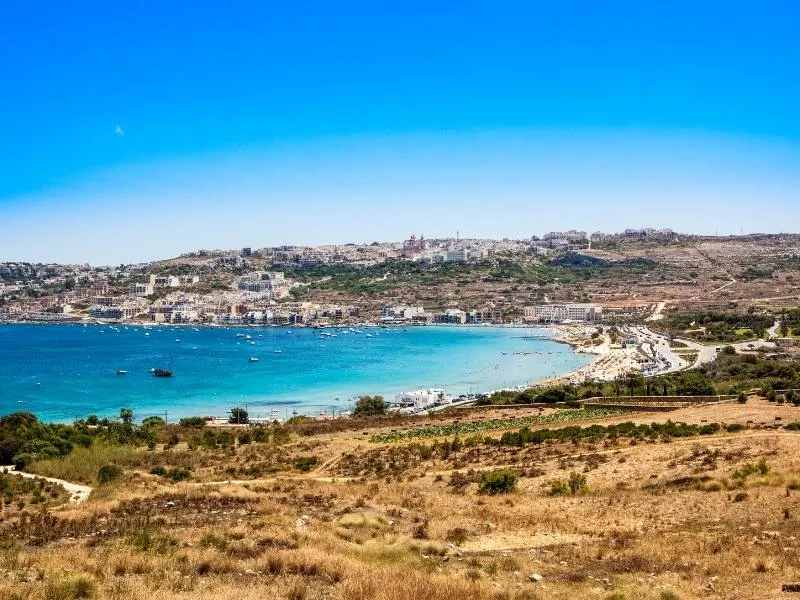 There is a beach at the Blue Lagoon on Comino. The teeny tiniest beach in the universe. No problem. Take a boat trip and spend the day jumping into the clear blue waters from the deck! Far more fun than struggling for a space on the actual beach.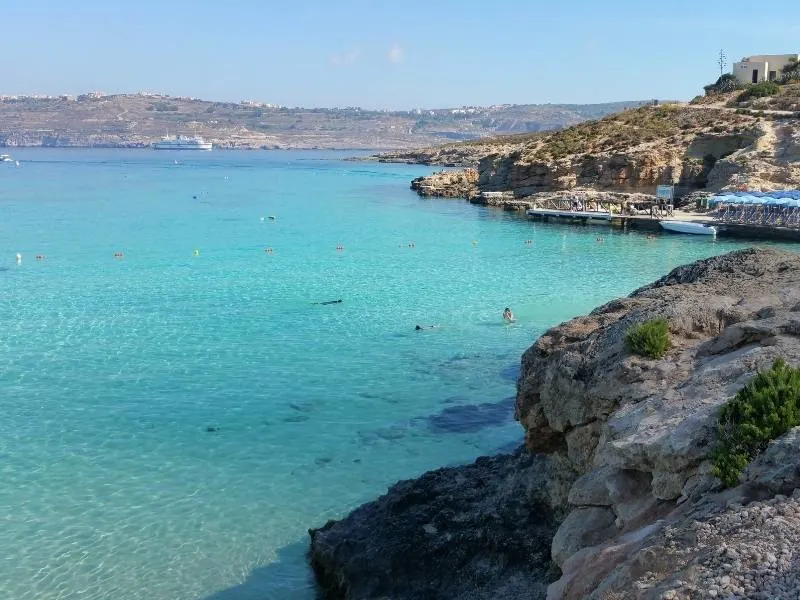 What are festas and when are they held?
Malta is a predominantly Roman Catholic Island. Every village and city has a church at its heart and every church is named after a saint. So when it is the saint's day the village or town or city go crazy with parties, celebrations and generally have a bloody good time!
I LOVE being in Malta when there are festas. The atmosphere is amazing and everyone has a great time. The best festas are in the hot summer months when warm evenings are perfect to enjoy the open air celebrations.
Expect plenty of food, drinks, music and fireworks. If you want to experience a festa (and you really should!) you can book a tour with Get Your Guide (my preferred tour group company) below:
An evening of Colorful Festa Fireworks in Malta
One of our top Malta tips is to make sure to experience the spectacular Maltese Festa tradition, for which fireworks are a must. Enjoy the special sweets made for these parish feasts, as well as the beautifully lit-up streets and church, while the parish brass band fills the air with music.
→CLICK HERE TO BOOK YOUR FUN FESTA EVENING IN MALTA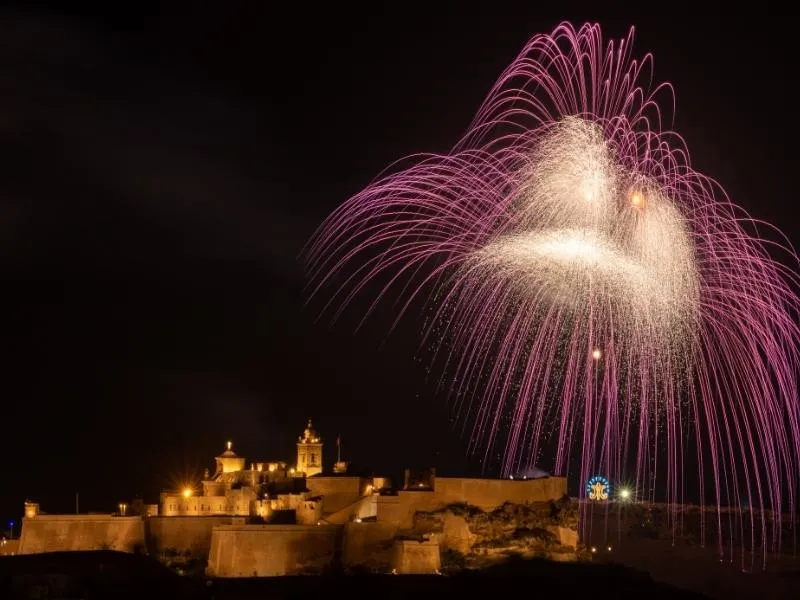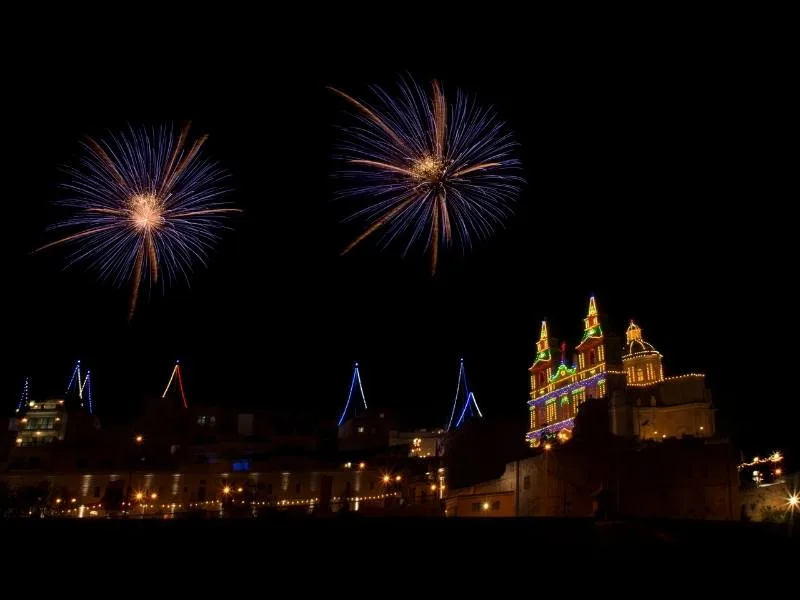 Where is the best place to stay in Malta?
To answer this question I would say that it really depends on what you want from your holiday in Malta. There are so many options to choose from that it is worth considering which part of the island would suit you best.
Read – Malta area and accommodation guide
Malta
The south of the island – Marsaskala or Marsaxlokk
For those seeking a quieter holiday away from the action. This is where we stayed on our first visit but subsequently, we have moved progressively up to the top of the island.
The south will give you a chance to experience Maltese life. Pop to Marsaxlokk for the market on Sunday. Definitely go to a local village Festa!
£ – Marsaskala Luxury Apartment & Penthouse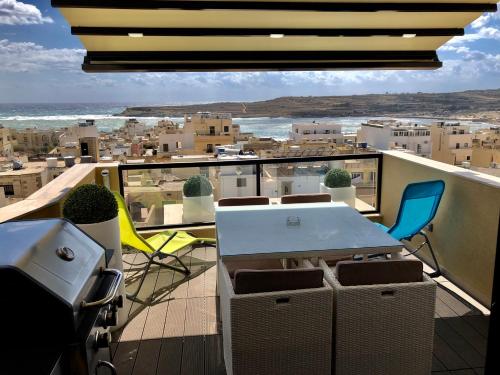 £ – Cerviola Hotel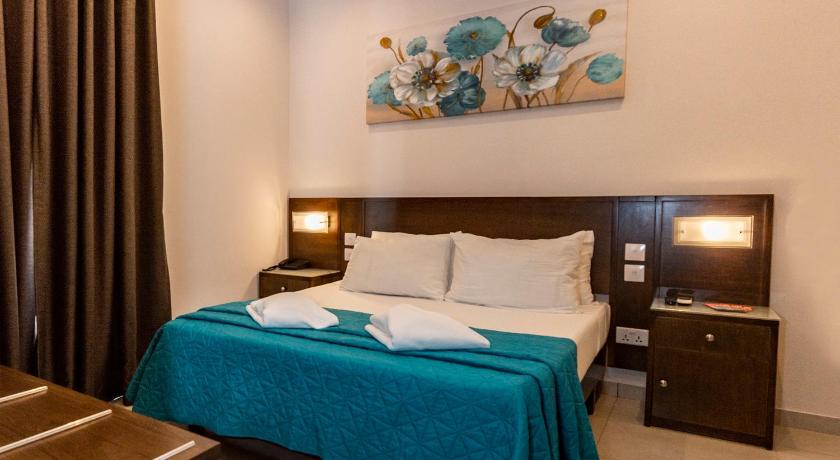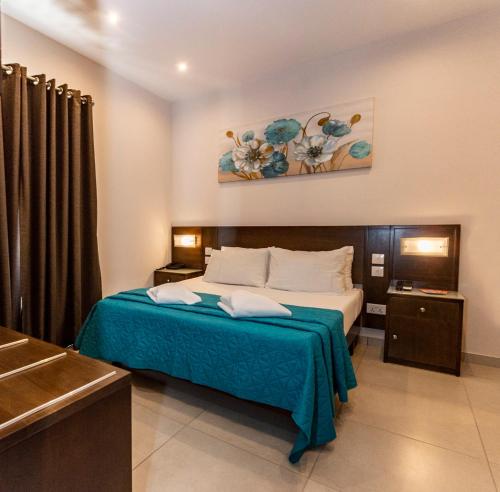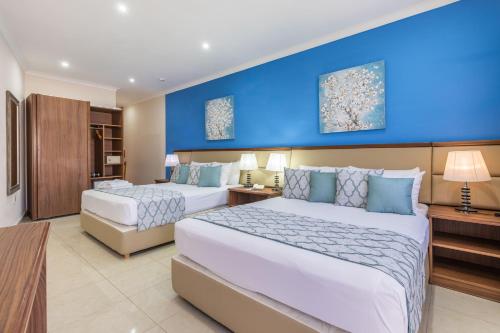 Valletta
If you enjoy history Valletta is the place to stay. It is central and possible to catch a bus just about anywhere.
£££ – The Phoenicia Malta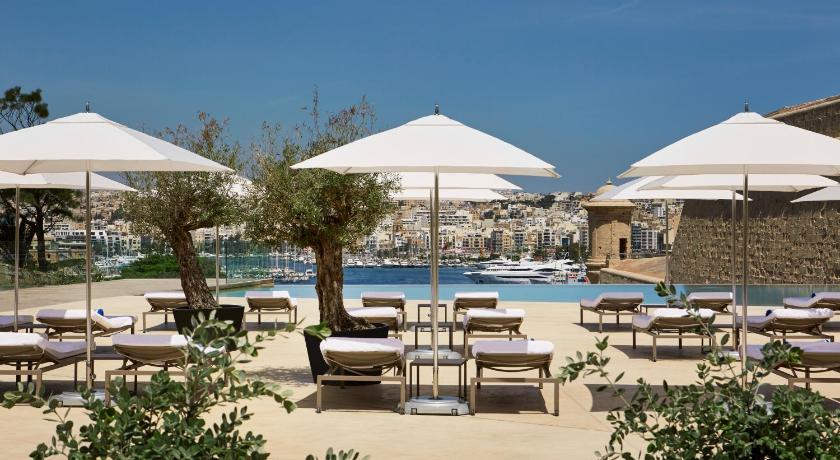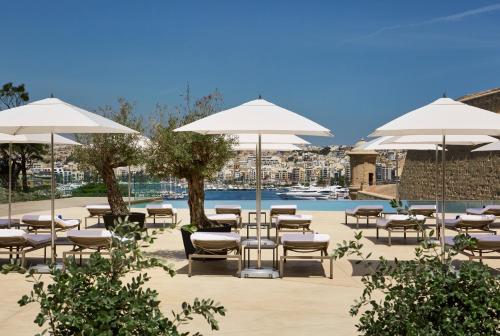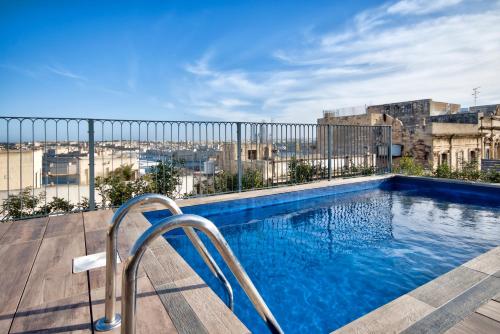 ££ – The Embassy Valletta Hotel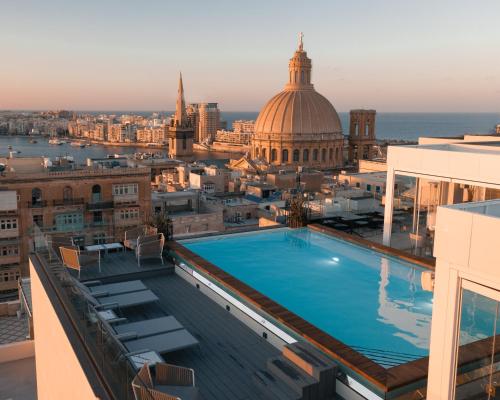 Resort area north of Valletta – Sliema, St Julians and Paceville
The main resort areas on Malta centre around Sliema and St Julian's. If you enjoy shopping and some lively nightlife this is the area to head for.
££ – Palazzo Violetta Boutique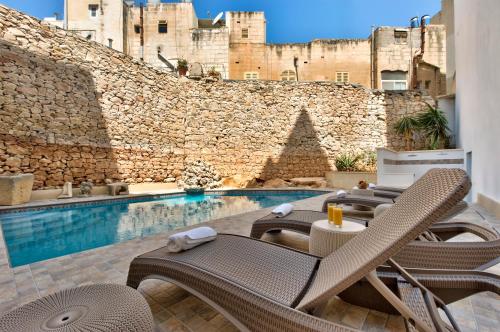 £££ – Corinthia Hotel St. George's Bay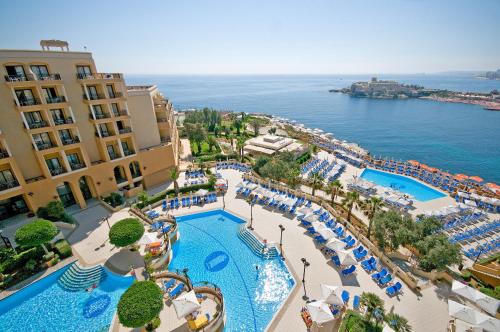 The north of the island – Bugibba, Qawra and St Pauls and Mellieha
This is my personal favourite area of Malta to visit. The north is a little more rugged than the south but offers great views across to Comino and Gozo.
The three resorts of Bugibba, Qawra and St Pauls meld into one long coastal strip. I would given them a skip and head to Mellieha which is exactly what we have done on the last 3 visits!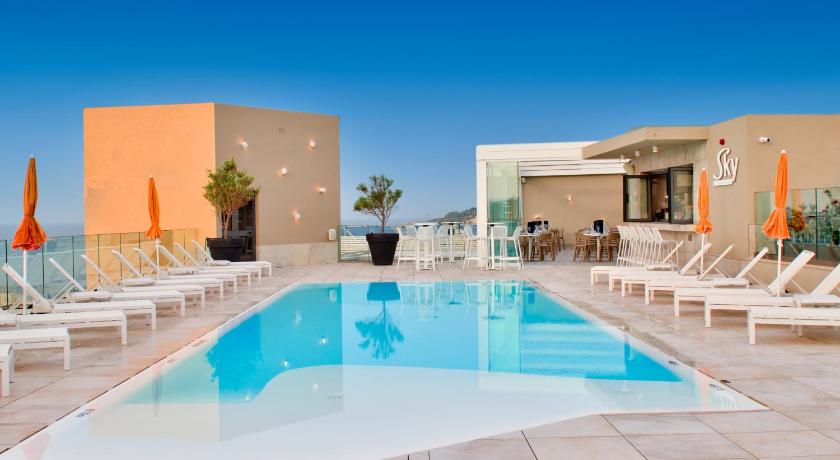 £££ – Radisson Blu Resort & Spa, Malta Golden Sands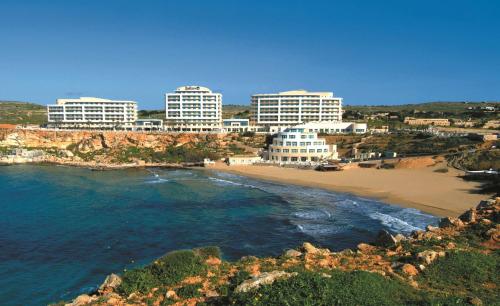 Gozo
Gozo really deserves a post of its own. Although we always visit Gozo I have yet to stay on the island. Gozo is Malta's greener more lush smaller sister and offers a quieter alternative to its big sister.
There are some fantastic accommodation options on Gozo including old farmhouses, cottages and secluded hotels.
£ – Il-Bàrraġ B&B Hosting Family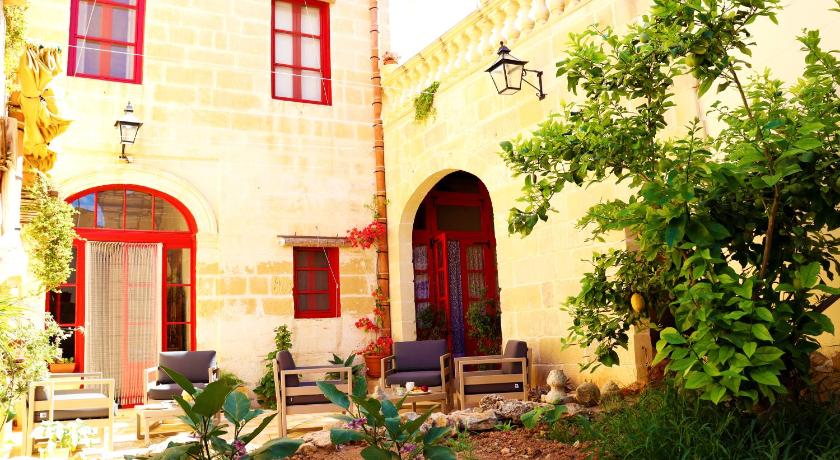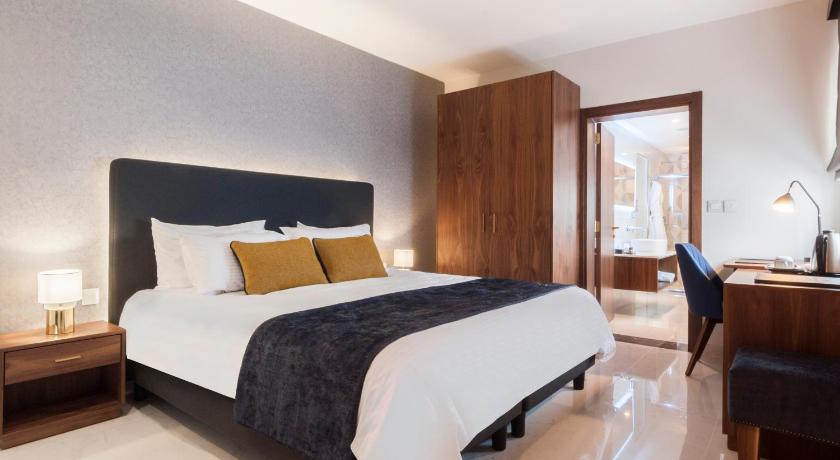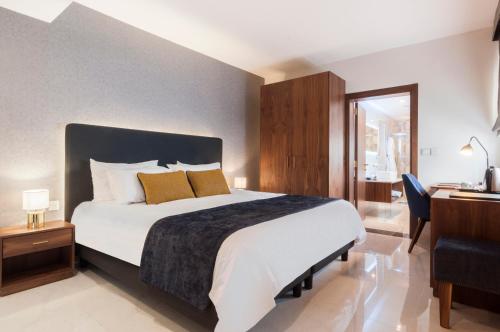 ⇒ Click here for more accommodation options on Malta and Gozo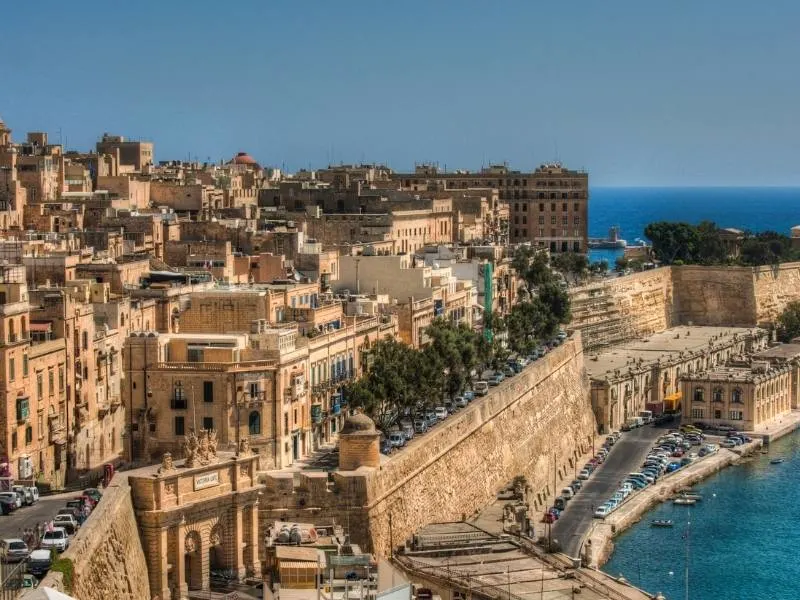 Where are the best markets to visit in Malta?
There are number of excellent markets in Malta to peruse! My favourite is in Marsaxlokk. This is also a great village to visit if you want to see the beautiful and very colourful traditional Maltese boats.
Marsaxlokk Open Market – held every day but Sunday is the day to go to see the fish on sale. It does get very busy on Sundays as the locals also head to the market.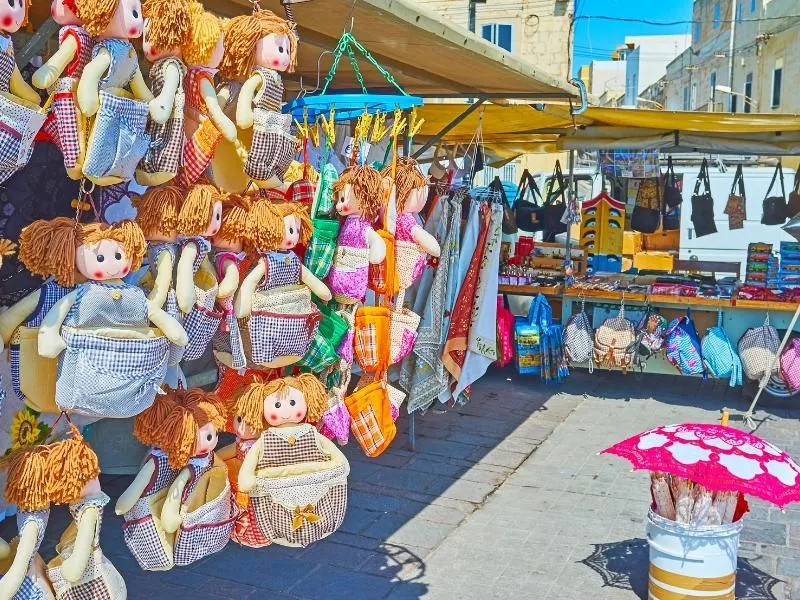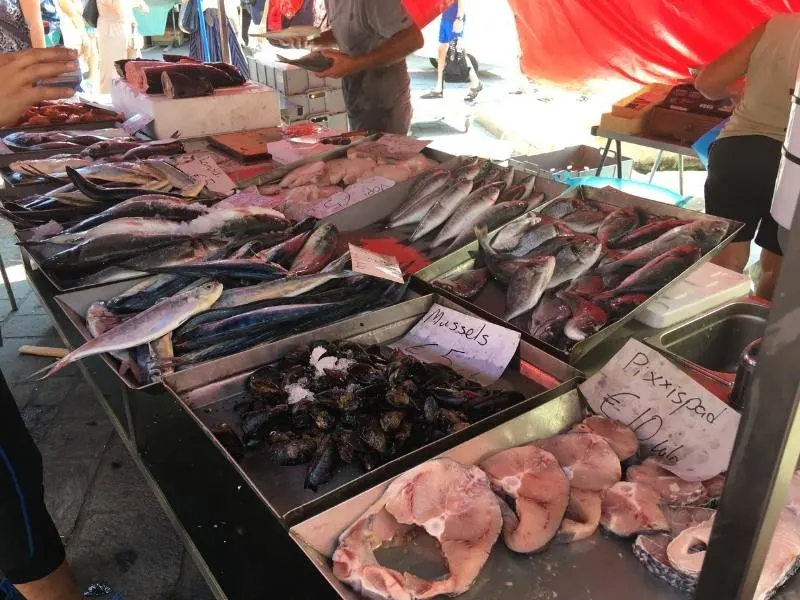 Victoria Open Air It-Tokk Market – this market on Gozo takes place daily in Independence Square in Victoria. There are loads of restaurants and cafes around the square as well as some great artisan shops.
Il-Monti Valletta – this is the largest market on the island and is held in Valletta every Sunday morning. Head there early to avoid the crowds!
Rabat Market (near Mdina) – great market for fresh produce and traditional Maltese foods.
Ta'Qali Farmers Market – this market only sells Maltese produce so stock up on honey, bread, goat's cheese and other delicacies. This market is open Tuesdays 16:00-19:00, Saturdays 09:00-17:00 and is situated next to the Ta Qali Crafts Village.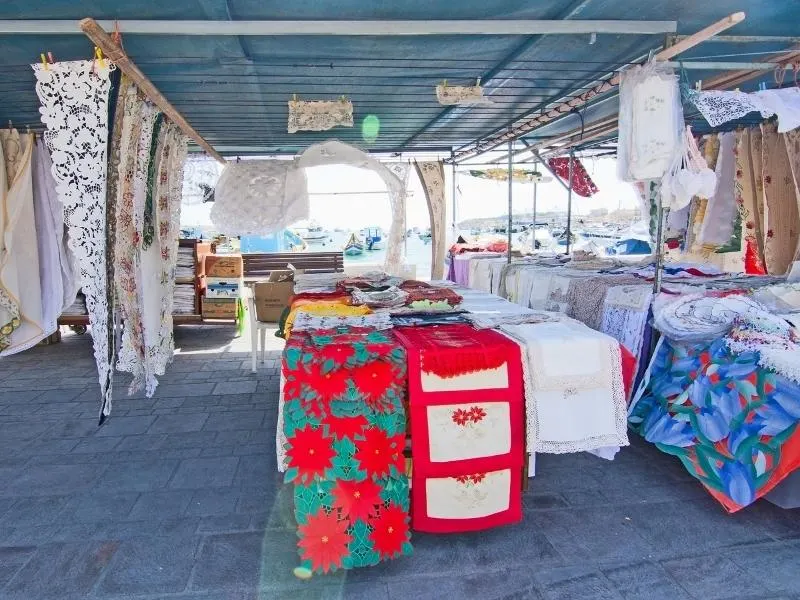 What souvenirs should I buy on Malta?
When you visit Malta make sure to take home some of the fantastic products for which the islands are famous. As a fan of prickly pears, I always purchase the local liquor made from the fruit. If you are visiting some of the markets you will easily be able to pick up some of these souvenirs!
Bajtra – Prickly Pear liqueur
Prickly Pear jam/conserve
Lace – Bizzilla Maltese Lace can be purchased in all the markets. The lace is a traditional craft that flourished in Malta over 400 years ago. The traditions have been passed from mother to daughter over the centuries. Much of the lace features the Maltese cross.
Nougat – If you attend a festa you have to try some traditional Maltese nougat!
Maltese Filigree – I bought a beautiful filigree ring on my first visit to Malta. The jewellery is very pretty and created using fine threads of gold or silver to produce ornate pieces.
Blown glass from Mdina – visit the workshop and showroom in Mdina and watch beautiful glass creations made before your eyes!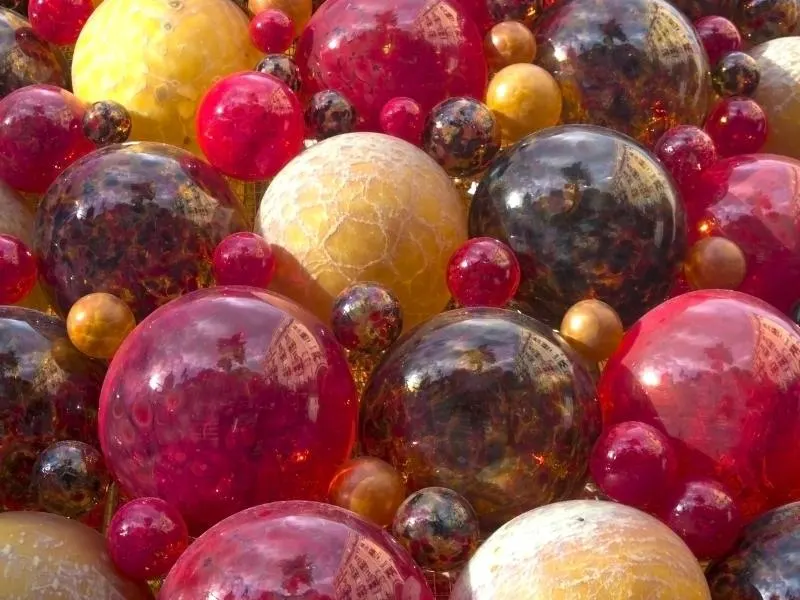 I am confident these tips will help you plan a fabulous holiday to Malta. It really is one of our favourite destinations to visit in Europe.