If you are wondering where to stay in Malta, this article covers nine of the best areas to stay in Malta (with hotel recommendations for each area) so you are sure to find the perfect accommodation in Malta for your trip.
The islands of Malta (Malta, Gozo and Camino) have a rich cultural history. They offer fantastic centuries old architecture, scenic landscape views and dramatic coastlines.
There are golden sandy beaches, excellent hiking opportunities and turquoise blue warm seas for swimming and snorkelling. Whether you are a history buff, sunseeker or someone who likes to party, Malta has something for all ages, travel styles and tastes.
If you want a varied and engaging cultural destination with good tourist infrastructure but one that doesn't involve long journeys between sights, Malta is the perfect destination.
Where to Stay in Malta
Quick picks for your stay in Malta
Visiting Malta – FAQ's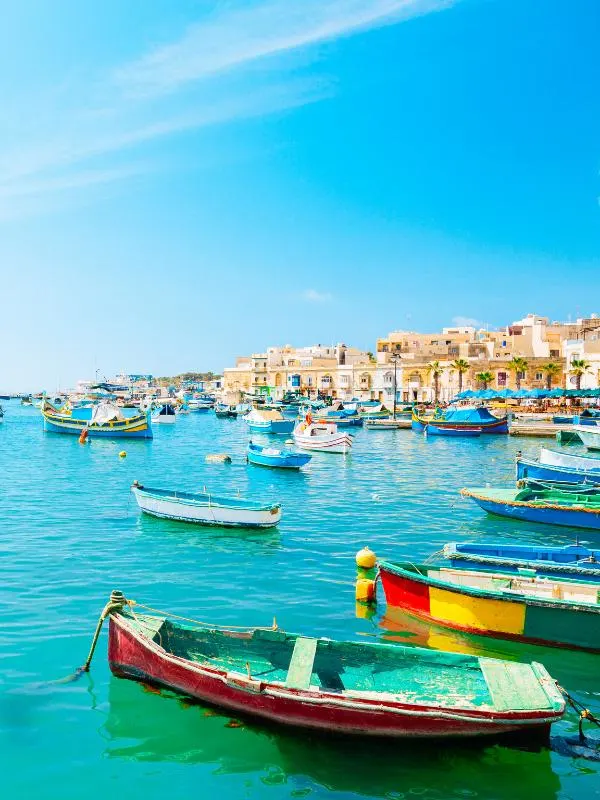 When is the best time to visit Malta?
Malta is a fantastic destination to visit all year round due to its temperate climate.
The hottest and sunniest months are June to August when the island comes alive with music festivals and holidaying families.
Spring and Autumn are shoulder seasons which offer warm, sunny weather but fewer crowds and lower prices. Easter and its preceding Holy Week, is a particularly special time to visit Catholic Malta. Plus, if you like hiking, Spring is the optimal time to visit the island for its varied, scenic trails.
Although the weather is mild in Malta in Winter, November to February will be too cold for swimming in the sea. However, Malta is at its quietest in winter so this is the best time to find accommodation bargains.
How many days should I spend in Malta?
For a small island, Malta packs in a lot of attractions.
Ideally you will want at least four full days to explore Malta (including a day trip to one of the smaller islands). If you have the time, 5 – 7 days will allow you sufficient time to fully explore this diverse island.
Is Malta expensive?
As it is an island economy, Malta is not a cheap destination to visit. It is comparable in prices to the U.K. and other European destinations in terms of accommodation, entrance fees and dining out.
However, you can save money by staying in a cheaper location and by self catering. It is cheaper to stay inland on Malta rather than along the coast and Gozo is a cheaper island to stay on than Malta.
Read more – Malta travel tips
How to get to Malta?
You can fly into Malta's single airport, Malta International Airport (MLA) from where there are good bus links to the rest of the island or from where you can hire a car.
It is also possible to arrive by ferry from neighbouring Mediterranean ports such as Syracuse in Sicily. This ferry journey from Italy to Malta only takes around 90 minutes.
Where to stay in Malta
Valletta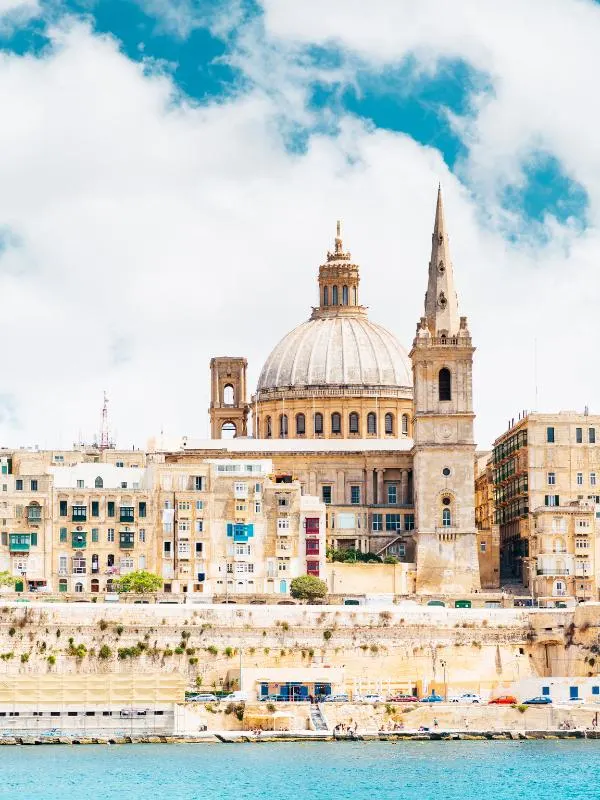 Valletta is the capital of Malta and is a designated UNESCO World Heritage Site. It is packed with 16th century buildings, narrow lanes, wide boulevards and attractive squares. It is a delightful city to wander around.
As the city has worked hard to preserve its historic character and identity, there are no newly built hotels or beachfront hotels.
If you like to stay in characterful, bustling locations with everything you need on your doorstep, Valletta is a perfect choice, especially for first time visitors to the island.
Things to do in Valletta
Visit the Grand Master's Palace, home of the President of Malta, an opulently furnished and decorated 16th century building.
Admire St. John's Cathedral – its interior is considered one of the best examples of Baroque art in Europe
Go shopping on Merchant Street in designer shops and familiar high street brands
Take a stroll in Barrakka Gardens or around the Grand Harbour
Visit one of the city's museums including the National Museum of Archaeology, the National War Museum or the National Museum of fine Art
Where to stay in Valetta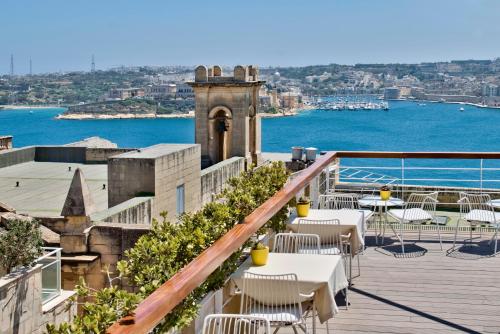 A highly rated contemporary hotel with stylish rooms and sea views whose room price includes breakfast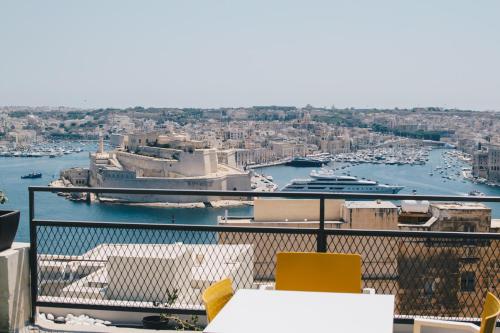 An elegant, centrally located hotel with views over the Grand Harbour. Its spacious air-conditioned ensuite rooms feature a kitchenette.
St. Julian's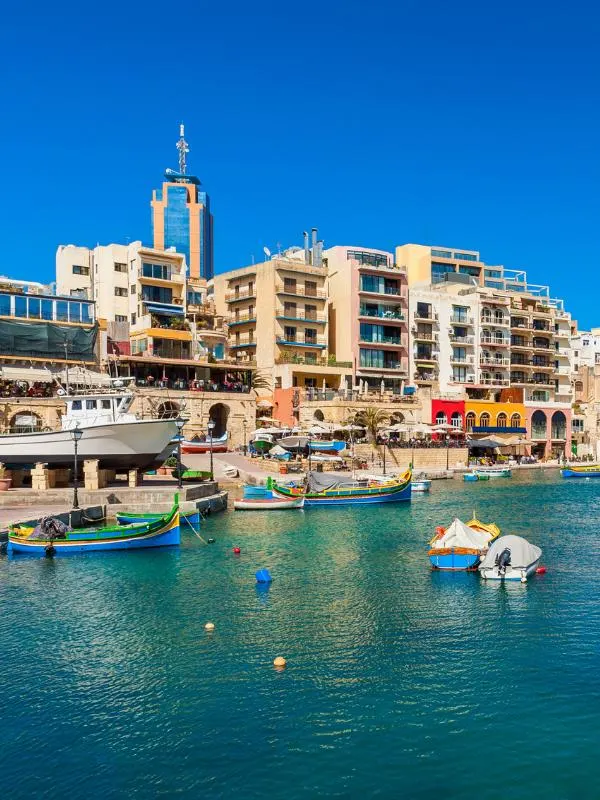 The coastal town of St. Julian's is 5 miles up the east coast from Valletta.
It is a busy tourist area with lots of hotels, bars and restaurants. If you like to party, this is the place to stay.
The area is popular with young singles or couples. It has a couple of beaches (one of which is rocky) and several designer shops.
Things to do in St. Julian's
Relax at St. George's Bay or on Balluta Bay Beach
Stroll along or watch the world go by on the kilometre long St. Julian's promenade
Explore Spinola Palace and its newly opened gardens
Take the lift to the 22nd floor to Portomaso Business Tower for incredible views of the surrounding area
Go shopping at Bay Street Shopping Centre
Where to stay in St. Julian's
A stunning 5 star hotel with 5 indoor and outdoor pools, 2 kids pools and a restaurant. Its spacious air conditioned luxury rooms have gorgeous sea views.
An affordable 4 star hotel with sea views and a swimming pool which is close to bars and restaurants. Its comfortable ensuite rooms (and family rooms) include breakfast.
Bugibba/St Paul's Bay/Qawra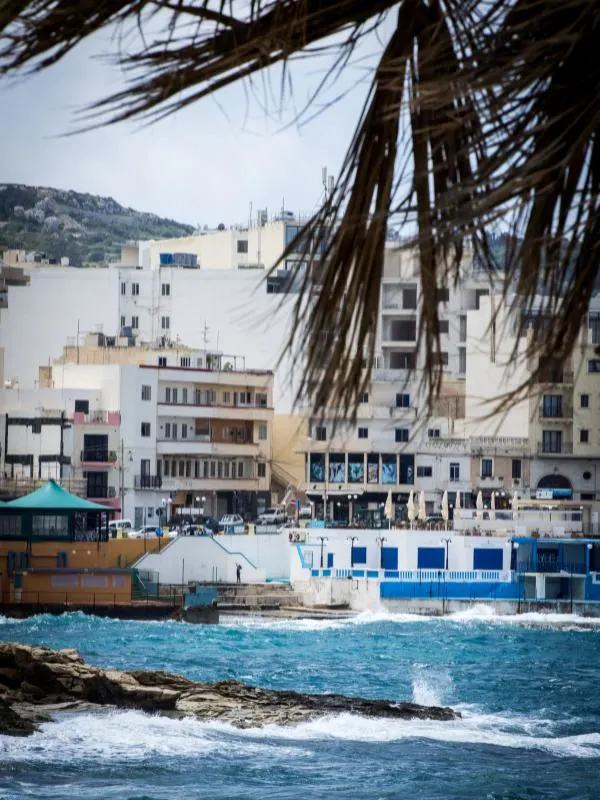 St. Paul's Bay consists of the Bugibba and Qawra neighbourhoods. It is 15 kilometres away from Valletta.
If you like large, sea view resorts this is the location for you. St. Paul's Bay is a family friendly area with a sandy beach and family orientated attractions so it is a good option if you are travelling with children.
Things to do in Bugibba/St Paul's Bay/Qawra
Spend a few hours at the free to enter Bugibba Water Park
Relax on Golden Sands or Bugibba Beach
Try snorkelling or scuba diving in the bay
See marine life at the Malta National Aquarium
Where to stay in Bugibba/St Paul's Bay/Qawra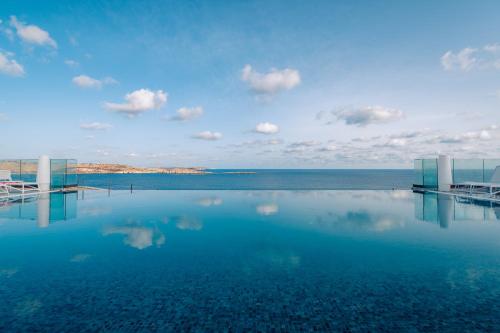 A surprisingly affordable 4 star adults only hotel with sea views, a swimming pool and spa. Its large rooms have a fridge and a balcony.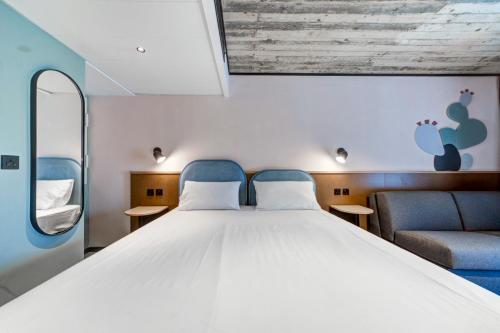 A family and budget friendly hotel with a pool, restaurant and bar. Its superior rooms are excellent value for money and include breakfast.
Mellieha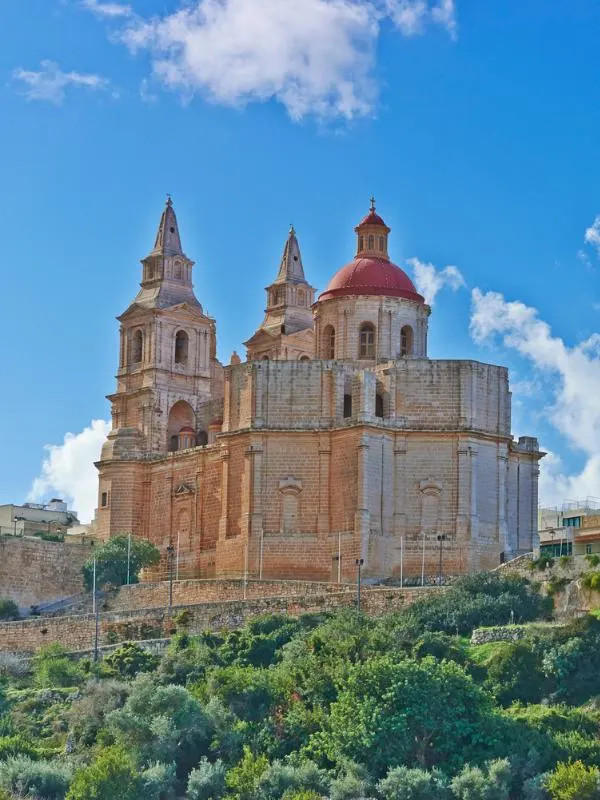 Mellieha in the north of the island has one of the largest sandy beaches on Malta. The local beaches and the kids-friendly Popeye Village are the main attraction in this area.
Mellieha does not have as many attractions as other locations in Malta so, as a result, this is a quieter, less visited part of the island.
If you like less touristy destinations, Mellieha is a good option though you will need a car to explore the rest of the island if you want to avoid long bus journeys.
Things to do in Mellieha
Sunbathe on sandy Mellieha Beach, Armier Bay Beach, Golden Bay or at Ghadira Bay
Spend the day at Popeye Village, the original set of the 1980's movie. It offers singing and dancing character shows, water trampolines and a mini golf course
Join a kayaking trip to the Coral Lagoon
Watch a sunset from St. Agatha's Tower (also known as the Red Tower)
Join a boat trip to the Blue Lagoon on neighbouring Camino island
Where to stay in Mellieha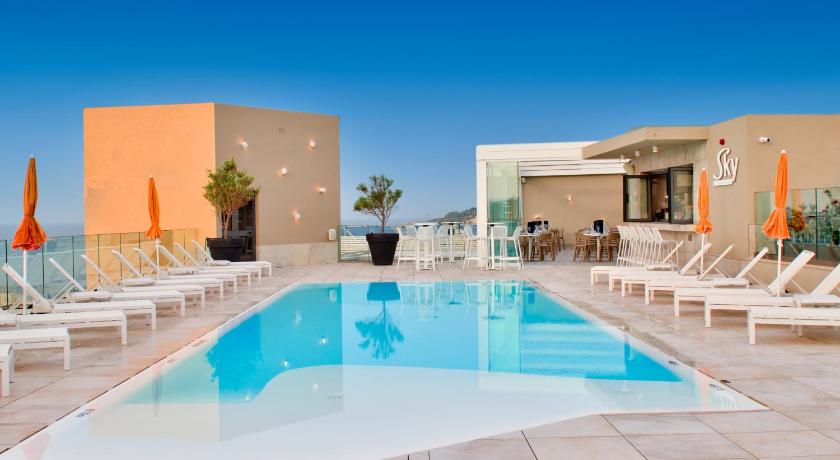 A bargain price 3 star hotel with indoor and outdoor pools, an airport shuttle and gym. Spacious rooms feature a fridge, stove, microwave and kettle. Family rooms are also available.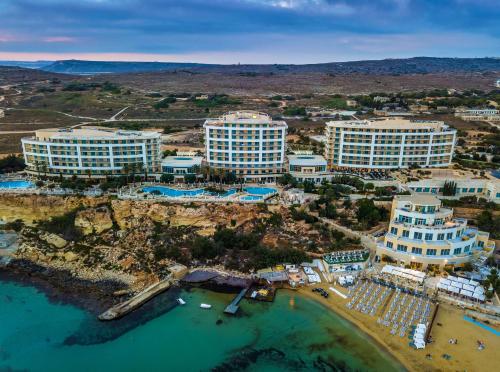 A wow factor seafront 5 star hotel with 3 swimming pools, a gym, spa and a private beach area. The huge air conditioned rooms are tastefully furnished and have extra large beds and a bathtub in the enormous ensuite.
Sliema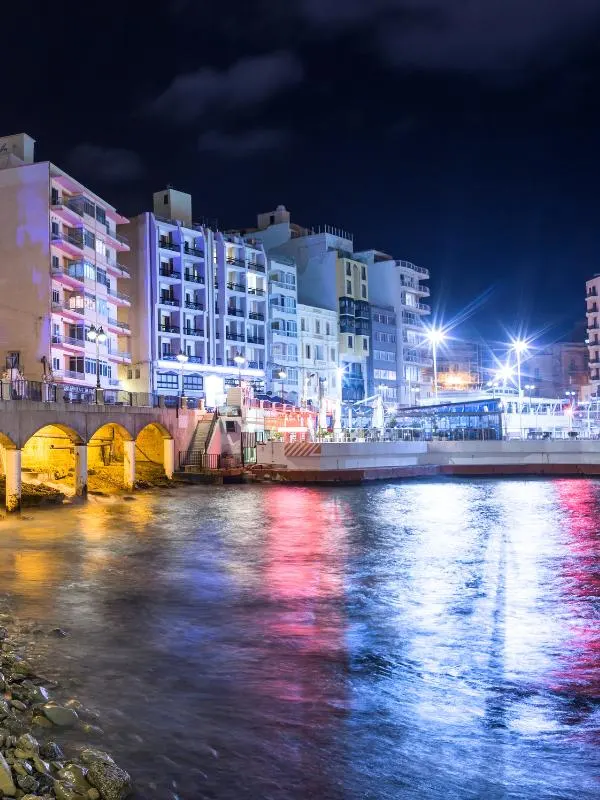 Sliema on Malta's northeast coast is a good location for all ages. However, as it only has rocky beaches it may not be the best choice for families with very young children.
It is a large busy town and is a great option if you are looking for budget friendly accommodation. You can catch local buses for the short ride to St. Julian's or a quick ferry ride to reach Valletta.
Things to do in Sliema
Take a stroll along Sliema's three kilometre long promenade
Explore local churches such as Our Lady of Mount Carmel of the Chapel of Our Lady of Graces
Check out the scenic views at Fort Tigné
Where to stay in Sliema
Close to the beach and ferry terminal for Valletta, this 4 star hotel has 2 swimming pools, a restaurant, bar and beautifully decorated rooms
A high end boutique hotel at an amazingly affordable price offering spacious light filled rooms
Mdina / Rabat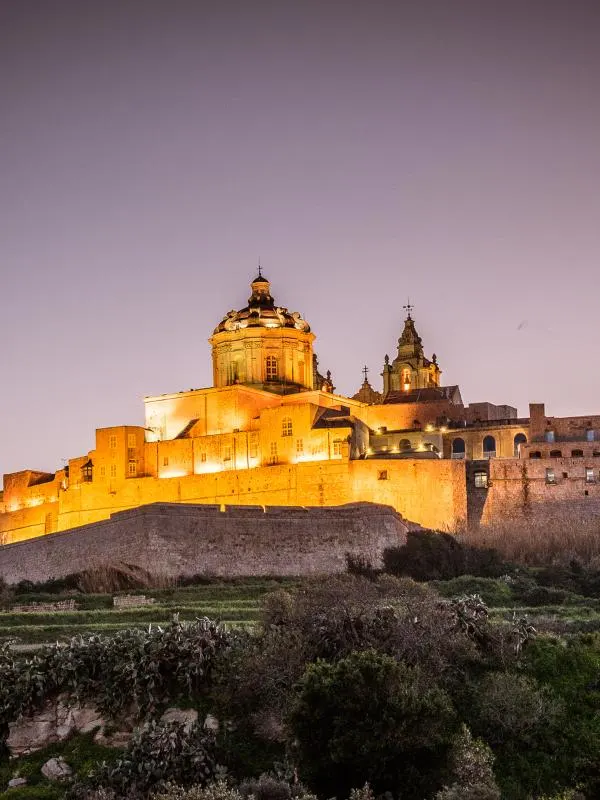 Mdina is a stunning Arabic walled city perched high on a hilltop in the centre of Malta. Staying on Mdina, or in its neighbouring town Rabat, will offer a very different experience to the rest of the island.
Things to do in Mdina / Rabat
Explore the stunning 17th century St. Paul's cathedral, the 15th century St. Agatha's chapel or the ornate Church of the Annunciation of Our Lady
Wander around the elegant Mdina ditch garden
Visit the 13th century fairytale-esque Palazzo Falson
Explore the Catacombs of St Paul in Rabat
Visit Casa Bernard in Rabat, a 16th century palace, a private home whose owners are happy to give pre booked tours.
Where to stay in Mdina / Rabat
One of the best 5 star hotels in Malta, the Palazzo Bifora offers a rooftop pool, breakfast and evening entertainment. The character packed hotel has large, colourful rooms and a central location.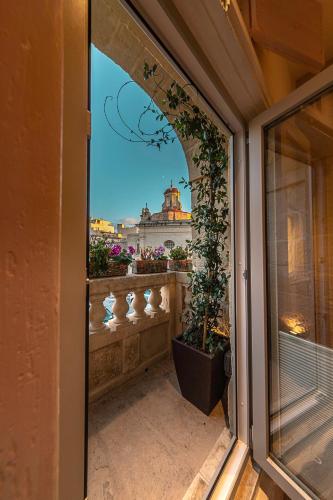 This exceptional hotel is set in a historic building and features stone walled rooms with a fridge, kettle and microwave.
Marsaskala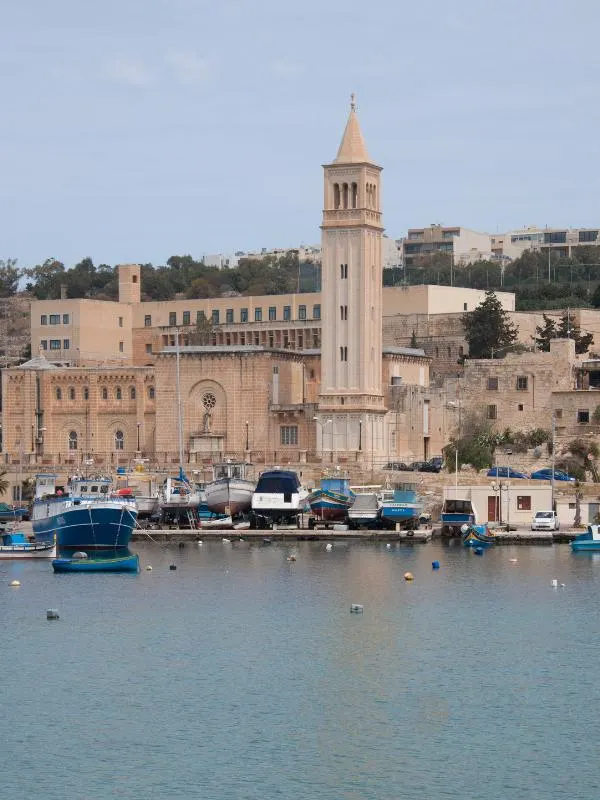 Marsaskala is on Malta's southeast coast and is a lesser visited part of the island. It is a good location if you are looking for an authentic Maltese vibe and for a place to relax. This was the location we chose when we first visited the island 20 years ago and we loved it.
You will not find large tourist developments or 5 star hotel complexes here. However, this quiet seaside town has a good range of family run guesthouses and budget friendly accommodation.
Things to do in Marsaskala
Sunbathe, swim or relax on St. Thomas Bay beach
Explore the 18 metre high St. Thomas Tower and the 17th century Mamo Tower and Three Crosses Monument
View Zonqor Point salt pans
Where to stay in Marsaskala
Aquamarine Sea Front Apartments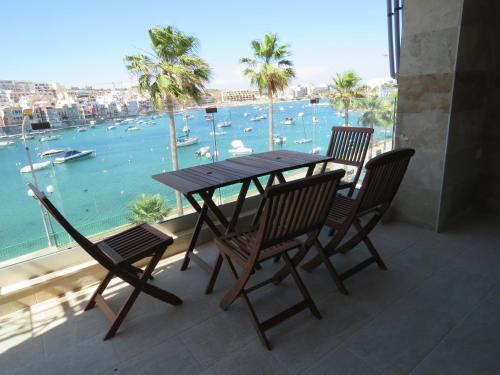 This spacious and comfortable 3 bedroom apartment sleeps up to 6 comfortably or 8 people using sofa beds. It has fantastic sea views and a well equipped kitchen and comfortable living area. It is ideal for groups and families who like to self cater.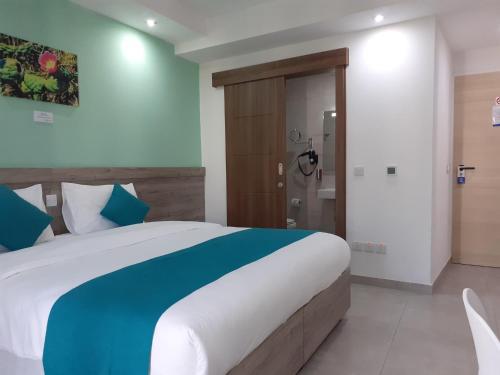 A small, good quality hotel for budget travellers offering a central location, breakfast and comfortable rooms with a fridge.
Marsaxlokk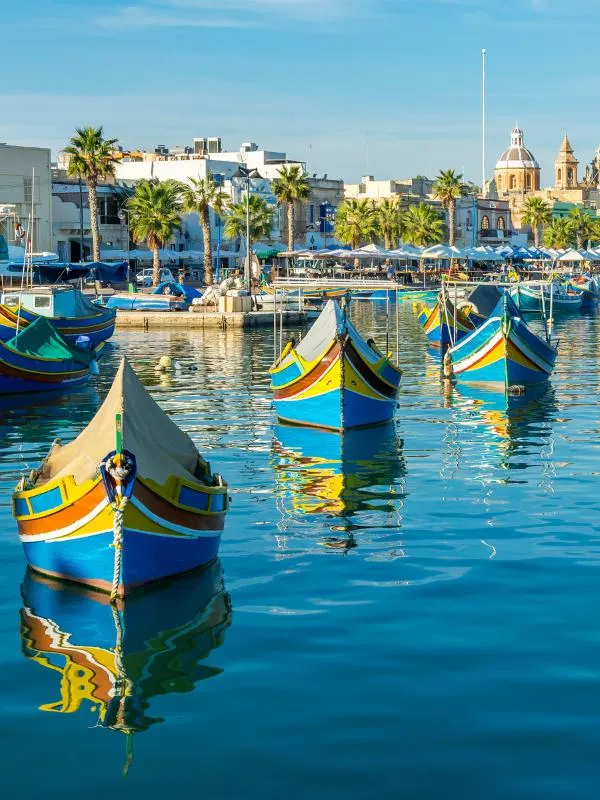 Adjacent to Marsaskala on Malta's southeast coast is Marsaxlokk, a delightful fishing port and village. If you want a laid back holiday with an excellent choice of seafood restaurants, this is the location for you.
Things to do in Marsaxlokk
See the 17th century Fort of St. Lucian
Shop for fresh fish at the Sunday morning fish market
Enjoy a stroll around the harbour or in Xrobb l-Għaġin Nature Park
Go swimming at St. Peter's Pool
Where to stay in Marsaxlokk
A luxury guesthouse at a bargain price (which includes breakfast) offering large comfortable rooms with a microwave and fridge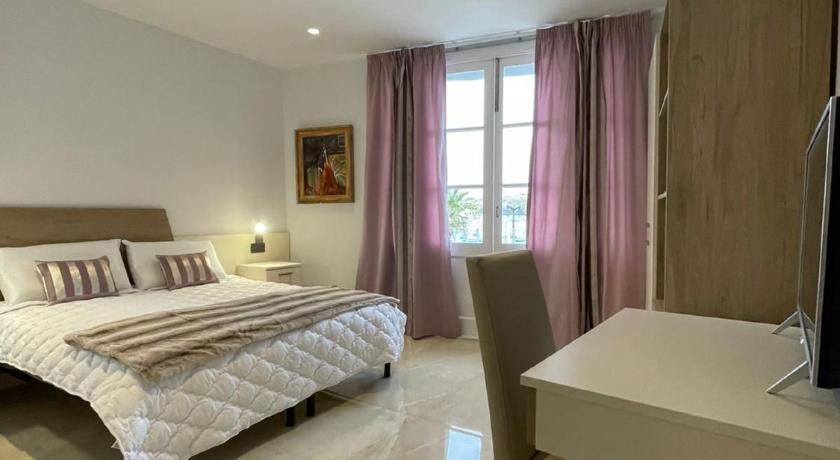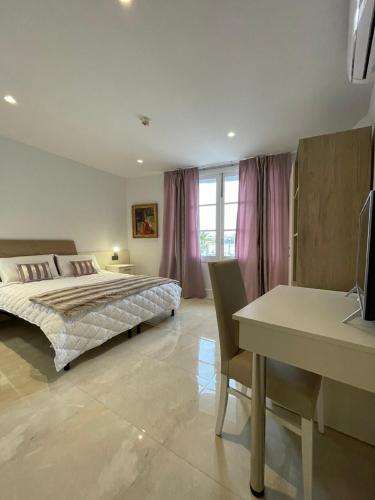 An elegant guesthouse near the beach boasting large rooms with sea views plus free WiFi and breakfast.
Gozo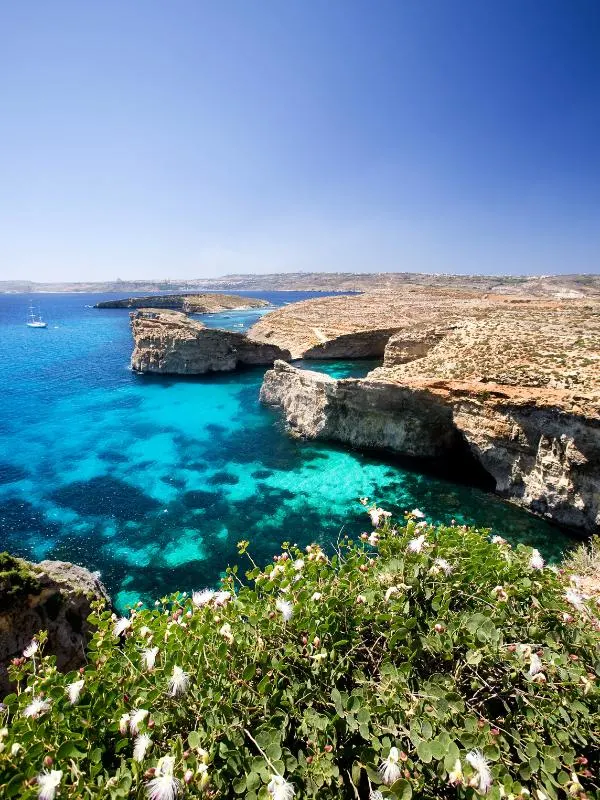 The beautiful island of Gozo is quiet and unspoilt and is an easy, must-do day trip by fast ferry from the main island of Malta.
If you like stunning scenery, historical sites and an outdoor lifestyle, you might find that Gozo is more suited to you than the main island.
Things to do in Gozo
Stroll around Victoria, Gozo's charming capital
Explore the imposing citadel
Go hiking at Xlendi Bay
Join a kayaking, mountain biking, scuba diving or rock climbing trip
Relax on Ramla Bay Beach
Visit the UNESCO World Heritage Ggantija Megalithic Temples
Where to stay in Gozo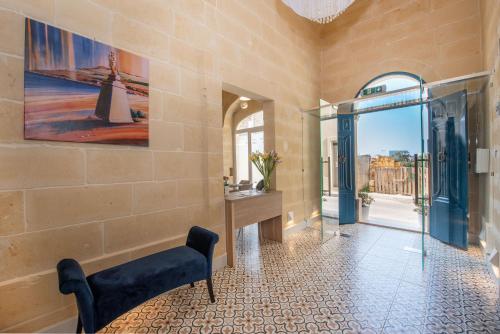 An exceptional homely hotel with stone walls, high ceilings and mosaic tile floors. It is a 25 minute drive or bus ride from the capital Victoria. Its comfortable blue toned rooms offer free WiFi and a kettle.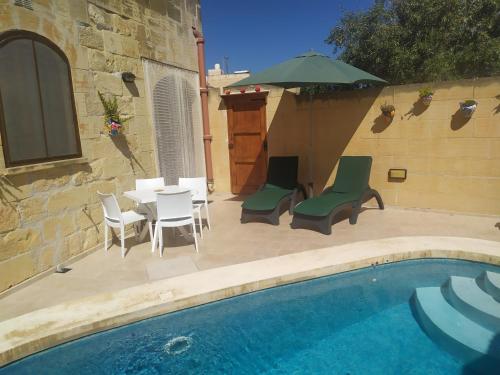 Live like a local in this stunning rural holiday home which offers a swimming pool, 2 bedrooms, 2 bathrooms, a well equipped kitchen and living room plus a playroom for kids. If you want to experience a slice of Maltese life, this is the perfect property.
Read more about visiting Malta
I hope this comprehensive guide to where to stay in Malta has helped you find the perfect location and accommodation for your trip to this special part of the Mediterranean.