This post may contain compensated links. Please read our disclosure for additional information. As an Amazon Associate, I earn from qualifying purchases.
The village of Saltaire can be found near Bradford in Yorkshire England. It was created by Sir Titus Salt (to which he and the river Aire which run though it give it the name) in the mid 19th century.
Saltaire was built between 1851 and 1872 to provide the workers in his mill with decent housing and other amenities such as a hospital, school, and wash houses.
Titus Salt was a pretty decent bloke and really looked after his workers – even in old age and sickness. He has been named as one of the greatest Victorian philanthropists. Some big businesses today should learn some lessons from him.
Saltaire was inscribed as a UNESCO World Heritage Site in 2001 and recognised as "one of the earliest, largest and best preserved nineteenth century 'model villages' anywhere in the world." (Discover Saltaire)
If you are looking for things to do in Saltaire to better plan your day then read on!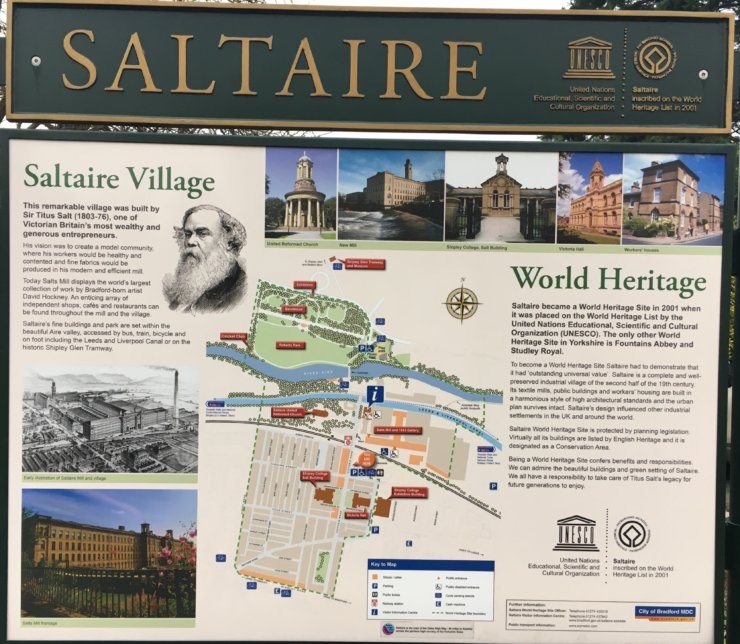 ---
Things to do in Saltaire
---
The Heritage Trail in Saltaire
---
Our first stop was the Visitor Information Centre to find out about things to do in Saltaire. As we soon discovered there was a lot to see and do on our visit. We picked up a map of the Heritage Trail which takes you through the village to points of interest as you stroll. I purchased the official guide for £1.50 which gives lots of great information to read as you take the trail.
I highly recommend that you take the trail as it was really interesting and you learn a lot about life for ordinary people in 19th century England. (Or those lucky enough to work for Salt as the lives of workers in other areas was not necessarily as good as those in Saltaire)
In the village of Saltaire you will also see lots of beautiful buildings built in the 19th century – from the huge Mill to the almshouses these buildings give a great insight into life in Saltaire in the 1800's. The village was designed by local architects Lockwood and Mason who designed houses far superior than was the norm for workers at that time (for example they had gas/water/separate kitchens and outside toilets and some even had gardens). The Saltaire United Reformed Church designed by the pair is now a grade 1 listed building.
It is also worth remembering that these houses are lived in – as it states in the official trail booklet "Saltaire is a community and not a museum" so please respect their privacy.
Tip – check out the street names!
---
Explore Salt Mills
---
The Salt Mills were opened by Titus Salt in 1853 and some 3000 workers were producing up to 30,000 yards of cloth a day (Saltaire Trail).
In 1987 the now empty and silent mill was bought by Jonathan Silver, an entrepreneur who created the 1853 gallery. The gallery exhibited works by local artists including David Hockney who is from nearby Bradford and was the beginning of the regeneration of the area. The Mill still holds one of the largest collections of Hockneys in the world.
There is loads to see in the Mill – a lot of art from Hockney to enjoy, shops to peruse and a number of places to stop off for a drink/sandwich or a meal. (And the serviette in Salts Diner has the best logo ever – designed by Hockney!!)
---
How to get to Saltaire
---
We caught the train to Saltaire as it has its own station and I would highly recommend this option. There are regular train services from Bradford and Leeds and the train station is opposite the mill! Easy! Saltaire has limited parking and using public transport is a more sustainable way to protect the local environment and lessens the impact of tourism on those who live in the village.
Saltaire is built next to the Leeds Liverpool Canal and is an excellent place for a stroll or a hike for those more serious walkers.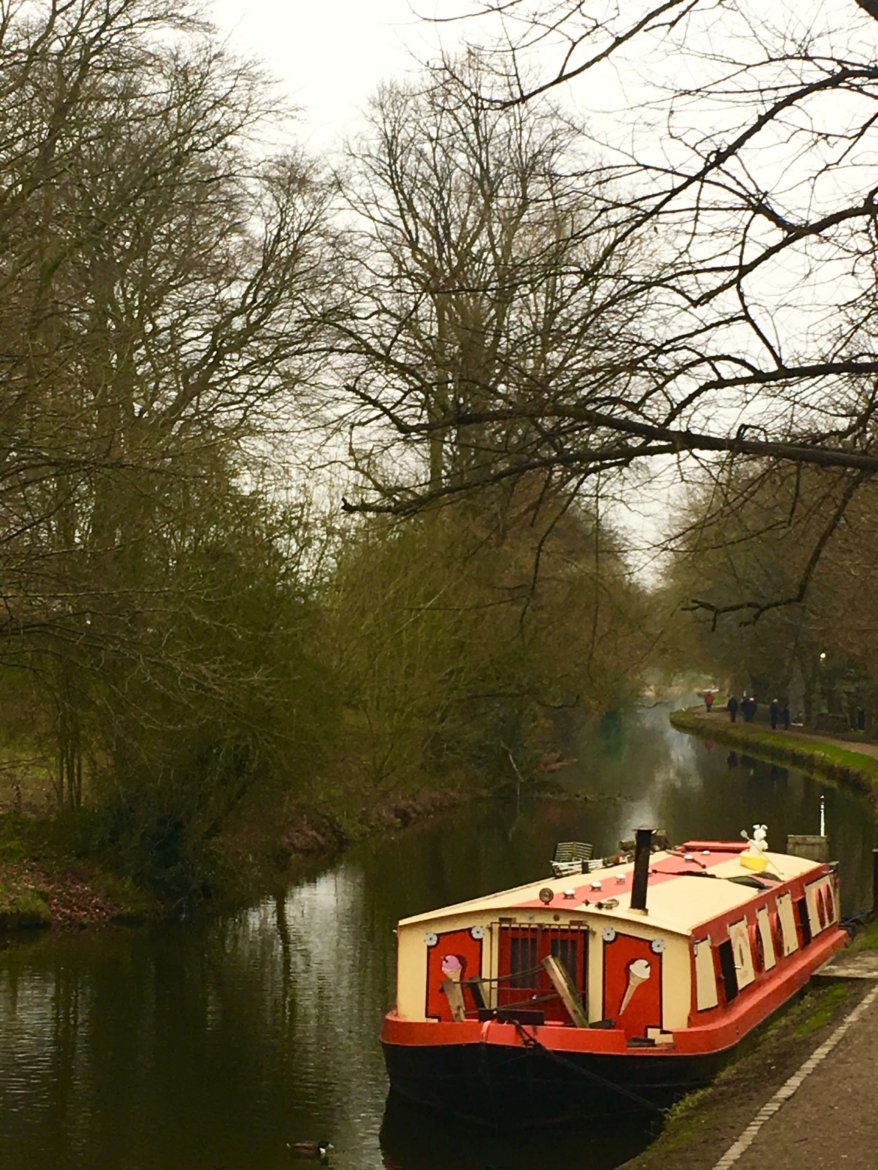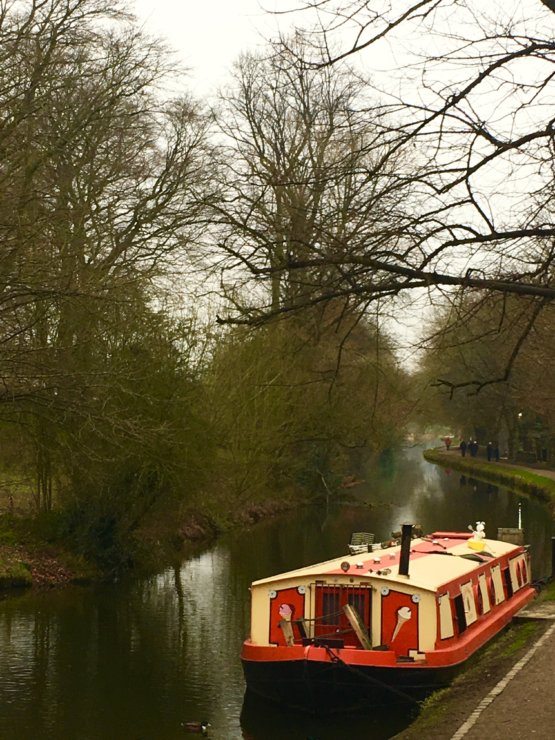 The Mill is open every day except Christmas Day, Boxing Day and New Year's Day. For more information check out the Saltaire Village website here!
---
Hotels Saltaire – where to stay
---
Why not book a night or two in Saltaire and explore the area?
---
UNESCO World Heritage Site
---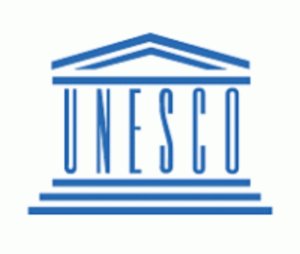 As I have mentioned Saltiare is a UNESCO World Heritage Site. To find out more about its inscription visit the UNESCO listing here!
There are lots of fantastic UNESCO World Heritage Sites to visit in the UK. Bath is a UK city which has UNESCO World Heritage status. If you are planning to visit there are 8 things to do in Bath which you may enjoy!
---
Pin for later – Things to do in Saltaire
---
This post may contain compensated links. Please read our disclosure for additional information. As an Amazon Associate, I earn from qualifying purchases.
Over the last 50 years I have lived and worked in 7 countries on 4 continents and travelled to many more. I enjoy exploring and learning about new places and meeting people on my travels. History, reading, photography, nature and wildlife are my interests and I am ALWAYS researching and planning my next trip (preferably by train)
With a lifetime of travel experience, and a network of friends all over the world, I share genuine insider guides, recommended best book lists and train journey inspiration to help YOU travel authentically to some of the most beautiful places on earth.
Come and join me as I travel the world one country (and train journey) at a time!