Thinking of visiting the Kelpies? Find out all about these horse head sculptures located in Falkirk near Edinburgh and why they are a must-visit in any Scotland itinerary and an easy day trip from Edinburgh.
Are you planning a visit to see the Kelpies in Falkirk Scotland? These huge horse head sculptures are a must-see on any road trip around Scotland (and an easy day trip from Edinburgh or Glasgow)
If you are planning a trip to Scotland I would highly recommend adding a visit to the Kelpies in Falkirk to your Scottish itinerary. As I mentioned they are an easy trip by train from either Edinburgh or Glasgow so make a worthwhile day trip from either Scottish city (you will find more information about how to get to the Kelpies later in this article)
In this article, you can find out all about visiting the Kelpies – what they are, who designed them, where they are, as well as practical information to help you plan your visit!
What are the Kelpies?
What exactly are Kelpies?
According to Scottish legends they are shape-shifting water spirits who inhabit the lochs and waterways of Scotland and appear most often as a horse (though they can appear in human form too)
The Kelpies also pay tribute to the working horses of Central Scotland and remind all visitors of the hardworking horses that once worked these waterways transporting goods to the people
Who designed the Kelpies?
The Kelpie sculptures at The Helix were created by sculptor Andy Scott, who was born and brought up in Falkirk. They were completed in October 2013.
How tall are the Kelpies? And how much do they weigh?
The equine sculptures are over 30 metres tall and weigh over 600 tonnes.
They stand 30 metres tall and are made from stainless steel clad with weathering steel. They have been produced using specific stainless steel called aegnor 50, a material commonly used to make oil rigs.
Each of these huge horses has been created from more than 2 miles of individual metal plates that have been cut and shaped by hand at the workshops in Falkirk.
The Kelpie sculptures were part-funded through The Big Lottery Fund's Awards for All Scheme. The Helix Park was designed and created by Falkirk Council with contributions from the Heritage Lottery Fund.
Do the Kelpies have names?
Yes, the sculptures were modelled on two working Clydesdale horses, Duke and Barron and are a tribute to Scotland's horse-powered heritage.
Are there any guided tours available?
There is a guided tour available which costs (as quoted on the brochure June 2019) £7.50 for adults and free for children.
The tour lasts 45 minutes. During the tour, you are able to experience the sculptures from the inside!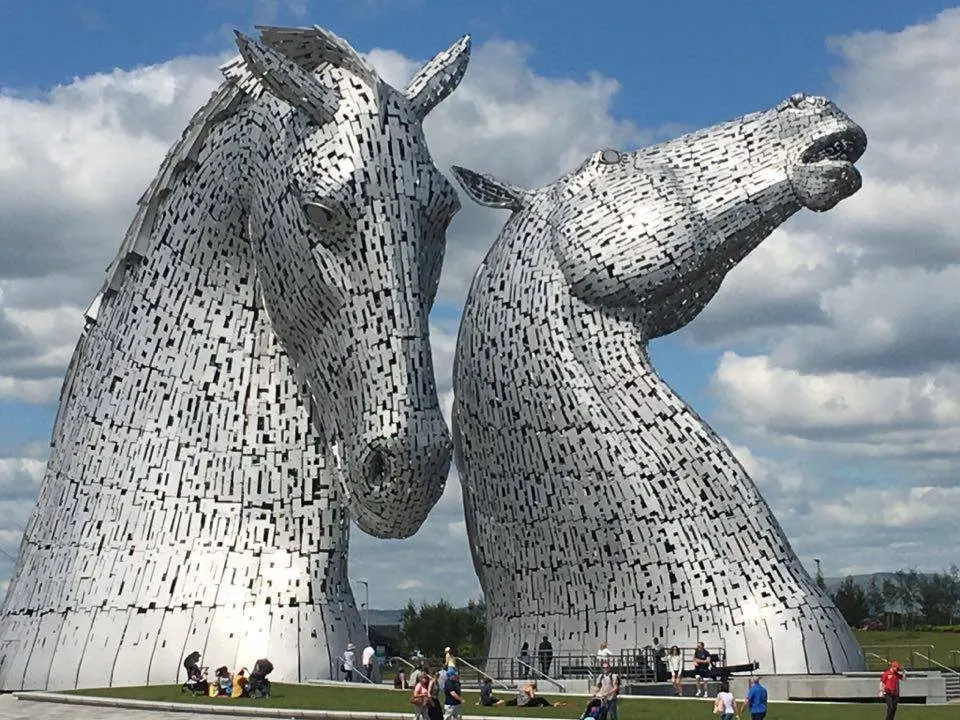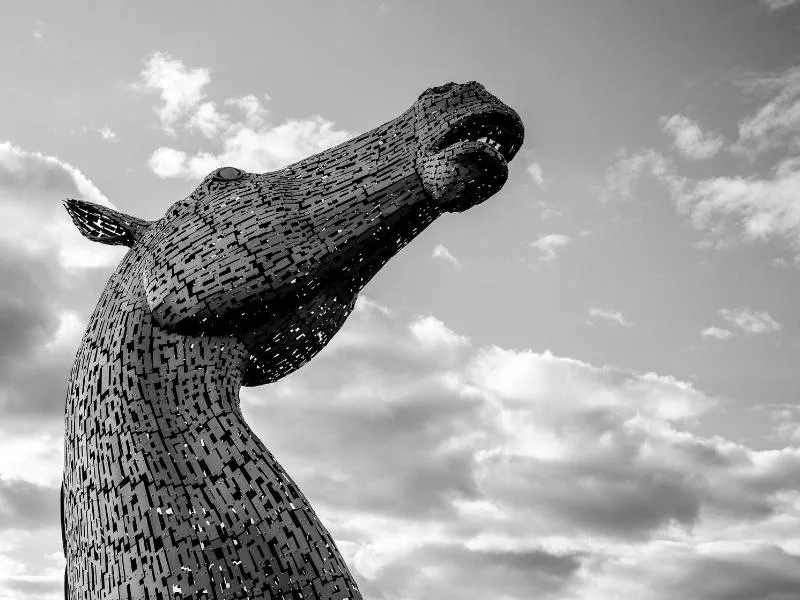 Logistics for visiting the Kelpies
Where exactly are the Kelpies located?
The Kelpies are located off the M9 in Falkirk – 19 miles from Edinburgh and 35 miles from Glasgow.
The Kelpies are found in Helix Park. This is a land transformation project aimed at improving connections between and around 16 communities in Falkirk.
Also in the area is the Falkirk Wheel which is a rotating boat lift that opened in 2002. It connects the Forth and Clyde Canal with the Union Canal.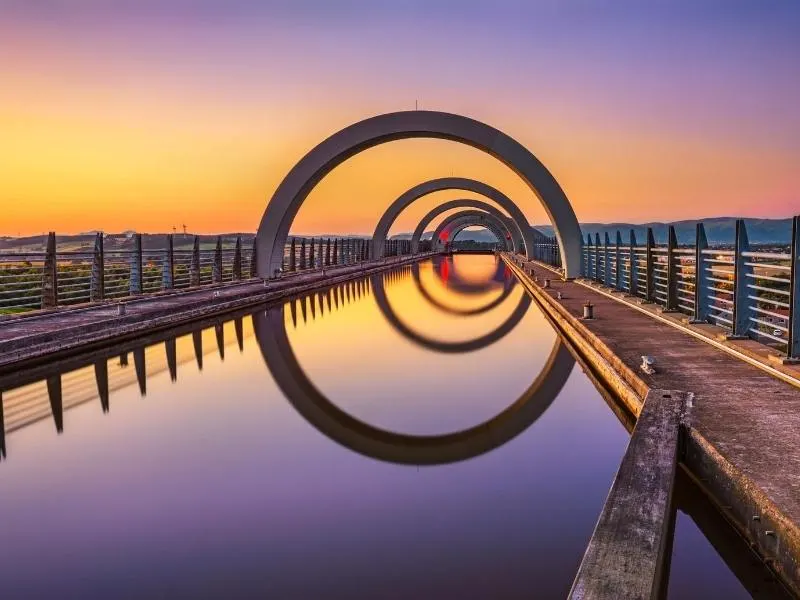 How do I get to the Kelpies?
By train to Falkirk (then bus or walk to Helix Park)
We travelled by train to Falkirk from Edinburgh and alighted the train at Falkirk High. There is a bus which runs from the train station to Helix Park.
On the day we arrived there were roadworks underway and the bus was cancelled. We decided to walk as it was a beautiful day when we arrived in Falkirk.
If you do decide to walk it is a fairly long walk so make sure you have a map. The walk took us over an hour and we seriously thought we were never going to find them!
As we didn't want the hike back to the station we ordered a taxi which cost £8 even though we were quoted £5.50. Staff at the visitor centre called and organised the taxi for us (the staff were all lovely and really helpful.)
If you are still in the planning stage here are some ideas to help you put together a 7 day itinerary for Scotland.
By car
If you decide to visit The Kelpies by car you will find ample parking. There are 2 car parks. The Kelpies car park costs £2 per car and £1 for motorbikes.
The Helix car park is free but is smaller and a little further away from the Kelpies and visitor centre.
By tour
There are a number of tours available from Edinburgh to the Kelpies. Most tours also incorporate other popular destinations of Loch Lomond, Stirling and the Trossachs.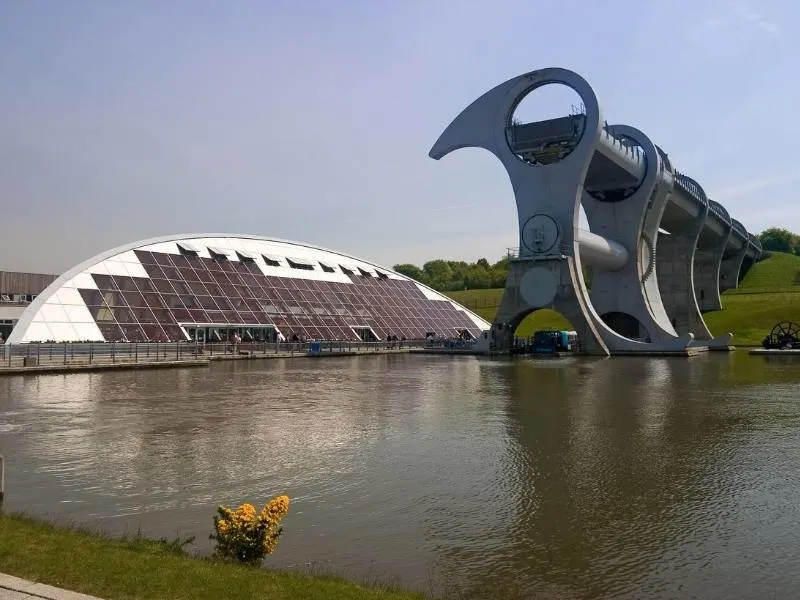 Is there a Visitor Centre at Helix Park?
Yes there is a Visitor Centre near the Kelpies. You will find a gift shop and restaurant on-site so you can pick up souvenirs or have a cuppa. You can also book tours at the visitor centre.
There is also a cafe – the Plaza Café which is open from April to October and located at the Helix Lagoon.
What accommodation options are there near the Kelpies?
The Kelpies look spectacular at night when they are lit up so why not book accommodation nearby so you can relax and enjoy your visit? You will find lots of ideas in my Scotland Accommodation Guide.