This post may contain compensated links. Please read our disclaimer for additional information. As an Amazon Associate, I earn from qualifying purchases.
Are you planning to visit Australia or possibly even move to Australia? I don't know about you but I love finding out as much as possible about a place before I visit. As well as reading blogs and travel guides I also enjoy reading fictional works associated with the country.
If Australia is a destination on your itinerary these are some of the books I highly recommend adding to your reading list! This is my list of books about Australia to read before you visit but if you know of anything I have missed do let me know in the comments below!
NON FICTION BOOKS ABOUT AUSTRALIA TO READ
IN A SUNBURNED COUNTRY – BILL BRYSON
I love reading Bill Bryson's writing and this book is no exception. I read it before we moved over and laughed and laughed at his experiences. And also learnt quite a bit too. I am looking forward to visiting Canberra to see if it is exactly as he describes!
If there is one book to read before arriving in Australia this in the one!
In a Sunburned Country
THE UNITED STATES OF AUSTRALIA – CAMERON JAMIESON
A must read for any Americans out there planning to visit Australia! The United States of Australia is a fabulous (and funny) introduction to Australia and its quirky inhabitants. This book examines the relationship between Australia and the U.S., including how Australians view their American cousins.
Topics include Blokes and Sheilas, Bloody Foster's, Dangerous Creatures, Talking to Dogs, The GAFA, Speaking Strail-yun and Working for the Queen. Confused? You won't be after reading this book!
The United States of Australia: An Aussie Bloke Explains Australia to Americans
READ MORE – 101 things to know before you visit (or move to) Australia
A TRAVELLER'S HISTORY OF AUSTRALIA
Find out about the history of this vast country from the arrival of the earliest Aborigines some fifty or sixty thousand years ago to the present. Learn all about the ancient Aboriginal way of life, the arrival of European settlers and the emergence of a 21st century Australia.
A Traveller's History of Australia
TRAVELER'S TALES GUIDES – AUSTRALIA
This volume of Travelers' Tales provides a vibrant introduction to the country of Australia and its people. Visit well-known sites like Bondi Beach and Uluru, get lost in the outback, forage for platypuses, slog through billabongs, walk along ancient song lines, and land on a deserted island for a Robinson Crusoe adventure that will make you think twice about leaving home.
Travelers' Tales Australia: True Stories (Travelers' Tales Guides)
FODOR'S TRAVEL ESSENTIAL AUSTRALIA
Written by local writers Fodors have been producing excellent travel guides for over 80 years.
Fodor's Essential Australia (Full-color Travel Guide)
READ MORE – Visiting Cape Hillsborough to see the kangaroos on the beach at dawn
LONELY PLANET AUSTRALIA
It is Lonely Planet guidebook – what more can I say!!!
Lonely Planet Australia (Travel Guide)
AUSTRALIA'S DANGEROUS ANIMALS
And there are enough of them!!! Read up about all those crazy spiders, snakes, stingers and others that can kill you in the Land Down Under!!!
Australia's Dangerous Animals: A Folding Pocket Guide to Potentially Harmful Species (Wildlife and Nature Identification)
READ MORE – 25 books about Australian animals to share with children
AUSTRALIA TRAVEL GUIDE
Another great travel guide – tips about where to go, what to see and more when visiting Australia!
DK Eyewitness Travel Guide Australia
READ MORE – 25 of the best beaches to visit in Australia
THE ESSENTIAL GUIDE TO CUSTOMS AND CULTURE
Good to learn about the customs and culture of Australia before you go! Australia is different—a vast island-continent with distances so great that the capital of Western Australia is actually closer to Singapore in Asia than it is to Sydney.
Australia with magnificent tropical rainforests and deserts the size of several European states has a lifestyle the envy of the world.
Find out everything you need to know about its culture and customs. Learn the difference between a quokka and a gallah and have a fabulous time!
Australia – Culture Smart!: The Essential Guide to Customs & Culture
AUSTRALIA'S MOST UNBELIEVABLE STORIES
I bet you didn't know that in 1932 the Australian army was called out to wage war on an invading army of 20,000… emus! Or that the first royal personage to arrive in Australia was the King of Iceland and he came as a convict?
From Jim Haynes, one of Australia's most successful and prolific tellers of yarns and bush tales, comes this ultimate collection of unbelievable true Australian stories: the unknown, the forgotten, the surprising, the truly weird and the completely inexplicable.
Australia's Most Unbelievable True Stories
---
CLICK TO JOIN AMAZON'S KINDLE UNLIMITED PROGRAM – FIRST 30 DAYS FREE!
Do you read books on your kindle? I love mine and it means I can literally take hundreds of books with me when I travel – no worries about luggage allowance or weight restrictions.
If you read a lot of books why not consider signing up to Amazon's Kindle Unlimited program? For only $9.99/ £7.99 you get access to unlimited ebooks, audiobooks, magazines for any device. It really is a great program and if you click on the link you get your first 30 days absolutely FREE!!

PREFER AUDIO BOOKS?
Audible, an Amazon company, offers the world's largest selection of digital audiobooks and spoken word content. With Audible, customers can listen anytime and anywhere to professionally-narrated audiobooks across a wide range of genres.
TOP 10 FICTION BOOKS ABOUT AUSTRALIA TO READ
THE SHEPHERD'S HUT
Tim Winton is one of Australia's most decorated and beloved novelists. In this novel the author tells the story of a young man on a journey of self-discovery in one of the harshest climates on Earth.
The Shepherd's Hut: A Novel
THE LITERATURE OF AUSTRALIA
The Literature of Australia is a collection of some of the most distinctive and most significant of the nation's writing. It includes work from contemporary authors of international renown, including Shirley Hazzard, Peter Carey, David Malouf, Les Murray, Alexis Wright, and Kate Grenville.
The Literature of Australia: An Anthology
THE FORTUNES OF RICHARD MAHONEY
A family saga set in the 18th century in Melbourne and Ballarat. A classic Australian saga this is a must read for anyone interested in 18th century Australia.
The Fortunes of Richard Mahoney (Australia Felix, The Way Home, Ultima Thule) BICENTENNIAL EDITION
PICNIC AT HANGING ROCK
Picnic at Hanging Rock is an historical fiction novel written by Joan Lindsay. The novel is set in 1900 and revolves around the disappearance of a group of students from an Australian girls' boarding school when they are visiting Hanging Rock on Valentine's Day.
It is regarded by critics to be one of the best Australian novels.
Picnic at Hanging Rock (Penguin Classics)
THE SPARE ROOM
The Spare Room revolves around the friendship between two women – one dying and the other who cares for her. This book consistently receives excellent reviews and the author Helen Garner is a well respected Australian author.
The Spare Room
CARPENTARIA
Written by the indigenous Australian author Alex Wright Carpentaria is his second novel.
by the indigenous Australian author Alexis Wright. It met with widespread critical acclaim when it was published in mid-2006, and went on to win Australia's premier literary prize, the Miles Franklin Award, in mid-2007.
Set in the sparsely populated town of Desperance in northern Queensland the story revolves around a powerful local family and Aboriginal families in dispute with the white officials of neighbouring towns.
Carpentaria: A Novel
THE KOOKABURRA CREEK CAFE
One small town. Three lost women. And a lifetime of secrets.
The Kookaburra Creek Café
THE DAUGHTER OF AUSTRALIA
An epic novel that follows the life of Leonora. Found abandoned as a small child in the desert of western Australia to a life in America before returning to her roots this love story will enthral you from beginning to end!
Daughter of Australia
THE DRY
Set in an outback town gripped in a two year drought this murder mystery is a page-turner.
The Dry: A Novel
PREFER AUDIO BOOKS OR WANT TO GIVE THEM A GO?
---
Audible, an Amazon company, offers the world's largest selection of digital audiobooks and spoken word content. With Audible, customers can listen anytime and anywhere to professionally-narrated audiobooks across a wide range of genres.
---
FURTHER INFORMATION FOR VISITING AUSTRALIA
---
I have lots of information on my blog about travel in Australia so do check out some of these posts. There is sure to be something to help you plan your trip or move to Australia.
There are more posts about Australian life include a guide to Aussie slang, films to watch before you visit, Christmas in Australia, and 10 Aussie myths debunked.
PIN FOR LATER!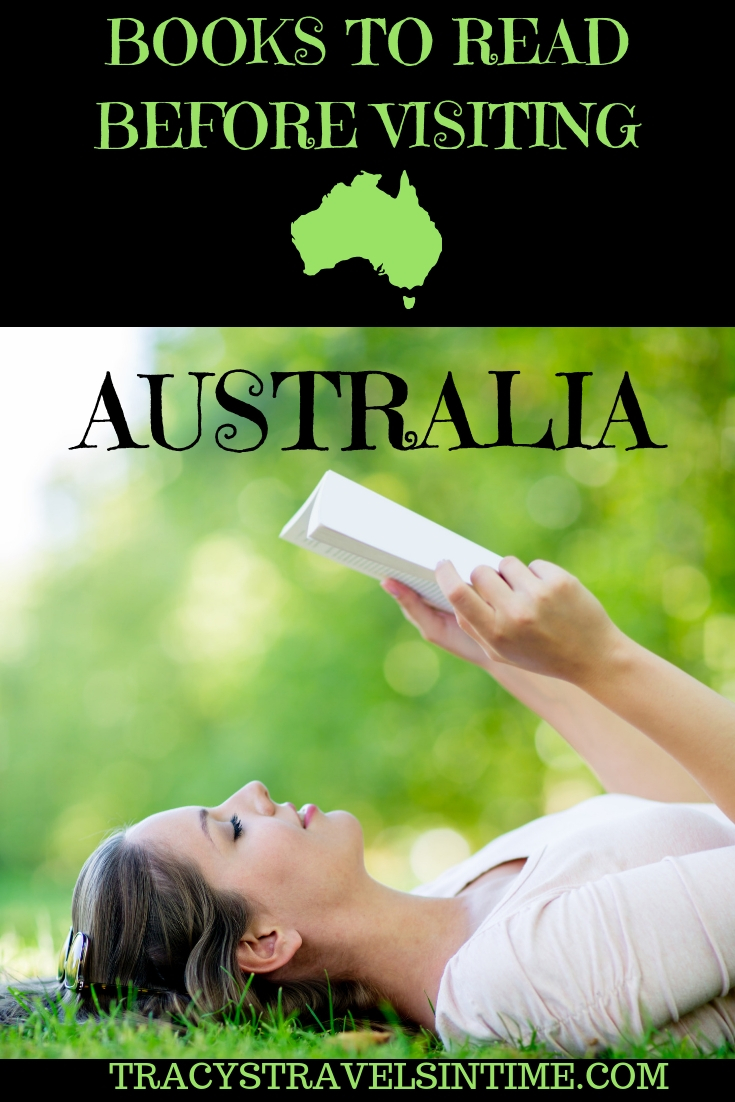 YOU MAY ENJOY THESE POSTS TOO!
Over the last 50 years I have lived and worked in 7 countries on 4 continents and travelled to many more. I enjoy exploring and learning about new places and meeting people on my travels. History, reading, photography, nature and wildlife are my interests and I am ALWAYS researching and planning my next trip (preferably by train)
With a lifetime of travel experience, and a network of friends all over the world, I share genuine insider guides, recommended best book lists and train journey inspiration to help YOU travel authentically to some of the most beautiful places on earth.
Come and join me as I travel the world one country (and train journey) at a time!
This post may contain compensated links. Please read our disclaimer for additional information. As an Amazon Associate, I earn from qualifying purchases.