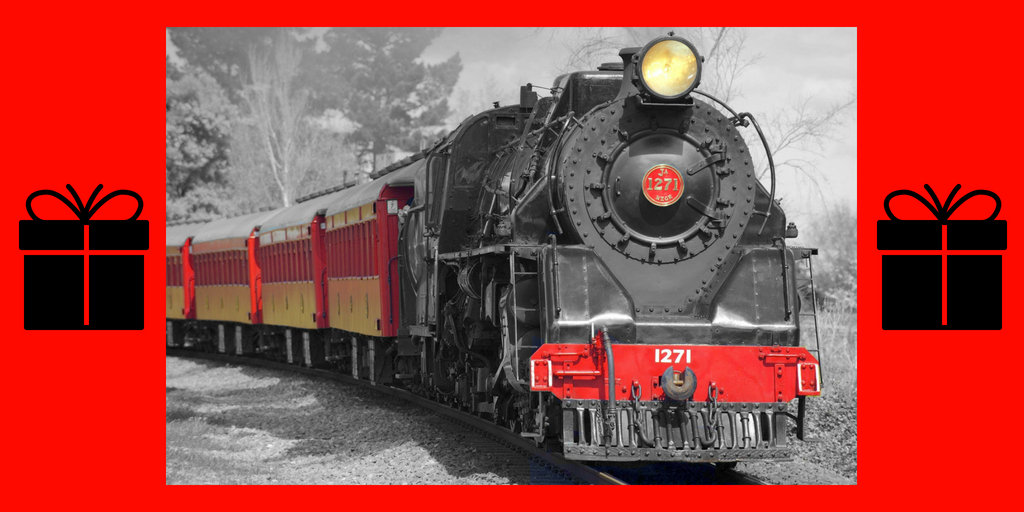 Check out some of the best gifts for train lovers. My selection includes great gifts for both adults and children who love to travel by rail or simply enjoy trains!
If you love train travel check out some of my great articles at the end of this post all about some of the most beautiful journeys in the world you can take by rail.
Travelling by train is my favourite way to get around the world – why take a plane when you can see so much more from the comfort of a railway carriage!
---
BOOKS FOR TRAIN LOVERS
---

For some travel inspiration for your next train trip then this has got to be the book to deliver it – detailing some of the most scenic train journeys in the world prepare for some serious wanderlust. Perfect for those who are planning for the next train journey!
---
CLICK TO BUY

"This comprehensive guide will assist the traveler in planning an excursion and executing it with minimum effort and maximum pleasure" -Library Journal All Aboard-first published in 1995, and here completely revised and updated-is much more than just a mile-by-mile scenery guide for train travelers. It will make any trip smoother and more enjoyable with its insightful travel trips and information about how railroads operate. With trains attracting new riders in record numbers, the time is perfect for a new edition of All Aboard.
All Aboard is more than an ordinary travel guide. The author tells us how and why the first railroads came about, describes the building of America's trans-continental railroad, and explains how individual trains are operated. He also offers advice that can only come from a veteran traveler: booking trips, finding the lowest fares, avoiding pitfalls, packing for an overnight trip, what to do on board, whom to tip and how much.
This new, fourth edition includes a new chapter about eight major railway stations, and is updated throughout with new information and photographs. It discusses Amtrak's new locomotives and Viewliner sleeping cars, changes in rules regarding pets and bicycles on American trains, and much more. Jim Loomis writes frequently about train travel for Sunday newspaper travel sections and has ridden every one of Amtrak's long-distance trains multiple times, logging nearly 200,000 miles. He is a member of the board of directors of the National Association of Railroad Passengers.
---
CLICK TO BUY

Acclaimed travel writer Anthony Lambert presents his selection of train journeys with real character, sublime scenery, a sense of history, a well-appointed train, or even the opportunity to enjoy a meal with proper napery, silver and glass…
Some journeys are well known, such as the Glacier or Orient Expresses, which combine glamour, outstanding cuisine and service and colorful history. Others less so: The Sunset Limited traverses through the quintessential Wild West country of New Mexico; or the coast-to-coast journey through the chestnut- and pine-clad mountains of Corsica, crossing one of Gustave Eiffel's glorious viaducts of gossamer steel.
From the modest line of the Alaska Railroad to the Trans-Siberian; from a narrow-gauge web of lines in the Harz Mountains to the train that crosses Australia's barren Nullarbor Plain in a dead-straight 478km, Lambert's is an unmissable selection for any lover of travel that is as delightful as the destination.
---

A long time advocate of independent travel, Acevedo Estefanía brings you her first book "Amtrak's Best Kept Secret: A guide to traveling the U.S.A. with a Rail Pass." In it, she shares her insights on how to use the United States Railroad system and the little known Rail Pass to get to know the United States intimately.
Full of useful advice for the independent traveler, the guide is based on her research and the 30-day journey that she took with her two children around the United States in 30 Days, traveling in coach. Chapters include tips and tricks on buying the right Rail Pass, planning an itinerary that makes sense for you, and an excellent chapter on food, which can be a major unexpected expense with travel.
Other chapters focus on entertainment while on the journey, personal hygiene on a trip, traveling in coach, and information on luggage. Acevedo Estefanía focuses on many things the average traveler may not think about. This book is like having a fun conversation with a friend who gives you all the best ideas!
---
CLICK TO BUY

Britain gave railways to the world, yet its own network is the dearest (definitely) and the worst (probably) in Western Europe. Trains are deeply embedded in the national psyche and folklore—yet it is considered uncool to care about them. For Matthew Engel the railway system is the ultimate expression of Britishness. It represents all the nation's ingenuity, incompetence, nostalgia, corruption, humor, capacity for suffering, and even sexual repression.
To uncover its mysteries, Engel has traveled the system from Penzance to Thurso, exploring its history and talking to people from politicians to platform staff. Along the way Engel finds the most charmingly bizarre train in Britain, the most beautiful branch line, the rudest railway man, and—after a quest lasting decades—an individual pot of strawberry jam. Eleven Minutes Late is both a polemic and a paean, and it is also very funny.
---
CLICK TO BUY

What if you could become a better traveler by learning from the outrageous adventures of a global nomad and enjoy a good laugh while doing so? Would you like to become an expert traveler the easy way—by learning from someone else's mistakes? Pushed From a Train, a collection of misadventures and everyday encounters, teaches practical travel skills and life lessons learned the hard way while the author lived and traveled in China, Ethiopia, Mexico, Slovakia, Morocco, Albania, Brazil and other countries for over 17 years. For example, what should you say when picked up under suspicion of terrorism by the Mexican military police? What steps should you take to avoid being scammed by a swarthy sailor in Casablanca? How do you escape imprisonment by an angry Hungarian border guard?
---
CLICK TO BUY

In his wide-ranging and entertaining new book, Tom Zoellner—coauthor of the New York Times–bestselling An Ordinary Man—travels the globe to tell the story of the sociological and economic impact of the railway technology that transformed the world—and could very well change it again. From the frigid trans-Siberian railroad to the antiquated Indian Railways to the Japanese-style bullet trains, Zoellner offers a stirring story of this most indispensable form of travel. A masterful narrative history, Train also explores the sleek elegance of railroads and their hypnotizing rhythms, and explains how locomotives became living symbols of sex, death, power, and romance.
---
CLICK TO BUY

One August morning, I walked out of my Seville home taking nothing but a small, roll-aboard bag, a EuRail pass, and my husband. We were traveling with no fixed time limit, no reservations, and only a loose idea of our itinerary. Our goal was to see if we could still have the kind of spontaneous adventures we'd enjoyed in our youth. We spent three months on trains, mostly in Eastern Europe, and the results – often hilarious, occasionally harrowing, definitely life-changing – form the basis of my new book, Adventures of a Railway Nomad: How Our Journeys Guide Us Home.
---
CLICK TO BUY

Train trips are classic yet very of the moment. Whether a quick escape through the Alps or a getaway from coast to coast lasting several days, this book takes its readers for a ride through beautiful routes on the most exceptional trains with the best interiors. Trains have always been the only truly cultivated way to travel. Today, in the age of budding airlines, never-ending security controls, and sustainability issues, this is truer than ever before. The slower rhythm from departure to arrival, the relaxed glide through the landscape, and the shift between city and country fill rail enthusiasts with great joy and are pleasures waiting to be discovered by the uninitiated.
The Journey presents a varied selection of extraordinary travel opportunities by train from around the world. The reader is invited aboard modern high-speed trains, spectacular panoramic railways, dining carriages, rolling casinos, and elegant compartments of historic luxury trains. The book presents the exteriors and interiors of these different trains, their routes, and their defining character. It takes the reader on a journey to breathtaking canyons and romantic landscapes, recounts adventurous travel reports, and describes the history and current developments of well-known trains, including the Napa Valley Wine Train, the Venice Simplon Orient Express, the Japanese Bullet Train Shinkansen, the Glacier Express, the Trans-Siberian Railway, and the El Transcantabrico.
Do you read books on your kindle? I love mine and it means I can literally take hundreds of books with me when I travel – no worries about luggage allowance or weight restrictions.
If you read a lot of books why not consider signing up to Amazon's Kindle Unlimited program?  For only $9.99/ £7.99 you get access to unlimited ebooks, audiobooks, magazines for any device. It really is a great program and if you click on the link you get  your first 30 days is absolutely FREE!!
---
BOOKS – CHILDREN
---
CLICK TO BUY – The Goodnight Train

All aboard for Dreamland! Hold on to your pillow because the Goodnight Train is taking off. Roll that corner, rock that curve, and soar past mermaids, leaping sheep, and even ice-cream clouds. You won't want to miss a thing, so whatever you do, don't . . . close . . . your . . . eyes!
With soothing, lyrical words and magical illustrations, June Sobel and Laura Huliska-Beith have created a nighttime fantasy that's guaranteed to make even the most resistant sleeper snuggle up tight.
---
CLICK TO BUY – The Big Book of Trains

From the first locomotive built in 1804 to the high-speed bullet train, The Big Book of Trains is the perfect book for kids who love trains.
Packed with amazing facts and photographs of trains around the world, The Big Book of Trains covers the history of trains and train travel. Different types of trains are featured on their own spreads, and each page features multiple images to give a close-up view as well as informative text about each train. See the differences among monorails, passenger trains, and TGVs. Learn about pistons, fireboxes, boilers, and coupling rods, and find out exactly what they do to help the train travel down on the tracks.
See key features of each train model and discover the difference between steam trains and diesels. Find out how trains are designed for certain jobs and tasks, including mountain trains, snow trains, and freight trains. Look at the biggest and fastest trains in the world.
With incredible pictures and informative text, The Big Book of Trains is the essential book for young readers who want to know everything about trains.
---
CLICK TO BUY – Train: A Journey Through the Pages Book

You've never seen a book like this before! It's the story of a train moving across the American landscape—but with an actual three-dimensional miniature train that loops up and down and across each spread, traveling along an interior track from front to back without ever leaving the pages.
Move the red steam engine out of the depot and to the front of the book, where the sun is just coming up over a bay, and then take a journey across wide plains, up mountains and down hills, into a city at night with its beacons of light—and finally, back to the rail yard. The panoramic landscapes are filled with marvelous details that young children will delight in discovering, and the sweet, simple rhyming language pulls the story along and will be happily repeated when it's time to start the journey all over again. All aboard!
---
CLICK TO BUY – Thomas and Friends: My Red Railway Book Box (Bright & Early Board Books)

All four of the enormously popular Thomas board books are here: Go, Train, Go!; Stop, Train, Stop!; A Crack in the Track!; and Blue Train, Green Train. Boxed together in a nifty little "lunchbox," these four books are a feast for Thomas' smallest fans. The box features a sturdy handle and a velcro close and is perfect for Thomas lovers on the go.
---
CLICK TO BUY – Where Do Steam Trains Sleep at Night?

Have you ever wondered what little trains do when it's time for bed? The same things you do! Freight trains, passenger trains, subways, trolleys—and more—wash up, have a snack, load their teddies for story time, and get rocked to sleep by mommy and daddy trains beneath a blanket of stars. Little train lovers with a one-track mind will gain a new affinity for their bedtime routine when they find they share it with their favorite vehicles.
---
CLICK TO BUY – DK Eyewitness Books: Train
The most trusted nonfiction series on the market, Eyewitness Books provide an in-depth, comprehensive look at their subjects with a unique integration of words and pictures.
Eyewitness Train is DK's classic look at railroads and the trains that move along them, now reissued with a CD and wall chart.
---
TV PROGRAMS – CHILDREN
---

CLICK TO BUY – Lots & Lots of Learning Fun – All About Trains
Join Carl the Train Conductor and his 14 animated rail friends as they take you and your child on a colorful and information-packed adventure to learn lots of fun and fascinating things about trains and railroad transportation. Learn how trains were invented, how they work, how fast they go, different kinds of trains, how they talk to each other, train safety, steam and diesel engines, lots more!
---
CLICK TO BUY – Lots & Lots of Really Big Trains – Giants on the Rails

One of the most exciting live-action train programs ever! You, your children, and grandchildren will thrill to every exciting minute of these big, colorful steam and diesel trains as they thunder on by with lots of close-up action and real life train sounds. Popular sing-along songs by James Coffey. Bonus Videos of big trains from engine to caboose plus, how trains work and how to drive them.
---
CLOTHING – ADULTS
---

BINGGOO Steam Trains Novelty Hoodies for Men Cute Tie Dye Sweatshirts
20gsm 100%Polyester

Front Pouch Pocket & Drawstring At Hood, Ribbed Knit Waist And Cuffs.

You Will Be Eye Catching And Standingout In The Crowds.

Fashion Trendy Elements In Design,very Street Style,funny And Cool,unique.

Machine Wash /No Bleach /Tumble Dry Low.
---

Solid colors: 100% Cotton; Heather Grey: 90% Cotton, 10% Polyester; All Other Heathers: 58% Cotton, 42% Polyester

Imported

Machine wash cold with like colors, dry low heat

This is the perfect tshirt for anyone who loves to watch trains. I don't always stop and look at trains…oh wait, yes i do! This tee shirt makes for a great Christmas or birthday gift for any toy train lover.

Fit: Slim (consider ordering a larger size for a looser fit)

This train watching t shirt is designed to fit. For a looser fit please order a size up. Whether you like steam trains, toy trains, freight trains, or just train tracks, this shirt is for you!

This premium t-shirt is made of lightweight fine jersey fabric
---

100% Cotton

Brand new Boys/Girls Unisex Fit T-shirt.

Fast Dispatch & No quibble Moneyback guarantee

PLEASE NOTE: **Buy right or buy twice** ONLY JONNY COTTON UK AND FREE WILL SHIRTS ARE AUTHORISED TO SELL THIS PRODUCT. PLEASE MAKE SURE YOU ORDER FROM JONNY COTTON OR FREE WILL SHIRTS TO GET AN OFFICIAL BUZZ SHIRTS QUALITY PRODUCT. **Just a heads up 🙂 check the feedback of established sellers Jonny Cotton and Free Will Shirts**

Shirt sizes – 3/4 Years, 5/6 Years, 7/8 Years, 9/11 Years and 12/14 Years

Design is copyright of Buzz Shirts which is enrolled in the Amazon Brand Registry
---
CLOTHING – CHILDREN
---
CLICK TO BUY – That Go Little Boys' Steam Train T-Shirt

100% Cotton

Made in USA

To minimize shrinkage: Wash Cold | Dry Low

Our Shirts run small – Order up for best fit

High detail realistic vehicle designs on soft tees

We use soft Royal Apparel & American Apparel kids t-shirts (thinner material than some brands)

Soft to the touch prints using water based eco friendly inks

Our Shirts run small – Order up a size to ensure best fit
---
CLICK TO BUY Wrapables Full Steam Ahead Train Socks (Set of 4)

Cotton Blend

Sold as a set of 4 pairs

Dimensions: Sole of foot, 5 inches; Height 3 inches.

Suggested age: 1-2 years.

Material: Cotton Blend.
---
CLICK TO BUY – Thomas The Train Toddler Boys' Choo 3-Piece Pajama Set

100% Polyester

Imported

Pull On closure

Machine Wash

Short sleeve top, long pants and shorts

Extra soft and comfy for a great sleep!
---
CLICK TO BUY – Thomas the Tank Blue Engine Train 12 inch Backpack School Bag

Official Thomas the Train Product

approx 12″x10″

Fits all your school essentials

spacious compartment and side pockets

padded shoulder straps on the back,
---
TRAIN SET!
---
CLICK TO BUY – KidKraft Waterfall Mountain Train Set and Table

Three durable red plastic bins that slide under the table for effortless storage

Special T-molded edges to prevent chipping

Silk-screened landscaped play board

1 1/2″ lip to keep toys on the play table.

Sturdy construction. Dimensions: 48.75″L x 34.38″W x 16″H

Three durable red plastic bins that slide under the table for effortless storage

Special T-molded edges to prevent chipping
Silk-screened landscaped play board with reversible flip side

1 ½" lip to keep toys on the play table.

Sturdy construction
---
YOU MAY ENJOY READING
---
If you are UK based or are travelling to the UK I would highly recommend a stop at Barter Books in Northumberland which has the best selection of second hand books I have ever seen. It is also housed in an old railway station building with lots of model trains to enjoy racing around on tracks above the book shelves!
---
PIN FOR LATER – BEST GIFTS FOR TRAIN LOVERS
---
GREAT GIFTS FOR TRAIN LOVERS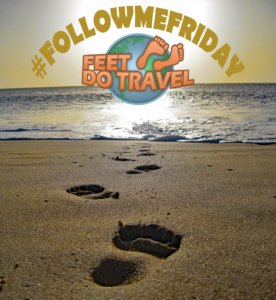 Working my way around the globe for 30 years – teacher, traveller, and train lover. Sharing authentic experiences from my travels and life as an expat in Australia.