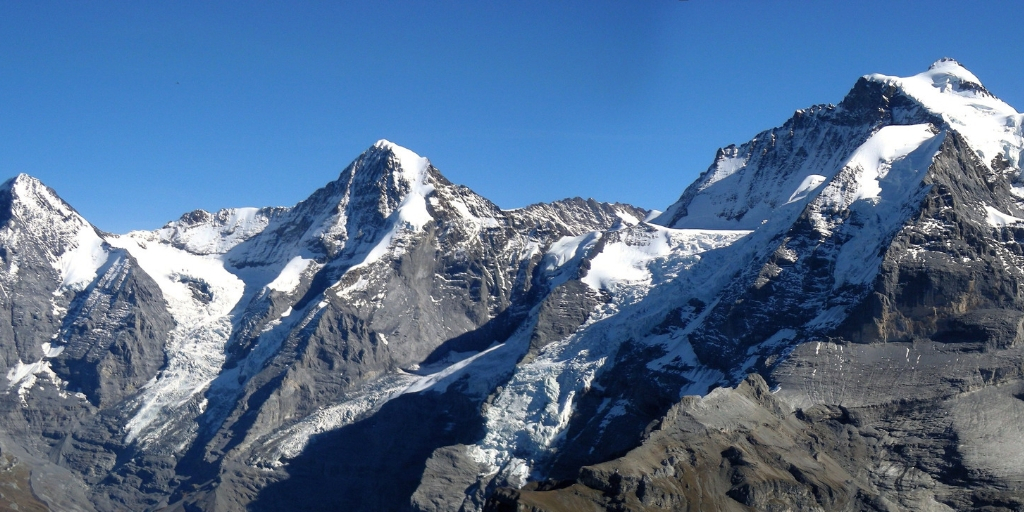 I love rail journeys and Switzerland has some of the most scenic in the world. This post is about a Swiss railway journey to the top of Europe on the Jungfraujoch train.
Part One – Interlaken East Station to Kleine Scheidegg
We started our Swiss train journey at Interlaken East station. The first part of our journey took approximately 25 minutes. The train was a modern train which worked its way up through the valley to the lovely Swiss village of Grindlewald located at 1000m  We hopped off the train and directly opposite was our next train which would take us to our next stop, Kleine Scheidegg at approximately 2000m. This part of the journey was a cog wheel train with views of the valley and snow capped mountains -perfect start especially as the sun was shining and the skies were bright blue.  The journey took approximately 20 mins to Kleine Scheidegg.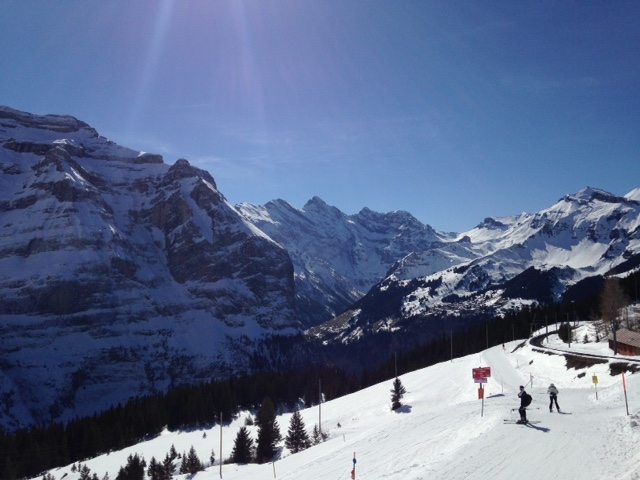 Part 2 – Changing trains
On arrival here the next train was waiting on the opposite platform. Off we trotted on to the next leg. Efficiency of the Swiss transport system is second to none. This was another cog wheel train – it began its climb, feeling a little apprehensive as we would be taking the last stage of our journey to the amazing height of 3400m, I wondered how the train would continue its journey. Inside the train it explained how the route came about and the hard labour that was involved as well as the many men that lost their lives – an awesome engineering feat.
The train chugged up the mountain through the tunnel excavated in the rock and stopped at a half way station for 5 minutes  just enough time for a quick photo session and peer through a window in the north face of the Eiger.  Another amazing engineering feat, cut into the mountainside were windows with an amazing view. The train then continued to the top.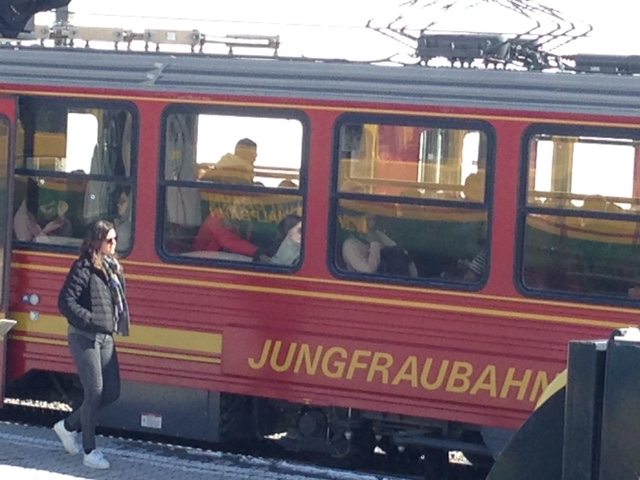 Reaching the top of Jungfrau
It's an amazing journey of 9.3km with a maximum incline of 25%. Once we reached the top it's hard to comprehend how they built this railway track and station on top of the mountain. There is all sorts here, restaurants, shopping, museum and a ice palace.  It even has its own fire service too!  The Sphinx is the highlight, a lift takes you to the highest point where the weather station is located – views are unbelievable.

We spent approximately two hours wandering around and taking in the beautiful views with the added bonus of a great day. We saw the more experienced walkers climbing even higher to another peak in the brilliant sunshine.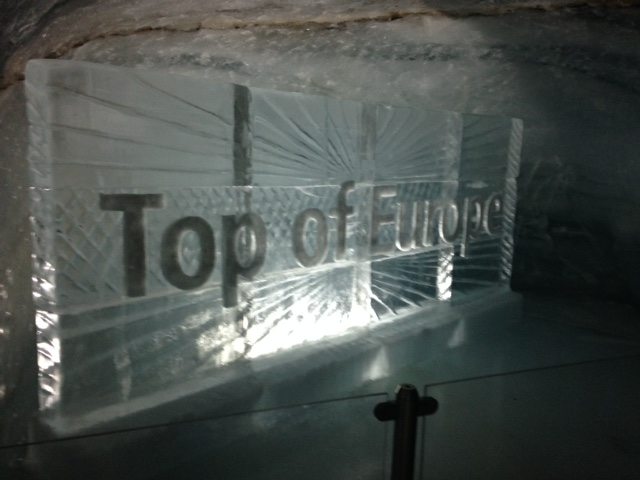 Our return down was just as efficient and once we arrived at Kleine Scheidegg again we decided to go down the other side of the valley towards Wengen and Lauterbrunnen for a different perspective. Eventually we ended back at our initial stop Interlaken East.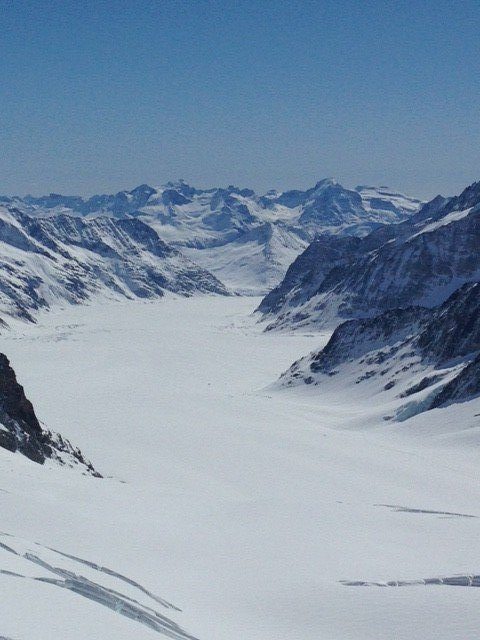 Logistics for planning a Swiss train journey to the Top of Europe
Swiss trains run like clockwork – the trip was a whole day out but worthwhile. We managed to get a half price deal but do look out for discounts as the trip is not a cheap one – then again Swiss transport can be costly.  Switzerland has many mountain railways and I have been lucky enough to experience a few of them, this one stands out from the others. My next favourite is Pilatus – do have a look at this journey, it is also a cog wheel train up and an option to descend by cable car.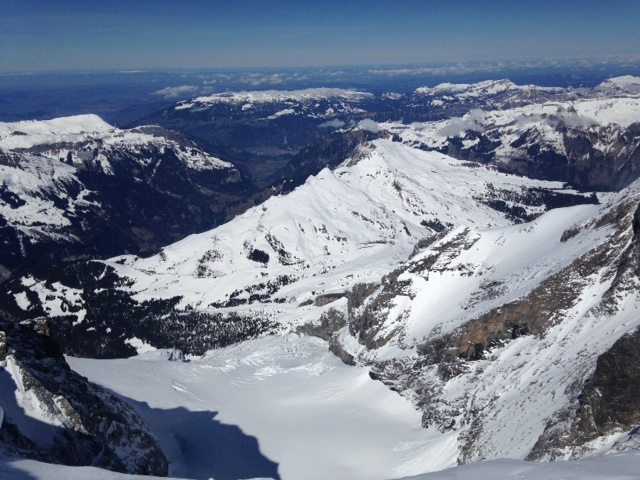 ---
Pin for later – A Swiss train journey to the Top of Europe – the Jungfraujoch train
---
---
Tracy is your expert expat!
She has lived and worked in 7 countries on 4 continents and travelled to over 50 more. A qualified school teacher with an interest in history, reading, photography, nature and wildlife she is always planning her next trip (preferably by train)
Through down-to-earth stories, tips and advice (based on her own extensive knowledge and experience of life as an expat) she aims to support new and prospective expats to survive and thrive in Australia.
With a lifetime of travel experience, and a network of friends all over the world, she is also able to share genuine insider guides, recommended best book lists and train journey inspiration to help you travel authentically to some of the most beautiful places on earth.