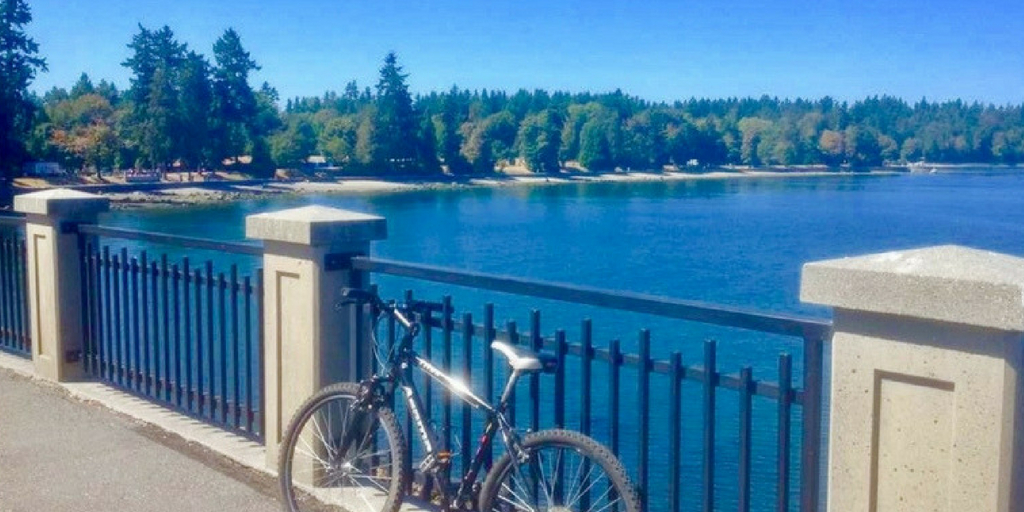 We love Canada – and we particularly love Vancouver so I thought I would put together a post about what we felt were the best things to do in Vancouver.This beautiful coastal city in the west of the country is surrounded by mountains and is the most populated city in British Colombia. Prepare to fall in love (or at least like a lot!) this consistently voted top 5 city in the world for liveability and quality of life. I am not surprised…I could certainly live there.
2017 is the 150th anniversary of Canada (Canadian confederation) and in my opinion a fantastic time to visit – free entry to Parks Canada is being offered to everyone! Who can resist all those wonderful activities and experiences – and for free! For more information about this offer check out their website ParksCanada.
So you are planning a visit and Vancouver is in your itinerary? What are the must sees? The top 3 things to do/see if you are in this city for a few days? This is my choice of the best things to do in Vancouver based on our visit:
If you are spending 2 days in Vancouver check out this great itinerary and sightseeing guide to Vancouver to help with your planning!
---
 Stanley Park and the Seawall
---
Hiring a bike and cycling Stanley Park should be top of your list! And if cycling doesn't appeal then walk it! Stanley Park is minutes from downtown Vancouver's West End and is easy to get to by public transport. It is a 400 hectare oasis with lots to offer the visitor including natural beauty, wildlife, and arts and culture.
If you walk or cycle the seawall (which apparently is the world's longest sea path) there are clearly delineated markers – one side for walkers and joggers and the other for cyclists. (It is really important to stick to the right lane and there can be a lot of cyclists on the path). The Stanley Park section of the seawall is 9km long and takes about an hour to cycle and I guess 2/3 hours to walk. I cycled it once but my husband and daughter went around twice (bicycles and me have never been close friends)
There are loads of things to see and do on your way around the park – spot wildlife, stop to look at the amazing totem poles, take a break at the beach, stop to admire the view of the Lions Gate Bridge.
The map below is from the City of Vancouver website – take a look at the site for more detail about the park and what is on!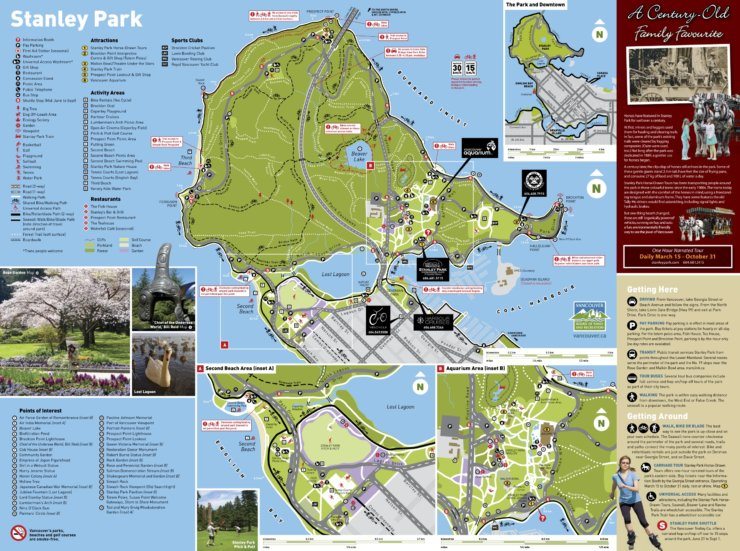 Tip – make a day of it! Take a picnic, hire and bike and have a lovely day out. There are loads of places to rent bikes and if you catch the bus from downtown you will probably find that half the bus are heading to rent a bike! We rented from Spokes Bicycle Rentals which are right next to the park. For pricing, various bicycles available etc check out their website!
---
 Visit Granville Island
---
We loved visiting Granville Island and is another of the best things to do in Vancouver in our opinion! It is easy to get to by bus, road, bicycle, on foot or as we did it by aquabus!!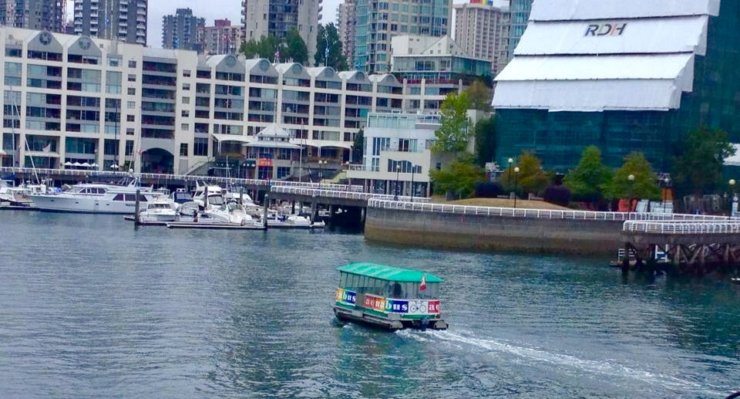 Granville Island is a peninsula in False Creek which separates downtown Vancouver from the rest of the city. And there is loads to do there – not least a wander around the market and shops. There plenty of places to eat here too! Find out more about the island on the official website Granville Island.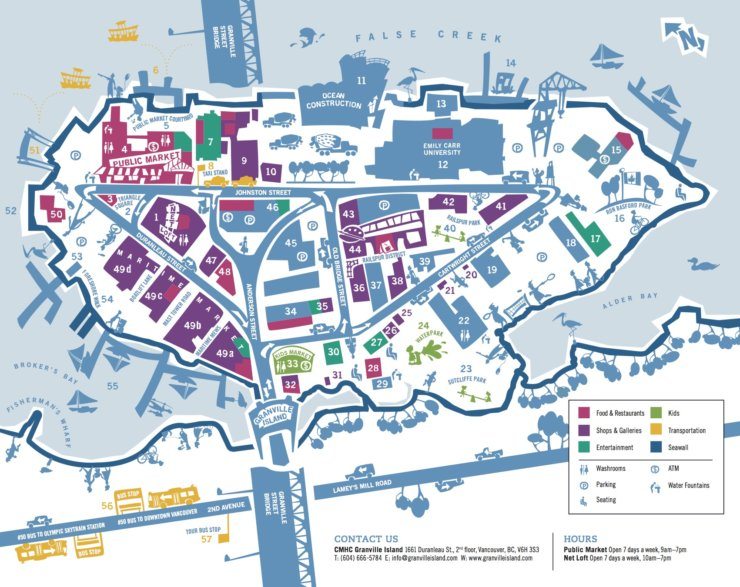 We had a lovely time visiting the island – the produce in the farmer's market was gorgeous and there are some really unique shops worth visiting. You also see some of the floating homes in the creek which apparently cost a fortune to rent or buy!
---
Gastown
---
Our favourite part of town to grab a drink, a bite to eat and sit and people watch! Gastown is the oldest neighbourhood in Vancouver and is named after John 'Gassy Jack' Deighton who opened a pub in the area in 1867.
It really is a charming part of town – lots of old buildings, vintage lampposts and the place you can find the Steam Clock! Built in 1977 the clock is powered by steam – make sure to be there on the hour!
So those really are my 3 best things to do in Vancouver but there are lots more to see and do!
[bctt tweet="Looking for things to do in VANCOUVER? Stanley Park, Granville Island and Gastown are 3 top choices!" username="tracystravels10″]
---
TOP TIPS FOR VANCOUVER
---
The transport system is excellent – we never take anything but public transport when we travel if we can help it. The Skytrain is wonderful in Vancouver as is the bus service. See Translink for all your transport needs! And try to take the aquabus just for the experience!!
Take drinks/food with you when you go to Stanley Park – you can rent a bicycle with a basket attached to hold all the goodies. There are lots of places to sit and relax and enjoy the scenery on the way around.
As the public transport system is so great if you are on a budget then staying in a hotel further out of downtown Vancouver is recommended. We had stayed in Richmond on our arrival (near the airport so we could rest and recover from jet lag) but moved closer after 2 nights. We stayed at  the Douglas Guest House a B&B close to Skytrain station. If you want something different you can take a look here at other options!
If you have time head over to Vancouver Island! You can catch a seaplane across, fly or take the ferry (we did and it was amazing – a really beautiful journey!)
---
GET YOUR GUIDE TOURS IN VANCOUVER
---
---
MORE READING!
---
Lonely Planet Vancouver is your passport to the most relevant, up-to-date advice on what to see and skip, and what hidden discoveries await you. Shop for vintage shoes in quirky Gastown, hit the powdered slopes of Grouse Mountain or sample an Indian Pale Ale in a hidden microbrewery; all with your trusted travel companion. Get to the heart of Vancouver and begin your journey now!
Once an almost inaccessible logging town on the edge of the frontier, Vancouver has metamorphosed into one of the world's most beautiful urban centres, host city of the 2010 Olympic and Paralympic Winter Games. This book traces Vancouver's extraordinary coming of age through lively text and 150 evocative historical images that capture the city in every phase of its growth, from the coming of the railway and the arrival of the automobile through to the Depression, the war years and modern-day urbanization.
---
Pin for later – best things to do in Vancouver
---
Tracy is your expert expat!
She has lived and worked in 7 countries on 4 continents and travelled to over 50 more. A qualified school teacher with an interest in history, reading, photography, nature and wildlife she is always planning her next trip (preferably by train)
With a lifetime of travel experience, and a network of friends all over the world, she is also able to share genuine insider guides, recommended best book lists and train journey inspiration to help you travel authentically to some of the most beautiful places on earth.
Through down-to-earth stories, tips and advice (based on her own extensive knowledge and experience of life as an expat) she also aims to support new and prospective expats to survive and thrive in Australia.