When you think of visiting The Maldives, what words spring to mind? Paradise? Beauty? Luxury? Coral Reefs? Expensive? Well, all of the former apply but not necessarily the latter!
Did you know that there are over 1000 islands in the Indian Ocean that make up 26 ring-shaped atolls and only about 200 of these islands are actually inhabited?
There is a fear that the low-lying islands are starting to sink due to global climate changes, a fact that I have sadly witnessed over the past few years. So, if ever there was a time to visit – now is it!
We first planned on visiting the Maldives in August 2015 to celebrate a very special wedding anniversary, along with a few days in Dubai first (another story!). We pondered for a long time which island to choose and the price was indeed a very important factor.
You can spend over £10,000 to stay on some islands but unfortunately, we are not lottery winners so we lowered our sights and selected a beautiful island on the Raa Atoll called Meedhupparu.
This is owned by the Adaaran Select group and although costing considerably less than the top dollar paid by some, we never once felt that we had anything less than absolute luxury for our money.
TRAVELLING TO THE MALDIVES
The journey from Birmingham to the capital Male takes about 11 hours (usually with a stop-off at somewhere like Dubai) and once you have cleared Europe and the Middle East you soon see open stretches of ocean with tiny islands dotted here and there.
The closer you get, the colours of the ocean change to turquoise as the coral reefs surrounding the islands begin to make themselves visible.
Landing on Male, a small island no larger than 2.2 square miles is something to see. As the runway gets closer you appreciate how small the island actually is.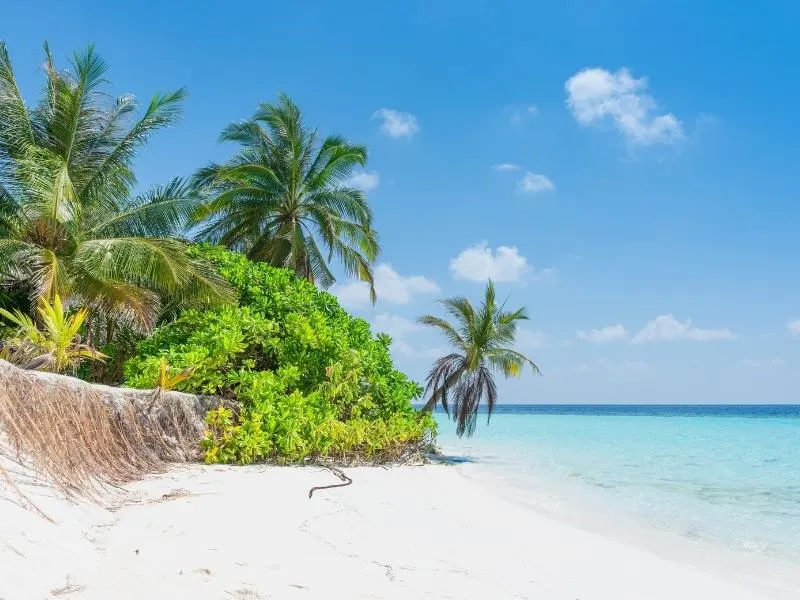 ARRIVING IN THE MALDIVES
Ibrahim Nasir International Airport is very organised and once you have cleared immigration and baggage collection you are guided to the seaplane departures area.
The Maldivians are very friendly people and you won't have to wait long for help if you become confused as to which departure desk to go to. Once checked in you are taken by bus to the terminal for your particular island.
The Adaaran Select VIP Lounge is a relaxing, calm and air-conditioned room, with free refreshments whilst you wait for your sea plane.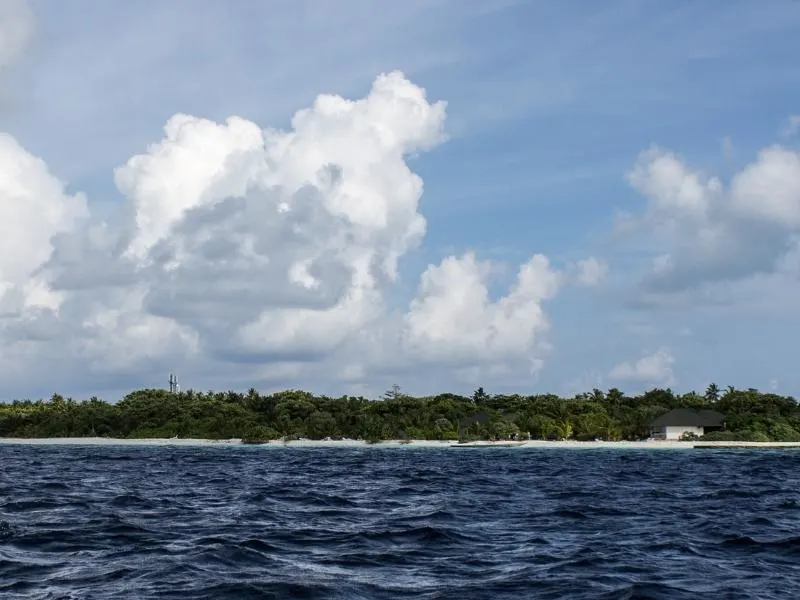 Not all transfers are via seaplane. Meedhupparu is too far to travel by speedboat, so a 40-minute flight is necessary. Apparently, if you stay on an island closer to Male you're quite likely to see lots of larger boats and tankers passing by – something we're thankful we didn't see at all, as we were much further away.
Trans Maldivian Airways has got to be one of the few airlines where the pilots wear very smart uniforms – and flip flops!!!!
With only 14 seats it's a bit cramped and you definitely need earplugs.
(Top Tip – take some with you just in case you're not offered any as the propellers are just outside the windows.)
The flights are fascinating – we sat just behind the pilots and got a fantastic view of the cockpit, complete with the pilot flying barefoot!!
ARRIVING IN MEEDHUPPARU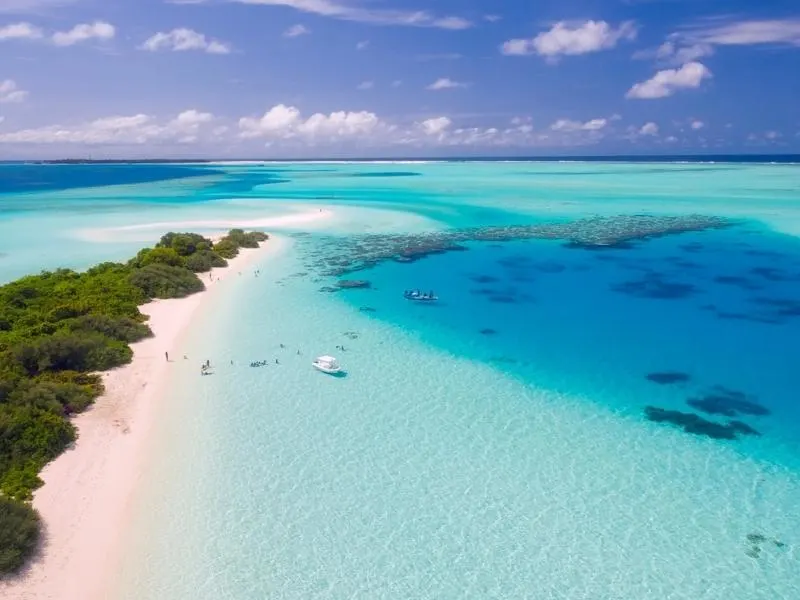 Upon arrival at Meedhupparu, you are guided to an area where a welcome cold drink is offered and you can check-in to either a beach villa or water villa.
If, however, you are a 'repeater guest' you are greeted personally with a garland of flowers and transported in a golf buggy to a private room where you are given refreshments and a much faster check-in before being driven to your room.
We chose to stay in a beach villa and although the water villas are so much more luxurious at $500 per night there are pros and cons of staying in them.
Our beach villa was only 14 steps away from the water's edge, our comfortable sun loungers were just a step away from our verandah and the view from them was just incredible – white sandy beach with the turquoise sea stretching out to the horizon.
WHAT TO DO WHEN VISITING THE MALDIVES
Now a holiday in The Maldives is not for everyone. If you like exploring and lots of activities then it might not be for you. We have been to Meedhupparu for 3 years on the run now and we have never been to a destination so perfect for relaxing. The whole island only takes about 20 minutes to walk around.
There is a Dive Centre where you can try a free introductory dive lesson and jet skis, tennis and badminton courts and beach volleyball for the more adventurous. If you enjoy surfing there are some fantastic surfing opportunities in the Maldives.
But for us, we just enjoyed lazing on the sun loungers, swimming in the sea and walking 100 meters to the Sun Rise Bar where a cold drink was always a refreshing sight!
There is a beautiful infinity swimming pool on the island with a swim-up bar but in the three years of us visiting, we have never tried it. Why would you need a swimming pool when you are surrounded by the beautiful clear waters of the Indian Ocean?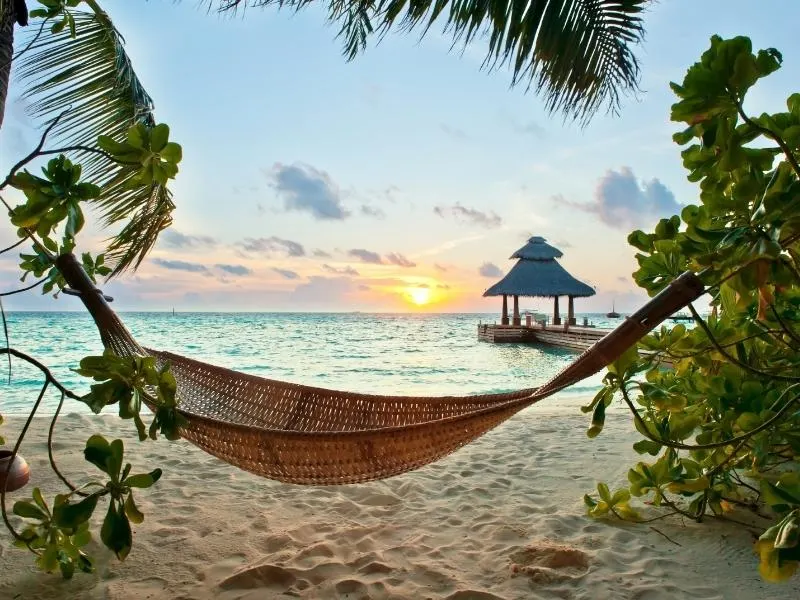 This, like most of the resorts in The Maldives, is an all-inclusive hotel and the food is amazing. The chefs have won several awards for their cuisine and in particular Chef Guru is always seen around the restaurant ensuring that all the guests are enjoying the huge variety of amazing food on offer.
The grounds are immaculate and the gardeners all work tirelessly to keep the sand paths clear of any debris. The Maldivians are quietly-spoken people and not once, in the three years we have visited, have we come across anyone who does not greet you with a 'Good Morning' or 'Good Evening' and a very genuine smile.
SEA LIFE IN THE MALDIVES
But of course, the star attraction of any island in the Maldives is the sea life. Snorkelling is a must and you don't have to be confident swimmers to experience the amazing life under the waves. There are life jackets in your room if you wish to use them and you can hire snorkels and flippers from the Dive Centre – at a cost!
We took our own and felt quite safe swimming out to the edge of the reef. Unfortunately, some of the coral surrounding Meedhupparu has died due to the Tsunami back in 2004. It is slowly re-growing and you can still see an amazing number of different, colourful fish, turtles, manta rays and other marine life.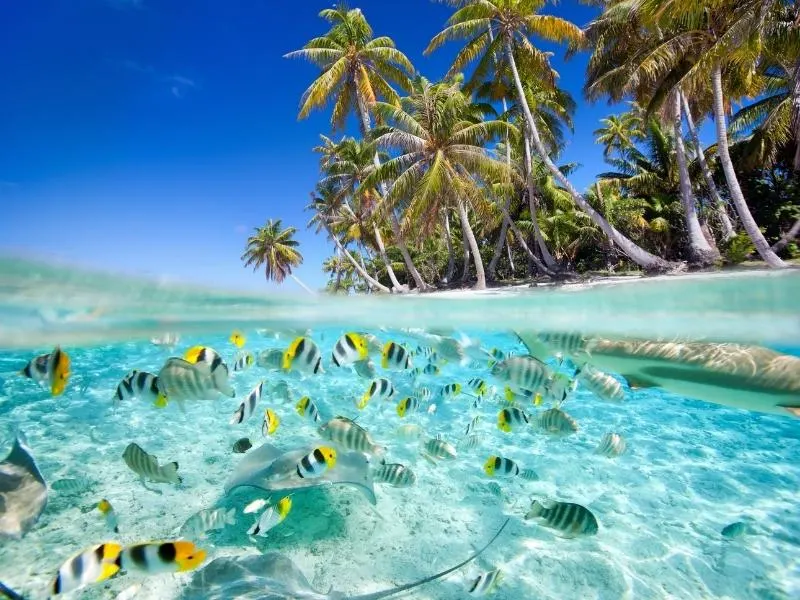 The seaplane will fly you back to Male at the end of your holiday where you then catch your flight home.
OUR CONCLUSIONS ABOUT VISITING THE MALDIVES
We have holidayed in many places now and had always vowed to never visit the same place twice, as it's a big old world out there and there are lots of places we still want to see.
BUT…….. for two years in a row, everywhere we have looked for a beach holiday has always been compared to Meedhupparu – and has never come close to drawing us away from The Maldives.
I can't imagine anyone leaving Meedhupparu (or any other Maldivian island) vowing 'never to return'. It truly is paradise!
Read more about the Maldives and what the island has to offer in the guide to 10 things to do in The Maldives plus what to pack for a holiday in South East Asia in our essential packing list post.
Another favourite Asian destination we recommend is Sri Lanka and you can discover more about this beautiful country in my Sri Lankan Travel Guide.