This post may contain compensated links. Please read our disclosure for additional information. As an Amazon Associate, I earn from qualifying purchases.
Last Updated on January 29, 2020
If you are visiting Liverpool a great day trip from the city is to Crosby Beach to see the Antony Gormley's Another Place.
If you enjoy the works of artist Antony Gormley there are a number his installations that can be seen in the United Kingdom. This includes the Angel of the North in Gateshead, Sound II at Winchester Cathedral.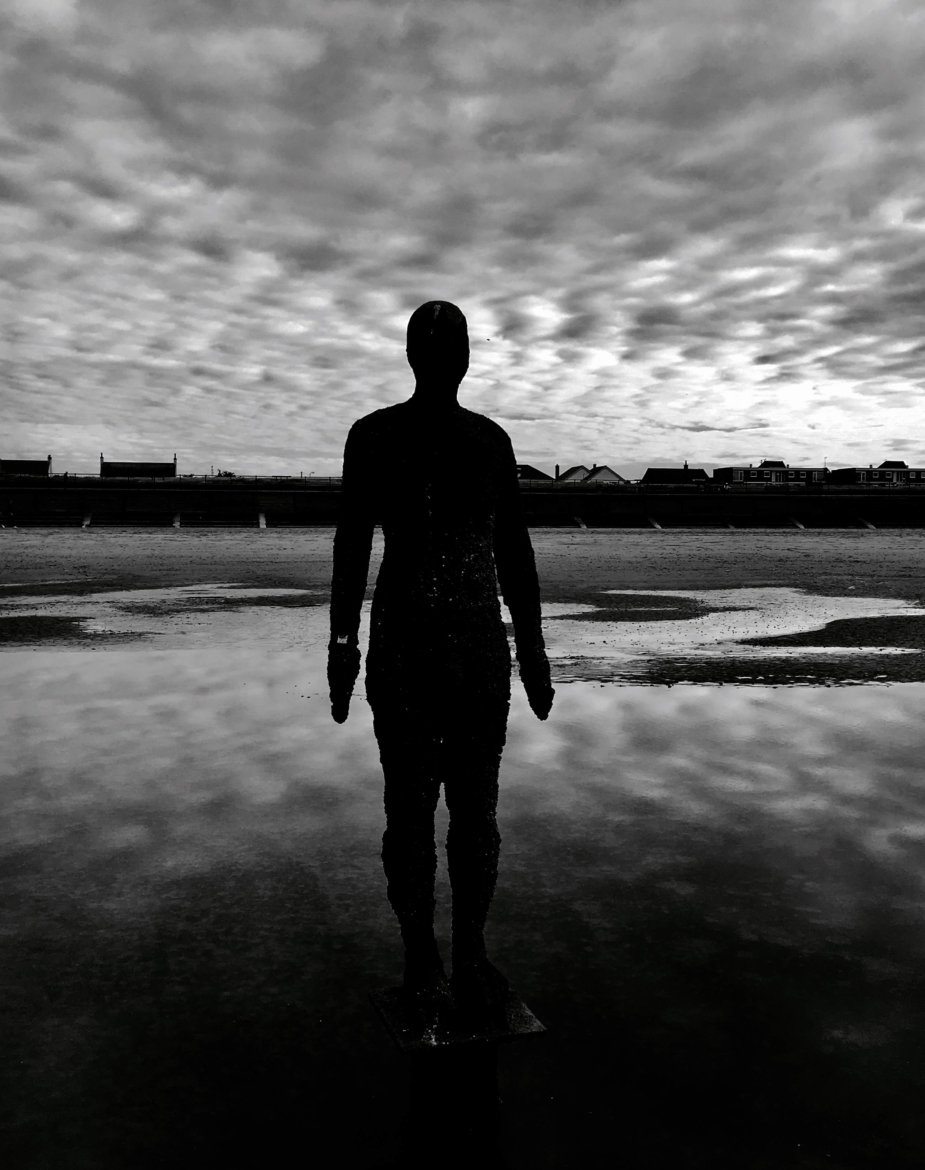 WHAT IS ANTONY GORMLEY'S 'ANOTHER PLACE'?
Another Place is a a piece of modern sculpture consisting of 100 life size cast iron figures which stand at various places over a 3 kilometre stretch of Crosby Beach. They all stand facing the horizon. They are all identical and were modelled on Mr Gormley himself.
The figures were displayed in a few places in Europe – Cuxhaven in Germany, Stavenger in Norway and De Panne in Belgium. But due to the amazing foresight of an English Borough Council they are there at now located at Crosby Beach forever.
The figures each weigh 650 kilos and each one stands looking out at the distant horizon. They are spread all over the beach foreshore and some have been planted a little deeper than others.
I think it is the most perfect location in the world for them to be. There are the Liverpool docks not too far away and we watched lots of cargo ships going in and out. All going to another place or coming from one. The figures seem to stand staring longingly at the boats – and the horizon. I felt I could really identify with those figures. They are like me always standing looking for another place to go.
Antony Gormley himself I believe felt that Crosby Beach was perfect. He describes how Another Place " harnesses the ebb and flow of the tide to explore man's relationship with nature." Obviously what better place than on a beach?? (see Visit Liverpool)
WHERE IS CROSBY BEACH?
As I mentioned the figures are located at Crosby Beach near Liverpool. They are spread over a 3 km area and some of the figures are too far out to get to. In fact there are clear warnings to visitors to stay within 50 metres of the promenade at all times and not to attempt to walk out to the furthest figures. There are areas of soft sand and mud and a risk of changing tide so it is very important to follow these safety guidelines. Some of the patches we walked on (within the 50 metre radius were soft and quite hard going – it felt a bit like quick sand)
HOW TO GET TO CROSBY BEACH TO SEE ANTONY GORMLEY'S 'ANOTHER PLACE'
BY CAR – There is a car park next to the beach. Not sure on the charge but I don't think it was free!
BU TRAIN – You can access Crosby Beach via 3 railway stations – Waterloo, Blundellsands and Crosby or Hall Road. Its a short 5 minute walk to the beach from there.
TIPS TO KNOW WHEN VISITING ANTONY GORMLEY'S ANOTHER PLACE
Check the tides! You don't want to arrive and find the tide is in! We arrived at low tide.
It is a dog friendly beach so take your pooches along!
There is a food van selling hot drinks and bacon sandwiches etc! And check out the starlings when you buy your cuppa!
Wear wellies/trainers or shoes that can cope with the sticky sands – I had old trainers on which were fine but were covered in sand by the time we had had a good walk on the beach.
---
PIN FOR LATER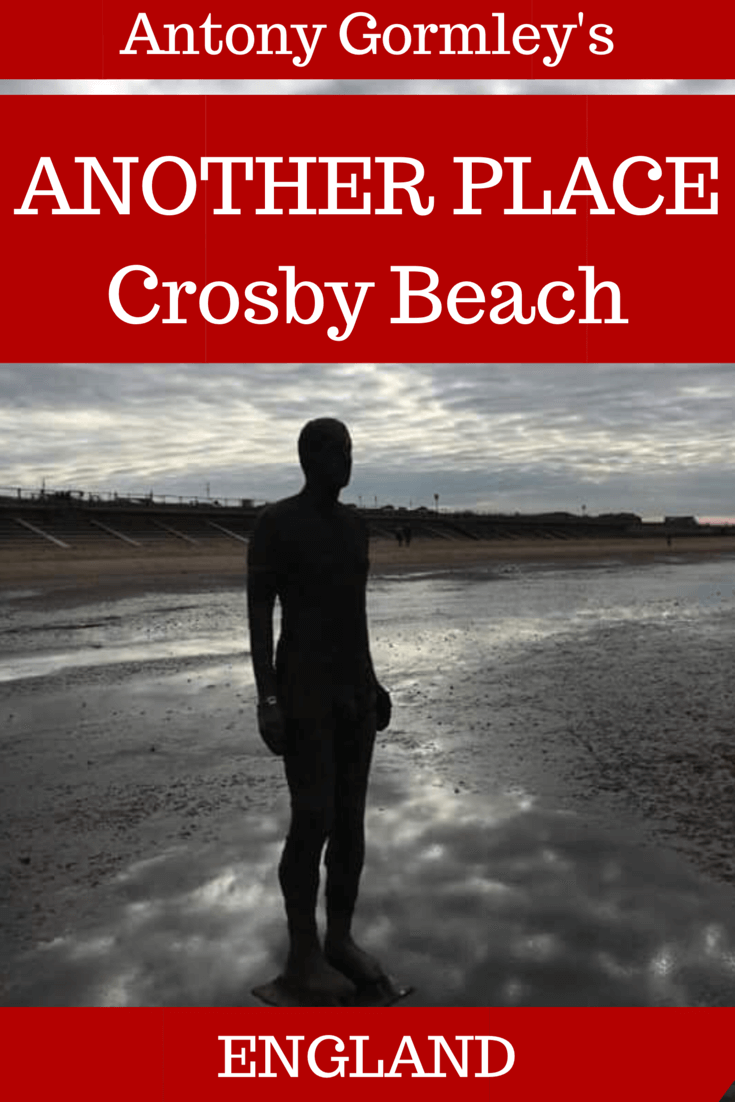 ---
This post may contain compensated links. Please read our disclosure for additional information. As an Amazon Associate, I earn from qualifying purchases.