So much to see and for us, so little time! So many places to visit in Sri Lanka! We had only booked to spend one week visiting Sri Lanka, before travelling onto The Maldives and we quickly realised that despite a busy 7 days and visiting at least 16 tourist sites, there are so any places to visit in Sri Lanka!
Once we had decided the best time to visit Sri Lanka we started to explore into accommodation options. Being quite new to independent travelling, we let go of the reins and safety of the travel agent and booked our accommodation ourselves through AirBnB.
We found this site to be quite easy to navigate and managed to find 3 very different Sri Lanka Airbnb properties in Negombo, Kandy and Ella.
Tip – start with the airbnb properties with lots of reviews! Communication with the hosts is vital, all of ours were really friendly and were keen to help us.
We planned to travel from place to place in Sri Lanka via train. We discovered that you are unable to buy train tickets online from the UK and need to use an agent or someone in Sri Lanka to buy them at the station for you.
That's where our hosts were brilliant – they were able to buy our tickets on our behalf! However, you need to plan ahead as trying to buy tickets close to the day of travel can be difficult as the trains are always full.
With lots of places to visit we chose the following for our Sri Lanka itinerary:
Negombo
Kandy
Ella
3 beautiful places to visit in Sri Lanka
Negombo
Negombo is on the west coast and the city closest to Bandaranaike International Airport. Our host arranged a tuktuk and driver to take us out for a couple of hours (1000 rupees = £5).
Highlights of the tour included Negombo Fish Market – obviously busier during the morning but we still managed to see lots of freshly caught fish and watched them being laid out in the hot sun to dry.
Sri Lanka has many beautiful beaches which would be great additions to your itinerary.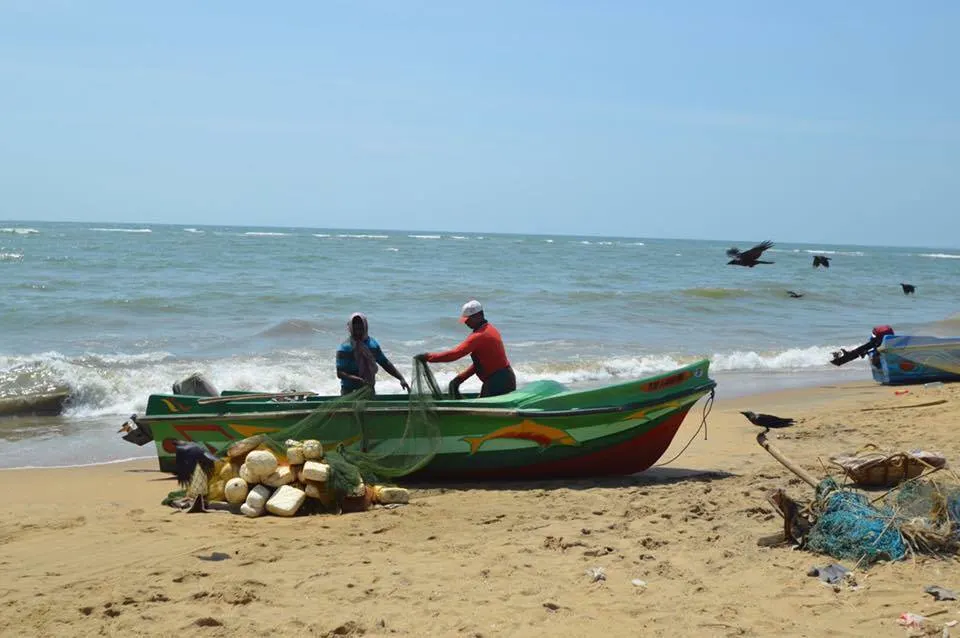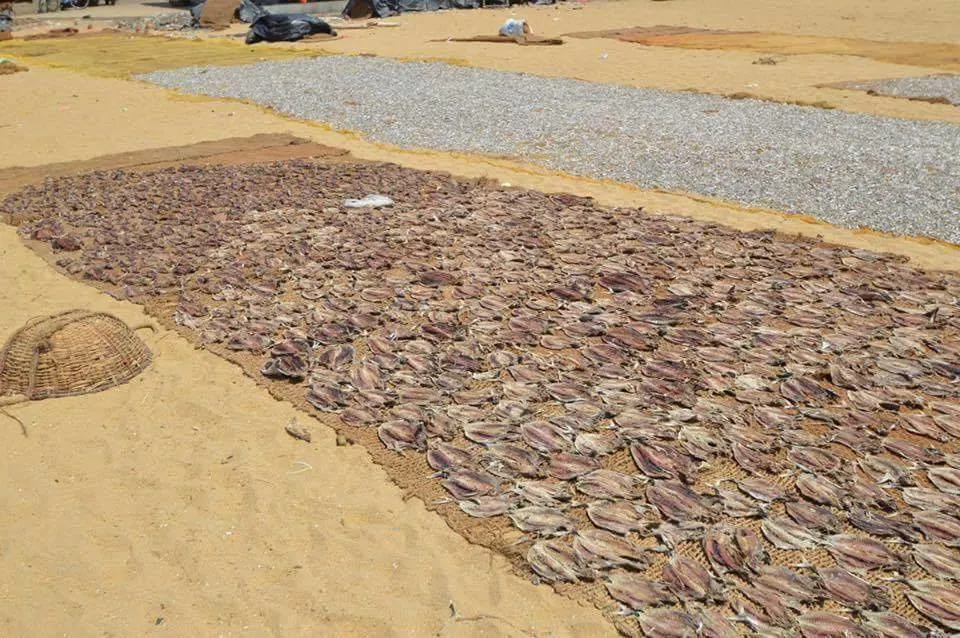 Angurukaramulla Temple – the most important temple in Negombo for Buddhists. We learnt a lot here from the guide who told us all about the amazing murals, sculptures and paintings on the ceiling which depicted the Buddha's journey to enlightenment.
(Entrance is free but a donation is welcome)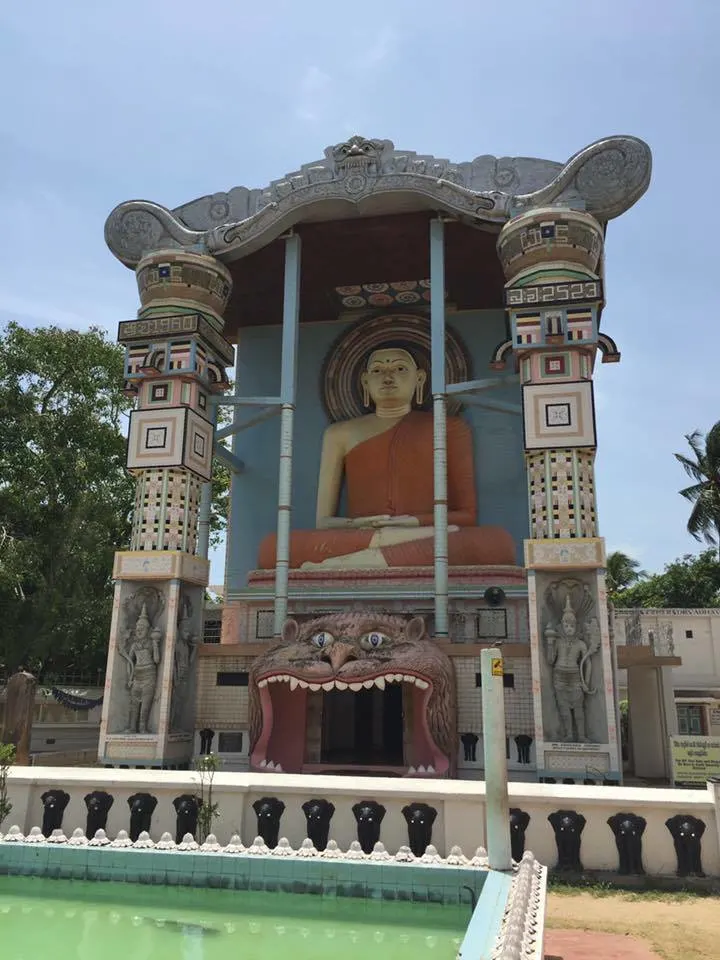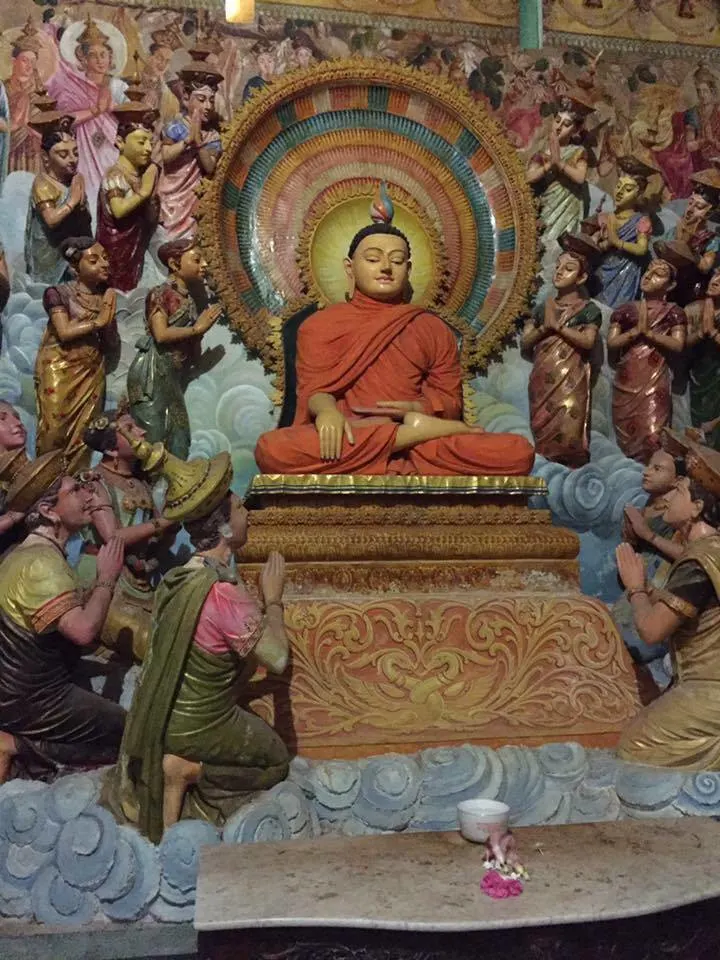 Lords Restaurant – a restaurant well worth a visit (we visited twice!). Owned by an English guy who has been living in Sri Lanka for 14 years. The food was amazing!!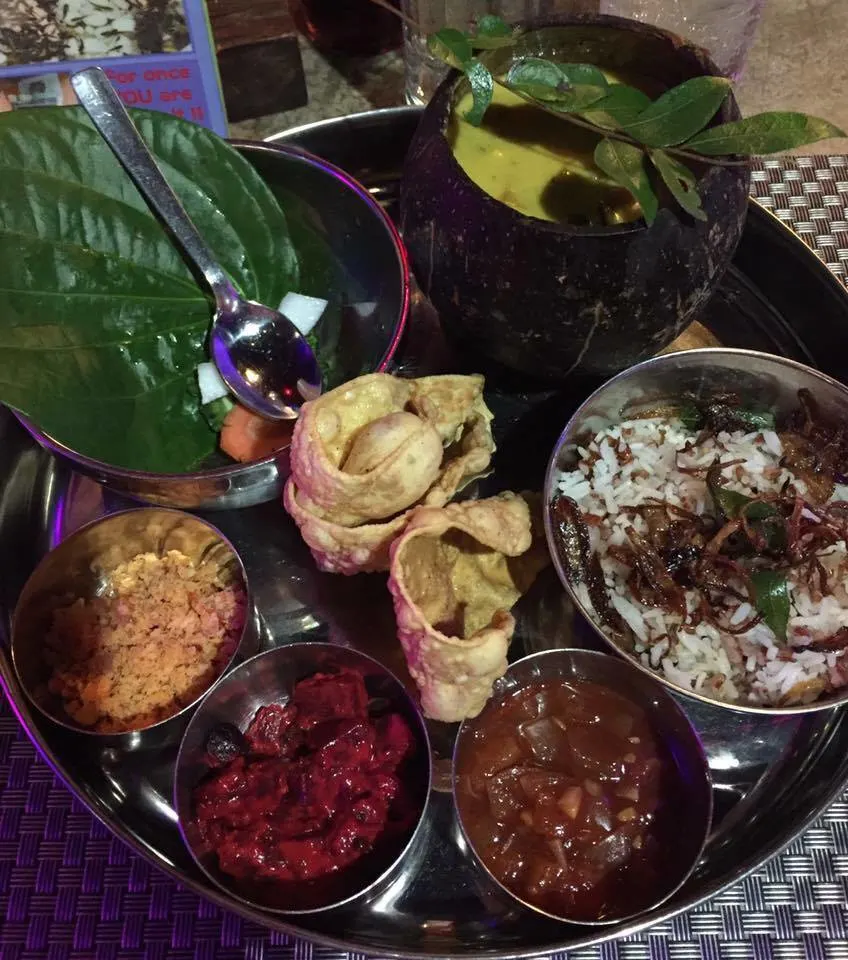 Our host organised a taxi to Colombo Fort Railway Station where we caught our train to Kandy. He had managed to get us First Class Air Conditioned seats.
We were disappointed, however, as despite being comfortable, this carriage had sealed windows, air conditioning but there was no atmosphere at all! The good news was the 4-hour journey only cost 400 rupees each (about £2).
Kandy
We were lucky as our stay in Kandy coincided with the Kandy Esala Perahera – an important festival for Buddhists which falls during a full moon in July/August.
There was lots of dancing, drums and elephants parade through the streets of Kandy.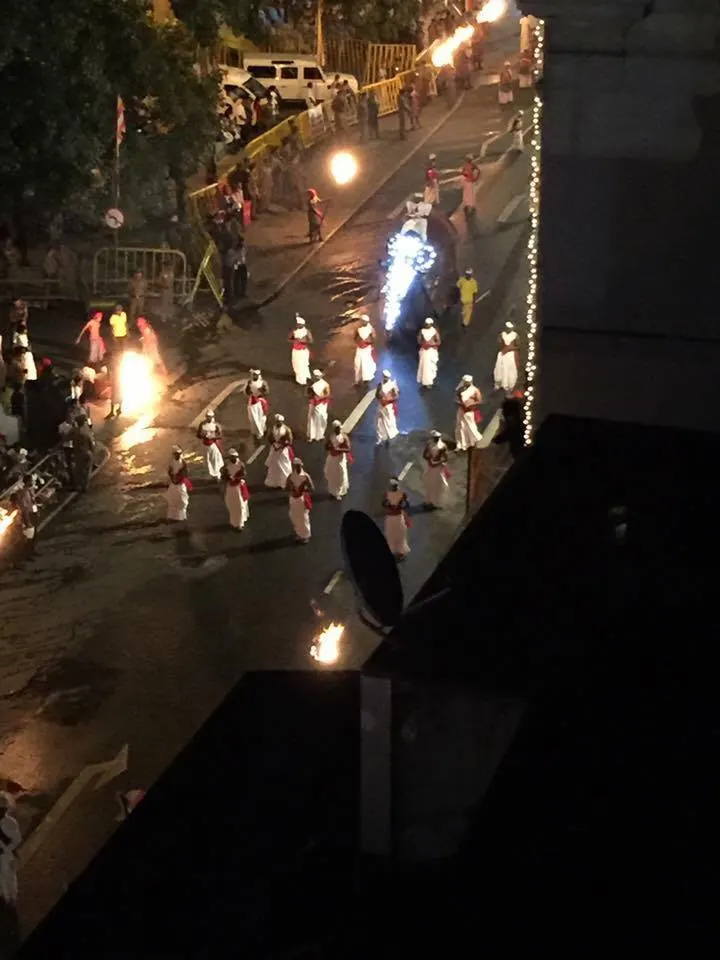 We hired a car and driver for the day for $50 and we set off for a full day of sightseeing. Our first stop was the famous Temple of the Sacred Tooth Relic. However, as the previous night was the start of the Festival season, there were about 5000 more people in Kandy than normal!
This meant the Temple of the Tooth, even at 9.30 am was packed!! Luckily guides were available (tip required at the end) to show you around and explain everything.
The casket containing the tooth was only open at certain times of the day so we weren't able to see it but the guide was really helpful and I don't think we would have seen and understood as much as we did in the hour we were there, without him. Entrance fee 1000 rupees each = £5.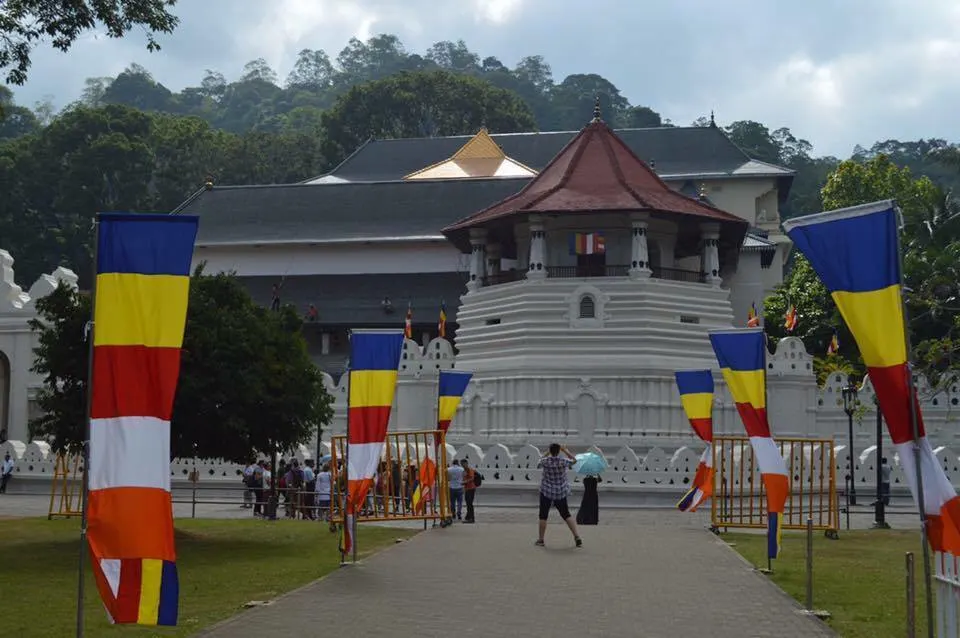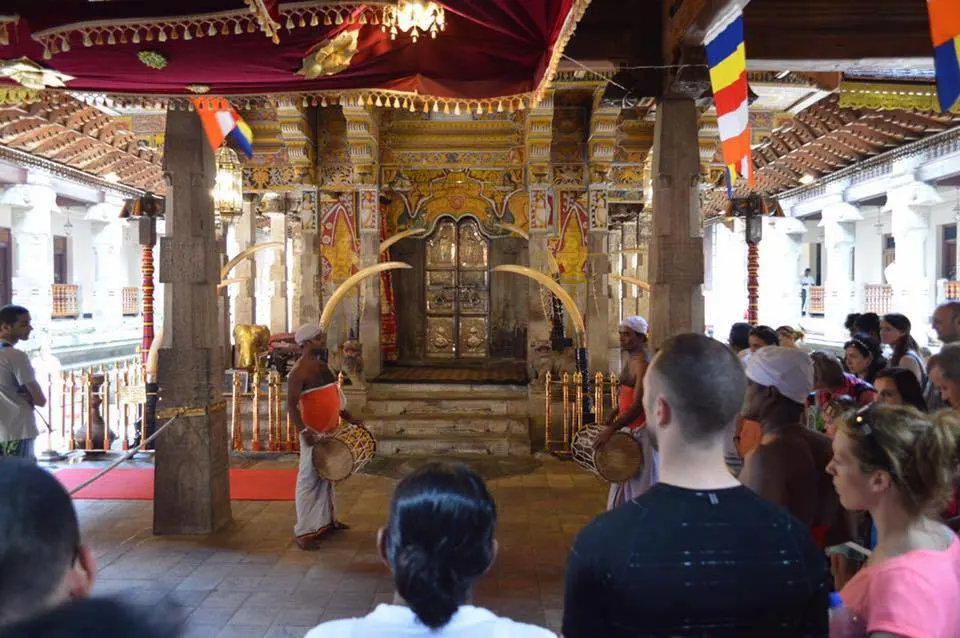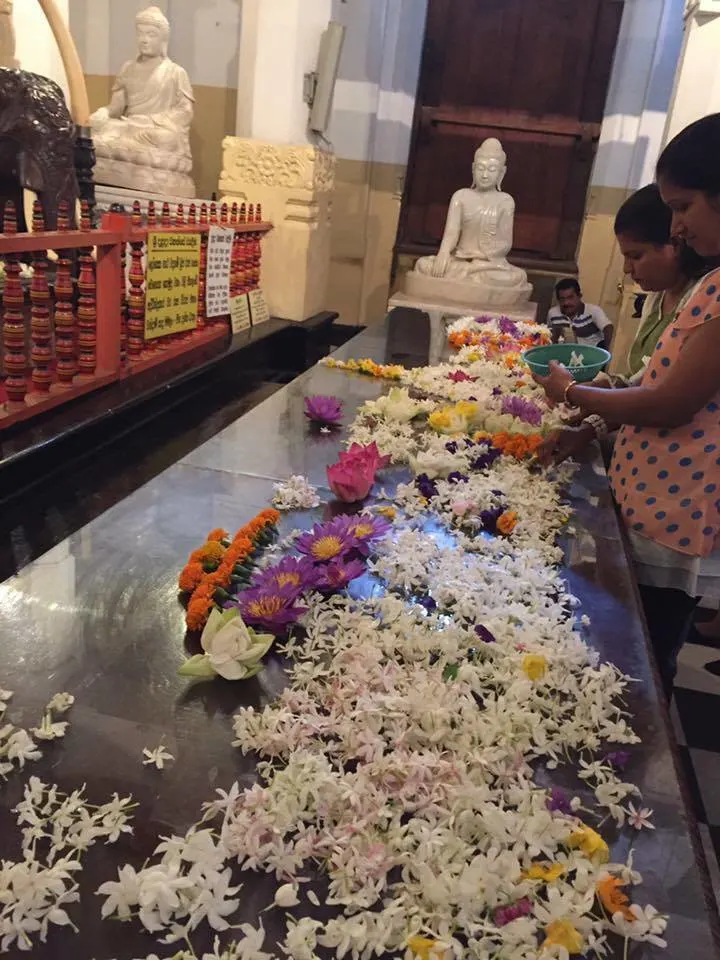 After that we took the 3-hour drive to Sigiriya, known as Lions Rock, the ruins of an ancient rock fortress built 1600 years ago. The climb to the top is a challenging one – about 1200 steps.
Early morning is the recommended time to visit, before it gets too hot! Once at the top you can marvel at the 360° views and wonder how on earth they managed to build anything up there all those years ago!
Entrance fee a bit steep (like the steps) – $30 per person!
One of the best things to do in Sri Lanka is to hike up Pidurangala Rock for fantastic views of Sigiriya Rock.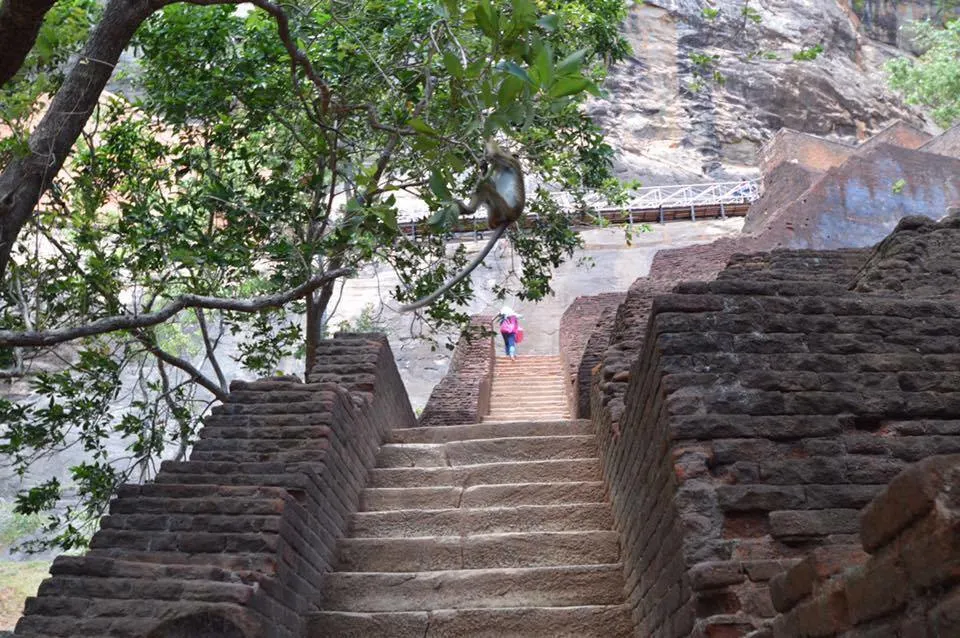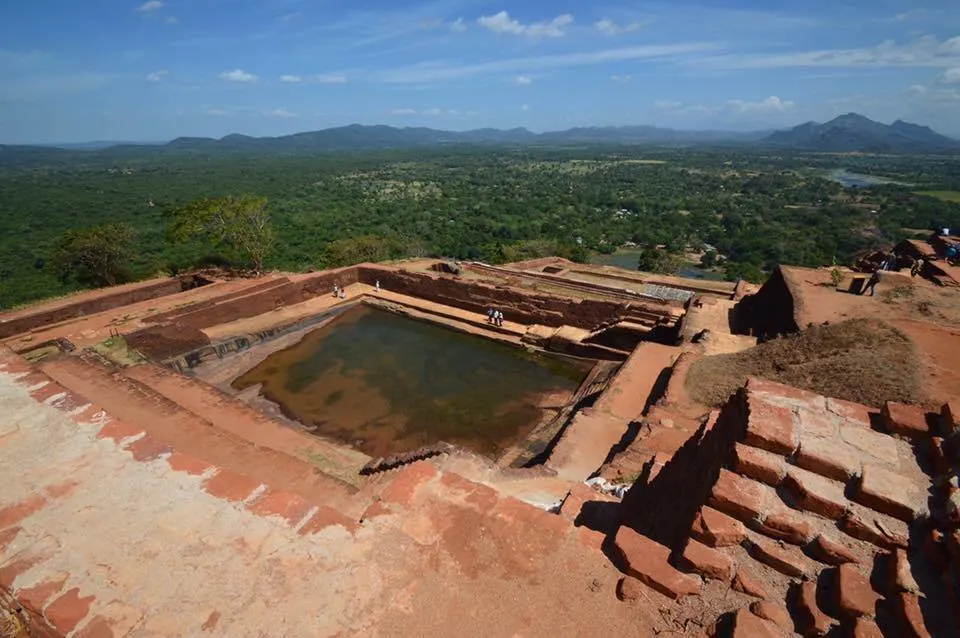 We then continued onto the Dambula Cave Temple which is the largest cave temple in Sri Lanka. There are about 100 steps to climb to reach the 5 caves which house over 150 statues of Buddha and many rock paintings which are amazing.
Remember to cover shoulders and knees and remove your shoes before entering. Free to enter.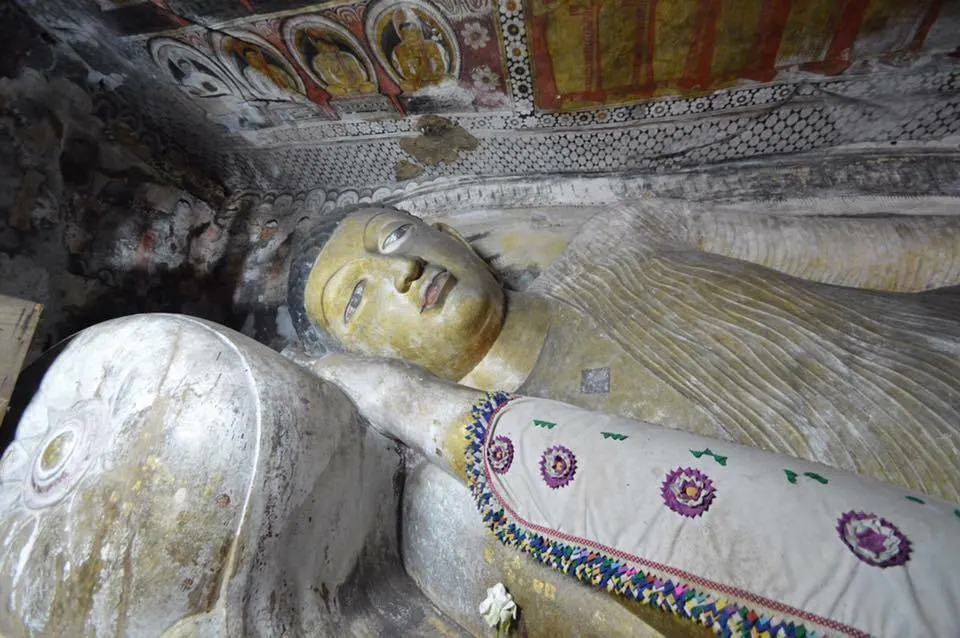 Ella
Our third place we stayed in Sri Lanka was in the beautiful town of Ella. The train ride from Kandy took a little over 6 hours and we had reserved seats in third class (cost 800 rupees for 2 adults = £4.00).
We were a little apprehensive of what they would be like but they were better than we could have expected. We sat amongst locals with open windows and ceiling fans.
The doorways at the end of the carriages were open and we were able to enjoy the scenery as we climbed higher and higher into the Hill Country.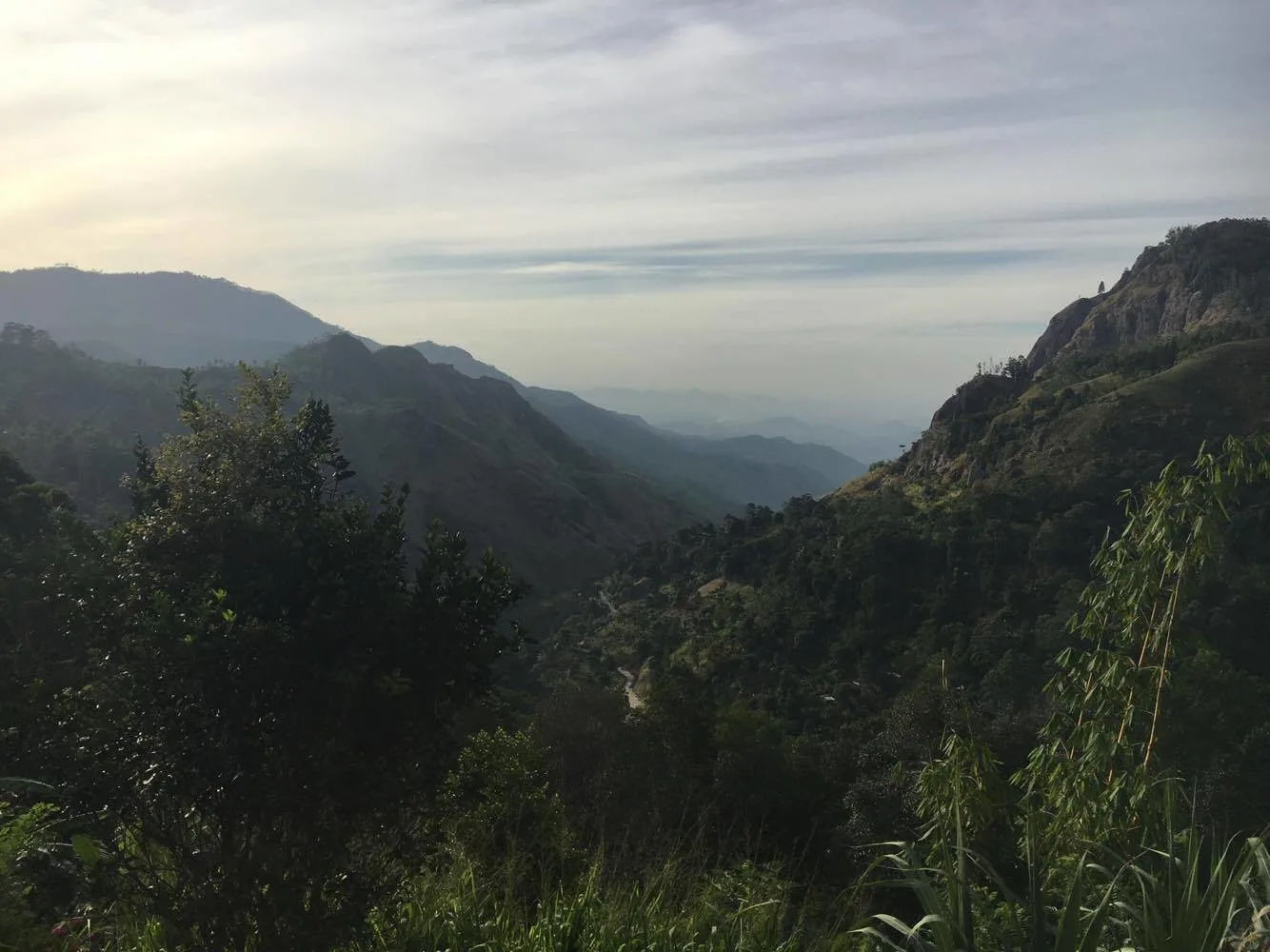 Our host in Ella was brilliant and took us out for the day to see the sights. We start off at 9 Arch Bridge. Built by the British in 1921, it is one of the most iconic bridges in Sri Lanka and is still part of the railway network today.
Quite by chance we timed our visit perfectly and saw a train come trundling over the bridge – perfect!!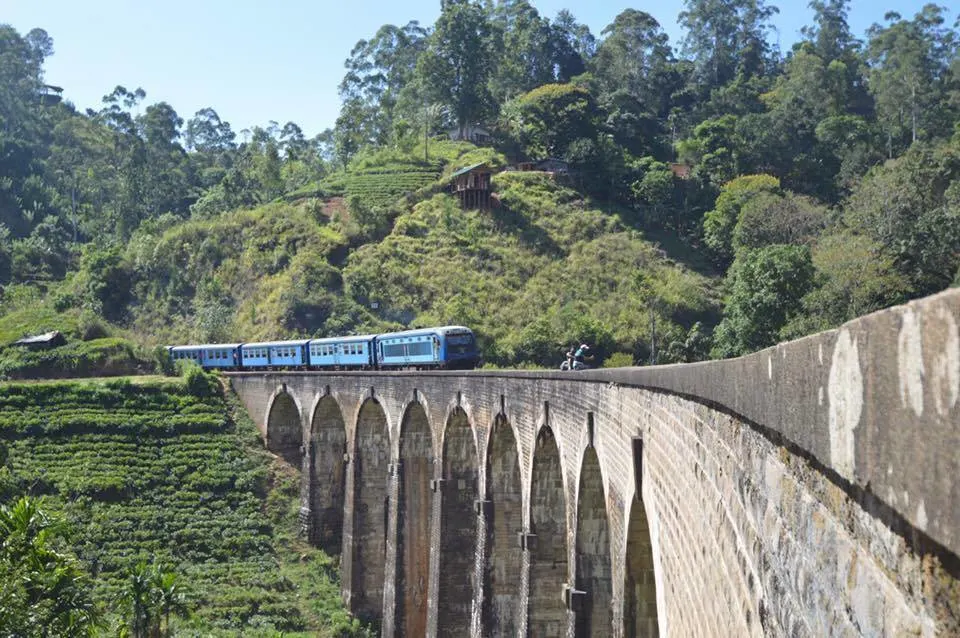 We continued onto Ravana Falls. Now you can see quite a few waterfalls in Sri Lanka but this one is just by the roadside so is perfect for a closer look.
We visited on a Saturday so it was busy with local families enjoying a swim in the lagoon at the bottom.
Apparently in the wet season it's a lot more spectacular with a huge amount of water pouring over the top. Just be careful of the rocks onto the way up to the lagoon, they were very slippery!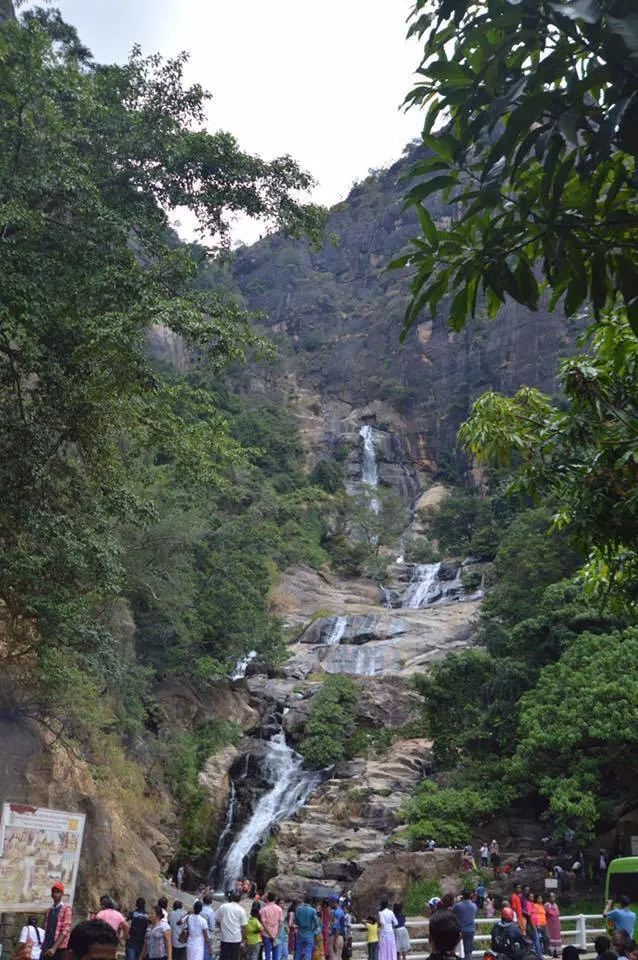 Our last place to visit was Dowa Rock Temple. One of the oldest and most sacred temples in Sri Lanka. You have to go down steps (made a change from climbing loads!) to the temple and there you can see the 38ft high statue of Buddha carved into the rock face.
The temple is quite small but the paintings and statues are amazing.
If you are looking for more inspiration for your Sri Lanka holiday this 10-day itinerary will provide lots of great ideas too.