Are you looking for the perfect Airbnb in Sri Lanka? In this article you will find the perfect accommodation for your trip.
You may have lot of questions about the costs and quality of the accommodation available so read about our experience of using Airbnb in Sri Lanka and reviews of the places we stayed at in Negombo, Kandy and Ella.
Our first taste of Airbnb was in Sri Lanka. We knew the areas we wanted to stay in – Negombo, Kandy and Ella, so we searched for properties and started looking at the ones with lots of reviews first.
We really had no idea whether the properties would be in a good position for all the tourist sights we wanted to see, so relied on their descriptions, photographs and reviews to help us make our decision.
Booking an Airbnb in Sri Lanka
If you are new to using Airbnb it is helpful to know that the process of booking with Airbnb is quite straightforward.
First you need to register with them and complete a bit of information about yourself which the hosts can then see. At the end of the day, they're going to be inviting you to stay in their home, so they need to know a bit about you, just as much as you want to know about them.
Once you find one you like, you select the dates you want to stay and then contact the host to request to book. They then have to accept your request before you go ahead and complete your booking with payment.
The payment does include a small service fee for Airbnb.
What were our experiences of Airbnb in Sri Lanka?
Airbnb in Ngombo – Sunrise Palace
For our Airbnb in Ngombo we chose Sunrise Palace as the photos made it look very modern and clean and it was only £19 per night (plus a one off £3 service fee per booking) and this included breakfast.
We decided to stay for one night at the start of our holiday and one night at the end. As it wasn't too far from the airport it seemed like a good choice – we were not disappointed.
Communication with your host is so important as not only are they are keen to help you, you can get a lot of really useful information from them.
We contacted Saminda and he was able to arrange for a taxi to collect us from the airport, a tuktuk for a tour of the area and also book our train tickets to Kandy for the following day.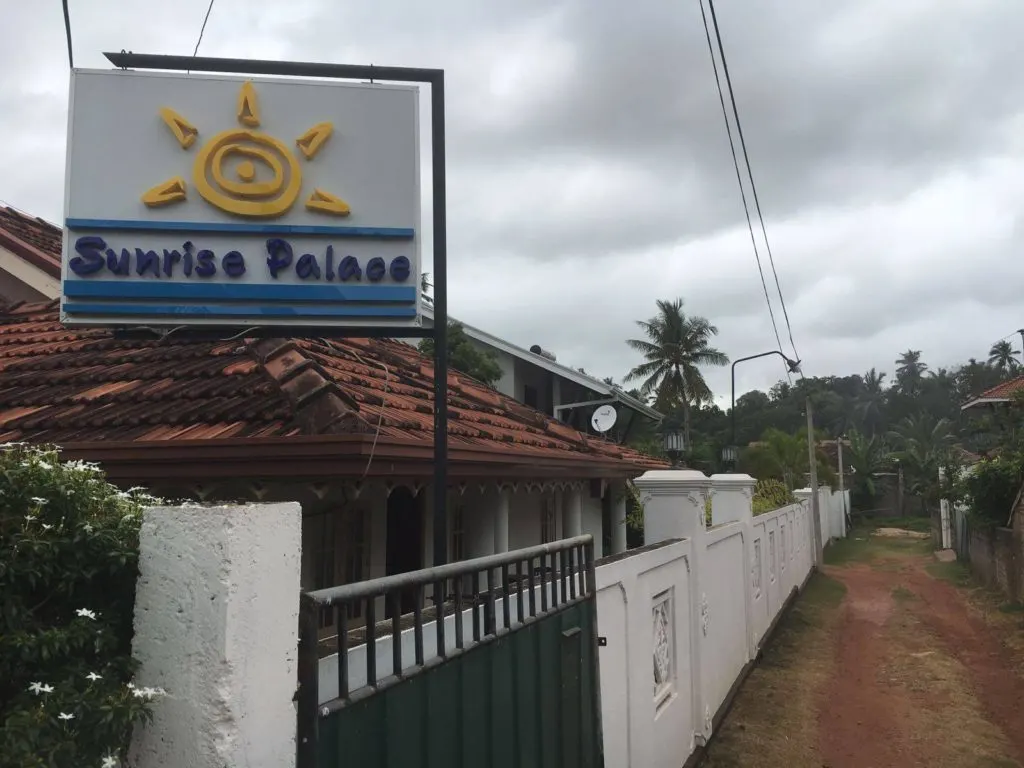 On arrival, the white-washed property was set back inside a walled garden and looked lovely.
There are four rooms available and we stayed in two different ones, one on the ground floor and at the end of our stay, we had a room on the first floor. Both rooms were decorated in the same modern style, just a slightly different layout, with a large comfy bed and clean bathroom facilities.
We did need to get a tuktuk to take us to the main area of Negombo. Sunrise Palace was situated in a residential neighbourhood but it was only about 5 mins ride away from the main streets with restaurants, bars, shops and the beach. On average it only cost 400 rupees (approx. £2).
Breakfast was taken across the garden just outside another building. We were served a continental breakfast with toast, eggs, fruit and yoghurt, tea and coffee. The two young men who helped Saminda were very attentive and kept on bringing out more and more food for us.
All in all, a very good first-time experience of Airbnb for us!
Airbnb in Kandy – Homely Home
Our host Jagath met us at the railway station as promised and drove us back to their property where his wife, Kalyani was waiting for us. They were very kind and friendly people who welcomed us into their home.
We were shown to our room which was a bit of a surprise from the Airbnb in Ngombo but we had no expectations really and so just kept an open mind about it all.
This really felt like we were staying in someone's spare bedroom as they had left lots of ornaments in the room along with letters and gifts from satisfied guests from all around the world. It really did live up to its name – Homely Home!!
There was even a map on the wall which we could stick our pin in to show where we had come from. The ensuite bathroom was basic but adequate.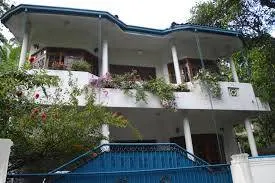 The cost for staying at 'Homely Home' was £14 per night with an additional £6 service fee and this included breakfast. An evening meal was offered at a cost of 300 rupees per night for the two of us and we decided to include this as we knew we would be very busy during the day so it was one less thing to worry about when we got back.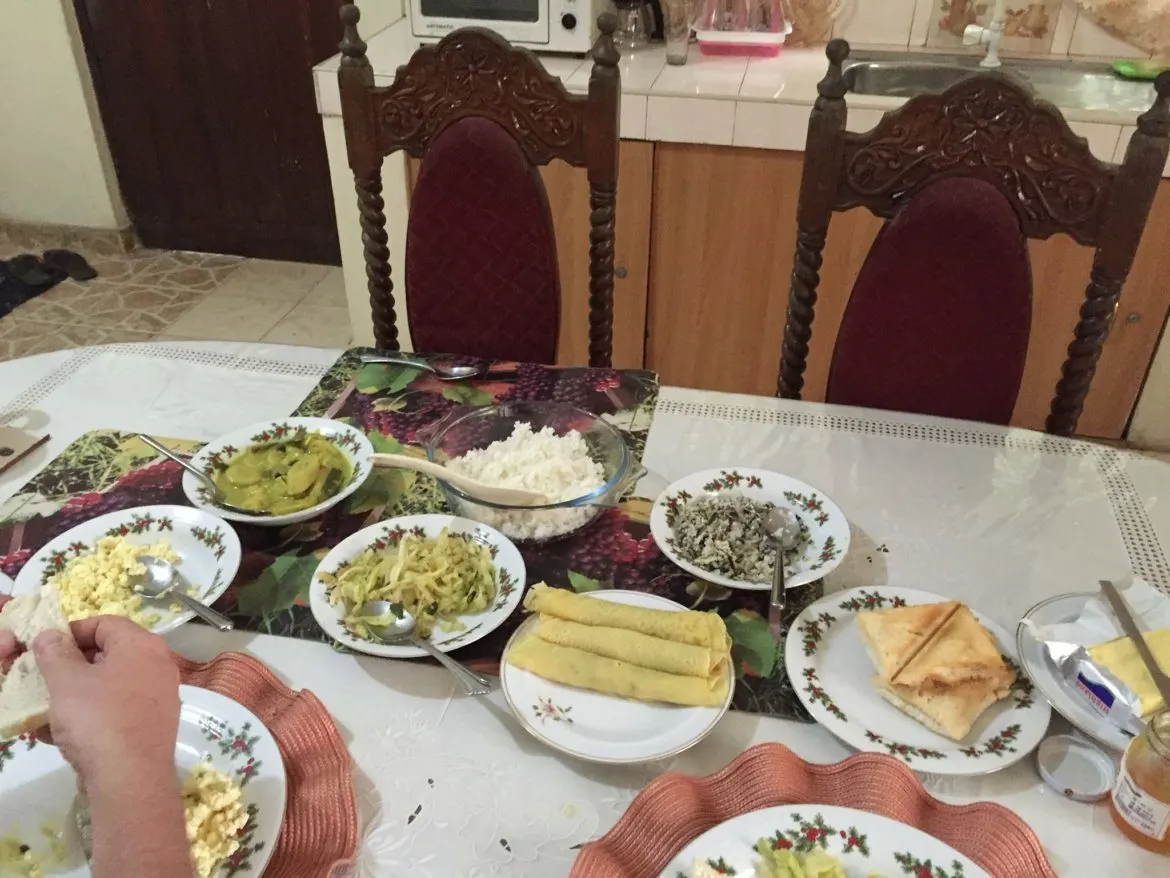 The food was very tasty and lots of it! We ate in a dining/kitchen area but not where they cooked, this was in a separate kitchen. We apologised so often as we couldn't eat everything that was put in front of us – there were so many dishes!!
Jagath and Kalyani were keen to offer their guests traditional Sri Lankan food and that included curry for breakfast. They didn't eat with us but took pleasure in explaining what each dish was and how it was made.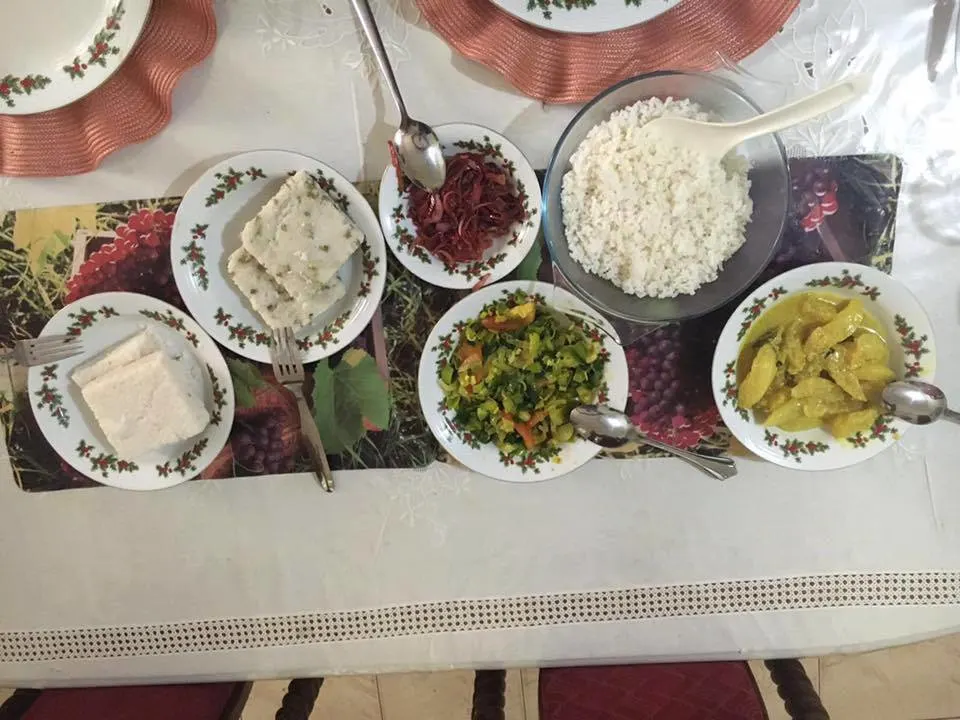 One evening, after dinner, we just sat and chatted with our hosts. They told us all about their families and their children and stories of where they had travelled to.
They were very keen to hear all about our lives in the UK and what we were planning to see in Sri Lanka. We were even able to try on some of their traditional Sri Lankan clothes.
Overall we did enjoy staying at Homely Home – it felt like we were staying with a favourite aunt and uncle, which was a very different experience but nice nonetheless.
Airbnb in Ella – Ella Eco Lodge
After our amazing train journey from Kandy to Ella, we decided to take a tuk-tuk to our EcoLodge, as we had no idea whereabout its was situated – good job we did!!!
The main street in Ella is very small and the tuk-tuk drove to the end of the street, turned and revved his engine before starting to climb an incredibly steep hill. Up and up we went, past small hotels and guest houses before the road levelled out and we arrived at Ella EcoLodge.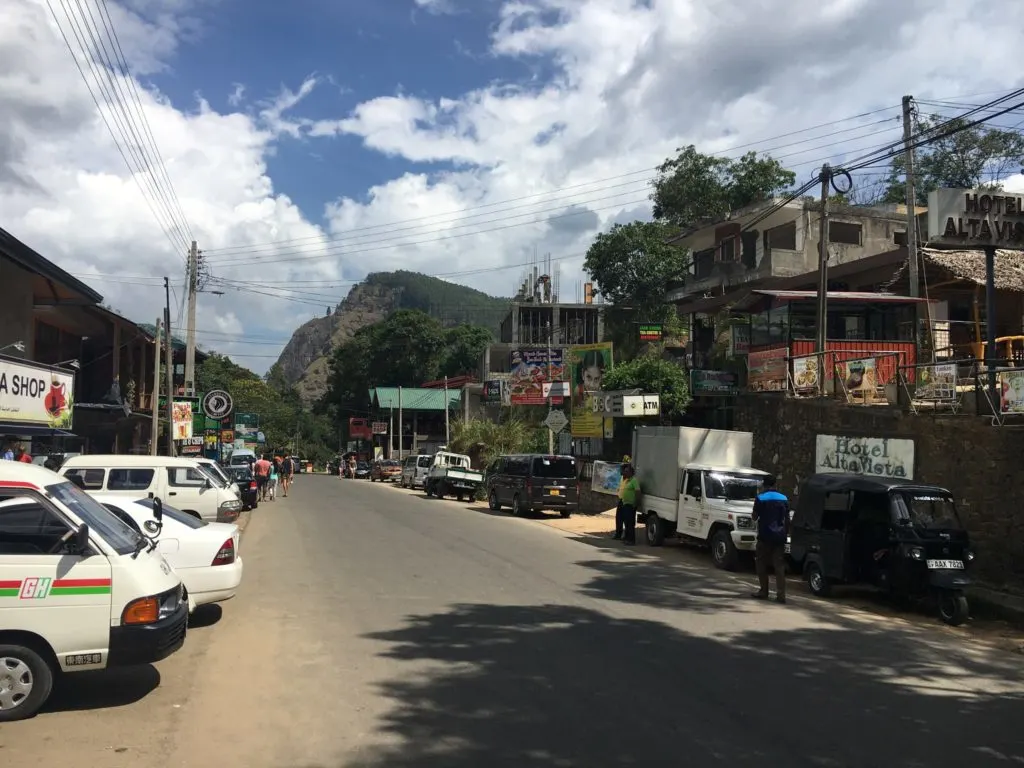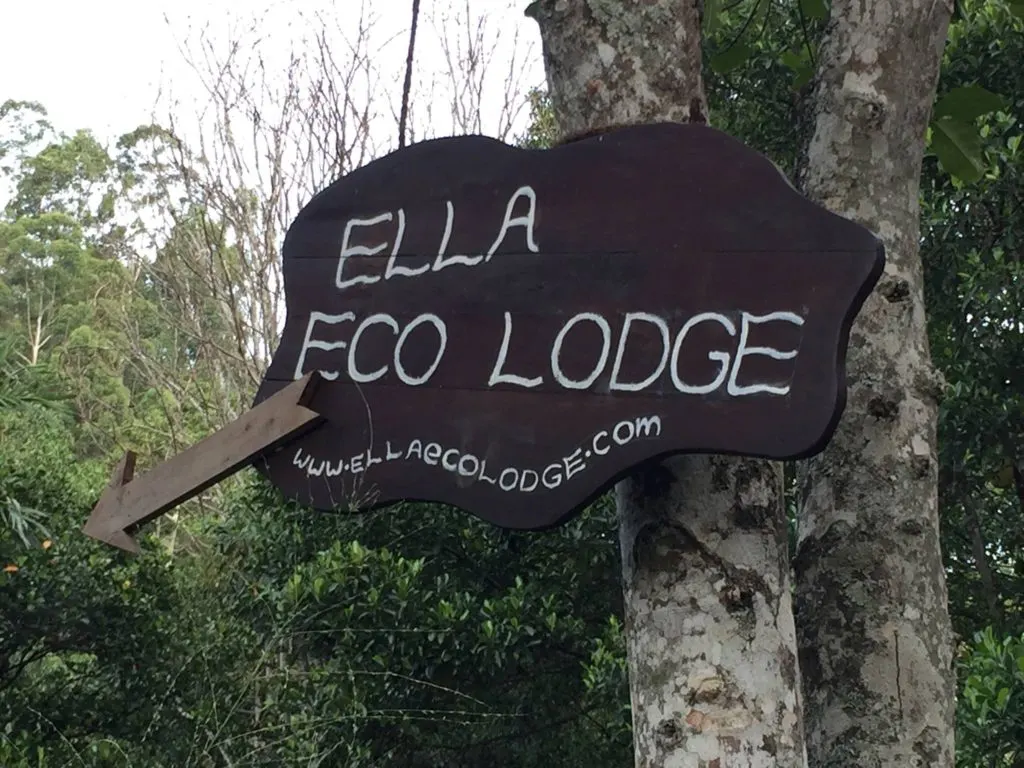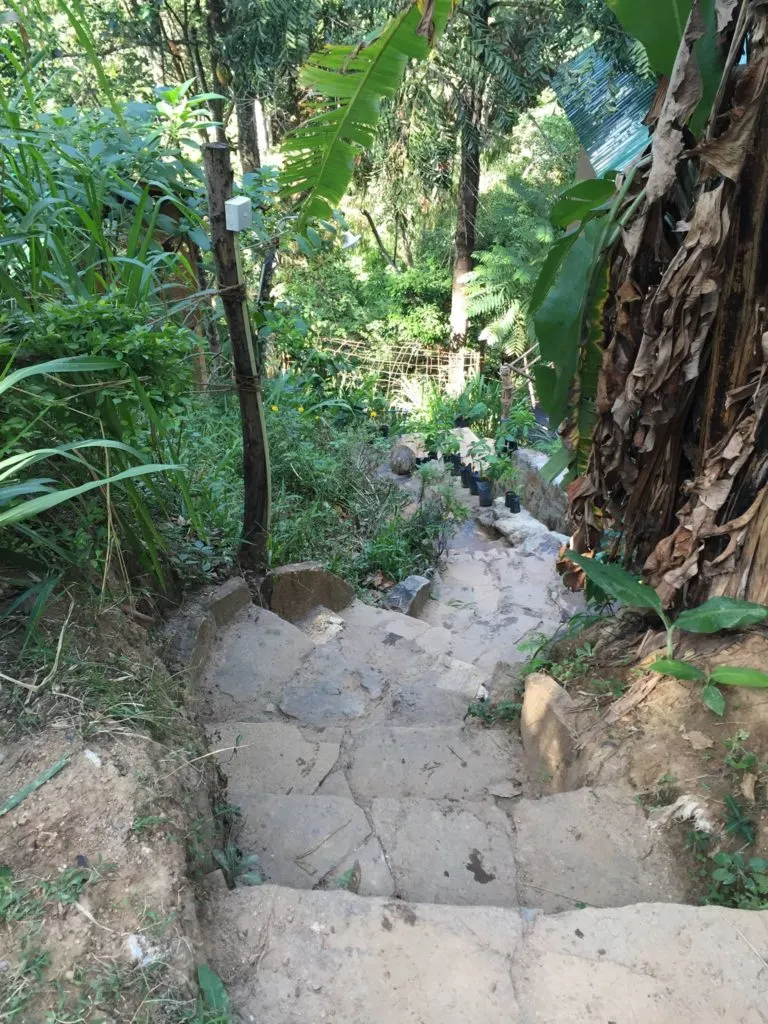 Read more – Guide to the best places to visit in Sri Lanka
This was the Airbnb property we were most excited about as it was described as a treehouse. Down the winding steps we came to three wooden buildings on stilts sitting amongst the trees – a perfect setting!
They had bamboo blinds on all sides of the verandahs, which once rolled up, gave an amazing view of the surrounding woodland.
The owner, Sampath, explained to us that he was trying to create a real eco-experience for his guests.
He explained how he had built these properties into the hillside and his plans for the future which included an extension to the lodge we were in, to create a further platform hidden amongst the trees with a quiet seating area for reading etc.
We saw and heard so many birds and in the distance could see monkeys too!
The room itself was rustic to say the least – a bed and side table, and a few shelves. The huge bed was covered with a throw and blanket – no sheets!! Oh well, we thought, let's give it a go!!
The bathroom was basic, with a stone floor but had a perfectly functioning shower, sink and toilet – even though we were stuck up in the air amongst the trees!!
We actually had two really good nights sleep, but beware, the tin roof acts like a megaphone when large fruit fall from the trees – the thud certainly made us jump!!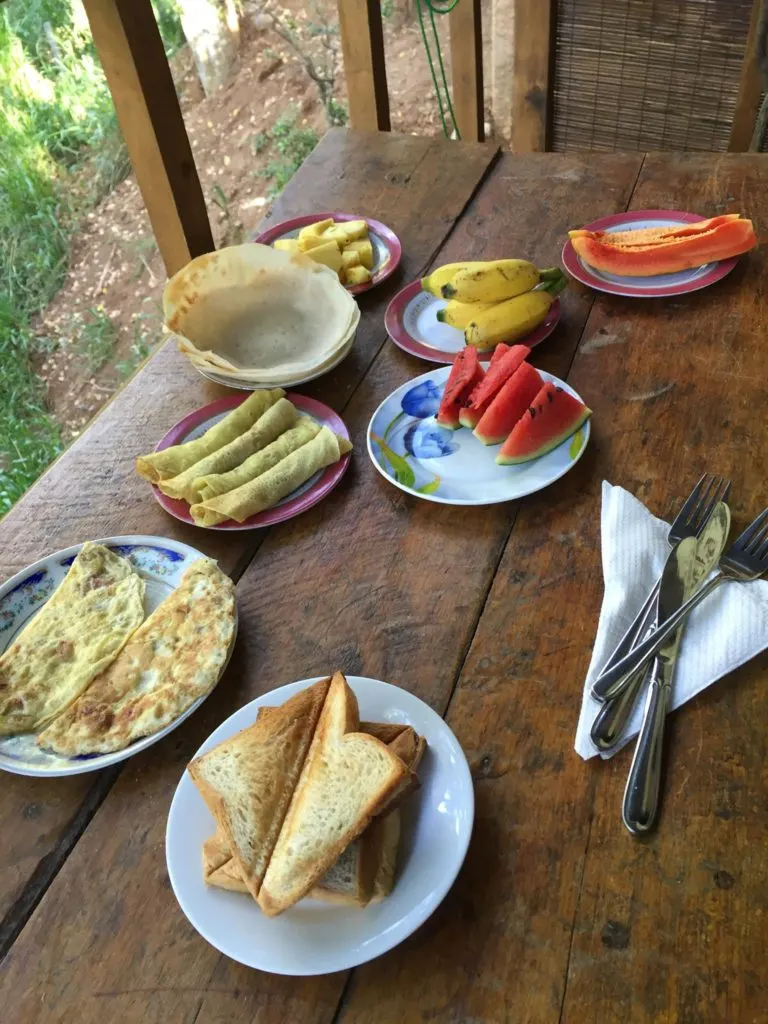 Our host, Sampath, didn't actually reside in Ella but in Colombo and travels to his property every 10 days or so. One of his members of staff Kumari met us on arrival and explained (in broken English) the necessary things like where everything was in the lodge, the wifi code etc and asked us when we would like breakfast.
Breakfast was brought down the steep steps by Kumari the next morning on a tray, an array of fruit, omlette, toast, pancakes, hoppers and of course tea, all the things we had grown to love for breakfast in Sri Lanka.
Ella EcoLodge cost £28 per night with an additional £9 service fee.
Out of all our hosts in Sri Lanka, Sampath was the most pro-active. He replied to any messages instantly (no matter what time of day or night!) He really was a great guy who genuinely loved the countryside and the eco way of living.
We had asked him to help us organise a driver for the day and this was arranged no problem, he took us himself, showing us the great sights of Ella. He even drove us all the way back to Negombo on our last day.
Our conclusion
So all in all, we thoroughly enjoyed our stay and our choices of Airbnb in Sri Lanka. Not only did we experience some amazing tourist sights but we experienced three completely different styles of accommodation and this has opened our eyes to further travel possibilities.
We highly recommend booking with Airbnb if you are visiting Sri Lanka. It is an affordable way to see the island and also to experience the culture. Something it is difficult to do when staying in a hotel!
Click here to read more about planning a vacation in Sri Lanka
Click here for more special stays around the world!