Our North Island New Zealand road trip 5-day itinerary includes 3 of the most popular destinations – Auckland, Matamata and Rotorua.
Are you considering a North Island New Zealand road trip? After recently completing a 5 day road trip (and our first visit to North Island) this article shares not only our full itinerary but suggested places to stay and eat based on our experience.
Use our itinerary as a basis for your own trip (add to it if you are lucky enough to have longer than 5 days).
In this itinerary we covered 3 places that were top of our wish list for North Island – Auckland, Matamata and Rotorua.
Each day of the North Island New Zealand road trip itinerary is detailed and there is a map of the route included in the article too.
Happy New Zealand travel planning!
North Island New Zealand Road Trip Itinerary – Overview & Map
Day 1 – Fly Brisbane to Auckland
Day 3 – Auckland to Matamata
Day 6 – Rotorua to Auckland International Airport
Attractions included in our North Island New Zealand road trip itinerary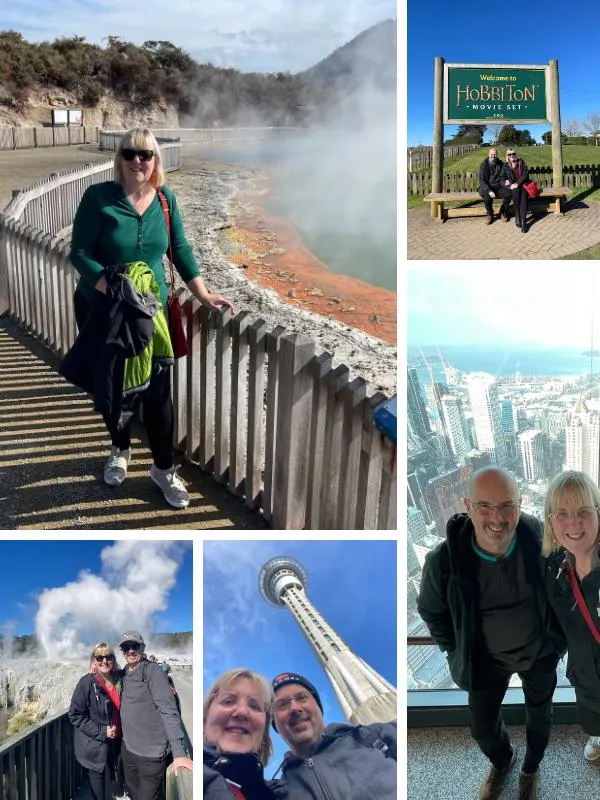 📍 Auckland Museum
📍 All Blacks Experience
📍 Auckland Sky Tower
📍 Hobbiton – Matamata
📍 Te Puia – Rotorua
📍 Mitai Maori Village: Cultural Experience and Dinner Buffet – Rotorua
📍 The National Kiwi Hatchery – Rotorua
📍Wai-O-Tapu – Rotorua
📍 Polynesian Spa – Rotorua
Day 1 – Arrival at Auckland International Airport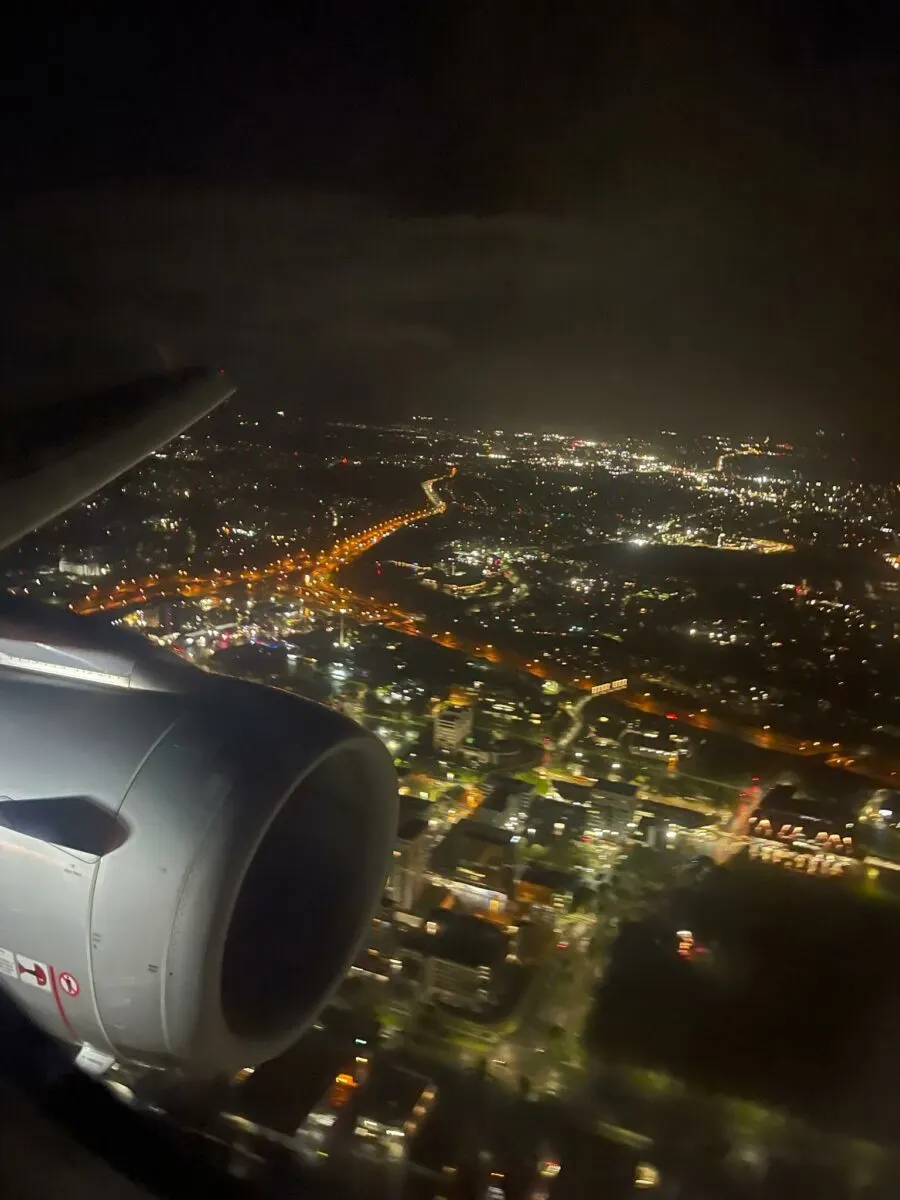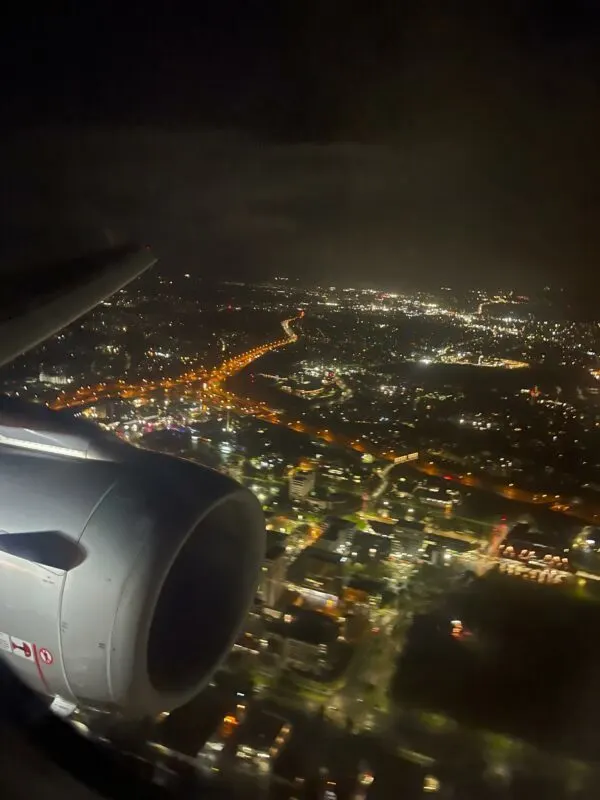 Our flight arrived at Auckland International Airport New Zealand at 11.25 pm from Brisbane International Australia.
There are a variety of options to choose from to get into the city (Auckland International Airport is located 17 miles (27 km from the CBD) which include:
Private transfer

Due to the time we arrived, we chose a private transfer via Get Your Guide
Our experience was excellent and our driver sent us a message via WhatsApp to say he was waiting and when I didn't reply actually came into the terminal to collect us. The journey was fast and took around 25 mins (it was late Sunday evening)
Public transport (Bus and then train)

There is no direct connection by train from the airport to the CBD
Catch the AirportLink bus (bust stop B domestic and bus stop A at International) to the Puhinui Interchange and then catch a train from there into the CBD.
This takes 15 mins by bus to the train station then approx 30 mins to downtown Auckland.
This service runs 7 days a week every 10 minutes from 4:30 am to 12:40 am
SkyDrive

Express Coach runs from both the Domestic and International terminals to downtown Auckland.
Available from 5 am to 22:30 every day
Tickets can be purchased on the bus (card only)
Accommodation in Auckland – JW Marriott Auckland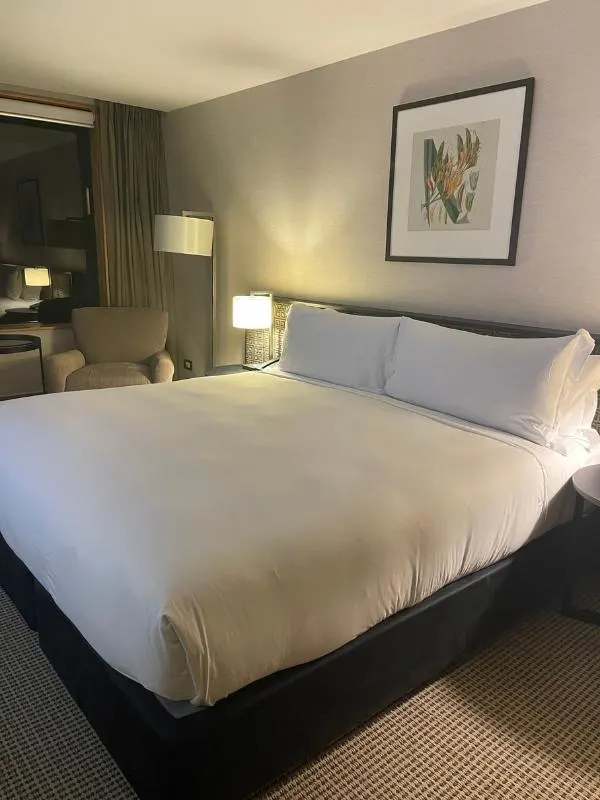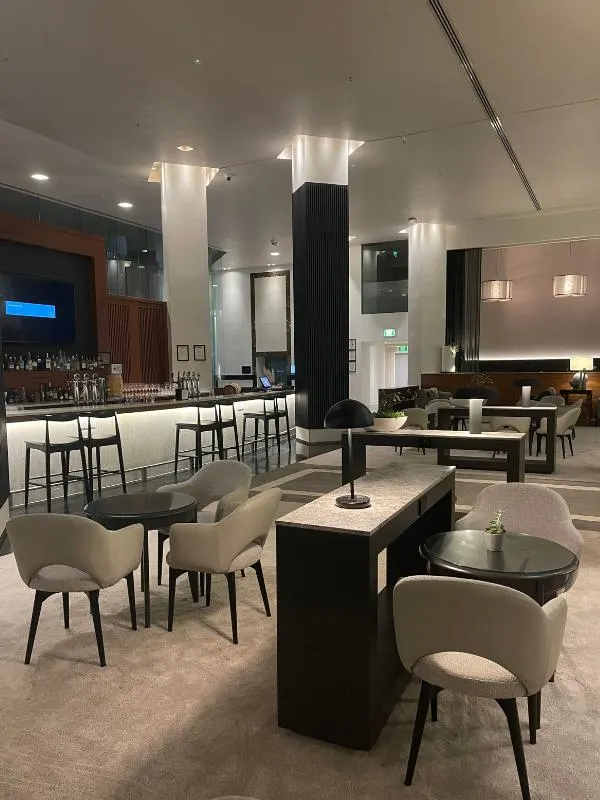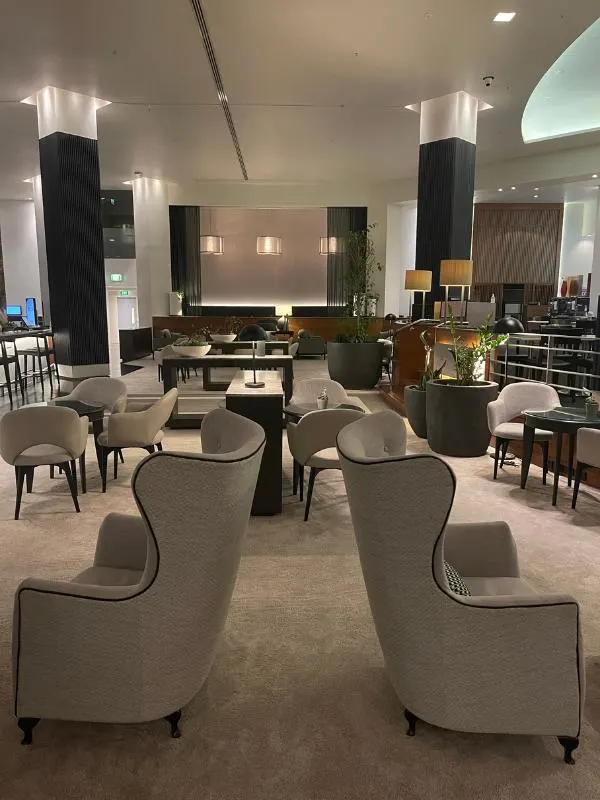 Day 2 – Auckland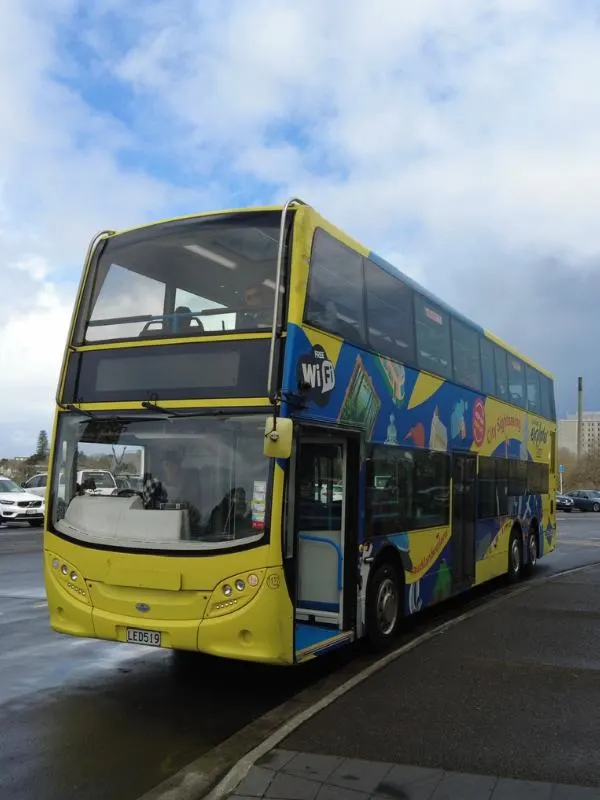 Things to do in Auckland in one day – HOHO bus (60 minutes to do the entire circuit of 9 stops)
Operates between 9:00 am – 4 pm (the last bus terminates at 5 pm)
Every 30 minutes from each stop.
Adult – NZ$50 Child NZ$25 Family NZ$130 (1-day pass)
Adult – NZ$60 Child NZ$30 Family NZ$180 (2-day pass)
Combo tickets are available which include some of the most popular attractions.

We decided to visit the Museum, All Blacks Experience and the Sky Tower and purchased a combi ticket which included those attractions.
1. Auckland War Memorial Museum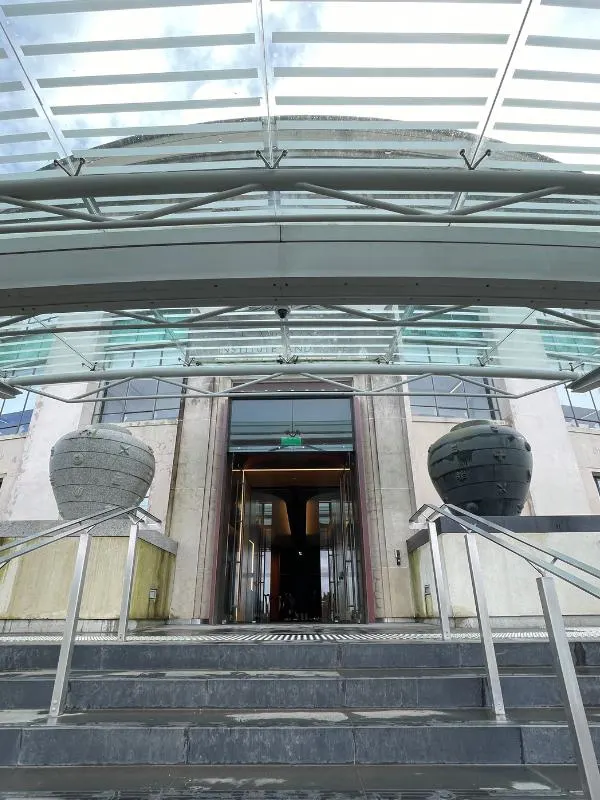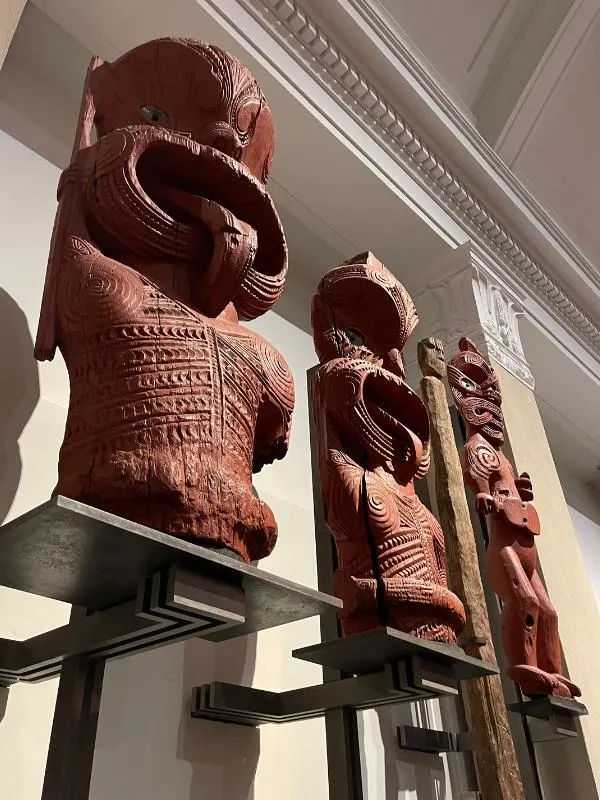 We arrived at the museum at 11.30 a.m. (we hopped on the bus at stop 2 and got off at stop 5 for the museum) and had scheduled 2½ hours to explore. This was just enough to do a quick tour of everything but you could easily spend 3 to 4 hours here. We also decided this was the perfect place to have lunch so this did eat (no pun intended) into our time at the museum.
Auckland Museum is spread over 3 floors with the Ground Floor dedicated to Our People and Place, Level 1 Our World and Level 2 War and Remembrance.
Highlights for us were the Māori Court, the Volcanoes section, the Maori Natural History and the Origins section (particularly the birds).
The World War I and World War II Hall of Memories are humbling and thought-provoking.
2. All Blacks Experience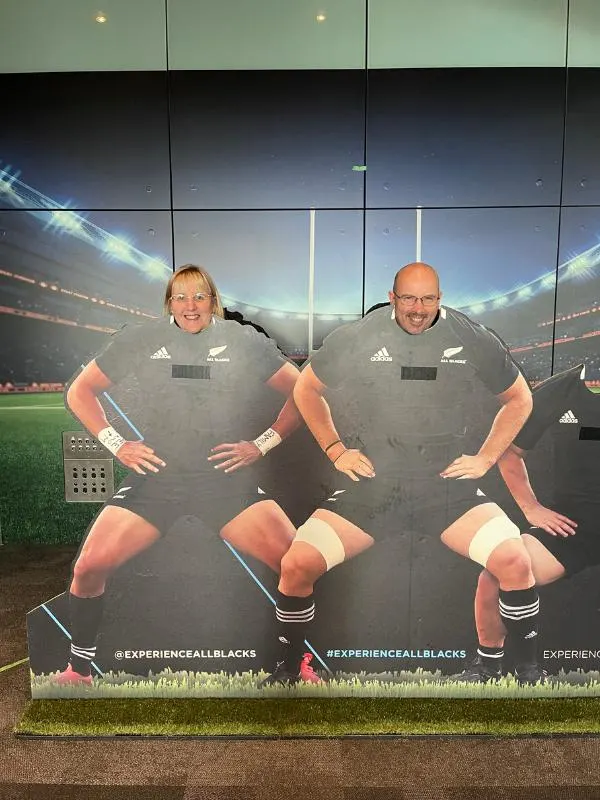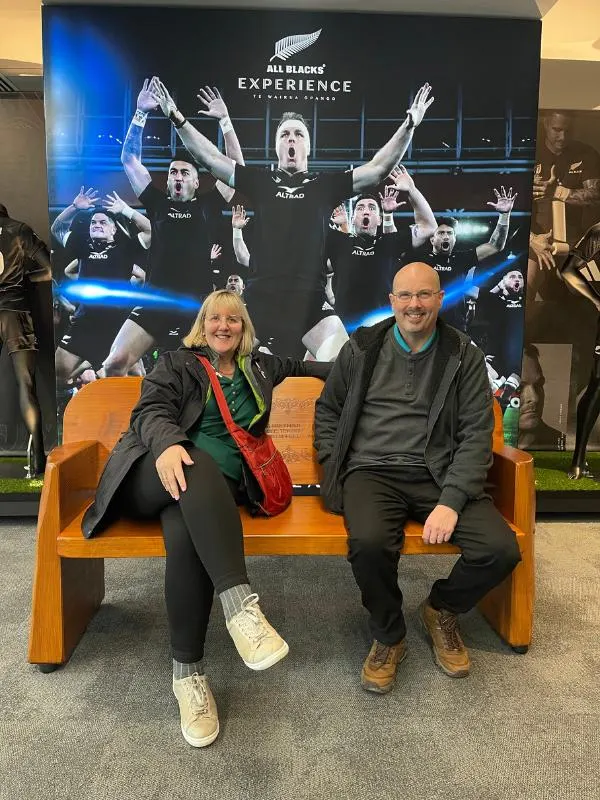 After hopping back onto the bus (every 30 minutes) we continued with the route which provided great views of Waitemata Harbour and Devonport.
If we had more time we would definitely have hopped off at Parnell Village (quaint shopping area) but we decided to head back into the centre of Auckland and hopped off at Stop 2 where we had started the trip earlier.
The All Blacks Experience is located at the Sky City Precinct. We took the 3 pm tour with 6 of us in total in the group. This interactive experience was a lot of fun and it "showcases Maori culture and rugby's connections to New Zealand history." (Official Pamphlet)
The highlight for both of us was standing facing the ladies and men's teams performing the traditional haka. It left us both speechless and was incredibly powerful.
Plan to spend 90 minutes on this experience.
3. Auckland Sky Tower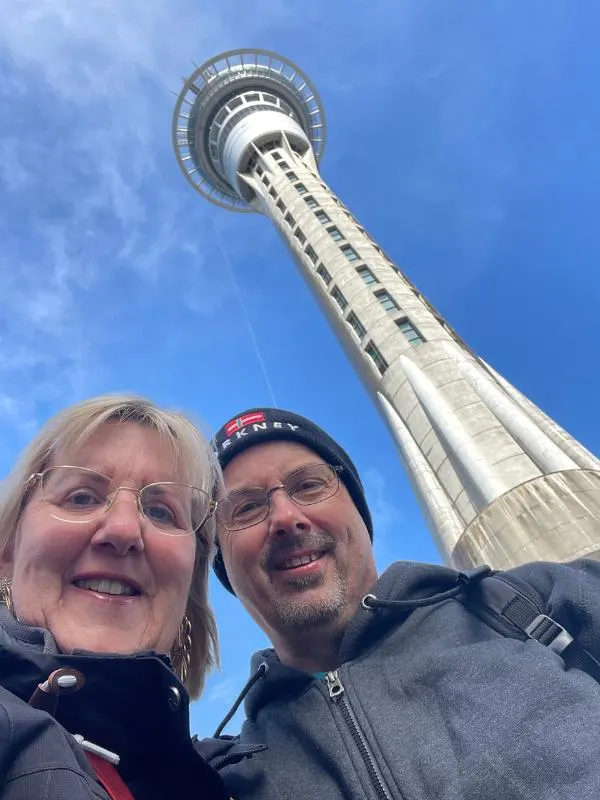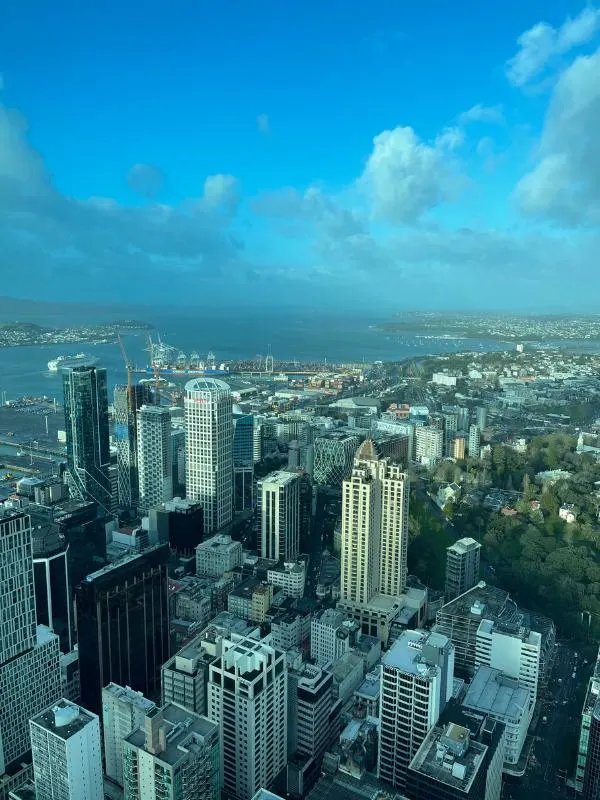 Our final destination for the day was the Auckland Sky Tower. We decided to enjoy both the day and evening views and stayed for around 90 minutes.
The Sky Tower was opened in 1997 and was until 2022 the tallest building in the southern hemisphere at 328 metres high.
First, ascend to Level 51 (186 metres) which is the Main Observation Level before changing lifts to go up to the Sky Deck at Level 60 (220 metres)
Level 50 is the recently opened Sky Bar (check the site here for opening hours – it was closed when we were there)
There are other activities available for adrenaline junkies including a Sky Walk or Sky Jump.
Day 3 – Auckland to Matamata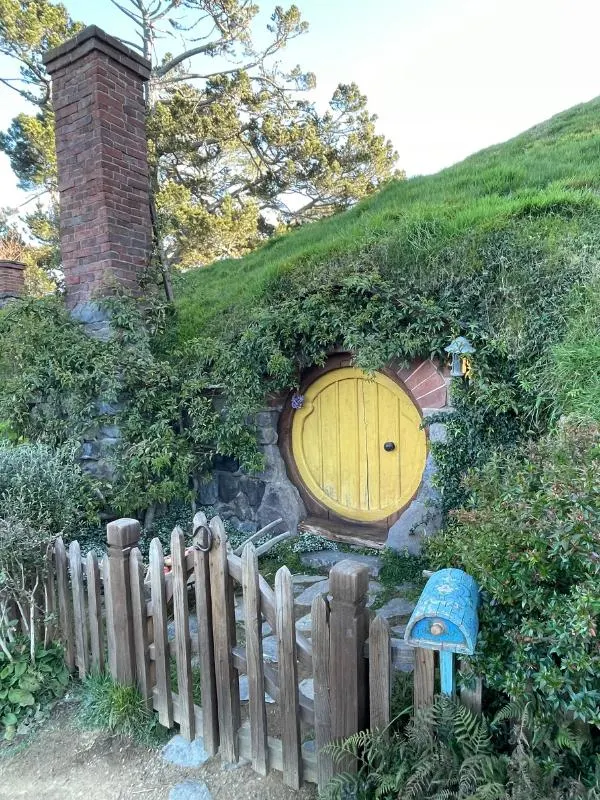 Day 3 – Planned Activities
We hired a car via Discover Cars and picked it up at Auckland International Airport.
Drive time

– 2 hours 12 minutes to B&B (10 mins past Hobbiton)
Drive time to Hobbiton

– 2 hours 2 mins
Booked Hobbiton for 15:10

– 501 Buckland Road, Matamata, 3472

You must be there 20 mins before the tour starts
Dinner

– We went to Matamata and ate at a lovely restaurant called the Redoubt Bar and Eatery (highlly recommend the pork belly bites!)
Day 3 of our North Island New Zealand road trip we had allocated a visit to one destination only – Hobbiton.
If you are a fan of the Hobbit and/or the Lord of the Rings trilogy Hobbiton will be a must in your itinerary.
I booked tickets with a timed slot for 3.10 pm in advance of arriving in New Zealand (don't leave it too late to book as they can sell out. The popular tour with the Hobbit banquet was sold out on the one day we could do it so double check availability if this is something you really want to experience.
We were able to request a slightly earlier check-in and had time to drop our bags at the Cosy Country Stay B&B before driving back to Hobbiton for 2.50 pm.
Hobbiton – FAQs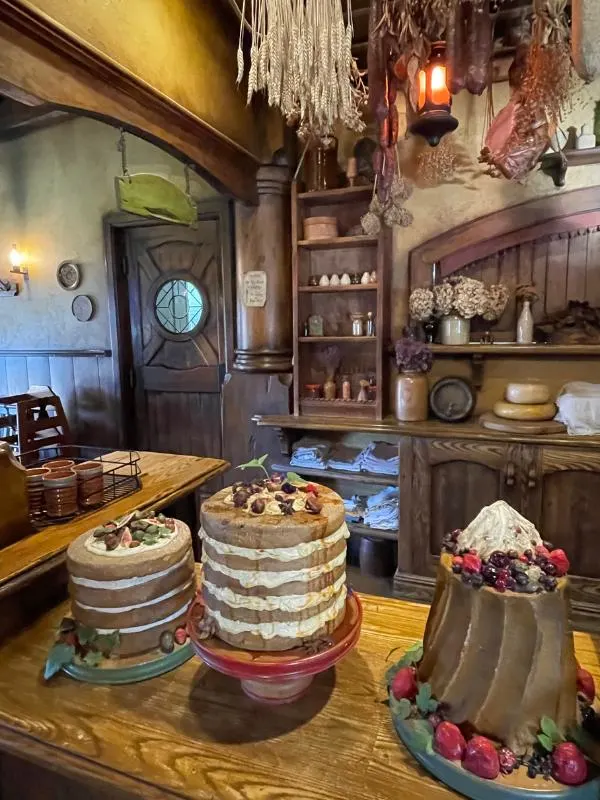 There is plenty of car parking available at the visitor centre.
Enjoy the drive to Hobbiton as you will pass through some stunning countryside.
Once you arrive go to the check-in to be issued with your ticket.
There are toilets and a cafe (as well as a gift shop) so plenty to do before your tour.
You are transferred in a coach to the Hobbiton set (5 mins drive) – your tour guide (with you for the duration of the tour) will give you some background as to how and why this area was chosen along the way.
On arrival at Hobbiton, you will be guided around the set (with lots of information and anecdotes along the way) and plenty of opportunities to take pics.
The tour of the set ends at the Green Dragon Inn with a complimentary drink (alcoholic or non-alcoholic choices) and plenty of time to take more snaps before heading back to the coach for the transfer to the visitor centre.
Above are just some of the many shots I took – we were very lucky as it was a beautiful sunny (cold) day.
Accommodation in Matamata – Cosy Country Stay B&B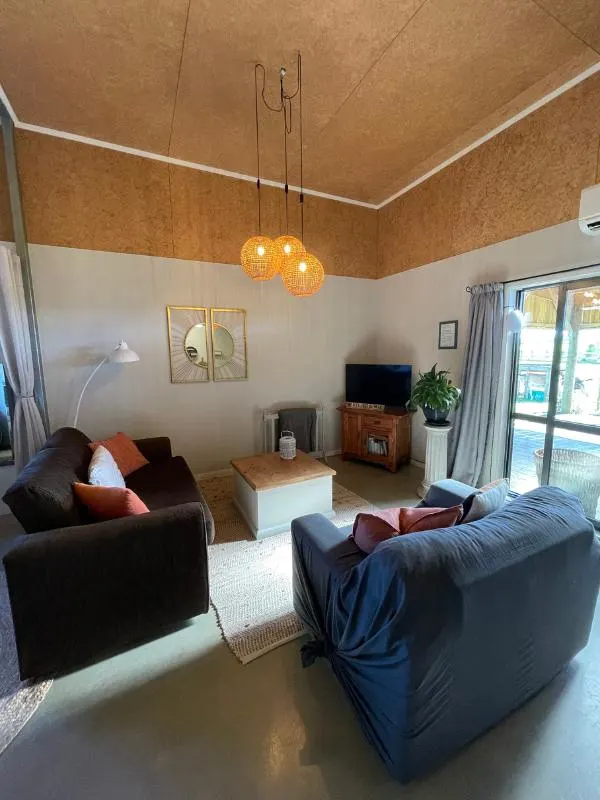 Day 4 – Matamata to Rotorua
Accommodation in Rotorua – Karanda BnB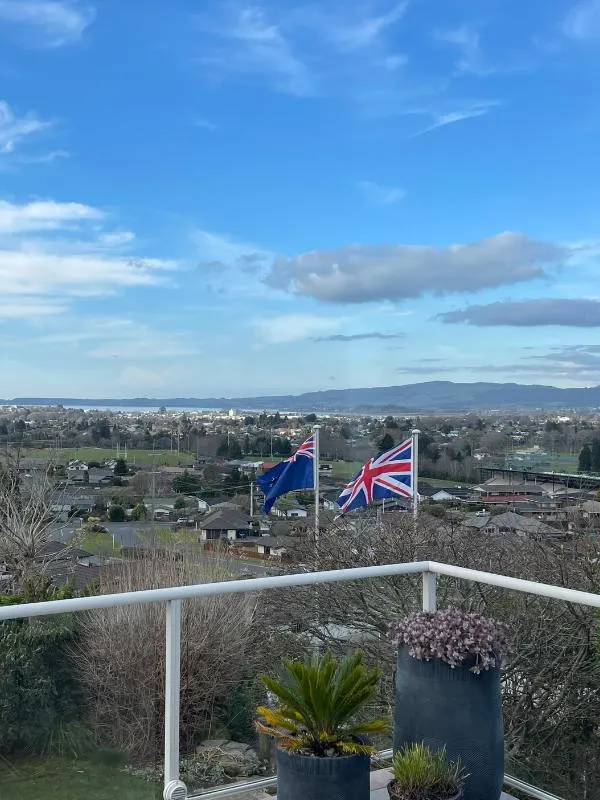 Karanda BnB – 51 Matipo Avenue 3015, Rotorua (drive from Matamata takes 2 hours)

Check-in from 16:00 (we contacted Ron and Lesley to drop off luggage in advance)
Lovely BnB with gorgeous views over Rotorua. Ron was so welcoming and we both agreed this is one of the best BnB's we have ever stayed in.
It was incredibly well equipped with everything you could possibly need and the apartment was spacious, luxuriously decorated and quite simply perfect! 10/10 from us.
Day 4 – Planned Activities
Dinner

– Included in the Mitai Maori Village Experience
Te Puia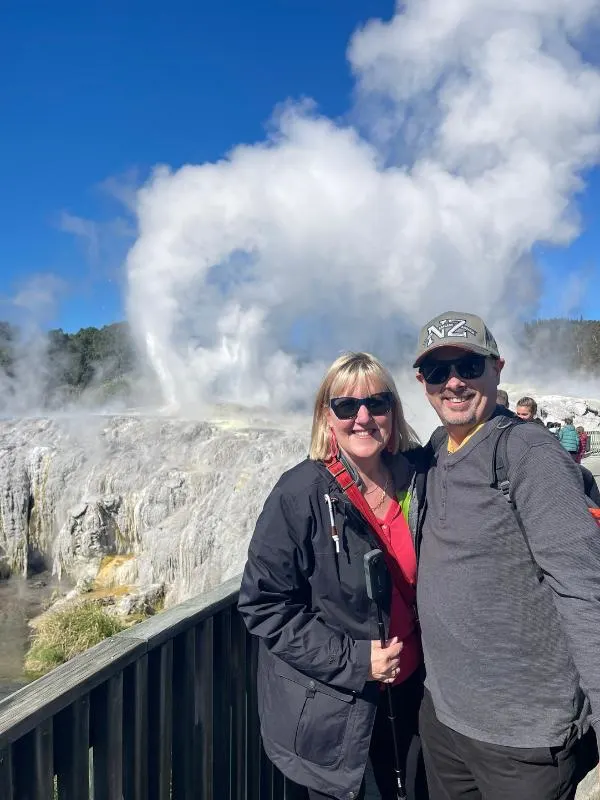 I had booked timed slot tickets for a tour of Te Puia through Get Your Guide. We highly recommend taking a guided tour so you can learn more about the history of the area from guides whose families have lived in the valley for over 1000 years.
Although we arrived a little early for the slot there is a cafe and a shop to peruse and plenty of parking.
After an introduction from our guide Kahu (pictured above) we walked through the valley which has mud pools, heated pool and geysers. The largest active geyser in the valley is the Pohutu Geyser and we were all anticipating an eruption of water up to 30 meters high (and were not disappointed – though Kahu did point out that she had no control over the geysers so it could not be guaranteed)
At Te Puia (meaning the hot spring) you will also find the Kiwi Centre and the New Zeland Maori Arts and Crafts Centre.
Kiwi Centre – At present there are 2 Kiwis in the centre and this was the first opportunity we had to see a live Kiwi bird. The centre is activekly involved in conservation efforts to protect New Zealad's national bird.
New Zeland Maori Arts and Crafts Centre – Weaving and carving school which teaches the ancient traditions and skills to ensure these are passed on to future generations. During the tour you have the opportunity to watcth the students at work and even ask questions.
Mitai Maori Village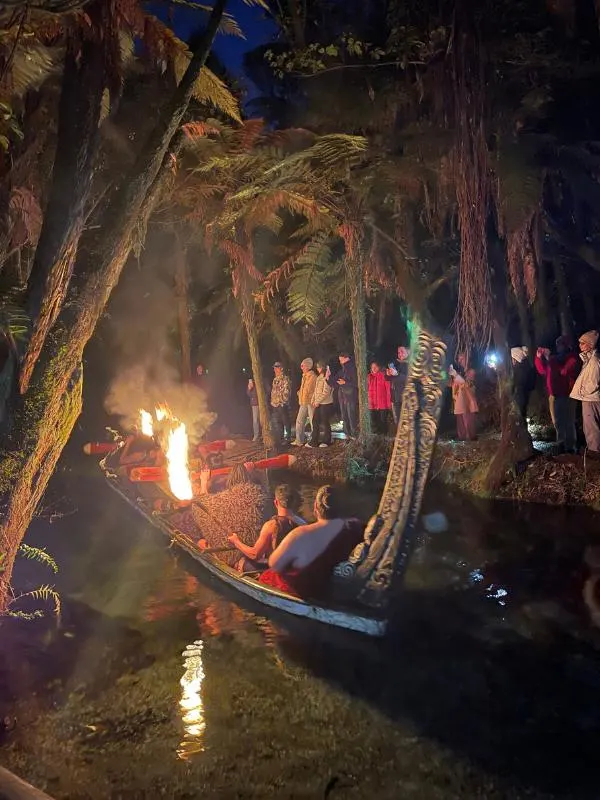 We booked the Mitai Maori Village – cultural experience for the first evening in Rotorua. The experience included a traditional earth cooked hangi and buffet dinner).
This 3 hour experience also included a cultural performance (with a haka) and the opportunity to see warriors chanting and paddling down the river. We enjoyed both of these events but found the cultural performance particularly interesting.
There is the opportunity after dinner to take a walk to the sacred spring and to see the glow worms but by this point we were tired and decided to head back to the BnB.
Tips!
Wear flat shoes – the ground is a little uneven in places.
Wear warm clothes in winter – it was rather chilly and some of the performances are outside so do dress for the weather.
Drinks (including alcohol) are available to purchase at the bar.
You will be sat at a table with strangers but we found everyone very friendly and it was interesting to meet a few other nationalities attending the evening.
Day 5 – Rotorua
Day 5 – Planned Activities
The National Kiwi Hatchery Tour

– 10:00 am (arrive 15 mins before)
Dinner

– Eat Street Rotorua
The National Kiwi Hatchery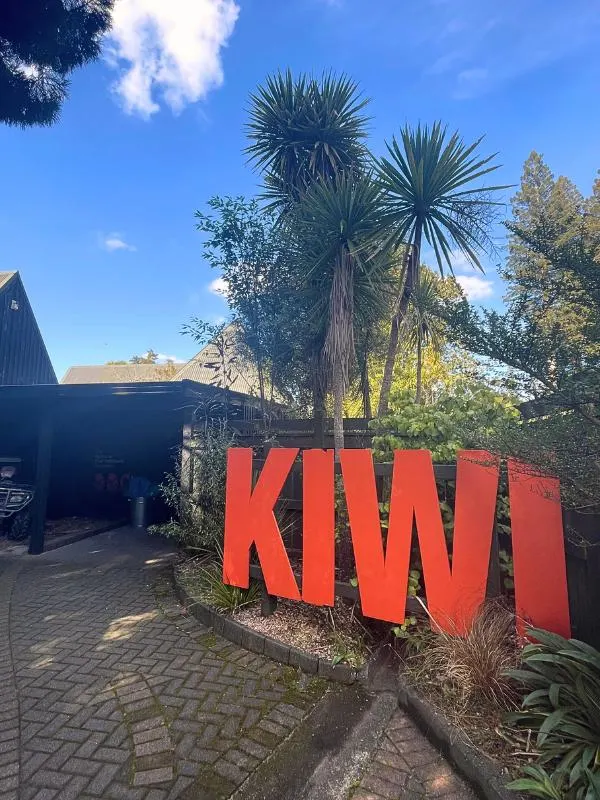 If you have an interest in nature and wildlife then a visit to New Zealand's leading Kiwi centre is a must-do on any Rotorua itinerary
We booked the tour via Get Your Guide with a timed slot for 10 am. The tour took 45 minutes and during the tour you learn all about Kiwi – how they breed, lay, and hatch their eggs in the wild plus learn how the hatchery is working to protect and hatch eggs through their successful program.
You also discover the measures are in place to not only protect the species but also to increase the Kiwi population after years of decline. It is sad to think that these flightless birds are at risk of extiction due to the introduction to New Zealand of mammals such as stoats, dogs, cats and weasels. Apparently 50% of newly hatched Kiwi chicks are killed by stoats.
If you haven't seen a Kiwi there is also the opportunity to see their resident adult Kiwi during the tour.
Wai-O-Tapu
Wai-o-Tapu was my favourite destination when we were at Rotorua. This place is incredible – awe inspiring and unlike anywhere I had ever seen on earth before.
Located a little out of the town (a 30 minute drive) this is one of the most active geothermal areas in New Zealand. The colourful pools, geysers and lake make this a photographer's dream – I took well over 150 images (watch out for the photodiary and guide to visiting Wai-o-Tapu coming out soon)
Highlights include
The Champage Pool
The Devil's Bathtub

Lake Ngakoro

The largest mud pool in New Zealand
Need to know
Open 7 days a week from 8:30 am to 4:30 pm (last admittance is at 3:00 pm)
Wear sensible shoes – there were a lot of steps to negotiate further on in the park. Follow the boardwalks – you will receive a map and the trails are well signposted so you can't get lost.
If you can manage it definitely do the entire walk (consisting of 3 walking trails) – it took us about 90 minutes to do all 3
If you want to see the Lady Knox geyser erupt you need to be at the park by 10 am (ie don't book the National Kiwi Hatchery for the morning as we did which meant we missed the geyser) Give yourself time to pay at the Visitor Centre and drive back to the geyser
Take a refillable water bottle and fill up just outside the visitor's centre
There is a cafe, gift shop and toilets at the main entrance
There is parking but I can imagine that it can get busy so plan to arrive earlier in the day during peak season
Rotorua Lake Geothermal Hot Springs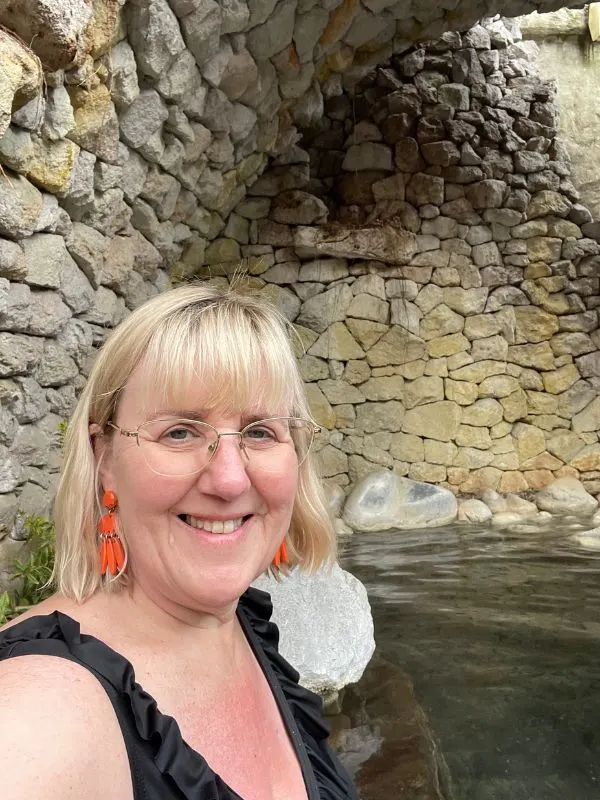 The perfect end to a busy 4 days? A few hours at the Polynesian Spa.
I was't sure when I booked this and was questioning myself right up until the moment I stepped outside and saw the hot pools. It is 100% worth it and we thoroughly enjoyed our visit.
The spa is fed by 2 hot springs – the Priest Spring and the Rachel Spring and they feed 28 hot mineral pools. The acidic nature of the Priest Spring helps relieve aches and pains and the alkaline nature of the Rachel Spring nourishes the skin.
We booked the Deluxe Lake Spa experience which enables access to 5 pools – 4 hot Rachel spring fed pools (of varying temperatures) and 1 hot Priest Spring fed pool. There is also a cold plunge pool.
The geothermally heated recliners were a hit too with fabulous views over the lake – they are ideal to relax on when taking a break from the heat of the pools.
Need to know –
The lake spa experience includes access to changing facilities with secure lockers. Soap, shampoo and hairdryers are also provided.
Bring a swimming costume/bathers and flip flops (though you can hire swimmers if you need to)
Bring a refillable water bottle – the pools are warm/hot so you need to keep hydrated. They reminded us of this at reception
Eat Street Rotorua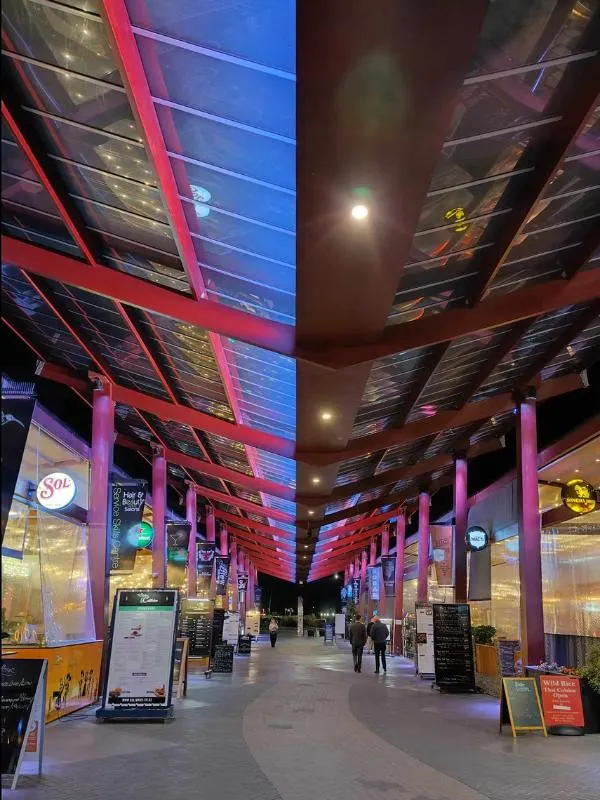 There are plenty of dining options in Rotorua including an Eat Street. We chose to eat at the CBK Craft Bar and Kitchen which we would recommend.
DAY 6 – Rotorua to Auckland International Airport
Day 6 was the last day in our North Island New Zealand road trip itinerary and we drove from Rotorua back to Auckland Airport to drop off the car. You of course have the option to add additional days to this itinerary and continue to explore North Island.
We flew to Christchurch to continue our New Zealand adventure – read all about it in our New Zealand South Island driving itinerary
Drive time – 2 hours 30 mins from Rotorua to Auckland International Airport
Flight Auckland to Christchurch – 3 pm (check-in 60 mins before)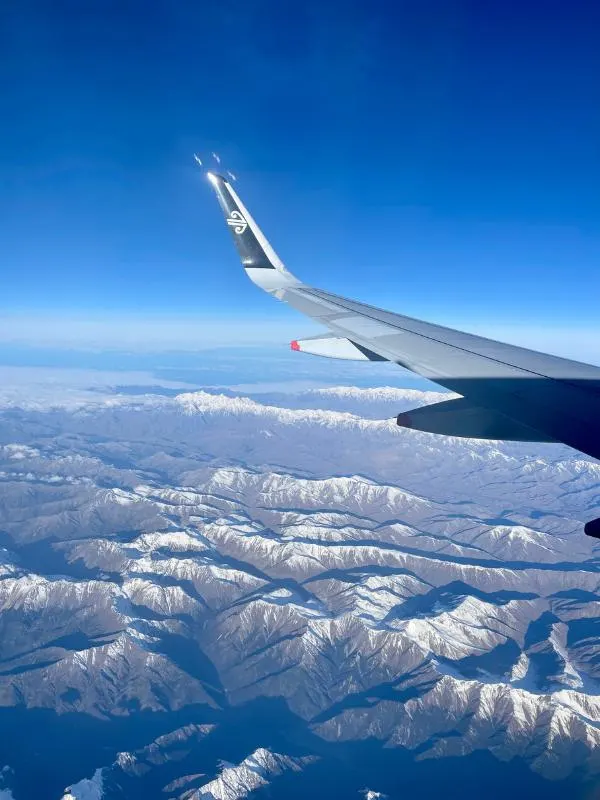 Read part 2 of our New Zealand itinerary – South Island
🇳🇿 Plan your trip to New Zealand
Things to do in Rotorua

Where to stay in Rotorua
Guide to visiting Wai-O-Tapu

Things to do in Auckland

Where to stay in Auckland

South Island itinerary
Things to do in Christchurch

Where to stay in Christchurch

Things to do in Queenstown

Where to stay in Queenstown

What to watch before you visit New Zealand
What to read before you visit New Zealand
New Zealand Travel Guide