Delicious afternoon tea in a box from award-winning Piglet's Pantry. Discover why this is the perfect gift for your friends and family in the UK.
Sending gifts to family and friends in the UK can be difficult when you live abroad. Parcels can be delayed or even lost in transit. As I live in Australia and most of my family are located in England this is a problem I face on a fairly constant basis.
When it comes to birthdays, anniversaries, Christmas, and other special occasions throughout the year I never know what to send. So I was delighted to discover Piglet's Pantry a UK-based company that delivers bespoke hampers and afternoon teas in a box. Problem solved!
Read my review of Piglet's Pantry and discover how they can help you by providing the perfect gift option for friends and family in the UK.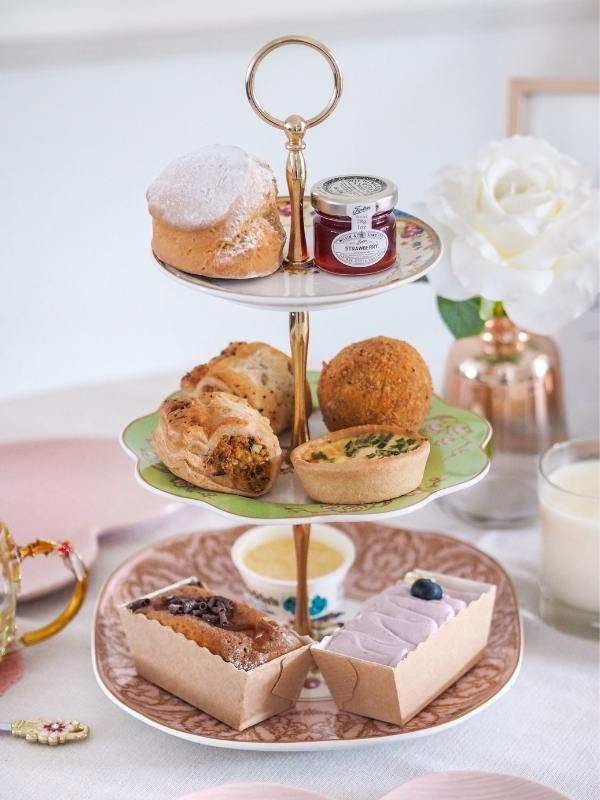 Review of the Piglet's Pantry's Classic Afternoon Tea
My Mum lives in the UK and with a special birthday fast approaching I decided the Piglet's Pantry's handmade Classic Afternoon Tea for 2 would be the perfect gift.
Once I had chosen from the various afternoon tea options on the Piglet's Pantry website I alerted my Mum to expect a surprise delivery on my chosen date.
As advised the parcel was delivered promptly on the date requested. As soon as it arrived my Mum contacted me to express her delight and to report back on her findings.
Delivery of Piglet's Pantry Afternoon Tea
My Mum found the box well packaged and the food inside beautifully presented. She also noted that all the packaging and padding was 100% recyclable.
Inside the box was a variety of sweet and savoury items which had been kept chilled by the packaging.
2 cheese & chive quiches
2 traditional Scotch eggs
2 mini traditional sausage rolls
2 mini sausage rolls with cheese and pickle
2 scones
2 Rodda's clotted cream
2 Tiptree strawberry jam
2 carrot cakes
1 blueberry, banana, and lemon curd cake
1 chocolate chip and caramel drizzle cake
2 tea pigs tea bags
Also included in the box was a sheet with information about each item including use by dates, ingredients, and how to store. She found this helpful and referred to it when showing me the various items.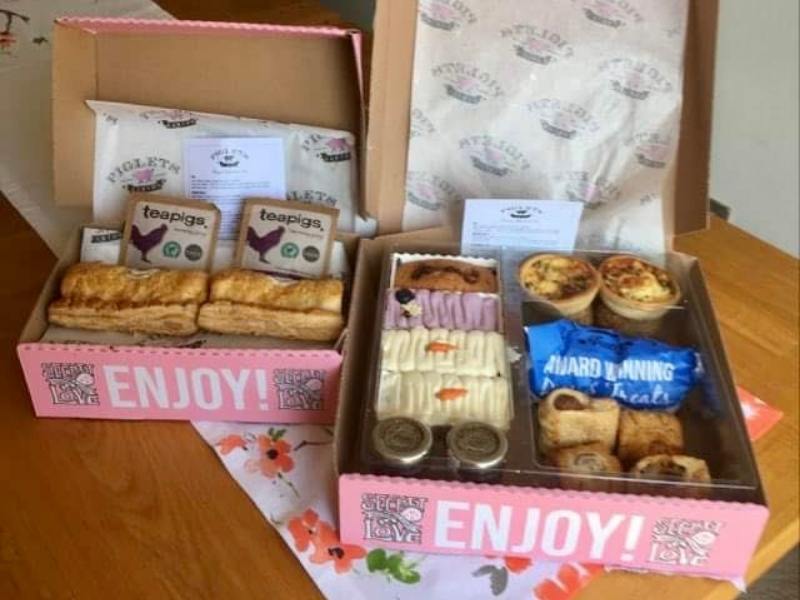 Taste-testing Piglet's Pantry's Classic Afternoon Tea
Feedback was overwhelmingly positive.
My Mum and step-father said that they loved everything. They found there was more than enough food for 2 and in fact kept the scones for afternoon tea the next day (and froze some of the sausage rolls).
Of particular highlight were the sausage rolls which my Mum and step-father raved about.
"The best sausage roll I have ever had"

Geoff Smith
"The sausage roll was delicious. The pastry was amazing and the flavours subtle but so tasty."

Marj Smith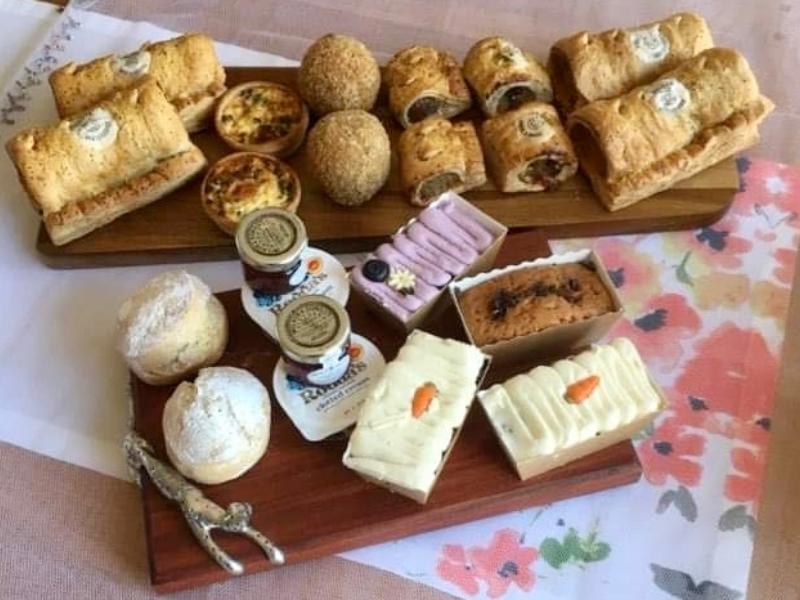 They also commented on the high quality of the ingredients and freshness of all items. They felt that there was also a perfect balance between savoury and sweet elements included in the box.
Little touches such as including 2 tea bags and the care taken to package and present everything so beautifully made it even more special.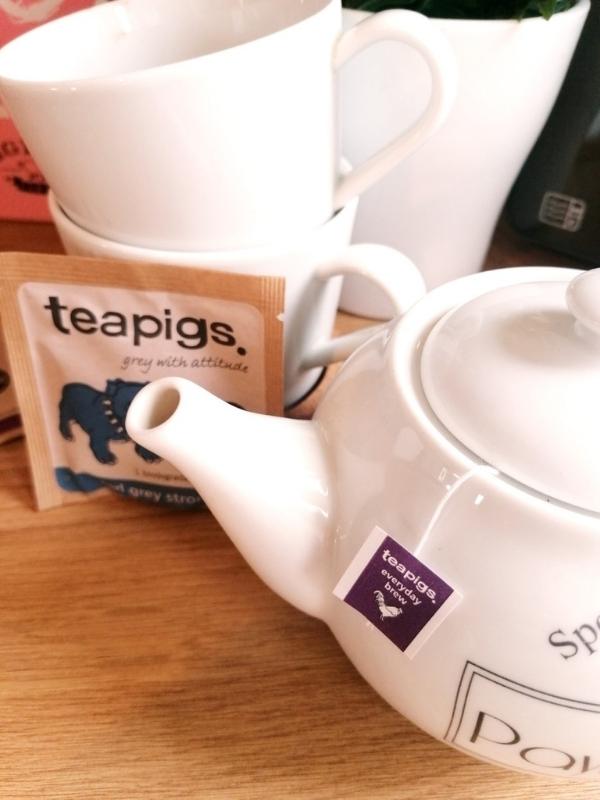 10/10 for Piglet's Pantry
Both my Mum and her husband awarded Piglet's Pantry 10/10 for their Classic Afternoon Tea.
This includes top marks for delivery, packaging, presentation, and most importantly the deliciousness of the food.
"I am going to send a Piglet's Pantry Afternoon Tea to an old friend in Northumberland. I was struggling to think of what to get her but this is the perfect birthday gift. I know she will really enjoy it."

Marj Smith
This is wonderful feedback and reinforces just how fabulous Piglet's Pantry's Afternoon Tea is as the perfect gift for friends and family 'back home' in the UK.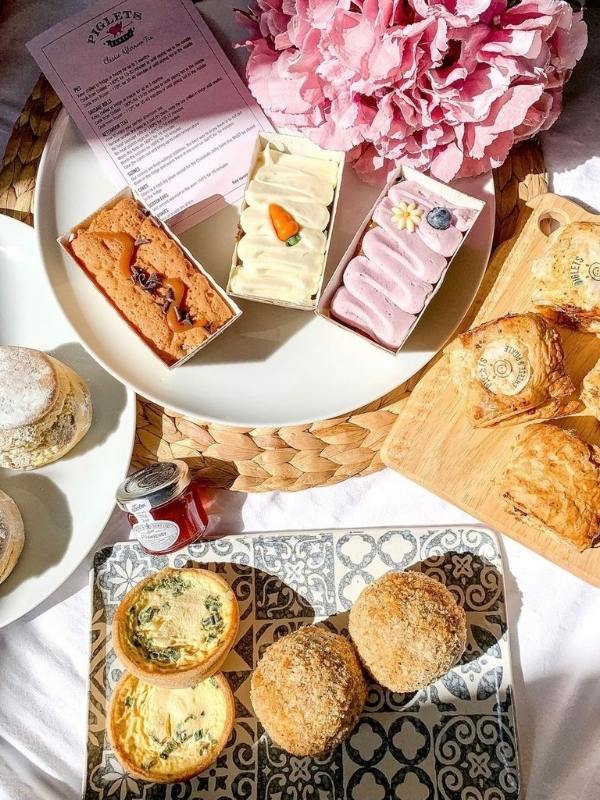 Fast Facts about Piglet's Pantry
Who are Piglet's Pantry?
Piglet's Pantry are an award-winning food producer based in Worthing, East Sussex. Known for their high-quality British products including pies, sausage rolls. biscuits and cakes they have diversified in recent years to produce bespoke hampers and afternoon teas.
Their products are available for delivery across most of mainland UK.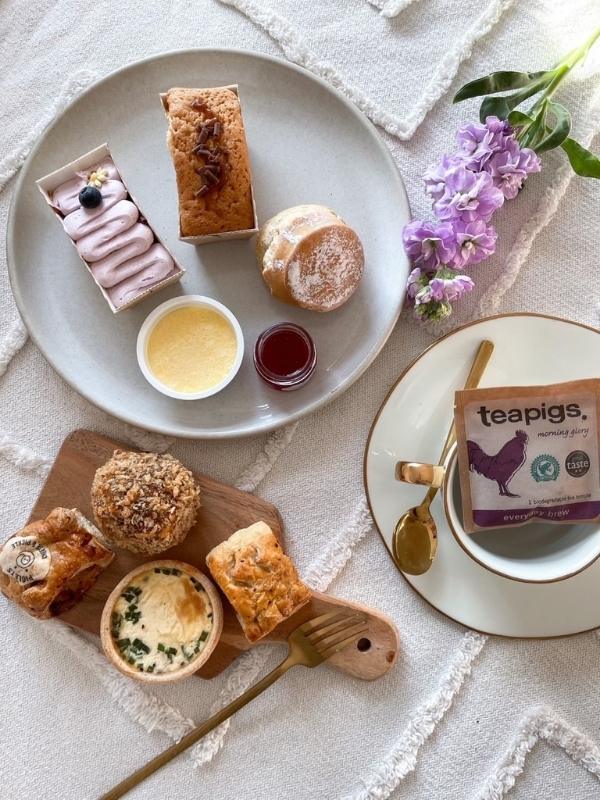 What varieties of Afternoon Tea boxes are available from Piglet's Pantry?
Piglet's Pantry offers a variety of different afternoon teas. In line with variations in seasonal ingredients, these include Summer, Autumn, Winter, and Spring Afternoon teas available during the relevant time of year.
At the time of writing, it is spring in the UK and the afternoon tea available is the 'Hello Spring Afternoon Tea".
Other options include a Classic Afternoon tea (available for 2 or 4 people), a Boozy Brunch Afternoon tea for 2 (with prosecco), and a Piglet's Afternoon tea for 1.
Children are catered for with the 'Little Piglets" Afternoon tea. This is available in the seasonal option.
Classic, Seasonal, Little Piglets and Piglet's afternoon teas are available in vegetarian options. Seasonal afternoon teas are available for vegans.
Piglet's Pantry also offer a range of hampers which are the perfect option for larger families or family get-togethers.
More information can be found on the FAQ page of the Piglet's Pantry website.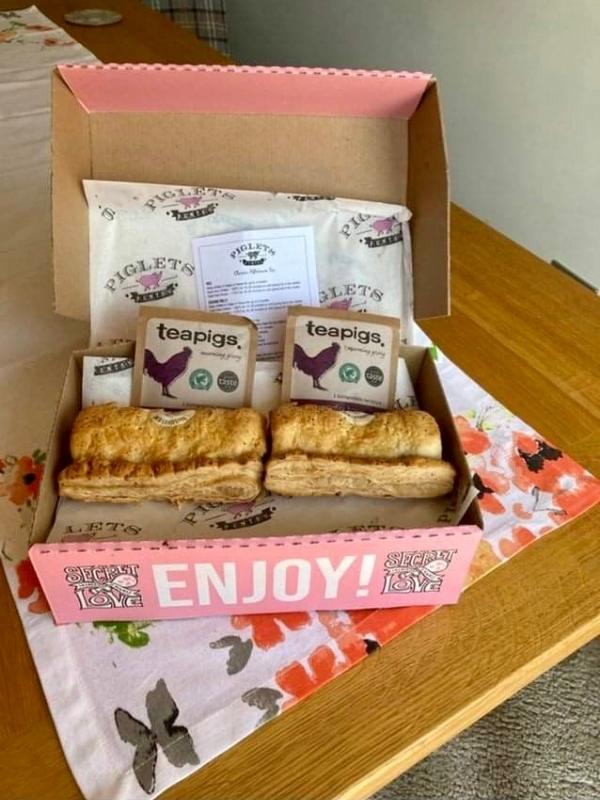 How can I order an Afternoon Tea in a box from Piglet's Pantry?
Ordering from Piglet's Pantry is easy wherever in the world you are.
There are a number of options available including ordering through the 'Shop' page on their website or alternatively send an email to their team at [email protected]
If you prefer to order by phone contact them on 01903215054 (just be mindful of call charges if you are not based in the UK).
Use our exclusive code 'Travels20″ at checkout for 20% off across the Piglet's Pantry site

We love Piglet's Pantry and know you will too!
I am so happy to have discovered Piglet's Pantry. They provide great service and a wonderful afternoon tea experience at affordable prices. Anyone who enjoys tasty English food will love receiving a Piglet's Pantry Afternoon Tea in a box or a hamper.
If you're an ex-pat seeking the perfect gift for family and friends in the UK I recommend ordering an Afternoon Tea in a box from Piglet's Pantry.
Don't forget to use our exclusive code 'Travels20″ at checkout for 20% off across the Piglet's Pantry site
Follow Piglet's Pantry on Instagram and Facebook.
Disclaimer – Gifted product. All opinions shared are my own.