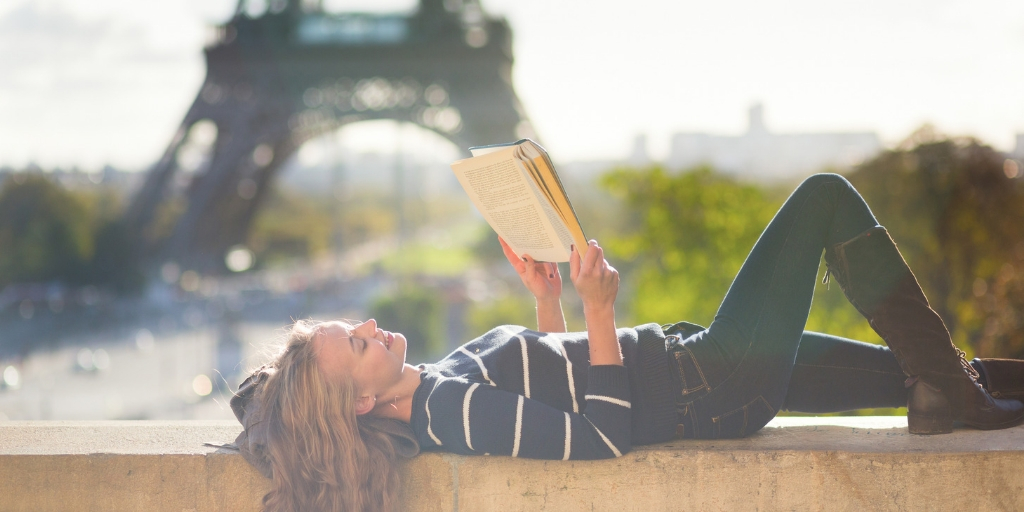 ---
Who doesn't love a good book? If you are a travel junkie I imagine  travel novels/guides/coffee book are the first section you head to in a bookshop or library.
I am also always on the look-out for new reads and love reading anything I can find about a country before I go – that includes novels too. Hence the idea of my series "Around the World in 80 Books"  where I collect some of the best reads from around the world to inspire wanderlust.
This is the second in my series. There are 4 general posts as well as a number of country specific collections too and links can be found at the end of this post.
Happy Reading!
---
---
ARGENTINA
---
'I was hoping against hope that the penguin would survive because as of that instant he had a name, and with his name came the beginning of a bond which would last a life-time'
Tom Michell is in his roaring twenties: single, free-spirited and seeking adventure. He has a plane ticket to South America, a teaching position in a prestigious Argentine boarding school, and endless summer holidays. He even has a motorbike, Che Guevara style. What he doesn't need is a pet. What he reallydoesn't need is a pet penguin.
Set against Argentina's turbulent years following the collapse of the corrupt Perónist regime, this is the heart-warming story of Juan Salvador the penguin, rescued by Tom from an oil slick in Uruguay just days before a new term. When the bird refuses to leave Tom's side, the young teacher has no choice but to smuggle it across the border, through customs, and back to school. Whether it's as the rugby team's mascot, the housekeeper's confidant, the host at Tom's parties or the most flamboyant swimming coach in world history, Juan Salvador transforms the lives of all he meets – in particular one homesick school boy. And as for Tom, he discovers in Juan Salvador a compadre like no other…
---
IRAN
---
THE BLOOD OF FLOWERS by Anita Amirrezvani is the evocative and eloquently written tale of a young woman's extraordinary life in Iran. 'Fascinating, totally original and utterly gripping. It will remain one of my favourite books' Esther Freud
Both a sweeping love story and a luminous portrait of a city, THE BLOOD OF FLOWERS is the mesmerizing historical novel of an ill-fated young woman whose gift as a rug designer transforms her life. Brilliantly bringing to life the sights, sounds and life of seventeenth-century Isfahan, THE BLOOD OF FLOWERS has captured readers' imaginations everywhere as a timeless tale of one woman's struggle to live a life of her choosing.
---
TURKEY
---
Leonid Meyer is found murdered in his flat in Balat, Istanbul's decrepit Jewish quarter, a swastika daubed on the wall in the old man's blood. But Inspector Cetin Ikmen is quick to eschew the obvious conclusion that this is a racist attack. The evidence leads Ikmen and his young lieutenant, Suleyman, to two people: Robert Cornelius, a teacher observed outside Meyer's flat shortly after the murder, and a retired businessman, Reinhold Smits, known to have had Nazi sympathies. But another link connects these two: a ninety-year-old Russian émigré, Maria Gulcu, a widow who thinks she possesses a secret worth killing for…
---
THE SHETLAND ISLANDS
---
---
GERMANY
---
Inspired by a true story, Hans Fallada's Alone in Berlin is the gripping tale of an ordinary man's determination to defy the tyranny of Nazi rule. This Penguin Classics edition contains an afterword by Geoff Wilkes, as well as facsimiles of the original Gestapo file which inspired the novel.
Berlin, 1940, and the city is filled with fear. At the house on 55 Jablonski Strasse, its various occupants try to live under Nazi rule in their different ways: the bullying Hitler loyalists the Persickes, the retired judge Fromm and the unassuming couple Otto and Anna Quangel. Then the Quangels receive the news that their beloved son has been killed fighting in France. Shocked out of their quiet existence, they begin a silent campaign of defiance, and a deadly game of cat and mouse develops between the Quangels and the ambitious Gestapo inspector Escherich. When petty criminals Kluge and Borkhausen also become involved, deception, betrayal and murder ensue, tightening the noose around the Quangels' necks …
---
CHINA
---
Shanghai, 1937. Pearl and May are two sisters from a bourgeois family. Though their personalities are very different – Pearl is a Dragon sign, strong and stubborn, while May is a true Sheep, adorable and placid – they are inseparable best friends. Both are beautiful, modern and living a carefree life until the day their father tells them that he has gambled away the family's wealth, and that in order to repay his debts he must sell the girls as wives to two 'Gold Mountain' men: Americans. As Japanese bombs fall on their beloved city, the two sisters set out on the journey of a lifetime, one that will take them through the villages of southern China, in and out of the clutches of brutal soldiers, and even across the ocean, through the humiliation of an anti-Chinese detention centre to a new, married life in Los Angeles' Chinatown. Here they begin a fresh chapter, despite the racial discrimination and anti-Communist paranoia, because now they have something to strive for: a young, American-born daughter, Joy. Along the way there are terrible sacrifices, impossible choices and one devastating, life-changing secret, but through it all the two heroines of this astounding new novel by Lisa See hold fast to who they are – Shanghai girls.
---
NEPAL
---
One September, the writer and explorer Peter Matthiessen set out with field biologist George Schaller to journey 250 miles through the Himalayas to the Crystal Mountain on the Tibetan plateau. They wanted to study the wild blue sheep, the bharal, but also hoped to see the snow leopard, a creature so rarely spotted as to be nearly mythical. The Snow Leopard is not only an exquisite book of natural history but an extraordinary account of an inner journey ; a 'true pilgrimage, a journey of the heart.'
---
 NORTH KOREA
---
An extraordinary insight into life under one of the world's most ruthless and secretive dictatorships – and the story of one woman's terrifying struggle to avoid capture/repatriation and guide her family to freedom.
As a child growing up in North Korea, Hyeonseo Lee was one of millions trapped by a secretive and brutal communist regime. Her home on the border with China gave her some exposure to the world beyond the confines of the Hermit Kingdom and, as the famine of the 1990s struck, she began to wonder, question and to realise that she had been brainwashed her entire life. Given the repression, poverty and starvation she witnessed surely her country could not be, as she had been told "the best on the planet"?
Aged seventeen, she decided to escape North Korea. She could not have imagined that it would be twelve years before she was reunited with her family.
She could not return, since rumours of her escape were spreading, and she and her family could incur the punishments of the government authorities – involving imprisonment, torture, and possible public execution. Hyeonseo instead remained in China and rapidly learned Chinese in an effort to adapt and survive. Twelve years and two lifetimes later, she would return to the North Korean border in a daring mission to spirit her mother and brother to South Korea, on one of the most arduous, costly and dangerous journeys imaginable.
This is the unique story not only of Hyeonseo's escape from the darkness into the light, but also of her coming of age, education and the resolve she found to rebuild her life – not once, but twice – first in China, then in South Korea. Strong, brave and eloquent, this memoir is a triumph of her remarkable spirit.
---
AFGHANISTAN
---
Ten years ago, Christina Lamb reported on the war the Afghan people were fighting against the Soviet Union. Now, back in Afghanistan, she has written an extraordinary memoir of her love affair with the country and its people.
Long haunted by her experiences in Afghanistan, Lamb returned there after last year's attack on the World Trade Centre to find out what had become of the people and places that had marked her life as a young graduate.This time seeing the land through the eyes of a mother and experienced foreign correspondent, Lamb's journey brings her in touch with the people no one else is writing about: the abandoned victims of almost a quarter century of war.
---
SOUTH AFRICA
---
When an Afrikaans police captain is murdered in a small South African country town, Detective Emmanuel Cooper must navigate his way through the labyrinthine racial and social divisions that split the community. And as the National Party introduces the laws to support the system of apartheid, Emmanuel struggles – much like Martin Cruz Smith's Arkady Renko – to remain a good man in the face of astonishing power.
In a considered but very commercial novel, Malla Nunn combines a compelling plot with a thoughtful and complex portrayal of a fascinating period of history, illustrating the human desires that drive us all, regardless of race, colour or creed.
A Beautiful Place To Die is the first of a planned series of novels featuring Detective Emmanuel Cooper.
---
Just across the northern border of a former apartheid-era homeland sits a rural community in the midst of change, caught between a traditional past and a western future, a racially charged history and a pseudo-democratic present. The Rainy Season, a work of engaging literary journalism, introduces readers to the remote bushveld community of Rooiboklaagte and opens a window into the beautifully complicated reality of daily life in South Africa.
The Rainy Season tells the stories of three generations in the Rainbow Nation one decade after its first democratic elections. This multi-threaded narrative follows Regina, a tapestry weaver in her sixties, standing at the crossroads where her Catholic faith and the AIDS pandemic crash; Thoko, a middle-aged sangoma (traditional healer) taking steps to turn her shebeen into a fully licensed tavern; and Dankie, a young man taking his matriculation exams, coming of age as one of Mandela's Children, the first academic class educated entirely under democratic governance.
Home to Shangaan, Sotho, and Mozambican Tsonga families, Rooiboklaagte sits in a village where an outdoor butchery occupies an old petrol station and a funeral parlor sits in the attached garage. It's a place where an AIDS education center sits across the street from a West African doctor selling cures for the pandemic. It's where BMWs park outside of crumbling cement homes, and the availability of water changes with the day of the week. As the land shifts from dusty winter blond to lush summer green and back again, the duration of northeastern South Africa's rainy season, Regina, Thoko, and Dankie all face the challenges and possibilities of the new South Africa.
---
ISLE OF MAN
---
When Rob Hale wakes up in hospital after a motorcycle crash he is told that Lena, the woman he claims was travelling with him, doesn't exist. The woman he describes bears a striking resemblance to his recently deceased sister, Laura, but has he really only imagined her?
Rob sets out to find the answers to who Lena is and where she has gone. He is aided by Rebecca Lewis, a London-based PI, who has come to the Isle of Man at the behest of his parents to investigate his sister's suicide. But who is Rebecca really and how did she know his sister.
---
FRANCE
---
Chicago, 1920: Hadley Richardson is a shy twenty-eight-year-old who has all but given up on love and happiness when she meets Ernest Hemingway and is captivated by his energy, intensity and burning ambition to write. After a whirlwind courtship and wedding, the pair set sail for France. But glamorous Jazz Age Paris, full of artists and writers, fuelled by alcohol and gossip, is no place for family life and fidelity. Ernest and Hadley's marriage begins to founder, and the birth of a beloved son serves only to drive them further apart. Then, at last, Ernest's ferocious literary endeavours begin to bring him recognition – not least from a woman intent on making him her own . . .
---
SPAIN
---
A stunning literary thriller in the tradition of Umberto Eco. The discovery of a forgotten book leads to a hunt for an elusive author who may or may not still be alive…
Hidden in the heart of the old city of Barcelona is the 'cemetery of lost books', a labyrinthine library of obscure and forgotten titles that have long gone out of print. To this library, a man brings his 10-year-old son Daniel one cold morning in 1945. Daniel is allowed to choose one book from the shelves and pulls out 'La Sombra del Viento' by Julian Carax.
But as he grows up, several people seem inordinately interested in his find. Then, one night, as he is wandering the old streets once more, Daniel is approached by a figure who reminds him of a character from La Sombra del Viento, a character who turns out to be the devil. This man is tracking down every last copy of Carax's work in order to burn them. What begins as a case of literary curiosity turns into a race to find out the truth behind the life and death of Julian Carax and to save those he left behind. A page-turning exploration of obsession in literature and love, and the places that obsession can lead.
---
INDIA
---
After backpacking her way around India, 21-year-old Sarah Macdonald decided that she hated this land of chaos and contradiction with a passion, and when an airport beggar read her palm and insisted she would come back one day – and for love – she vowed never to return.
But twelve years later the prophecy comes true when her partner, ABC's South Asia correspondent, is posted to New Delhi, the most polluted city on earth. Having given up a blossoming radio career in Sydney to follow her new boyfriend to India, it seems like the ultimate sacrifice and it almost kills Sarah – literally. After being cursed by a sadhu smeared in human ashes, she nearly dies from double pheumonia. It's enough to send a rapidly balding atheist on a wild rollercoaster ride through India's many religions in search of the meaning of life and death.
From the 'brain enema' of a meditation retreat in Dharamsala to the biggest Hindu festival on earth on the steps of the Ganges in Varanasi, and with the help of the Dalai Lama, a goddess of healing hugs and a couple of Bollywood stars – among many, many others – Sarah discovers a hell of a lot more.
---
A novel of high adventure, great storytelling and moral purpose, based on an extraordinary true story of eight years in the Bombay underworld.

'In the early 80s, Gregory David Roberts, an armed robber and heroin addict, escaped from an Australian prison to India, where he lived in a Bombay slum. There, he established a free health clinic and also joined the mafia, working as a money launderer, forger and street soldier. He found time to learn Hindi and Marathi, fall in love, and spend time being worked over in an Indian jail. Then, in case anyone thought he was slacking, he acted in Bollywood and fought with the Mujahedeen in Afghanistan . . . Amazingly, Roberts wrote Shantaram three times after prison guards trashed the first two versions. It's a profound tribute to his willpower . . . At once a high-kicking, eye-gouging adventure, a love saga and a savage yet tenderly lyrical fugitive vision.' Time Out
---
THE NETHERLANDS
---
Henk van der Pol is a 30-year-term policeman, a few months off retirement. When he finds a woman's body in Amsterdam Harbour, his detective instincts take over, even though it's not his jurisdiction. Warned off investigating the case, Henk soon realises he can trust nobody, as his search for the killer leads him to discover the involvement of senior police officers, government corruption in the highest places, Hungarian people traffickers, and a deadly threat to his own family…
For fans of Euro Noir, John Harvey's Charlie Resnick series and Michael Connelly's Harry Bosch, The Harbour Master is an action-packed detective investigation set in the evocative locale of Amsterdam. Delivering for Amsterdam what fans of Scandinavian fiction have come to love, this gripping novel shines a fascinating light on the dark side of a famously liberal society, combining vivid characterisation with ice-cold suspense.
---
ICELAND
---
Siglufjörður: an idyllically quiet fishing village in Northern Iceland, where no one locks their doors – accessible only via a small mountain tunnel. Ari Thór Arason: a rookie policeman on his first posting, far from his girlfriend in Reykjavik – with a past that he's unable to leave behind. When a young woman is found lying half-naked in the snow, bleeding and unconscious, and a highly esteemed, elderly writer falls to his death in the local theatre, Ari is dragged straight into the heart of a community where he can trust no one, and secrets and lies are a way of life. An avalanche and unremitting snowstorms close the mountain pass, and the 24-hour darkness threatens to push Ari over the edge, as curtains begin to twitch, and his investigation becomes increasingly complex, chilling and personal. Past plays tag with the present and the claustrophobic tension mounts, while Ari is thrust ever deeper into his own darkness – blinded by snow, and with a killer on the loose. Taut and terrifying, Snowblind is a startling debut from an extraordinary new talent, taking Nordic Noir to soaring new heights.
---
The discovery of a corpse washed up on a beach in an Icelandic backwater sparks a series of events that propels the village of Hvalvik's police sergeant Gunnhildur into deep waters.
Although under pressure to deal with the matter quickly, she is suspicious that the man's death was no accident and once she has identified the body, sets about investigating his final hours.The case takes Gunnhildur away from her village and into a cosmopolitan world of shady deals, government corruption and violence. She finds herself alone and less than welcome in this hostile environment as she tries to find out who it was that made sure the young man drowned on a dark night one hundred kilometres from where he should have been – and why.
---
SWEDEN
---
A British journalist is invited to Malmö to interview an old university friend who is now one of Sweden's leading film directors. When he discovers the director's glamorous film star wife dead in her apartment, the Skåne County Police are called in to solve the high-profile case.
Among the investigating team is Inspector Anita Sundström, who soon finds the list of suspects growing. As Anita battles to discover the answers amid the antagonism of some of her colleagues, she even begins to think that the person she is becoming attracted to could be the murderer.
Meet me in Malmö is the first Anita Sundström mystery.
---
JAPAN
---
n your hands is a place like no other: a tiny, man-made island in the bay of Nagasaki, for two hundred years the sole gateway between Japan and the West. Here, in the dying days of the 18th century, a young Dutch clerk arrives to make his fortune. Instead he loses his heart.
Step onto the streets of Dejima and mingle with scheming traders, spies, interpreters, servants and concubines as two cultures converge. In a tale of integrity and corruption, passion and power, the key is control – of riches and minds, and over death itself.
---
IRELAND
---
The once-great city of Bohane on the west coast of Ireland is on its knees, infested by vice and split along tribal lines. There are still some posh parts of town, but it is in the slums and backstreets of Smoketown, the tower blocks of the Northside Rises and the eerie bogs of Big Nothin' that the city really lives.
For years, Bohane has been in the cool grip of Logan Hartnett, the dapper godfather of the Hartnett Fancy gang. But there's trouble in the air. But now they say his old nemesis is back in town; his trusted henchmen are getting ambitious; and there's trouble in the air…
---
CUBA
---
"The Island That Dared" is a passionate book from the pen of Dervla Murphy, which begins with a three-generational family holiday in Cuba. Led by their redoubtable hard-walking grandmother, the trio of young girls and their mother soon find themselves camping out on empty beaches beneath the stars with only crabs and mosquitoes for company. This pure Swallows and Amazons experience confirms Dervla in her quest to understand the unique society that has been created by the Cuban Revolution. She returns again and again to explore the island, investigating the experience of modern Cuba with her particular, candid curiosity. Through her own research and through conversations with Fidelistas and their critics alike, "The Island That Dared" builds a complex picture of a people struggling to retain their identity in the face of insistent hostility, and to stand against the all-but-overwhelming fire-power of capitalism. Whatever the fate of Cuba, "The Island That Dared" beautifully fulfils the role of a great travel book, 'to catch the moment on the wing, and stop it in Time' – Colin Thubron.
---
PORTUGAL
---
The Scent of a Lie is a book of fourteen inter-connected stories set in two charismatic towns in Portugal where characters weave in and out of the narrative. The book can be read as a novel in fragments.
---
---
Don't miss the other posts in my around the world in 80 books posts!
If you have any suggestions of great books I should be adding – please do let me know in the comments!
---
PIN FOR LATER – AROUND THE WORLD IN 80 BOOKS
---
---