Are you planning a trip to Victoria and Vancouver in Canada?
Check out some great recommendations of what to do and see while there!
---
VICTORIA
---
Must-do's in Victoria on Vancouver Island include:
Whale watching : SPRINGTIDE A great whale watching- so great I went out twice with them. It costs $115 for adults. I'd do (and did do) the zodiac, which is the big speedboat where you wear a big suit and get battered by the sea for 3 hours, it's a lot of fun. If you get seasick they actually usually recommend the zodiac.  The Springtide office/reception bit is super near the harbour, so you meet there before you go. I recommend dropping them an email.
Another highly recommended company is "Prince of Whales"
Eat lots of the great food– John's place; 723 Pandora Ave, Victoria, BC V8W 1N8, Canada. You HAVE to go for breakfast. FOO; 769 Yates St, Victoria, BC V8W 1L4, Canada. Asian street food. Pagliacci's; 1011 Broad St, Victoria BC V8W 2A1. An Italian place which has live music. Jam café; 542 Herald St, Victoria, BC V8W 1S5, Canada. I haven't been here but a recommendation from my friend in Victoria. Bard and banker; 1022 Government St, Victoria, BC V8W 1X7, Canada. Good burgers.
Fisherman's wharf; Obviously you have to go here and obviously you have to have fish and chips (barb's fish and chips). I'd combine this with a trip to Chinatown. Wander down to Fisherman's Wharf and hopefully there might be some seals, and then get the little water taxi (it's not much more than $5 so it's not too bad… although I wouldn't use this as your permanent mode of transport lol.) If you do go to Chinatown, I recommend Bubble Tea Palace (532 Fisgard St – the main street in Chinatown) to try bubble tea! In my opinion, the best bubble tea place ever. Like, ever!
Bike hire; I'd recommend getting a bike for half a day or for a few hours to explore a little. It's fun and a good way to see and explore along Dallas Road and James Bay. We just googled for a hire place near the harbour. It's not cheap cheap, but I'd say it's worth it. We cycled to government house as well (1401 Rockland Ave…there's some nice gardens – I also say cycled, there was a bit of a hill so we walked up a bit of it). This is also near Craigdarroch castle, which is just a random castle made by a rich guy.
Beacon hill park – Nice place to go, has the world's highest totem pole.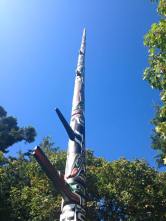 Around the harbour – Parliament buildings – You can get a free tour and it's quite good actually, Victoria is the capital of British Columbia ya see.
Butchart gardens – I really would recommend this one. It's a day trip pretty much, but again it's worth it. Get the no. 75 bus from Douglas and Pandora Street and then it's the same on the way back. Its $30 which is good as there's loads of pretty gardens etc. When I went they had live music by a Jazz band, and then a firework show (only on Saturdays). They change what's on depending on the season so it might be a bit quieter when you go.
A few alternative ones; the Vic theatre – on Douglas and Humboldt St is a little cinema that's super cheap and shows a variety of films that aren't always shown in normal cinemas. It's nice to go to in the evening and then go for food after if you fancy that. I accidentally saw an anime film there. Munro's books –  as in Alice Munro the famous short story writer from Victoria – is a famous bookshop and is worth popping into. Board game café – 723 Yates St, Victoria, BC V8W 1L4, Canada. Really good milkshakes, and board games obvs. Canoeing – Kelp reef adventures. You get to canoe around the harbour and see some nature which is really cool (we saw a lot of seals… cute).
Main streets in Victoria are Wharf St, Government St, Douglas St and Blanshard St. You'll get to know the area pretty quickly, even if you're only there for a few days. Have a walk around here to orientate yourself!
---
VANCOUVER
---
MUST Do's!
Stanley park– bike ride: Get the bus to near Stanley park and there will be loads of bike hire places, walk a little bit up the road and it tends to get cheaper because people just usually go to the first ones they see. It's about an 8km round trip and you get to cycle under lions gate bridge. I'd go around a few times because it's so good.
Gastown: Water St and Cordova St. It has the Vancouver steam clock (fascinating) and loads of places to go for food and for a few bevs (a lot more fascinating). I'd recommend the Flying Pig, the Blarney Stone, the Cambie, but anywhere is good.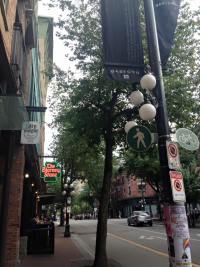 Chinatown: the second biggest Chinatown in north America (I might have made that up). It's worth a walk around, there's a nice Chinese garden.
Granville island public market: I'd definitely recommend going here. Loads of food places and just loads of other little shops etc. You can get this little water taxi thing again or the bus, or you can do what me and my friend did because we refused to pay the reasonable price for it, and walked over Burrard Bridge instead which took us about an hour. #noregrets
Museum of Vancouver; It's a pretty good museum, and it has a planetarium.
Vancouver lookout: It's not that high, but I remember it being pretty cheap (maybe it was student price) and you get a nice view of downtown Vancouver.
You may also be interested in reading 
 Things to do in 3 days in Vancouver 
 Best things to do in Vancouver! 
An insider's guide to Victoria, Vancouver Island
---
If you are pushed for time book a tour! Here are some great suggestions!
---
GETTING AROUND
when visiting Victoria and Vancouver in Canada
(the boring bit – although the ferry is pretty good)
---
As for the bus from Vancouver to the ferry, the bus to Victoria, and for generally just getting around…
FERRY: It's $17.20 for foot passengers. I'm pretty sure you can't make reservations for foot passengers, so you only need to reserve this in advance if you've got a car. They run every hour, but definitely every 2 hours. Here's a link for the bus connection. Loads of people do this trip so they've made it pretty straight forward.
AROUND VANCOUVER:  Here's the fares for the Translink, which is what you'll need for the bus in Vancouver (and the skytrain/seabus etc.). They now have a 'compass card' which you can get at skytain/seabus/west coast express stations/bc ferry terminals (Tsawwassen), and then load up with money or just get the day pass. It seems like the equivalent of an Oyster card (London transport card) really if you get an adult compass card (they're $6 but you get that refunded if you return it). A single trip is $2.10 and that covers you for an hour and a half I think before you have to get a new fare. Day passes are around $10 so might be worth it and it includes all zones in Vancouver. I think the day pass compass card is a little different, but just have a read here!
AROUND VICTORIA: Victoria regional transit system. See here for fares for the bus to get around Victoria. You can pay with exact change/money on the bus, get a day pass for $5 on the bus, or get a sheet of 10 tickets for $22.50 from any convenience store place. I'd probably recommend the day pass if you're only there for a few day (although you might not use the bus that much based on where you're staying, but hey it's not that expensive). From where you are, you can get the no. 14, 27. 28 to downtown Victoria (Douglas St), or it's a 40 minute walk (I checked).
FROM TSAWWASSEN: Getting from Tsawwassen ferry terminal to downtown Vancouver get the no. 620 bus to Laudner exchange (stop at Bridgeport station), and then the no. 980 which will take you downtown to Vancouver city centre. Takes just over an hour I think. Pretty sure to get from DT Vancouver to Tsawwassen it's just vice versa…the no. 980 and then the no. 620. Have a check on google maps. A lot of people do this journey so if you're stressed, just ask somebody because they'll help you, they're Canadian.
FROM SWARTZ BAY: To get from Swartz bay ferry terminal to your accommodation check this easy planner to help you. You'll need to get the

no.72

bus to downtown Victoria (everyone will get this one, so make sure you've got the exact change $2.50/bus ticket available) and then you can get a load of different buses once you get downtown.
PACIFIC COACH LINES: Bit of an easier way to do it I guess if you're going straight to Victoria from YVR airport, it's a bit more expensive but easier if you've got luggage and jet lag. You get dropped off at the coach station in Victoria which is off Douglas Street (everything is off this street). You can always use pacific coach lines to get from Vancouver to whistler.
Google maps was my best friend when I was there, it gives you bus routes etc. and I'd just use that as your guide so you can plan the night before (or a month before, depending on your stress levels).
Hope you enjoyed my guide to visiting Victoria and Vancouver in Canada
---
Pin this – visiting Victoria and Vancouver in Canada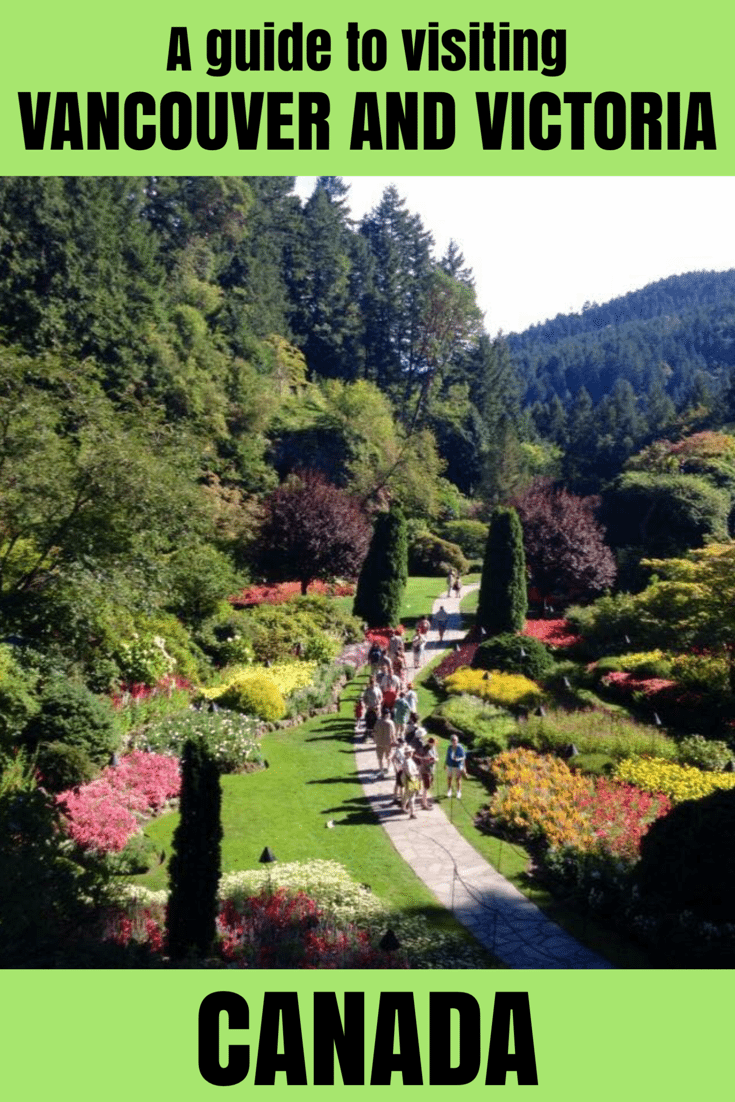 Visiting Victoria and Vancouver in Canada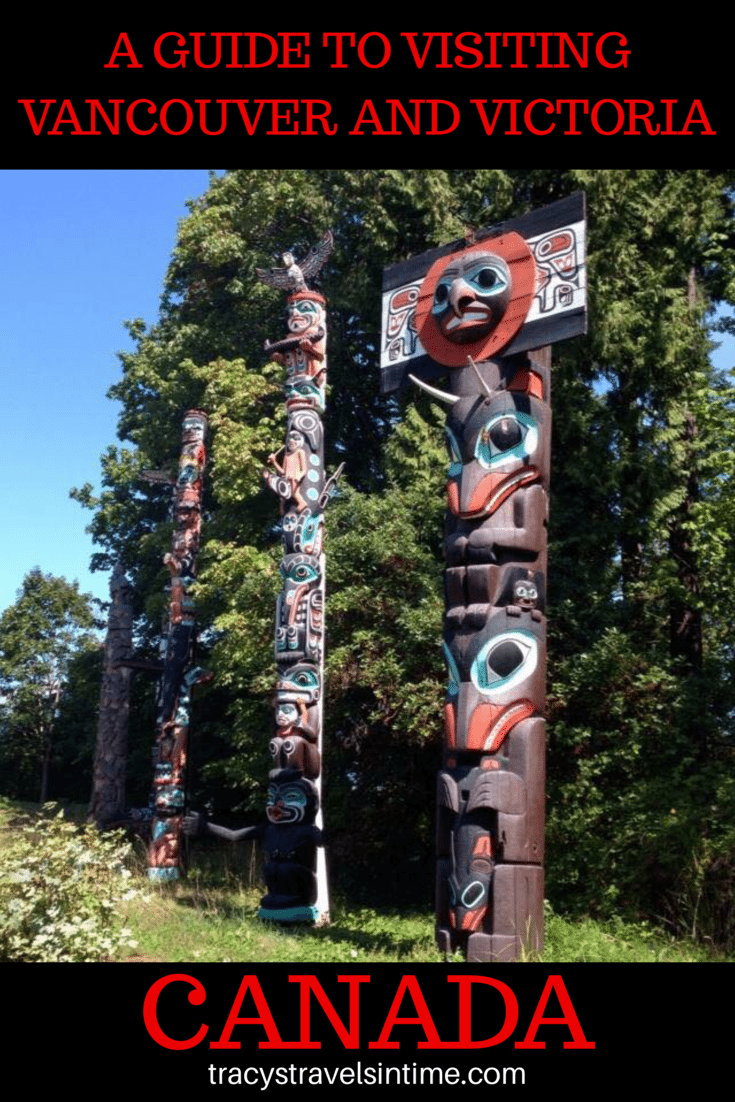 Visiting Victoria and Vancouver in Canada
---