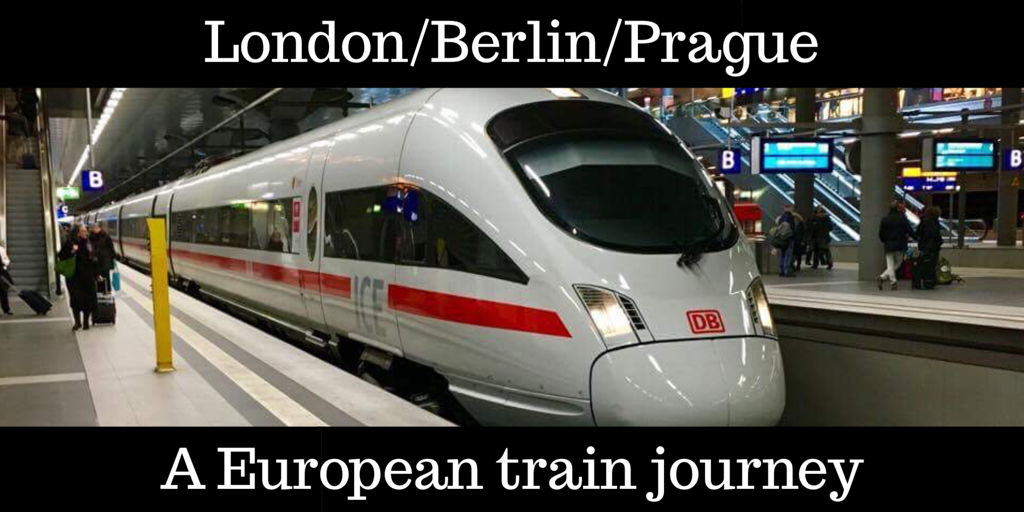 A great train journey across Europe!
When it comes to organising any holiday there are a number of planning stages we all go through…it is no different, though perhaps a little more complex, when that involves a multi-centred holiday and the means of transportation is by train!
I love travelling by train..it is easier, more relaxing and you see more than from a metal tube at 36,000 feet. 
So if this a journey you plan to take then read all about our experiences of  traveling by train London Berlin Prague in Europe.
---
THE LOGISTICS OF TRAVELING BY TRAIN LONDON-BERLIN-PRAGUE
---
These are important questions to ask if you are traveling by train London Berlin Prague! And steps to go through to help sort the logistics include the following –
How long have you got?  We had 9 days.
Where do you want to go? Everywhere….we settled on Berlin as neither of us had been before. After that we looked at cities nearby we could get to in a few hours….and Prague came top of the list. I would suggest if you have less time that you maybe choose one or the other destination of have a whistle-stop tour of both!
Is it doable? Next I always use THE best site for planning train travel anywhere in the world and I always start with seat61 his site is amazing and is an indispensable resource for train travel anywhere.I also check Deutsche Bahn which is the German railways site and gives you access to all European train timetables so you can work out a journey – times – what trains are available etc. We found that the trip was very doable and that we could return from Prague to Cologne by sleeper which would be exciting.
 Request a quote – we used International Rail (0844 2482483) but see seat61 for information and an explanation of how to book tickets for Europe as he goes into a lot of detail – more than I can or even want to! We checked the quote, the train times and then paid up!
Book hotels! I use booking.com as most hotels are bookable with free cancellation. As soon as I had the itinerary sorted I booked the hotels. Because we were arriving in Berlin after 9.30 pm I chose an hotel very close to the train station (across the road) as I knew the last thing we would want to do was try and locate the hotel in a city we didn't know. Prague was different as we arrived mid-afternoon so I looked for something closer to the old town.
We stayed at the Motel One Hauptbahnhof in Berlin. We found it very comfortable, affordable and most importantly very close to the train station. Click here to book this hotel!
In Prague we stayed at the Grandior Hotel which was a little further from the train station but we found it excellent value. Click to book the Grandior Hotel here!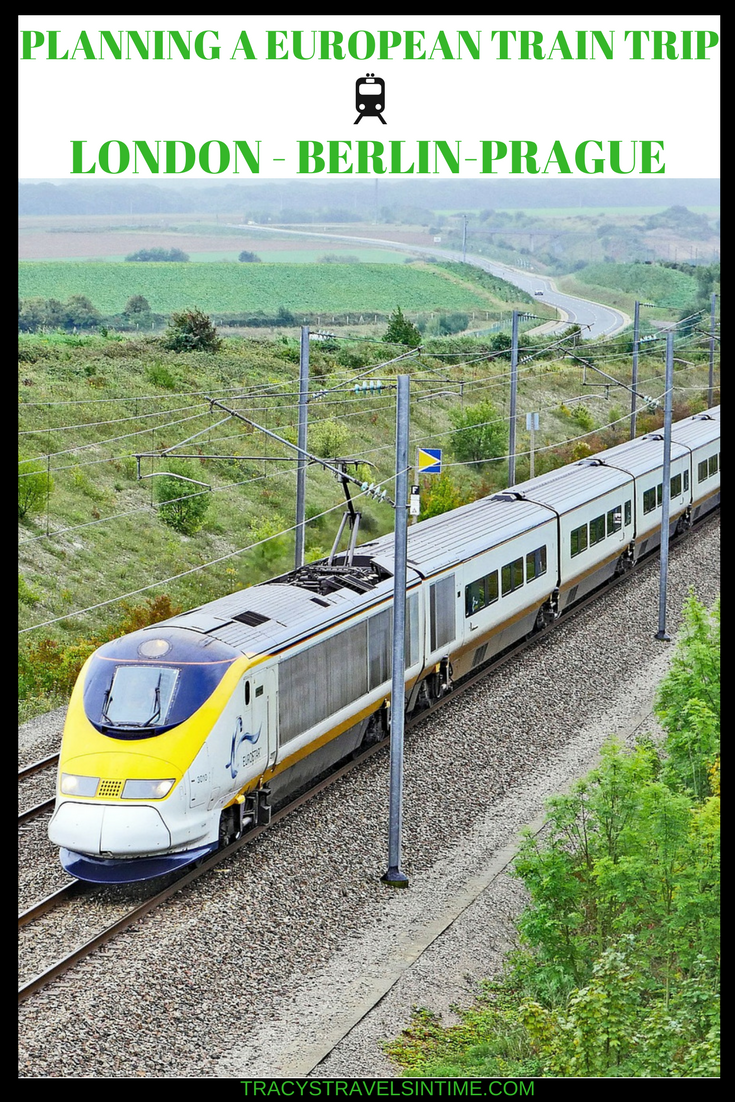 ---
THE JOURNEY – traveling by train London Berlin Prague
---
Countries travelled 
England/Belgium/Germany/Czech Republic and back by train… a total of approximately 3000 kilometres (very approximately)
Trains taken and approximate times
Eurostar London – Brussels   2 hours 5 mins approx
ICE 17 Brussels – Cologne     2 hours 40 mins approx
ICE 653 Cologne – Berlin   4 hours 20 minutes approx
EC 379 Berlin – Prague   4 hours 30 mins approx
Kopernikus – Prague – Cologne (night sleeper)      12 hours 30 mins approx
ICE 16 Cologne – Brussels  1 hour 50 mins approx
Eurostar Brussels – London  2 hours 10 mins approx.
---
THE TRAINS
---
Eurostar London St Pancras/Brussels 
---
We upgraded to Standard Premier class which comes with a light meal and drinks served at your seat, complimentary magazines and extra spacious and comfortable seats. We stayed at a hotel near the station the night before so were not stressed when we arrived for the train. A long day lay ahead of us so it was good to be prepared.
---
ICE train (Intercity trains)
---
The Inter-City express trains are lovely! Really pretty trains (and I don't usually say that sort of thing in a sentence!!). They are DB trains running all over Germany. They are spacious, comfortable and go fast – very fast – up to 200 km p/h apparently. In first class you also get an in-seat service of food and beer (ahem drink). The attendants all spoke English (good job as my German is not very fluent). There is also restaurant in some of the trains but we were reluctant to leave our belongings after being warned about the possibility of pickpockets on the train. Apparently there are also double storey ICE trains so I am going to have to try to get one of them at some point! (I regularly travel on the double storey trains in Switzerland which are fab)
---
EC trains (Eurocity trains)
---
We caught an EC train from Berlin to Prague. It was red not white which I am guessing is a colour reserved for the ICE trains. These trains travel to Germany's neighbouring countries. Again in first class we had at seat service so we had to try the food! After you pass Dresden the views of the Elbe valley are lovely but you need to be on the left side of the train (we weren't but were able to move seats after Dresden)
On the ICE and EC you also get these guides in the seat pocket which tells you about the train, facilities and also the timetable. Helpful!
---
KOPERNIKUS
---
This is the night service that used to run from Prague to Amsterdam and back but unfortunately now only goes between Prague and Cologne. It left Prague main station at 18:29 and was scheduled to arrive at Cologne just before 7 am at but was running a little late so we didn't get in until about 7:30. Unfortunately the beds are made up for you when  you get on the train and as there is no restaurant or day coach you are a bit of a prisoner in your berth. An additional problem in our carriage was the lack of running water so the ability to use the sink in the cabin was a bit reduced! A few plastic containers were included so you could brush your teeth but otherwise it was pretty shoddy.
---
TRAIN STATIONS
---
Here are a few pictures of the stations we passed through on our trip (Berlin was my favourite its a pretty amazing station)
---
Top tips if you are planning a train journey across Europe
---
Consult seat61.com – I always start with this site!
Travel light!! Check out my packing and guide and tips!
Check all your connection times!
Take food/drink on sleepers with you as there may not be facilities.
Keep all the clothes etc for the sleeper in one bag as there is not much room to be rummaging around suitcases on there!
Have all your tickets in order so you can methodically work through them (we make a table with train number/train ID/platform number etc on it to help keep track)
Take hand sanitizer
Don't leave any bags unattended at any time on the train because of the prevelance of pickpockets.
Take a spare a battery to keep your mobile phone charged as you may not get access to sockets. (Remember an adaptor!)
If you have an early start/late arrival I would always advise to book accommodation near the station to make life a lot easier!!
Make sure you have travel insurance!
Check out my travel resources page for more great tips and recommendations
For more information about train lines and passes read more about European train travel in this guide.
[bctt tweet="London-Berlin-Prague by train – what better way to travel across Europe! Relax, sit back and enjoy the scenery!" username="tracystravels10″]
---
PIN FOR LATER – All you need to know about traveling by train London Berlin Prague
---
A LONDON TO BERLIN TO PRAGUE TRAIN JOURNEY
I love train journeys! Is the London to Berlin to Prague train journey something you would enjoy too? What is your favourite train journey?
---