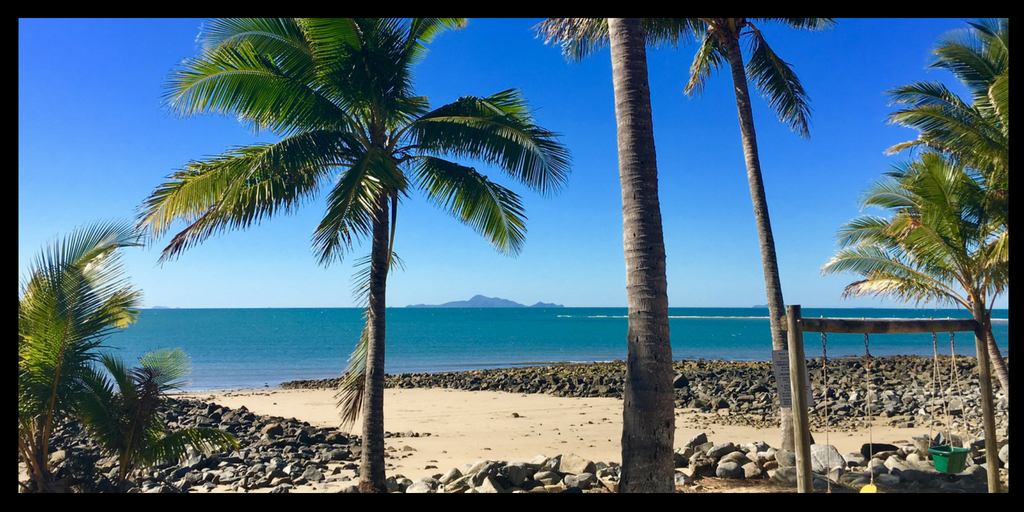 Expat Diary is my monthly round-up all about our expat life in Mackay Queensland. If you are considering a move to Mackay or Queensland or Australia in general I hope my experiences will give you some idea of life Down Under!
---
ANIMAL ADVENTURES
---
A few Australian animals have featured in our lives over the past month and have to be included in my expat diary for October 2018.
---
KANGAROOS
---
We got up early and drove to Cape Hillsborough to see the place where the kangaroos hang out at dawn! Yep the place where all those beautiful photographs of kangaroos hopping along a beach at sunrise is a 30 minute drive away. We arrived to find 3 kangaroos on the beach and about 50 humans! It was awesome though and we enjoyed it so much that we are very soon once again going to tear ourselves away from a comfy bed at 4.45 am to go again! Note – we have since been 4 times! It is awesome!!
I also had a defining Aussie moment earlier in the month when I travelled to the outback for my job. Arriving at the school I was visiting there was the funniest thing I have seen this year – the school caretaker in his ute rounding up kangaroos to get them off the school grounds. Priceless!
---
PLATYPUS
---
I f you read my expat diary for last month you will know that we had a great day out at Eungella National Park looking for the platypus. Well since then we have returned to Broken River once again as the lure of the platypi is strong! I am pleased to say that this last visit was our best yet and you can find out why and what we saw in my recent post (LINK BELOW)
---
SNAKES
---
The soaring temperatures and humidity seem to be bringing the snakes out and this month one decided to stray into our garden for a chat with the dogs. Unfortunately for the snake the dogs were not in the mood and promptly killed it…with one dog getting a few bites in the process. This led to a few phone calls to get the snake identified – the vet was excellent – and luckily it proved to be a harmless tree snake. As there are a number of highly venomous snakes in this area it pays to be very careful!
---
A TRIP TO THE OUTBACK
---
I was lucky to have to go to the outback a few weeks ago for work! What an adventure that was for me! We stayed in a town called Moranbah – population 10,000 in 2015. Not only did I see kangaroos but also a bilby! Another strange Australian creature!
I also had to stop on our way out of town for a photograph of the big red bucket! And it is a very very big red bucket!! It is a 42 tonne dragline bucket used at Peak Downs Mine in the Bowen Basin which was refurbished and relocated at the entrance to the town! An interesting landmark worth stopping for on your way in or out of town!
---
Things I learnt in October!
---
I may not like snakes but I am more scared of spiders – that is now a fact! I have tested the hypothesis!
Going to the supermarket in Australia is not like in the UK – for a start off the cashier packs your bags! And they usually have a chat asking how your day has been etc etc – so friendly! You also get the occasional shopper walking round barefoot – kids very often adults too sometimes!
I still love it when someone says "G'day!" (That is a shout out to you Denise!)
I have no idea how people survived in Northern Queensland without air conditioning! I am also extremely pleased we have a pool to cool down in!
Beaches maybe beautiful here but they can also be deadly – the sign at our local beach warns of crocs and stingers!
I have learnt the names of a few more of the birds and can now identify a Galah!
New South Wales have put their clocks forward and are now 1 hour ahead of Queensland (weird!)
The 3 most popular destinations mentioned by people I have spoken to who are off on holiday are – New Zealand, Bali and Melbourne. Hopefully we will get to Melbourne for a long weekend in the next few months!
Locky (Lockie?) seems to be an extremely popular boy's name here – short for Lochlan. Not a name I heard often in the UK.
Cane toads are disgusting….
You can get chocolate koalas!!!!
---
YOU MAY BE INTERESTED IN THESE POSTS ABOUT AUSTRALIA AND EXPAT LIFE
---
---
JOIN MY NEW

FACEBOOK GROUP

FOR ALL MY EXPAT TIPS AND  INFO ABOUT  LIFE IN AUSTRALIA
---
---
---