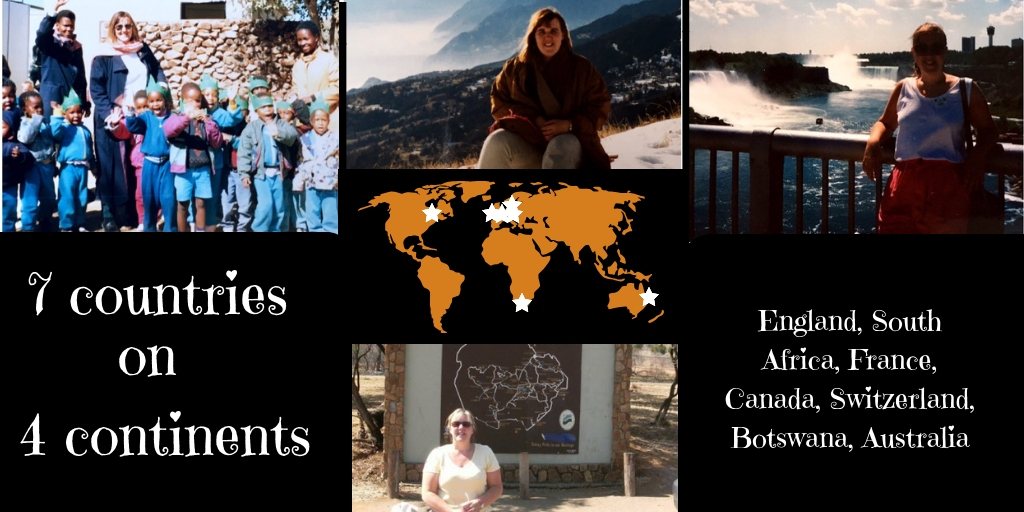 IN MY LIFE…..  A ROUND UP OF 50 YEARS OF TRAVELLING!
These are my personal recommendations for 7 countries I have lived in over the last 50 years of exploring the world:
England
South Africa
France
Canada
Switzerland
Botswana
Australia
Country #1 – England
I was born in England and lived here until I was 13 when we moved to country number 2! (Though in between country #6 and country #7 I did spend 20 more years back in England.)
Favourite city/town – So many spring to mind but I think the answer has to be London. There is just so much to see and do in our capital city that I never get tired of visiting!
Favourite food – Fish and chips!!
Favourite scenic destination – The Lake District or Fountains Abbey and Studley Royal
Don't miss – visit a castle/cathedral or other historical site as we have some amazing ones in England! In particular my home county of Northumberland has some pretty spectacular ones to visit!
Country #2 – South Africa
I lived in South Africa until I was 21. I have visited many times since I left as it is an amazing country.
Favourite city – Cape Town
Favourite food – Bobotie
Favourite scenic destination – The Drakensburg Mountains
Don't miss! – Go on a game drive and see some of the incredible wildlife South Africa is home to. Oh and go up Table Mountain!!
Country #3 – France
I love France and I really loved living there. It had such a profound impact on my life and was an incredibly fun time. I learnt to speak French – I was at one point completely bilingual however I am a little rusty these days.
Favourite city/town – Evian-les-Bains (near where I lived on the shores of Lake Geneva.
Favourite food – all of it! I learnt so much about food and cooking when I lived in France. If I have to choose I will say gratin dauphinois!
Favourite scenic destination – I love Haute Savoire where I lived. The views across Lake Geneva were stunning but I also love the Dordogne are too. Sarlat is a must-visit town in France for me!
Don't miss! – Canoe down the Dordogne! Buying fresh croissants from the Boulangerie in the morning!
Country #4 – Canada
Moving to Toronto in Canada from a small ski resort in the French Alps was a bit of a culture shock. It was so big and so busy! I have returned to Canada only once in the years since I left but to the the west coast which I loved. Canada is somewhere I wish to explore in a lot more depth and the temptation to look for long-term house-sitting opportunities there will not be kept on hold forever!
Favourite city – Victoria
Favourite food – Burgers and shakes!
Favourite scenic destination – I haven't seen the Rockies properly yet (only from an airplane) but suspect that is what I should put! I loved Vancouver Island though so I am putting that!
Don't miss – Niagara Falls
Country #5 Switzerland
I had already previously lived on the French side of Lake Geneva, so had done a fair amount of travelling into Switzerland, but in 1992 I took a job in Basel in the German speaking part of Switzerland. I used it as a base to travel all over southern Germany, eastern France and even northern Italy.
Favourite city – Geneva
Favourite food – Rosti
Favourite scenic destination – Mt Pilatus
Don't miss – The beautiful pastries/cakes and chocolate! And take a train ride – some of the most scenic train journeys in the world are in Switzerland
Country #6 – Botswana
My parents moved to Botswana in the early 1990s. When I visited I rather liked it and so ended up applying for a work permit and staying for a year. Botswana is wonderful country with so much to offer – the most economically successful country in Africa Botswana is stable and safe. And quite beautiful.
Favourite city – Gaborone where I lived – but also the small town of Mochudi was a great place to visit.
Favourite food – Beef in Botswana is amazing so a steak!
Favourite scenic destination – The Chobe in northern Botswana
Don't miss – The opportunity to visit the Okavango Delta
Country #7 – Australia
Favourite city: Has to be my home city of Brisbane though Melbourne comes a close second!
Favourite scenic destination: The Whitsundays
Favourite food: Chicken schnitzels and Tim Tams
Don't miss: Visiting Uluru. It should be compulsory for all Australians.
So that's it – 7 countries lived in on 4 continents..SO FAR!!!
---
 Pin for later! IN MY LIFE….
---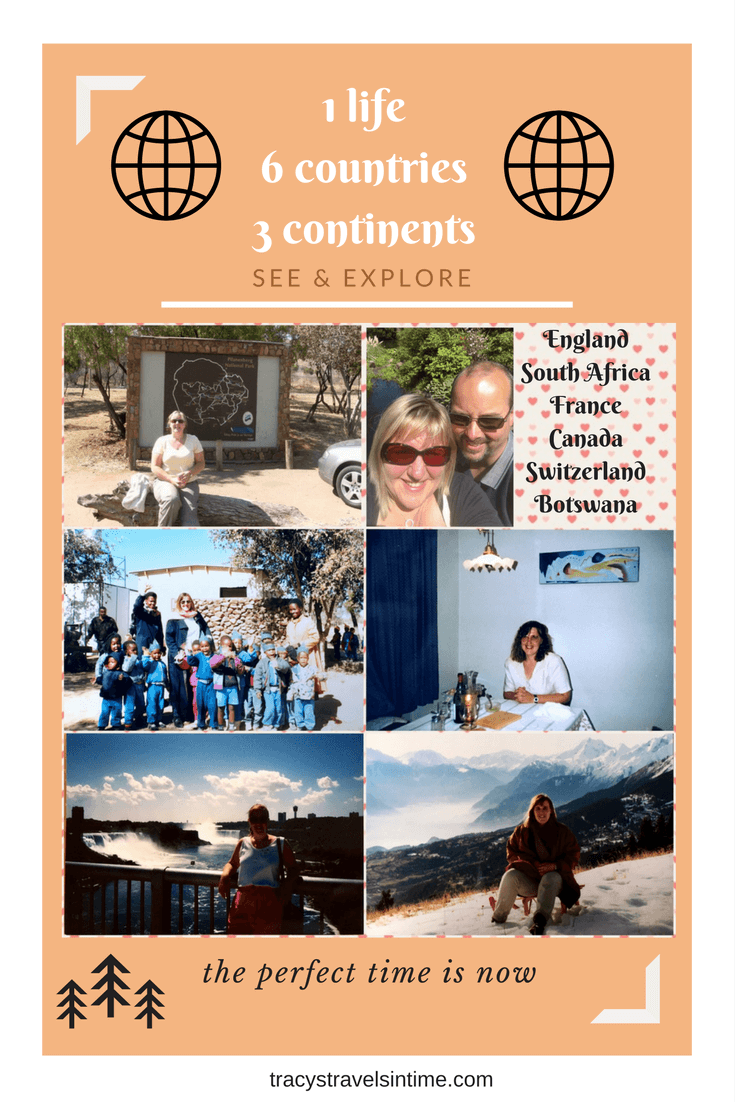 IN MY LIFE….
---
What is your favourite city/town, food, scenic destination and must-do's where you live?