On our constant quest to try new train journeys and satisfy my obsession with sleeper trains we caught the Coast Starlight from Seattle to San Francisco last August 2015. I had always dreamt of seeing the Golden Gate Bridge so this trip really was a big tick off my bucket list. I really couldn't wait – I had already waited 40 years for this!
THE JOURNEY
We left Seattle's King's Station at 9.35 am and arrived at Emeryville in California at 8:10 am the next day. It was an epic trip and we really enjoyed it. We enjoyed it so much we have vowed to go back and try some of the other trips (Chicago to SF for one!)
We stayed in a roomette and had access to all the nice things! This included a parlour car with wi-fi and a cinema. All meals were also included. The dining car hostess came down and booked us in before each meal time.
STOPS ALONG THE WAY
THE SCENERY WAS BEAUTIFUL TOO!
We arrived at Emeryville the next morning having travelled through Washington State, Oregon and into California. We then caught a connecting bus service into San Francisco.
After a few days in San Francisco we caught the Coast Starlight from San Francisco (Oakland Station) to LA. This wasn't as great as the train was very delayed (hours) which made us very late into LA – a bit unsettling on our first visit! We were also in the seated coaches which unbelievably have no wi-fi. The views as we travelled through California were pretty spectacular though there was a severe drought at the time which you can tell in the photographs.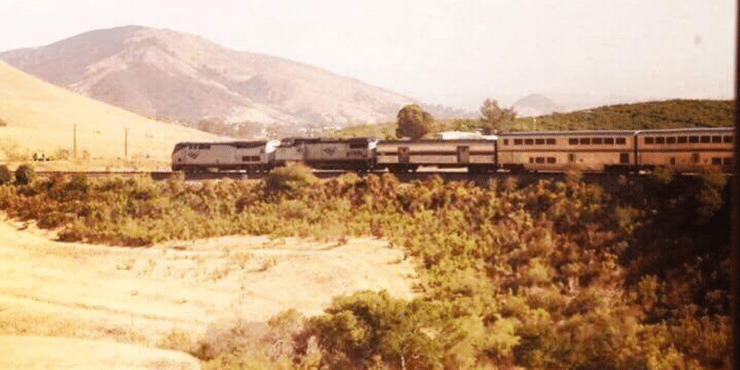 ROUTE MAP OF THE COAST STARLIGHT
Do you like taking the train on holiday? What would be your dream train journey?
---
PIN FOR LATER – Catching the Coast Starlight
---
Become a subscriber and receive my monthly newsletter and a free copy of my guide –
"Around Britain in 80 DO's"