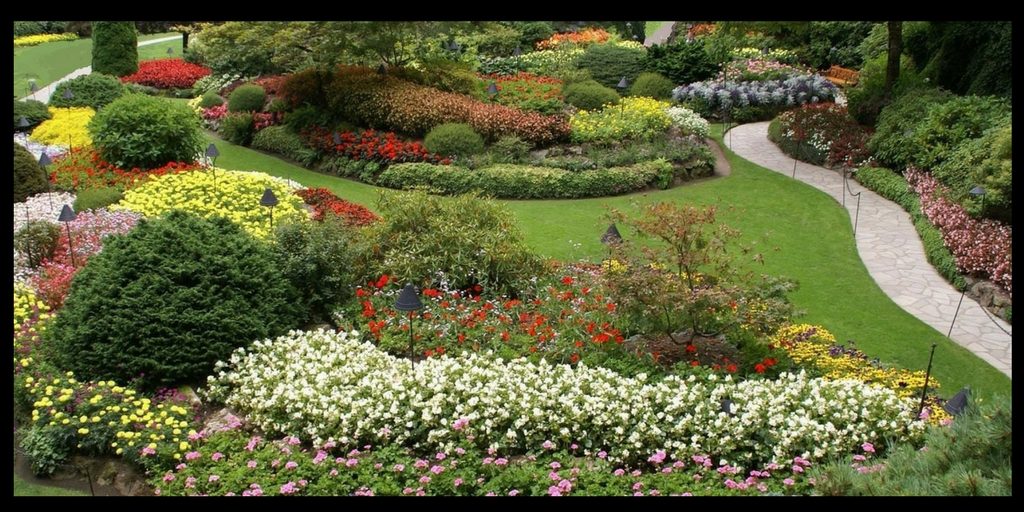 Are you thinking of visiting beautiful botanical gardens such as Butchart and Edinburgh Botanical Gardens on your travels?
This post is part 1 of  'Beautiful botanical gardens around the world'.
The Royal Botanical Gardens in Edinburgh and the Butchart Gardens on Vancouver Island will be covered in this post.
---
EDINBURGH ROYAL BOTANICAL GARDENS
---
Edinburgh Royal Botanical Gardens are set around 70 acres of beautiful landscape only a mile from the centre of Edinburgh. We caught a bus which dropped us off at the East Gate Entrance (bus numbers 8,23,27 from the city centre). The gates (see below are beautiful!) Access to the gardens is free but there is a charge of £5.50 (correct May 2016) for entry to the glasshouses which are a total must see in my book!
It was a lovely sunny when we were there which is always a bonus!

In the glasshouses
The glasshouses feature ten separate houses which each have a distinct climate zone. I have no doubt completely mixed up the pictures below but they give you an idea of what you will see in the various zones – the tropical palm zone, orchid and cycad zone, the rainforest riches house are just 3 of the different houses you pass through.
We had a brilliant morning walking around the gardens and the glasshouses and they are definitely one of my favourite botanical gardens to visit.
There are lots of sculptures around the gardens too and they are something I plan to look for next time we visit.
Find out more about visiting the Royal Botanical Gardens in Edinburgh on their official website!
---
BUTCHART GARDENS – VANCOUVER ISLAND
---
Butchart gardens are situated 23 km north of Victoria on Vancouver Island, BC Canada.
They were the idea of Jennie Butchart who over 100 years ago decided to design a flower garden in what was then an abandoned quarry. (Her husband – a businessman – owned a cement plant on the island and the quarry had provided limestone to the business). Her vision and creativity led to the creation of what are now one of the most beautiful floral show gardens in the world.
We caught a bus to Butchart from downtown Victoria and back again after the firework show. The return was a bit of a nightmare as we waited over an hour for a bus and there were loads of people waiting. It was mainly standing room only for the majority of the journey back into Victoria. However the question is…would I do it again? Too damn right I would!!! The gardens are truly MAGNIFICENT.
There is entertainment on too and we sat listening to a live band on the lawns with popcorn sellers milling with the audience…the weather was glorious.
After the music we moved over to the firework display which we also loved. Take a blanket and a fleece and enjoy the show!
---
PIN FOR LATER – BUTCHART AND EDINBURGH BOTANICAL GARDENS
---