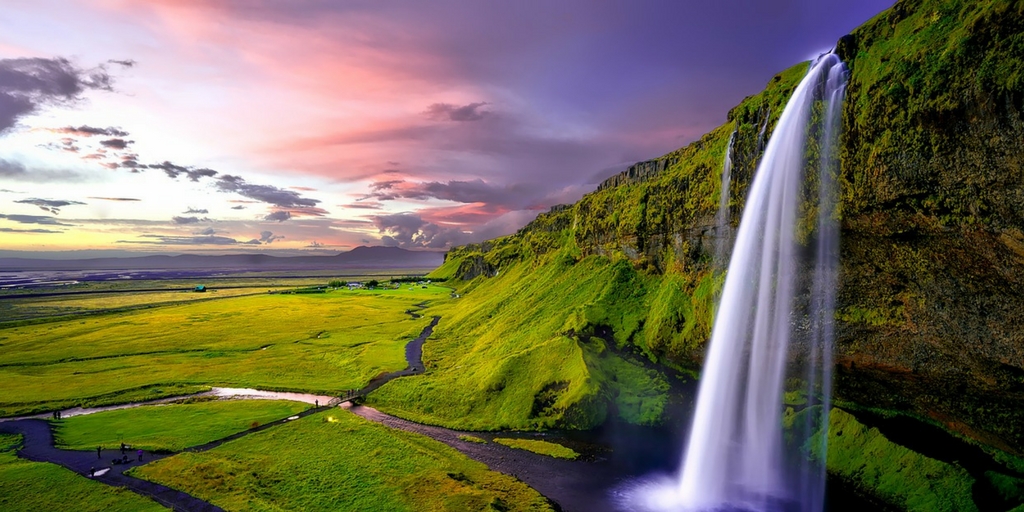 I try to read up as much as possible about a country before I visit. It is all part of the excitement of planning a trip. I read travel books, novels, a little about the history and also seek out any relevant films or TV series set in the country. It also is a great way to save money – if you know more about the place you are visiting then you don't need to pay for expensive tours!
Recently there have been some great TV series set in Iceland (have you seen Fortitude?) It certainly inspires my wanderlust seeing the beautiful scenery.
I have yet to visit Iceland so this is a post which reflects my reading and viewing list in preparation.
I will be completing posts like this for a number of destinations so if you have any special requests let me know and I will add them to my list.
Without further ado here are my recommended books to read before you visit Iceland.
This post contains affiliate links – read more on my privacy policy and disclaimer.
---
THE BEST ICELAND BOOKS: FICTION
---
BURIAL RITES
---
A brilliant literary debut, inspired by a true story: the final days of a young woman accused of murder in Iceland in 1829.
Set against Iceland's stark landscape, Hannah Kent brings to vivid life the story of Agnes, who, charged with the brutal murder of her former master, is sent to an isolated farm to await execution.
Horrified at the prospect of housing a convicted murderer, the family at first avoids Agnes. Only Tóti, a priest Agnes has mysteriously chosen to be her spiritual guardian, seeks to understand her. But as Agnes's death looms, the farmer's wife and their daughters learn there is another side to the sensational story they've heard.
Riveting and rich with lyricism, BURIAL RITES evokes a dramatic existence in a distant time and place, and asks the question, how can one woman hope to endure when her life depends upon the stories told by others?
---
THE SAGAS OF ICELANDERS
---
A unique body of medieval literature, the Sagas rank with the world's greatest literary treasures–as epic as Homer, as deep in tragedy as Sophocles, as engagingly human as Shakespeare. Set around the turn of the last millennium, these stories depict with an astonishingly modern realism the lives and deeds of the Norse men and women who first settled Iceland and of their descendants, who ventured further west–to Greenland and, ultimately, the coast of North America itself.
The ten Sagas and seven shorter tales in this volume include the celebrated "Vinland Sagas," which recount Leif Eiriksson's pioneering voyage to the New World and contain the oldest descriptions of the North American continent.

BUY NOW
---
SNOW-BLIND
---
Where: A quiet fishing village in northern Iceland, where no one locks their doors. It is accessible only via a small mountain tunnel.
Who: Ari Thor is a rookie policeman on his first posting, far from his girlfriend in Reykjavik. He has a past that he's unable to leave behind.
What: A young woman is found lying half-naked in the snow, bleeding and unconscious, and a highly esteemed elderly writer falls to his death. Ari is dragged straight into the heart of a community where he can trust no one, and secrets and lies are a way of life.
Past plays tag with the present and the claustrophobic tension mounts, while Ari is thrust ever deeper into his own darkness―blinded by snow and with a killer on the loose.
Taut and terrifying, Snowblind is a startling debut from Ragnar Jonasson, an extraordinary new talent.

BUY NOW
---
INDEPENDENT PEOPLE
---
From the Nobel Prize-winning Icelandic author, a magnificent, epic novel—"funny, clever, sardonic and brilliant" (Annie Proulx)—at last available to contemporary American readers.
Set in the early twentieth century, Independent People recalls both Iceland's medieval epics and such classics as Sigrid Undset's Kristin Lavransdatter. If Bjartur of Summerhouses, the book's protagonist, is an ordinary sheep farmer, his flinty determination to achieve independence is genuinely heroic and, at the same time, terrifying and bleakly comic.
Having spent eighteen years in humiliating servitude, Bjartur wants nothing more than to raise his flocks unbeholden to any man. But Bjartur's spirited daughter wants to live unbeholden to him. What ensues is a battle of wills that is by turns harsh and touching, elemental in its emotional intensity and intimate in its homely detail. Vast in scope and deeply rewarding, Independent People is a masterpiece.

BUY NOW
---
THE LITTLE BOOK OF THE HIDDEN PEOPLE
---
Icelandic folklore is rife with tales of elves and hidden people that inhabited hills and rocks in the landscape. But what do those elf stories really tell us about the Iceland of old and the people who lived there? In this book, author Alda Sigmundsdóttir presents twenty translated elf stories from Icelandic folklore, along with fascinating notes on the context from which they sprung.

BUY NOW
---
THE BEST ICELAND BOOKS: NON-FICTION
---
RICK STEVES ICELAND
---
Hike vast glaciers, marvel at steaming volcanic lakes, and explore the land of the midnight sun: with Rick Steves on your side, Iceland can be yours!
---
THE LITTLE BOOK OF TOURISTS IN ICELAND
---
Iceland is in the midst of an unprecedented tourist boom that has brought wealth to the country, but also myriad issues and challenges. This book provides a unique insight into the social and environmental impact that tourism is having on Iceland, and with wit and intelligence offers invaluable tips for touring safely, responsibly, and in harmony with the locals. A fascinating resource for anyone interested in contemporary Iceland, and an essential companion for all visitors to the country. Among the topics addressed in this book: • Why now? – Reasons for the tourism boom in Iceland • The impact of tourism on Iceland's housing market, health care system, law enforcement, search and rescue operations, and more • Klondike fever in the Icelandic tourism industry • Touring Iceland and staying safe: the main dangers of travel in Iceland • Out driving: essential things to keep in mind on Iceland's roads • What they think of us: complaints that tourists of different nationalities have about Iceland and Icelanders • What we think of them: tourist behaviours that really, seriously irk the Icelanders • Crazy stories of tourists in Iceland • The environmental footprint: depletion of natural resources, pollution, and the physical impact of tourism • Taxing tourists, or not – all about the endless debate • How the locals really feel about the tourist invasion • The truth about those Iceland myths: jailed bankers, refusal to bail out banks, believing in elves, incest app, promiscuity, disgusting food … … and much, much more.

BUY NOW
---
THE LITTLE BOOK OF ICELANDIC
---
Icelandic is one of the oldest and most complex languages in the world. In this book, Alda Sigmundsdóttir looks at the Icelandic language with wit and humour, and how it reflects the heart and soul of the Icelandic people and their culture. Many of the Icelanders' idioms and proverbs, their meaning and origins, are discussed, as is the Icelanders' love for their language and their attempts to keep it pure through the ongoing construction of new words and terminology. There is a section on Icelandic curse words as well as Icelandic slang, which is mostly derived from English. Throughout, this book deconstructs Icelandic vocabulary, and the often-hilarious, almost naive, ways in which words are made. This is a must-read book for anyone interested in the Icelandic people, their culture – and of course their language.

BUY NOW
---
THE LITTLE BOOK OF THE ICELANDERS
---
After more than 20 years away, Alda Sigmundsdottir returned to her native Iceland as a foreigner. With a native person's insight yet an outsider's perspective, Alda quickly set about dissecting the national psyche of the Icelanders.
Among the fascinating subjects broached in The Little Book of the Icelanders:
The appalling driving habits of the Icelanders
Naming conventions and customs
The Icelanders' profound fear of commitment
The irreverence of the Icelanders
Why Icelandic women are really men
How the Icelanders manage to make social interactions really complicated
The importance of the family in Icelandic society
Where to go to meet the real Icelanders (and possibly score some free financial advice)
Rituals associated with weddings, confirmations, graduations, and deaths
… and many, many more.

BUY NOW
---
THE LITTLE BOOK OF THE ICELANDERS IN THE OLD DAYS
---
Iceland in centuries past was a formidable place to live. Situated in the North Atlantic Ocean, on the edge of the inhabitable world, the nation was both isolated and abjectly poor. Centuries of colonisation translated into oppression and subjugation from the colonial overlords, and a hostile climate and repeated natural disasters meant that mere survival was a challenge to even the hardiest of souls.
The Little Book of the Icelanders in the Old Days is not only a funny, witty and wise expose on the Icelanders' daily life in the past, it is also essential to understanding the Icelandic national character today.

BUY NOW
---
ICELAND 101
---
 Travelling to Spain, France or Italy is fairly straight-forward. Travelling to Iceland is a whole different matter. It's a different kind of journey, one that requires special attention to certain details and respect for the boundless nature that you are being invited into. Written and Illustrated by Icelanders, Iceland 101 carries over 50 tips and things you'll be better off knowing, packed into 5 fully illustrated chapters.

BUY NOW
THE BEST ICELAND BOOKS: CUISINE
---
HOMESTYLE ICELANDIC COOKING FOR AMERICAN KITCHENS
---
Whether you're looking to connect with your roots, try something new or already love Icelandic cooking, this book is a must for your cookbook shelf. This is a collection of 25 traditional everyday Icelandic recipes, translated with step-by-step instructions. These are some of the simple classic favorites that truly reflect the home-style Icelandic flavors and heritage.

BUY NOW
---
 NORTH – THE NEW NORDIC CUISINE OF ICELAND
---

BUY NOW
---
FIRE AND ICE – CLASSIC NORDIC COOKING
---

BUY NOW
THE BEST ICELAND BOOKS: CHILDREN'S BOOKS
---
THE SMART KIDS GUIDE TO ICELAND
---
Bestselling children's author Liam Saxon presents "A Smart Kids Guide To INTERESTING ICELAND".

---
MY TRIP TO ICELAND
---

Kids can record their own travel adventures and make a treasured memory book for their trip to Iceland, with this travel journal. A great diary and travel companion that will increase children's excitement, this journal offers plenty of writing and drawing space. Helping children become involved in the early planning stages of their trip. This is a great gift for children and a great keepsake for parents.

---
 HAVE FUN IN ICELAND
---
Join Donald Duck and his gang on a fun trip around Iceland! Do you want to explore the wonders of Icelandic nature with your favorite characters. Then this is the book for you! Our friends from Duck Town visit some of Iceland´s most interesting sites. The book provides concise information and interesting facts about each place together with amazing pictures.

BUY NOW
---
LIFE ON SURTSEY
---
On November 14, 1963, a volcano fifteen miles off the shore of Iceland exploded under the sea, resulting in a brand-new island. Scientists immediately recognized Surtsey for what it was: an opportunity to observe the way life takes hold.
Loree Griffin Burns follows entomologist Erling Ólafsson on a five-day trip to Surtsey, where since 1970 he has studied the arrival and survival of insects and other species. Readers see how demanding conditions on Surtsey can be, what it's like to eat and work while making the smallest impact possible, and the passion driving these remarkable scientists in one of the world's most unique fields ever!


BUY NOW
---
THE GUARDIANS OF ICELAND
---
Trolls and Hidden Folk are a part of daily life in Iceland. This collection of Icelandic folklore and legends comes from the days of the Vikings. The twenty-five short stories are centuries old and have been updated for today's readers of all ages. Children and adults alike will love to delve into this fantastic collection of traditional Icelandic fairy tales and legends. These short stories of trolls, elves with magical powers, and Hidden People have been passed down from generation to generation.

BUY NOW
---
KINDLE UNLIMITED FROM AMAZON
---
Do you read books on your kindle? I love mine and it means I can literally take hundreds of books with me when I travel – no worries about luggage allowance or weight restrictions.
If you read a lot of books why not consider signing up to Amazon's Kindle Unlimited program?  For only $9.99/ £7.99 you get access to unlimited ebooks, audiobooks, magazines for any device. It really is a great program and if you click on the link you get  your first 30 days is absolutely FREE!!
---
AND TO MAKE YOUR OWN ICELAND BOOK!
---
Scrapbook Customs Themed Paper & Stickers Scrapbook Kit, Iceland Sightseeing
Contains 6 sheets of 12 inch by 12 inch scrapbook paper
Contains two 5×12 inch stickers
---
FILMS AND TV SERIES SET IN ICELAND
---
GAME OF THRONES
---
No list of films or TV series filmed in Iceland could leave out Game of Thrones! The warmer scenes may be set in the southern European climates of Spain or Croatia but all that snow and ice in the "North" is best represented by the Icelandic landscapes! If you are interested in Game of Thrones film locations read my post all about Croatia too!

BUY NOW
---
THE SECRET LIFE OF WALTER MITTY
---
Ben Stiller directs and stars in this inspiring story about an ordinary man who finds the courage to discover his destiny and leap into the extraordinary adventure that is life.

BUY ME
---
FORTITUDE
---
Surrounded by the savage beauty of a frozen landscape, Fortitude is the most northerly town in the world. It's a small isolated settlement in the Arctic Circle and one of the safest places on earth. There has never been a violent crime here. Until now. In Season 1, a gruesome murder touches everyone in this close-knit community and is the catalyst to unearthing Fortitude's darkest secret. As the cold Arctic darkness gives way to endless summer nights, this apparently idyllic community struggles to make sense of the horror that has been let loose at its heart. And after that, Fortitude will never be the same. Then in Season 2, the unsettling aftermath of the crime threatens the future of the town itself. While Fortitude attempts to recover from the contamination menace, out in the wilderness nature is growing ever more dangerous and Fortitude is faced with unpredictable new threats. The sky turns red with a Blood Aurora, and a mysterious new stranger arrives with a disturbing agenda. When another murder brings terror this already fragile hamlet it becomes clear that in Fortitude nothing is ever as it seems.
I can't recommend Fortitude enough – although based on a fictional island in the Arctic Circle the series was shot in Iceland – the scenery is breathtaking!

BUY NOW
---
TRAPPED
---
Nowhere is safe. A new Nordic noir crime series from Scandinavia. A small town on the edge of Iceland with a terrible secret buried in its past. 

BUY NOW
---
ICELAND
---
The first scene already shows Iceland how it really is: unruly and brutal, full of power but gentle at the same time. Metre-high waves push with inexorable sedateness and high level noise against the southern shore. This is where the journey through the biggest volcanic island of our world starts.

BUY NOW
---
ON TOUR ICELANDIA
---
ICELANDIA The journey through the active volcanic landscape of Iceland features many breathtaking sights.

---
PIN FOR LATER – The Best Iceland Books to Read
---
Books to read before you visit Iceland
---
You may be interested in my other posts in my "Around the World in 80 books" series
---
Working my way around the globe for 30 years – teacher, traveller, and train lover. Sharing authentic experiences from my travels and life as an expat in Australia.