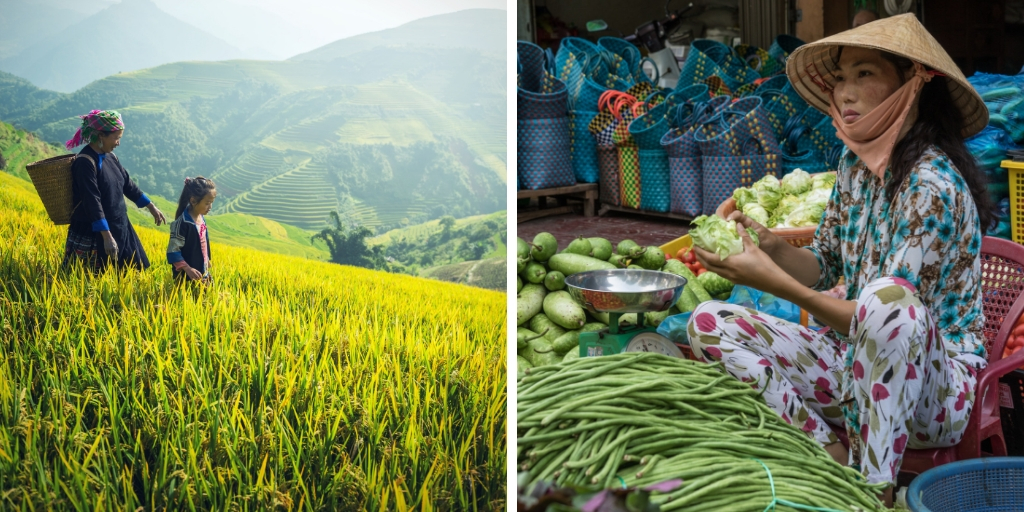 This post may contain compensated links. Please read our disclaimer for additional information.
I believe that one of the best ways to prepare yourself to visit a new destination is to read and learn about it before you go. To know a little about the history and culture not only prepares you but also gives you a deeper understanding of what you are seeing and experiencing. I always look at blogs as well as try to read up on the history, geography and culture.
As well as non fiction such as guidebooks, histories and biographies of famous people from the area I also try to read fictional works set in the country I am planning to visit.
These are my own selection of both fiction and non-fiction books about Vietnam and Cambodia that will inspire you to visit these countries.
---
BOOKS ABOUT CAMBODIA
---
The land of Angkor Wat, beautiful islands and home to 8 UNESCO World Heritage Sites. But also synonymous with the brief rule in the 1970's of the Khmer Rouge and the brutal killing of an estimated 1.7 million people (21% of the population) Visiting Cambodia is as much about learning about its recent past as its ancient history.
So what can you read to help better understand this S.E. Asian country before you visit?
---
NON-FICTION BOOKS ABOUT CAMBODIA
---
CAMBODIA'S CURSE
---
The author of this book won a Pulitzer Prize for his reporting in Cambodia. The Khmer Rouge regime killed 25% of the population of Cambodia during its years in power.
In 1992, the world came together to help Cambodia. It  became a United Nations protectorate–the first and only time the UN tried something so ambitious. What did the new, democratically-elected government do with this unprecedented gift?
Read all about it in this history of Cambodia.

---
SURVIVAL IN THE KILLING FIELDS
---
Nothing has shaped my life as much as surviving the Pol Pot regime. I am a survivor of the Cambodian holocaust. That's who I am," says Haing Ngor.
Since the original publication of this searing personal chronicle, Haing Ngor's life has ended with his murder. This has never been satisfactorily solved.
This epilogue written especially for this new edition, Ngor's coauthor, Roger Warner, offers a glimpse into this complex, enigmatic man's last years—years that he lived "like his country: scarred, and incapable of fully healing."

---
WHEN BROKEN GLASS FLOATS
---
Chanrithy Him felt compelled to tell of surviving life under the Khmer Rouge in a way "worthy of the suffering which I endured as a child."
In this book you can read about her trek through the horror of the killing fields.

---
BEAUTIFUL HERO
---
Read how a family of eight fought for their lives in the killing fields and land mines of Cambodia.  The story centers around the eponymous Beautiful Hero Meiyeng and her innate ability to sustain everyone in her family.

---
CAMBODIA TRAVEL GUIDES AND MORE
---
ENCHANTING CAMBODIA
---

---
LONELY PLANET CAMBODIA
---
You can't go wrong with a Lonely Planet guide book! Highly recommended for every traveller to Cambodia.

---
CAMBODIAN COOKING
---


---
---
BOOKS ABOUT VIETNAM
---
Another popular S.E. Asian country Vietnam is home to the beautiful Ha Long Bay, cities of Hanoi and Ho Chi Minh and 8 UNESCO World Heritage Sites.
With a population of nearly 100 million Vietnam is one of the most popular holiday destinations in South East Asia. Soccer is the most popular sport in Vietnam and the Dong is the unit of currency!
---
FICTION BOOKS ABOUT VIETNAM
---
THE BEAUTY OF HUMANITY MOVEMENT
---
The acclaimed author of Sweetness in the Belly journeys to Vietnam in this rich and tantalizing new novel.
Raised in the United States but Vietnamese by birth, Maggie has come to Hanoi seeking clues to the fate of her father, a dissident artist who disappeared during the war. Her search brings her to Old Man Hu'ng's pho stall. The old man once had a shop frequented by revolutionary artists, but now Tu', a hustling young entrepreneur, is his most faithful customer. Maggie, Hu'ng, and Tu' come together during a highly charged season that will mark them forever. Exploring the indelible legacies of war and art, as well as love's power to renew, The Beauty of Humanity Movement is a stellar achievement by a globally renowned literary light.

---
SAIGON
---
A story of adventure, love, war, and political power, Saigon presents an enthralling and enlightening depiction of twentieth-century Vietnam.

---
PERFUME RIVER
---
An exquisite novel that examines family ties and the legacy of the Vietnam war through the portrait of a single North Florida family.

---
CLICK TO JOIN AMAZON'S KINDLE UNLIMITED PROGRAM – FIRST 30 DAYS FREE!
Do you read books on your kindle? I love mine and it means I can literally take hundreds of books with me when I travel – no worries about luggage allowance or weight restrictions.
If you read a lot of books why not consider signing up to Amazon's Kindle Unlimited program? For only $9.99/ £7.99 you get access to unlimited ebooks, audiobooks, magazines for any device. It really is a great program and if you click on the link you get your first 30 days absolutely FREE!!
---
NON-FICTION BOOKS ABOUT VIETNAM
---
THE BEST WE COULD DO
---
This beautifully illustrated and emotional story is an evocative memoir about the search for a better future and a longing for the past.

---
THE SYMPATHIZER
---
The Sympathizer is a blistering exploration of identity and America, a gripping espionage novel, and a powerful story of love and friendship.

---
VIETNAM TRAVEL GUIDES AND MORE
---
LONELY PLANET VIETNAM
---
Lonely Planet Vietnam is your passport to the most relevant and up-to-date advice on what to do and see.

---
MADE IN VIETNAM
---
Made In Vietnam covers three main culinary regions of the country. Made in Vietnam also looks at aspects of the country's food history and its absorption of various culinary influences, including the extensive French influence, long-established coffee culture the casual style of dining that is so synonymous with many parts of Asia.

---
VIETNAM FILMS
---
INDOCHINE
---
Winner of 1992's Best Foreign Film Oscar(r), Catherine Deneuve stars in this story of passion and revolution in colonial Vietnam.

---
MISS SAIGON
---

---
THE KILLING FIELDS
---
When the Khmer Rouge captured Phnom Penh in 1975, many thought the killing would end. Instead it started a long nightmare in which three million Cambodians would die in the "killing fields."
The Killing Fields is an epic story of friendship and survival.

---
PREFER AUDIO BOOKS OR WANT TO GIVE THEM A GO?
---
Audible, an Amazon company, offers the world's largest selection of digital audiobooks and spoken word content. With Audible, customers can listen anytime and anywhere to professionally-narrated audiobooks across a wide range of genres.
---
PIN FOR LATER – 15 books about Vietnam and Cambodia that will inspire you to travel to South Asia
---
---
READ MORE 
---
Tracy is your expert expat!
She has lived and worked in 7 countries on 4 continents and travelled to over 50 more. A qualified school teacher with an interest in history, reading, photography, nature and wildlife she is always planning her next trip (preferably by train)
Through down-to-earth stories, tips and advice (based on her own extensive knowledge and experience of life as an expat) she aims to support new and prospective expats to survive and thrive in Australia.
With a lifetime of travel experience, and a network of friends all over the world, she is also able to share genuine insider guides, recommended best book lists and train journey inspiration to help you travel authentically to some of the most beautiful places on earth.
This post may contain compensated links. Please read our disclaimer for additional information.