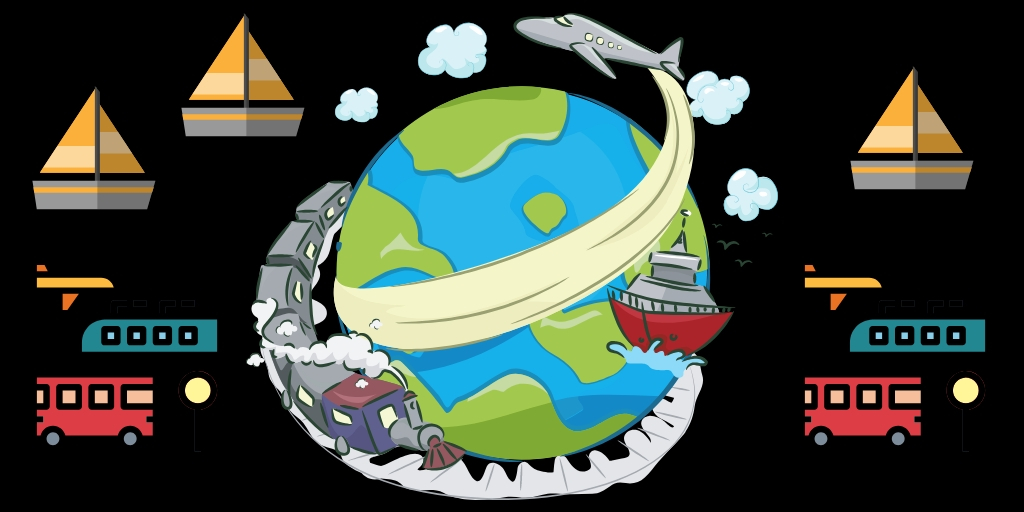 How to get from A to B in all sorts of different ways!
This post continues my series "Around the world in 80 books" looking at the best books on travel to inspire your wanderlust!
A few hundred years ago getting around the world was not easy – you could build a boat and hope it got you to some undiscovered continent. You could get on your bicycle – but not until the 19th century…you had to wait a little longer for cars, motorbikes and airplanes though! Of course these days we can hop on a plane (or if it is me – on a train) and you can be in Australia in about 24 hours.
Anyway lots of ingenious people have done it in lots of different ways and written great books all about their adventures and I have collected them into another great collection of books on travel to inspire your wanderlust!
---
BY CAR
---

"'Hurry up,' I shout at Dinah, whilst on the overhead telly Ray Mears' Survival is playing extraordinarily loudly because Charlie sat on the volume button of the remote. The kids writhe about in the V05 shampoo they just spilt, laughing as the last of their clean clothes bite the dust, and I'm thinking: 'Survive driving round England with two under 4s, staying at a different hotel each night and visiting four or five attractions a day and sometimes a restaurant in the evening. Sleep all in the same room, go to bed at 7 p.m. after having had no evening to yourself, wake up at 7 a.m. and do it all again the next day with the prospect of another 140 nights of the same – then come and tell me about survival in your khaki ****ing shorts, Ray.'"
They were bored, broke, burned out and turning 40. So when Ben and his wife Dinah were approached to write a guidebook about family travel, they embraced the open road, ignoring friends' warnings: 'One of you will come back chopped up in a bin bag in the roof box.'
Featuring deadly puff adders, Billie Piper's pyjamas and a friend of Hitler's, it's a story about love, death, falling out, moving on and growing up, and 8,000 misguided miles in a Vauxhall Astra.
---


CLICK TO BUY
National Geographic presents the great outdoors through the world's best auto trips, for nature lovers, hikers, and adventurers. Pack your suitcase, load up the car, and head for the open road! This lavishly illustrated, hardcover travel planner and gift book gives you every bit of information you'll need to navigate 400 amazing driving routes in some of the world's most fascinating locales.
---

Two Brits, George and Mark, set off from New York City to explore the back roads of America. In this calamity-ridden travel tale, George sets out in true clichéd fashion to discover the real America.
Throw in plenty of run-ins with the police, rapidly dwindling finances and Josephine – the worst car in the world – and you have all the ingredients for a classic American road trip. Will George and Mark make it all the way to California?
And then there is Rachel, George's girlfriend, left back in England. Would travelling to the United States without her turn out to be the stupidest decision he had ever made?
---
BY TAXI
---
CLICK TO BUY

When three friends – Paul, Johno and Leigh – clicked 'buy' on an iconic London cab, little did they know what they were letting themselves in for. Leaving the Big Smoke in their taxi bound for Sydney, the lads began a 43,000-mile trip that would take them off the beaten track to some of the most dangerous and deadly places on earth. By the time they arrived home, they would manage against all the odds to circumnavigate the globe and break two world records.
From altercations with the Iranian secret police to narrowly escaping the Taliban, the trio's adventure is filled with hair-raising escapades. Feel the fear, revel in the fun and meet some of the hundred passengers the taxi picked up along the way, as the authors take you on their action-packed journey.
---
ON FOOT!
---
CLICK TO BUY

s he teetered on a narrow rock ledge a yak's bellow short of the stratosphere, with a rubber mask strapped to his face, a pair of mittens the size of a sealion's flippers, and a drop of two kilometres below him, it's fair to say Mark Horrell wasn't entirely happy with the situation he found himself in.
He had been an ordinary hiker who had only read books about mountaineering. When he signed up for an organised trek in Nepal with a group of elderly ladies, little did he know that ten years later he would be attempting to climb the world's highest mountain.
But as he travelled across the Himalayas, Andes, Alps and East Africa, following in the footsteps of the pioneers, he dreamed up a seven-point plan to gain the skills and experience which could turn a wild idea into reality.
Funny, incisive and heartfelt, his journey provides a refreshingly honest portrait of the joys and torments of a modern-day Everest climber.
---
CLICK TO BUY

Following the tracks, holloways, drove-roads and sea paths that form part of a vast ancient network of routes criss-crossing the British Isles and beyond, Robert Macfarlane discovers a lost world – a landscape of the feet and the mind, of pilgrimage and ritual, of stories and ghosts; above all of the places and journeys which inspire and inhabit our imaginations.
'Really do love it. He has a rare physical intelligence and affords total immersion in place, elements and the passage of time: wonderful' Antony Gormley
'A marvellous marriage of scholarship, imagination and evocation of place. I always feel exhilarated after reading Macfarlane' Penelope Lively
'Macfarlane immerses himself in regions we may have thought familiar, resurrecting them newly potent and sometimes beautifully strange. In a moving achievement, he returns our heritage to us' Colin Thubron
'Every Robert MacFarlane book offers beautiful writing, bold journeys . . . With its global reach and mysterious Sebaldian structure, this is MacFarlane's most important book yet' David Rothenberg, author of Survival of the Beautiful and Thousand Mile Song
'Luminous, possessing a seemingly paradoxical combination of the dream-like and the hyper-vigilant, The Old Ways is, as with all of Macfarlane's work, a magnificent read. Each sentence can carry astonishing discovery' Rick Bass, US novelist and nature writer
'The Old Ways confirms Robert Macfarlane's reputation as one of the most eloquent and observant of contemporary writers about nature' Scotland on Sunday
'Sublime writing . . . sets the imagination tingling . . . Macfarlane's way of writing [is] free, exploratory, rambling and haphazard but resourceful, individual, following his own whims, and laying an irresistible trail for readers to follow' Sunday Times
'Macfarlane relishes wild, as well as old, places. He writes about both beautifully . . . I love to read Macfarlane' John Sutherland, Financial Times
'Read this and it will be impossible to take an unremarkable walk again' Metro
---

CLICK TO BUY
n 2013, Tom Denniss became the fastest person to circumnavigate the world on foot. His epic journey lasted nearly two years, and for each of the 622 days it took him to run around the planet, Tom completed the equivalent of a marathon or more. Based on distance alone his feat was an extraordinary act of endurance, but along the way Tom also survived a near-death experience on an ice cliff as he was running over the top of the Andes, was chased by dogs, snakes and suspicious border police, narrowly avoided lethal cars and buses, suffered in sixty-degree heat and sub-zero blizzards, tore through seventeen pairs of running shoes, and raised tens of thousands of dollars for Oxfam. He also experienced an amazing diversity of scenery, culture, food and people as he traversed New Zealand, North and South America, Europe from the Atlantic to the Bosphorus, and Australia from Fremantle to Sydney. The World at My Feet is his account of an incredible 26,232 kilometre run, and a vivid insight into an adventure of truly global proportions.
---
CLICK TO BUY

A Time of Gifts sees Patrick Leigh Fermor setting out at the age of 18 in 1933, on his epic journey across Europe from the Hook of Holland to Constantinople.
This first volume takes the reader as far as Hungary. Fermor offers compelling glimpses, not only of the events which were curdling Europe at that time, but also of the resplendent domes, the monasteries, the great rivers, the hospitable burgomasters, the sun on the Bavarian snow, the storks and frogs, the grandeurs and the courtesies.
---
CLICK TO BUY

The wandering poet has always been a feature of our cultural imagination. Odysseus journeys home, his famous flair for storytelling seducing friend and foe. The Romantic poets tramped all over the Lake District searching for inspiration. Now Simon Armitage, with equal parts enthusiasm and trepidation, as well as a wry humor all his own, has taken on Britain s version of our Appalachian Trail: the Pennine Way. Walking the backbone of England by day (accompanied by friends, family, strangers, dogs, the unpredictable English weather, and a backpack full of Mars Bars), each evening he gives a poetry reading in a different village in exchange for a bed. Armitage reflects on the inextricable link between freedom and fear as well as the poet s place in our bustling world. In Armitage s own words, to embark on the walk is to surrender to its lore and submit to its logic, and to take up a challenge against the self. "
---
Alastair Humphreys walked across India, from the Coromandel Coast to the Malabar Coast, following the course of a holy river. Walking alone and spending the nights sleeping under the stars, in the homes of welcoming strangers or in small towns and villages, he experienced the dusty enchantment of ordinary, real India on the smallest of budgets. There Are Other Rivers tells the story of the walk through an account of a single day as well as reflecting on the allure of difficult journeys and the eternal appeal of the open road. Nominated for National Geographic's 'Adventurer of the Year' Reviews for previous books: – "Believe me, he can write, and rather well" – Geographical – "…displays a tendency for Big Hairy Audacious Goals that is almost unnerving." – Treehugger.com Amazon: – "This book has it all: it's a great travel read, a look into the human soul and how most people, given enough determination, could attempt something like this." – "No expensive equipment or 'fastest, strongest, quickest'; just a brilliant, understated story." – "Simply outstanding." – "If you prefer the comfort of your armchair these books will still stir your imagination and curiosity for the world." – "An absolute must-read or any passionate traveller." GoodReads: – "Wow… another great book by Alastair Humphreys." – "One of the best adventure travel books I've read."
---

Starting in the Gobi desert in winter, adventurer Rob Lilwall sets out on an extraordinary six-month journey, walking almost 5000 kilometres across China. Along the way he and his cameraman Leon brave the toxic insides of China's longest road tunnel, explore desolate stretches of the Great Wall and endure interrogation by the Chinese police.
As they walk on through the heart of China, the exuberant hospitality of cave dwellers, coal miners and desert nomads keeps them going, despite sub-zero blizzards and the treacherous terrain.
Rob writes with humour and honesty about the hardships of the walk, reflecting on the nature of pilgrimage and the uncertainties of an adventuring career. He also gives a unique insight into life on the road amid the epic landscapes and rapidly industrialising cities of backwater China.
---


Following in in the footsteps of the great explorers, WALKING THE HIMALAYAS is Levison Wood's enthralling account of crossing the Himalayas on foot. His journey of discovery along the path of the ancient trade route of the Silk Road to the forgotten kingdom of Bhutan led him beyond the safety of the tourist trail. There lies the real world of the Himalayas, where ex-paratrooper Levison Wood encountered natural disasters, extremists, nomadic goat herders, shamans (and the Dalai Lama) in his 1,700-mile trek across the roof of the world. WALKING THE HIMALAYAS is a tale of courage, stamina and the kindness of strangers that will appeal to the adventurer in us all.
---
BY TRAIN
---

The Great Railway Bazaar is Paul Theroux's account of his epic journey by rail through Asia. Filled with evocative names of legendary train routes – the Direct-Orient Express, the Khyber Pass Local, the Delhi Mail from Jaipur, the Golden Arrow to Kuala Lumpur, the Hikari Super Express to Kyoto and the Trans-Siberian Express – it describes the many places, cultures, sights and sounds he experienced and the fascinating people he met. Here he overhears snippets of chat and occasional monologues, and is drawn into conversation with fellow passengers, from Molesworth, a British theatrical agent, and Sadik, a shabby Turkish tycoon, while avoiding the forceful approaches of pimps and drug dealers. This wonderfully entertaining travelogue pays loving tribute to the romantic joys of railways and train travel.
---

Why do people love trains so much?
Tom Chesshyre is on a mission to find the answer by experiencing the world through train travel – on both epic and everyday rail routes, aboard every type of ride, from steam locomotives to bullet trains, meeting a cast of memorable characters who share a passion for train travel. Join him on the rails and off the beaten track as he embarks on an exhilarating whistle-stop tour around the globe, from Sri Lanka to Iran via Crewe, Inverness, the Australian outback and beyond.
---

SOMETIMES you come across a lofty railway viaduct, marooned in the middle of a remote country landscape. Or a crumbling platform from some once-bustling junction buried under the buddleia. If you are lucky you might be able to follow some rusting tracks, or explore an old tunnel leading to…well, who knows where? Listen hard. Is that the wind in the undergrowth? Or the spectre of a train from a golden era of the past panting up the embankment?
These are the ghosts of The Trains Now Departed. They are the railway lines, and services that ran on them that have disappeared and gone forever. Our lost legacy includes lines prematurely axed, often with a gripping and colourful tale of their own, as well as marvels of locomotive engineering sent to the scrapyard, and grand termini felled by the wrecker's ball. Then there are the lost delights of train travel, such as haute cuisine in the dining car, the grand expresses with their evocative names, and continental boat trains to romantic far-off places.
The Trains Now Departed tells the stories of some of the most fascinating lost trains of Britain, vividly evoking the glories of a bygone age. In his personal odyssey around Britain Michael Williams tells the tales of the pioneers who built the tracks, the yarns of the men and women who operated them and the colourful trains that ran on them. It is a journey into the soul of our railways, summoning up a magic which, although mired in time, is fortunately not lost for ever.
---

n 1991, Monisha Rajesh's family uprooted from Sheffield to Madras in the hope of making India their home. Two years later, fed up with soap-eating rats, severed human heads and the creepy colonel across the road, they returned to England with a bitter taste in their mouths.
Two decades on, she turns to a map of the Indian Railways and takes a page out of Jules Verne's classic tale, embarking on an adventure around India in 80 trains, covering 40,000km – the circumference of the Earth. She hopes that 80 train journeys up, down and across India will lift the veil on a country that has become a stranger to her.
Along the way, Monisha discovers that the Indian Railways – featuring luxury trains, toy trains, Mumbai's infamous commuter trains, and even a hospital on wheels – have more than a few stories to tell, not to mention a colourful cast of characters. And with a self-confessed 'militant devout atheist' in tow, her personal journey around a country built on religion isn't quite what she bargained for…
---

Flying to Australia is boring, especially if you think of all the fascinating countries you are bypassing – that are out of sight below the clouds. Like millions of others I've flown to Australia, and been bored stiff, but this time I'm going overland by train.
I was able to connect up with a whole series of trains, which took me virtually all the way from London to Sydney. It's not an artificial TV adventure trip with a dozen hidden fixers, nor am I doing mad antics, dangerous pastimes or piggy backing on some fund raising scam. This is an everyman story that anyone could do and is the most brilliant way to travel. I could potentially have done it in 3 weeks but I spent 3 months stopping off wherever I felt like it.
Starting from London my route crossed Europe into Russia, east across Siberia, south through Mongolia and into China. From Beijing I trained it to Hanoi and then took the Reunification Express to Saigon, with a few stops on the way. I followed the Mekong north through Cambodia, onwards to Bangkok in Thailand and down the Malay Peninsula to Singapore. My only flight was from Singapore to Darwin and then it was trains all the way to Sydney and Perth.
---
BY PUNT
---


Downstream is a celebration of rivers: an exploration of what they mean to us and an account of what we owe to them. Tom Fort followed the course of our third largest, and one of our least known rivers from source to the sea — the River Trent. Travelling partly on foot and bicycle, but chiefly in a plywood fifteen foot punt, Fort journeyed through the unsung heart of Middle England, showing him the unseen face of his own country. His journey taught him about the land and moving water, its mysteries and magic.
Rivers are special to us and the landscape we inhabit. They shape and define our world. They give us power and nourishment. They were the first highways, routes for conquest and flight. They acted as barriers and connections. they stir the imagination and reach into our souls.
This is an exploration into the historical, geographical, social, cultural and industrial aspects of a river filled with the curiosities, forgotten characters and departed ways.
---
BY BICYCLE
---

Scaling a new peak of rash over-ambition, Tim Moore tackles the 9,000km route of the old Iron Curtain on a tiny-wheeled, two-geared East German shopping bike.
Asking for trouble and getting it, he sets off from the northernmost Norwegian-Russian border at the Arctic winter's brutal height, bullying his plucky MIFA 900 through the endless and massively sub-zero desolation of snowbound Finland.
Sleeping in bank vaults, imperial palaces and unreconstructed Soviet youth hostels, battling vodka-breathed Russian hostility, Romanian landslides and a diet of dumplings, Moore and his 'so-small bicycle' are sustained by the kindness of reindeer farmers and Serbian rock gods, plus a shameful addiction to Magic Man energy drink.
Haunted throughout by the border detritus of watchtowers and rusted razor wire, Moore reflects on the curdling of the Communist dream, and the memories of a Cold War generation reared on the fear of apocalypse – at a time of ratcheting East-West tension.
After three months, 20 countries and a 58-degree jaunt up the centigrade scale, man and bike finally wobble up to a Black Sea beach in Bulgaria, older and wiser, but mainly older.
---


'It is late October, and the temperature is already -40C…My thoughts are filled with frozen rivers that may or may not hold my weight; empty, forgotten valleys haunted by emaciated ghosts and packs of ravenous, merciless wolves.'In 2004 Rob Lilwall arrived in Siberia equipped only with a bike and a healthy dose of fear. CYCLING HOME FROM SIBERIA recounts his epic three and a half year, 30,000 mile journey back to England via the foreboding jungles of Papua New Guinea, an Australian cyclone and Afghanistan's war-torn Hindu Kush.A gripping story of endurance and adventure, this is also a spiritual journey giving a poignant insight into life on the road in some of the world's toughest corners.www.roblilwall.com
---

What would happen if you were cycling to the office and just kept on pedalling?
Needing a change, Mike Carter did just that. Following the Thames to the sea he embarked on an epic 5,000 mile ride around the entire British coastline – the equivalent of London to Calcutta.
He encountered drunken priests, drag queens and gnome sanctuaries. He met fellow travellers and people building for a different type of future. He also found a spirit of unbelievable kindness and generosity that convinced him that Britain is anything but broken. This is the inspiring and very funny tale of the five months Mike spent cycling the byways of the nation.
---
BY DONKEY
---

Being larger than a cat, the donkey is the kind of animal Tim Moore is slightly scared of. Yet intrigued by epic accounts of a pilgrimage undertaken by one in three medieval Europeans, and committed to historical authenticity, he finds himself leading a Pyrenean ass named Shinto into Spain, headed for Santiago de Compostela.
Over 500 miles of extreme weather and agonising bestial sloth, it becomes memorably apparent that for the multinational band of eccentrics who keep the Santiagan flame alive, the pilgrimage has evolved from a purely devotional undertaking into a mobile therapist's couch.
Ludicrous, heart-warming and improbably inspirational, Spanish Steps is the story of what happens when a rather silly man tries to walk all the way across a very large country, with a very large animal who doesn't really want to.
---
BY BALLOON
---

In this dramatic narrative, adventurers Bertrand Piccard and Brian Jones, the pilots of the Breitling Orbiter 3 balloon, recount their record–breaking, first–ever around–the–world balloon flight in March 1999. During their 30,000–mile voyage, they faced many unexpected challenges and near–disasters, including a harrowing six–and–a–half–day trip across the Pacific when the balloon came dangerously close to plunging into the ocean. Using their logbook and journals, as well as photographs taken on board, Piccard and Jones have brought their marathon flight vividly to life, capturing the emotion of their many moments of high tension, as well as the humor and camaraderie that helped them persevere.
Bertrand Piccard (Lausanne, Switzerland) comes from a family of scientific explorers: his grandfather was the first man to reach the stratosphere in a balloon, while his father dove to the deepest part of the ocean in a bathyscaphe. Brian Jones (Wiltshire, UK) spent thirteen years with England′s Royal Air Force and is now the United Kingdom′s chief flying instructor. He was the flight′s project manager before becoming a pilot of the balloon.
---
BY MOTORBIKE
---

Zen and the Art of Motorcycle Maintenance caused a sensation when it was first published in 1974.The story of the narrator, his son Chris and their month-long motorcycle odyssey from Minnesota to California profoundly affected an entire generation.Both personal and philosophical, this book is a compelling study of relationships, values, madness and, eventually, enlightenment.
---


Oi, mate, is that monstrosity diesel? From the author of the bestsellers Don't Tell Mum I Work on the Rigs, She Thinks I'm a Piano Player in a Whorehouse and This Is Not a Drill, this is the eagerly awaited next installment of Paul Carter's rollicking life.
Take one mad adventurer and a motorbike that runs on bio fuel (cooking oil i.e. chip fat to you and me) and send them with one filmmaker on a road trip around Australia just to see what happens. What you get is a story full of outback characters, implausible (but true) situations, unlikely events and unfortunate breakdowns, all at a break neck pace. Never one to sit still for long, this is what Paul Carter did next.
Whether you've been shocked, delighted, entertained, horrified – or all of the above – by Paul's stories whether from oil rigs or the road one thing is for sure, they are always high octane adventures.
---

n 2010, after the closure of her dream business, Jill Maden sets off to tour Australia – alone on a motorbike. Weighed down by seven stone of luggage and a crushing sense of failure, her riding skills rapidly deteriorate. Freezing weather, violent winds and treacherous road surfaces all add to her fright. Jill almost decides to give up and buy a car. But the need to overcome her fears pushes her on. Testing her resolve, Australia throws everything it has at her: the worst floods in living memory, extreme heat, plagues of insects, torrential downpours, hurricanes, isolation and her ultimate nightmare, gravel roads. But turning back is not an option. What results is an exciting and heart-warming adventure through a vast, staggeringly beautiful but unforgiving landscape.
---

Join me as I tear across the Australian outback from Melbourne to Perth with nothing but a motorcycle and a backpack.
Come face to face with kangaroos, camel, emus and Australia's most notorious animal of all…the fly. If you've ever wanted to know what it would be like to drive across Australia, this is your chance. If you are planning the trip for the first time, this travelogue will show you what you can expect along the way.
---
BY BUS
---

A highly entertaining anecdotal collection of humorous life observations during a trip around the world. Travelling by bus to Kathmandu, the author experiences hair-raising misadventures: a chase through Jerusalem, a gun battle in Jordan, a pummelling by a gargantuan masseur in Istanbul, a python in India, and the terrifying James Bond encounter in Australia. His portrait of an Afghani shopkeeper has a bizarre twist. Time-travelling detours punctuate interesting stories about the Taj Mahal, Sydney Opera House, Tahiti, Easter Island statues and Christ in Rio. More than a travelogue, personal insights and character portrayals are underscored by whimsical humour.
---

This new edition of the classic hit title Bus-Pass Britain is a colourful celebration of travelling by bus around the British Isles and features a selection of 50 favourite bus-routes submitted by members of the public in response to a Bradt competition. Their favourite bus routes reveal a wonderful mosaic of journeys across Britain, from a leafy meander through the Home Counties to the exhilarating seascapes of the northeast coast, from the wilds of Snowdonia to the Outer Hebrides. Evocative and fun, the book reveals how free bus passes have encouraged a new generation of keen explorers. Join us on the top deck for a fresh perspective on towns and villages across Britain. Each journey includes recommendations on where to stop and explore, providing details of inspiring sights, suggested walks and the best local cafes, pubs, restaurants. All the practical details: bus times, the length and duration of each route and travel connections to the start and finish, are provided and the book features a scattering of quirky stories and reflections (entitled Bus-stops) on the wonders of this more leisurely form of travel.
---
BY PLANE
---

'A beautiful book about a part of the modern world which remains genuinely magical' Mark Haddon
'One of the most constantly fascinating, but consistently under-appreciated aspects of modern life is the business of flying. Mark Vanhoenacker has written the ideal book on the subject: a description of what it's like to fly by a commercial pilot who is also a master prose stylist and a deeply sensitive human being. This is a man who is at once a technical expert – he flies 747s across continents – and a poet of the skies. This couldn't be more highly recommended.' Alain de Botton
Think back to when you first flew. When you first left the Earth, and travelled high and fast above its turning arc. When you looked down on a new world, captured simply and perfectly through a window fringed with ice. When you descended towards a city, and arrived from the sky as effortlessly as daybreak.
In Skyfaring, airline pilot and flight romantic Mark Vanhoenacker shares his irrepressible love of flying, on a journey from day to night, from new ways of mapmaking and the poetry of physics to the names of winds and the nature of clouds. Here, anew, is the simple wonder that remains at the heart of an experience which modern travellers, armchair and otherwise, all too easily take for granted: the transcendent joy of motion, and the remarkable new perspectives that height and distance bestow on everything we love.
---
BY CRUISE SHIP
---

In this often hilarious, sometimes shocking, and always insightful book, well-published writer Joshua Kinser offers a behind-the-scenes tour of what it's really like to work on cruise ships. Go below the waterline and explore the cramped, dirty, and dimly lit crew areas on a revealing journey through a cruise ship's underworld. Go where no passenger has gone before, and learn what the crew eats, where they sleep, how they party, and finally understand why all of the officers are Italian. Climb aboard an adventure on the high seas and witness the wonderful side of ship life where crew members have whirlwind escapades while traveling the world aboard a massive sailing city. Drawing from his experiences working as a musician on cruise ships for more than five years, Joshua tells the laugh-out-loud funny and also poignant story of what cruise ship crew members experience from the minute they first step onto a ship to the day they walk down that gangway for the last time.
---
BY SURFBOARD
---

So this is surfing in Britain, I told myself as I grumpily walked up a slope of wet rocks and wispy beach grass, trying to keep a foothold as rain and wind both tried their utmost to send me skidding back down to the freezing beach below.
Tom Anderson has always loved surfing – anywhere except the UK. But a chance encounter leads him to a series of adventures on home surf… As he visits the popular haunts and secret gems of British surfing he meets the Christians who pray for waves (and get them), loses a competition to a non-existent surfer, is nearly drowned in the River Severn and has a watery encounter with a pedigree sheep. All this rekindles his love affair with the freezing fun that is surfing the North Atlantic.
---

Jeffrey's Bay, South Africa – the fantasy, the almost mythical waves every surfer dreams of riding once in their lifetime. But Tom wouldn't go until he was ready. He would seek out surf spots from the virgin reef breaks of the Outer Orkneys to the temple point breaks of Indonesia, from the beautiful beaches of France to the wilds of Sri Lanka, a secret cove in Panama and a reflective spell in Costa Rica, all on a quest to ride the waves of his dreams.
Get on the road.
Get stoked.
Get in the water.
---
BY VAN
---

Tony James Slater knew nothing about Australia.
Except for the fact that he'd just arrived there.
The stage is set for an outrageous adventure: three people, one van, on an epic, 20,000 mile road trip around Australia.
What could possibly go wrong?
Of course, the van – nicknamed 'Rusty' – is a crumbling wreck, held together by the world's most garish paint job.
They're criss-crossing the continent through some of the most inhospitable land on the planet – the infamous Aussie Outback.
And isn't there something about Australian animals being… well, you know, kind of dangerous?
Unprepared, under-qualified and hopelessly inept, Tony battles gigantic pumpkins, mechanical mishaps and suicidal kangaroos, armed only with a thong and a sense of humour.
His companions struggle to keep him safe whilst climbing in drag, snowboarding off cliffs, and hiking hundreds of miles through the bush.
One thing's for sure; this 'adventure of a lifetime' – if they survive it – is something they're never going to forget.
So, scull those stubbies!
Grab your galahs!
And put down that platypus.
LOOK OUT, AUSTRALIA!
There's an idiot coming…
---
AND FINALLY………BY THUMB!
---

Travel: The Long Hitch Home (Tasmania to London on a thumb and a prayer)
---
YOU MAY BE INTERESTED IN THESE OTHER POSTS
---
---
Pin for later – Books on travel by different methods
---
---
Working my way around the globe for 30 years – teacher, traveller, and train lover. Sharing authentic experiences from my travels and life as an expat in Australia.