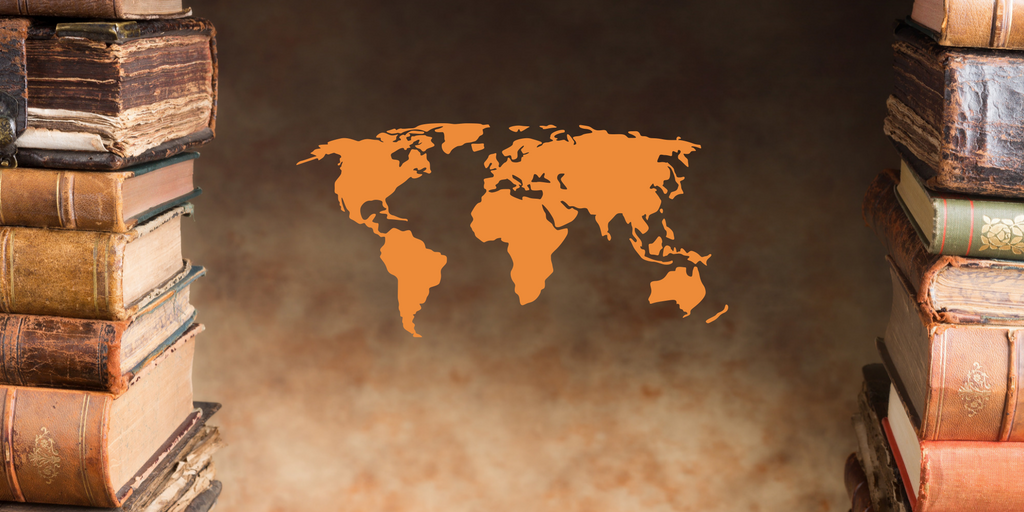 This is the third in my series of book lists "Around the World in 80 books " devoted to books about travel – fact, fiction, funny, sad, informative, historical, set in the present, set in the past it doesn't matter as long as it is about wonderful places to visit and find out more about all around the world.
This collection consists of some of some of the best factual books as well as some of my favourite travel writers who share their travel experiences in an often very humorous way! As anyone who travels knows – things do not always go according to plan!
There are further links to my other books about travel at the end of this page.
---
EUROPE
---
Through ancient wonders, world capitals, and tiny places with infectious personalities, Europe packs some serious travel punches. With more than 50 countries across its length and breadth, the world's second-smallest continent makes up for size with its intricate cultures and abundant charms, boasting artistic masterpieces and architectural marvels as much as natural splendor.
This revised and updated edition of The New York Times 36 Hours Europe offers 130 expert itineraries to reveal the continent's brightest gems and best-kept secrets. From Renaissance splendor in Florence to Flamenco in Seville, from luxurious Lake Como to easygoing Lisbon, you ll find the antique and the cutting-edge, the renowned and the unexpected, and all distilled in neat 36-hour schedules, so you can transform your weekends into European adventures.
This is one of my favourite books about travel in Europe and an excellent resource.
---
Whether you're a frequent visitor to Europe or just an armchair traveler, the surprising and extraordinary stories in Lingo will forever change the way you think about the continent, and may even make you want to learn a new language.
Lingo spins the reader on a whirlwind tour of sixty European languages and dialects, sharing quirky moments from their histories and exploring their commonalities and differences. Most European languages are descended from a single ancestor, a language not unlike Sanskrit known as Proto-Indo-European (or PIE for short), but the continent's ever-changing borders and cultures have given rise to a linguistic and cultural diversity that is too often forgotten in discussions of Europe as a political entity. Lingo takes us into today's remote mountain villages of Switzerland, where Romansh is still the lingua franca, to formerly Soviet Belarus, a country whose language was Russified by the Bolsheviks, to Sweden, where up until the 1960s polite speaking conventions required that one never use the word "you" in conversation, leading to tiptoeing questions of the form: "Would herr generaldirektor Rexed like a biscuit?"
Spanning six millenia and sixty languages in bite-size chapters, Lingo is a hilarious and highly edifying exploration of how Europe speaks."
---
DENMARK
---
'Hygge has been translated as everything from the art of creating intimacy to cosiness of the soul to taking pleasure from the presence of soothing things. My personal favourite is cocoa by candlelight…'
You know hygge when you feel it. It is when you are cuddled up on a sofa with a loved one, or sharing comfort food with your closest friends. It is those crisp blue mornings when the light through your window is just right.
In this beautiful, inspiring book find out how to be more hygge: from picking the right lighting and planning a dinner party through to creating an emergency hygge kit and even how to dress.
---
ENGLAND
---
The British Cartographic Society
WINNER
The BCS Award 2015
WINNER
The Stanfords Award for Printed Mapping 2015
WINNER
John C Bartholomew Award for Thematic Mapping 2015
In London: The Information Capital, geographer James Cheshire and designer Oliver Uberti join forces to bring you a series of new maps and graphics charting life in London like never before
When do police helicopters catch criminals? Which borough of London is the happiest? Is 'czesc' becoming a more common greeting than 'salaam'? James Cheshire and Oliver Uberti could tell you, but they'd rather show you. By combining millions of data points with stunning design, they investigate how flights stack over Heathrow, who lives longest, and where Londoners love to tweet. The result? One hundred portraits of an old city in a very new way.
Dr James Cheshire is a geographer with a passion for London and its data. His award-winning maps draw from his research as a lecturer at University College London and have appeared in the Guardianand the Financial Times, as well as on his popular blog, mappinglondon.co.uk. He is a Fellow of the Royal Geographical Society.
Oliver Uberti is a visual journalist, designer, and the recipient of many awards for his information graphics and art direction. From 2003 to 2012, he worked in the design department of National Geographic, most recently as Senior Design Editor. He has a design studio in Ann Arbor, Michigan.
---
The English Channel is the busiest waterway in the world. Ferries steam back and forth, trains thunder through the tunnel. The narrow sea has been crucial to our development and prosperity. It helps define our notion of Englishness, as an island people, a nation of seafarers. It is also our nearest, dearest playground where people have sought sun, sin and bracing breezes.
Tom Fort takes us on a fascinating, discursive journey from east to west, to find out what this stretch of water means to us and what is so special about the English seaside, that edge between land and seawater. He dips his toe into Sandgate's waters, takes the air in Hastings and Bexhill, chews whelks in Brighton, builds a sandcastle in Sandbanks, sunbathes in sunny Sidmouth, catches prawns off the slipway at Salcombe and hunts a shark off Looe. Stories of smugglers and shipwreck robbers, of beachcombers and samphire gatherers, gold diggers and fossil hunters abound.
---
Would you cheer if they sent you to Coventry?

Could you stick up for Stoke or big-up Bracknell?

Can you handle the thrill of Rhyl, the heaven of Hull or the mirth of Tydfil?
In You are Awful, Tim Moore drives his Austin Maestro round all the places on our beloved island that nobody wants to go to – our most miserable towns, shonkiest hotels, scariest pubs, and silliest sea zoos…
But as the soggy, decrepit quest unfolds he finds himself oddly smitten, and the result is a rousing, nostalgic celebration of mad, bad But I Like You Britain.
---
SPAIN
---
It's two decades since Chris Stewart moved to his farm on the wrong side of a river in the mountains of southern Spain and his daughter Chlöe is preparing to fly the nest for university. In this latest, typically hilarious dispatch from El Valero we find Chris, now a local literary celebrity, using his fame to help his old sheep-shearing partner find work on a raucous road trip; cooking a TV lunch for visiting British chef, Rick Stein; discovering the pitfalls of Spanish public speaking; and recalling his own first foray into the adult world of work.
Yet it's at El Valero, his beloved sheep farm, that Chris remains in his element as he, his wife Ana and their assorted dogs, cats and sheep weather a near calamitous flood and emerge as newly certified organic farmers. His cash crop? The lemons and oranges he once so blithely drove over, of course.
---
AUSTRALIA
---
Ignoring such dangers – and yet curiously obsessed by them – Bill Bryson journeyed to Australia and promptly fell in love with the country. And who can blame him? The people are cheerful, extrovert, quick-witted and unfailingly obliging: their cities are safe and clean and nearly always built on water; the food is excellent; the beer is cold and the sun nearly always shines. Life doesn't get much better than this…
---
INDIA
---
Travel isn't always sunshine and roses. Travel stories shouldn't be, either.
In the Gypsy Giraffe series, you'll hear it all – the good, the bad, and the downright ugly. In this installment, I'm going to tell you what it's really like to travel through India – not with some fancy tour group, but honest-to-goodness independent, budget travel.
Want to hear about my moonlight gallop along the Bay of Bengal on a white Marwari stallion? It's in here. Want to hear about the time my husband was offered an Indian bride…right in front of me? It's in here. Want to hear about the time I got food poisoning on my way to tour the Taj Mahal?
That's in here, too. That's why we travel in the first place, right? For those amazing travel moments that leave us breathless…and the harrowing moments when everything goes wrong. Because that's what travel is – a patchwork quilt of new places, new faces, and new experiences that create memories to last a lifetime.
So journey along with me, the Gypsy Giraffe, as I share my travel stories with you!
---
GREECE
---
After an Arctic winter, a British recession, and a downturn in the newspaper industry, two journalists and their dog embark on an adventure in the wild and beautiful southern Peloponnese. A perfect plan, except for one thing – Greece is deep in economic crisis. And if fiscal failure can't overturn the couple's escapade in rural Greece, perhaps macabre local customs, a scorpion invasion, zero dog-tolerance, and eccentric expats will.
This is a humorous and insightful journey through one of the last unspoilt regions of Greece. It is full of encounters with warm-hearted Greeks who show that this troubled country still has heroes, if not euros. In a hillside village in the Mani, the locals share their lives, their laughter and their stories and help chart the couple's own passage back to happiness.
Book 2 of the Peloponnese series!
Homer's Where The Heart Is continues the story where the acclaimed first travel memoir (Things Can Only Get Feta) left off. Two journalists and their crazy terrier are in the second year of their riotous adventure, living in the Mani region of southern Greece, and sharing an olive grove with their new Greek landlords.
---
SPAIN
---
Having moved with her family to rural Mallorca to escape the stresses of London life, PR consultant Anna Nicholas continues to commute back to her glitzy Mayfair agency to earn a crust. Meanwhile she is harbouring a bizarre dream to open a luxury cattery on the island – unbeknownst to her long suffering Scottish husband, Alan, and son, Oliver.
Life in the mountains is never uneventful as the author gets to grips with phantom sheep, midnight snail hunts, Catalan lessons, ghosts, floods and flighty hens. London also has its challenges, as she juggles eccentric, rich and often neurotic clients between Mayfair and Manhattan and is hotly pursued by lucrative deals. But increasingly Anna finds herself craving the simple life of her Spanish idyll because as she discovers, you can take the girl out of Mallorca, but you can't take Mallorca out of the girl.
---
THE WORLD!
---
I had no life experience, zero common sense and had never eaten rice. I suffered from debilitating anxiety, was battling an eating disorder and had just had my heart broken. I hoped by leaving to travel the world I would be able to heal myself.
Instead, Lauren's travels were full of bad luck and near-death experiences. Over the space of a year, she was scammed and assaulted; lost teeth and swallowed a cockroach. She fell into leech-infested rice paddies, was caught up in a tsunami, had the brakes of her motorbike fail and experienced a very unhappy ending during a massage in Thailand. It was just as she was about to give up on travel when she stumbled across a handsome New Zealander with a love of challenges…
A brand new collection of remarkable travel tales from 'Silver Travellers'. Dervla Murphy travelling in Cuba at the age of 74, Matthew Parris swimming the Thames at 60, and Colin Thubron climbing the last stronghold of the Assassins in his 60s are among the writers recounting their adventures, often defying expectations – and the odds – and going outside their comfort zone to take a less-travelled path in later life. Published with participation from the Silver Travel Advisor, this single volume brings together contributions – some original, some previously published – from independent-minded souls whose experiences have been entertaining, amusing, thrilling, and even a little irresponsible. Other contributors include Roger Bray, 'Green Goddess' Diana Moran and our very own Hilary Bradt.
It's time to get off the beaten path. Inspiring equal parts wonder and wanderlust, Atlas Obscura celebrates over 700 of the strangest and most curious places in the world. Talk about a bucket list: here are natural wonders the dazzling glowworm caves in New Zealand, or a baobob tree in South Africa that's so large it has a pub inside where 15 people can drink comfortably. Architectural marvels, including the M.C. Escher-like stepwells in India. Mind-boggling events, like the Baby Jumping Festival in Spain, where men dressed as devils literally vault over rows of squirming infants. Not to mention the Great Stalacpipe Organ in Virginia, Turkmenistan's 40-year hole of fire called the Gates of Hell, a graveyard for decommissioned ships on the coast of Bangladesh, eccentric bone museums in Italy, or a weather-forecasting invention that was powered by leeches, still on display in Devon, England. Created by Joshua Foer, Dylan Thuras and Ella Morton, ATLAS OBSCURA revels in the weird, the unexpected, the overlooked, the hidden and the mysterious. Every page expands our sense of how strange and marvelous the world really is. And with its compelling descriptions, hundreds of photographs, surprising charts, maps for every region of the world, it is a book to enter anywhere, and will be as appealing to the armchair traveller as the die-hard adventurer. Anyone can be a tourist. ATLAS OBSCURA is for the explorer.
Like humans, cities are mortal. They are born, they thrive, and they eventually die. In Atlas of Lost Cities, Aude de Tocqueville tells the compelling narrative of the rise and fall of such notable places as Pompeii, Teotihuacán, and Angkor. She also details the less well known, including Centralia, an abandoned Pennsylvania town consumed by unquenchable underground fire; Nova Citas de Kilamba in Angola, where housing, schools, and stores were built for 500,000 people that never came; and Epecuen, a tourist town in Argentina now swallowed up by water. Original artwork shows the location of the lost cities, as well as a depiction of how they looked when they thrived.

This alluring read includes 40 locations that are rife with disaster, chaos, paranormal activity, and death. The locations gathered here include the dangerous Strait of Messina, home of the mythical sea monsters Scylla and Charybdis; the coal town of Jharia, where the ground burns constantly with fire; Kasanka National Park in Zambia, where 8 million migrating bats darken the skies; the Nevada Triangle in the Sierra Nevada mountains, where hundreds of aircraft have disappeared; and Aokigahara Forest near Mount Fuji in Japan, the world's second most popular suicide location following the Golden Gate Bridge.
Acclaimed travel writer and Oxford geography don Nick Middleton takes us on a magical tour of countries that, lacking diplomatic recognition or UN membership, inhabit a world of shifting borders, visionary leaders and forgotten peoples.
Most of us think we know what a country is, but in truth the concept is rather slippery. From Catalonia to the Crimea, and from Africa's last colony to the European republic that enjoyed just a solitary day of independence, the places in this book may lie on the margins of legitimacy, but all can be visited in the real world.
Beautifully illustrated by fifty regional maps, each shadowy country is literally cut out of the page of this book. Alongside stories, facts and figures, An Atlas of Countries That Don't Exist brings to life a dreamlike world of nations that exist only in the minds of the people who live there.
When David Bramwell's girlfriend left him for someone she described as 'younger, but more mature than you', he decided he had something to learn about giving. Taking a year off, he journeyed through Europe and America seeking out extraordinary communities that could teach him how to share. He wanted answers to a few troubling questions: Is modern life rubbish? Why do so many of us feel lonely and unfulfilled despite a high standard of living? Are there communities out there who hold the key to happiness? And if so, why do so many of their inhabitants insist on dressing in tie-dye?
His quest led him to an anarchist haven in the heart of Copenhagen; some hair-raising experiences in free love communities; an epiphany in a spiritual caravan park in Scotland and an apparent paradise in a Californian community dreamed up by Aldous Huxley. Most impressive of all was Damanhur, a 1000-strong science fiction- style community in the Alps with an underground temple the size of St Paul's Cathedral, a village of tree houses and a 'fully-functioning time machine'.
Inspired, he returned home with a desire to change. Not just himself but also his neighbourhood and city. Find out how he succeeded in this wry and self-deprecatingly funny spiritual journey that asks some big questions and finds the answers surprisingly simple.
---
Pin for later – Books about travel to inspire your wanderlust
---