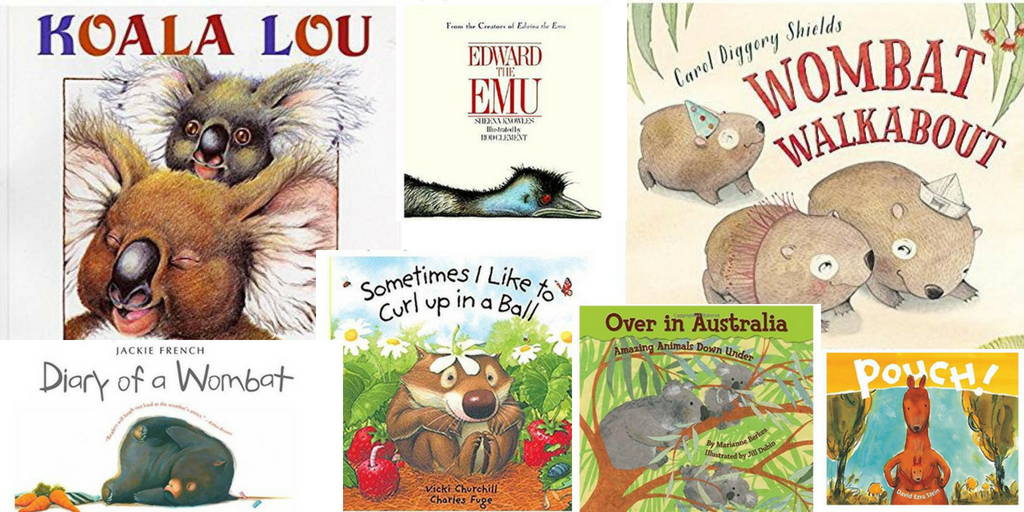 Books about Australian animals to share with children. Australia has so many wonderful creatures large and small that can't be found anywhere else in the world. A great way to introduce Australia to your children before you move (or even to teach them more when they arrive) is to find out about all the great animals and birds there are here!
It will also make them feel more at home at school when other kids talk about possums, kangaroos and wombats! I have loved learning about the different animals and I enjoy reading some of these books to the children I teach.
So here are some great books about Australian animals to share with children!
Note – this post contains affiliate links please read my disclosure statement for further information
---
BABY TO AGE 2
---
AN AUSTRALIAN ABC OF ANIMALS
---
An Australian ABC of Animals, a lavishly illustrated alphabet book by well-known Aboriginal artist Bronwyn Bancroft, is a must-have for every home and library. The book is both a delightful introduction to the alphabet, and a unique exploration of Australian wildlife—some familiar, others more unusual—as seen through the eyes of an indigenous artist. Animals include: kangaroo, bandicoot, wombat, echidna, cockatoo, frog and goanna—and many more.
An Australian ABC of Animals

---
AN AUSTRALIAN 123 OF ANIMALS
---
An Australian 1 2 3 of Animals

---
E IS FOR ECHIDNA
---
A great introduction to Australian words in this beautiful book by Bronwyn Bancroft.
E Is for Echidna: My Australian Word Book

---
POUCH
---
A lovely board book which tells the story of a baby kangaroo's  first steps towards independence.

---
AGES 2 – 4
---
CAN YOU CUDDLE LIKE A KOALA
---
A book about little animals from around the world. A great book to read at bedtime with your little one.
Can You Cuddle Like a Koala?

---
SWIM LITTLE WOMBAT SWIM!
---
Another great story about wombats! Age 2+

---
AGES 4-7
---
OVER IN AUSTRALIA
---
A fun book to share with your children! Australian animals are unique. Their babies may be riding in mama's pouch, or hitching a ride on daddy, piggy-back! Children will sing, clap and count to the rhyme of "Over in the Meadow" as they learn about wallabies, koalas, wombats, and more.
Over in Australia: Amazing Animals Down Under

---
DIARY OF A WOMBAT
---
A wombat's work is never done…Take a trip with a wombat, and discover the ins and outs of her day in this modern classic Australian picture book. There are holes to be dug and territory to be defended – and don't forget all the eating and sleeping that needs to be squeezed in too!
Diary of a Wombat (Ala Notable Children's Books. Younger Readers (Awards))

---
DIARY OF A BABY WOMBAT
---
A wombat's work is never done…The star of the international bestseller Diary of a Wombat is back – with a new mouth to feed! Cuter, stroppier and even more determined than her mother … meet Mothball's baby.
Like any growing family, this baby wombat and her mum are finding it hard to fit into their home. When setting out to dig a new, bigger hole with room for them both, Shaggy Gully's newest resident gets some help from a friend, causes more mayhem than Mothball ever did, and sorts things out in hilarious style.

---
POSSUM MAGIC
---
A great book f0r 5-7 year olds an a firm favourite in Australia! Got to love the possums!

---
WOMBAT WALKABOUT
---
Early one morning when the sun came out, Six woolly wombats went walkabout.
This whimsical counting poem follows six brave little wombats on walkabout in the Australian outback. But the wilderness is bound to bring more excitement than an innocent counting game. Soon enough, the curious wombats learn to beware the hungry dingo!

---
KOALA LOU
---
Everyone loved soft, round, cuddly Koala Lou, but her mother loved her most of all and told her so a hundred times a day. As time passed and more little brothers and sisters were born, her mother became too busy to tell Koala Lou that she loved her. Koala Lou grew sad, and oh, how she longed to hear her mother say it once again. Then one day Koala Lou though of a brilliant plan to win back her mother's love and hear again those wonderful words, " Koala Lou, I DO love you!"
Koala Lou

---
SOMETIMES I LIKE TO CURL UP IN A BALL
---
Sometimes I like to curl up in a ball
So no one can see me
because I'm so small.
Little wombat spends a day doing favorite things-what could they be? Are they your favorites, too? Let's look and see. Soft-toned illustrations portray an endearing little wombat and the warm and friendly world around him. Every page is filled with charming details that stand up to repeated viewings: cute mice, rabbits, and turtles peering from behind tall grass, marching pigeons, and a menagerie of other adorable animals. The images, along with the lyrically rhyming text, combine to make a sweet-spirited bedtime story to ease young ones to sleep.
Sometimes I Like to Curl Up in a Ball
 (AGE 2 -5)

---
EDWARD THE EMU
---
A lovely story. Edward is tired of being an emu, so he decides to try being something else for a change. First he spends some time swimming with the seals. Next, he lounges with the lions. He even slithers with the snakes. But Edward soon discovers that being an emu may not be so bad after all. So he heads back to his pen, only to find a big surprise awaiting him ….

---
EDWINA THE EMU
---
n this sequel to the popular "Edward the Emu", Edward and his mate, Edwina, are the proud parents of 10 little emu chicks. "Don't get depressed. I'll find a job, you stay on the nest", says Edwina to her stunned mate. And so Edwina sets out to find work in this lighthearted offering from Down Under.

---
HEART IN THE POCKET
---
Mama Kangaroo loves her little Jo-Jo very much, but it's time for him to leave the safety of her pocket. But Jo-Jo is content where he is. In this tender tale about growing up, sweet illustrations portray a young kangaroo's fear of leaving his mother, and also the strong bond between mother and child.

---
WOMBAT STEW
---
An Australian classic!
Wombat Stew

---
MARSUPIAL SUE
---
Marsupial Sue Book and CD

---
HOP UP! WRIGGLE OVER!
---
"If you're a Kangaroo through and through, Just do what Kangaroos do." Young Sue really doesn't like being a kangaroo, so she goes off to find something better. First she tries climbing the trees like a koala, but that doesn't work. Then she wades into the sea like a platypus, but that's no good either. Finally, Sue joins up with some bouncy, jouncy wallabies…and discovers that being a kangaroo isn't so bad, after all. 
Hop Up! Wriggle Over!
---
I LOVE IT WHEN YOU SMILE
---
When Little Roo wakes up, he just feels grumpy. His mother tries everything to make him feel better, but nothing she does makes any difference. So how will a deep, wide, and muddy-at-the-bottom hole make Little Roo smile?

---
This cute, well-designed Australian Children's Book for young kids featuring hand drawn artwork of cute, Theodore the bear teaches young readers all about Australia, Australian slang and what life is like down under.
Australian Children's Book: Theodore Down Under (Australian Adventures)

---
AGE 8+
---
ROTTO! KYLIE AND THE QUOKKAS OF ROTTNEST ISLAND
---
On a class trip to an exotic Australian island, Kylie saves a quokka, an adorable marsupial, from a vicious predator. Clancy the quokka shows his gratitude by revealing to her a great secret: quokkas can talk! Together they set off to save the other quokkas, an adventure that will require all of their courage, resourcefulness and determination.
Rotto!: Kylie and the Quokkas of Rottnest Island

---
ESCAPE TO AUSTRALIA
---
Rafe isn't exactly considered a winner in Hills Village Middle School to say the least, but everything's about to change: he's won a school-wide art competition, and the fabulous prize is getting to jet-set off to Australia for a whirlwind adventure!
But Rafe soon finds that living in the Land Down Under is harder than he could've ever imagined; his host-siblings are anything but welcoming, the burning temperatures are torturous, and poisonous critters are ready to sting or eat him at every step. So with the help of some new misfit friends, Rafe sets out to show everyone what he does best: create utter mayhem!
Middle School: Escape to Australia

---
AUSTRALIA
---
Join intrepid explorer Benjamin Blog and his inquisitive dog Barko Polo as they travel to one of the world's most fascinating countries: Australia! The book includes chapters on Australian history, geography, cities, people, and food, as well as visiting some of the most famous places of this unique country, such as Uluru and Sydney Harbour Bridge.
Australia: A Benjamin Blog and His Inquisitive Dog Guide (Country Guides, with Benjamin Blog and his Inquisitive Dog)

---
From the kangaroo and the koala to the outback and the Great Barrier Reef, Australia is a fascinating country for kids and their parents alike. In this engaging, easy-to-read book, kids are introduced to Australia through colorful photographs, informational charts and maps, and fun Did You Know facts, all designed to bring Australia to life for young readers. The book covers topics such as the first European settlers, the Australia outback, the curious Australian animals (including the Tasmanian devil), the Aboriginal peoples, and much more.

---
PIN FOR LATER – Books about Australian animals to share with children
---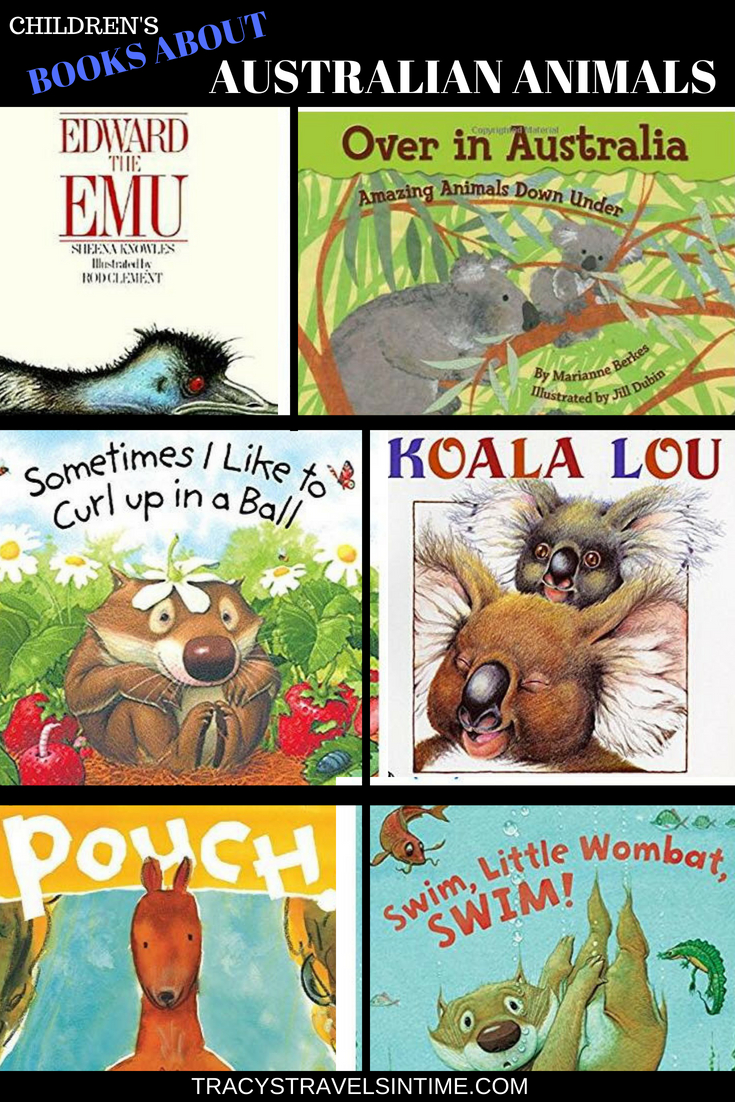 Books about Australian animals to share with children
JOIN MY NEW

FACEBOOK GROUP

FOR ALL MY EXPAT TIPS AND  INFO ABOUT  LIFE IN AUSTRALIA 
---
---