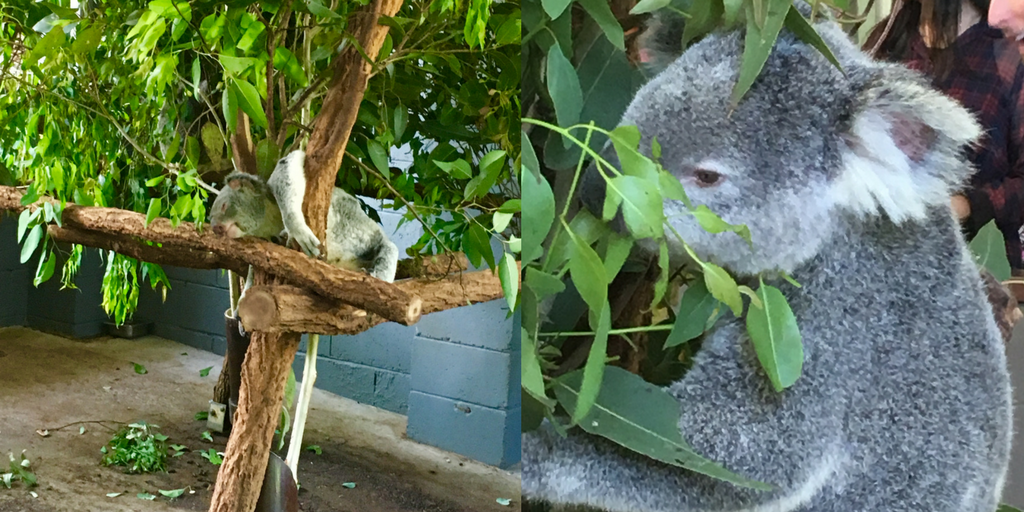 ---
A GUIDE TO VISITING LONE PINE KOALA SANCTUARY
One of the must-visit places in Brisbane is the Lone Pine Koala Sanctuary. Opened in 1927 the sanctuary is the first and largest koala sanctuary in the world.
Today the sanctuary is home to over 130 koalas as well as a myriad of other Australian animals and birds.
So what animals can you see when visiting Lone Pine Koala Sanctuary?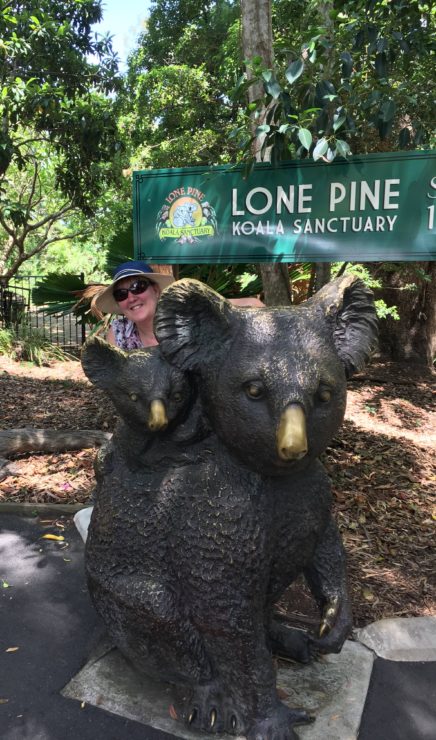 ---
KOALA
---
Everyone loves the koala! Koala are marsupials (like kangaroos) which means they give birth to underdeveloped babies who make their way to a pouch to complete their growth. Koala eat eucalyptus leaves and spend most of their life in trees eating and snoozing!
There are lots of koala to see at Lone Pine including lots of babies. Koala live longer in captivity than in the wild. In the wild koala are often killed by cars and you will see plenty of signs warning of koala when you drive around Australia. Koala also die in bush fires and also from chlamydia which is untreatable.
Following our last visit I learnt that Koala have 2 opposable thumbs on each hand! Very useful for climbing trees!
---
KANGAROO
---
Kangaroos are another marsupial found at Lone Pine. And here you can feed them with specialised food sold in the general store at the kangaroo reserve. They are very laid back and used to human interaction and will allow you to stroke them (such soft fur!) We have been lucky to have seen a number of kangaroos and wallabies in the wild but again there are a huge number of fatalities on the roads every year.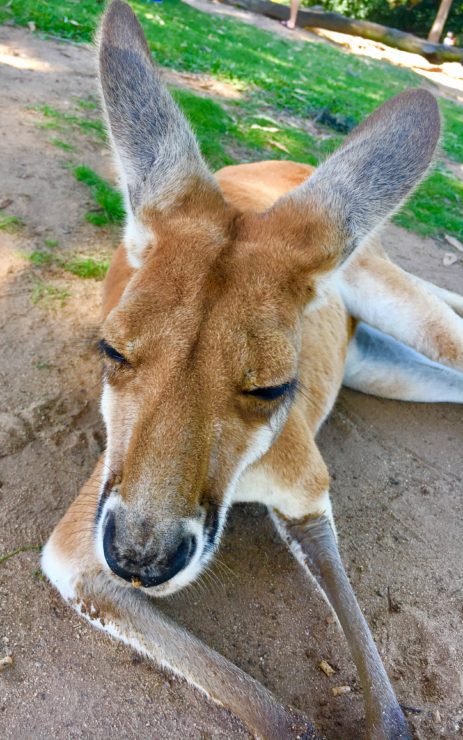 ---
WOMBATS
---
They are so much bigger than I had imagined! They are mainly nocturnal.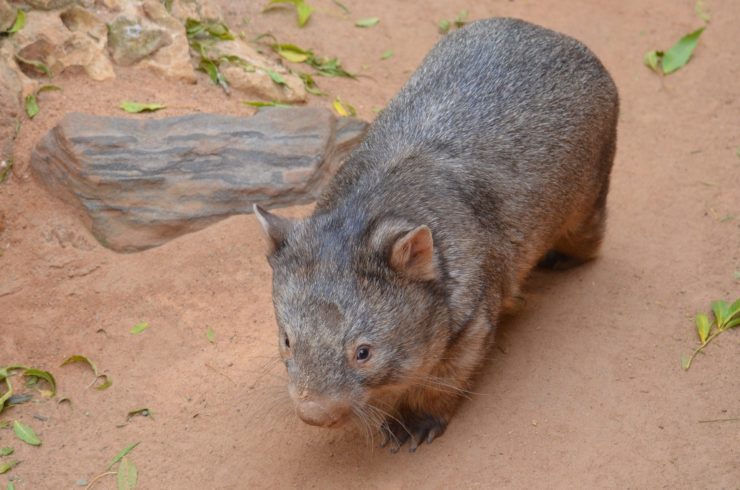 ---
TASMANIAN DEVILS
---
Only found in Tasmania these little devils have some rather sharp teeth and are carnivores!
---
DINGO
---
There are dingo all over Australia but not in Tasmania (the little Tasmanian devils took that territory!) To see wild dingo apparently Fraser Island in Queensland has a large population.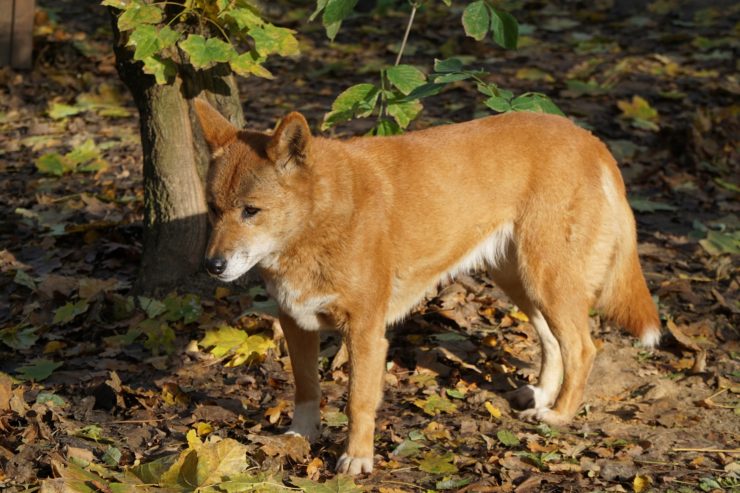 ---
PLATYPUS
---
I have been lucky to see these little creatures in the wild at Broken River in Eungella National Park but they are elusive so Lone Pine offers an opportunity to see these egg-laying mammals up close.
---
ECHIDNAS
---
Look at that tongue! The tongue can extend up to 18 cm from the snout and is used to catch and eat ants and termites. The echidna is another egg laying mammal found in Australia.
---
REPTILES
---
As well as the numerous lizards you can find wandering along the paths at Lone Pine there are a number of venomous snakes, crocodiles and turtles in the sanctuary.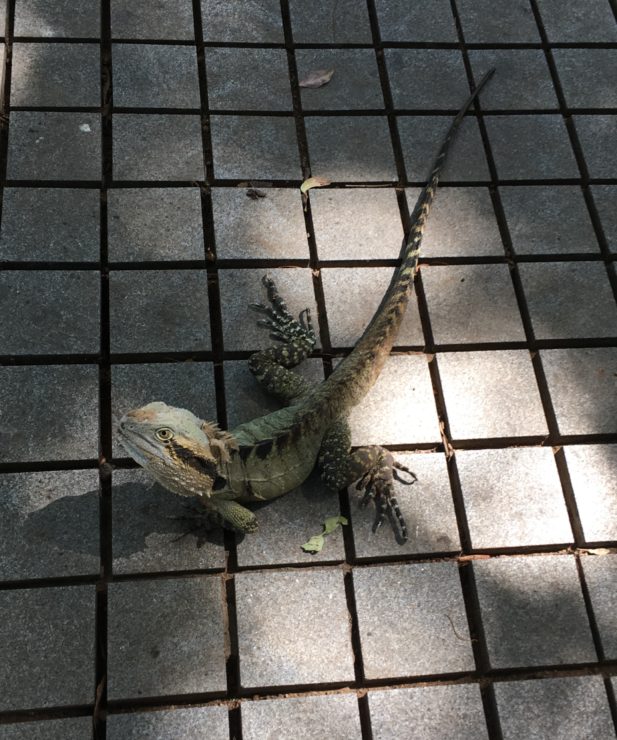 ---
BIRDS
---
There are lots of beautiful birds in Australia and cockatoos, emu, cassowary and kookaburras are some of the species you can see at Lone Pine.
These are just some of the animals, reptiles and birds you can see when visiting Lone Pine Koala Sanctuary! To see more and find out more in-depth information about them you will need to visit!!
---
---
FACT FILE – YOUR QUESTIONS ANSWERED
---
---
1, Where is Lone Pine Koala Sanctuary and how do I get there?
The sanctuary is located at 708 Jesmond Road, Fig Tree Pocket about 12 km from Brisbane city.
By car – There is lots of free parking at the sanctuary.
By bus –
– Bus number 430 from Platform 2C, Queen Street Station
– Bus number 445 from Stop 40, Adelaide Street
By boat-
There is also a cruise that can be booked which can take you along the Brisbane river from Southbank to Lone Pine daily but this needs to be booked directly with the company. (I will hopefully try this out and add more info shortly)
2, What days is the sanctuary open?
The sanctuary is open every day even public holidays – we went on Christmas day!
3, How much is entry?
Adult $36 Child 3-13 $22, student $24, family 2 adults 3 children $85, family 1 adult 3 children $60, senior $24.
If you are planning to visit more than once a yearly pass maybe more cost effective at $185 for a family of 2 adults plus 3 children, $135 for a family of 1 adult and 3 children, $70 an adult, $55 for a student aged 14-17 years), $45 for a child aged 3-13 and $55 for pensioners) Prices correct 1/1/18 but do check on the website.
Yearly membership comes with added benefits such as 20% off food and beverages and other great benefits (check website for further info)
4, Can I buy food and drink when visiting Lone Pine Koala Sanctuary?
There are cafés in the sanctuary where you can purchase food/drink etc.
5, Is Wi-Fi available?
There is free Wi-Fi everywhere in the sanctuary.
6, How do I know what is on when visiting Lone Pine Koala Sanctuary?
Pick up a guide to the sanctuary for $1 on entry as this gives you a map to the park as well as a daily schedule for shows and talks.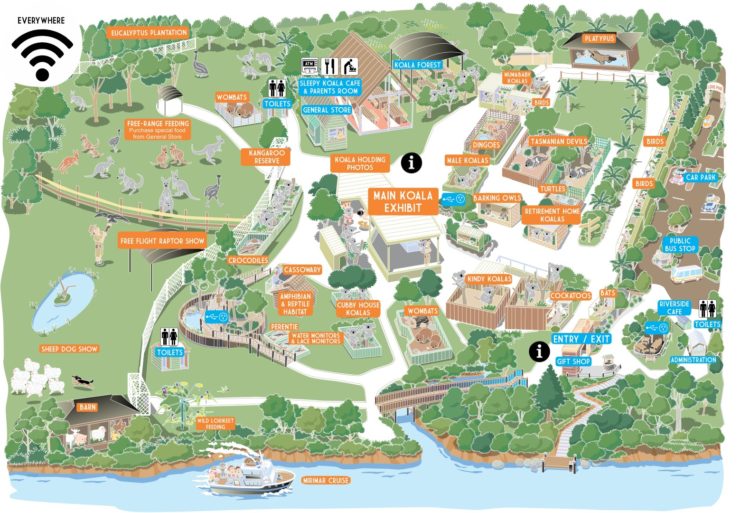 Check out my youtube video I made about our visit!
---
---
PIN FOR LATER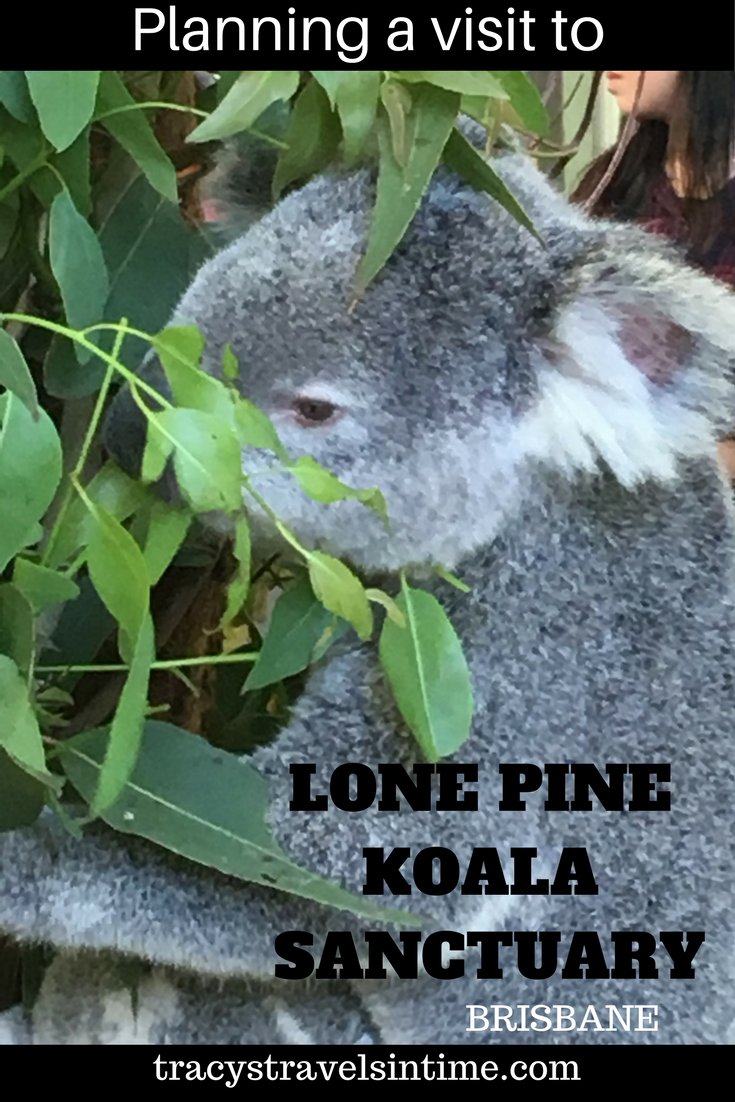 ---
---
YOU MAY BE INTERESTED IN THESE POSTS ABOUT AUSTRALIA AND EXPAT LIFE
---
An expat review of life in Australia
Living in Australia – expat dreams versus expat reality
A round-up of 65 things I have learnt since moving to Australia
Expat diary – Life in Brisbane Part 2
Expat diary – Life in Mackay Part 1
Expat diary – Life in Mackay Part 3
Top 20 things to do in Queensland
6 common Australian myths debunked
Where to find animals in their native habitat in Queensland
Rachel's story – Moving to Australia
10 Australian movies to watch before you visit
25 books about Australian animals to share with children
Sharing stories about our expat life in Brisbane Part 4
Things I love about living in Australia
Things I don't love about living in Australia
---
JOIN MY NEW

FACEBOOK GROUP

FOR ALL MY EXPAT TIPS AND  INFO ABOUT  LIFE IN AUSTRALIA 
---
---