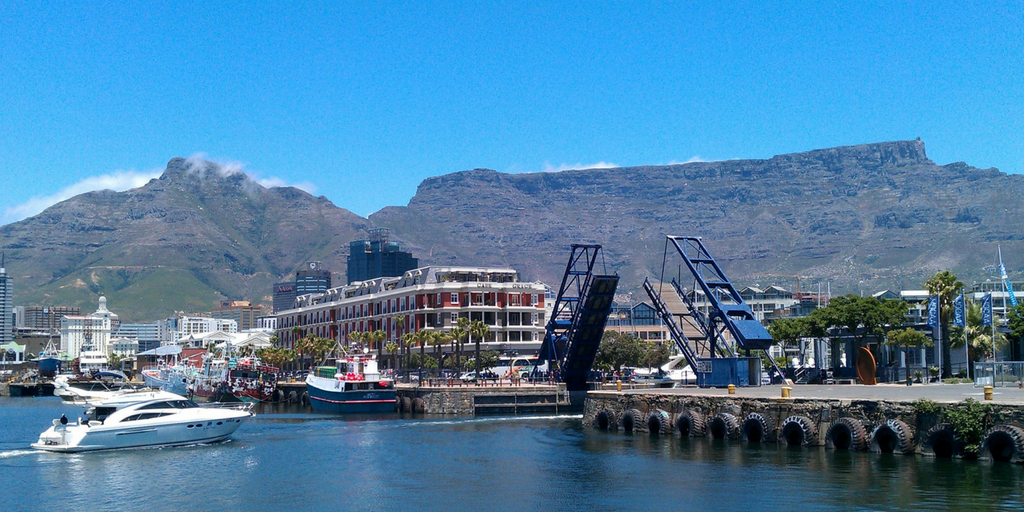 THINGS TO DO AND SEE IN SOUTH AFRICA -THE CAPE PROVINCES
There are a total of  9 provinces in South Africa – Free State, Gauteng, KwaZulu-Natal, Limpopo, Mpumalanga, Northern Cape, North West Cape, Eastern Cape and Western Cape. If you are planning your itinerary for SA I would suggest having a look at what each province has to offer and planning around that – I would however highly recommend visiting Cape Town!
I will look at the top things to do in South Africa by looking at each province but one great experience that can be had all over SA is my top choice for the NUMBER 1 SPOT.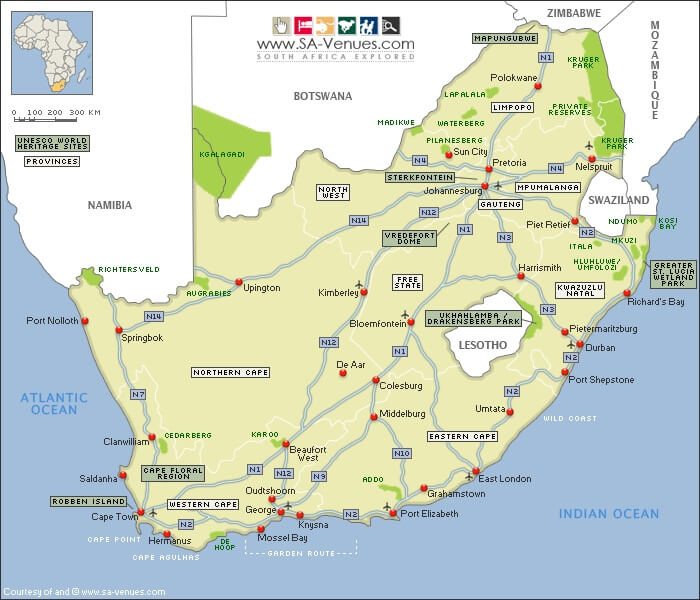 1. VISIT A GAME RESERVE
Visit one of the many game reserves  – and spot the big 5! These are elephant, rhino, lion, buffalo and leopard!
There are game reserves all over South Africa  – both private and public – with Kruger National Park perhaps the most well known of the public parks. Other parks include
Read  – NINE REASONS TO VISIT THANDA SAFARI KWAZULU-NATAL
Tip – book game drives at various times of the day – don't just do one! I have been out one day and seen very little and the next day seen just about every animal going! Remember the animals are wild so it can be luck sometimes seeing some animals (particularly the big cats). If going on an early drive then dress warmly – it can be chilly in the mornings particularly during the South African winter. Also some game reserves are malaria free so check on this if it is something you wish to ensure!
Lets see what the Eastern Cape, Northern Cape, and Western Cape have to offer
This is not an exhaustive list but some of the great things these 3 provinces offer visitors!
Where – Cape Town!!!
Why? Because the views are fantastic! And come on…who doesn't want to stand on top of that beautiful mountain!!! If you are planning to travel overland to Cape Town from Kruger Park check out this great 2 week itinerary for planning the drive!
TIP – Check the weather as the tablecloth (cloud) can appear, cover the mountain and ruin any views!! The last time I was in Cape Town we had already booked a tour for the one clear day we had during our stay so we didn't go to the top that time and I wasn't happy!!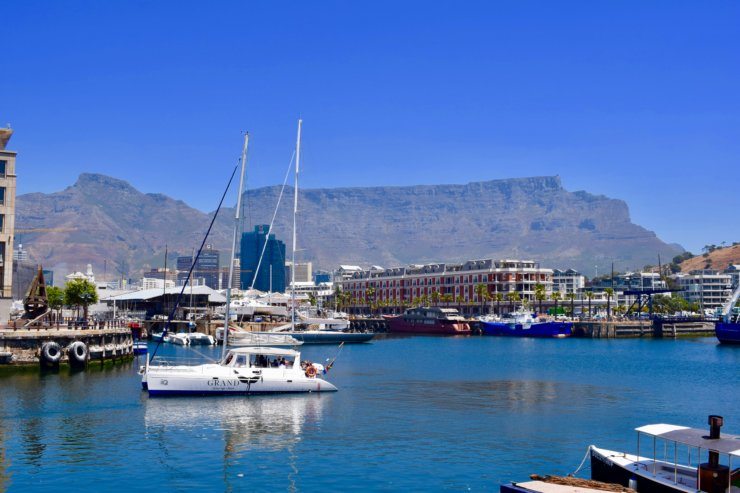 3. TAKE A STROLL ALONG THE V&A WATERFRONT
Where?  Cape Town
Why? For great shopping, great restaurants and great views of Table Mountain!
TIP – check out the website for visitor information. I usually stay close the the waterfront as there is always loads to see and do and some great restaurants. For hotels in the area of the Waterfront click HERE!
Where – Simon's Town near Cape Town
Why? Because who doesn't love penguins!!
TIP – Go early to get parking!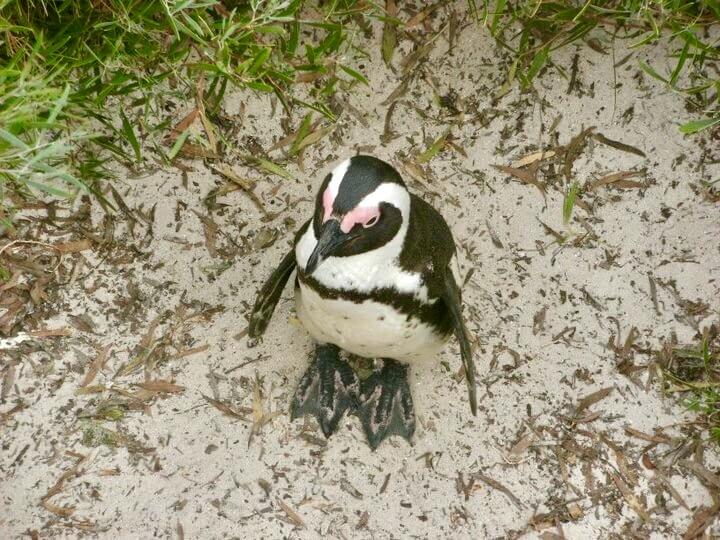 5. Spend some time trying wines in the Cape!
Where – There are some outstanding vineyards to visit in the Cape – head out from Cape Town t0 Franschhoek and Stellenbosch the most well known of the wine growing areas in SA and home to many fabulous vineyards!
Why? If you like wine then some of the best in the world comes from the Cape. With the exchange rate being favourable for those with hard currencies (not sure the £££ fits these days!) then it is cheap!
TIP – go and stay at a vineyard! There are some excellent tours available too which you can check out HERE!
To find out more about wines around the world including in the Cape check out the wine travel guides on Carpe Travel.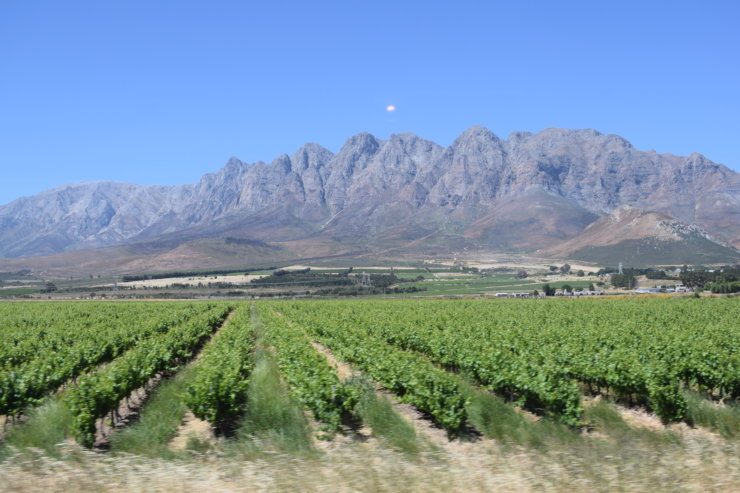 Where – Kirstenbosch a beautiful botanical garden is found against the eastern slopes of Cape Town's Table Mountain.
Why? It is probably set on the most beautiful setting of any botanical garden in the world!
TIP – Definitely go on the Centenary Tree Canopy Walkway. This is new since I was last there and is said to give great views across the tree canopy of the mountains and gardens.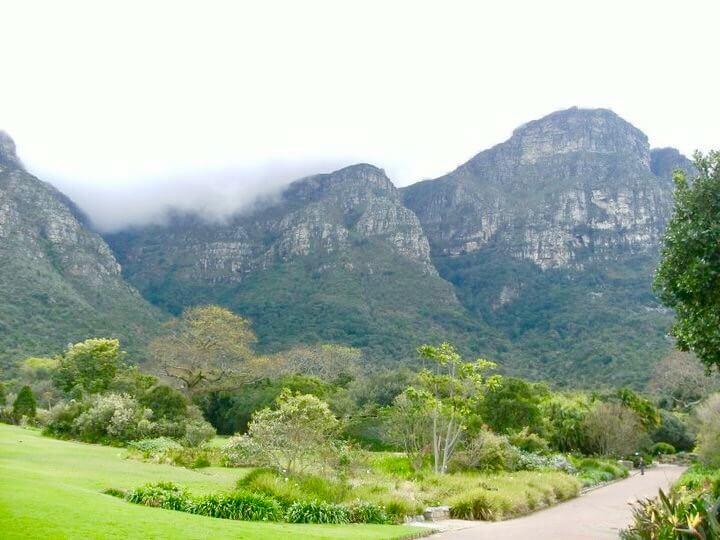 Where – Robben Island is a small island in Table Bay about 12 km off the coast from Cape Town.
Why?  One name – Nelson Mandela. He was held on the island for 18 of the 27 years he was imprisoned. The island is a designated UNESCO World Heritage Site
TIP – Book your tickets in advance – I have missed out twice through not booking ahead of our arrival in Cape Town!
Thanks to Travelgal Nicole from Nicolelabarge.com for this fantastic photographs!
8. Drive the Garden Route from a popular and scenic stretch of the south-eastern coast of South Africa.
Where – A 200 km drive from Mossel Bay in the west  to Plettenberg Bay and the Tstisikamma Forest in the east.
Why – One of the world's most beautiful drives with beautiful coastlines and scenery. Pass through towns such as George, Wilderness and Knysna on your way.
TIP – Plan at least 5 days to drive the route and add lots of activities into your itinerary as there is a lot to do on the way! Book hotels/B&B's along the route click here for suggestions!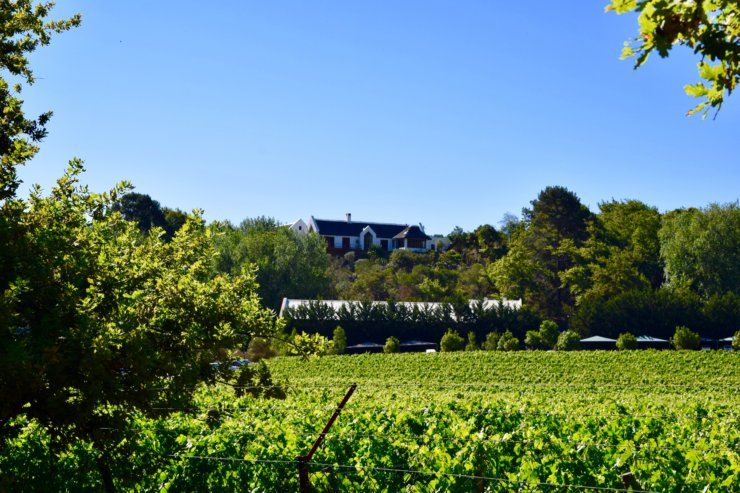 9. See lots of ostriches in Outshoorn
Where? – Outshoorn  which is on Route 62 an alternative drive deviating from the Garden Route which takes you through the Klein Karoo. (It runs from Cape Town to Outshoorn and is another great driving option)
Why? – it is the ostrich capital of the world!
TIP – Don't just visit the ostrich farms also head for Cango Caves an underground wonderland of limestone formations in all sorts of beautiful colours – be sure to book in advance as they are a popular attraction. If caves are natural wonders you enjoy visiting on holiday this guide to caves in South Africa and the world is an essential read!
10. Sharks – go cage diving to see great white sharks!!
Where – off Cape Town
Why? Because you probably are fearless.. or this is on your bucket list!!!
TIP – there are lots of companies who offer the chance to go cage diving with Great White Sharks. I would research options thoroughly before committing.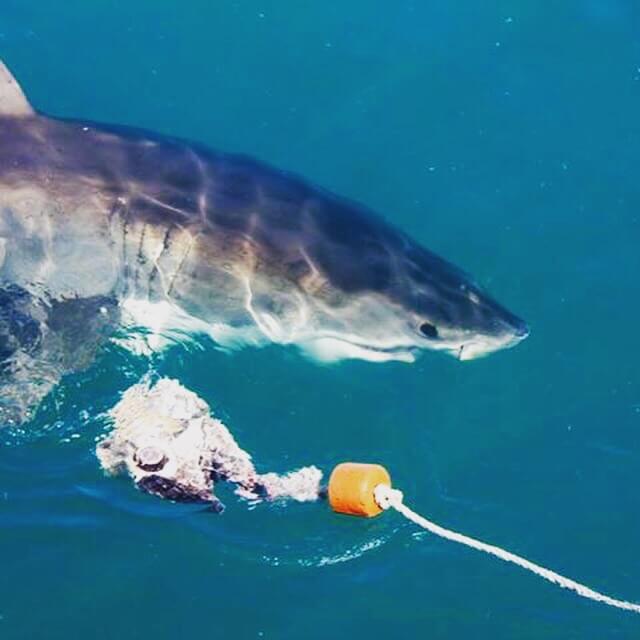 Thanks to Travelgal Nicole from Nicolelabarge.com for this fantastic photograph!
11. Stand at the most south-western tip of the continent of Africa!
Where? – Cape Point is at the tip of the Cape Peninsula which is 60 kms south of Cape Town and part of the UNESCO World Heritage site of the Cape Floral Region.
Why? Bragging rights! What a great photograph too! (If you want a photograph at the most southern point of the African Continent head to Port Agulhas!)
TIP – Be extremely careful of the baboons – they will take food from you and can be very aggressive.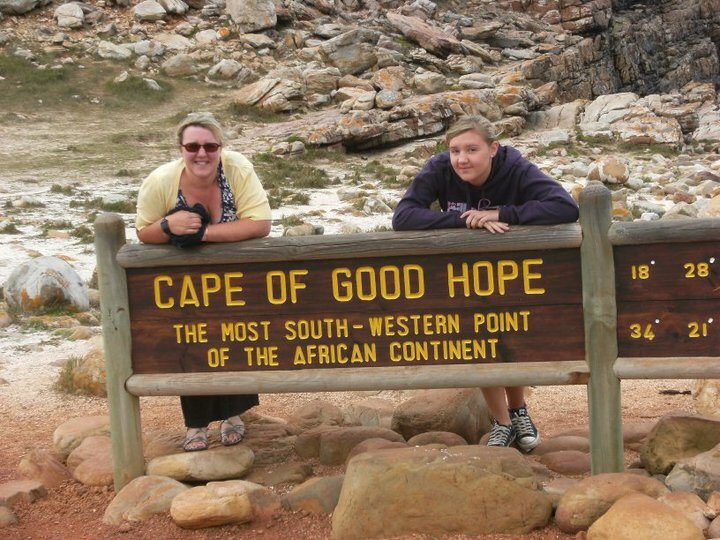 12. Go whale watching in Hermanus
Where? – Hermanus is situated on South Coast of the Western Cape.  (90mins from Cape Town) and is famous for its incredible  
Why? – For viewings of Southern Right Whales this is the place to be from late Sept to early October when the whales arrive to give birth. The whale season runs from June to late November.
TIP – check to ensure whales are around when you plan to visit as the season can vary slightly.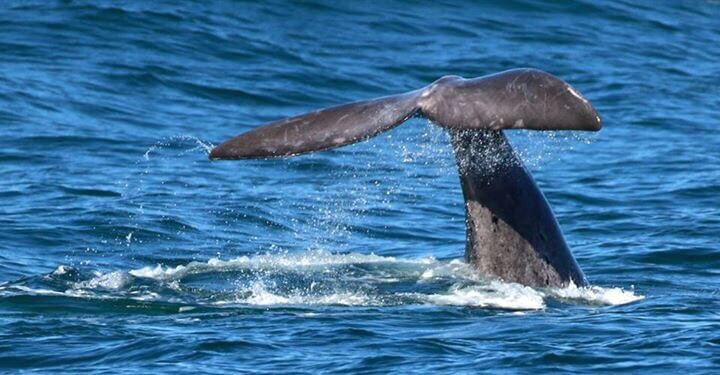 Thanks to Travelgal Nicole from Nicolelabarge.com for this beautiful photograph!
Where? The third largest game park in South Africa Addo is situated 72km from Port Elizabeth in the Eastern Cape.
Why? If you want to see elephants!
Tip – There are also lots of outdoor activities available such as hiking and horse riding in the Addo area.
14. See the wild flowers in Namaqualand.
Where? head to the Northern Cape (see Springbok on the map) for the Namaqualand flower route during the months of August and September
Why?  To see stunning spring flower displays.
Tip – Stop off at the tourist informations on the way as they will know where the best displays of wild flowers are!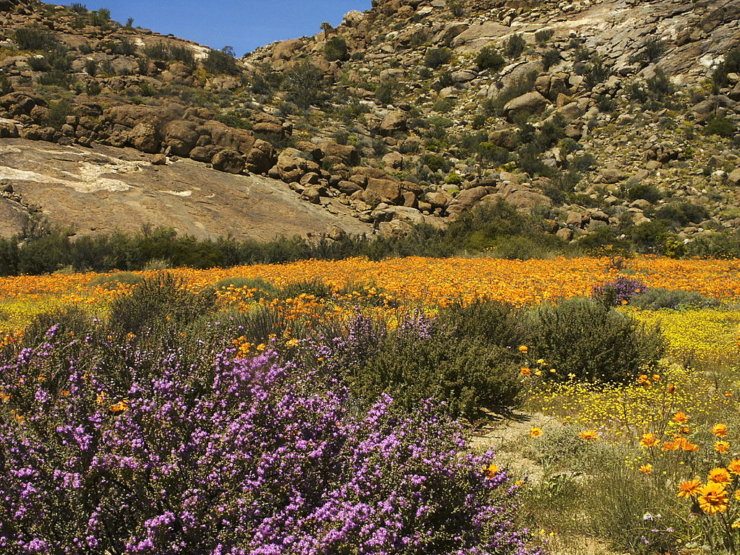 Desert in the spring, flowering Desert, Namaqualand, Goegap Nature Reserve, Northern Cape, South Africa
15. Peer into the big hole in Kimberley!
Where? Kimberley (the diamond city) is the capital of the Northern Cape province.
Why? Because it is a seriously massive hole!! It was the centre of diamond mining during the diamond rush in South Africa in the 1870's.
Tip- It gets very hot in this region in the summer (December/January) so try to visit at other times. To get around use the trams which are the only city in SA with a tram system!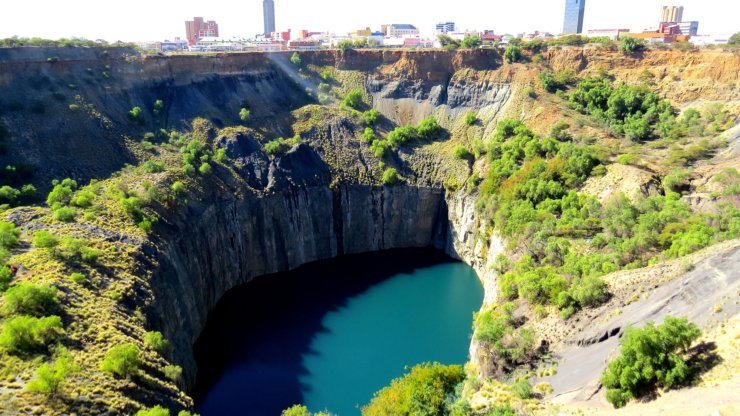 Thanks to Sara of  inafricaandbeyond.com for the beautiful photograph!
Where? The Tsitsikamma National Park incorporates 80km of coastline and is on the Garden Route Trail between George and Port Elizabeth.
Why? If you are a fan of outdoor activites then spending time at Tsitsikamma National Park is a must. There are a multitude of activities including hiking trails, bungee jumping, swimming and also the famous Storms River Suspension Bridge which spans 77 metres across the Storms River mouth and is a very popular attraction in the park.
TIP – There are lots of great activities to do in the area so make sure you are kitted out before setting off! Check out tours on my Viator page HERE!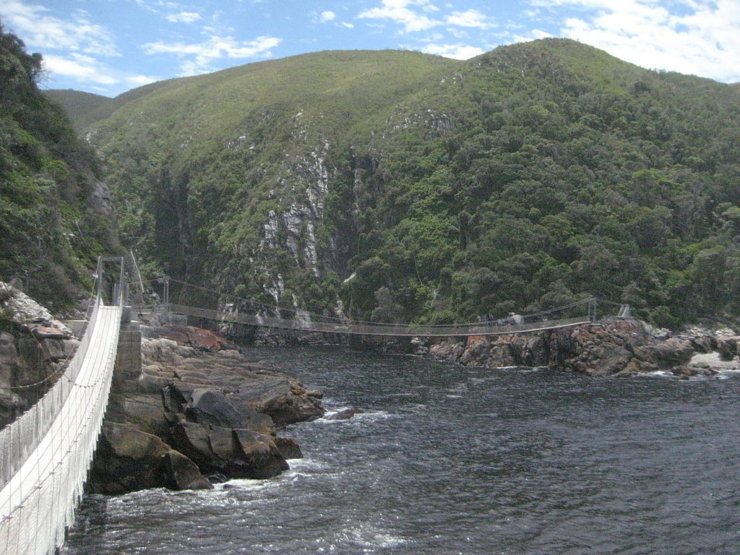 17. Visit the Valley of Desolation in Graaff-Reinet
Where?  In the Camdeboo National Park near the oldest town in the Karoo Graaff-Reinet the site is a 14 km drive from the town.
Why? One of the greatest natural wonders in the world – see the unique landscape, ecosystem and scenic beauty of the Great Karoo.
TIP – Make sure you fill up with fuel and supplies in Graaf Reinet before you go!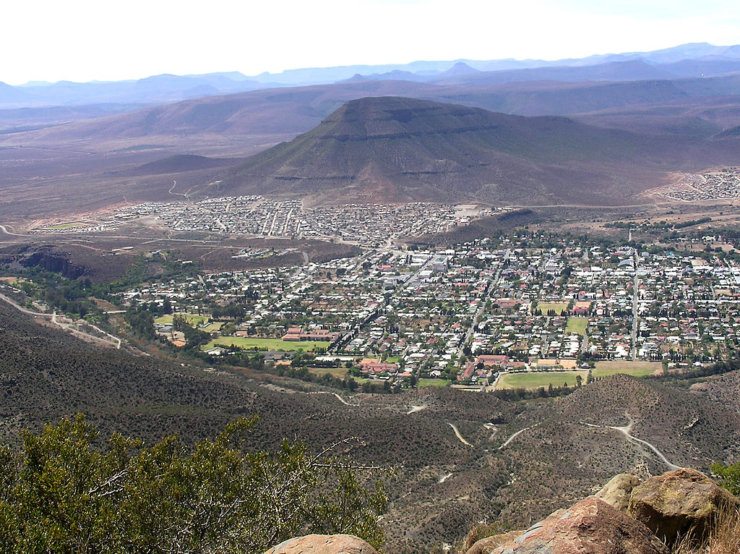 Where? In the small village of Nieu Bethesda just past the Karoo town of Graaff-Reinet. (see number 16!)
Why? The Owl House is a museum of the work that was created by Helen Martins between 1945 and 1976. It is a work of outsider art – read what that is HERE! She created hundreds of sculptures using concrete, crushed glass, mirrors and wire amongst other materials.
TIP – For some background before you visit! Athol Fugard wrote a play about Helen Martin's life called The Road to Mecca. It was made into a film of the same name.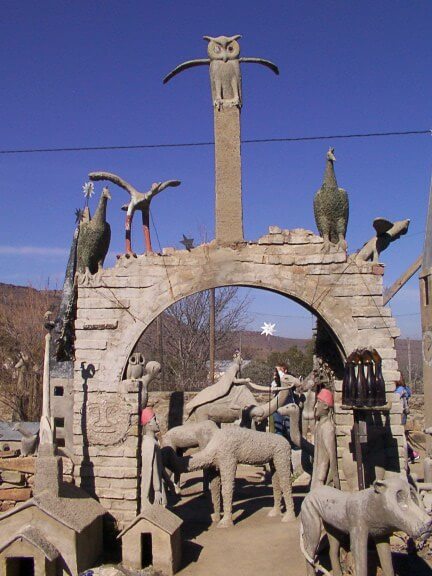 Where? On the Garden Route beside Plettenberg Bay.
Why? There are loads of activities to do! This includes Monkeyland, Birds of Eden, Jukani, Lawnwood Snake Sanctuary, Tenikwa Wildlife Awareness Centre, The Elephant Sanctuary, Hog Hollow Horse Trails, Plettenberg Bay Game Reserve to name a few! Check out the details HERE!
TIP – give yourself time as there are lots of things to see and do! 
20. Visit some of the many museums in Cape Town
Where? In Cape Town there are many excellent museums including The District Six Museum, the Heart of Cape Town museum and the South African Jewish Museum.
Why? Learn more about the history and peoples of Cape Town
Tip – If museums are not your thing or you have kids then a visit to the Two Oceans Aquarium may suit you better!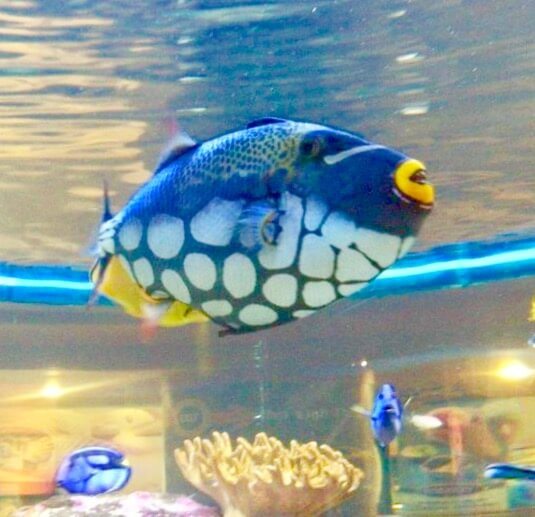 ---
---
I hope you enjoy planning a trip to South Africa and including some of these – things to do in South Africa – activities in your itinerary. Check out some tours available through Viator for the Cape Provinces HERE!
If you have something I have missed for the Cape provinces please let me know!
Pin for later – 80 things to do in South Africa Part 1
---
Tracy is your expert expat!
She has lived and worked in 7 countries on 4 continents and travelled to over 50 more. A qualified school teacher with an interest in history, reading, photography, nature and wildlife she is always planning her next trip (preferably by train)
With a lifetime of travel experience, and a network of friends all over the world, she is also able to share genuine insider guides, recommended best book lists and train journey inspiration to help you travel authentically to some of the most beautiful places on earth.
Through down-to-earth stories, tips and advice (based on her own extensive knowledge and experience of life as an expat) she also aims to support new and prospective expats to survive and thrive in Australia.