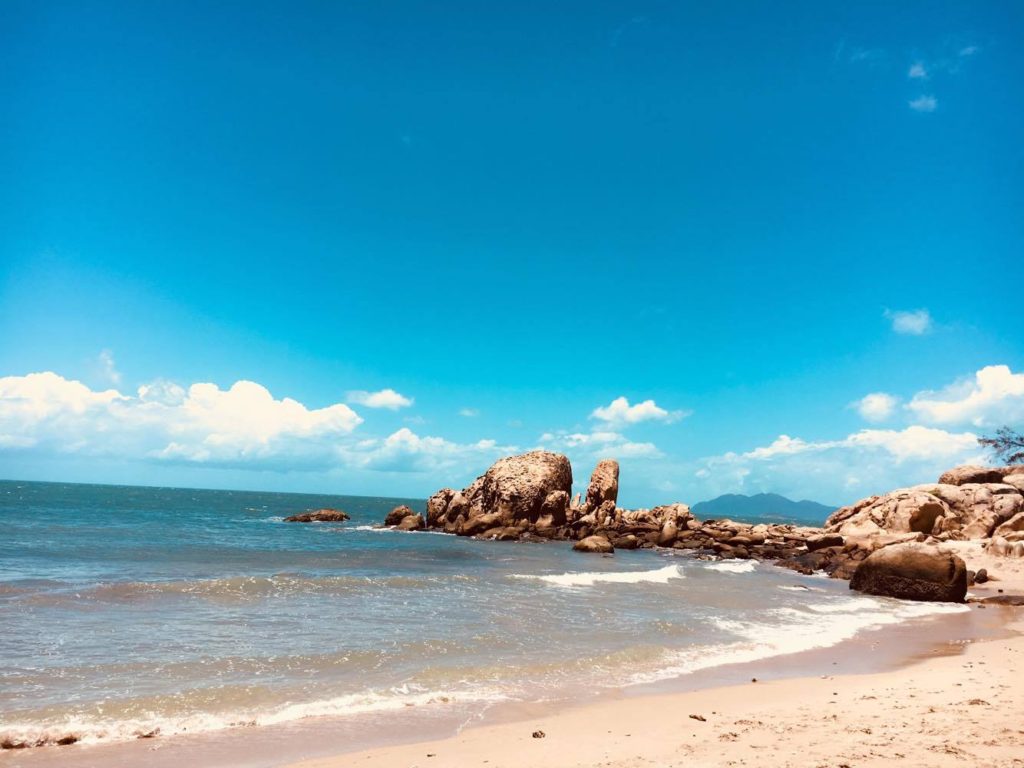 5 REASONS TO VISIT BOWEN
If you are travelling around Northern Queensland a stop in Bowen* for a few days or more should be on your itinerary! Why? Here are 5 reasons to visit Bowen!
*Bowen is a coastal town in the Whitsundays region of Queensland!
---
THE BIG MANGO!
---
Bowen is famous for its mangoes and so what better way to show this (and their love for BIG things) than to have a big mango by the Bruce Highway on your way to town! (I am so impressed by these BIG things that I am on a hunt for more of them for a future post!)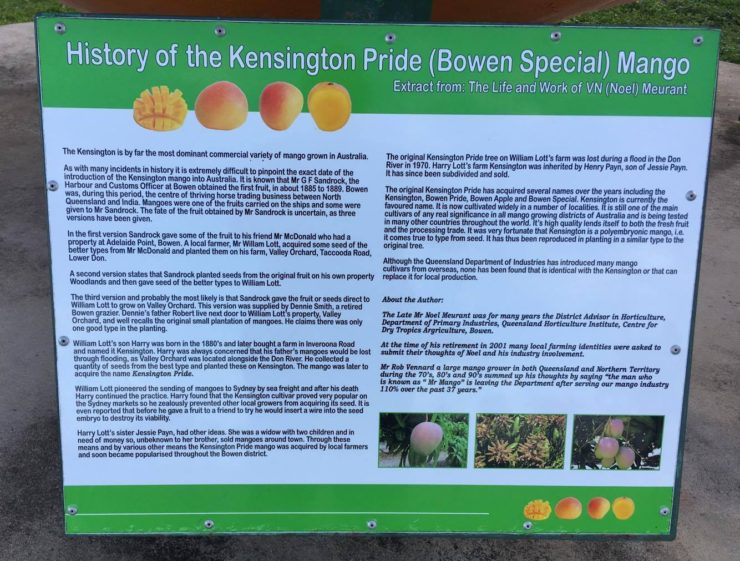 The big mango is also next to the Bowen visitor information so stop off, take a photo and check out what the area has to offer!
---
FABULOUS BEACHES
---
Beautiful bays and magnificent palm fringed beaches surround Bowen. With so many beaches to choose from – 8 in total – you will be spoilt for choice!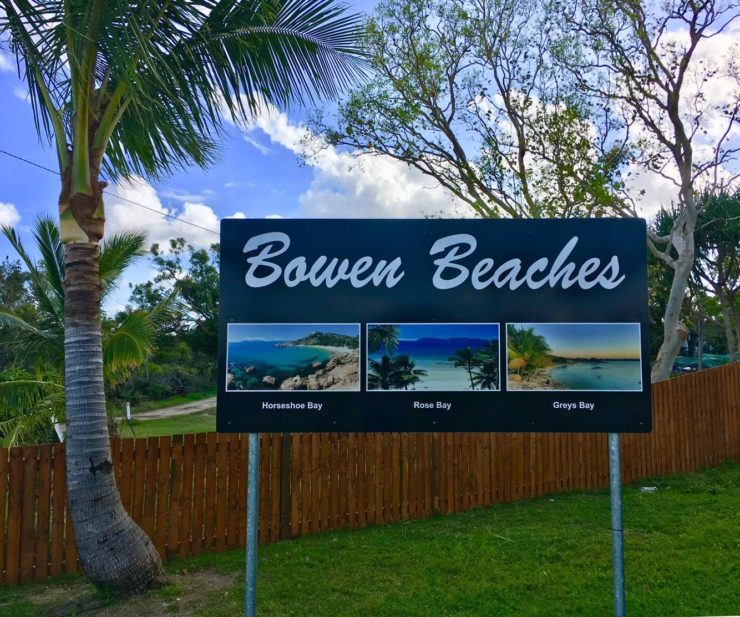 We were staying in Rose Bay but we did venture out to check out the other beaches. Unfortunately the weather was not on our side and it was a very windy weekend when we were in Bowen. It was still hot though and there were plenty of people enjoying the sand and sea.
The most popular beach in the area seems to be Horseshoe Bay – the beach has been rated in the top 11 of Australia's beaches (and there are plenty to choose from.)
The average sea temperature in summer is 28 degrees and even in winter it only dips to an average of 22 degrees! Beautiful!!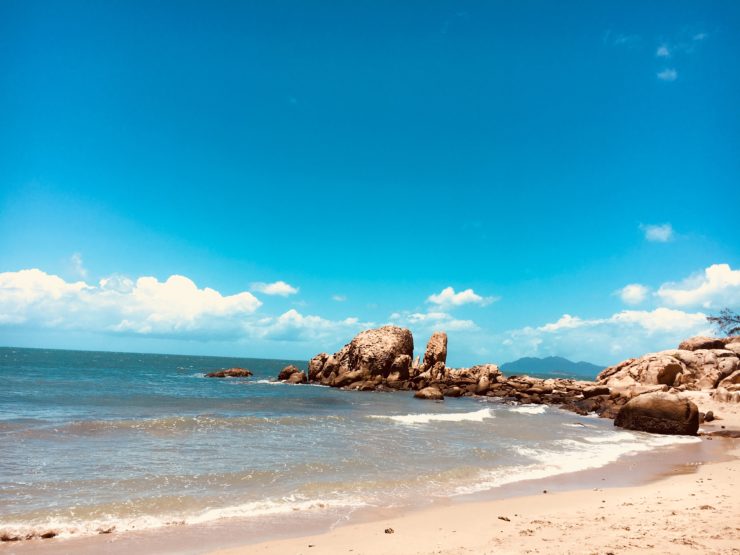 ---
SNORKELLING, DIVING AND FISHING
---
The waters off the coast of Bowen host millions of beautiful fish. Hard and soft coral can be found just meters from shore and keen snorkelers can feast their eyes on the underwater beauty.
If scuba diving is your thing the most popular areas are at Rose, Murray and Horseshoe Bays where the water is only 6/7 meters deep.
Fishing is also popular in Bowen with plenty of places to reel in that catch of the day!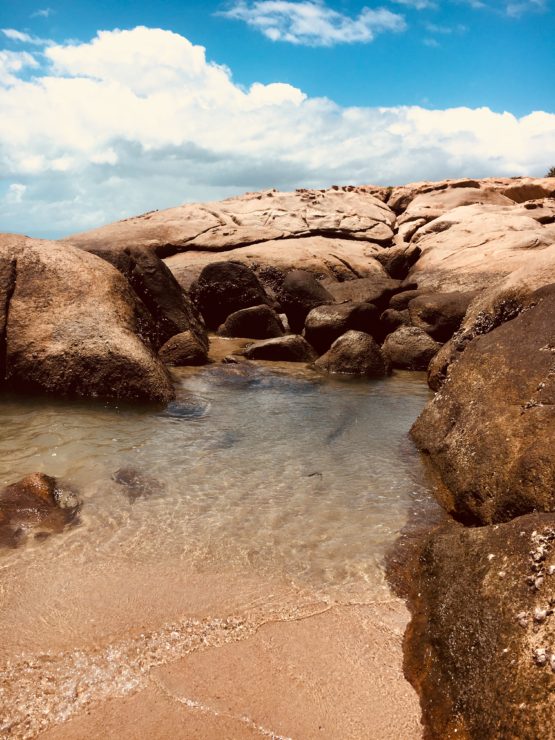 ---
CHECK OUT THE WALL MURALS AROUND TOWN
---
I love street art and the murals in Bowen are interesting as they reflect the history of the town from it's early settlement to present day.We managed to take pictures of a few of them but there are  in total. It did pique my interest to find out more about the history of the town but unfortunately the Bowen historical museum is closed at a weekend (!?) Such a pity as I had read that it was an excellent museum.
---
WORLD'S TASTIEST FISH AND CHIPS!
---
I kid you not I have never tasted fish like it – it was absolutely beautiful. I highly recommend a visit to Bird's Fish Bar at the harbour if you are in Bowen! The restaurant/shop is literally on the harbour and the fish was so fresh it literally melted in my mouth. This alone is one of my reasons to visit Bowen again!
As well as the amazing fish and chips we had a lovely brunch at Le Sorelle -The Sisters Coffee House – do yourself a favour and pop in there when you are feeling peckish!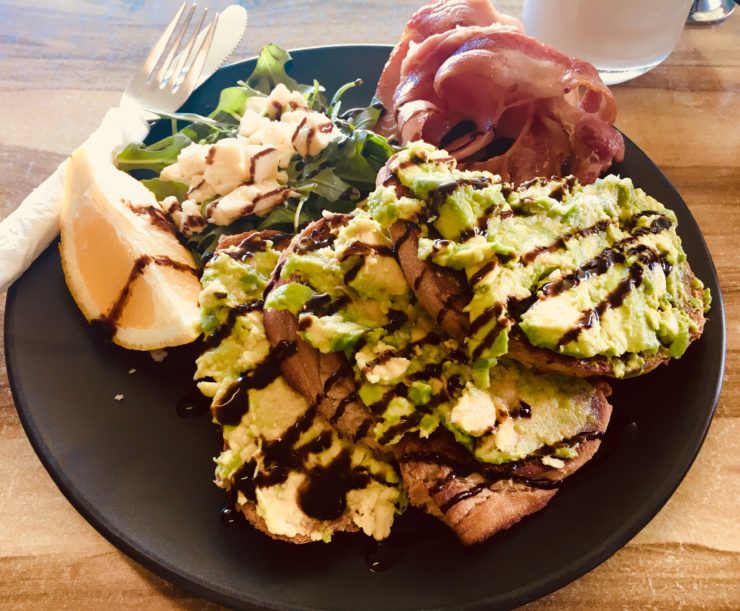 ---
A STAY AT ROSE BAY RESORT
---
If you are looking for somewhere to stay in Bowen then I cannot recommend Rose Bay Resort highly enough. Rooms are literally meters away from the beach. These fully equipped apartments are comfortable and we thoroughly enjoyed our short break there. There is a pool on site, parking is in a designated parking bay and free wi-fi throughout your stay.
We found the one bedroomed apartment perfect for our needs and we will definitely planning to stay there again soon!
Sit, relax and enjoy the view – it is truly jaw dropping.
---
TIPS IF YOU ARE STAYING IN BOWEN
---
STINGERS
Stinger season is from October to May and therefore stinger suits are advised if you are planning to go into the water. The 2 main stingers that can be found in these waters are the irukandji and the box jellyfish. Make sure to read the signs at the beaches and follow their instructions.
MUSEUM
If you want to go to the museum as we did take note that it is not open at a weekend. As we were only staying in Bowen for the weekend that was slightly disappointing.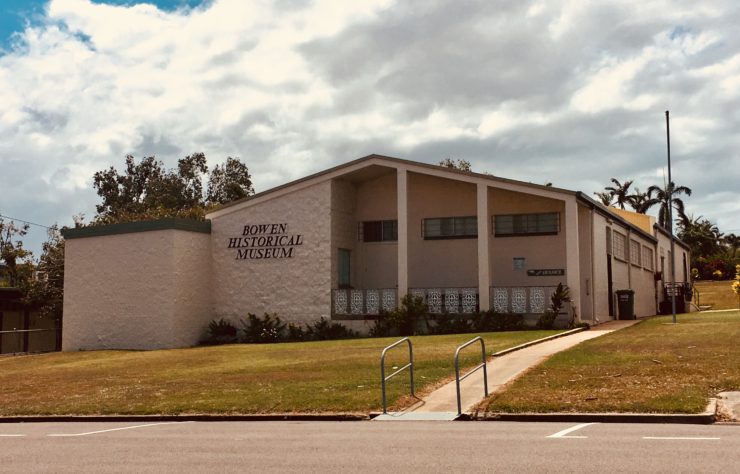 WHITSUNDAY DAY TRIPS
Day trips to the Whitsundays are possible from Airlie Beach which is an hour south of Bowen. I would highly recommend booking a trip as there are some absolutely fantastic trips available from Cruise Whitsundays like the trip we took to Whitehaven Beach.
THE SET OF THE FILM AUSTRALIA
I haven't seen this film – made in 2007 and starring Nicole Kidman and Hugh Jackman but apparently it was shot in Bowen – there are a lot of pictures and information about it at Front Beach – also the site of another slightly smaller mango!!!! You may be interested to read "10 Australian films to watch before you visit"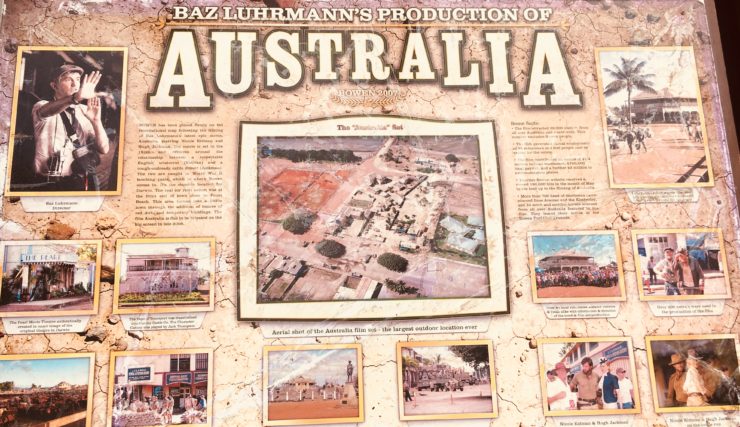 AND LAST BUT NOT LEAST DON'T FORGET TO RELAX!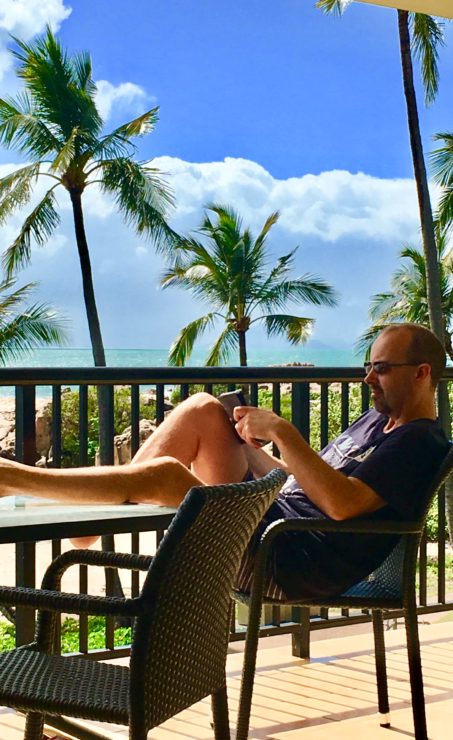 ---
I hope my 5 reasons to visit Bowen make you add into your itinerary if you are driving the Queensland coast – don't drive through STOP for a few days and enjoy this beautiful coastal town! Read more about Northern Queensland in my other posts
The best time to visit Cape Hillsborough to see kangaroos
Finding platypus at Eungella National Park
Visiting Whitehaven Beach in the Whitsundays
Visiting a sugar cane farm in Northern Queensland
Where to find Australian animals in their natural habitat in Queensland
Pin for later – 5 reasons to visit Bowen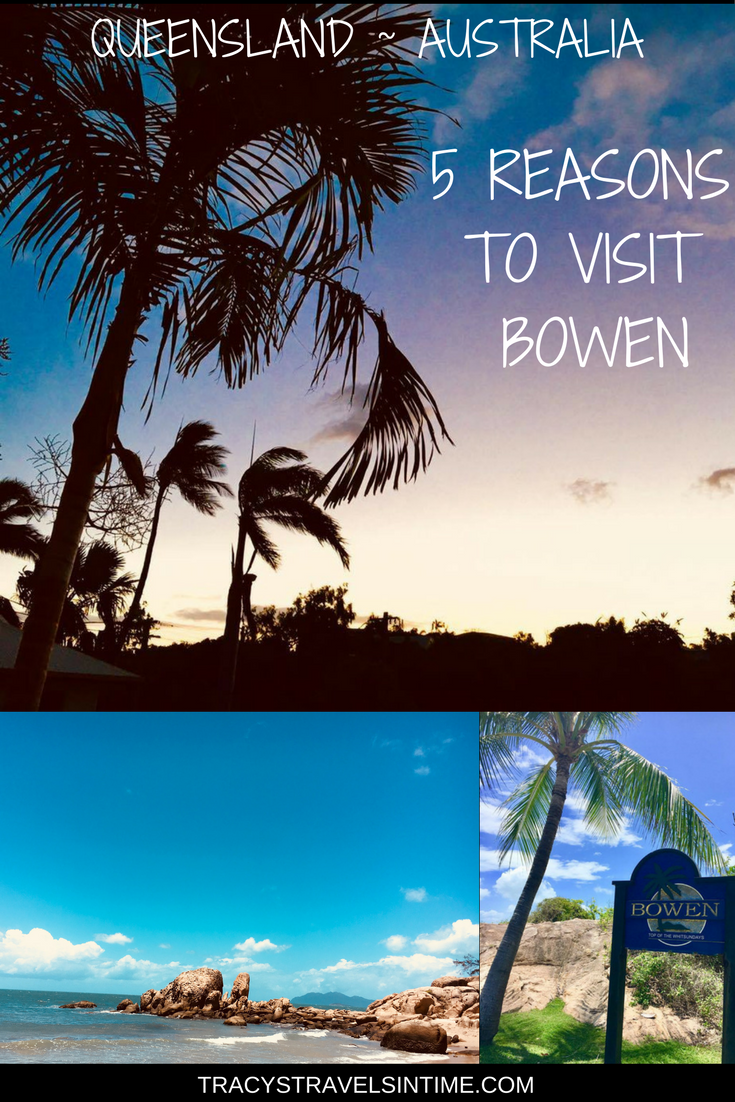 ---
YOU MAY BE INTERESTED IN THESE POSTS ABOUT AUSTRALIA AND EXPAT LIFE
---
An expat review of life in Australia
Living in Australia – expat dreams versus expat reality
A round-up of 65 things I have learnt since moving to Australia
Expat diary – Life in Brisbane Part 2
Expat diary – Life in Mackay Part 1
Expat diary – Life in Mackay Part 3
Top 20 things to do in Queensland
6 common Australian myths debunked
Where to find animals in their native habitat in Queensland
Rachel's story – Moving to Australia
10 Australian movies to watch before you visit
25 books about Australian animals to share with children
Sharing stories about our expat life in Brisbane Part 4
Things I love about living in Australia
Things I don't love about living in Australia
A guide to finding kangaroos at Cape Hillsborough
20 things to do in South Bank Brisbane
---
JOIN MY NEW

FACEBOOK GROUP

FOR ALL MY EXPAT TIPS AND  INFO ABOUT  LIFE IN AUSTRALIA 
---
---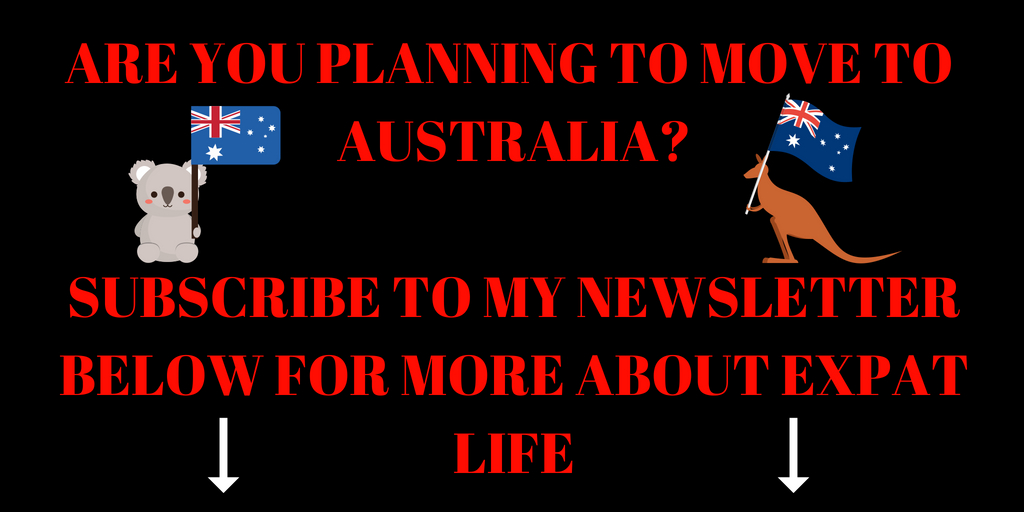 ---