Last Updated on February 9, 2021
Are you planning a trip to the beautiful Cotswolds in England? With so many beautiful villages to explore it is tempting to stay a few days (at least) to enable you to truly explore the Cotswolds.
In this article I have selected 10 of the most beautiful Airbnb cottages in the Cotswolds for your stay. Whether you are looking for a romantic break for 2 or travelling with family, friends and even your pet there will be a cosy cottage to suit you!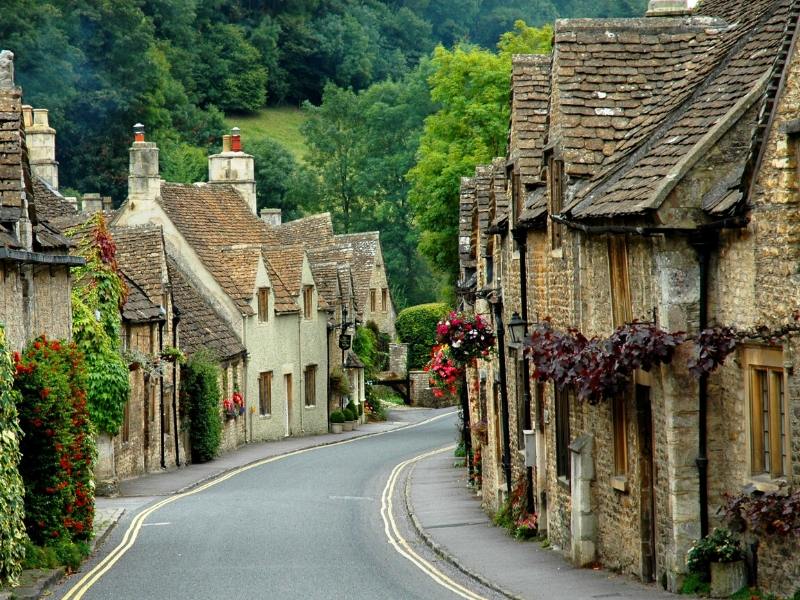 Cotswold Cottages – Comparison Table
NAME
WHERE
GUESTS
BEDS
BATHS
KIDS
BABY
DOGS
HOT TUB
FIND OUT MORE
BIBURY COTTAGE
BIBURY
4
2
1
Y
Y
N
N
BOOK
ASHLEA LAKESIDE RETREAT
SOUTH GLOUCESTER
SHIRE
3
1
1
N
N
N
Y
BOOK
GARDEN COTTAGE
CHIPPING NORTON
4
2
1
Y
Y
N
N
BOOK
LUXURY GUEST
HOUSE
GLOUCESTER
SHIRE
3
1
1
N
N
N
N
BOOK
STABLE COTTAGE
SALTFORD
6
2
1
Y
Y
Y – 2 max
Y
BOOK
ISLAND LODGE
SOUTH CERNEY
2
1
1
N
N
N
N
BOOK
ROMANTIC COTTAGE
CIRENCESTER
2
1
1
N
N
N
N
BOOK
THATCHED COTTAGE
TARLTON
2
1
1
N
Y
Y
N
BOOK
HONEY
SUCKLE COTTAGE
PAINSWICK
4
2
1
Y
Y
Y (Stays of 6 + nights)
N
BOOK
FORSYTHIA COTTAGE
BOURTON-ON-THE-WATER
3
2
1
Y
Y
N
N
BOOK
Top picks
There are our top picks of the cottages for rent in Cotswolds for a variety of different travel styles and budgets. Whether you are looking for a romantic Cotswolds cottage getaway or the best Cotswolds cottage for a family holiday we have curated the best options for you.
These are our top picks for the best Airbnbs in the Cotswolds
Where to stay in the Cotswolds
Plan your Cotswolds itinerary carefully and it is possible to see quite a lot of the area in just a few days. Once you have decided which of the Cotswolds main attractions, towns and villages you want to visit I recommend booking accommodation in one location and planning each day's itinerary to make the most of exploring.
10 Cosy Airbnb Cotswolds Cottages
Bibury Cottage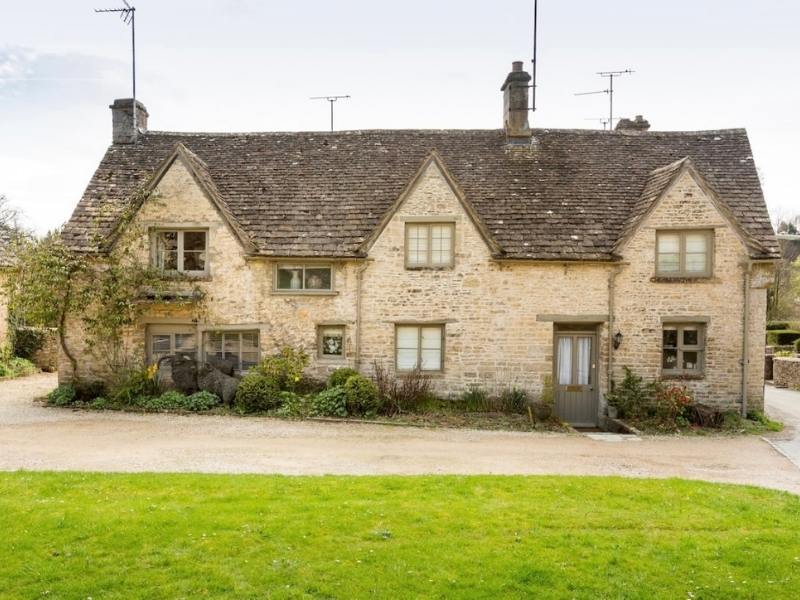 4 guests · 2 bedrooms · 2 beds · 1 bath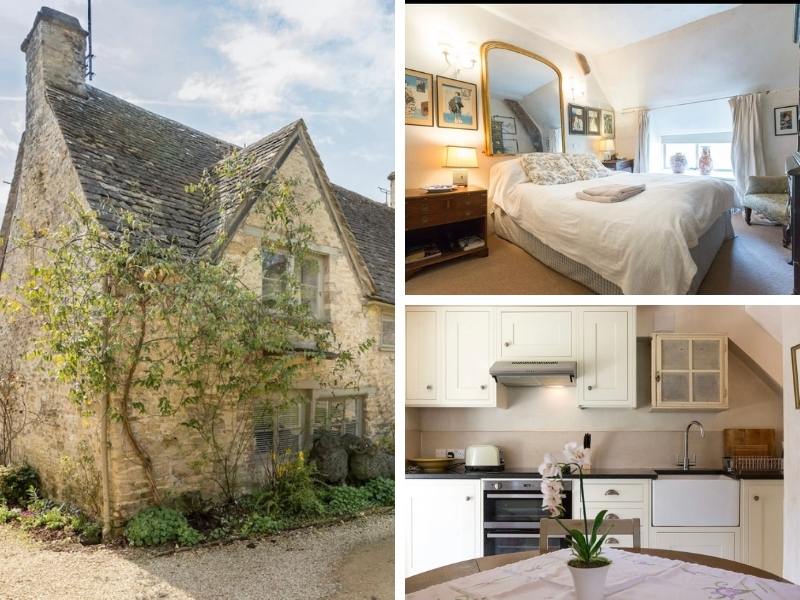 This Grade II listed cottage was built in 1703 and is located in Bibury Gloucestershire. This is an area of outstanding beauty and conservation. Bibury has been described as the most beautiful village in England and is without doubt one of the prettiest villages in the Cotswolds.
Fully equipped kitchen with 2 bedrooms, towels and bed linen provided.
Free parking is available on the premises.
Review – "Beautiful old cottage with tons of character! Really felt like we were fully experiencing the Cotswolds with our stay there. Would recommend!" Siobhan (Sept 2019)
Ashlea Lakeside Retreat – Woodpecker Pod and Hot Tub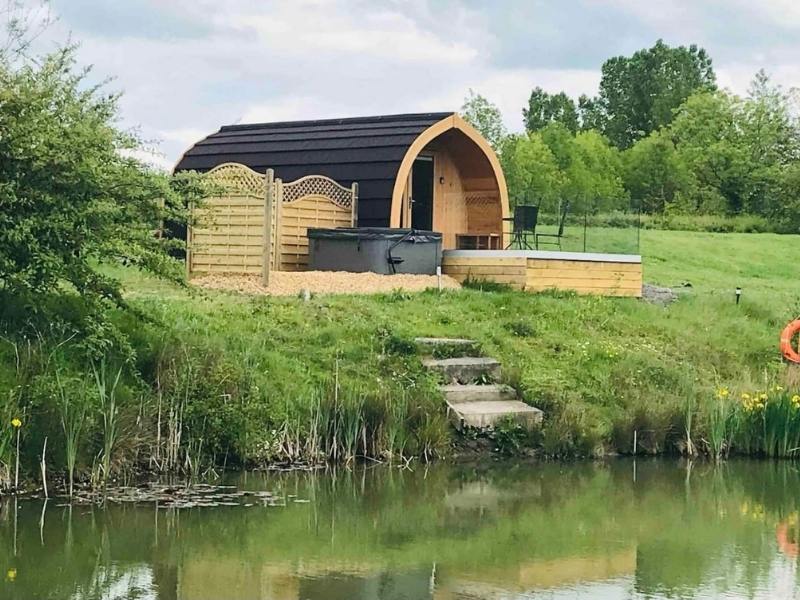 3 guests · 1 bedroom · 2 beds · 1 bath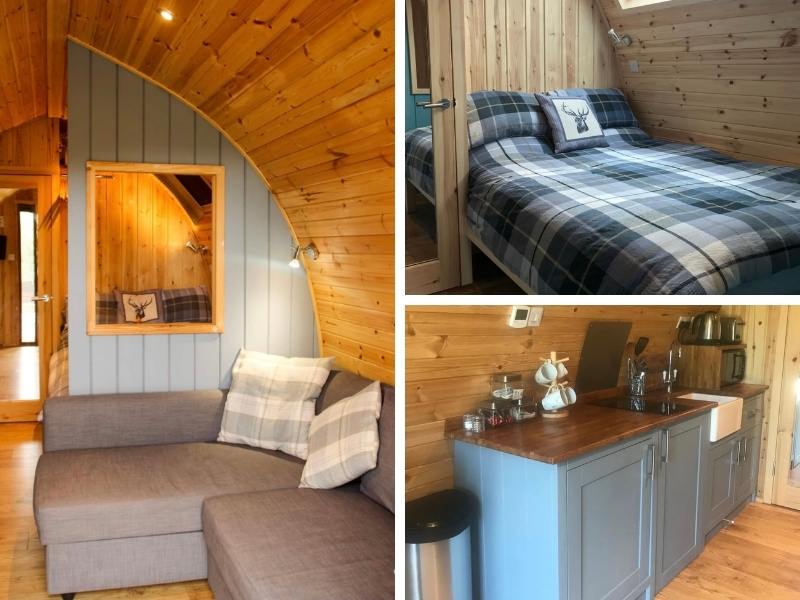 Why not stay in this luxury glamping pod?
Located on a beautiful 2.5 acre private lake in the countryside the Woodpecker includes double bed, sofa bed, en-suite, kitchen, under floor heating, TV.
Enjoy watching the sunset over the lake while relaxing in the hot tub on the decking area!
Review – "We had a great time here. Such an amazing space, very relaxing." – Sam (August 2019)
Garden Cottage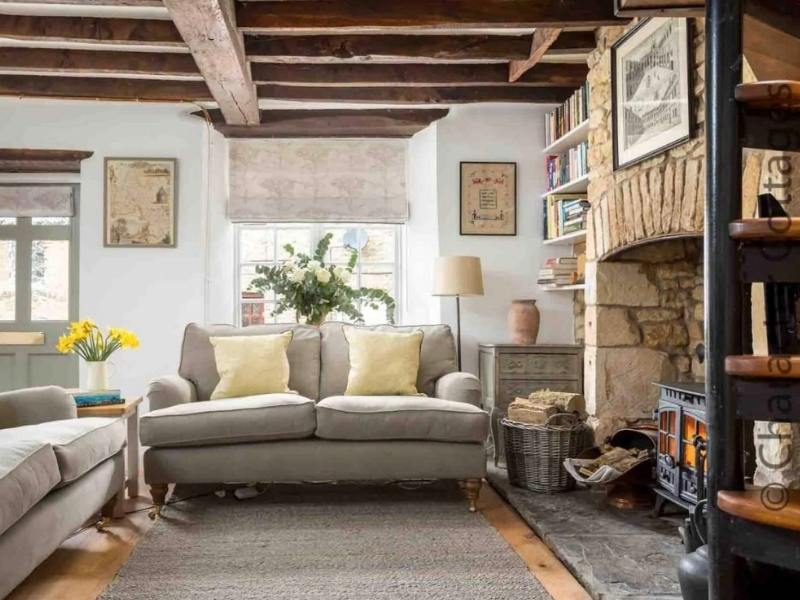 4 guests · 2 bedrooms · 2 beds · 1 bath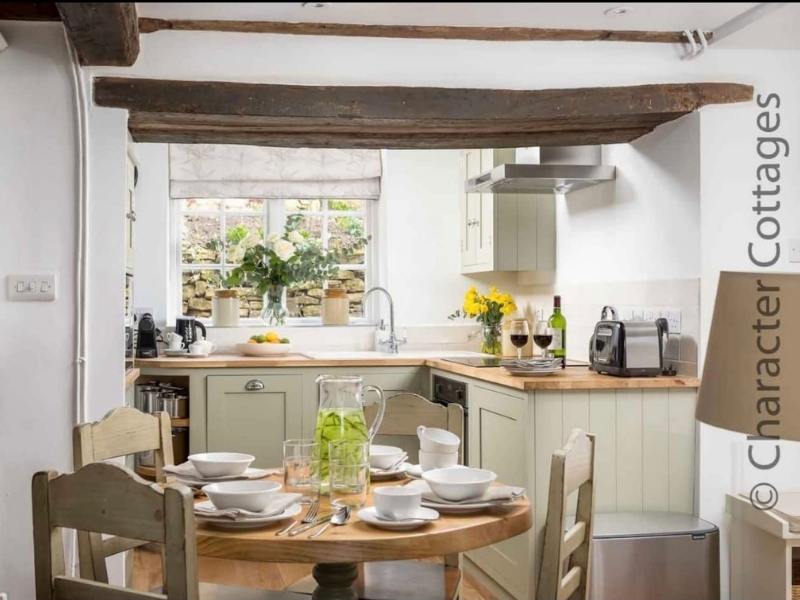 Garden Cottage is a beautifully finished property located in the charming market town of Chipping Norton.
Chipping Norton is well placed for visiting other world famous attractions, such as Blenheim Palace, Oxford and Stratford-upon-Avon, the birthplace of William Shakespeare.
Review – "Everything about the cottage was lovely. Very nice town which had local pubs/shops within walking distance. Alisson was a very helpful host and responded straight away with any questions we had. Would definitely recommend and return!" Amy (Nov 2020)
Guesthouse in the Cotswolds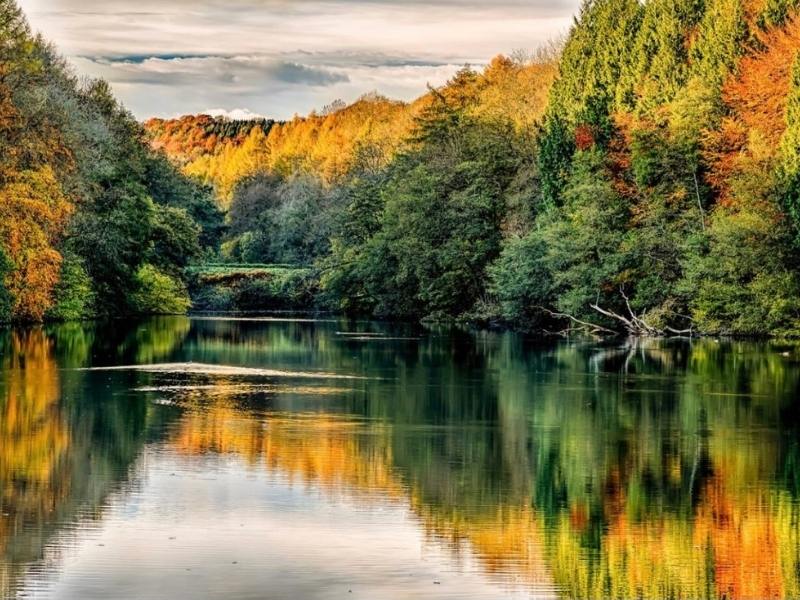 3 guests · 1 bedroom · 2 beds · 1 bath
Set in 420 acres of natural outstanding beauty and within walking distance of the Cotswolds Way.
This guesthouse is fully equipped for your stay and features TV, hot tub and shower. This is the perfect stay for those looking for a relaxing break.
Guest review – "If you're looking for a cosy romantic place for two then look no further. We had a fantastic time at Victoria's place. The check-in was easy and we really appreciated the extra recommendations of things to do/places to see given to us. We will definitely be back!" – Julia (Sept 2018)
Stable Cottage (with hot tub)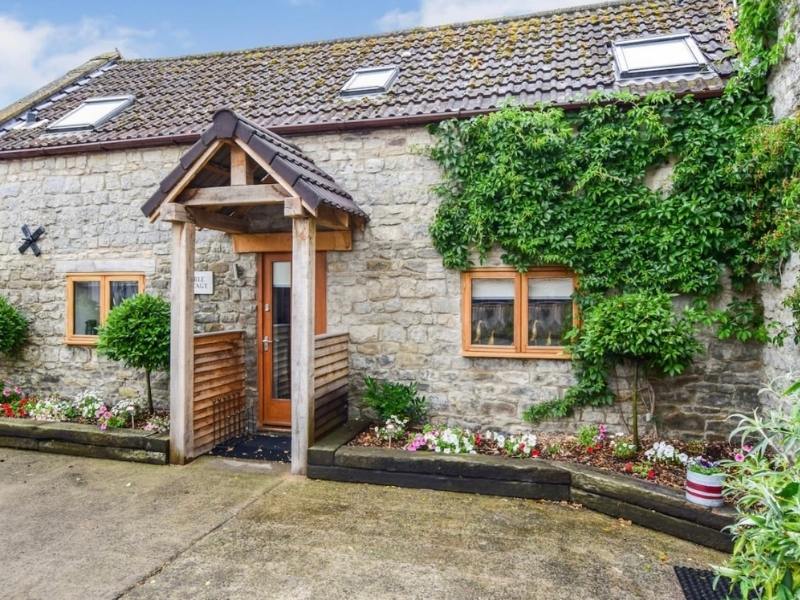 6 guests · 2 bedrooms · 3 beds · 1 bath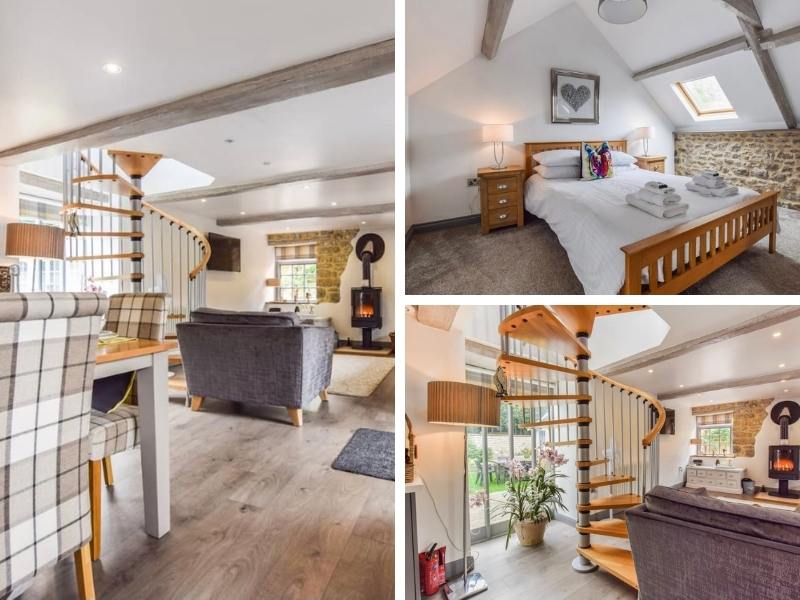 This gorgeous cottage has exposed Cotswold stone walls and beams. Enjoy the hot tub which is set in a private garden with outside dining area.
Up to 6 guests can be accommodated at the cottage. In the Living Area there is a wood burning stove, and a fully equipped Kitchen and Dining Area.
Upstairs the 2 bedrooms sit either side of a Family Bathroom with walk-in shower and bath.
Dog owners will be pleased to know that Stable Cottage accepts up to 2 well-behaved dogs (£30 per dog).
Guest review – "The cottage is based on a beautiful farm estate. Location is perfect for a trip into bath or Bristol. The amenities are perfect and a lovely welcome basket on arrival was a perfect touch. The hot tub is Lovely and the provision of slippers and dressing gowns made it all the better! We can't wait to return!" – Kim (Nov 2020)
Island Lodge at Little Horsehoe Lake – perfect romantic getaway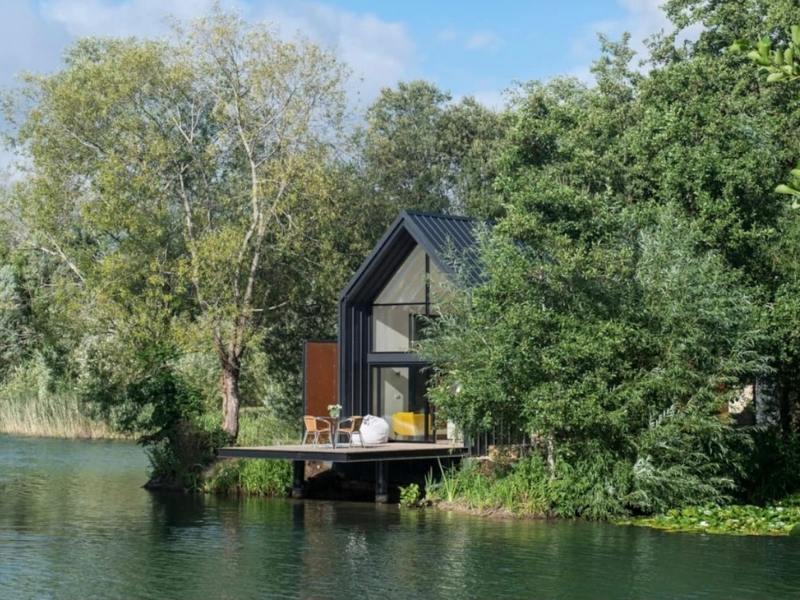 2 guests · 1 bedroom · 1 bed · 1 bath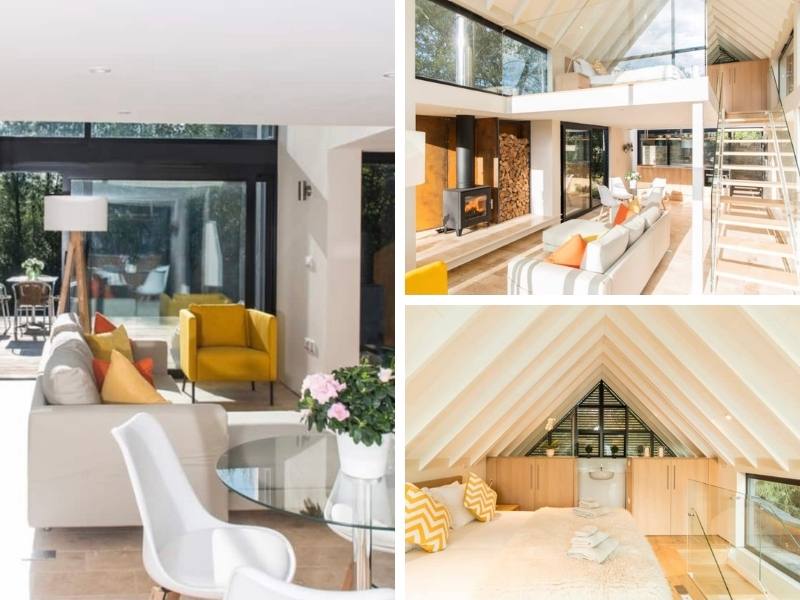 This beautifully designed one bedroomed lodge is located on the banks of a private fishing lake in the Cotswold Water Park.
Perfect for couples looking to relax in comfort in a beautiful park. There are gastro pubs, shopping and exciting activities nearby.
Guest review – "Unreal surroundings , private and perfect enough for a proposal… Extra special touches all adding to our memories to last for a life time, thank you again for not only the hospitality but the time to help make everything stress free. Love it!" – Gavin (Dec 2020)
Romantic Cotswold Cottage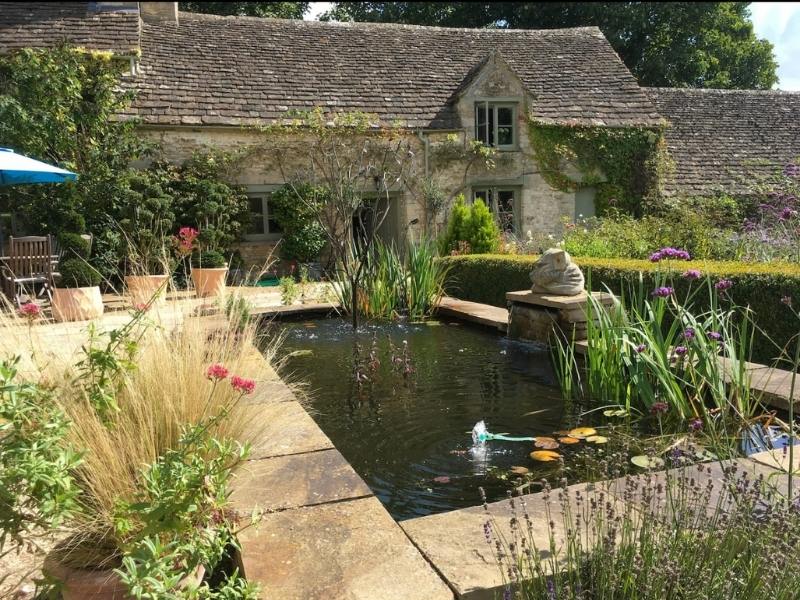 2 guests · 1 bedroom · 1 bed · 1 bath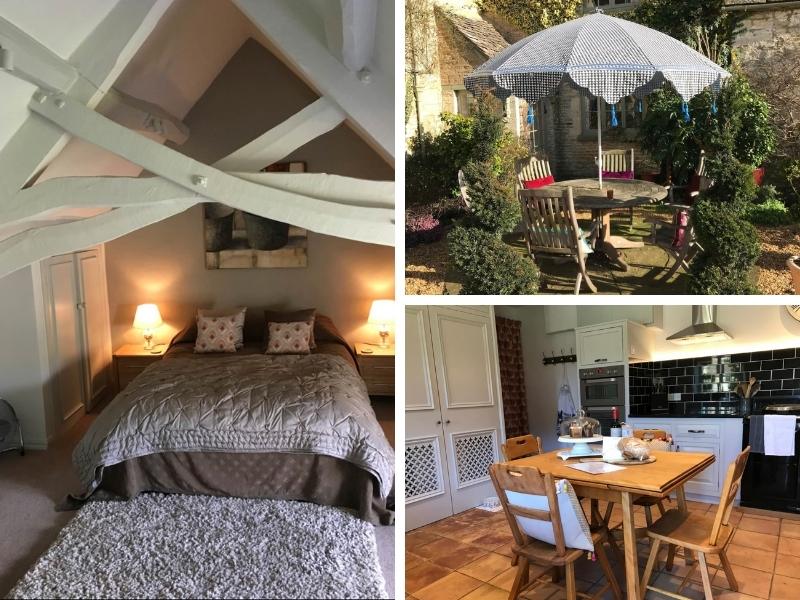 This beautifully renovated Cotswold cottage with stunning handmade kitchen (including a beautiful AGA) offers the perfect romantic getaway.
Relax in the the living room in the comfy sofa before retiring to bed in the cosy upstairs bedroom.
Free parking and Wifi.
Guest review – "Cannot rate this place highly enough! So homely with everything we needed for our two night break. Breakfast was provided (bread, pastries, eggs, juice) as well as a bottle of wine which was a thoughtful touch. As said in previous reviews, pictures do not do this place justice. The hot tub was fantastic and such a treat! Already thinking about our next trip!" – Laura (Dec 2020)
Asphodel Thatched Cotswold Cottage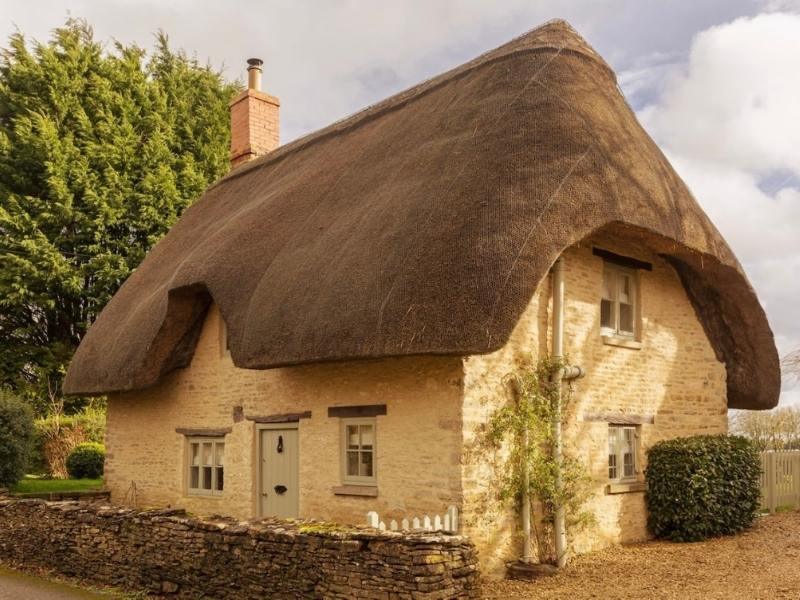 2 guests · 1 bedroom · 1 bed · 1 bath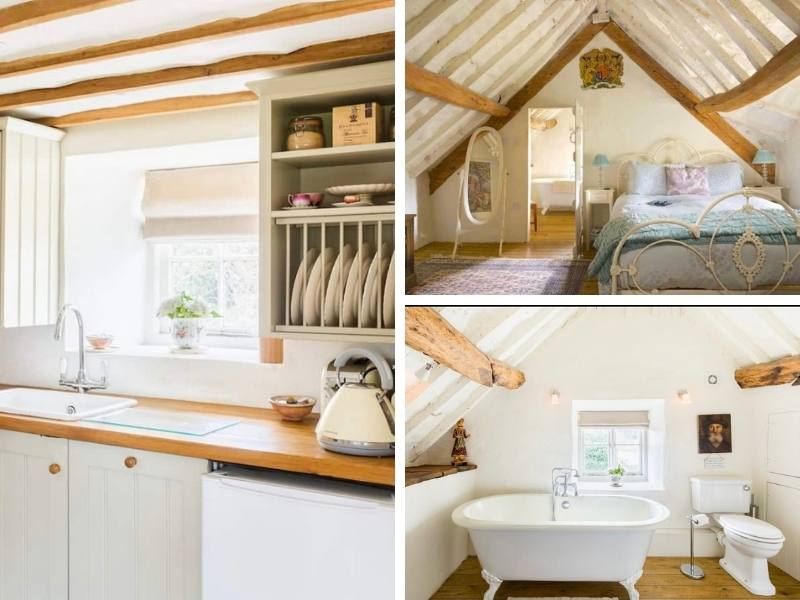 This beautiful thatched cottage (dating back to 1624) is the perfect romatic retreat.
Located in the village of Tarlton (close to both Cirencester and Tetbury) this cottage has been carefully and immaculately restored. The cottage retains all its original features including beamed ceilings and inglenook fireplace.
A perfect romantic retreat to get-away from it all.
Guest Review – "The cottage was a perfect little getaway and it was just the escape we needed at the end of a crazy year. It has a cosy open-plan living area downstairs with a great fireplace and wonderful bedroom and bathroom (with a roll top bath) upstairs. It has been renovated sympathetic to its original construction but with a modern kitchen and underfloor heating. The cottage is in a very quiet and peaceful little village with beautiful walks close by. The hosts were great, accommodating and very responsive with a couple of last minute requests. Highly recommended!" – John (Jan 2021)
Honeysuckle Cottage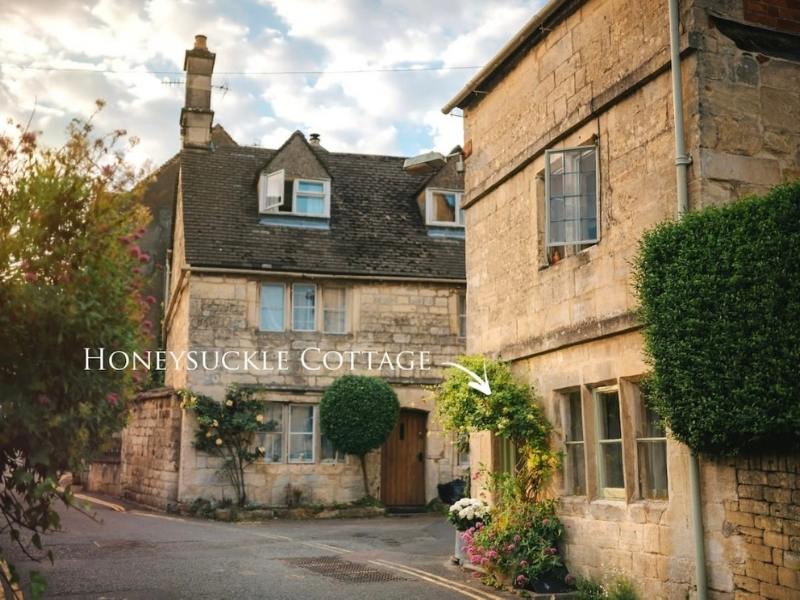 4 guests · 2 bedrooms · 2 beds · 2 baths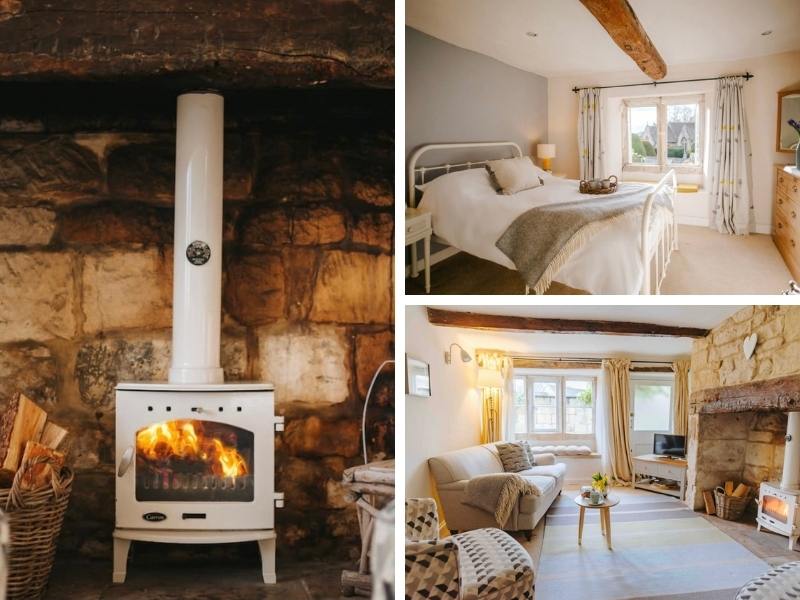 This beautiful cottage is located in the Cotswold village of Painswick. Packed with Grade 2 listed features including window seats, a spiral staircase, timber beams and wood burner.
Honeysuckle Cottage is the perfect base for exploring the Cotswolds or simply to enjoy a relaxing stay with a good book!
Guest Review – "We loved staying at Honeysuckle Cottage. It was exactly what we had hoped for. The cottage is just gorgeous. It is perfectly located in Painswick. Ione was an amazing host, happy to answer any queries quickly and to help us when needed. We would highly recommend and would love to return!" – Peta (Dec 2020)
Forsythia Cottage Bourton-on-the-Water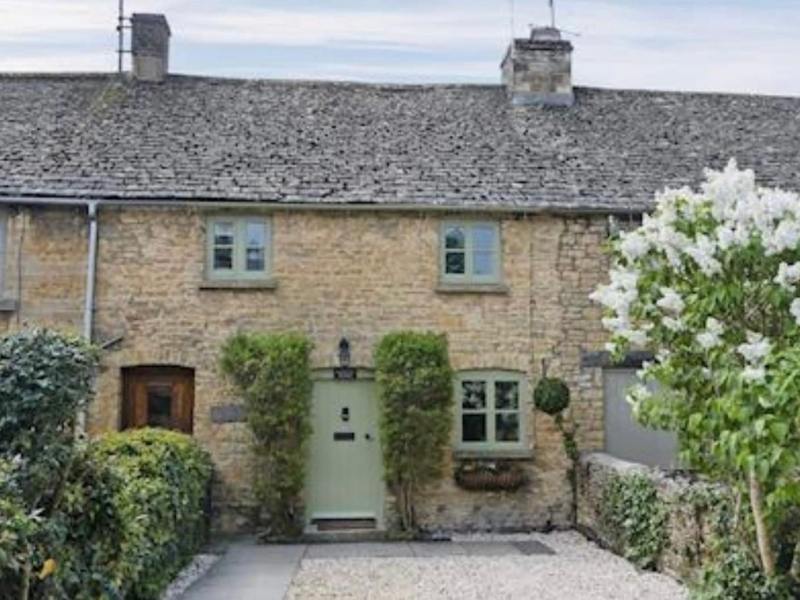 3 guests · 2 bedrooms · 2 beds · 1 bath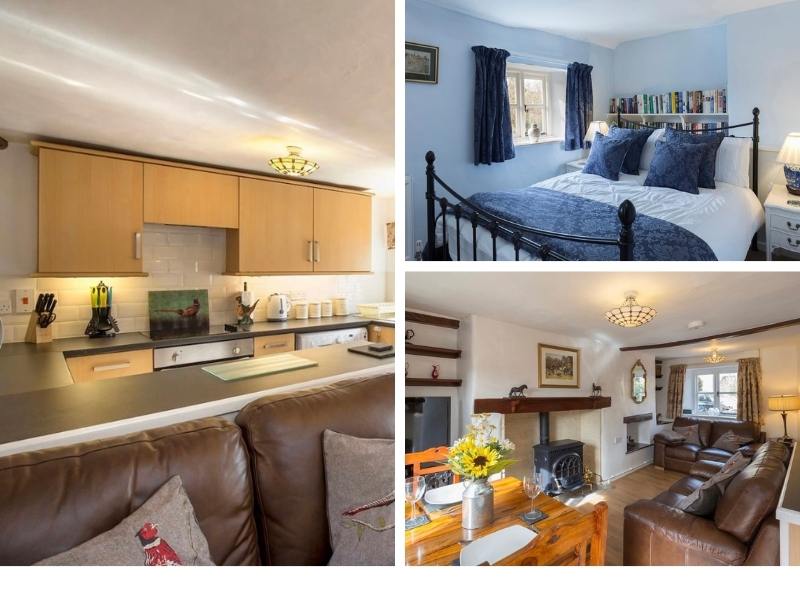 This beautiful 2 bedroomed cottage is located in Bourton-in-the-Water in the heart of the Cotswolds.
Free parking is on site so you can explore the village at leisure. Quaint pubs, shops, cafes, the Motor Museum and Model village are all within walking distance.
Perfect for explore some of the National Trust properties in the area including Snowshill Manor, Hidcote Manor Gardens, Warwick Castle and Sudeley Castle.
Guest Review – "Forsythia Cottage is delightful. A great base for touring the Cotswolds, and very handy to all amenities in Bourton on the Water. Would highly recommend." – Mary (2017)
Enjoy your stay in the beautiful Cotswolds
With so many beautiful villages to explore in the Cotswolds (some of the prettiest in England) you really are spoilt for choice.
My Cotswold Travel Guide is a great place to start when planning your trip – it includes information about what to do and see, where to stay and other essential tips for anyone planning a visit to the Cotswolds.
If the Cotswolds is just one place on your UK bucket list you may be interested to read about other beautiful areas in England such as the Lake District (check out these amazing log cabins and lodges) , Northumberland or the Peak District.
For even more inspiration and help planning your trip pop over to my other website purely dedicated to the UK – UK Travel Planning. Or why not join my free Facebook group – UK and London Travel Planning and come and meet others planning their UK travels.
More travel inspiration and practical tips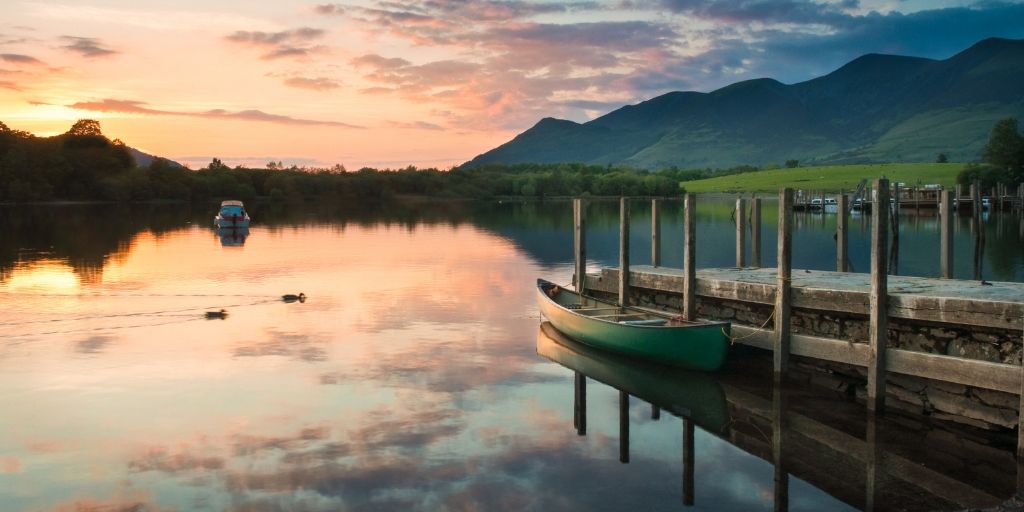 The Lake District is one of the United Kingdom's most popular destinations attracting over 24 million annual day visitors.
This post may contain compensated links. Please read our disclosure for additional information. As an Amazon Associate, I earn from qualifying purchases.